The exhibition Power and Architecture was created for viewing across several months in a particular sequence. Part 1 focused on Utopia and Modernity (12 June – 3 July), Part 2 on Dead spaces and Ruins, (July 4 – August 10), Part 3 on Citizen activated space — Museum of Skateboarding,(11 August – 11 September), and Part 4 on The afterlives of Modernity — shared values and routines, (15 September – 9 October). A conference held in June – The Centre Cannot Hold? –led by important scholars Michał Murawski (SSEES, UCL) and Jonathan Bach (New School, New York) served to frame the cultural, political, economic ramifications of "centrality and monumentality in 20th century cities" with thought from prominent researchers, architects and artists. Power and Architecture concluded this October as the Calvert 22 Foundation partners with innovative architecture, design and engineering collectives Assemble (UK), Museum of Architecture (UK) and reSITE (CZ) and an Urban Research Mobility Lab connects London with Prague by asking the question: how does migration and mobility in cities affect the experience of the urban environment? A curated series of reports, essays and photo stories further explored the themes of Power and Architecture in the online Calvert Journal available through the gallery website.
Calvert 22 is a gallery devoted to contemporary Eastern European and Russian art. They presented this exhibition as "a season on utopian public space and the quest for new national identities across the post-Soviet world." I arrived at the gallery, a Californian artist, coincidentally just as I'd read comments from Lev Manovich about the young intelligensia of post-Soviet Russia. Thus, when thinking about the exhibition, I was also thinking about the new global mobile class and the impact of Putin's Russia upon a new generation.
Power and Architecture is a fascinating collection of research into contemporary art, films, and research about post-Soviet urban identity and the positioning of artists therein. Obviously once communist societies have experienced dramatic change since the fall of the Berlin Wall, collapse of Soviet Russia, and rise of Putin to power. Curators used multiple cultural lenses with which to pry open a critical "western" eye on the aftermath of the Soviet era and invited exploration of cultural narratives about the "post-Soviet" city. The exhibit, particularly in certain places, looked at ideas which appear to have disappeared or become outmoded as a means of aesthetic and political communication. There was an air of longing and self-reflection towards Russian identity when experiencing the work. The Russian people have something to reckon with; a revolutionary utopia which once was, but which is no more and which has left them with the traces of an almost empire,- although to call communist Russian an empire seems to obscure the politics of the revolutionary element-. These juxtapositions were in essence the heart of the show which explored the Soviet Union as constructed space. This "location" then functions as a backdrop to present-day national identity and urban design emerges in the portrait of a "post-Soviet" society with its own futuristic ideas as well as in the lingering relics of Soviet intentions.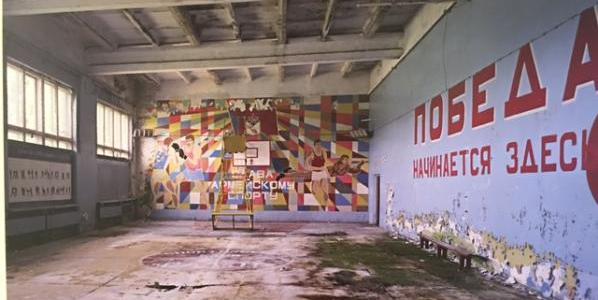 Power and Architecture falls on the heels of Calvert 22's very successful Red Africa program which examined the cultural, economic and social geography between Africa, Eastern Europe, Russia and related countries during the Cold War. The Eastern European art historical and social trend of the last thirty years labelled 'self-historicization' –or the self-conscious effort for Eastern European and Russian artists to articulate, archive, and collect their own history, is exercised throughout the exhibit itself designed in series of presentations directed at the problem of "historical understanding" of history. The post-Soviet city and utopian public space was used as a critical framework from which to position contemporary space, identity and the intent of the exhibiting artists. The Soviet Union has fallen, but who or how is its revising and re-examination taking place?
Part 2 which dealt with "dead spaces", the architectural ruins of empty cities, military bases, technologial infrastructure and cavernous, open landscapes at once modern and moribund seemed to suggest that retrospective analysis of utopia could only be a well-conceived guess at what was or might have been. This Part was a sojourn into the life of Soviet artifacts both remaindered in their historical trajectory and as a convincing backdrop to a pervasive contemporary ambivalence. Danila Tkachenko's "Restricted Areas" for instance, was a series of photographs documenting relics of the military build up of the Soviet Union only to be found on abandoned, snow-covered sites in the frozen tundra. Oversized photographs of personal ID cards from unknown persons presumably found amidst Soviet architectural rubble, large format, richly-detailed color photographs of crumbling rooms, weather-worn, orphaned Soviet-era paintings, and peeling, once colorful murals inside Soviet military bases and institutions form an historic record of obvious and shocking lack of preservation of Soviet art and architecture as Russian history. Artists participating in Dead spaces and ruins were Vahram Aghasyan, Anton Ginzburg, and Eric Lusito.
To say that this work engaged narratives which imbue modern mythologies of "utopia" with certain ideas, or contained evidence of the self-conscious effort to bring post-Soviet identity into the picture is an understatement. 'Utopian' ideas' exhibited, situated in urbanism and public space, were the self-conscious investigation of old or familiar' or "statist" (maybe) viewpoints on public identity and gave curious attention to questions of truth, experience, voice and historic preservation found in documentary discourse. Self-historicization was apparent in Russian artist Kirill Savchenkov's Museum of Skateboarding, a mixed media installation, which was its own entire Part 3. Savchenkov's piece talked about the activation of public space by young people and about skateboarding as a means through which to reflect upon the post-Soviet residential suburbs of Moscow. This work suggests how certain architectural interventions or objects contain meaning and can even be accessed differently or more significantly through subculture. It alluded to tropes in notions of "world" or global "utopia" which translate across seemingly disparate spaces and identities such as Californian and post-Soviet/Soviet Russia. Moreover, this reading of public space as accessed and interpreted by youth is a powerful concept about notions of history and who it belongs to.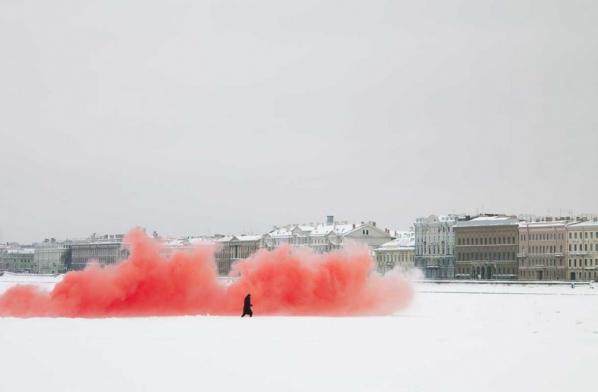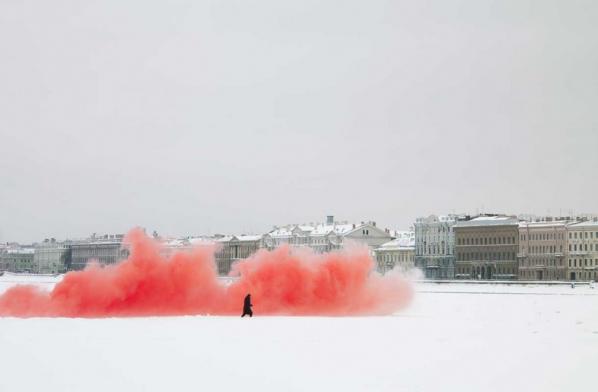 In Part 4 (on through Oct. 9) the urban poetics of the post-Soviet city are further contextualized by looking more closely at modernity and everyday life. The afterlives of Modernity — shared values and routines. This Part concluded the exhibit with four artists, Aikaterini Gegisian, Donald Weber, Dmytrij Wulffius, and Ogino Knauss, who examine the "afterlife" of the utopian endeavor, especially the search for new national identity. This theme is provocative to be sure, given the current political contest in the Ukraine and Russia's role in Syrian conflicts. The curators write:
"Across the former Soviet Union there are a series of architectural and physical nostalgias connecting citizens who share the same socialist history – Part 4 of the programme reflects on these shared values and routines for citizens today."
I asked myself the question—how does art tie societies together through processes of change? Aikaterini Gegesian's film, "My Pink City" offers a portrait of a post-Soviet Yeravan in transition and depicts the militarisation of public space and the gendered divisions within the city. In many instances, Russian government has pushed for laws "designed to rid Ukraine's public spaces of communist relics. Their destruction proclaims a deep desire to change the cultural narrative." In Part 2 many documentary photographs of "dead" Soviet relics are a poignant record, and politically at odds with ideas at play in contemporary Russian national consciousness. It is a record which rightfully belongs to the Russian and Ukrainian people and which makes this show more meaningful when thought of as the struggle to preserve the past for the future."Monumental Propaganda", a series by Donald Weber documenting sites where Soviet monuments stood and the empty pedestals remain, speaks to exactly this. Dmytrij Wulffius' "Traces on Concrete" is a series of photographs taken from 2009 and 2013 of his own hometown, Yalta in Crimea, which also explore its architectural landscape from the perspective of modern youth. "Re:centering Periphery: Post Socialist Triplicities" by Ogino Knauss is a fascinating examination of post-socialist history in Berlin, Belgrade, and Moscow, three cities in which modernity triggered profound utopianism towards the "radical transformation of the everyday." The piece looks at "what is left of the architectural vision in the cities and what this legacy leaves to citizens".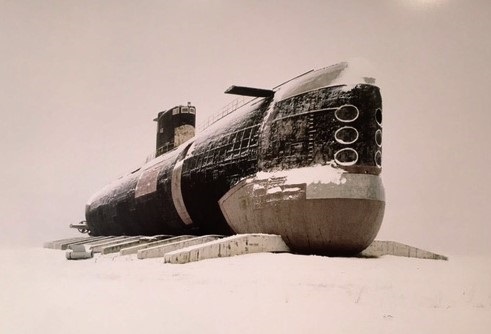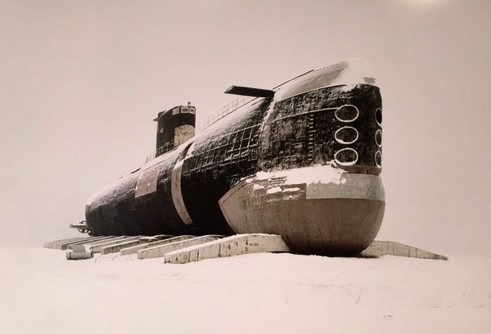 Power and Architecture aimed at a present-day coming to terms with a particular Russian existence now broken into segments and pieces. It focused profoundly on the precarity and erasure of history which plagues 21st century thought on so many levels.The real and the fake, the true and false, the meanings of "Soviet utopian vision" and its presence in time in architectural and artistic form. Without quite melding together as what that vision was in the political sense, the show formed a quasi-science fictional narrative and interpretation; a history of place, both real and imagined; promised and denied.
Central to the visual collection and comprehension of these ideas was, curiously, the strategy of the archive where the act of collection takes place and where the borders and edges of history are possible. By focusing upon the urban environment of the Soviet Union now past, Power and Architecture asked us to consider 'what modernity is" in this context. If it is machine aesthetics as James Bridle (2011) suggests, then which machines have contributed and how do we use this modern aesthetic position on technology to examine a past? If it is the new aesthetic to be looking at old relics with a different lens, then what intellectual "spin" is constructed? For whom, how, and for what? Maybe modernity is all of these—a presence of unprecedented scale in terms of cities, and the sky and the water. How do we see this totality now? How did they see it then?
Modernity did come upon Eastern Europe and Russia, arguably in similar and dissimilar ways to how it was absorbed in the west. Power and Architecture re-examined the Soviet epoch, through what artists are seeing and thinking about what has remained. It seemed expressed as a brute emergence of a set of ideas which, because they were collective, revolutionary, technological, shaped and still shape Russian consciousness, but as a past. How the past is preserved or ingested is again a compelling idea on the power-struggles for "history" which take place in modern times. Power and Architecture elucidated key features of this new era of global subjectivity and societal change through creative lenses of the recent past.
Roger Malina is a physicist and astronomer, Executive Editor of Leonardo Publications (The M.I.T. Press), and Distinguished Chair of Arts and Technology at the University of Texas at Dallas. Dr. Malina helped found IMéRA (Institut méditerranéen de recherches avancées), a Marseille-based institution nurturing collaboration between the arts and sciences.
Mariateresa Sartori and Bryan Connell are two artists recently based at IMéRA. Their work connects with human movement through the city, and addresses the intersection between technology and perception. Recent work by Venice-based Mariateresa Sartori has encompassed drawing and video. Bryan Connell, Exhibit/Project Developer at San Francisco's Exploratorium, works especially with landscape observation devices and mapping.
Lawrence Bird interviewed Roger Malina, Mariateresa Sartori, and Bryan Connell about the intersection of their work with the city. Images above courtesy: Roger Malina, Rita Gambardella, Bryan Connell.
Lawrence Bird: Roger Malina, in your recent writing you make the case that science is no longer just a field of positive knowledge. Scientists are increasingly open to engagement with the arts — for example artists' residencies at CERN. You've even argued that we're in a crisis of representation as profound as that of the Renaissance or the 19th century, and this is "driving a new theatricalisation of science."
Urban life has often been understood as performative – display, performance of social roles, presentation of oneself before others are all part of the public life in cities. How would you say that crisis of representation plays out with regards to this performative dimension of urban life? How is science implicated alongside art in the city, in these conditions?
Roger Malina: One of my arguments for the 'crisis of representation' really looks at Renaissance systems of representation — first driven by what the eye could see, and then the eye extended by microscopes and telescopes. These systems of representation were developed that led to a deep contextualising of the viewer in the world.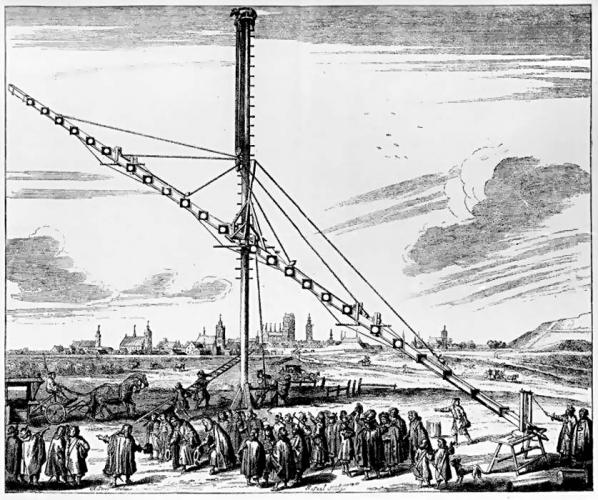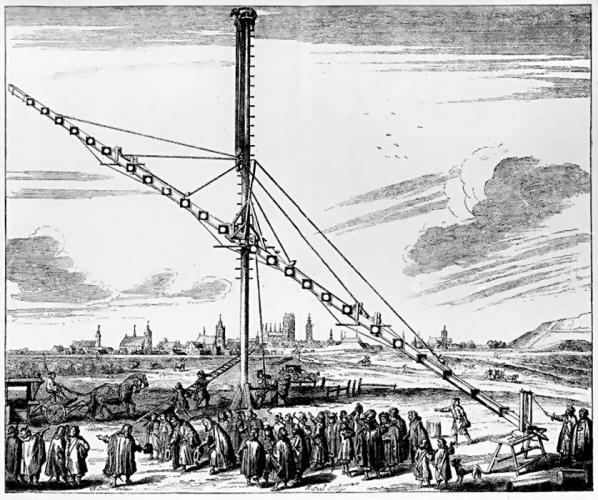 Today we are in a new situation because so much of our perception of the world comes not through extended senses but, in a real way, through new senses. This has been happening over a number of decades; the first wave of this was at the end of the 19th century when there was a cultural shock with the introduction of x-ray images, infra-red and later radio — which didn't extend existing senses but augmented them.The most recent series of triggers maybe comes from the nano-sciences and synthetic biology — we now perceive phenomena of which we have no daily experience of (eg quantum phenomena). Field emission microsopy or MRI or some of the other new forms of imaging really don't build on our existing experience — there are discontinuities and dislocations. Another element is of course the hand held device that leads to techniques for 'augmented reality' — I have a phone app that I can point at an aeroplane overhead and it tells me what the plane is, where it came from, and where it is going.
Coming to your question about the city — there is clearly a shift in map construction and reading — from the Cartesian map that we have been acculturated to. The ability to toggle between the bird's eye view and the "street view", and the ability to view maps that have multiple layers simultaneously are driving artists and others to develop new forms of representation.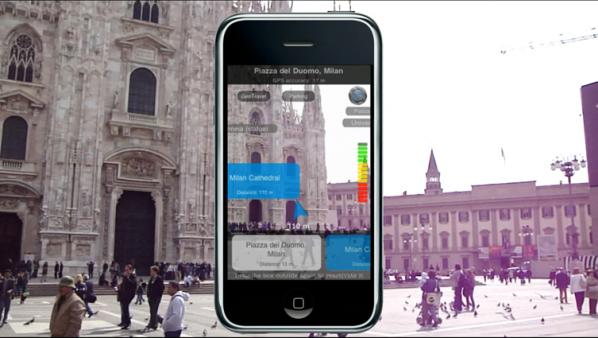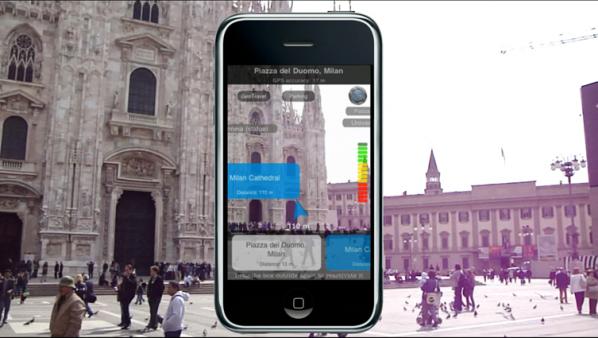 Someone whose work is interesting in this regard is Bryan Connell in San Francisco, he just finished an art science residency at IMéRA in Marseille. He was working on a large urban trail project called GR13 — 300 miles through industrial, urban, sub urban, and wild landscapes (the city had a hell of a time getting right of way through these areas). Bryan is currently working on a web site for the Marseille European City of Culture events, where he's working on some of these questions of representation. The project involves a collective of 'artist-walkers' that I think fits right into this question of performativity.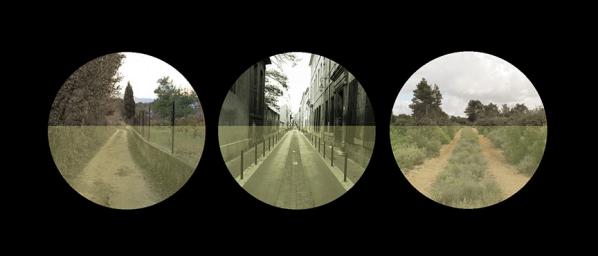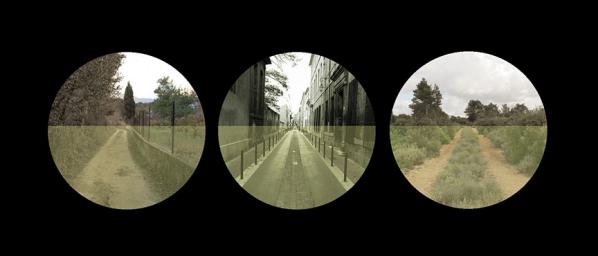 LB: There's currently a great deal of interest in the connections between representation, digital technology, and politics, for example the current Hybrid City II conference in Athens. As you've pointed out, these often underline the connections between what digital media mean for artists and what they can contribute to citizens — what's emancipatory about them. What can art offer civil life in this context? Are there any conflicts or contradictions in that relationship?
RM: One pertinent example is the work of Bruno Giorgini, a physicist, and Mariateresa Sartori (visual artist) who work on the "physics of the city." They were recently in residence in the IMéRA Mediterranean Institute of Advanced Study which hosts artists and scientists in residence who want to work with each other. We now have access to incredible amounts of data on human mobility (pedestrian and various forms of transportation) so it is now possible to study human behaviour quantitatively. Sartori discovered that she could tell many things about a person just through the morphology or topology of their movements through the city. Girogini discovered that people's movements could be predicted at the 80% level, but 20% of the time he had to introduce what he called 'social temperature'; in discussions he also referred to this as a 'free will' parameter. Barabasi has found similar results analysing cell phone GPS data of individuals. So its interesting to think of the development of cities as 80% predictable and 20% serendipitous. This of course then highlights the role of the arts and culture in making cities part of the cultural imaginary that drives people to make choices. Recently Max Schich here at the University of Texas has analysed very large data bases looking at where prominent people are born and where they die over the last 500 years. Immediately you can see how suddenly certain cities become cultural 'attractors,' say the way Berlin or Hong Kong are now. And of course cities are now trying to 'design' this into the development of cities. Here in Dallas there has been a huge investment in the 'arts district' and in institutions of higher learning in the belief that healthy cities require such investments. See for instance the US National Endowment for the Arts Program; there are many similar programs in Europe.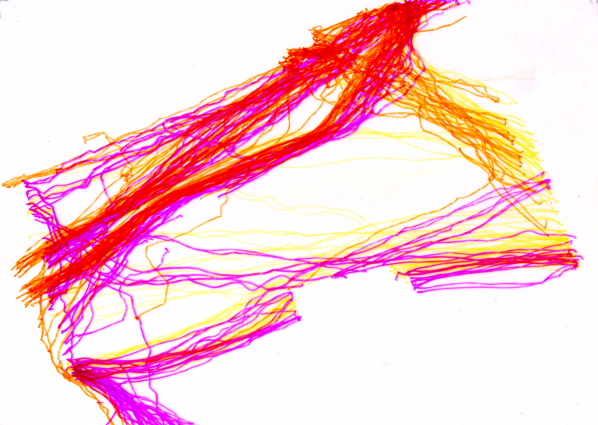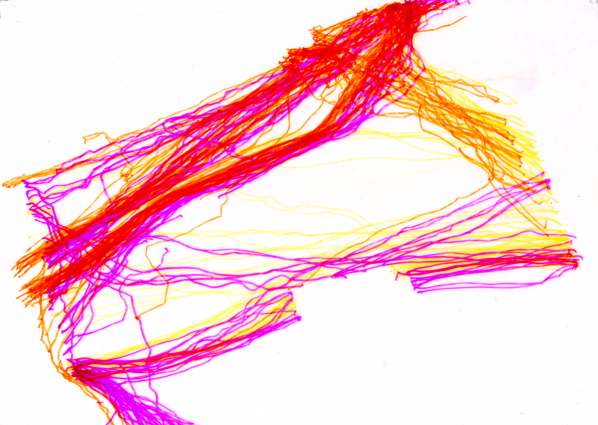 This doesn't yet address your 'emancipation' question. One of the things that is happening is that we are becoming a data taking culture (see the recent literature on 'big data"). The cell phone has transformed every citizen (that has one) into a data taker. Of course much of this data is used by companies for marketing objectives. But many citizen groups are now able to take data for their social objectives. Some of this is captured by the 'citizen science' movement ( one example is here). There have been good examples of citizen's taking data (on pollution, on illegal activities etc.) and then being in a position to challenge 'authorities' of various kinds whether scientific, political or economic (see for instance the way citizen groups have mobilised to collect data after man-made disasters such as oil spills, or illegal logging in forests).
A few years ago I wrote an open data manifesto which argued that I would like to advance a new human right and a human obligation:
1. Each of us has the right to the data that has been collected about ourselves and our own environment.
2. Each of must contribute to the knowledge construction by collecting and interpreting data about our own world.
Most scientific data collection is funded by public tax payer funding. The public has a fundamental right to all data collected and funded by public tax money.
LB: How do you imagine an artist's training will change as these conditions evolve? And a scientist's — could we foresee any kind of convergence?
RM: One interesting development is a cohort of hybrids, who have one degree in science or engineering and one in art and design ( for example J.F. Lapointe, a researcher at the National Research Council of Canada with degrees in molecular biology and dance) or degrees in Science or engineering and employment in art or design (like myself or Paul Fishwick, a key figure in the field of aesthetic computing). There's been an emergence of art/science Ph. D. programs that take students from art or design or science or engineering. I suspect this cohort will grow over the coming years.
LB: Mariateresa Sartori, your IMéRA research project with Bruno Giorgini focused on mobility in the city. Can you tell us a little bit about how your work and Dr. Giorgini's work complemented each other? What kind of evidence did you bring to the table as an artist?
MS: The project I worked on with Bruno Giorgini developed an exploration that began with earlier work in Venice. There I created a series of drawings using a rudimentary, even crude procedure: I traced out the movements of each pedestrian in the Piazza San Marco, drawing their paths with a felt-tipped pen on a transparent sheet placed over the computer monitor. I then faithfully transferred the results onto ordinary large sheets of white paper. The lines thus drawn in different directions created a space, drawing a St. Mark's Square that is actually not there. As well as the actual physical space, it is also a drawing of our individual and collective manner of relating to space. Each single path determines the route of others, in a continuous and reciprocal game of influences that makes our collective progress.
At IMERA we developed this method for a new environment, a city more ethnically and culturally plural than Venice. Together we set up procedures and tools for collecting data about mobility networks there: nodes, links, chronotopi. These drew on the work of Bruno Giogini's Laboratorio di Fisica della Città of the University of Bologna. We shot videos focusing on specific behavioural patterns where strategies of shifting, approaching and distancing play a decisive role; and we were also attracted by the places and situations of pedestrian congestion. Using the same technique as in Venice, I translated these into drawings of movement. These again created a space that marks out squares and places which are actually not there, each synthesizing space, time and humanity in a single image.


LB: Is there an emancipatory or governance-related dimension to this work? Degrees of mobility have human rights implications. How does your work as an artist connect with these rights, especially the notion of the right to the city?
MS: The first goal when I work as an artist observing reality is observation, i.e. a way of observing that implies a new attention. The result is always instructive because I do not have particular expectations. After lines have been traced following my process, something always emerges and what emerges can be a useful and indicative element for the emancipatory dimension of the urban condition. I would say that Bruno Giorgini is more involved in that dimension than me, especially in the notion of the right to the city.
LB: There's a current preoccupation among researchers in a number of fields with the relationship between representation, often engaged with/through technology, and urban life. How has your latest work connected with this relationship?
MS: My way of working with technological instruments such as computers is very particular and limited. I use the computer as a technical tool strongly mediated by the senses, i.e. by human perception. I am very interested in modalities of perception: they are so imperfect, yet sufficiently perfect to make our existence possible.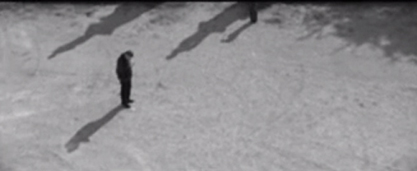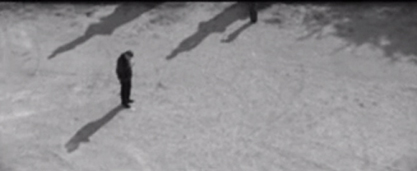 LB: You described the way you work with technological instruments as "particular and limited." Another way to look at this is that you make the technological system slow down by inserting yourself into the process… and the result is your drawings, which still movement. Might this be one role for art — to insert the human into the machine? Much net art focuses on flows of information, virtual movement, and representing that. While not quite glitch art, do your representations of movement in some sense intentionally put a brake on the machinery?
MS: I find your words enlightening, you describe my way of working better than me….. Actually I insert myself into the technological process…..but this is not a statement of a position against technology.
I can say that what interests me the most (and art's relation to science is just one instance of this) is the thread of connection between specific cases and general theory, between subjective and objective. Between, on the one hand, the singularity of events and, on the other, general theory. The individual's experience is singular, unique; but there is always a thread, even if fine, that leads each individual case to a wider generalisation. What interests me is this incessant – indispensable as much as concealed – mental activity that every day leads us to search for generalisations and regulating principles. What interests me is the human tendency to comprehend phenomena, even the most complex, via schematic representation, via a generalisation that leads to the identification of organising principles. I mean "Comprehension" in very wide sense, where emotions and feelings participate too in embracing reality, including reality. Maybe in this sense I put the human in the machine…
There is a discrepancy between how we perceive reality, mediated by our senses, and the truth decreed by science. On a rational level we recognize the truth, but we cannot internalize in a deep way this knowledge; this is beyond our human capabilities. I think that in my artistic research I find myself in this deep discrepancy.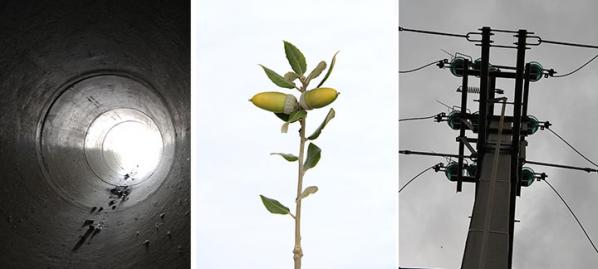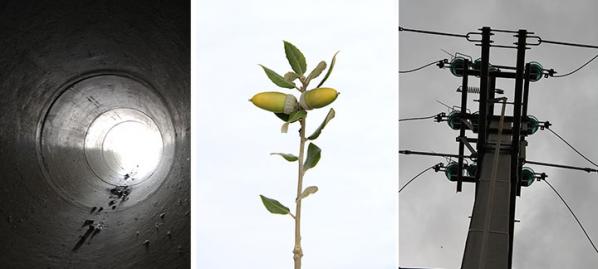 LB: Bryan Connell, your work in Marseille addresses, among other concerns, technology and its relationship to nature. Do you see the urban environment as playing any particular role in that relationship — of having a particular status in our negotiation of it?
Bryan Connell: One of the things that intrigued me about the metropolitan hiking trail in Marseille is the way it plays with our sense of meaning and value in the exploration of contemporary landscapes. Most long distance hiking trails are designed to lead out of urban environments, not into them. We don't usually think of carrying a field guide that illustrates the taxonomy of fire hydrants, electrical pylons, or urban weeds on an extended city or suburban walk. That kind of engaged, systematic attention is usually reserved for wild natural terrains. From a traditional environmental perspective, the less altered a place is by human technology, the more scientifically interesting, ecologically exemplary, and aesthetically rich it's going to be. Without undermining the validity of ever-present environmental concerns, the trail functions as an invitation into a more challenging and complex relationship to the emerging para-wilds and novel ecosystems that are arising at the intersection of the natural world and the technological infrastructure of the built environment.
Similarly, the Marseille trail doesn't really focus on the kinds of urban sites that are traditionally thought of as having significant historic, architectural, or cultural interest. Instead, the trail route incites visitors into an exploration of the everyday environments and working landscapes of the contemporary urban transect – a world of parking lots, freeway overpasses, suburban developments, abandoned railways, and semi-rural wildlands.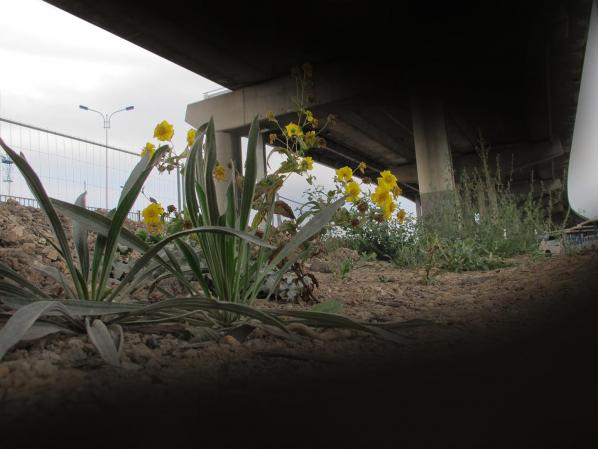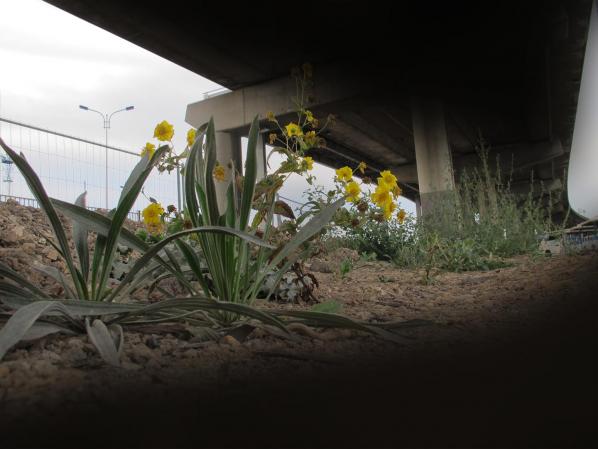 Landscape ecologist Earl Ellis argues that to better navigate our way through the current geohistorical epoch, the Anthropocence, we must expand the traditional ecological concept of regional biomes into the parallel notion of "anthromes" – biomes that are complex interconnected melds of human technology and natural systems. In a sense, the GR 2013 Marseille trail is a sketch or system of exploratory paths into what a publically accessible, anthrome based urban ecology observatory might look like.
LB: A similar question is in relation to the image, especially sequential images. What does it mean for our negotiation of the relationship between nature and technology? Between science and art?
BC: We increasingly live in a networked digital metropolis with an image and information density that both mirrors and exceeds the high population densities of the physical metropolis. One topic of particular interest to me is the role these images play in transfiguring the quality of our desire. To what extent do scientific or aesthetic images that increase our ability to find meaning and satisfaction in observing and understanding urban landscape phenomena mitigate our need to physically alter the landscape to conform to an idealized image of what it should or shouldn't be?
For example, the Marseille metropolitan trail didn't require much physical alteration of the terrain – it's a conceptually designated network of pre-existing roads, paths, streets and highways. The trail's function is not to alter place, but alter the cognitive landscape of trail users so they have a richer sense of place. If you are fascinated by the diversity of ways a para-wild plant population has adapted to a technologically modified environment, do you need to engage in an energy and material intensive re-landscaping of that environment with a palette of conventional horticultural plantings to make it more "beautiful"? In this sense, constructing interpretive images of landscape is more than a way of augmenting a recreational hiking experience, it's a way of shifting and re-configuring what we think we have to consume and alter to find meaning and vitality in contemporary landscapes.
More about Hybrid City II.
http://uranus.media.uoa.gr/hc2/
Hybrid City is an international biennial event dedicated to exploring the emergent character of the city and the potential transformative shift of the urban condition, as a result of ongoing developments in information and communication technologies (ICTs) and of their integration in the urban physical context. After the successful homonymous symposium in 2011, the second edition of Hybrid City has grown into a peer reviewed conference, aiming to promote dialogue and knowledge exchange among experts drawn from academia, as well as artists, designers, researchers, advocates, stakeholders and decision makers, actively involved in addressing questions on the nature of the technologically mediated urban activity and experience.
The Hybrid City 2013 events also include an online exhibition and workshops, relevant to the theme
Hybrid City Conference 2013: Subtle rEvolutions will take place on 23-25 of May 2013.
The Hybrid City II events will take place at the central building of the National and Kapodistrian University of Athens.
This document was edited with the instant web content composer. Use the online HTML editor tools to convert the documents for your website.
Featured image: corporations are not people – the Overpass Light Brigade
Overpass Light Brigade in Tosa from Overpass Light Brigade on Vimeo.
Wisconsin has arguably been ground zero for union busting, DIY social movements, corporate takeover of government, and divisive – and often misinformed – political debate in the US for more than a year. And the Overpass Light Brigade (OLB), initiated by Milwaukee artists Lane Hall and Lisa Moline, have been a guiding light – literally – in how ground-up messaging and change can happen. Now a collaboration between many people, the OLB relies on an ever-widening community of activists, artists, thinkers, and do-ers for their "Signs of Resistance." After a few rounds of local rye whiskey at Milwaukee's Riverwest Public House Cooperative – one of the only co-op bars in the country – I did an email back and forth with OLB co-founder Lane Hall to find out more about what makes them tick, how they see themselves, and where the movement they are a part of is headed.
Nathaniel Stern: What is OLB? It feels more "struggle-" rather than "goal-" orientated, despite that its first mainstream recognition is in relation to a specific campaign. Can you talk a bit about its history: how it started, where it headed, and what it might become?
Lane Hall / Overpass Light Brigade (OLB): On November 15 of last year a rally was organized by grassroots groups in Wisconsin in order to kick off the Recall Walker campaign. It was to begin right after work, at 5:00 pm. Both Lisa Moline (co-founder of OLB) and I had been very active in what we now think of as the Wisconsin Uprising, and we asked ourselves the simple question, "How do we achieve visibility for graphic messages when it is dark at 4:30?" We began to tinker with off-the-shelf Christmas lights, and found some battery-powered strings of LEDs. We built our first sign, a 3′ x4′ panel that spelled out RECALL WALKER. When we arrived at the rally, we were immediately asked to be behind the speakers. That sign got on the Rachel Maddow and Ed Schultz show that evening, so we knew we had hit on something that afforded powerful visibility. That first sign is now, incidentally, in the archive of the Wisconsin State Historical Society.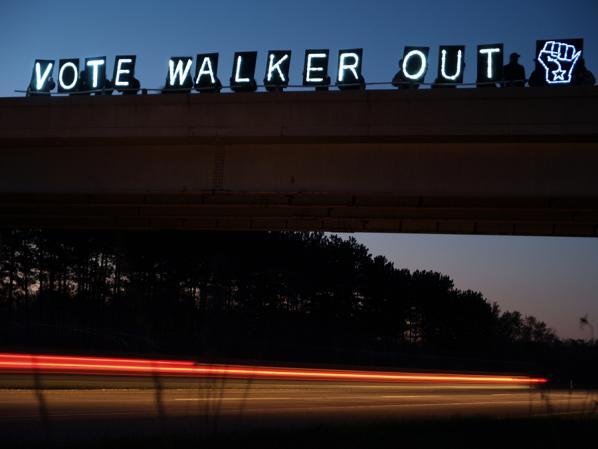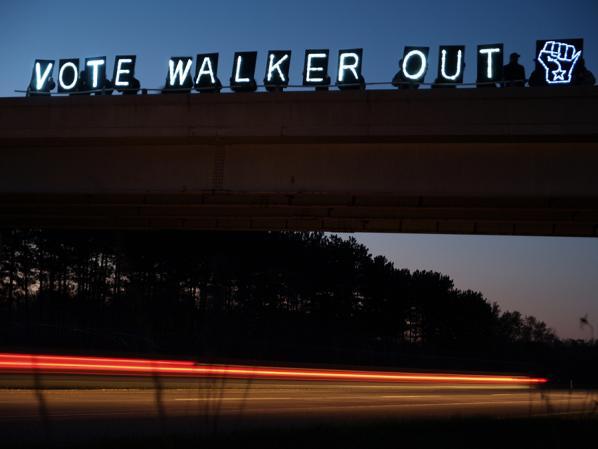 We then proposed a second design challenge to ourselves: how do we get messages out to masses of people, since we can't command the airwaves like Walker's Koch-fueled campaign? Once we decided to go out on highway overpasses, we "scaled-up" the letters so that we could spell out words, refrigerator magnet style, one letter per 2′ x 3′ placard.
Our first night out was on an overpass in South Milwaukee. It was very cold, fairly miserable really, with freezing winds kicking up from the passing semi-trucks. We had a few fellow activists to help, and our idea was to bungee-cord the signs to the fence while we stood by. We were accosted by a right-wing nut, a Young Republican, who was vehement in his insistence that we were breaking the law by affixing the signs to the fencing. He ended up in a physical altercation with Lisa in his insistence to rip our signs off the fence as well as forcefully take Lisa's video camera, since she was capturing his vigilante actions on video. When the police came, they did reiterate that nothing could be affixed to the bridges, though also supported our right to be there. From that night on, we realized that for OLB to work, we needed Holders of the Lights – one person per letter, as well as "spotters" for safety and a couple of people to take video and photos. This was a profound tweak of the original idea, in that it shifted our actions from mere signage to a form of witness or testimonial. It is very powerful to see one person per placard, positioned high above the highway, committed to the politics of physical presence.
We began to go out around the area, scoping out different overpasses, hooking up with different grassroots groups in Madison and Racine and Kenosha and Milwaukee. For about two months we took out RECALL to various locations, often getting hassled by people, questioned by cops, pushed to defend our rights to be out in these odd public spaces. We began to add letters and attract more volunteers who were attracted to our strange mix of Fluxus happening and focused message. RECALL WALKER, then 1% WALKER, then JOHN DOE (referring to an ongoing investigation into alleged campaign corruption when Walker was Milwaukee County Executive), then WALKER=JOBS FAIL and WALKER LIES and WALKER IS A CROOK, etc. We have always tried to index the message to what is breaking in the broader mediascape, so that there is resonance between multiple layers of information and our activist response.
Once Walker was officially recalled (he was "recalled to election") things really picked up. We were getting invited to hold actions around the state – Madison, Fond du Lac, Portage, Appleton, Kenosha, Racine – and more and more people began to join us. The 2 hour overpass occupations began to take on a real festive quality, with people bringing food, making music, chatting, singing, chanting and enjoying the angry and happy honks from the freeway. Our messages expanded, and our Bridge Parties have become somewhat legendary, with anywhere between 40 and 120 people commonly showing up. We even have a bagpiper who often leads us on and off the overpass.
A big part of the success of OLB is its mediagenic quality. Photographs and videos have been distributed freely and widely, at times even virally. We've been highlighted in the NY Times, CNN, Time Magazine, the Milwaukee Journal Sentinel, countless blogs and Facebook sites too numerous to even itemize. Our Facebook "reach" was hitting 182,000, and I was getting constant queries about the project. Our community of activists is extremely diverse, which is one of the things I am most appreciative of. It is odd how powerful holding a sign over a highway is, how many conversations happen in the two hours of bearing witness, and how compelling the action remains for our volunteers.
We immediately went out the night after the disappointing results of the recall. I felt that what I call "essential visibility" was even more important for the progressive community. WE SHALL OVERCOME and SOLIDARITY FOREVER graced the bridges, and we subsequently began to help some striking workers in Milwaukee pizza factory with BOYCOTT PALERMO'S. Since the recall, I feel we have gotten stronger and deeper, no longer relying on the easy binary of our disaffection towards our tea-bagger governor. Our issues are bigger and broader, more national. We just went out in Madison with CORPORATIONS ≠ PEOPLE and 56 volunteers showed up, along with some projector-shine activists, live-streamers, and a phalanx of videographers. We have also taken out QUESTION AUSTERITY and are integrating it with a social media #questionausterity campaign. I see the synthesis of physical and virtual space as the future of OLB actions, as well as our growing ties with the Occupy movement.
NS: This is more than inventive campaigning or even creative activism, but protest art with heavy political, aesthetic, ethical, and technological implications. The Graffiti Research Lab was first to use high technology to ask, "Can any public space be a blackboard?" You take that as given, provide the chalk, and ask for important messages to be broadcast on said blackboards. I'd like for the both of you to write a bit about your practice as artists, as activists, where they are one and the same, and where sometimes they differ.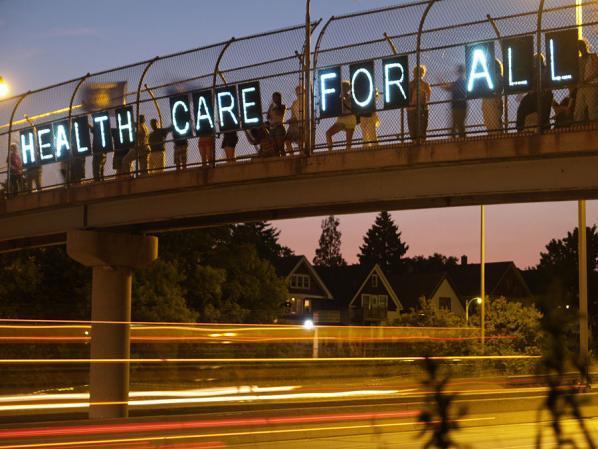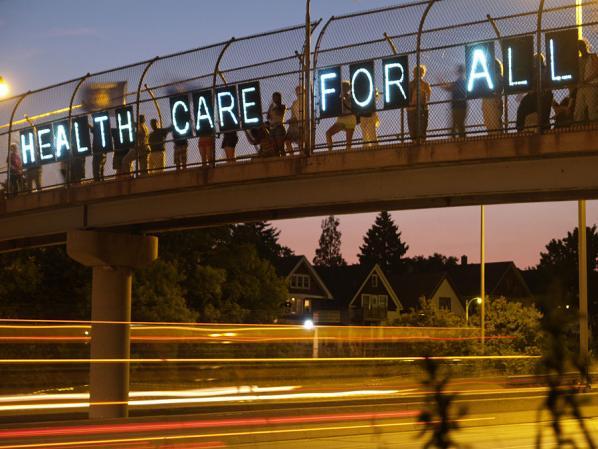 OLB: The Graffiti Research Lab is a continued inspiration for us in terms of their open-source ethos, and their bold pushing at the "public" aspect of "public space." I have great admiration for what they accomplished, yet have always felt frustrated that their messages generally stayed within existential parameters. That is, their presence in urban space was implicitly political, but their projections were generally, "I exist" with variations on the theme such as "Fuck you!" However, the way their events brought people together in the streets is also noteworthy. OLB has achieved some of these same dynamics, though with very directed and explicit political messaging. We are a fluid mix of relational aesthetic, Fluxus happening, street party and progressive messaging, all part of an inherently ethical practice. We think of ourselves as "the people's bandwidth," having found an open venue that takes a lot of dedication but only a small outlay of capitol, which is intrinsically public to thousands of passersby.
Our own work has been collaborative for a long time. Before the Wisconsin Uprising, our art – often about environmental issues and animal subjects – was implicitly political, but rarely pushed the boundaries of sanctified institutional spaces. Once the Uprising began, we got very involved with activist work, and took our creative efforts to the streets. We were inspired, set up a PAC called The Playground Legends with some other activists, and began working within some of Milwaukee's African American communities on voter education and Get Out The Vote campaigns. We set up "parties in the parks" for neighborhood groups, and used these relational activities to help create cohesion around a political purpose. This was exhausting and finally not sustainable for us, but some larger groups such as Wisconsin Jobs Now emulated our inventiveness and have really made a difference in spite of the Right's coordinated campaigns of disenfranchisement.
After working with this PAC, and struggling with the official requirements of a 501C3 and meetings with minutes and budgets and fundraising and reports, we chose to make OLB as flexible and open as possible. We are a loose affiliation of activists who show up on bridges and hold signs. It is very simple. Anyone can join. All ideas are welcome for consideration. Our community of activists is really the heart and key to sustainability with OLB. Most of them don't care whether this is art, or what the cultural precedents might be. All of them value this odd form of engagement, where they can see a beautiful and directed message reflected back through social media, and be a part of a much larger – and historical – emergence of a progressive political movement.
NS: Who do you want to follow your lead? Who do you want to help OLB progress to more innovative interventions? How can we help you help us?
OLB: We freely share the instructions for making the signs. They are very easy in concept, very DIY, and need only basic wood shop fabrication skills, akin to stretching canvasses or making a woodcut print. However, each sign does take a lot of concentrated construction, which can discourage some who have wanted to create their own. So far, we have 3 different chapters that have taken to the bridges: OLB-Fox Valley, OLB-Dane County (both in WI) and OLB-Harrisburg. We've also seen other iterations, such as a Madison based "Sign Brigade" doing daytime roadside actions. I see that OLB has a function as a model of empowerment, as well as the joy (or anger) one gets from seeing a message "done up in lights." One thing that hasn't happened yet is an ongoing series of "hacks" that extend and expand the idea. The off-the-shelf lights get expensive. Could someone figure out how to make battery powered (not big battery + inverter, but lightweight AA batteries) LED light strings so that we could build our own? How about other variations? This would be great to see, especially now that the Graffiti Research Lab's open inquiry with LEDs seems a thing of the past.
NS: What have been some favorite moments from the bridges?
It always amazes me when some random stranger pulls off the highway and comes to find us. Sometimes, especially at first, this would mean trouble, in that aggressors would want to direct anger at us. But one night in the bitter cold weather of January, an African American man came up to the bridge, told us he saw us and wanted to give us a gift, and offered each Holder a beautiful knit hat. He was a salesman of sports clothes, and had a lot of hats. We each left that night with a new Milwaukee Bucks hat!
Another time, just a few weeks ago, two women – an older woman and her adult daughter – came up to the overpass. Both were public school teachers. The teachers have been so demonized in Wisconsin – it is both ridiculous and shameful, but it obviously works to divide us, and as obviously takes its emotional toll on these new "enemies of the state." The older woman exclaimed that they were "so grateful to see us out there doing this" and she burst into tears. There were lots of hugs and they hung around for awhile, held a couple of letters, and left. It was very moving, as a lot of our Holders are themselves teachers.
We also hosted the famous "Nuns on the Bus" tour – the politically progressive group of Sisters who are going around the midwest to decry the austerity budgets of Paul Ryan and the Republicans. It was amazing when their bus pulled up by the overpass, and these elderly activists (along with the powerful Sister Simone) approached the bridge and saw the QUESTION AUSTERITY message we had created just for their tour. There were 96 people on the bridge that night, and they all sang happy birthday to one of the Sisters since it was her 72nd celebration that day. That was a wonderful event, and a great example of diverse activist communities coming together based on these joyful actions.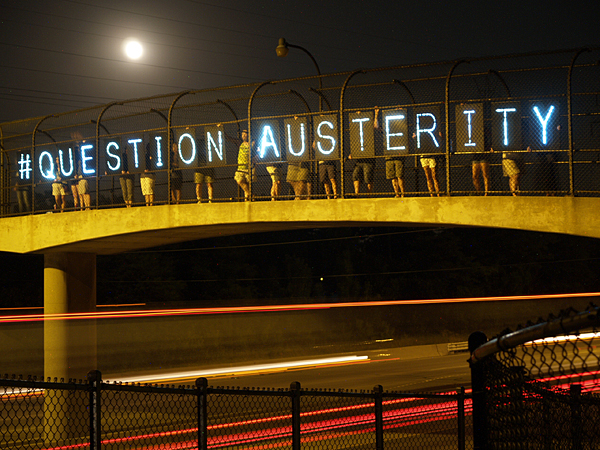 I could go on and on. Each action, each Bridge Party, is a whole narrative – interactions with police, with passersby, with neighbors both supportive and critical, and now and then with aggressors who have busted out our car windows or tried to shut us down. But it is all powerful, all a microcosm of the rifts in our country. The bridge is a forceful metaphor beyond its commanding physical presence over the geospatial distribution network function of our highways. It works both linguistically and architecturally, and affords a curious perch for our loose affiliation of committed brigadiers.
NS: How can we make our own stuff?
OLB: Check out our new site at http://overpasslightbrigade.org/
You can also find "noise of rain" posts on the Daily Kos site
http://www.dailykos.com/user/noise%20of%20rain
Featured image: "All Hail Damien Hirst!", Tamiko Thiel, 2012. Turbine Hall, Tate Modern, London.
Introduction.
Interest in Damien Hirst and his commercialized, celebrity status is well known. So when we heard that Tamiko Thiel was making the artwork "All Hail Damien Hirst!", we were immediately curious. Hirst is an extremely rich individual with powerful allies within wealthy, traditional art establishment circles. This includes Charles Saatchi, and commercially dedicated art mags and art institutions whom have all successfully helped in marketing his particular brand as part of their own economic strategy. With this in mind and acknowledging the potential risk in satirizing a well known art celebrity we thought it was a good idea to interview Thiel about her ideas and experience on the project?
Marc Garrett interviews Tamiko Thiel.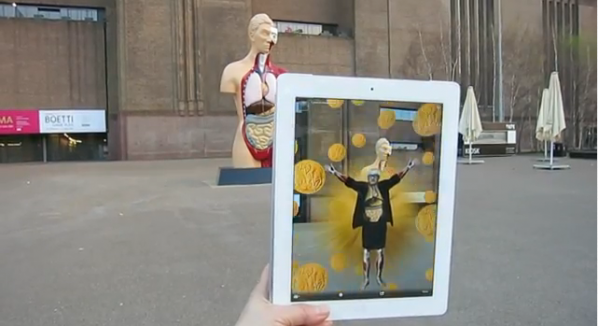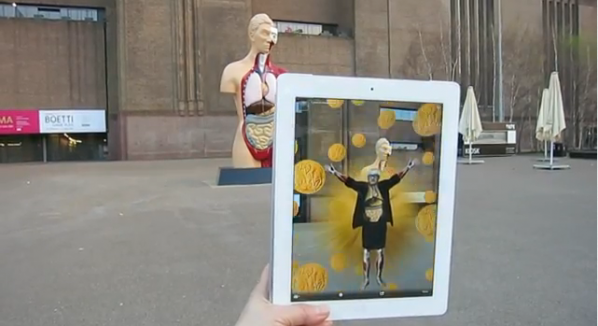 MG: Many are curious about your new augmented reality project "All Hail Damien Hirst!". It is an art installation and intervention. Why have you chosen to create an artwork aimed specifically at him, during his retrospective exhibition at the Tate Modern?
Tamiko Thiel: As a visual artist my projects start with having a strong image in my mind's eye that compels me to pursue the project further. When I heard of the retrospective at the Tate I immediately had an image of Hirst – depicted in a style relating to his own working methods – hovering in the vast space of the Tate Modern Turbine Hall. On findng out that the space was not going to be used except for the small room housing his diamond skull, I saw an opportunity to give visitors an experience that would utilize the space beautifully, compliment his own work and bring the contradictory feelings that many have about him and his work into sharper focus.
In my own work I often draw on the power of religious imagery. This aspect of Hirst's work, and also his themes of the body and death, are very compelling to me. On the other hand, he plays a master hand at making the art market dance to his tune. I find the market value of his carefully ordered spot paintings, for example, in marked contrast to the artistic power of Yayoi Kusama's spot obsessions, which were exhibited probably not by coincidence at the same time at the Tate Modern.
To top it off, while flipping through a United Airlines onboard magazine I chanced upon an image depicting the value of Hirst's artworks as an exaggerated – and spotted – version of the movement of the stock market: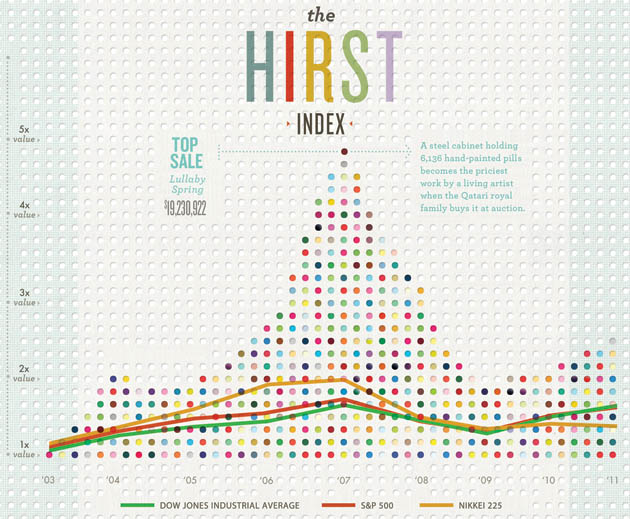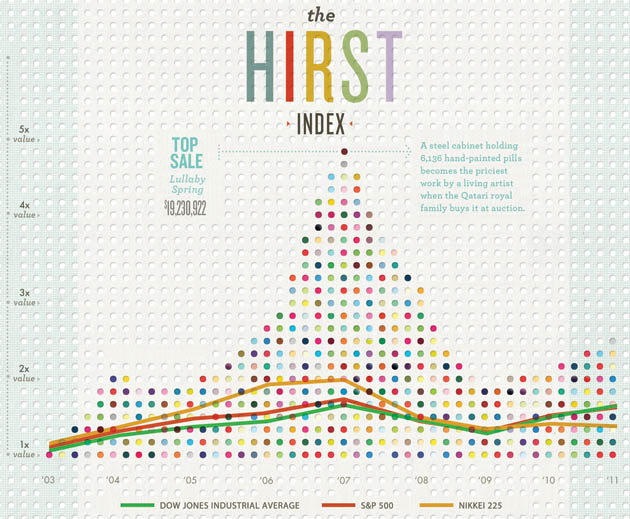 I wanted to make a work that addressed multiple issues surrounding Hirst as a person, as an artist and as a force in the art market at a time of extreme tension in the world's financial markets. I knew however that Hirst is very litigious, so I was careful to use none of Hirst's actual artworks, so I do not infringe on his copyright!
I had done an earlier augmented reality work, Reign of Gold, as part of the AR Occupy Wall Street project. In this work, viewers all over the world can chose the site at which to view the piece on their smartphones, and then see an animated rain of gold coins superimposed over the live camera view of their surroundings. I have photos of this work against the New York Stock Exchange, the Bank of England in London, TEPCO in Tokyo – the company that brought us the Fukushima nuclear disaster – and other choice sites around the world. You will see a clear visual relationship between the rain of gold coins and Hirst's spot paintings, which many say are destined to go through a similar boom and bust cycle as are the world financial markets.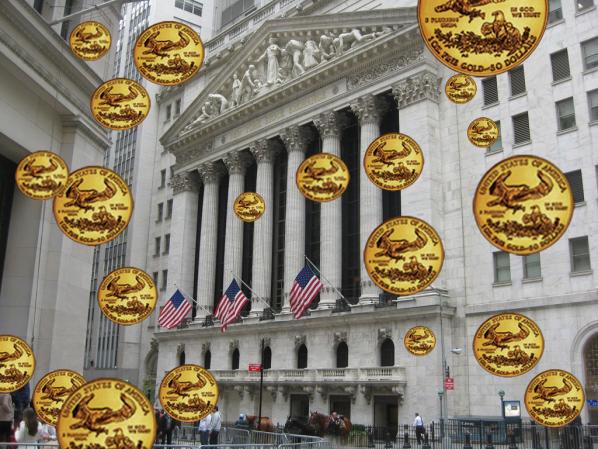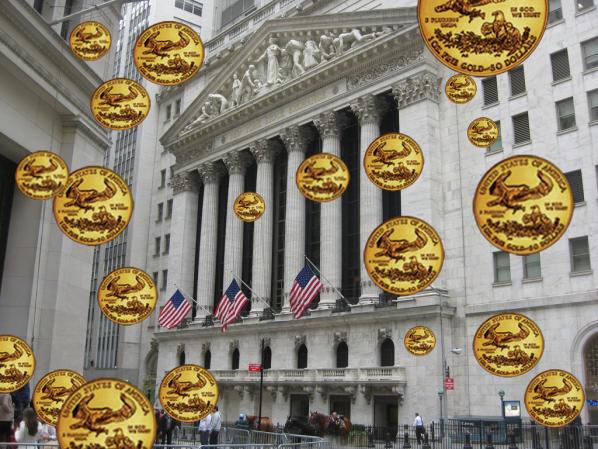 If I was a painter I would've gone off and made a painting, and that would have been the end of that. Since I work with augmented reality however I could place the image in and around the Tate Modern itself, the very site of Hirst's exhibition. This puts a whole different spin on the artwork, as having an artwork "in" a prominent arts venue is seen as a form of "canonization" in the art world, even if the artist places the work there by him- or herself, as did Banksy.
This brought in yet another level to the project, as the work functions now not only visually, but by dint of its location also questions the system by which the art world consecrates artists and artworks. What does the location of an artwork mean, if every artist decides for herself where to place the work? Walls cannot keep us out, nor can walls keep us in. Even Hirst, who is known as a control freak, cannot exercise control over augmented reality.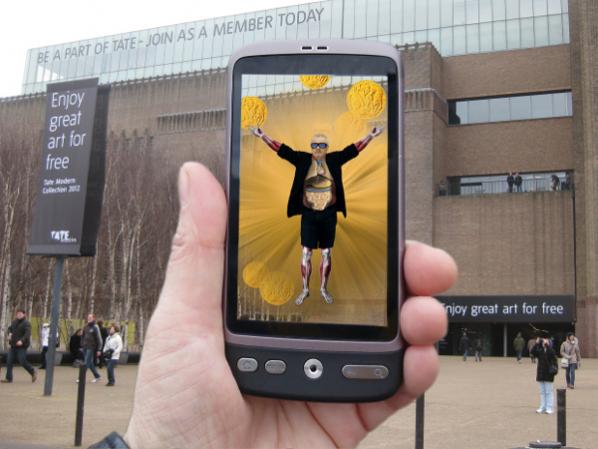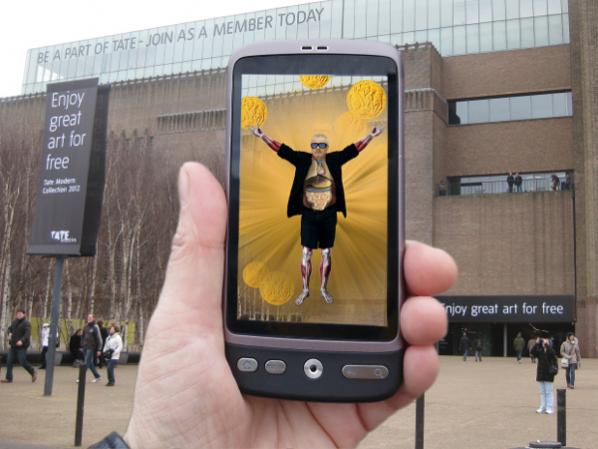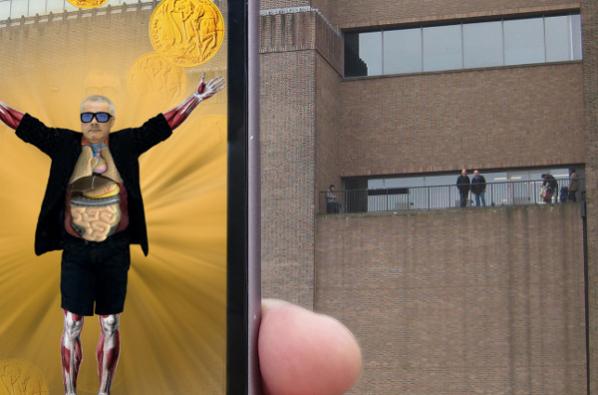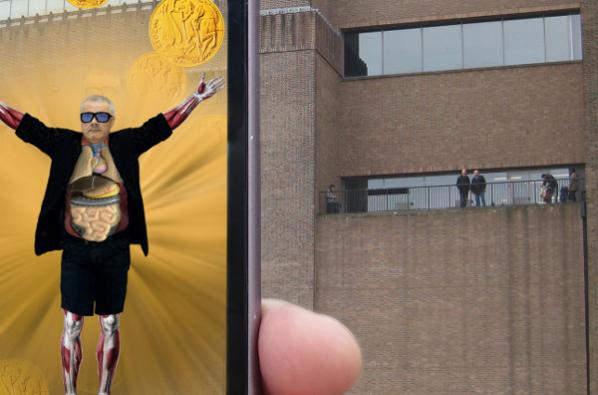 MG: You visited the Tate Modern and interacted with the public. What kind of responses did you receive by visitors to the intervention?
TT: Delight! Most had come to see Hirst's exhibit with contradictory feelings about the man and his art because of similar issues to those that had motivated me to make my artwork originally. They were delighted at how my artwork spoke to these feelings while leaving the conclusion open for the viewer. They liked the spatiality of the piece, how it surrounded them and filled the cavernous empty space of the Turbine Hall when viewed inside the Tate Modern, and reflected on Hirst's "Hymn" sculpture when viewed outside by the river. There was also fascination about this new technology which none had ever seen before, and of course some puzzlement about how it worked.
MG: What message are you hoping to communicate with this interventionist project?
TT: What attracts my attention as an artist are topics that provoke contradictory or unresolved emotions in myself. By their very nature I can't answer these topics with a simple message. Instead I try to create striking images and visual/kinesthetic experiences that evoke the contradictory feelings I have myself, in the hopes that my works can help focus or sharpen the issue, or at least provoke dialog in those who view them.
To cite a different work from my art practice: even in "Shades of Absence," in which I surround anonymous golden silhouettes of censored artists with terms of censorship, I am myself of two minds about many of the artworks I cite in the linked website on censored artists. I made Shades of Absence as an intervention into the 2011 Venice Biennale, at a time when Ai Wei Wei was imprisoned by his own government. In his case I am strictly against the censorship of him as an artist and a person, but in many other cases I have cited, I myself could not say I would always be against censorship when it could incite hate and physical violence against others.
MG: Is it mainly Hirst you are critiquing here or is he representative of something bigger in art and its culture that you are questioning?
Hirst is the British Jeff Koons! Every era and every country finds such a figure to represent the eternal tension between art as a sublime personal experience and art as the magnet for glamour and status and money. I wonder if it was any different for the artists of the cave paintings?
MG: In the publicity for the project, it says 'Augmented Reality is the Street Art of the 21st Century!'. Could you elaborate what this means to you, and share with us some examples of other interesting works in this field?
TT: In this regard, to be frank I think the work of my cyberartist collective Manifest.AR is the leading work in the field at this moment, perhaps because we are all so diverse and cross-fertilize each other!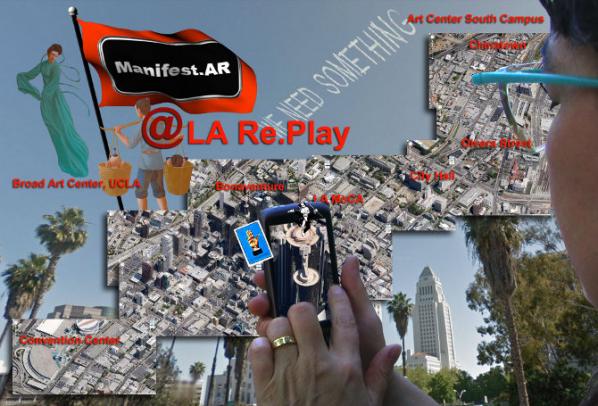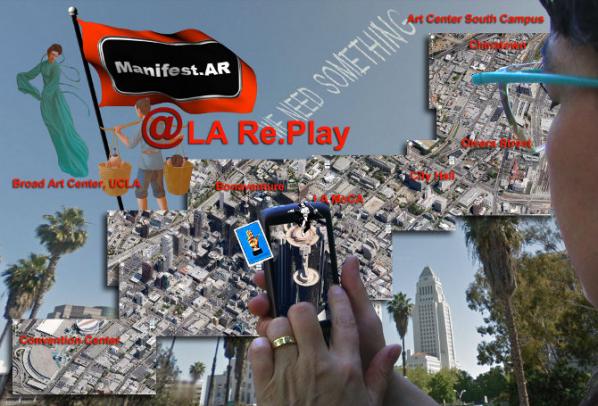 Of course augmented reality is not as visible as a graffiti on the side of a building – but it also cannot be removed, and we can place them wherever we want without fear – yet – of arrest or fines. Also, the smartphone or mobile tablet is becoming an extension of the self, and our primary interface with the extensive virtual society in which we are embedded. It is how we will communicate, how we will find information, how we will share our social space with everyone who is not standing in exactly the same room at exactly the same time, it will become our entertainment device, our payment device and god forbid our identification device. You do not go to someone's house to look through their photo album, you go to their Facebook site. Why shouldn't you start finding their thoughts and expressions as augmented reality images around you in space?
I just successfully co-wrote a major Rockefeller Foundation grant to help residents of a very poor area of a major city put up their own history and artwork in their neighborhood using augmented reality. I can't say much about it as the official publicity has not yet been released, but the organization I wrote it for is convinced that in a couple of years, more of their youth will look at art on smartphones than in museums and art galleries. Will the middle and upper classes lag behind, because they think the only art worthy of note is hanging on gallery walls?
Links:
All Hail Damien Hirst! An augmented reality installation celebrating Damien Hirst at the Tate Modern.
http://www.allhaildamienhirst.com/
"Reign of Gold" – part of AR Occupy Wall Street
http://www.mission-base.com/tamiko/AR/reign-of-gold.html
Tamiko Thiel – Online Portfolio
http://www.mission-base.com/tamiko/
Tamiko Thiel is a media artist developing the dramatic and poetic capabilities of various forms of virtual and augmented reality as media for exploring social and cultural issues.
A founding member of the cyberartist group Manifest.AR, she participated in the pathbreaking augmented reality exhibit "We AR in MoMA," an uninvited guerilla takeover of MoMA New York. Videos of Thiel's "Art Critic Face Matrix" were featured in articles in the New York Times and on WNYC (National Public Radio). In 2011 she led the Manifest.AR Venice Biennial AR Intervention, placing her work series "Shades of Absence," on censorship in the visual arts, in the Venice Giardini and in the German National Pavilion (which won the Golden Lion Award for best national pavilion). This led to an invitation to participate in the ISEA2011 exhibition UNCONTAINABLE, an official parallel program of the Istanbul Biennial, where she placed her artwork series "Captured Images" into the main biennial exhibition