This 3-year programme supports our Platforming Finsbury Park initiative. Between 2019-2021 we will produce exhibitions and events that combine citizen science and citizen journalism by crowdsourcing the imagination of local park users and community groups to create new visions and models of stewardship for public, urban green space. By connecting these with international communities of artists, techies and thinkers we are co-curating labs, workshops, exhibitions and Summer Fairs as a way to grow a new breed of shared culture.
3 years and 3 themes
50+ Citizen Sci-Fi events
1000s of local residents
Stories, movies, machines and more!
#CitSciFi – crowdsourcing creative and technological visions of our communities and public spaces, together.
Citizen Sci-Fi: Time Portals 2019
The Time Portals exhibition, held at Furtherfield Gallery (and across our online spaces), celebrates the 150th anniversary of the creation of Finsbury Park. As one of London's first 'People's Parks', designed to give everyone and anyone a space for free movement and thought, we regard it as the perfect location from which to create a mass investigation of radical pasts and futures, circling back to the start as we move forwards.

Each artwork in the exhibition therefore invites audience participation – either in its creation or in the development of a parallel 'people's' work – turning every idea into a portal to countless more imaginings of the past and future of urban green spaces and beyond.

Citizen Sci-Fi: Love Machines 2020
For this Olympic year we will consider the health and wellbeing of humans and machines.

Citizen Sci-Fi: Land Oracles 2021
For this year of predicted peak heat rises we will consider how machines can work with nature.
This Time It's Public!
A recent report on digital attitudes shows that while 50% of people in the UK say that the Internet has a positive impact on their lives, only 12% believe it has a positive impact on society.[1] Mark Zuckerberg's recent failure to give a straight answer to questions about misuse of Facebook's user data, illustrates a major problem.
Much has been made of the democratising effect of social media platforms. However, while more of us are encouraged to "have our say", we have less influence over the important decisions that most affect our lives, our localities, and the ways in which our societies are organised. The owners of digital platforms from Facebook to Uber, answer to shareholders in private, rather than to citizens in public. It should therefore not surprise us when they manipulate, monetize and exploit users' interactions, attitudes and behaviours for their own commercial and political interests.
This problem of privately owned social space is not one that can be resolved by consumer and state regulation alone. It is a wider societal issue that further reinforces to us at Furtherfield, the immense value of park spaces in which neighbours come together each day, renegotiating in public, the spirit of the place through a diverse mingling of purposes.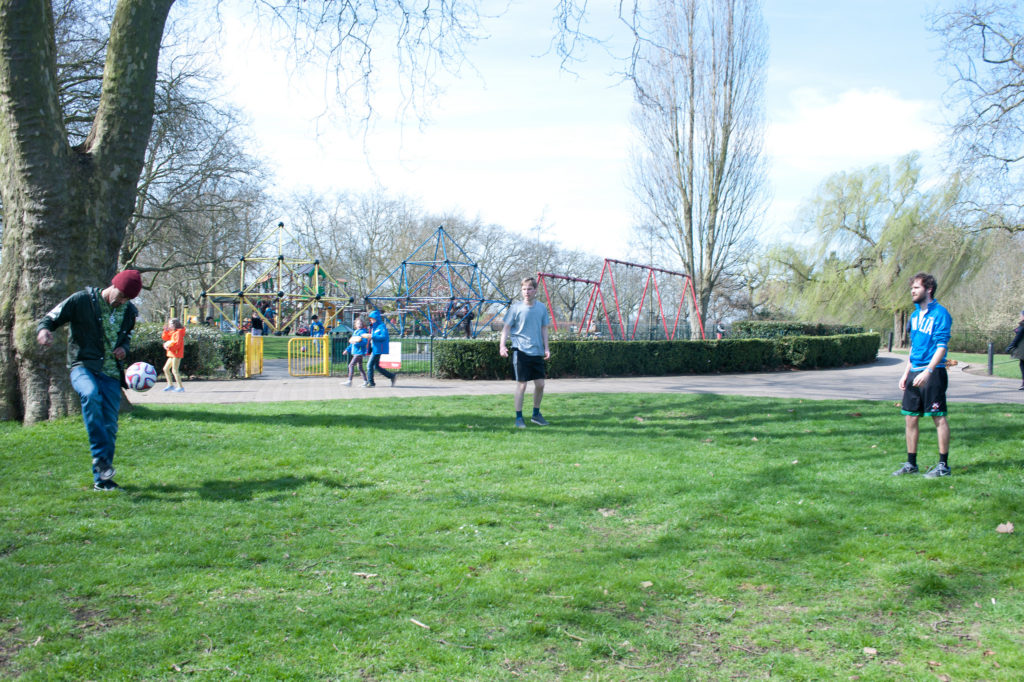 Fieldwork in Hu1man and Machine Imagination
Over the last six years more than 50,000 people have encountered over 75 digital artworks that Furtherfield has brought to the park, working with international artists who reveal the invisible forces at play in machine and digital infrastructures. This summer Furtherfield extends its programmes beyond the Gallery and Commons venues into public green space of the park as we announce the first exhibitions, workshops and labs as part of Platforming Finsbury Park.
We are inviting park users to collaborate with us to transform the park into a public platform for cultural adventures, social inventions and reflections; to work with artists, hackers and academics from all backgrounds to rethink the social impact of technology and its flows on public spaces; and to bring local needs to the forefront in the context of planetary-scale techno-social advancements.
Currently showing at Furtherfield Gallery in the heart of Finsbury Park is the exhibition Poetry for Animals, Machines and Aliens: the Art of Eduardo Kac which is free and open to the public every day through May. The exhibition includes Lagoogleglyph, the third in a series of images as part of a global, networked artwork that takes the form of a pixelated bunny painted (in this instance) onto a field in the park, to be enjoyed by people on the ground and seen from Google Earth. In his essay Andrew Prescott, curator of the exhibition and Professor of Digital Humanities at Glasgow University revisits historic antagonisms between culture and technology prompted by reflections on the invention and imagination at play in Kac's digital poetry.
Meanwhile families are joining artist Michael Szpakowski to use the very same satellite infrastructure to create GPS bunny drawings in his workshop series Let's Fill the Park With Rabbits!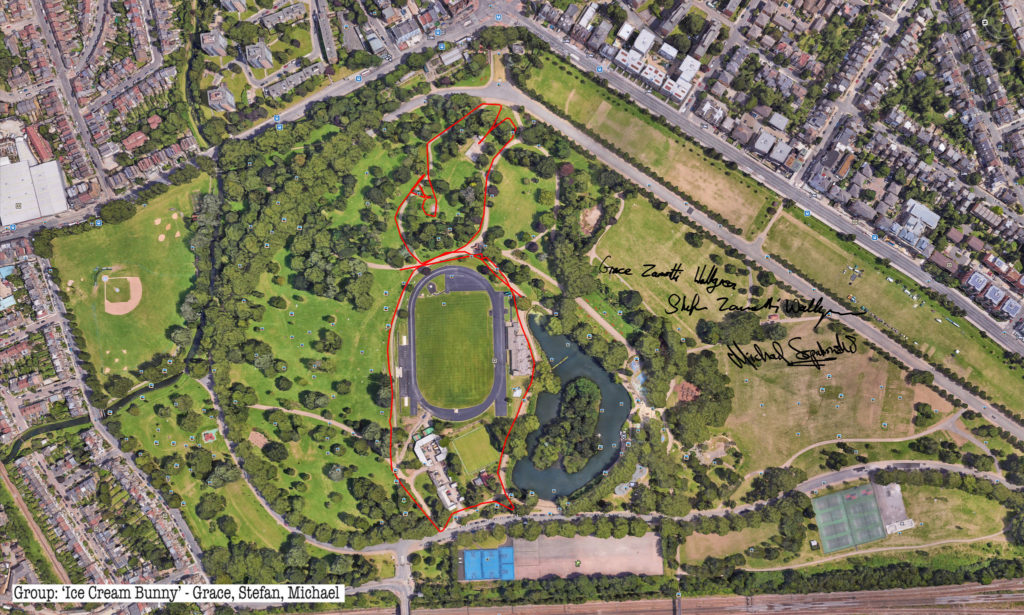 We hope that Platforming Finsbury Park will also start to flip some assumptions about who and what both art and technology are for. Over 180 languages are spoken in Finsbury Park. We want to make space for conversations and experiments with people from different backgrounds. Alongside the exhibition Andrew Prescott is also leading a series of public workshops on the theme of Digital Transformations promoting dialogue between and across diverse cultures.
Work, Pleasure, Survival 
In late May, we host Playbour – Work, Pleasure, Survival, a 3 day lab for artists, scientists and technologists dedicated to "the worker in an age of data and neurotechnologies". From these will flow art commissions and collaborations towards our next exhibition in July.
Here you can read an interview with designer Ling Tan about the SUPERPOWER wearable technology workshops at Furtherfield Commons last summer in Finsbury Park. Ling tells us about how a group of young women from All Change Arts worked with her to devise activities and to learn about creating and interpreting data to themselves shape attitudes and behaviours. Dani Admis, curator of Playbour, continues this work later in the summer, exploring with local young women how they might effect change on their own terms, using the conceptual power tools of neuroscience.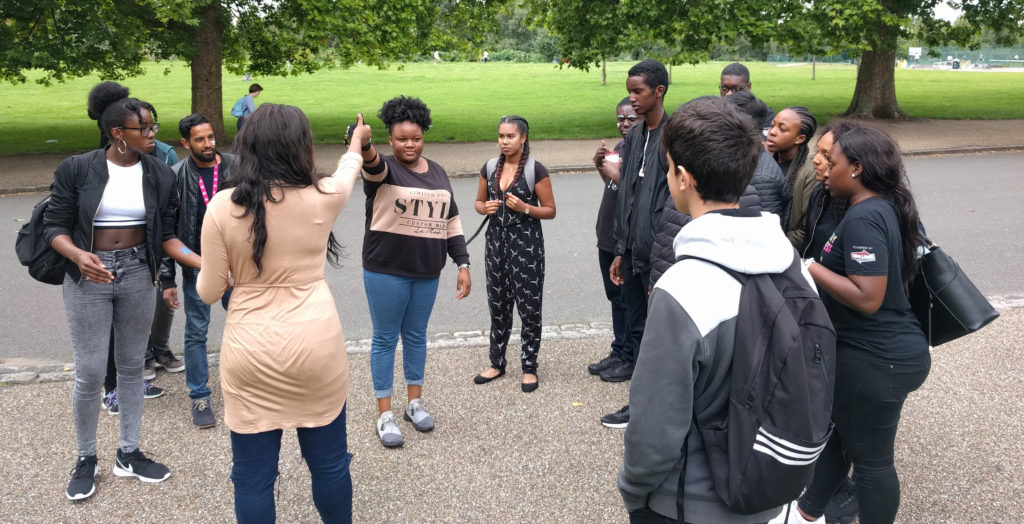 Finally a provocation to Furtherfield from Simon Poulter, artist, technologist and producer of NetPark, the digital art park at Metal in Southend, who is working in partnership with us. He celebrates our commitment to the commons "as a real thing, worth our energy and stewardship, the point at which people do touch each other and listen." He also issues a call to action…"It is time to invent another future, lest we will become the disrupted and not the disruptors."
As Manuel Castells famously put it 'The flows of power generate the power of flows, whose material reality imposes itself as a natural phenomenon that cannot be controlled or predicted… People live in places, power rules through flows'. [2] And in network society these flows often have the power to wash clean away communities' ties, extracting value and flowing it to the private interests of absent and distant persons and bodies.
So our future mission grounds us in Finsbury Park, while maintaining our global reach. We are passionate and committed to multiple points of entry, bringing in consenting and diverging voices, to channel and circulate flows locally to generate the power to enact this public place together with verve.
Valuing people is a core property of wealth creation, wealth creation can be positively bound into communities. We can't afford not to be involved in digital creativity because it explores areas of social space that are entwined with intrinsic cultural and economic value.
The point of entry has become ubiquitous, we are everywhere, they are everywhere – I am over there and here too. Marshall McLuhan, the Canadian media theorist gave us 'emotional extension in electronic space' [1]before we came up with the clumsy and often misunderstood paradigm of 'post-digital' – a way to describe a circularity and return to being human that accepts the intersubjectivity and convergence we feel with other people and technology.
It is this corporeal and algorithmic unification and association that Furtherfield grasps; sometimes like harsh high summer nettles on uncovered hands, gathered as ingredients for a convivial soup. Not afraid to be stung or to make the soup, even though after 22 years of foraging you are not now the only voice or flag raised at the intersections of art, technology and social change. The mission is always different and always the same. This then is my provocation to you.
The case for digital creativity has grown. Why is that? Because there is deep unrest and even malevolence in electronic spaces and at their corporeal nodes. "The creative adult is the child who has survived," says Ursula K. Le Guin.
Fieldwork in human and machine imagination
As creative people engaged in the field we are with agency and in turn create agency; we gladly pick up refurbished laptops, remixed maps and fragmented tweets. Our fieldwork means we are in the river, standing watching by the shore, and holding up a mirror in the lobby of the hotel. We facilitate others, not just ourselves, we do it with others. Artistic people are children and not confined or restrained by common sense orders from the immaterial elite – some are pointed, focused and ready to enter the field, others are yet to claim their agency, and even more have yet to experience due North and due South. We can provide the co-ordinates, the beginning of the map and the line of sight. Artists in the future will become agents of change and observers of truth in a familiar return to base. And so we are not given to the idea, in the field, of carrying out instrumental command and we caution ourselves against suggesting this to others.
In a hotel in Sweden we listened as the French Philosopher, Bernard Stiegler brought attention to our attention. In clipped and someway jarred English, he opened up the vast chasm and problem of attention as the fundamental commodity of our age (emotionally extended, post-digital etc). His references to 'techne' willfully conjured up derivations from Greek – craftsmanship, craft and art. We are crafting the digital to draw attention to ourselves and our products. We are becoming products, through a process of digital reification. Lukács describes reification 'as a relation between people that has taken on the character of a thing'[2]. So, while humans and machines merge evermore, we understand that the end-point of creative processes is not to make attention-seeking people become products and things, it is to diversify our subjectivities and illuminate the way forward for all.
The agency of artists has been a key factor in the development of the Furtherfield's mission in its first two decades. This agency broadly disseminates to artists networks, activism, societal change, environmentalism, localism, global affairs and more recently emerging technologies such as blockchains. Within an unfolding world political landscape, these areas of interest show greater convergence and potential as moments of reflection become more important in the reified world of products. Our role is to be that reflective space for 360 degree scanning and to hold digital time up in the chain.
Our future mission grounds us on our locus in order to do this, while maintaining our global reach. We are passionate and committed to multiple points of entry, bringing in consenting and diverging voices. The 'commons' to us is a real thing, worth our energy and stewardship the point at which people do touch each other and listen.
We know that technology will not save us and furthermore we propose that this is not the right question. In working in partnership with academics, businesses and other institutions we are always asking ourselves where progressive change can come from, in a series of open dialectical spaces. Finsbury Park offers us a node in which to conduct business and make new wealth – cultural, social and economic capital. The predication of wealth creation on technology alone is too simplistic when a multitude of tools are needed. Our approach to the idea of the 'commons' is to use old and new tools and ways of getting things done together..
As McLuhan says: "Once we have surrendered our senses and nervous systems to the private manipulation of those who would try to benefit from taking a lease on our eyes and ears and nerves, we don't really have any rights left. Leasing our eyes and ears and nerves to commercial interests is like handing over the common speech to a private corporation, or like giving the earth's atmosphere to a company as a monopoly." (from Understanding Media, 1964.)
We are not isolated from the huge pressures of the global economy, when advancements outstrip the ethics and the algorithms that come to define new normative patterns and processes. The role of digital creativity and artists is now fully emerging as one that reconnects them and us back into the critical space that Goya, Galas and others occupied. So, we can hold up time and re-enter it at a different point. Yes, Furtherfield offers time travel!
The disruptive power of technology is evident in its ability to unhinge and even eliminate existing businesses, local centres and distribution methods. This is not new, just as McLuhan defined electronic extension in the 1960s, Clayton Christensen defined 'Disruptive Innovation' in his book The Innovator's Dilemma in 1997. However, digitally disruptive business models such as Uber are now mainstreamed and fast-tracked into our everyday experiences. With the advance in real time data and algorithms these disruptions can have a dramatic effect in social and economic terms. We are faced with a shift in the language from the progressive and anti-establishment power of Punk and music culture; into the realms of digitally distributed start-ups, iterative technologies and remix culture.
It is time to invent another future, lest we will become the disrupted and not the disruptors.
Image credit: Museum of Contemporary Commodities by Paula Crutchlow at Furtherfield 2016