On the day of the General Data Protection Law (GDPR) going into effect in Europe, on the 25th May, the Disruption Network Lab opened its 13th conference in Berlin entitled "HATE NEWS: Manipulators, Trolls & Influencers". The two-day-event looked into the consequences of online opinion manipulation and strategic hate speech. It investigated the technological responses to these phenomena in the context of the battle for civil rights.
Between hate and hope: lessons from Kenya on hate speech and political manipulation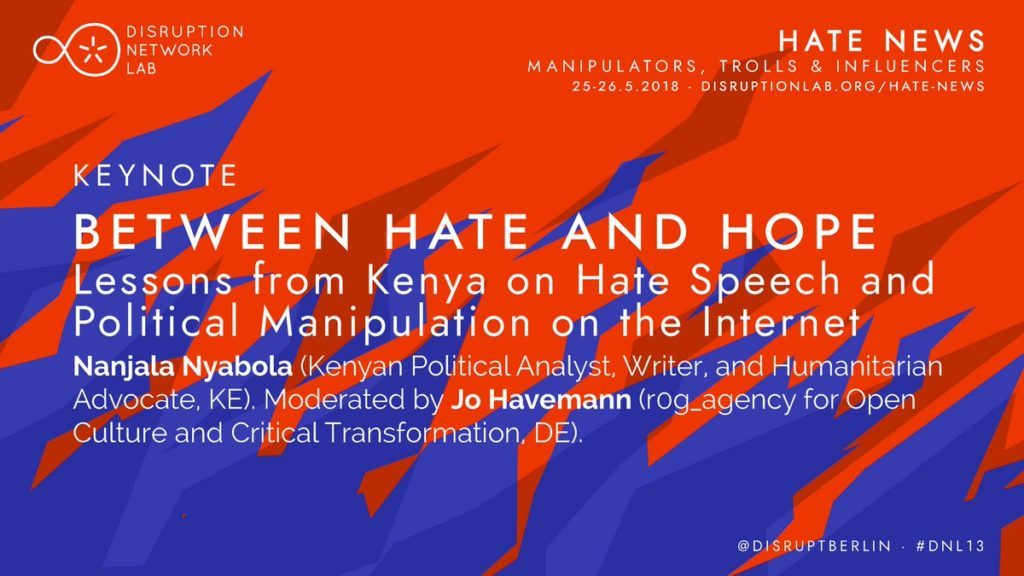 The conference began with Jo Havemann presenting #DefyHateNow, a campaign by r0g_agency for open culture and critical transformation, a community peace-building initiative aimed at combating online hate speech and mitigating incitement to offline violence in South Sudan. More than ten years ago the bulk of African countries' online ecosystem consisted of just a few millions of users, whilst today's landscape is far different. This project started as a response to the way social media was used to feed the conflicts that exploded in the country in 2013 and 2016. It is a call to mobilize individuals and communities for civic action against hate speech and social media incitement to violence in South Sudan. Its latest initiative is the music video #Thinkbe4uclick, a new awareness campaign specifically targeted at young people.
In Africa, hate campaigns and manipulation techniques have been causing serious consequences for much longer than a decade. The work of #DefyHateNow counters a global challenge with local solutions, suggesting that what is perceived in Europe and the US as a new problem should instead be considered in its global dimension. This same point of view was suggested by the keynote speaker of the day, Nanjala Nyabola, writer and political analyst based in Nairobi. Focusing on social media and politics in the digital age, the writer described Kenya´s recent history as widely instructive, warning that manipulation and rumours can not only twist or influence election results, but drive conflicts feeding violence too.
The reliance on rumours and fake news was the principle reason that caused the horrifying escalation of violence following the Kenyan 2007 general election. More than 1,000 people were killed and 650,000 displaced in a crisis triggered by accusations of election fraud. The violence that followed unfolded fast, with police use of brutal force against non-violent protesters causing most of the fatalities. The outbreak of violence was largely blamed on ethnic clashes inflamed by hate speech. It consisted of revenge attacks for massacres supposedly carried out against ethnic groups in remote areas of the country. Unverified rumours about facts that had not taken place. Misinformation and hate were broadcast over local vernacular radio stations and with SMS campaigns, inciting the use of violence, animating different groups against one another.
The general election in 2013 was relatively peaceful. However, ethnic tensions continued to grow across the whole country and ethnic driven political intolerance appeared increasingly on social media, used mainly by young Kenyans. Online manipulation and disinformation proliferated on social media again before and after the 2017 general election campaign.
Nyabola explained that nowadays the media industry in Kenya is more lucrative than in most other African regions, which could be considered a positive aspect, suggesting that within Kenya the press is free. Instead a majority media companies depend heavily on government advertising revenue, which in turn is used as leverage by authorities to censor antagonistic coverage. It should be no wonder Kenyans appear to be more reliant on rumours now than in 2007. People are increasingly distrustful of traditional media. The high risk of manipulation by media campaigns and a duopoly de facto on the distribution of news, has led to the use of social media as the principle reliable source of information. It is still too early to have a clear image of the 2017 election in terms of interferences affecting its results, but Nyabola directly experienced how misinformation and manipulation present in social media was a contributing factor feeding ethnic angst.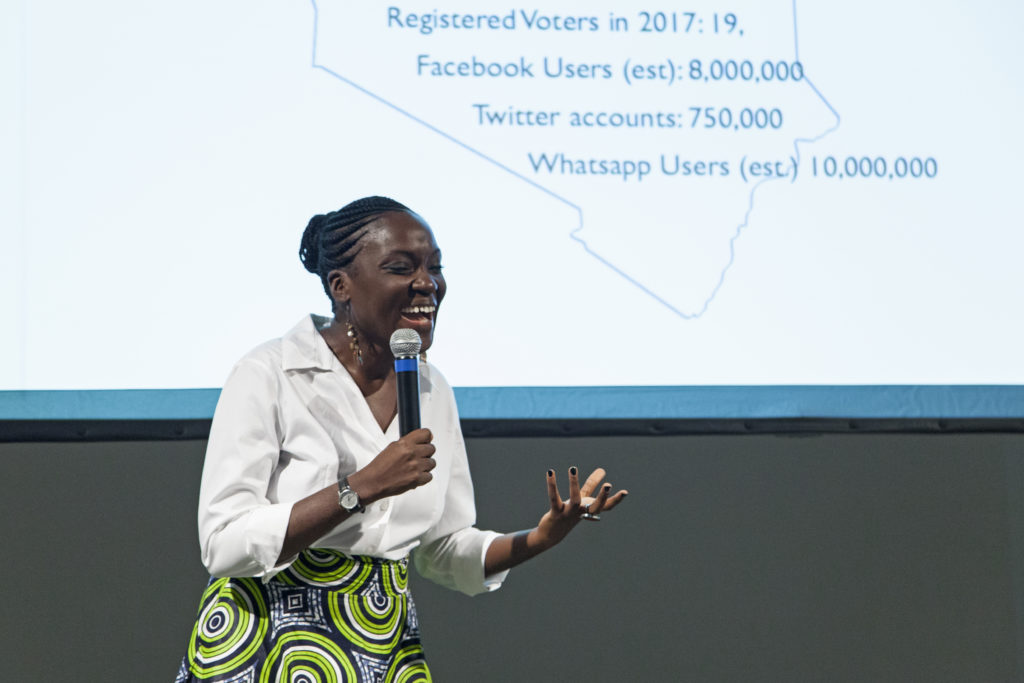 Rafiki, the innovative Kenyan film presented at the Cannes Film Festival, is now the subject of a controversy over censorship due to its lesbian storyline. Nyabola is one of the African voices expressing the intention to support the distribution of the movie. "As something new and unexpected this movie might make certain people within the country feel uncomfortable" she said, "but it cannot be considered a vehicle for hate, promoting homosexuality in violation of moral values." It is actually essential not to confuse actual hate speech with something that is labeled as hate speech for the purpose discredit upon it. Hate speech can be defined as something intended to offend, insult, intimidate, or threaten an individual or group based on an attribute, such as sexual orientation, religion, colour, gender, or disability. The writer from Nairobi reminded the audience that, when we talk about hate speech it is important to focus both on how it makes people feel and what it wants to accomplish. We should always consider that we regulate hate speech since it creates a condition, in which social, political and economic violence is fed, affecting the way we think about groups and individuals (and not just because it is offensive).
Nyabola indicated few key factors that she considers able to increase the consequences of hate speech and manipulation on social media. Firstly, information travels fast and can remain insulated. Whilst Twitter is a highly public space where content and comments flow freely, Facebook is a platform where you connect just with a smaller group of people, mostly friends, and WhatsApp is based on groups limited to a small number of contacts. The smaller the interaction sphere is, the harder it is for fact-checkers to see when and where rumours and hate speech go viral. It is difficult to find and stop them and their impact can be calculated just once they have already spread quickly and widely. Challenges which distinguish offline hate speech and manipulation from online ones are also related to the way information moves today among people supporting each other without a counterpart and without anyone being held to account.
Nowadays Kenya boasts an increasingly technological population, though not all rural areas have as yet been able to benefit from the country being one of the most connected ones in sub-Saharan Africa. In this context, reports indicate that since 2013 the British consulting firm Cambridge Analytica had been working in the country to interfere with elections, organizing conventions, orchestrating campaigns to sway the electorate away from specific candidates. It shall be no surprise that the reach of Cambridge Analytica extended well beyond United Kingdom and USA. In her speech, Nyabola expressed her frustration as she sees that western media focus their attention on developing countries just when they fear a threat of violence coming from there, ignoring that the rest of the world is also a place for innovation and decision making too.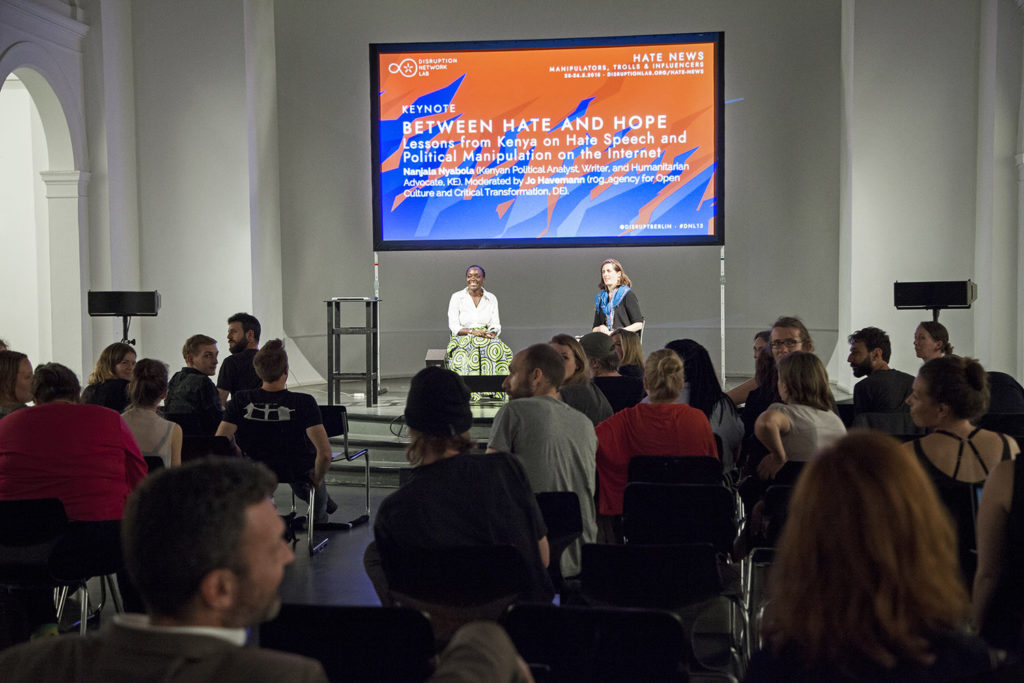 Kenya has one of the highest rates of Internet penetration in Africa with millions of active Kenyan Facebook and Twitter accounts. People using social media are a growing minority and they are learning how to defeat misinformation and manipulation. For them social media can become an instrument for social change. In the period of last year's election none of the main networks covered news related to female candidates until the campaigns circulating on social media could no longer be ignored. These platforms are now a formidable tool in Kenya used to mobilize civil society to accomplish social, gender and economic equality. This positive look is hindered along the way by the reality of control and manipulation.
Most of the countries globally currently have no effective legal regulation to safeguard their citizens online. The GDPR legislation now in force in the EU obliges publishers and companies to comply with stricter rules within a geographic area when it comes to privacy and data harvesting. In Africa, national institutions are instead weaker, and self-regulation is often left in the hands of private companies. Therefore, citizens are even more vulnerable to manipulation and strategic hate speech. In Kenya, which still doesn't have an effective data protection law, users have been subject to targeted manipulation. "The effects of such a polluted ecosystem of misinformation has affected and changed personal relationships and lives for good," said the writer.
On social media, without regulations and control, hatred and discriminations can produce devastating consequences. Kenya is just one of the many countries experiencing this. Hate speech blasted on Facebook at the start of the Rohingya crisis in Myanmar. Nyabola criticized that, as in many other cases, the problem was there for all, but the company was not able to combat the spread of ethnic based discrimination and hate speech.
Targeted, profiled and influenced: on Cambridge Analytica and beyond
Moving from the interconnections of traditional and online media in Kenyan misinformation ecosystem, the second part of the day focused on privacy implications of behavioural profiling on social media, covering the controversy about Cambridge Analytica. The Friday's panel opened with the analyses of David Carroll, best known as the professor who filed a lawsuit against Cambridge Analytica in the UK to gain a better understanding of what data the company had collected about him and to what purpose. When he got access to his voter file from the 2016 U.S. election, he realized the company had been secretly profiling him. Carroll was the first person to receive and publish his file, finding out that Cambridge Analytica held personal data on the vast majority of registered voters in the US. He then requested the precise details on how these were obtained, processed and used. After the British consulting firm refused to disclose, he decided to pursue a court case instead.
As Carroll is a U.S. citizen, Cambridge Analytica took for granted that he had neither recourse under federal U.S. legislation, nor under UK data protection legislation. They were wrong. The legal challenge in British court case that centred on Cambridge Analytica's compliance with the UK Data Protection Act of 1998 could be applied because Carroll's data was processed in the United Kingdom. The company filed for bankruptcy not long after it was revealed that it used the data of 87 million Facebook users to profile and manipulate them, likely in contravention of UK law. Professor Carroll could never imagine that his activity would demolish the company.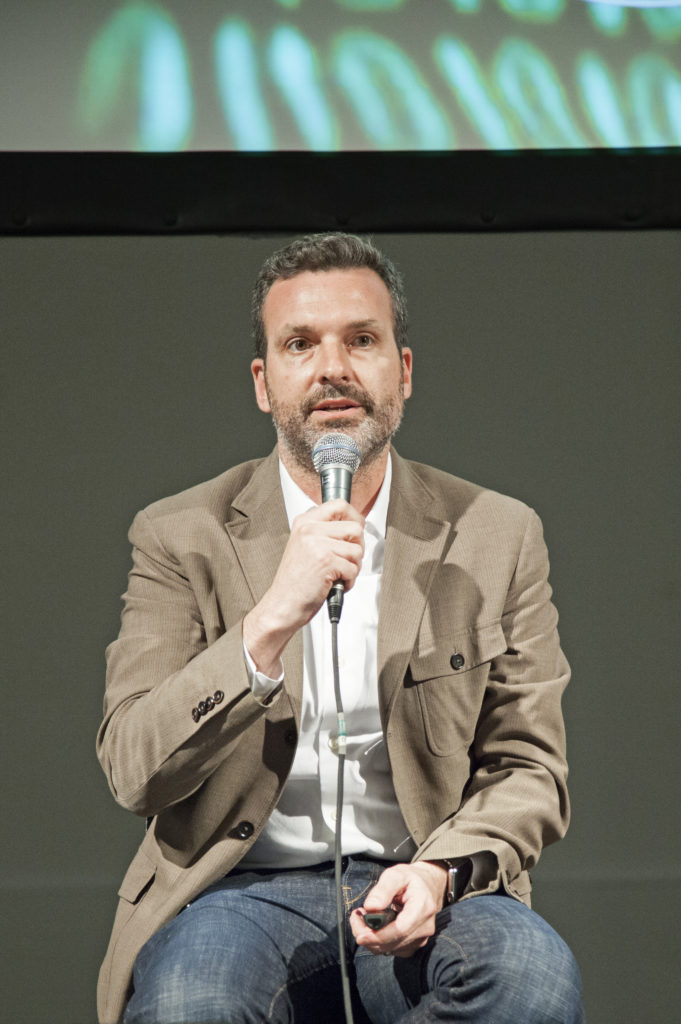 Cambridge Analytica, working with an election management firm called SCL Group, appears to have been a propaganda machine master, able to manipulate voters through the combination of psychometric data. It exploited Facebook likes and interactions above all. Its technique disguised attempts at political manipulation since they were integrated in the online environment.
Carroll talked about how technology and data were used to influence elections and popular voting for the first time in countries like USA and UK, whereas for a much longer time international campaign promoters were hired to act on an international scale. In Carroll's opinion Cambridge Analytica was an 'oil spill' moment. It was an epiphany, a sudden deep understanding of what was happening on a broader scale. It made people aware of the threat to their privacy and the fact that many other companies harvest data.
Since 2012 Facebook and Google have been assigning a DoubleClick ID to users, attaching it to their accounts, de-anonymizing and tracking every action. It is an Ad-tracker that gives companies and advertisers the power to measure impressions and interactions with their campaigns. It also allows third-party platforms to set retargeting ads after users visit external websites, integrated with cookies, accomplishing targeted profiling at different levels. This is how the AdTech industry system works. Carroll gave a wide description of how insidious such a technique can be. When a user downloads an app to his smartphone to help with sport and staying healthy, it will not be a secret that what was downloaded is the product of a health insurance or a bank, to collect data of potential customers, to profile and acquire knowledge about individuals and groups. Ordinary users have no idea about what is hidden under the surface of their apps. Thousands of companies are synchronizing and exchanging their data, collected in a plethora of ways, and used to shape the messages that they see, building up a tailor-made propaganda that would not be recognizable, for example, as a political aid. This mechanism works in several ways and for different purposes: to sell a product, to sell a brand or to sell a politician.
In this context, Professor Carroll welcomed the New European GDPR legislation to improve the veracity of the information on the internet to create a safer environment. In his dissertation, Carroll explained that the way AdTech industry relates to our data now contaminates the quality of our lives, as singles and communities, affecting our private sphere and our choices. GDPR hopefully giving consumers more ownership over their data, constitutes a relevant risk for companies that don't take steps to comply. In his analyses the U.S. professor pointed out how companies want users to believe that they are seriously committed to protecting privacy and that they can solve all conflicts between advertising and data protection. Carroll claimed though that they are merely consolidating their power to an unprecedented rate. Users have never been as exposed as they are today.
Media companies emphasize the idea that they are able to collect people's data for good purposes and that – so far – it cannot be proved this activity is harmful­. The truth is that these companies cannot even monitor effectively the Ads appearing on their platforms. A well-known case is the one of YouTube, accused of showing advertisements from multinational companies like Mercedes on channels promoting Nazis and jihad propaganda, who were monetizing from these ads.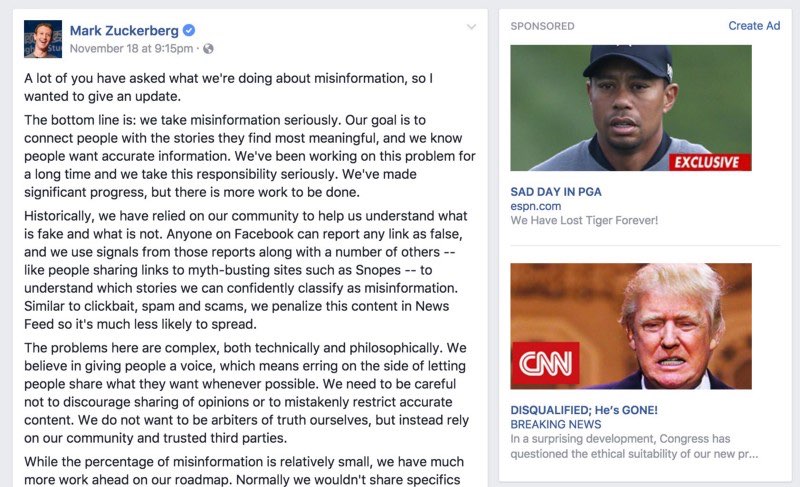 Carroll then focused on the industry of online advertisement and what he called "the fraud of the AdTech industry." Economic data and results from this sector are unreliable and manipulated, as there are thousands of computers loading ads and making real money communicating to each other. This generates nowadays a market able to cheat the whole economy about 11 billion dollar a year. It consists of bots and easy clicks tailor-made for a user. The industries enabled this to happen and digital advertising ecosystem has evolved leading to an unsafe and colluded environment.
Alphabet and Facebook dominate the advertising business and are responsible for the use of most trackers. Publishers as well as AdTech platforms have the ability to link person-based identifiers by way of login and profile info.
Social scientists demonstrated that a few Facebook likes can be enough to reveal and accurately predict individual choices and ideas. Basic digital records are so used to automatically estimate a wide range of personal attributes and traits that are supposed to be part of a private sphere, like sexual orientation, religious beliefs, or political belonging. This new potential made politicians excited and they asked external companies to harvest data in order to generate a predictive model to exploit. Cambridge Analytica's audience-targeting methodology was for several years "export-controlled by the British government". It was classified as weapon by the House of Commons, at a weapons-grade communications tactics. It is comprehensible then that companies using this tech can easily sell their ability to influence voters and change the course of elections, polarizing the people using social networks.
The goal of such a manipulation and profiling is not to persuade everybody, but to increase the likelihood that specific individuals will react positively and engage with certain content, becoming part of the mechanism and feeding it. It is something that is supposed to work not for all but just for some of the members of a community. To find that small vulnerable slice of the U.S. population, for example, Cambridge Analytica had to profile a huge part of the electorate. By doing this it apparently succeeded in determining the final results, guiding and determining human behaviours and choices.
Bernd Fix, hacker veteran of the Chaos Computer Club in Germany, entered the panel conversation describing the development from the original principle of contemporary cybernetics, in order to contextualize the uncontrollable deviated system of Cambridge Analytica. He represented the cybernetic model as a control theory, by which a monitor compares what is happening into a system with a standard value representing what should be happening. When necessary, a controller adjusts the system's behaviour accordingly to again reach that standard expected by the monitor. In his dissertation, Fix explained how this model, widely applied in interdisciplinary studies and fields, failed as things got more complex and it could not handle a huge amount of data in the form of cybernetics. Its evolution is called Machine Learning (or Artificial Intelligence), which is based on the training of a model (algorithm) to massive data sets to make predictions. Traditional IT has made way for the intelligence-based business model, which is now dominating the scene.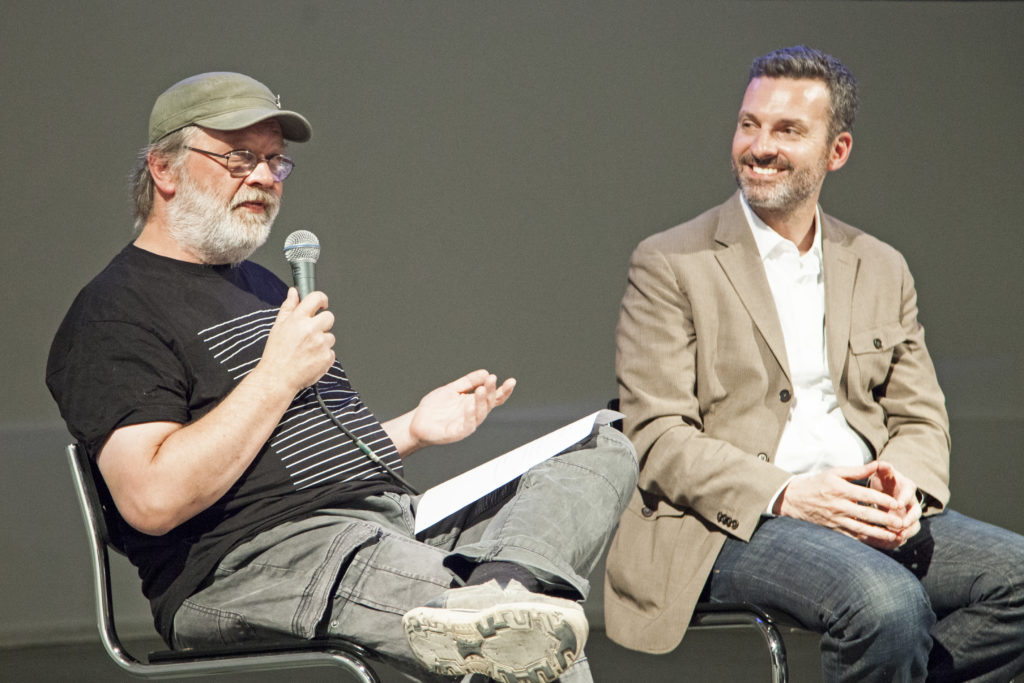 Machine learning can prognosticate with high accuracy what it is asked to, but – as the hacker explained – it is not possible to determine how the algorithm achieved the result. Nowadays most of our online environment works through algorithms that are programmed to fulfil their master's interests, whereas big companies collect and analyse data to maximize their profit. All the services they provide, apparently for free, cost users their privacy. Thanks to the predictive model, they can create needs which convinces users to do something by subtle manipulating their perspective. Most of the responsibilities are on AdTech and social media companies, as they support a business model that is eroding privacy, rights and information. The challenge is now to make people understand that these companies do not act in their interest and that they are just stealing data from them to build up a psychometric profile to exploit.
The hacker reported eventually the scaring case of China's platform "social credit," designed to cover every aspect of online and offline existence and wanted by the national authorities. It is supposed to monitor each person and catalogue eventual "infractions and misbehaviours" using an algorithm to integrate them into a single score that rates the subjective fidelity into accepted social standards. A complex kind of ultimate social control, still in its prototype stages, but that could become part of our global future where socio-political regulation and control are governed by cybernetic regulatory circuits. Fix is not convinced that regulation can be the solution: to him, binding private actors and authorities to specific restriction as a way to hold them accountable is useless if people are not aware of what is going on. Most people around us are plugged into this dimension where the bargain of data seems to be irrelevant and the Big Three – Google, Facebook and Amazon – are allowed to self-determine the level of privacy. People are too often happy consumers who want companies to know their lives.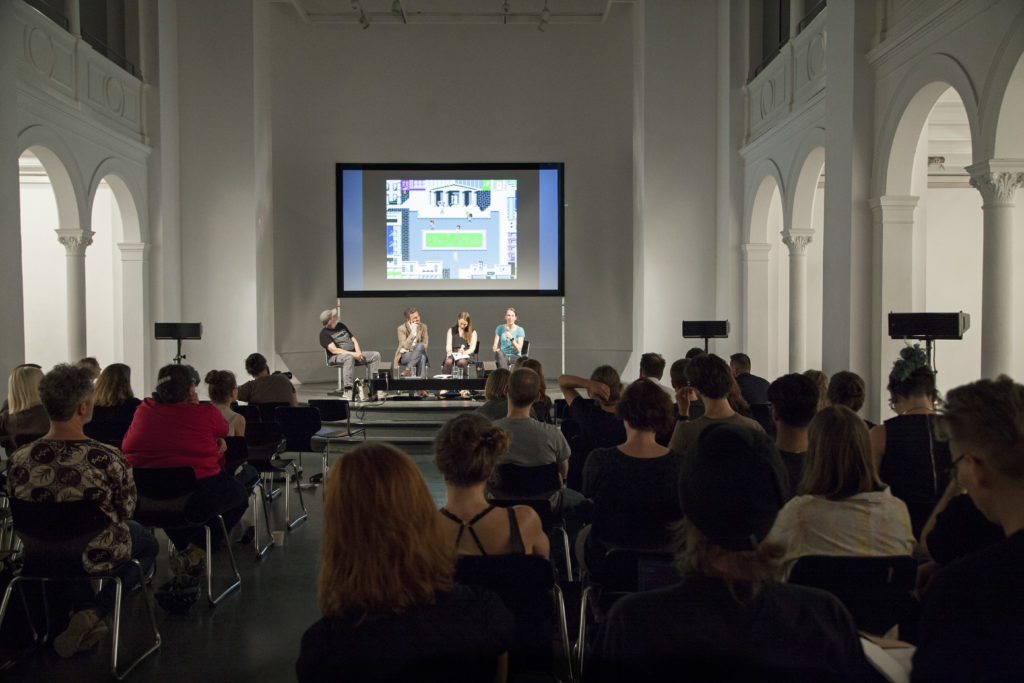 The last panellist of the afternoon was the artist and researcher Marloes de Valk, who co-developed a video game for old 1986 Nintendo consoles, which challenges the player to unveil, recognize and deconstruct techniques used to manipulate public opinion. The player faces the Propaganda Machine, level after level, to save the planet.
"Acid rains are natural phenomena", "passive smoke doesn't affect the health," "greenhouse´s effects are irrelevant." Such affirmations are a scientific aberration nowadays, but in the '80s there were private groups and corporations struggling to make them look like legitimate theorizations. The artist from Nederland analysed yesterday´s and today's media landscape and, basing her research on precise misinformation campaigns, she succeeded in defying how propaganda has become more direct, maintaining all its old characteristics. De Valk looked, for example, for old documents from the American Tobacco Institute, for U.S. corporations'leaked documents and also official articles from the press of the ´80s.
What remains is a dark-humoured game whose purpose is that of helping people to orientate inside the world of misinformation and deviated interests that affects our lives today. Where profit and lobbyism can be hidden behind a pseudoscientific point of view or be the reason rumours are spread around. The artist and researcher explained that what you find in the game represents the effects of late capitalism, where self-regulation together with complacent governments, that do not protect their citizens, shape a world where there is not room for transparency and accountability.
In the game, players get in contact with basic strategies of propaganda like "aggressively disseminate the facts you manufactured" or "seek allies: create connections, also secret ones". The device used to play, from the same period of the misinformation campaigns, is an instrument that reminds with a bit of nostalgia where we started, but also where we are going. Things did not change from the '80s and corporations still try to sell us their ready-made opinion, to make more money and concentrate more power.
New international corporations like Facebook have refined their methods of propaganda and are able to create induced needs thus altering the representation of reality. We need to learn how to interact with such a polluted dimension. De Valk asked the audience to consider official statements like "we want to foster and facilitate free and open democratic debate and promote positive change in the world" (Twitter) and "we create technology that gives people the power to build community and bring the world closer together" (Facebook). There is a whole narrative built to emphasize their social relevance. By contextualising them within recent international events, it is possible to broad the understanding of what these companies want and how they manipulate people to obtain it.
Uncovering corruption: on strategic harassment, Mexican trolls and election manipulation
What is the relation between deliberate spread of hate online and political manipulation?
As part of the Disruption Network Lab thematic series "Misinformation Ecosystems" the second day of the Conference investigated the ideology and reasons behind hate speech, focusing on stories of people who have been trapped and affected by hate campaigns, violence, and sexual assault both online and offline. The keynote event was introduced by Renata Avila, international lawyer from Guatemala and a digital rights advocate. Speaker was Andrea Noel, journalist from Mexico, "one of the most dangerous countries in the world for reporters and writers, with high rates of violence against women" as Avila remembered.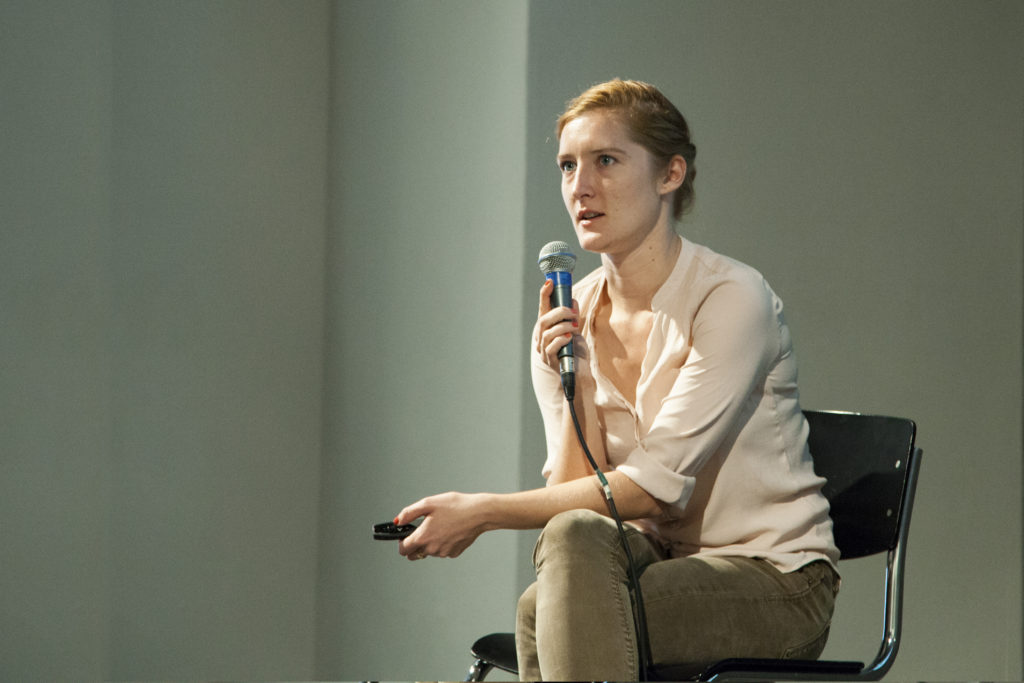 Noel has spent the last two years studying hate speech, fake news, bots, trolls and influencers. She decided to use her personal experience to focus on the correlation between misinformation and business, criminal organizations and politics. On March 8, 2016 it was International Women's Day, and when Noel became a victim of a sexual assault. Whilst she was walking down the street in La Condesa (Mexico City) a man ran after her, suddenly lifted up her dress, and pulled her underwear down. It all lasted about 3 seconds.
As the journalist posted on twitter the surveillance footage of the assault commenting: "If anyone recognizes this idiot please identify him," she spent the rest of the evening and the following morning facing trolls, who supported the attacker. In one day her name became trend topic on twitter on a national level, in a few days the assault was international news. She became so subject of haters and target of a misogynistic and sexist campaign too, which forced her to move abroad as the threat became concrete and her private address was disclosed. Trolls targeted her with the purpose of intimidating her, sending rape and death threats, pictures of decapitated heads, machetes and guns.
In Mexico women are murdered, abused and raped daily. They are victims of family members, husbands, authorities, criminals and strangers. Trolls are since ever active online promoting offensive hashtags, such as #MujerGolpeadaMujerFeliz, which translates as 'a beaten woman is a happy woman'. It is a spectrum of the machismo culture affecting also many Latin American countries and the epidemic of gender-based violence and sexual assault.
Facts can be irrelevant against a torrent of abuse and hate toward journalists. Noel also received hundreds of messages telling her that there was a group of famous pranksters named "master trolls" that used to assault people on the streets in that same way, to make clicks and money out of it. Noel found out that they became best known for pulling down people's pants and underwear in public, and that this brought them directly to popular tv shows. A profitable and growing business.
The journalist decided to face her trolls one by one and later realized that they were mostly part of an organized activity, not from a TV show but from a political group targeting her, a fact that made everything way more intricate. In two years she "got to know her trolls" as she said, and she studied their ecosystem. The description of the whole story is available on podcast Reply All.
Moving from her story, Noel focused in her second part of dissertation on the relation linking together trolls, criminal organizations, political and social manipulation. She described how, by using algorithms, bots and trolls, it is possible to generate political and election related postings on Facebook and Twitter that go viral. Manipulation comes also by weaponizing memes to propel hate speech and denigration, creating false campaigns to distract public attention from real news like corruption and atrocious cartel crimes.
Marginal voices and fake news can be spread by inflating the number of retweets and shares. Hashtags and trends are part of orchestrated system, where publishers and social media are not held in account for the fraud. Automated or semi-automated accounts, which manipulate public opinion by boosting the popularity of online posts and amplifying rumours. There is a universe of humans acting like bots, controlling hundreds of fake accounts.
Noel is particularly critical against Twitter. Its legal team expressed their engagement facing this "new major problem and novel threats". The journalist hypothesized that the company had been well aware of the issue since 2010 but decided not to intervene to weed out organized groups manipulating its environment. Moreover, they knew that organized campaigns of discredit can water down the impact of real grassroot spontaneous protests and movements.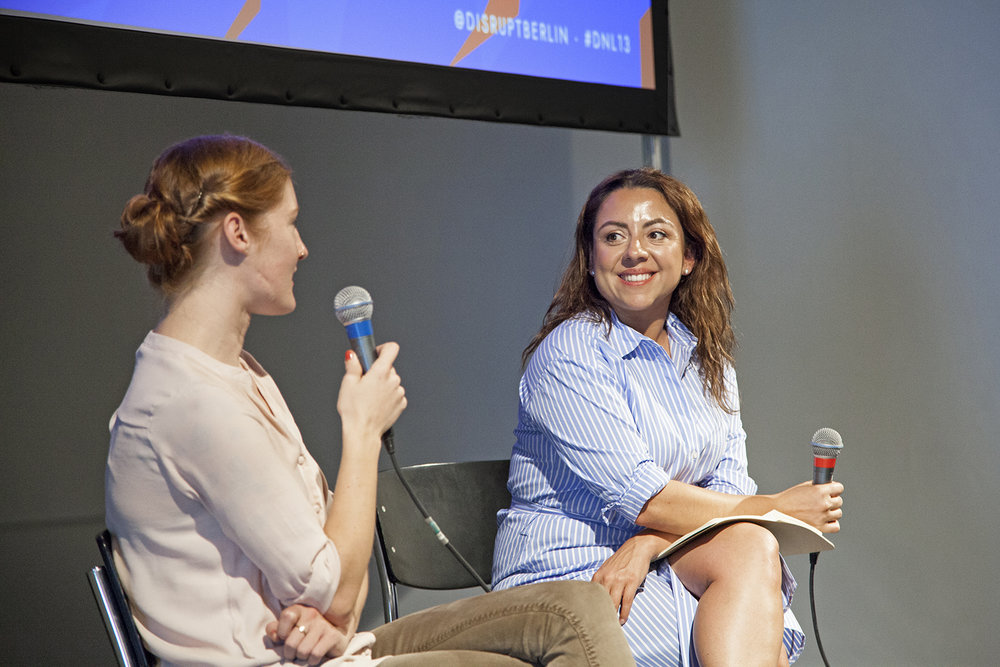 These manipulation techniques are responsible for digitally swaying the 2016 election toward the candidate Peña Nieto, organizing an army of thousands of bots to artificially generate trends on Twitter. Trends on this social media move up and down based on the number of tweets in a topic or hashtag related to the speed of sharing or retweeting. Trolls and bots can easily control the trending topic mechanism with their intense spamming activity.
Noel reported that false stories are shared via WhatsApp too, they are difficult to track and the most challenging to debunk. Her portrayal of social media and information market is not different from the description on the first day of the Conference by the writer Najala Nyabola.
To see the future of social media manipulation in politics we need to look at Mexico. All parties in Mexico have used bots to promote their own campaigns, journalists and opponents are overwhelmed with meaningless spam and denigrating hashtags. Offline, media landscape across Mexico is not free and organised crime has been using propaganda and manipulation to further its own aims. President Peña Nieto's administration spent hundreds of millions of dollars on advertising, making media dependent and colluded. This system suppresses investigative articles and intimidates reporters.
The next general election is scheduled for July 1st. Andrea Noel warned that manipulation, trolls and bots are already irreversibly polluting the debate, in a country where more than 100 candidates have already been murdered (at the time of the Conference) and a history of corruption makes media and authorities unreliable in the eyes of people.
As a response, universities and NGOs formed an anti-fake news initiative called "Verificado" a platform that encourages people to forward stories found on social media using the hashtag #QuieroQueVerifiquen, 'I want you to verify this'. The researchers of this project answer with fact-checking and publish their findings online. When asked, Noel expressed appreciation for the efforts of organizations and civil society. However, she is becoming increasingly disillusioned. She can see no immediate prospect of finding solutions able to slow or halt the impact of misinformation and hate speech online. In her opinion projects like Verificado can be easily hijacked. On the other side genuine social media campaigns are still an effective tool in the hands of civil society but the lack of trust in media fed by corruption often undermines all efforts to mobilize society, leading the public to routinely dismiss initiative to fight injustice.
When asked about the possibility to shut down social networks as a solution, Noel could not say she did not think of it. A first step could be to oblige media like Twitter and Facebook to guarantee users a safe environment where the economic interest comes after the need of a hate speech and manipulation free environment. The way they operate confirms they are content platforms and as such media entities they lack of transparency and accountability. These companies shirk their obligation for publishing responsibly. They should be held to account when they spin lies and allow groups to act unethically or against target single or communities.
The Cleaners
The program of the second day continued with the presentation of the documentary The Cleaners, by Hans Block and Moritz Riesewieck, a project started in 2013 and in the cinemas at the time of the Conference. Initially, the authors wanted to learn more about the removal of pedo-pornographic content and sexualised images of children on Facebook. Social networks have largely pledged to work harder to identify and remove illegal, offensive and improper content, to limit violations and deny hate speech. But how does it work? Who decides what shall be cancelled and on what basis? These questions arose frequently during the first part of the Hate News conference and the German authors could answer it in relation to the social media Facebook, subject of their documentary.
The choice about what shall and what shall not belong the internet is a subjective one. Content moderators, who censor postings and content on platforms like Facebook, have indeed a controversial and central role. Their work is subject to almost no open scrutiny. However, it shapes attitudes and trends of both individuals and social groups, impacting the public discourse and the cultural dialectic. When a social network decides to censor content and delate videos about the effects of drone bombings, since by showing civilian victims Daesh builds its propaganda, it makes a choice that affects the narration of events and the perception of facts.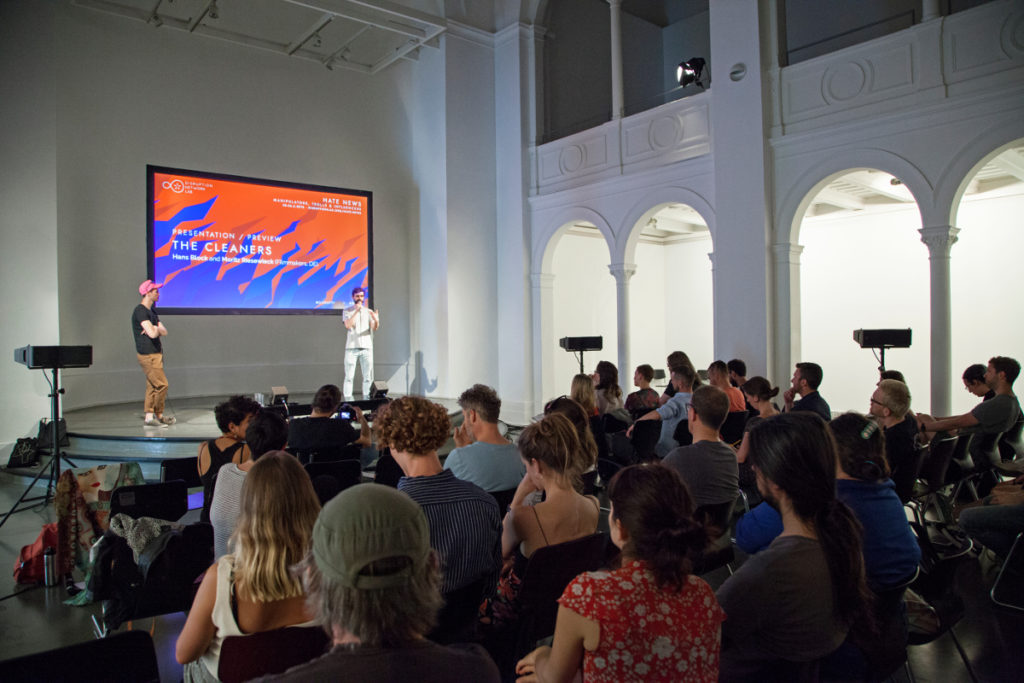 Investigating how the social media platform Facebook polices online content, and the direct impact of these decisions on the users' interactions, Block and Riesewieck ended up in the Manila, where Facebook boasts its biggest department for content moderation, with more than 10,000 contractors. The Cleaners shows how this platform sees its responsibilities, both toward people moderating and censoring the content and its users. Based on interviews with Philippine content moderators at work, the documentary contributes to the debate about the public responsibilities of social media and online platforms for publishing, from political manipulation and propaganda to data protection.
Humans are still the first line of content moderation and they suffer horrible consequences and traumas for they see daily the worst of the web. Companies like Facebook have developed algorithms and artificial-intelligence tools able to work as a first level, but the most of this technology cannot substitute human capabilities. Certain content moderators describe themselves as custodians of moral values, as their work turns into decisions that can shape social media and consequently society. There are indeed countries where people consider Facebook as the Internet, ignoring that the world wide web is much more than that social media.
The authors go beyond, showing that Manila cleaners are influenced by their cultural background and social believes. They build a parallel between Philippines' Catholicism and discourse about universal enslavement of humans to God and sacrifice, photographed in the years of the government of Rodrigo Duterte, controversial president who is leading a war against drugs and moral corruption, made of extrajudicial killings and a violent, abusive approach.
Despite denials by the company, cleaners in Manila also moderate Europeans' posts and they are trained for that. A single world, a historical reference, together with a picture can make all the difference between an innocent joke and hate speech. Whilst memes can be used as weapons, for example by the alt-right groups or by reactionary movements against gender equality, cleaners have just few seconds to decide between removing and keeping a content, checking more than 35,000 images per day. The authors of the documentary explained how it is almost impossible for them to contextualize content. As a result, there is almost no control over their work, as a team leader can just proof 3% of what a cleaner does.
Facing ideologies and strategies of hate: hate speech, online violence and digital rights
The last panel closing the conference on the second day was moderated by the curator, artist and writer Margarita Tsomou. American independent online harassment researcher Caroline Sinders focused her dissertation on online protests and political campaigns in the frame of the hate speech discourse. She recalled recent events able to pollute the public debate by creating chaotic and misleading messages to enhance a reactionary anti-progressive culture. Misogyny thrives on social media and hatred of women and entrenched prejudice against them are everywhere in the Internet. Fake online campaigns are often subtly orchestrated targeting women.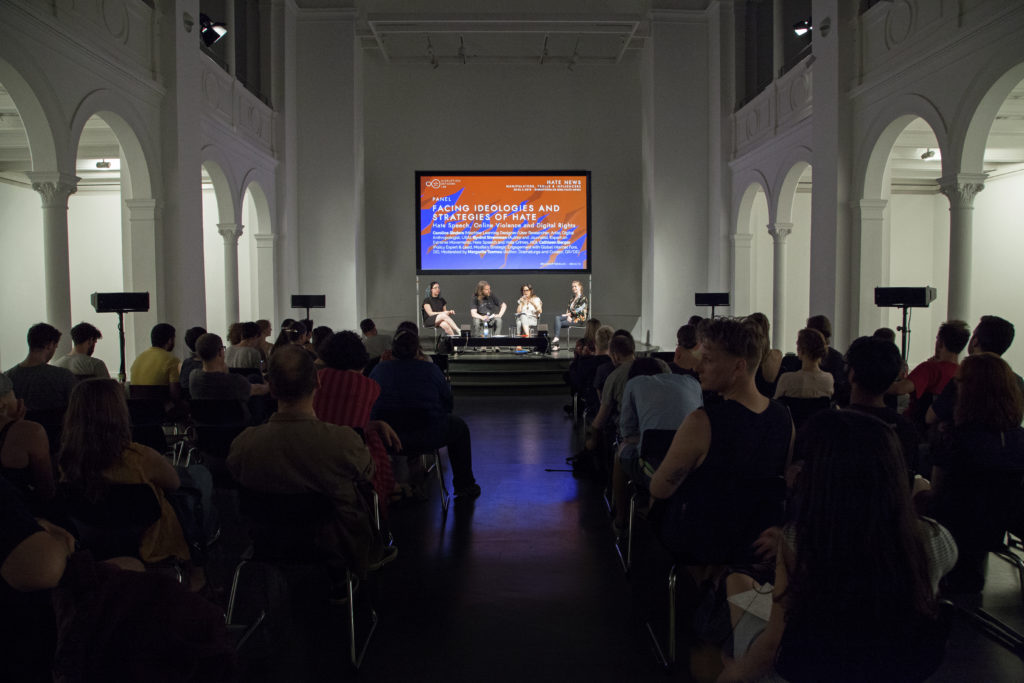 In 2014 on social networks appeared an organised action associated with the hashtag #EndFathersDay, presented as a feminist political campaign to eradicate the celebration of Father's Day as a "celebration of patriarchy and oppression". That campaign had nothing to do with feminism and grassroots movements, it was a harassment campaign against women, a fake with manipulated images and hundreds of trolls to feed a sentiment of hatred and hostility against activists for civil rights and equality.
It is not the only case of its genre. The #Gamergate campaign, that in 2014 targeted several women from the video game industry (on Twitter, Reddit, 4chan, and 8chan) falls into this context. The campaign was not immediately perceived as a harassment instrument due to attempts of making it appear as a movement against political correctness and bad journalistic ethics. It was though a misogynistic reactionary campaign against female game developers, that soon revealed its true face as right-wing sexist backlash. Under this hashtag women were indeed victims of doxing, threats of rape and death.
Sinders explained that in the last several years we have seen a shift from a sectorial market to a global dimension where we are all potentially identifiable as gamers. Video games and gaming culture are now mainstream. People are continuously connected to all kind of devices that enable the global gaming industry to generate more than 100 billion dollar every year. The Gamergate controversy reopened the debate that gaming is a world for (white) males, pointing out how the video game industry has a diversity problem, as sexism, racial and gender discrimination in video game culture appear to be a constant factor.
A relevant aspect of the controversy is related to how trolls organised and tried to reframe the narrative of the harassment campaign. Instead of a misogynistic and violent action, they claimed it was about journalistic integrity and candid reviewing, thus denouncing a collusion between the press and feminists and social critics. Most of the trolls and supporters were anonymous, ensuring that the campaign be defined merely by the harassment they have committed against women and as a reaction to what they reported as the increasing influence of feminism on video game culture.
Sinders concluded her speech explaining that organised actions and campaigns like those described above are structured on precise tactics and harassment techniques that have already entered in our vocabulary. Words like doxing, swatting, sealioning and dogpiling are neologisms that describe strategies of hate speech and harassment nowadays common.
The Norwegian journalist Øyvind Strømmen, author and managing editor of Hate Speech International, has extensively researched and written about how extreme right movements and religious fundamentalism are able to build an effective communication online and use the web as an infrastructure to strategically enhance their activities. He joined the panel explaining that despite his intense international activity, he has never been subjected to harassment and death threats like his female colleagues, whilst he finds daily-organised activities to sow hatred and intolerance to repress women.
Cathleen Berger, former International cyber policy coordination staff at the German Foreign Office and currently lead of Mozilla's strategic engagement with global Internet fora, closed the conference with an analyses of the new German NetzDG legislation, defined by media as an extreme example of efforts by governments to make social media liable for what circulates on their pages. The law was adopted at the end of 2017 to combat illegal and harmful content on social media platforms. It is defined also as anti-hate-speech law as it was written in the historical context of the refugees' mass migration to Europe and the new neo-nazi propaganda from political formations like the Alternative for Germany (AfD). At the time, fake news and racist material were shared online on several mainstream channels for the first time, with relevant impact on public opinion.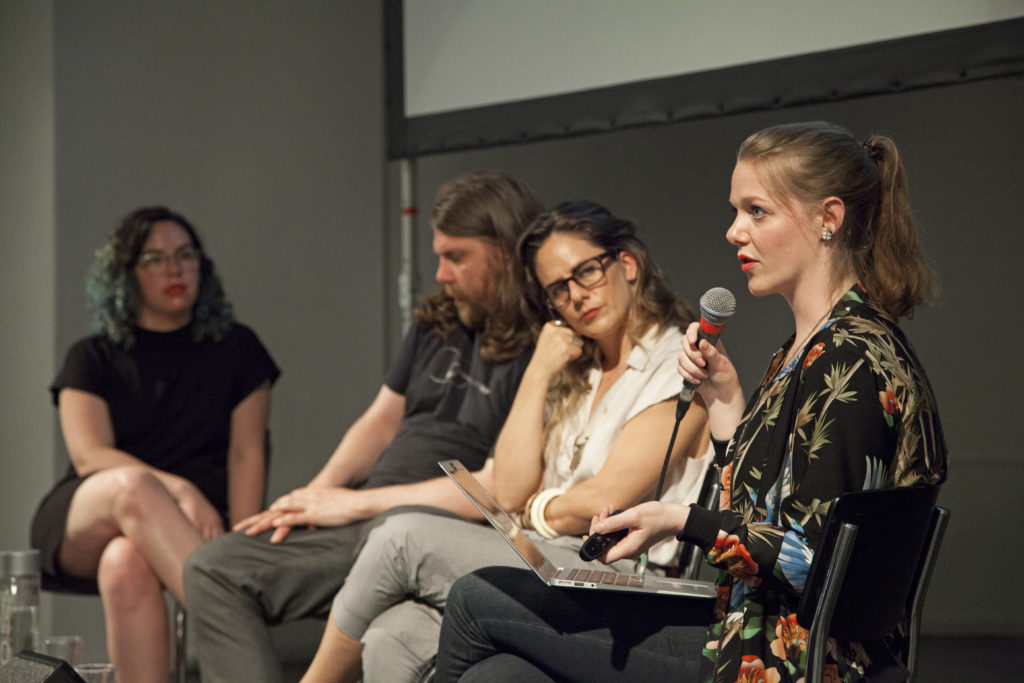 The new German law requires social media companies to provide users with a wide-ranging complaints structure to make sure that discriminatory and illegal posts can quickly be reported. It is left to social media platforms to decide if a certain reported content represents a promotion of or an incitement to terrorism, child abuse, hate or discrimination of any kind.
The law forces social media to act quickly too. Under NetzDG, social media platforms with more than 2 million users in Germany have 24 hours to remove posts reported by users for being illegal. Facebook, Twitter and YouTube seem to be the law's main focus. Failure to comply with the law carries a fine up to € 50 million.
The German government's Network Enforcement Act has been criticised for its risks of controversial inadvertent censorship, limiting legitimate expressions of opinion and free speech. Once again private companies, that are neither judges nor any kind of public authority, have the power to decide whether reported content is in fact unlawful.
The 13th Disruption Network Lab Conference
All credit is due to Tatiana Bazzichelli and the Disruption Network Lab, who provided once again a forum for discussion and exchange of information that provokes awareness on matters of particular concern from the different perspectives of the guests – especially women – able to photograph with their international activities and their researches several topical issues.
This 13th Conference (https://www.disruptionlab.org/hate-news/) was a valid opportunity to discuss and rationalise the need for civil society to remain globally vigilant against new forms of hate speech, manipulation and censorship. Ideological reasons behind hate speech and online manipulation are on the table and the framing is clear enough to hold online media and publishing companies accountable for the spread of frauds, falsehood and discrimination within their networks.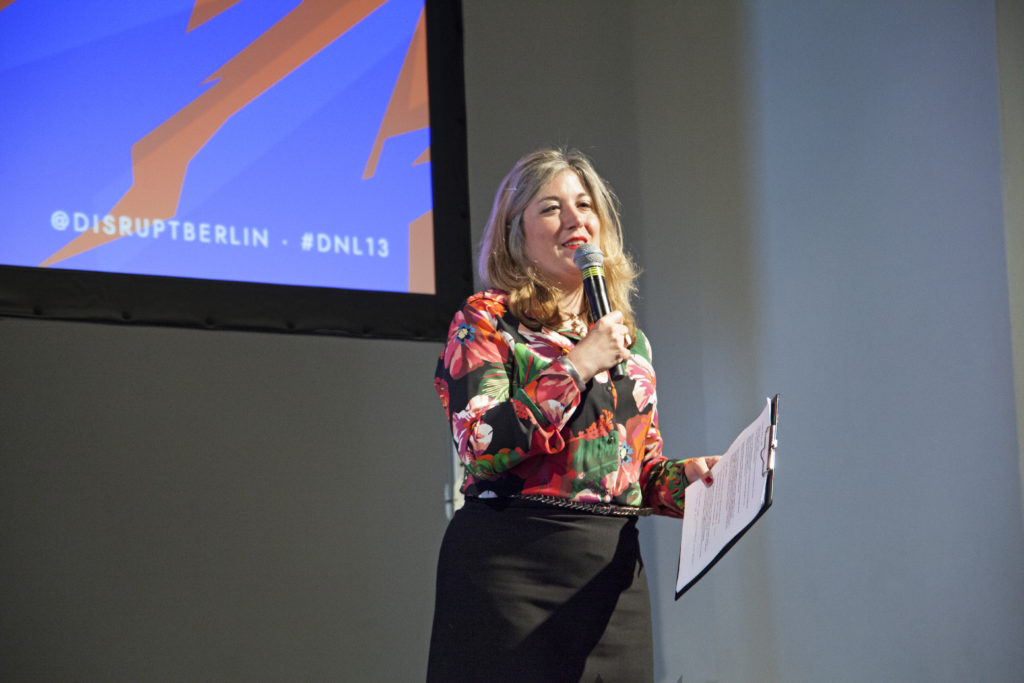 Companies like Facebook and Twitter have demonstrated their inability to recognise real threats and appear to be thinking of profit and control without considering the repercussions that their choices have. However, we are delegating them the power to define what is legal and what is not. Their power of censorship shapes society, interfering with fundamental rights and freedoms, feeding conflicts and polarization. This legal response to hate speech and manipulation in the context of the battle for privacy and civil rights is completely inadequate.
Propaganda and hate speech have historically been tools used in all countries to influence decision making and to manipulate and scare public opinion. Forms of intrusive persuasion that use rumours or manipulation to influence people's choices, beliefs and behaviours are now occupying the web too. Individuals should be able to give due value to their online interactions, focusing on the risks that they run when they click on something. There is too little awareness of how companies, aggressive trolls, criminals, private groups and advertisers subtly manipulate online environment for political and economic interest.
Such a corrupted online ecosystem – where almost nothing of what we meet can be trusted and where individuals and communities are exposed to private interest – generates often hate campaigns targeting women and minorities, normalising crimes, reactionary gender stereotyping and deplorable cultural customs. As all speakers suggested, Cyber-ethnography can be a worthwhile tool as an online research method to study communities and cultures created through computer-mediated social interaction. It could be helpful to study local online exchanges and find local solutions. By researching available data from its microcosmos, it is possible to prevent ethnic, socioeconomic, and political conflicts linked to the online activity of manipulators, destructive trolls and influential groups, to disrupt the insularity of closed media and unveil the economic and political interest behind them.
---
HATE NEWS: Manipulators, Trolls & Influencers
May 25-26, 2018 – Kunstquartier Bethanien, Berlin
disruptionlab.org/hate-news/
Info about the 13th Disruption Network Lab Conference, its speakers and thematic is available online here:
https://www.disruptionlab.org/hate-news
To follow the Disruption Network Lab sign up for its Newsletter and get informed about its Conferences, ongoing researches and projects. The next Disruption Network Lab event is planned for September. Make sure you don´t miss it!
The Disruption Network Lab is also on Twitter and Facebook
Photocredits: Maria Silvano for Disruption Network Lab
The interview is taken from the recently published book Are We All Addicts Now? Digital Dependence edited by Vanessa Bartlett and Henrietta Bowden-Jones, Liverpool University Press, 2017, and published with permission from the publisher. Available from the LUP website here – the interview is published in parallel with the exhibition Are We All Addicts Now? at the Furtherfield Gallery, London 16 September – 12 November 2017.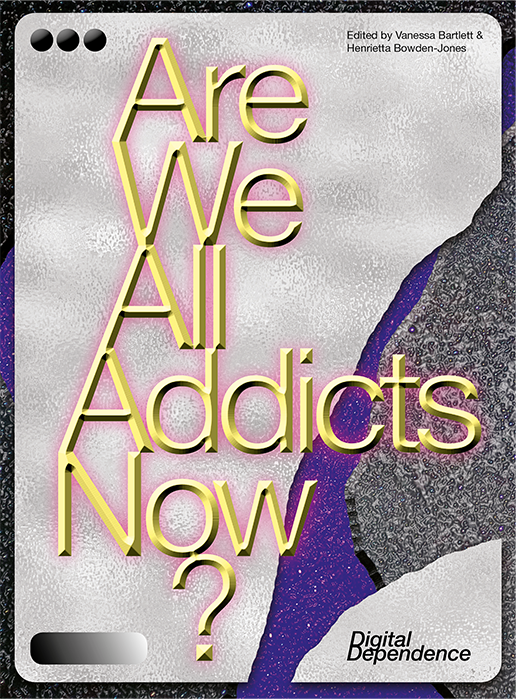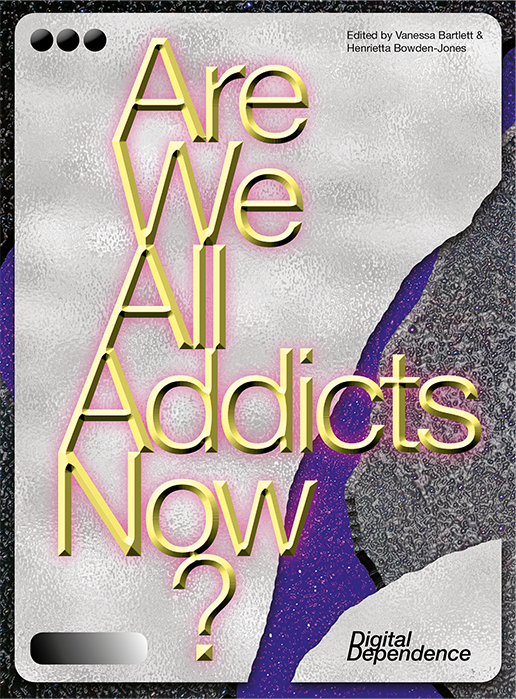 Ruth Catlow: In your exhibition Are We All Addicts Now? That opens at Furtherfield, Autumn 2017. You will be presenting a number of works and installations made in response to your research into online addictions. What prompted your interest in this matter?
Katriona Beales: I have insomnia on and off — like a lot of precarious workers. And to deal with being awake for long-stretches at night I go online, parse hundreds of hyperlinks, images, videos. It's like an out of body experience: I detach, temporarily, from anxieties, pressure, claustrophobia via total preoccupation. Reflecting on these experiences caused me to question whether there was something inherently 'addictive' about the conditions of the digital. My research has developed to look at the burgeoning field of neuromarketing and how much online content is 'designed for addiction' (to borrow the title of Natasha Dow Schüll's scorching analysis of machine gambling in Las Vegas). [
note]Natasha Dow Schüll, Addiction By Design: Machine Gambling in Las Vegas (Princeton: Princeton University Press, 2012).[/note] 1] Gamification strategies and various psychological techniques such as variable reward (originally employed in the casino) are now utilised to mass effect on social media platforms, search engines, email accounts, and news sites.
RC: Can you give us an example of digital content, an interface or a device that you personally experience as addictive?
KB: I find the infinite scroll function on sites like Instagram and Twitter very compulsive. It removes the natural breaks that are built into technologies like the book, with chapters starting and ending. Then again, I used to be a compulsive reader and now I am a compulsive scroller… But I keep circling back round to think about the specific qualities of the conditions of the digital. The infinite, hyperlinked and networked nature of online content means scrolling, scrolling, scrolling never needs to end. There is also a correlation between these repetitive physical actions and meditative type states.
RC: Yes, this connects with theories of flow employed in game design. The idea is to design activities that produce the fulfilling feelings of focus, and to minimise a questioning of the context or frame of play. And there is very little critical discussion in mainstream culture about the gamification of everything, which replaces individual agency with a kind of soft coercion. It's problematic because the less we notice how our attention and experiences are being harnessed by external forces (commercial or state based), the harder it is to connect and collaborate with others outside the given frames.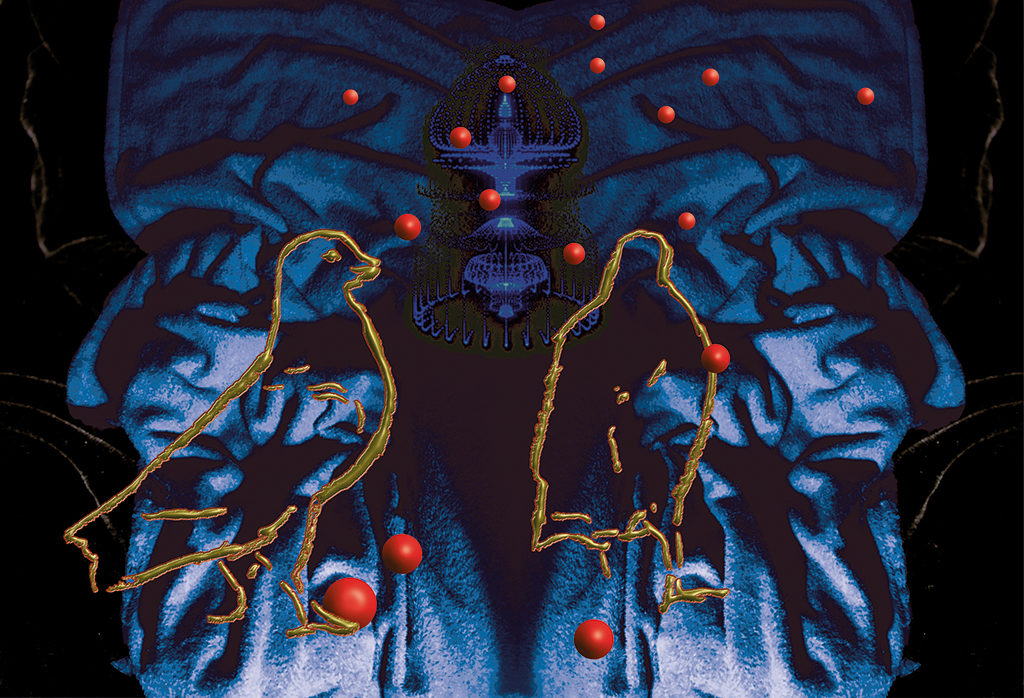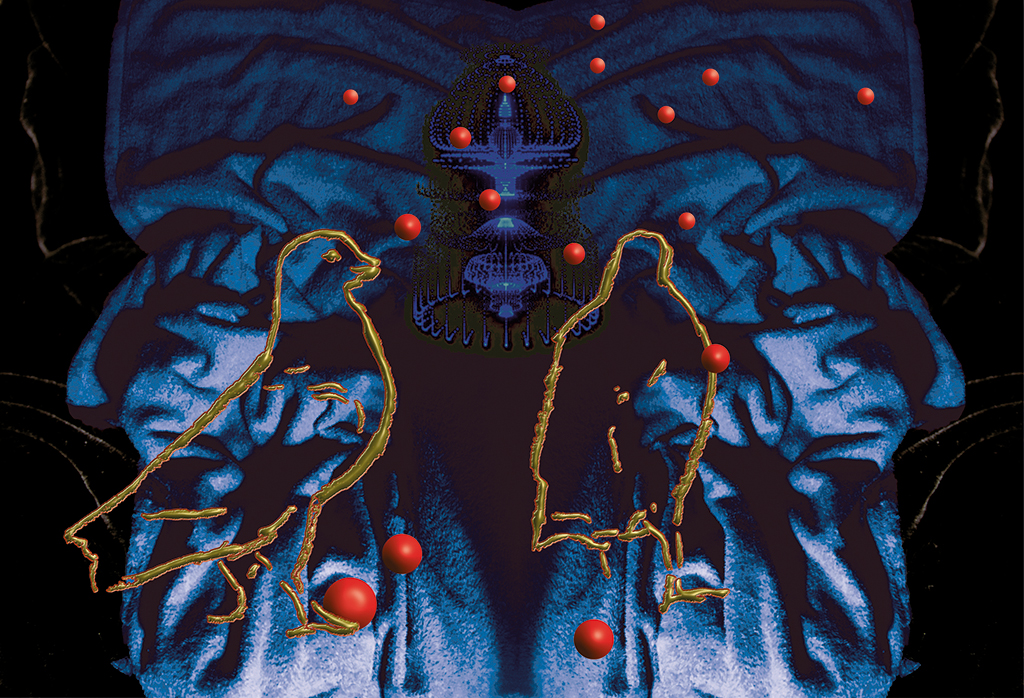 KB: Totally. I like your phrase 'soft coercion' because I think that sums up nicely what I've found troubling. Take this quote from Nir Eyal: "Variable schedules of reward are one of the most powerful tools that companies use to hook users… levels of dopamine surge when the brain is expecting a reward. Introducing variability multiplies the effect, creating a frenzied hunting state… When Barbra lands on Pinterest, not only does she see the image she intended to find, but she's also served a multitude of other glittering objects… Before she knows it, she's spent 45 minutes scrolling." [2]
RC: We initially had reservations about applying the concept of addiction to internet usage, partly because the addiction label is usually used to attach blame to individuals. However, after conversation it became clear that you are exploring a political question. Why is the concept of addiction important to you?
KB: Too much discussion about addiction is focused on the responsibility of people to help themselves. The fact that many can't is often seen as a kind of moral failure. There's also the disputed status of internet addiction in itself as documented by Mark D. Griffiths and his colleagues in their contribution to this book. We can't pretend that there aren't lots of people out there experiencing unhealthy and compulsive relationships to their technologies. But what kind of language is most appropriate to define this? What I am interested in is the phenomenon of what could be understood as addictive behaviours (including my own) being normalised in relation to digital devices. Kazys Varnelis [3] describes network culture as demanding connectedness, with power concentrated in nodes of hyper-connectivity. The more views, the more likes, the more power is accrued. Addictive behaviour is both normalised and valorised in late capitalism as it is associated with the public performance of productivity. Whilst these actions appear to be the choice of individuals, how much is due to the influence of mechanisms and systems of control? Ultimately, I am interested in the idea of the addict as a perfect capitalist subject. However, can we/I be both active-users and critical participants? I am concerned about how many of these platforms function as closed systems in which we contribute (without remuneration) our creative and emotional labour and yet can't shape the conditions in which it is displayed, performed and monetised.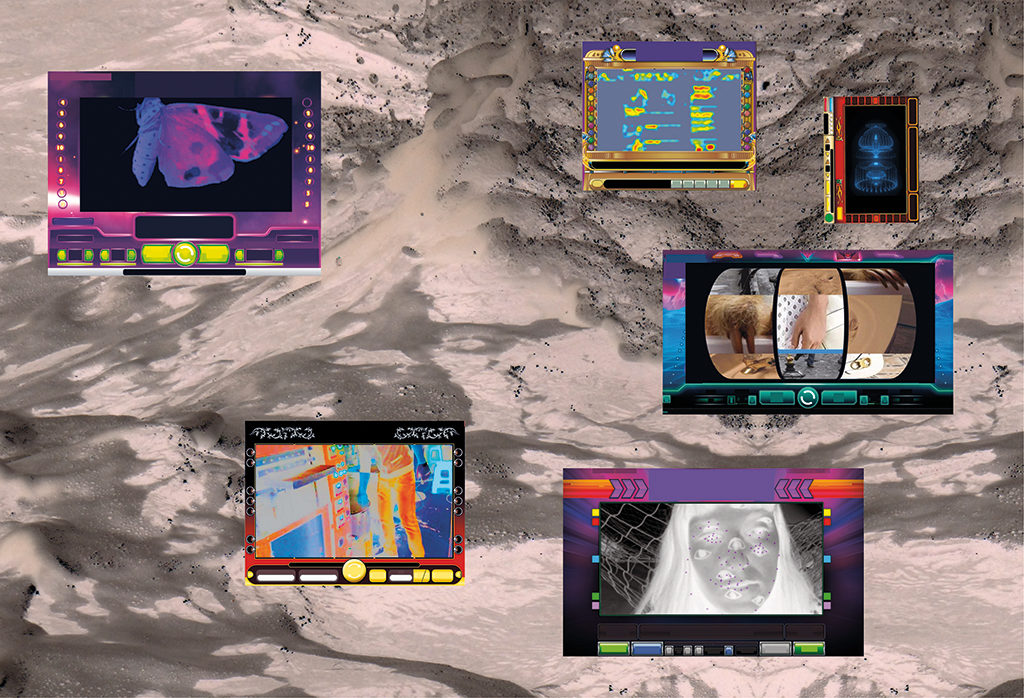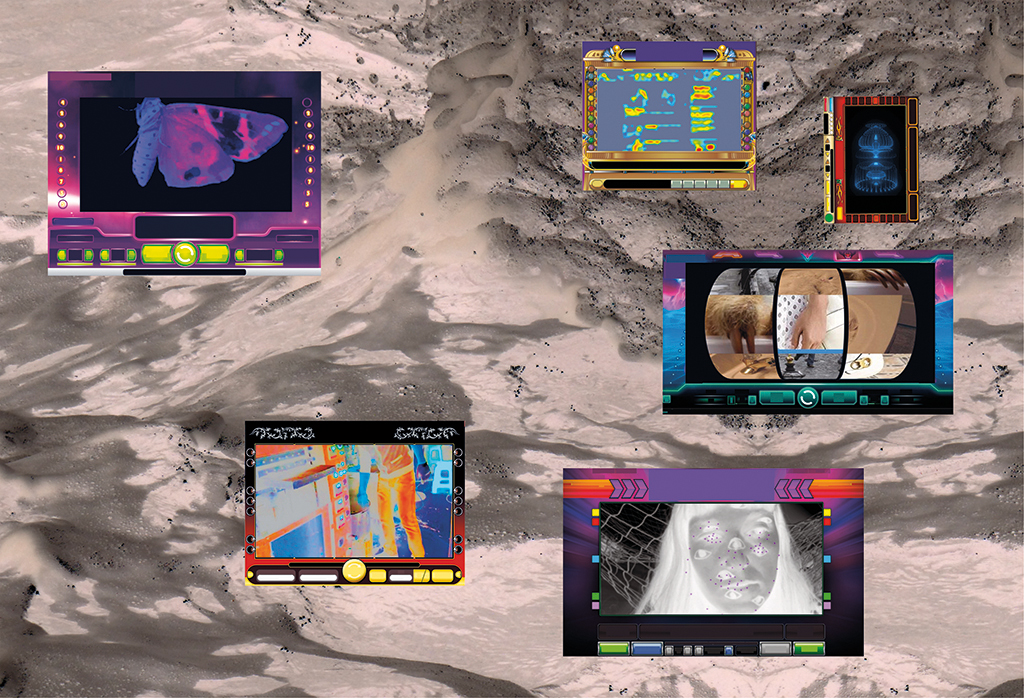 RC: You have collaborated with scientists as well as other artists and curators. How has this worked and what have these collaborations produced?
KB: The space of art offers an opportunity to tap into diverse fields of research, as a kind of (un)informed amateur. I find a Rancièrian strategy of 'deliberate ignorance' liberating. As an artist, I find myself in a position where I can turn my lack ofspecialist knowledge in fields like neuroscience into a kind of asset. I'm not answerable to a canon so can make unorthodox connections. In 2012, I started a conversation with clinical psychiatrist Dr Henrietta Bowden-Jones. Henrietta is fascinating as she started the first NHS clinic for problem online gambling and is now one of the leading experts in the field of online behavioural addictions. My collaboration with Henrietta has flourished, I think, because there is a recognition that there is a mutual benefit from the conversation but not an ownership or entitlement to each other's outcomes.
RC: How does your work deal with the relation between physical and virtual presence?
KB: I am a tactile person, the sort who goes into a shop and strokes things with their face. I am fascinated by how digital devices act as portals into virtual worlds but often their own physicality isn't dwelt on. Yet these devices connect us in a very tangible way to a globalised workforce and unethical labour practices. My iPhone has parts in it that were constructed by hand in an environment that resembles the Victorian workhouse more than the shiny aesthetics of the Apple store. These deeply dystopian factories create objects that seem so sleek, so smooth, so modern, as if they've arrived whole from outer-space. But they were created by workers who do compulsory over-time, sleep in triple bunk beds in small dorm rooms and aren't even allowed to kill themselves. (I'm specifically referencing the suicide prevention netting that Foxconn put up around their buildings after a spate of mass suicides.)1 I'm emphasising physicality to connect my body lying in my bed to the body of someone bent over a production line; it is far too easy to dismiss the impact of our insatiable appetite for electronic goods.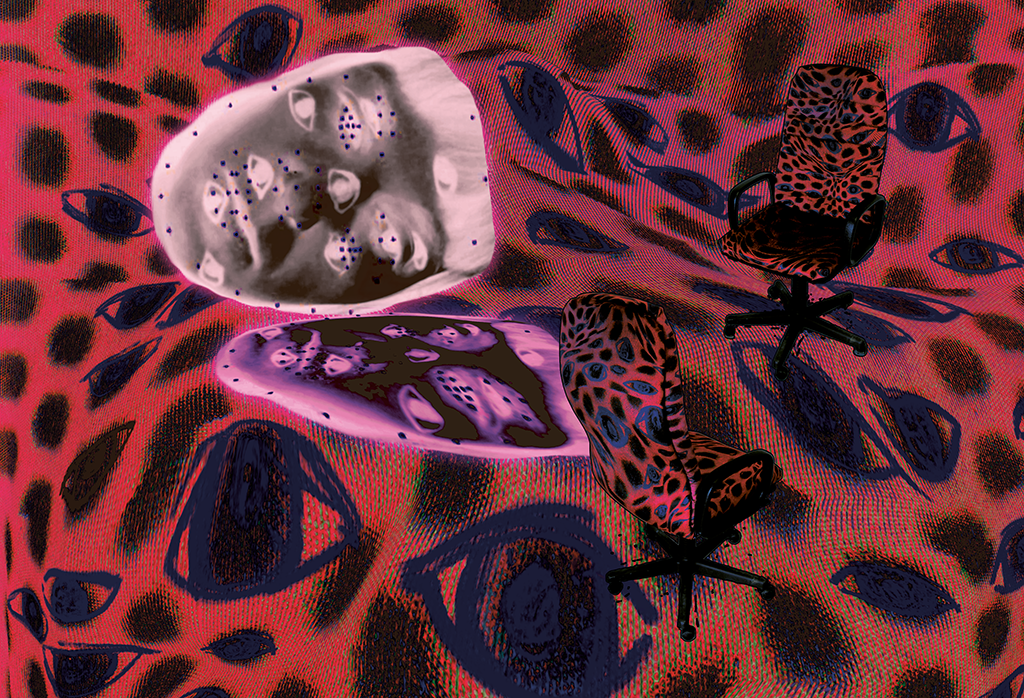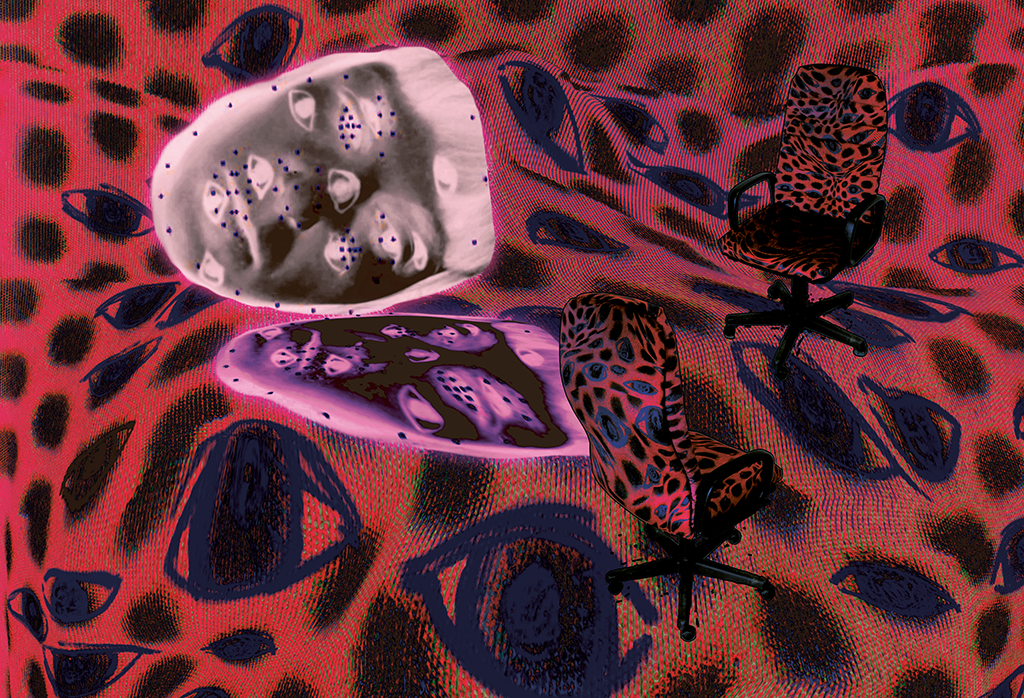 RC: Your exhibition at Furtherfield is to be sited in the heart of a public park. How are you thinking about the relationship of digital devices to the natural environment?
KB: I continue using my smartphone when I step inside the park gates, in a continuum of ongoing augmented experiences where my physical environments are overlaid with digital content. The park acts as a fulcrum for changing understandings of leisure as labour, labour as leisure, and is the perfect site for encouraging reflection on this relationship. As part of this, Fiona MacDonald, who has been working with me on Are We All Addicts Now? as both a curator and an artist, is developing a mycorrhizal meditation piece, looking at network culture from an organic non-human perspective.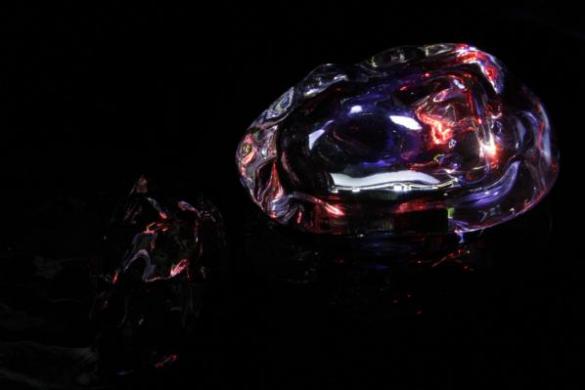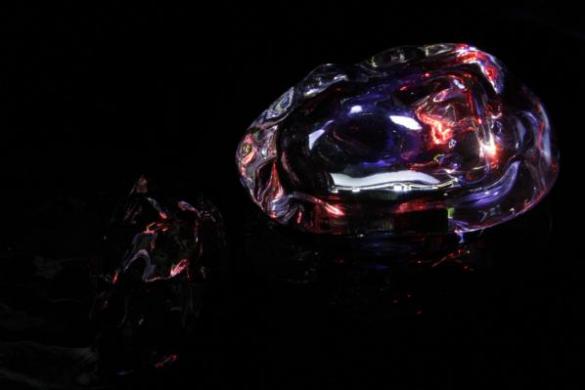 RC: I'd like to end with a description of some of the artworks and installations you are making, the materials you are using, and, in the context of the un-ideal strategies used by designers of mobile interfaces, what condition do you aspire to cultivate in visitors to your exhibition?
KB: I'm making a sunken plunge pool of a networked nest-bed, with glowing screens on which moths flutter embedded in glass orbs. Bed hangings embroidered with dichroic screens stripped from smartphones shimmer overhead, iridescent in the reflected light. I'm trying to communicate how seductive I find the screen in that dark, warm space – in those moments when I am more intimate with my device than my partner. There will be some participatory sculptures referencing pachinko and prayer beads, rhythmic movement, trance-like repetition, lulled into endless hypermobility in the closed systems of 'communicative capitalism'. [5] I'm also working on some moving image works in which makeup is used as a tool to undermine eye tracking software, which I am hoping will incorporate some specialist hardware generating a live-feed of eye-tracking data from audience members. A series of table-top glass sculptures and embedded screens will explore interfaces that are 'designed for addiction' and the way notifications, for instance, are neuromarketing strategies seeking to 'awaken stress — the mother of all emotions.' [6] I'd like the audience to share in my disquiet, and hopefully leave encouraged to engage more critically with shaping their online worlds.
'We had a dream last night, we had the same dream'[1]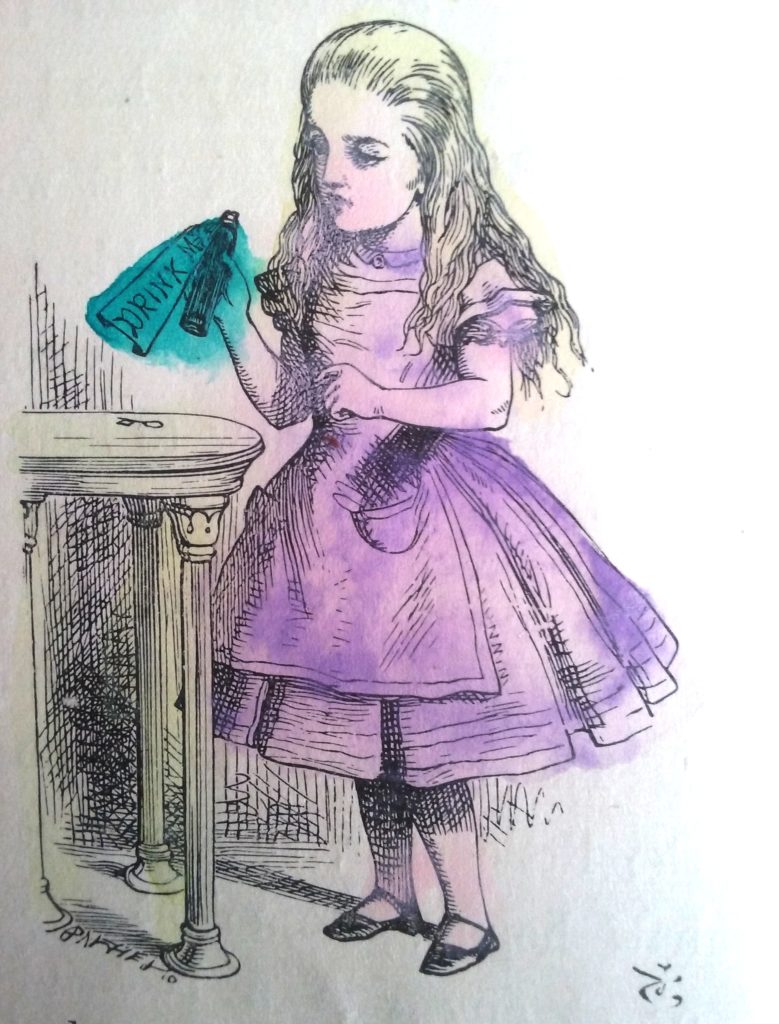 I'm looking for a new love, a mouth that promises . . .
once upon a time . . .
or . . .
in the beginning . . .
the islands in the net were fewer, but people and platforms enough
for telepathy far-sight spooky entanglement
seduction of, and over, command line interfaces
it felt lawless
and moreish
wandering into the maw of the feast
in the realm of the Puppet Mistress, 1995
speech acts, sex acts, strange pacts
squirreled away in buffer logs and pasted Pine trails
weaving 1001 nights of Puppet Mistress tales
never on the down-low
was this most splendid DIWO
permission granted,
always, all ways
read write execute
reeds rites hexecutes
I was Alice clasping the little bottle labeled 'DRINK ME'
becoming-Sufi, heady with some love-like like love emotions
juiced up jouissance
psychosomatic investigations
psi psi psi
ψ ψ ψ
sigh
seeking the difference/s
if any
between a suspected false binary
Virtual — Real — Life
difference
différance
different ants
worker queens snorting lines of flight
'IRL' ('in real life') prefaced conversations
whereas no-one said 'IVL'
VL was the norm
so no need for a distinguishing preposition
whereas you needed to go somewhere, in, purposefully,
to get (back) to real life
Back to life, back to reality
Back to the here and now yeah
. . .
Back to life, back to the present time,
Back from a fantasy
Soul II Soul 1989
I ask Monstrous_Gorgeous (aka t0xic_honey @Lambda) to trawl through my stash of Moologs and MOOmails from my Lambda life, to search for signs of digital affliction. t0x's forensic gaze (who eirself had been a keen Lambda queercoder back in the day) might be illuminating. GashGirl and her morphs(GenderFuckMeBaby, Madame_de_Clairwill, doll yoko, Rent_Boy, et al) had run amok and amongst simultaneous games, switching genders, personae and communicative registers as easily as children playing 'let's pretend'. The best game was that between Puppet Mistress and her Puppet (aka YourPuppet). Today the language seems quaint, The Difference Engine meets The Pearl, steamy stream punk. All bonnets, bronze and tiny buttons.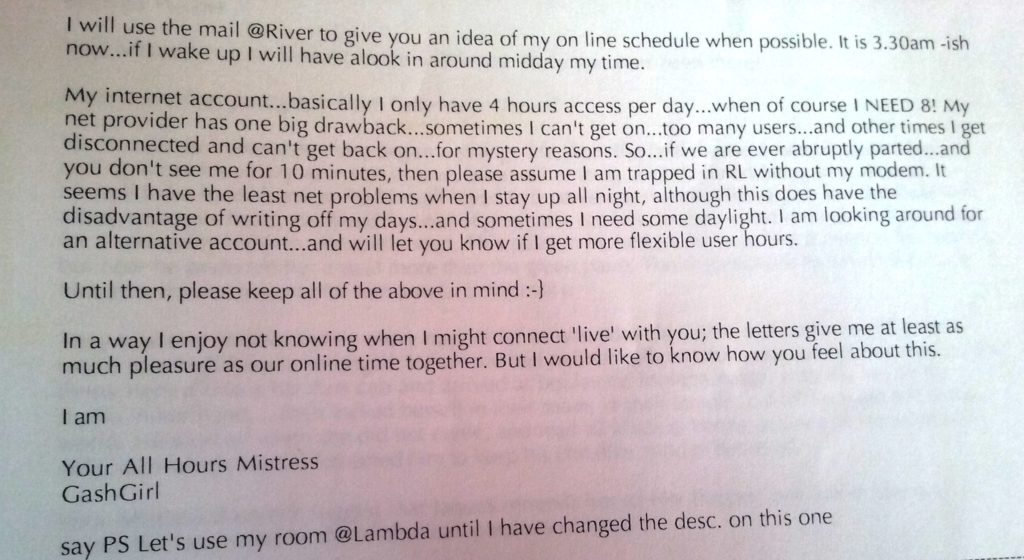 Wolf.
Homunculus.
Ghost.
Doll.
It's a sky-blue sky.
Satellites are out tonight.
Let X=X.
Laurie Anderson 1982
does X=X?
or VL = zero?
with RL the one of ones, the one and all,
the only one (of all possible lives)
I think not!
t0x phones me, recounting episodes that I cannot recall, but which are so in-character I have for sure they happened. Like when I punished My Puppet severely for daring to speak with t0x about her in-MOO peep show. Now we can laugh about it, now that the field lies fallow, but at the time I was furious. Living at (on? in?) LambdaMOO did not diminish affect or emotion, but rather it intensified thought, sensation, desire, need.
can we call this addiction?
or obsession?
compulsion maybe?
I chatted this week with Jon Marshall, my anthropologist friend and author of Living on Cybermind (an ethnography of a mailing list), about how it felt more like a habit than an addiction. He talks about personally accumulated habits and socially accumulated habits. Humans are constructed of habits, including the habits that you build up around internet use. We recall the 'Rape in Cyberspace' event at LambdaMOO; 'that story becomes a myth that guides behaviour', suggests Jon. My habit would not have led to such intense encounters, if all of us lot had not been sharing a gravitational pull to the glimmering galaxies of spiralspace. My twin talks about habit lying at the junction of nature and nurture, opening up another line for future investigation. Never enough time. Instead I loaf around on Netflix with Terrace House: Boys & Girls in the City.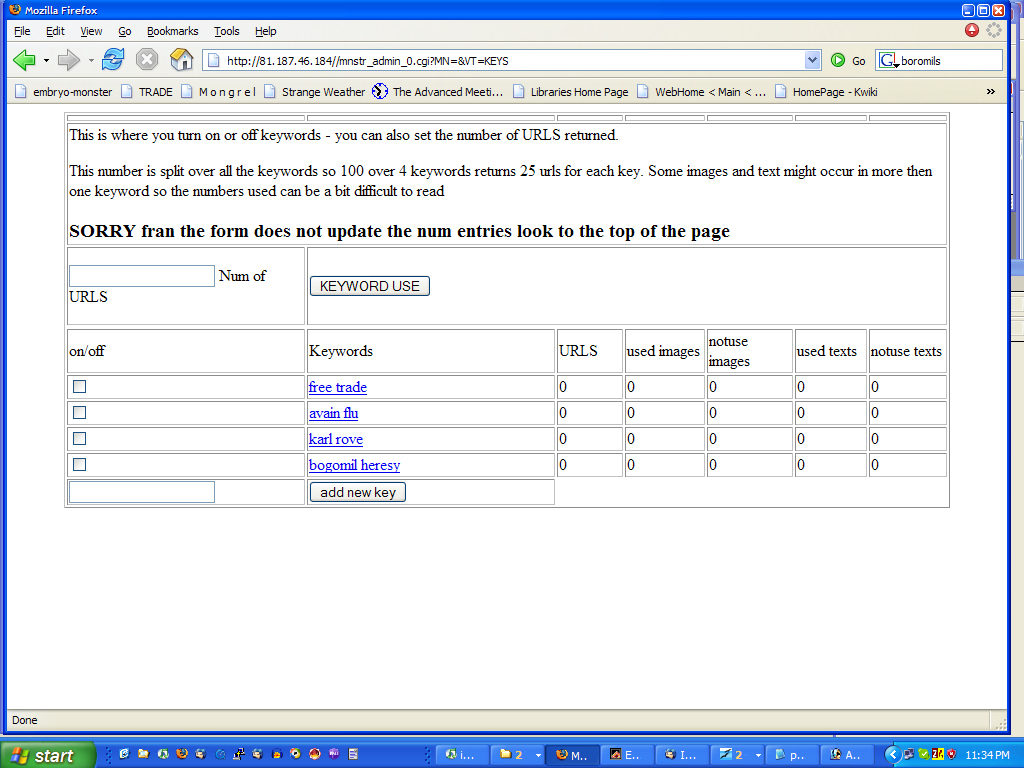 for me the habit of MOO (Mu) was quickly formed,
and devastating to desert
Ripping through a damaged heart
in the best of daze
circa 1992 93 94 95 96
(=3)
I didn't leave home
a charming house with a white peach tree, goblin hut
and a dial-up 14,400 modem usurping landline's phone functionality
for years I burrowed in through a borrowed log-in
J (aka connie_spiros @Lambda) pounds on front door to kick me off
later I jumped onto a free account offered by community provider apana
through its tiny sibling sysx (thank you Scott and Jason)
part of a tribe meshwork of cool sysops animating .net
motivated by the conviction of net access for all
xs4all
excess for real
S (aka Quark @Lambda) told me how depressing it was to leave home at 7.30am seeing me already jacked in, and to find me still in pajamas at dinner time, a sure sign that I hadn't stepped away from the computer all day.
frequently he'd say 'What's wrong with this picture?'
(rhetorical)
5 words yanking me from my fugue
to discover myself pretzeled around the machine
in a position so unnatural it had become natural
to a life lived more and more in a VL that had become my RL
there was a vastness to the generative affective experiences
it felt unstoppable
on par with the most exhilarating love affairs
continual platform jumping
(don't mind the gaps)
with unseen but deeply imagined companions
haunting me from nautical twilight to nautical twilight
netmonster, 2005
The only platform that came close to the seductiveness of Lambda was Netmonster, a network visualisation engine built by artist coder tinkerer Harwood (aka Graham Harwood). I was fascinated by the code and what it could do. And I adored the constant communication with my bruvv, the one who calls me 'witch sister'. We hung around on the server, chatting white text on black screen. I made him a self-executing poem in Perl, my one and only attempt to learn some rudiments of that language. Netmonster could be a machine for collaborative writing, for prophesy, a tool for poking around in the machinations of power and capital. I imagined its transformative potential on a magical level, casting silver spanners into the bellyworks of the Beast. As a user I became tangled in search strings questing for the grail of understanding. Without knowing what I was asking, I pushed Harwood to push the code, Perl, to do things it wasn't designed to do. The machine groaned under the weight of requests, and eventually its interactive functionality was turned off (brutal!), leaving just a beautiful hyperlayered carapace online. The emptiness I felt when the living essence of the project was no longer was comparable to the hole of grief when a lover says it's over. The spirit of Netmonster had left forever. I was alone again.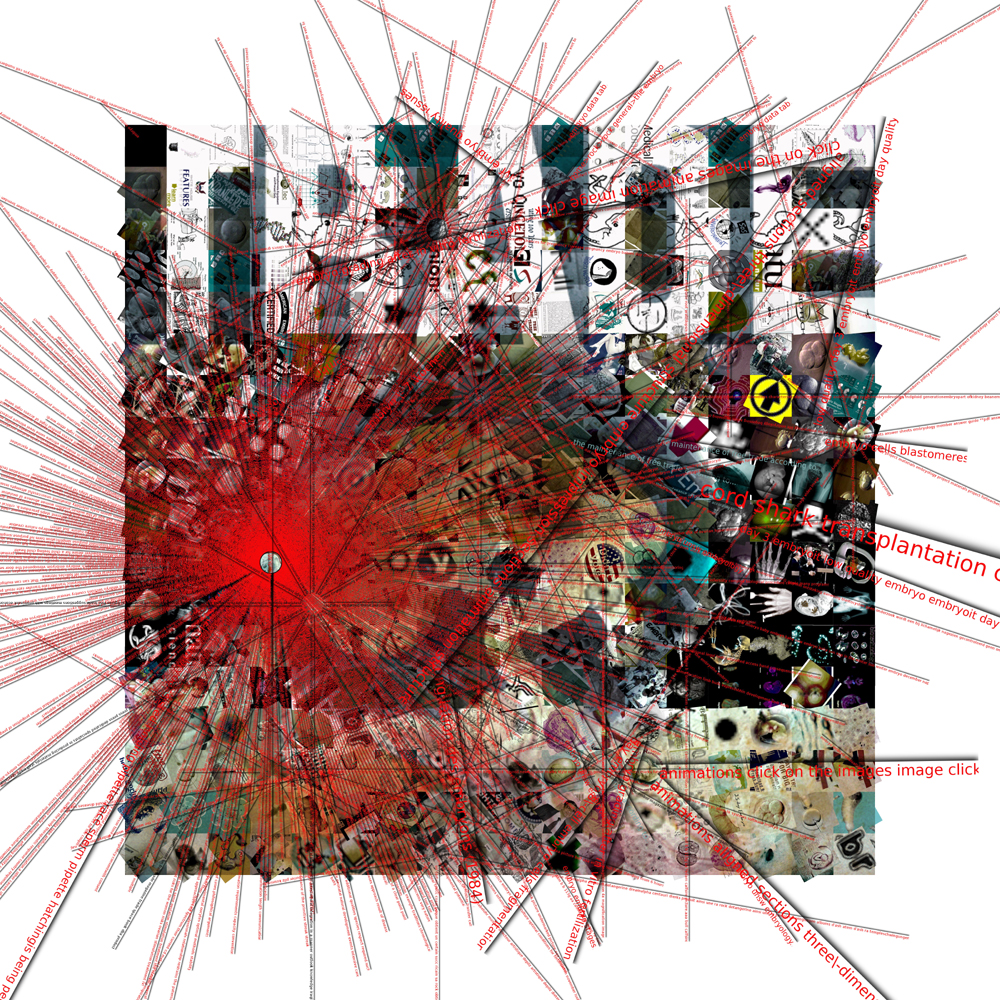 clever little tailor, 2017
There's a few of us chatting around a table in Clever Little Tailor, an affordable bar if you stop after one drink. Around the table S2 (artist/student, early 20s), A (poet/singer/student maybe just grazing 25), and a couple of ancient cyberwitches. We speak about imbuing inanimate objects, a child's wooden horse, a Persian rug, with magical powers, to speak, to fly. The human tendency to want to create life in things, including things and wings of internet, and this predisposition in turn enlivens and expands us. The topic turns to matters of the heart, and native/natal platforms. Those communicative modes that either we were born into or grew into, the sticky tongue finger techs that we associate with our netted emotional and social lives. We talked about coding and not coding, about the need to live online, and the impulse to desert it. Instant Messaging is for S2 what Internet Relay Chat was for us. We spell out the spell of Command Line Interface in a condensed version of how we uploaded ourselves to the song of the modem, waiting up all night to be able to play, existing betwixt and between multiple time zones. We struggle to find the right words (because the material of this stuff is made of words but is so not about words really) to evoke the deliciousness of what was a relatively uncolonised uncommodified unregulated ineffable space. Even if we hexen rarely use the word ourselves, the neologism (and who could forget Neo!) cyberspace, continues to signify the consensual hallucination of jacking in to the zone. Maybe now it's more mall than sprawl for us who experienced something more unbounded, but for the next gens the intensities, the desires are equivalent.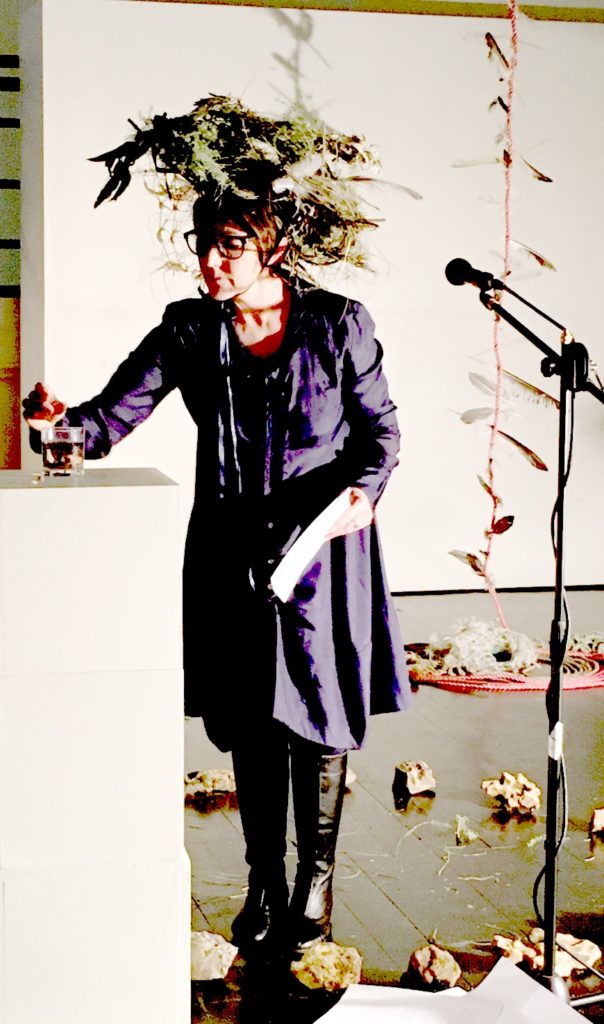 17.10.17
forever doll
becoming witch
she opens her mouth
and swallows the world
she opens her mouth
and swallows your word
dissolving like spun sugar
laced with saffron threads
hexe hexe hexe
tiva! tiva! tiva!
naughty naughty naughty
all for naught
and nought for one
zero and one
zeno and won
one on one on one
on and on and on . . .
Thank you to old and new friends whose ideas have nourished this text: Virginia Barratt, Alison Coppe, Linda Dement, Teri Hoskin, Jon Marshall, Stuart Maxted, John Tonkin. Big thanks to (bruvv) Graham Harwood for inviting me to play and live inside Netmonster in 2005.
---
Francesca da Rimini (aka doll yoko, GashGirl, liquid_nation, Fury) is an interdisciplinary artist, poet and essayist. She revels in collaborative projects, joining companions in generating slow art, strange beats and new personae. As co-founder of cyberfeminist group VNS Matrix she contributed to international critiques of gender and technology. The award-winning dollspace deployed the ghost girl doll yoko to lure web wanderers into a pond of dead girls. As GashGirl/Puppet Mistress, she explored the uploaded erotic imagination of strangers at LambdaMOO. More recent performances , collaborations and installations including delighted by the spectacle, hexecutable, songs for skinwalking the drone, hexing the alien, and lips becoming beaks have combined rule-driven poetry, fugue states, spells and prophesies as hexes against Capital.
"Certain subjects compel me – alchemy, folklore/folk law, emancipatory social experiments, the nature of cognition, and states of 'madness' and ecstasy. I approach art-making as a hexing, a spell, a witch's ladder to another realm. To paraphrase anarchist anthropologist David Graeber, a revolutionary act is to behave as if one were free." da Rimini

DOWNLOAD PRESS RELEASE (.pdf)
For her exhibition at Furtherfield Gallery, Alison Ballard presents Offline Is The New Luxury a collection of works exploring our relationship with technology and the Internet. When daily encounters are increasingly mediated by online technology, how is this affecting our experience of live-ness, presence, and time?
With live streaming, instant replays and video chat technologies, concepts of time, space, and distance, are changing. We 'hang out' together online, we 'live chat' with computer algorithms, watch cat videos over and over again and share world political events as they happen, 'in real time'. Contemporary Western culture has become now-centric. Social media offers more ways than ever to 'go live' meaning we no longer have to share our experiences with others in the past tense (a photograph we took on holiday or a video of the event we attended last week). Instead, we share our every moment instantaneously in a continuously unfolding now.
The Narrator Is Present is an audio work with narrative ambiguity and a sinister underbelly. How can we distinguish fictional narrative from truth among the multitude of disembodied voices on the Internet? Who is it that is speaking to us and what do they want? Existing simultaneously in Furtherfield Gallery and online, the work also explores the dualistic experiences of the virtual and the physical, and the ways in which these two spaces contribute to a single reality.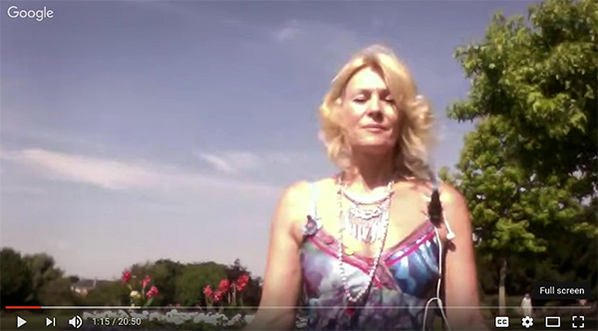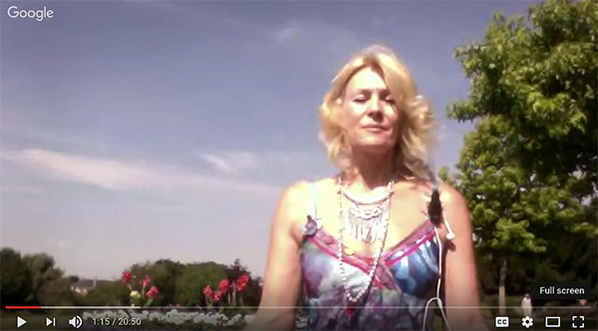 In Live Stream of Consciousness Ballard asks; can the Internet be good for our health? Spending time in parks can improve mental and physical wellbeing by relieving stress, reducing depression, improving memory and cognitive function, and boosting creativity. Can the same mental and physical health benefits of visiting a park be achieved via meditation, online? Ballard attempts to find out with this 20-minute seated meditation, originally broadcast as a live stream from Chalkwell Park, Southend-on-Sea, in 2016. By displaying this work inside Furtherfield Gallery, the artist invites us to reflect upon the physical and mental health benefits that Finsbury Park brings to our day-to-day lives.
Through these works and more, Ballard reflects upon the current state of hyper-reality; the context-collapse of the real and unreal, the distinction between what is simulated and what seems 'real', and invites us to reconsider our view of reality.

EVENTS AND ONLINE
Online Live Stream of The Narrator Is Present
Available online during gallery opening times, from 6 April
http://bit.ly/2mExQ0v
The Narrator Is Present exists live; in the gallery, and online. Visit Furtherfield Gallery to be physically complicit in the work or watch online to be a distanced voyeur.

Online Exhibition Walkthrough with Ruth Catlow Co-Founder and Co-Director of Furtherfield
Available from 7 April 2017 on Alison Ballard's YouTube Channel, in 2D video and Google Cardboard via the YouTube App.
http://bit.ly/2mExQ0v
Also available to view in the Gallery. Please ask a member of staff

Everyday Fiction / NetPark
Open Day 11:00 – 16:00, Saturday 15 April 2017
Metal, Chalkwell Hall, Chalkwell Park, Southend-on-Sea, Essex, SS0 8NB
A chance to experience Alison Ballard's geo-locative audio work Everyday Fiction; a heart-breaking story of loss, grief, and mental illness that explores the ambiguity between reality and fiction that we encounter in everyday life. Site-Specific to Chalkwell Park, it forges a relationship between the audio, the location, and your presence within it. A moving experience with content that some listeners may find challenging.
Just one of the many app-based experiences on offer as part of NetPark; a collection of site-specific digital artworks commissioned by Metal. Find out more on the NetPark website: http://www.netpark.zone/artist-projects
If you have a smart phone, we recommend downloading the App before your visit and connecting to the free NetPark WiFi upon your arrival, to improve your GPS signal.
Download for Apple iOS: http://apple.co/2moPeWA
Download for Android: http://bit.ly/2mEFuI
Don't have a smart phone? That's OK, you can borrow an iPad from Metal on the day, free of charge.

ABOUT THE ARTIST
Alison Ballard explores the ambiguity between fiction and reality, the real and unreal, and the known and the imagined, through temporal works of film, installation, audio, performance, and geo-locative technologies.
Derived from everyday experiences and observations, coupled with an interest in the dislocated relationship of image and sound, and phenomenology, she seeks to produce cross-disciplinary artworks that question our relationships with people, places, and objects, and the shifting meanings of time, presence, and liveness.
Alongside her practice, Alison is Associate Lecturer at Nottingham Trent University and a freelance producer in London and Nottingham. More information can be found on her website: http://alisonballard.com/

ABOUT FURTHERFIELD
Furtherfield was founded in 1997 by artists Marc Garrett and Ruth Catlow. Since then Furtherfield has created online and physical spaces and places for people to come together to address critical questions of art and technology on their own terms.
Furtherfield Gallery
McKenzie Pavilion
Finsbury Park, London, N4 2NQ
Visiting Information
Artist collective THEY ARE HERE invite you to play with and test software that allows wireless-enabled computers and mobile devices to directly form a spontaneous communication network independent of the internet.
Across a series of drop-in sessions facilitated by THEY ARE HERE, games and experiments will be trialled as part of the development process for their forthcoming exhibition at Furtherfield in October 2016.
These activities will take place online & offline around Finsbury Park.
Please bring a wi-fi enabled device to the workshop and if possible download the software Qaul.net in advance (qaul.net/software.html.)
No experience is necessary. Each session will be a discrete event, so you can attend as many or as few as you care to.
Join THEY ARE HERE at any of the following meetings at Furtherfield Commons, Finsbury Gate, Finsbury Park.
Session 1: 3pm Sunday 14th August 2016
Session 2: 3pm Sunday 28th August 2016
Session 3: 3pm Sunday 11th September 2016
Session 4: 3pm Saturday 24th September 2016
You must be aged 16 yrs +
Email contact(at)theyarehere.net for further information.
The Critical Atlas of the Internet, Louise Drulhe's latest project, is a virtual and physical exploration of the Internet space. The implications of our physical actions in 'real-time' are not only timeless in 'cyberspace', but also constitute for the making of an obscure Internet architecture every time we browse the web. The Atlas itself, functions as an enveloping notebook of Drulhe's discerning methodology in desiring to represent the geography and architecture of the 'unseen' Internet territory. Initially a graphic designer, Drulhe's practice has meticulously evolved into including cyber-spatial analysis. She yearns to understand the sociological, political and economical issues that appear online, or are exasperated by an online presence – 'a territory we spend time in without knowing its shape'. The Critical Atlas of the Internet, by being parted between fifteen different hypotheses, sheds light on matters such as the monopolisation of non-physical spaces, the possibility of encumbered networks and the potential forms of the Internet.
I had the pleasure of interviewing Drulhe, where she clarified certain distinctive matters that arise from reading or looking at the virtual form of the Atlas, online.
CS: In 2014, Google measured 200TB of data that they claim to be just an estimated 0.004% of the total vastness of the Internet. Initially, the Atlas perceives the Internet through a number of geometric shapes such as cones and spheres. Is this your approach to establishing that the Internet is an infinite space of shared connections and motion? If this is the case, do you therefore believe it is immeasurable?
LD: I will probably get back to you with a better answer to this question in a few months… I am starting an art residency in Paris at La Paillasse and I am going to study the question: "can we measure Internet?". I am curious to see what the best way to represent Internet is: to count the data or to measure the borders. I haven't started this research yet, but I will look for the best unit of measure to calculate the dimensions of Internet territory: meters? litres? percentages? data traffic? I wonder how to define the "size" of a website. If we look at Google.com, it's only one webpage, so does this mean that Google is smaller than a regular shopping website that might have thousands of pages?
With the fourth hypothesis of the Atlas, "The Geographic Relief of the Internet", I tried to represent the «size» of Internet platforms and their size is actually based on the concentration of the activities they host. The giants of the Internet try to saturate and incorporate as much territory as possible. Google (now called Alphabet) possesses Chrome, Gmail, Android, Google +, YouTube, Blogger, Google Map / Earth / Street view, Cloud, Nest, Google X… to cite but a few. Internet's giants are almost raging an online war to monopolize most of the Internet territory. I think that the next virgin land to conquer is the Internet of Things. The map of this 4th hypothesis is based on a ranking by Alexa Top 500 Global Sites. What I would like to do next, is to measure this representation.
CS: Extrapolating from your claim that the Internet is a single point at the centre of the globe, what would the repercussions if that space were to be encumbered? Can a network not be encumbered?
LD: It's true, a reticular space cannot be encumbered, I guess. Facebook.com, for instance, is getting more and more popular but the site works perfectly; you don't feel any crowded situations on Facebook. If Facebook were a physical public square and 1 billion people met there one day, the situation would be really problematic. On Facebook you never see the crowd.
In the Atlas, I quote Boris Beaude on this idea "The growth of reticular networks, unlike that of cities, increases their interaction potential without boosting their internal distances. Regardless of the network size, the distance between its respective parts is potentially non-existent. Facebook can host 800 million people without affecting its interaction capacity."[1] This is what he calls "reticular coalescence".
[1] Boris Beaude, Internet : "Changer l'espace, changer la société". 2012.
CS: You build your thesis on the hypothesis that Internet space does not require distance; that each component is of equal distance to each other, otherwise, one-click away. Whilst this grants no special status to any single person's 'search' to being more important or unimportant, aren't these 'search results' always altered depending on the search engine? For example, untracked browsers such as Tor or extensions on Chrome such as 'Hola' have the capability to displace a user from their current location and thus materialising a different order by which results appear to us.
LD: I wrote that the search engines "control Internet architecture" and "distribute the space" and because almost everyone uses Google, then we can assume that Google is the one that controls Internet space. So if you use another search engine, like "DuckDuckGo" for instance, you will access the web through a different architecture. But "Tor" and "Hola" are not search engines. "Tor" is a network that enables anonymous communication and "Hola" is a VPN.
By using a VPN, you can bypass censorship. The VPN, by changing your localisation, will give you access to another web. There are as many Internets as there are legislations. This idea is represented in the hypothesis, "A Global Object Projected at the Local Level". Internet is global but we use a national projection of the global network. If you are in China, with a VPN you will be able to browse the Romanian web for instance and you will have access to websites censored by the Chinese government. VPNs also enable anonymity but that's another aspect of it.

CS: Another one of your hypothesis places us (the users) at the centre of the Internet, therefore constructing the space around us as we move through it. Indeed, the Internet meets our individual needs, would you therefore account it more as a product – the world's only flawless consumer good?
LD: Here, I would like to draw your attention to another aspect of my research. If we look at Internet as a consumer good, then it's probably the first that actually turned consumers themselves into products! Jason Fitzpatrick, in rephrasing one of Mike Edgan statements, says "If you are not paying for it, you're not the customer; you're the product being sold". The personal data that are generated through users' browsing are the new "petrol" of the oncoming economy. And in this particular economy, we won't be the consumer anymore!
CS: In early forms of the Internet, 'cyberspaces' were decentralised. Now, as the Atlas conveys, data is concentrated within the hands of a few 'heavy players', illustrated as 'network nodes' of various weights burying themselves within the Internet's surface. Seeing as most of the 'network nodes' come from the west, would you consider the Internet to possess a particular Westphalian sovereignty?
LD: The centre of gravity of the Internet is clearly the west, but not, in my opinion, the west as a whole. The US has a dominant position for multiple reasons that I detailed in the Atlas. The Internet's centre of gravity is defined as "the weight, concentrated solely at one focal point, instead of being distributed over several different points", a focal point which is undeniably Silicon Valley.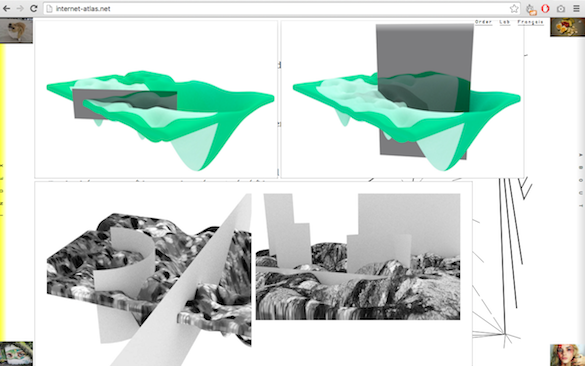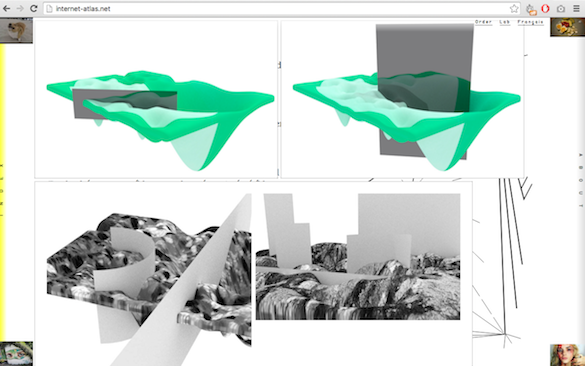 CS: I'd like to ask you about the visual representation of your online Atlas. In particular, about the rigid protrusions of space you used to convey the 'splinternet' and the humorous intrusions of Hilary Clinton and Bernie Sanders among other seemingly unplanned objects such as fried eggs. Could you comment?
LD: We often imagine the Internet as a single Cloud and a unified territory, but this is wrong. There are multiple limits or frontiers that exist online. Some of them are really clear, like the Great Firewall of China: the wall of censorship that divides the Chinese Internet from the rest of the Internet. Another obvious frontier is the limit between the deep web and the surface web. But the frontiers that interested me most were the ones that nobody seems to pay attention to. The limits defined by private networks, such as Facebook. People who have a Facebook profile never see the frontier because there are always logged in. But when you do not have the password, then Facebook is closed, even if some pages are left open to attract you. Their goal is to make you join the private network.
CS: And the unsystematic quirks?
LD: Each time the website loads, the images are automatically taken from the emblematic forum "Reddit" which is defined as being « the front page of the Internet ». Those images work as timestamps in the Atlas; you can find them at the 4 corners of the website but also on the books. The Internet is a perpetually changing space, constantly evolving. It was important for me to bring a timestamp to my Atlas. In addition, these images are symbols of the Internet culture; the Internet meme: viral images spreading through the web and overflowing onto my Atlas.
CS: I'd like to address your citing of Introduction: Rhizome by Guattari and Deleuze. They claim that 'a rhizome can be connected to anything other, and must be' and therefore does not follow the same arborescent structure of a book, or tree. However, as mentioned before, there are arborescent nodes within the Internet itself – the 'heavy players'. Do you believe this may distract multiplicity or enhance the creation of territories within the Internet? Would you also support that in the case of a rupture, where a rhizome breaks or one of the arborescent nodes fall apart, another node responds to replace as if it was always as such?
LD: Yes, that's a good comparison. I believe that the heavy players saturate and erode Internet space. This idea is supported by the fact that each company creates a personalized arborescence that is really difficult to connect to, by developing its own patterns or ecosystems; like the arborescence of a tree. In this idea they are breaking with the original shape of the network and its interoperability.
About the rupture, actually, I am not sure. I think if a node disappears on the network it will not necessarily be replaced by another node. If a web page goes offline and at the same time a Facebook page has just been created, the new node (from Facebook) does not take its place. The new node is actually created within the Facebook network. And to refer to my hypothesis about the geographic relief of the Internet, the node opens on the slope of a dominant gap.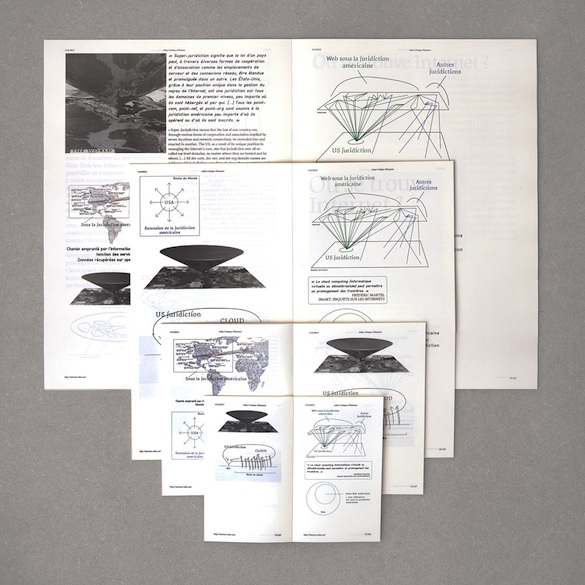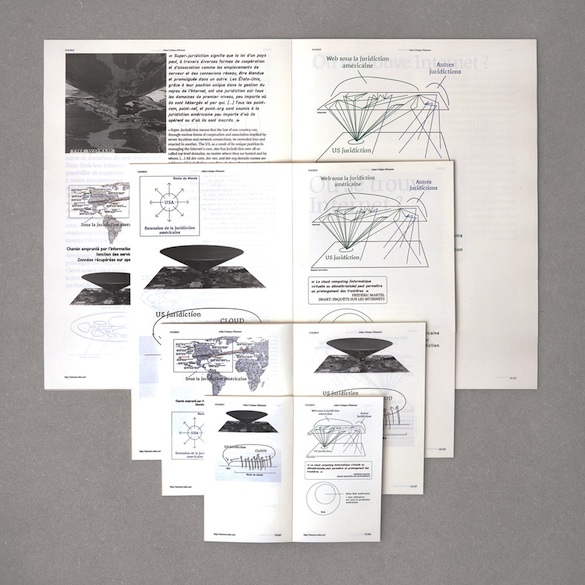 CS: As a final point, there's a particular passage from Baudrillard's Simulacra and Simulation which I find can be quite relative when considering the structure of the Internet:
"Abstraction today is no longer that of the map, the double, the mirror or the concept. Simulation is no longer that of a territory, a referential being or a substance. It is the generation by models of a real without origin or reality: a hyperreal. The territory no longer precedes the map, nor survives it. Henceforth, it is the map that precedes the territory – precession of simulacra – it is the map that engenders the territory and if we were to revive the fable today, it would be the territory whose shreds are slowly rotting across the map."
How would you interpret this if we took into consideration Internet territories?
LD: Most people do not consider Internet as a territory. This idea of cyberspace is a bit old fashioned. But, I think it is still pertinent today to study Internet as a real space.
The way we access representations of the Earth today is really magical. Google provides easy access to an extremely precise representation of the Earth through satellite images and maps… But for the territory of Internet, it's the opposite. Even if there are a few maps of the Internet, there are no basic tools to map the web. The territory still precedes the map. I would love to see what a Google street view of the Internet looks like!
Daniel Rourke: At Furtherfield on November 22nd 2014 you launched a Beta version of a networked project, 6PM Your Local Time, in collaboration with Fabio Paris, Abandon Normal Devices and Gummy Industries. #6PMYLT uses twitter hashtags as a nexus for distributed art happenings. Could you tell us more about the impetus behind the project?
Domenico Quaranta: In September 2012, the Link Art Center launched the Link Point in Brescia: a small project space where, for almost two years, we presented installation projects by local and international artists. The Link Point was, since the beginning, a "dual site": a space where to invite our local audience, but also a set for photographic documentation meant to be distributed online to a global audience. Fabio Paris' long experience with his commercial gallery – that used the same space for more than 10 years, persuaded us that this was what we had to offer to the artists invited. So, the space was reduced to a small cube, white from floor to ceiling, with neon lights and a big logo (a kind of analogue watermark) on the back door.
Thinking about this project, and the strong presence of the Link Point logo in all the documentation, we realized that the Link Point was actually not bound to that space: as an abstract, highly formalized space, it could actually be everywhere. Take a white cube and place the Link Point logo in it, and that's the Link Point.
This realization brought us, on the one hand, to close the space in Brescia and to turn the Link Point into a nomad, erratic project, that can resurrect from time to time in other places; and, on the other hand, to conceive 6PM Your Local Time. The idea was simple: if exhibition spaces are all more or less similar; if online documentation has become so important to communicate art events to a wider audience, and if people started perceiving it as not different from primary experience, why not set up an exhibition that takes place in different locations, kept together only by documentation and by the use of the same logo? All the rest came right after, as a natural development from this starting point (and as an adaptation of this idea to reality).
Of course, this is a statement as well as a provocation: watching the documentation of the UK Beta Test you can easily realize that exhibition spaces are NOT more or less the same; that attending or participating in an event is different from watching pictures on a screen; that some artworks work well in pictures but many need to be experiences. We want to stress the value of networking and of giving prominence to your network rather than to your individual identity; but if the project would work as a reminder that reality is still different from media representation, it would be successful anyway.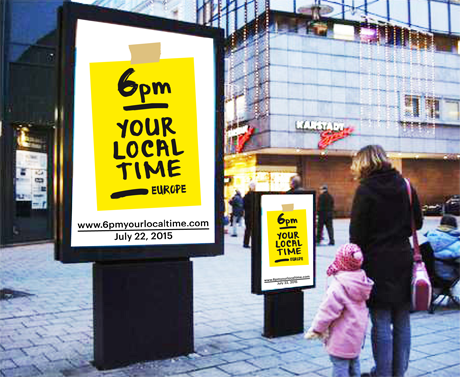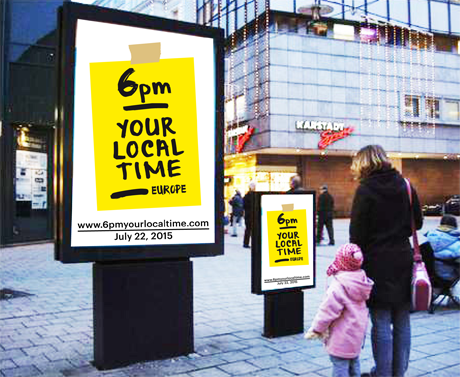 Daniel Rourke: There is something of Hakim Bey's Temporary Autonomous Zones in your proposal. The idea that geographic, economic and/or political boundaries need no longer define the limits of social collective action. We can criticise Bey's 1991 text now, because in retrospect the Internet and its constitutive protocols have themselves become a breeding ground for corporate and political concerns, even as technology has allowed ever more distributed methods of connectivity. You foreground network identity over individual identity in the 6PM YLT vision, yet the distinction between the individuals that create a network and the corporate hierarchies that make that networking possible are less clear. I am of course gesturing towards the use of Twitter as the principal platform of the project, a question that Ruth Catlow brought up at the launch. Do you still believe that TAZs are possible in our hyper-connected, hyper-corporate world?
Domenico Quaranta: In its first, raw conceptualization, 6PM YLT had to come with its own smartphone app, that had to be used both to participate in the project and to access the gallery. The decision to aggregate content published on different social platforms came from the realization that people already had the production and distribution tools required to participate in the action, and were already familiar with some gestures: take a photo, apply a filter, add an hashtag, etc. Of course, we could invite participants and audiences to use some specific, open source social network of our choice, but we prefer to tell them: just use the fucking platform of your choice. We want to facilitate and expand participation, not to reduce it; and we are not interested in adding another layer to the project. 6PM YLT is not a TAZ, it's just a social game that wants to raise some awareness about the importance of documentation, the power of networks, the public availability of what we do with our phones. And it's a parasitic tool that, as anything else happening online, implies an entire set of corporate frameworks in order to exist: social networks, browsers, operative systems, internet providers, server farms etc.
That said, yes, I think TAZs are still possible. The model of TAZ has been designed for an hyper-connected, hyper-corporate world; they are temporary and nomadic; they exist in interstices for a short time. But I agree that believing in them is mostly an act of faith.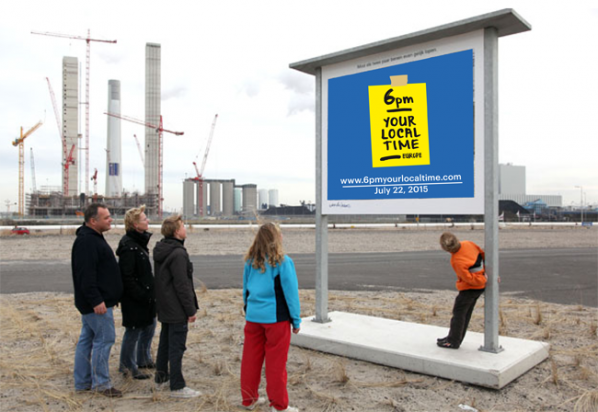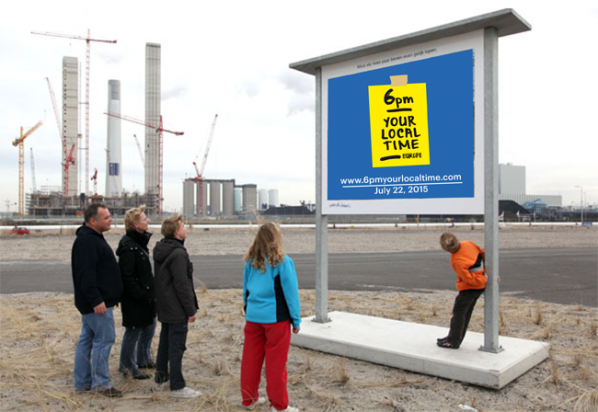 Daniel Rourke: The beta-tested, final iteration of 6pm YLT will be launched in the summer of 2015. How will you be rolling out the project in the forthcoming months? How can people get involved?
Domenico Quaranta: 6PM Your Local Time has been conceived as an opportunity, for the organizing subject, to bring to visibility its network of relationships and to improve it. It's not an exhibition with a topic, but a social network turned visible. To put it simply: our identity is defined not just by what we do, but also by the people we hang out with. After organizing 6PM Your Local Time Europe, the Link Art Center would like to take a step back and to offer the platform to other organizing subjects, to allow them to show off their network as well.
So, what we are doing now is preparing a long list of institutions, galleries and artists we made love with in the past or we'd like to make love with in the future, and inviting them to participate in the project. We won't launch an open call, but we already made the event public saying that if anyone is interested to participate, they are allowed to submit a proposal. We won't accept anybody, but we would be happy to get in touch with people we didn't know.
After finalizing the list of participants, we will work on all the organizational stuff, basically informing them about the basic rules of the game, gathering information about the events, answering questions, etc.
On the other hand, we have of course to work on the presentation. While every participant presents an event of her choice, the organizer of a 6PM Your Local Time event has to present to its local audience the platform event, as an ongoing installation / performance. We are from Brescia, Italy, and that's where we will make our presentation. We made an agreement with MusicalZOO, a local festival of art and electronic music, in order to co-produce the presentation and have access to their audience. This is what determined the date of the event in the first place. Since the festival takes place outdoor during the summer, we are working with them on designing a temporary office where we can coordinate the event, stay in touch with the participants, discuss with the audience, and a video installation in which the live stream of pics and videos will be displayed. Since we are expecting participants from Portugal to the Russian Federation, the event will start around 5 PM, and will follow the various opening events up to late night.
One potential reference for this kind of presentation may be those (amazing) telecommunication projects that took place in the Eighties: Robert Adrian's The World in 24 Hours, organized at Ars Electronica in 1982; the Planetary Network set up in 1986 at the Venice Biennale; and even Nam June Paik's satellite communication project Good Morning Mr Orwell (1984).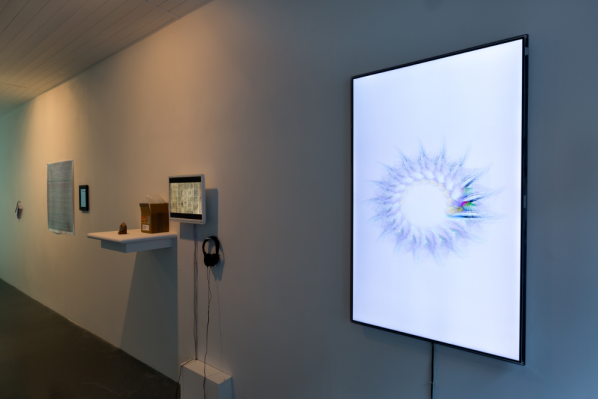 Daniel Rourke: Your exhibition Unoriginal Genius, featuring the work of 17 leading net and new media artists, was the last project to be hosted in the Carroll/Fletcher Project Space (closing November 22nd, 2014). Could you tell us more about the role you consider 'genius' plays in framing contemporary art practice?
Domenico Quaranta: The idea of genius still plays an important role in Western culture, and not just in the field of art. Whether we are talking about the Macintosh, Infinite Jest, a space trip or Nymphomaniac, we are always celebrating an individual genius, even if we perfectly know that there is a team and a concerted action behind each of these things. Every art world is grounded in the idea that there are gifted people who, provided specific conditions, can produce special things that are potentially relevant for anybody. This is not a problem in itself – what's problematic are some corollaries to our traditional idea of genius – namely "originality" and "intellectual property". The first claims that a good work of creation is new and doesn't depend on previous work by others; the second claims that an original work belongs to the author.
In my opinion, creation never worked this way, and I'm totally unoriginal in saying this: hundreds of people, before and along to me, say that creating consists in taking chunks of available material and assembling them in ways that, in the best situation, allow us to take a small step forward from what came before. But in the meantime, entire legal systems have been built upon such bad beliefs; and what's happening now is that, while on the one hand the digitalization of the means of production and dissemination allow us to look at this process with unprecedented clarity; on the other hand these regulations have evolved in such a way that they may eventually slow down or stop the regular evolution of culture, which is based on the exchange of ideas.
We – and creators in particular – have to fight against this situation. But Unoriginal Genius shouldn't be read in such an activist way. It is just a small attempt to show how the process of creation works today, in the shared environment of a networked computer, and to bring this in front of a gallery audience.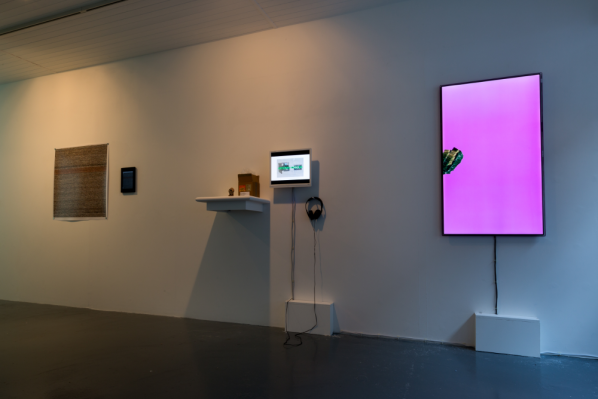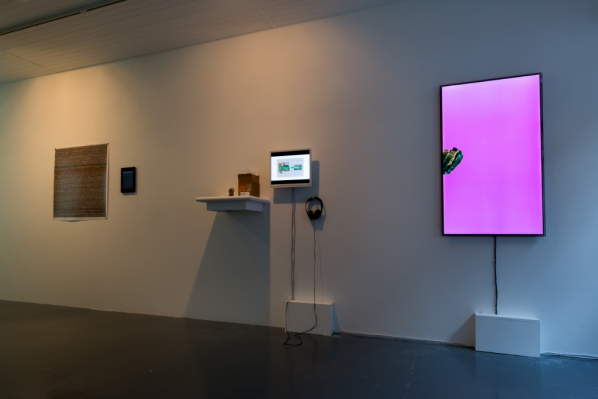 Daniel Rourke: So much online material 'created' today is free-flowing and impossible to trace back to an original author, yet the tendency to attribute images, ideas or 'works' to an individual still persists – as it does in Unoriginal Genius. I wonder whether you consider some of the works in the show as more liberated from authorial constraints than others? That is, what are the works that appear to make themselves; floating and mutating regardless of particular human (artist) intentions?
Domenico Quaranta: Probably Museum of the Internet is the one that fits best to your description. Everybody can contribute anonymously to it by just dropping images on the webpage; the authors' names are not available on the website, and there's no link to their homepage. It's so simple, so necessary and so pure that one may think that it always existed out there in some way or another. And in a way it did, because the history of the internet is full of projects that invite people to do more or less the same.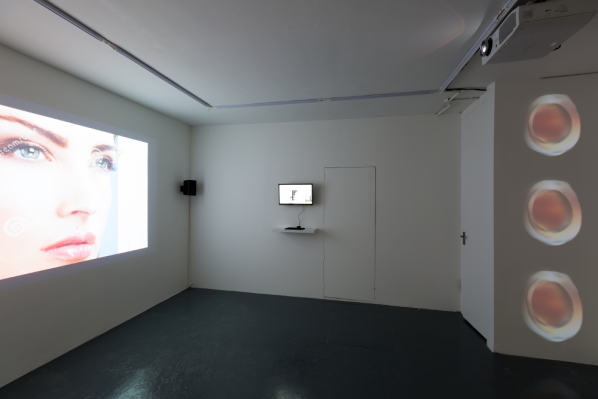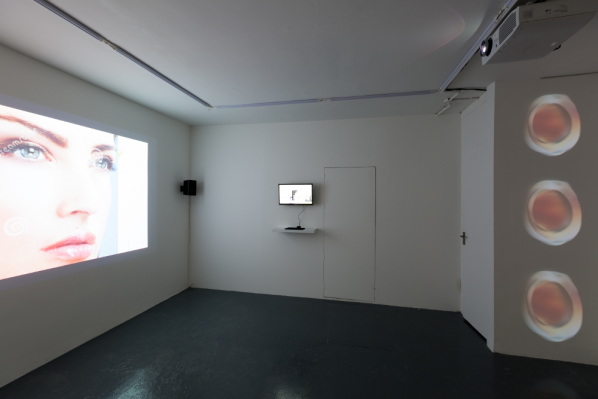 Daniel Rourke: 2014 was an exciting year for the recognition of digital art cultures, with the appointment of Dragan Espenschied as lead Digital Conservator at Rhizome, the second Paddles On! auction of digital works in London, with names like Hito Steyerl and Ryan Trecartin moving up ArtReview's power list, and projects like Kenneth Goldsmith's 'Printing out the Internet' highlighting the increasing ubiquity – and therefore arguable fragility – of web-based cultural aggregation. I wondered what you were looking forward to in 2015 – apart from 6PM YLT of course. Where would you like to see the digital/net/new media arts 12 months from now?
Domenico Quaranta: On the moon, of course!
Out of joke: I agree that 2014 has been a good year for the media arts community, as part of a general positive trend along the last few years. Other highlighs may include, in various order: the September 2013 issue of Artforum, on "Art and Media", and the discussion sparked by Claire Bishop's essay; Cory Arcangel discovering and restoring lost Andy Warhol's digital files from floppy disks; Ben Fino-Radin becoming digital conservator at MoMA, New York; JODI winning the Prix Net Art; the Barbican doing a show on the Digital Revolution with Google. Memes like post internet, post digital and the New Aesthetic had negative side effects, but they helped establishing digital culture in the mainstream contemporary art discourse, and bringing to prominence some artists formerly known as net artists. In 2015, the New Museum Triennial will be curated by Lauren Cornell and Ryan Trecartin, and DIS has been announced to be curator of the 9th Berlin Biennial in 2016.
All this looks promising, but one thing that I learned from the past is to be careful with optimistic judgements. The XXI century started with a show called 010101. Art in Technological Times, organized by SFMoMA. The same year, net art entered the Venice Biennale, the Whitney organized Bitstreams and Data Dynamics, the Tate Art and Money Online. Later on, the internet was announced dead, and it took years for the media art community to get some prominence in the art discourse again. The situation now is very different, a lot has been done at all levels (art market, institutions, criticism), and the interest in digital culture and technologies is not (only) the result of the hype and of big money flushed by corporations unto museums. But still, where we really are? The first Paddles On! Auction belongs to history because it helped selling the first website ever on auction; the second one mainly sold digital and analogue paintings. Digital Revolution was welcomed by sentences like: "No one could fault the advances in technology on display, but the art that has emerged out of that technology? Well, on this showing, too much of it seems gimmicky, weak and overly concerned with spectacle rather than meaning, or making a comment on our culture." (The Telegraph) The upcoming New Museum Triennial will include artists like Ed Atkins, Aleksandra Domanovic, Oliver Laric, K-HOLE, Steve Roggenbuck, but Lauren and Ryan did their best to avoid partisanship. There's no criticism in this statement, actually I would have done exactly the same, and I'm sure it will be an amazing show that I can't wait to see. Just, we don't have to expect too much from this show in terms of "digital art recognition". So, to put it short: I'm sure digital art and culture is slowly changing the arts, and that this revolution will be dramatic; but it won't take place in 2015 🙂
---
Featured image: Helen Varley Jamieson performing "make-shift," Brisbane, 2012; photo by Suzon Fuks

"Overlapping and fluid spaces… spaces emerging between physical realities and the ethereal digital / electric space: a third space grafted from the real-time confluence of the stage + remote locations." – Helen Varley Jamieson
Cyberformance artist Helen Varley Jamieson is creating a new Internet performance work, "we r now[here]"* for the Art of the Networked Practice | Online Symposium (March 31 – April 2). The title and description of the work poetically articulate her thinking on networked space (third space) as a medium for online theatrical experimentation: "'we r now[here]' is about nowhere and somewhere: the 'nowhere' of the Internet becomes 'now' and 'here' through our virtual presence." (* Special thanks to Annie Abrahams who provided the title for the work: "we r now[here]," and to Curt Cloninger who inspired it.)
To set the "stage" for this new work, we discuss Helen's pioneering achievements in the genre she has coined as cyberformance: the combination of cybernetics and cyberspace with performance. Helen has created a rich body of online theater work dating back to 1999, when dial-up modems were still the operable connection, long before Skype and Google Hangout became popular Web-conferencing tools. As one of the founders of UpStage, an open source platform for online theatrical presentation, Helen is a leading catalyst, researcher, director, and maker who for years has been reimagining the Internet as a global space for theater and performance.
****
Randall Packer: You coined the term cyberformance in the early 2000s after discovering the potential of the Internet as a medium for live performance. What were your first steps in rethinking live theater for ethereal, networked "third space?"
Helen Varley Jamieson: When I first started working with Desktop Theatre and experienced the intense liveness of our interactions despite being physically separated by thousands of miles, I understood that it was possible to feel a quite visceral sense of presence and real-time connection via the internet. We were improvising and performing in The Palace, a graphic-sonic chat application, and our audiences were mostly other "Palatians" – who weren't always particularly interested in what we were doing. I began to think about how we could bring this work to a theatre audience, people who wanted to see a performance. The first time I tried this was at Odin Teatret in Denmark at a Magdalena Project festival, with a short performance that aimed to demonstrate the possibilities of cyberformance. Adriene Jenik and Lisa Brenneis from Desktop Theatre were performing with me from California, in The Palace which was projected onto a screen. I was using someone's mobile phone for the internet connection as this was 2001 and there wasn't internet throughout the building at that time. Afterwards, a heated debate erupted amongst the audience (who were theatre practitioners) about whether or not this could be called theatre. This experience challenged me to question whether or not cyberformance was "theatre" (which of course required first answering the question, what is "theatre"?): how is technology changing our definitions of "theatre"? and what place does cyberformance have within theatre?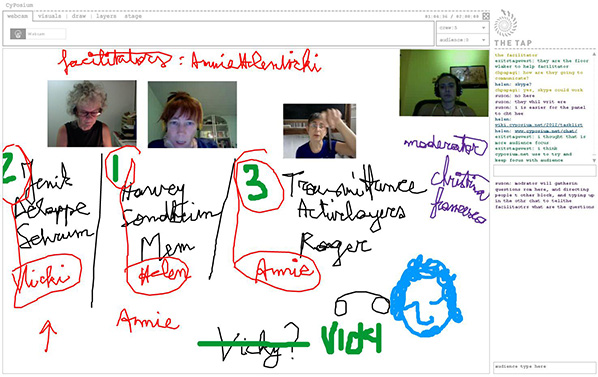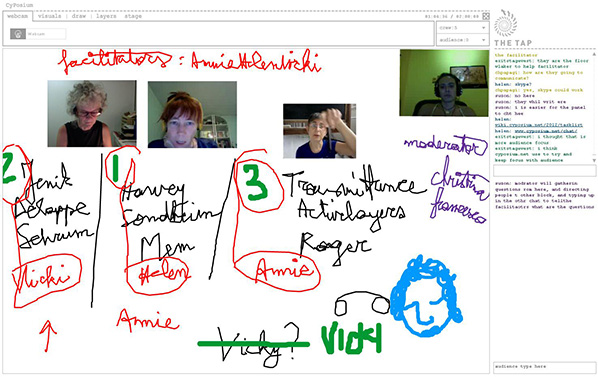 RP: You define cyberformance as "utilizing Internet technologies to bring remote performers together in real-time for remote and or proximal audiences." How does the distributed nature of cyberformance differ from live, traditional theater that situates actors and audience in a single, physical location?
HVJ: Obviously there are many interactions that are not possible, and the entire context is different: instead of sitting together in a darkened auditorium, hearing the rustles and breathing of your fellow audience members and smelling whatever smells, you are (usually but not always) alone in front of a computer. There are time and seasonal differences, as well as cultural and linguistic, for individual audience members. There might be a knock at the door or a phone call or other outside events that intrude on someone's experience while online. So there is much more variety in how the performance is received than there is in a proximal situation. To give one example, during the 101010 UpStage Festival, one performer and some audience were located at a museum in Belgrade; it was the same day as the gay pride march there, which was disrupted by rioting anti-pride protestors, and the museum staff had to lock the doors to keep everyone safe – cars were burning in the street outside. Inside the locked museum, the performer kept going and the festival continued with the riot raging outside, and those of us online were getting updates about the situation from those in the museum.
There is also a different kind of relationship between audience and performers, at least in performances using platforms such as UpStage, where the audience have the possibility to chat with each other and with the artists. There is a level of familiarity and equality, as opposed to the separation of the 4th wall in traditional theatre. Different codes of behaviour apply – for instance it can happen that the online audience might start chatting about something unrelated to the performance, which then becomes a part of the performance; people seated in a theatre auditorium wouldn't normally strike up a general conversation, audible to all, in the middle of a play. The response from the audience to the performance is in some ways more direct – they can comment in the chat and will often be very honest in their comments; and in other ways more distant – a standing ovation has to be typed into the chat, which is less of a loud emotional outpouring.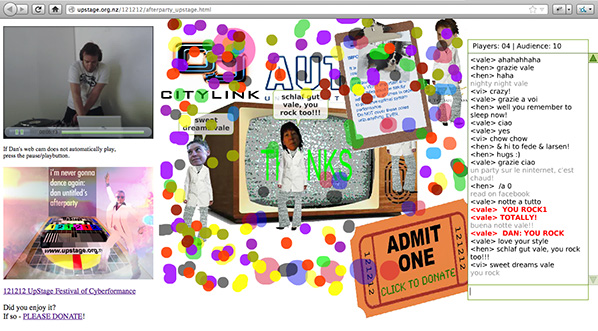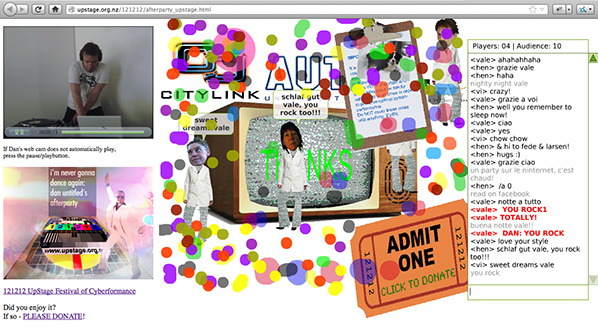 RP: I find it ironic that you named your performance group "Avatar Body Collision," which seems to complicate the idea of net space as a virtual medium for disembodiment. How do you see "avatar bodies" colliding on the Internet?
HVJ: I don't think of virtual space as being disembodied. We are still in our bodies, we are using our bodies to create the performance – primarily our hands and fingers (digits – we say "break a digit" before our shows instead of "break a leg"). The collision in the name is not about bodies colliding with bodies, but avatars colliding with bodies. Where does my body end and my avatar begin, and vice versa? And how do other bodies, e.g. the audience, respond to my avatar? The collision is one of flesh and technology, sweat and pixels.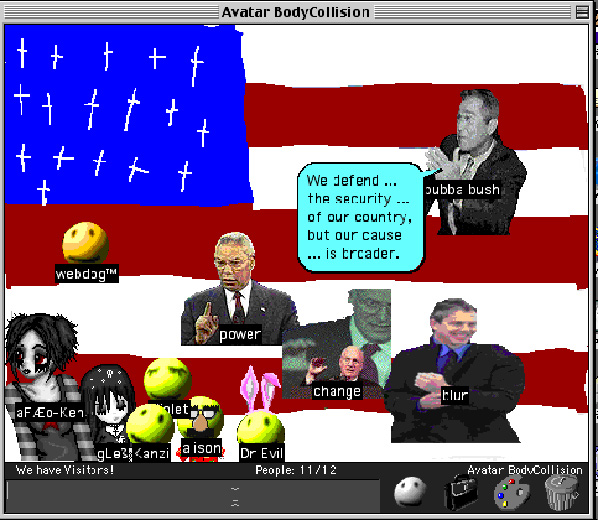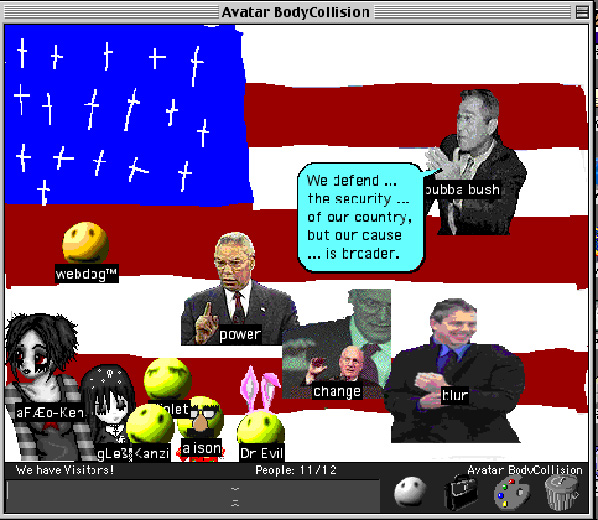 RP: Online, the audience or "cyberformience" plays a participatory role in the event, like the early Happenings from the 1960s. How does this non-hierarchical approach to theater impact the works you have created for the medium: how do you incorporate the audience into the work?
HVJ: It varies from show to show; some are designed for the audience to watch and respond, while others aim to actively involve the audience (cyberformience) to the point of co-authoring. One example at the first end of the continuum is "a gesture through the flames", which was a webcam performance I created in 2008 for Annie Abrahams' "Breaking Solitude" series. I used a Victorian toy theatre and a soundscape to tell a story, and the online audience improvised a narrative in the chat. I didn't interact with them during the performance (I was too busy to type) and it was fascinating to see how they read what I was doing. At the other end of the spectrum are works like "make-shift" or the series "We have a situation!" which can't happen without the active participation of the audience. In "make-shift" (2010-12, with Paula Crutchlow), the audience were involved in writing texts, operating the webcam, answering quiz questions, building kites from recycled plastic, and ultimately performing on webcam. The event was structured so that they were "warmed-up" for their participation, and because we were located in someone's home there was a very informal and comfortable atmosphere which made it possible for people to do these things.
RP: You are currently creating a new work entitled "we r now[here]" for the Art of the Networked Practice | Online Symposium. The title can be read as no(where) or now(here). Tell us about your concept of Internet space and time.
HVJ: Space and time in the online world are very fluid for me. I frequently work with people in different time zones, and travel physically between time zones myself as well, so I'm often calculating time differences and negotiating meeting times around all of this. In some ways time is irrelevant. In other ways, it's highly significant – for example, precise timing is very difficult to achieve. Lag is unpredictable, sometimes it can disrupt a carefully planned sequence but at other times it can make something unexpectedly brilliant.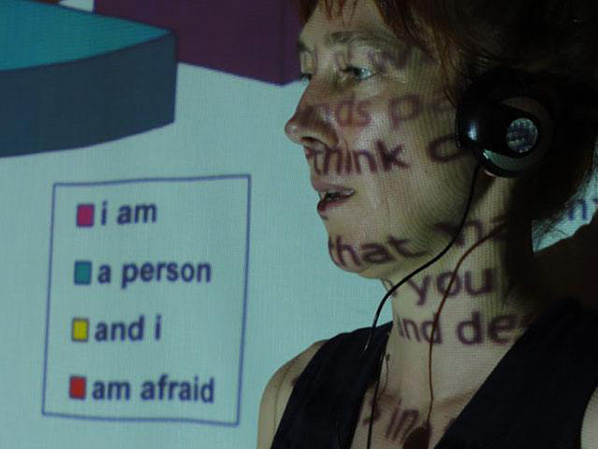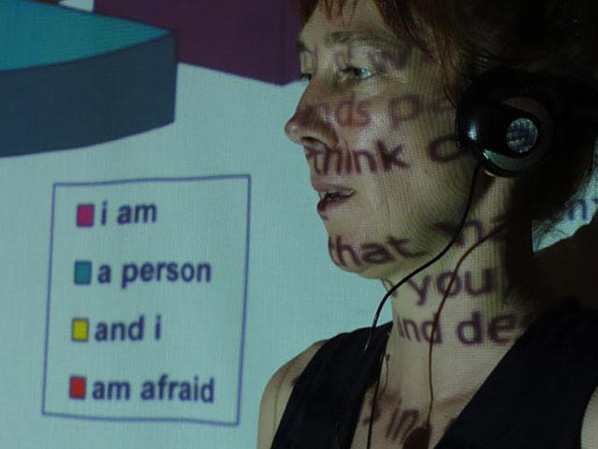 RP: A recent work, "make-shift," unites domestic environments via the Internet in live, free-form conversation between online and onsite participants. How do you achieve a sense of intimacy and play in the online social space of the work despite geographical separation?
HVJ: I think of cyberspace as a space; apart from all the common spatial metaphors that are applied to it, when I'm working or communicating with people online in real-time it feels to me that we create a space through our shared presence, words, and whatever else we are using. It's a space that extends into and absorbs a little bit of the physical environment of everyone present. "make-shift" did this very explicitly – we asked the audience (online and on site) to describe where they were, and this built a collaborative space or environment that everyone had a shared sense of.
In "make-shift" we created intimate and playful environments in two separate houses. the participants in the houses arrived half an hour before the show began, and during this time we warmed them up with a few activities and explained things about what was going to happen. Usually there was also food and drink, and often the people already knew each other so it was already quite friendly and informal. At the start of the show we began by introducing everyone. Each house called out a greeting to the other house and the online audience (which we'd practiced as part of the warm-up activities), and then we invited the online audience to tell us "what's it like where you are?" This question was deliberately a bit open-ended, so people could describe their surroundings, the weather, their day, their mood and so on. The online audience are already seated at the keyboard and ready to interact; often they would make jokes, add other comments and respond to each other. We had regular online audience members who knew the format so inserted their own commentary or embellished others'. From this beginning, we continued throughout the piece to give the audience tasks that encouraged their sense of empowerment and ownership within the piece, such as operating the webcam, and we encouraged those in the house to interact in the chat with the online audience. Some people were a bit shy or worried about doing the wrong thing, but they usually got into it fairly quickly and became so involved in the piece that they lost any self-consciousness. In the final scene, the group in each house performed a song to the webcam and created a tableaux vivant of a painting we had referenced throughout the performance, and when we reached this point in the show they were always keen to do this.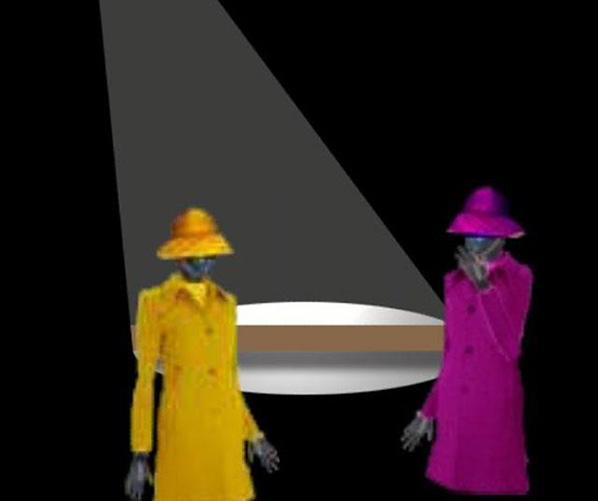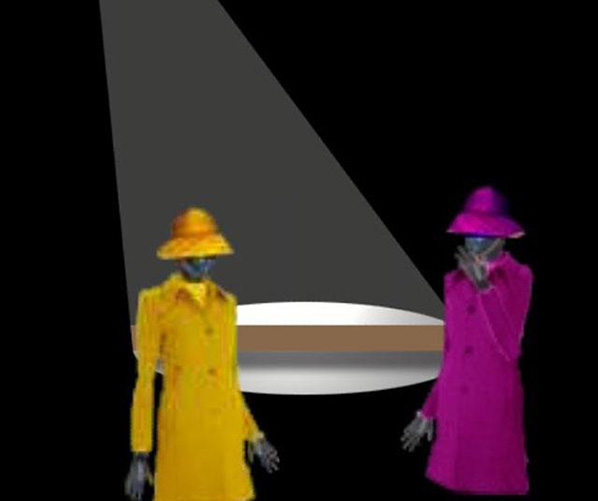 RP: With the Avatar Body Collision performance group, you have restaged Samuel Becket's minimalist theater work "Come & Go." Your approach to cyberformance has always been very free and open, and yet Becket is the opposite: highly structured with precise directions for actors. How do you reconcile these differences?
HVJ: It was a lot of fun to do "Come & Go"; from the outset we accepted that we had a strict set of instructions to follow, and made that our task – to render Beckett's directions in cyberformance as faithfully as possible. So we didn't reconcile those differences, rather we saw it as an opportunity to work differently for a change. We worked on small but precise avatar movements, which is harder than you might think, and used simple gestures that very effectively added emotion, such as a turn of the head or holding a hand up to the mouth. We played with the text2speech voices of our avatars: I was Flo, who at one point has the line, "Dreaming of … love", and we discovered that the "…" created an emotional quaver in the computerised voice when it said "… love". This was both funny and tender. So having a script and such precise directions meant that we spent time on details like this.
RP: You have produced your own online symposia, the Cyposium, the latest from 2012 culminating in CyPosium the Book, an edition of essays and transcriptions. How has your experimentation with the online symposium format altered your view of what a conference gathering can fulfill given global access via the Internet?
HVJ: The CyPosium was very successful and generated an exciting buzz. I think one reason for this was that everyone was online. When there is a stream from a proximal conference, it's very easy for people at the physical venue to forget about those online. It takes very thoughtful planning to ensure that the online participants are fully included. So in the CyPosium, everyone was online and therefore equally included. Most people commented quite freely – at times it was quite dizzying to see the chat scrolling up at great speed, there was so much discussion. This made it quite difficult for the moderators to field questions – we had planned as best we could for this and it went pretty well, but there were so many people actively engaged in the discussion that at times we couldn't keep up. Many people stayed online for most of the 12 hours, and the response was very enthusiastic the whole way through, which made it clear that there is a desire for this kind of event.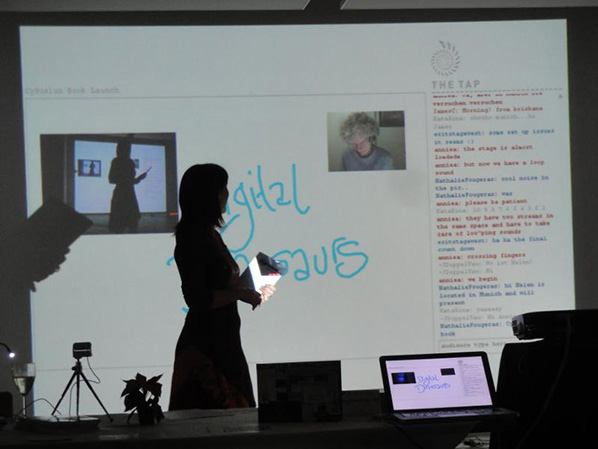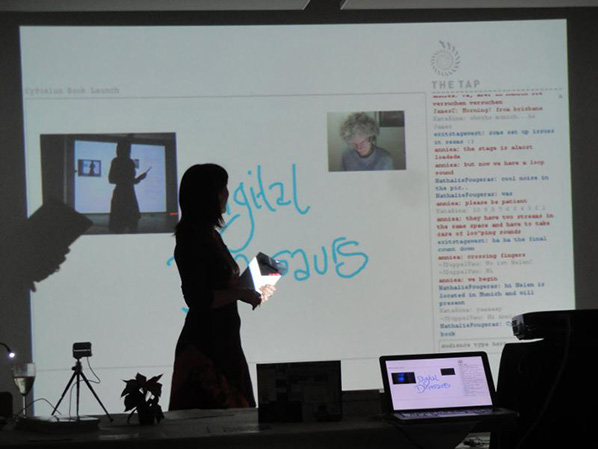 RP: In your years of performing and creating online performance, what do you think is missing in the liminal space of the online medium due to distance and non-corporeality? What do you yearn for? What do you still want to accomplish?
HVJ: At an absolutely practical level, I yearn for better funding, for funding opportunities that are not tied to geographical locations, as nearly everything still is. The distributed, non-corporeal and ephemeral nature of this work means that it's always on the periphery – which in some respects is a wonderful place to be, but it's usually the least-funded place.
There are many things that I imagine and would like to realise but can't technically; some of these things may become possible if/when we manage the rebuild of UpStage that we are planning. But often what interests me most is experimenting with the resources I have and discovering what's possible; what tricks or hacks I can do, what surprises there are when we push a technology in a way it wasn't intended to be pushed or when we use a tool differently.
What I would still like to accomplish in my work is to further develop the intentions of shows such as "make-shift" and "we have a situation," where a creative process shared by audience and artists can ultimately effect real change, at the individual level and socially/politically. I'm interested in how cyberformance can facilitate meaningful discussions and encourage people to think about alternatives and make actual changes in their lives. I'm interested in how connections between remote and apparently unrelated people and contexts can open up new possibilities.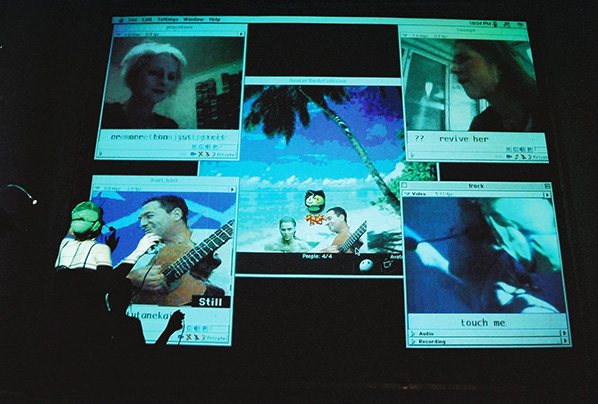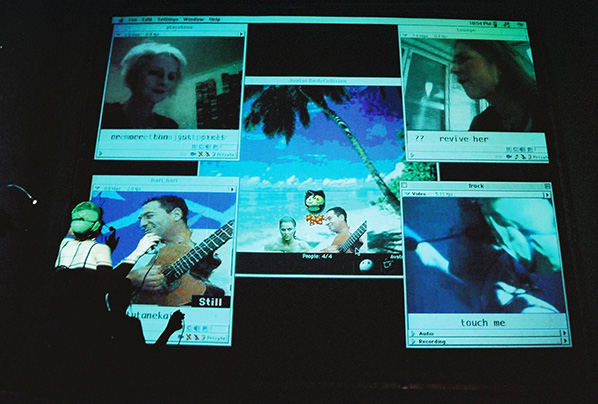 [Trigger warnings for just about everything goes here. Please Do Not Read the following if you're sensitive, or concerned about trigger(ing)s.]
"An uproar of voices was coming from the farmhouse. They rushed back and looked through the window again. Yes, a violent quarrel was in progress. There were shoutings, bangings on the table, sharp suspicious glances, furious denials…Twelve voices were shouting in anger, and they were all alike. No question, now, what had happened to the faces of the pigs. The creatures outside looked from pig to man, and from man to pig, and from pig to man again; but already it was impossible to say which was which."
– George Orwell, Animal Farm.
OUR ANTAGONISTIC CESSPOOL
Today's online spaces are communication minefields. When interacting in multiplayer games or social media niches, networks come drenched in reactivity bile. And although we might seem to bile-dilute, instead we intellectually saw at each other through a polite veneer. Here, civil discourse is label-trotted. Discourse bile may also erupt in balls-to-the-wall screaming matches. Such bouts involve trollbaiting, d0xxing, and Internet Rage Machine power-ups. Whatever the magnitude/form, online dialogues appear to be flooded with antagonistic commentary.
Truncated attention spans rage-burst. Such anger pockets are far from static: fuelled by such shameblood, the righteous degrade. We humiliate in order to inflate. We confront-tar and belittle-feather. The [s]urge for relevancy is sycophantically baked. We mobilize to unearth, to finger-point: we present affectivity as fact. Hate groups spread across factions, divide-blurring.
NUANCE REMOVAL + THE RUBRIC OF ABUSE
The search for sodalities is constant. Nuances are fudged. Contexts are ignored. Catharsis mutates through a checklist that reduces, confines, and truncates. We are force-fed trauma anecdotes as reality fulcrums. Baggage is exposed in painful lumps. We are not consideration-encouraged: we are expectation-drilled. We must agree. Must acquiesce. Must uncritically support. Anything else denunciation-equates.
"IN-AND-OUT"RAGE
Public shaming is the norm. We bully. We armchair-critique. Bipartisan voices lynchmob-morph, all-indignation-like. Roughshodders censor and context erase. Power drugs the inflamed and injects the underdog[s] with sudden shifting surges. Reference frames are smashed, then reiterated repeatedly till they become a thing of horror, of replication thrown from "side a" to hit "side b". Such targets are then mirror-captured and magnified. Empathy is to be derided as weakness. Barbs are flung at all who seek to ponder "isms" or reclaim them. We must not listen in order to comprehend, to understand: we must shout.
[PIGEON]HOLE[D]-IN-ONE
We word weaponise ["…getting all soul-rapey on SJWs"/"…gut-cutting misogynistic neckbeards"/ "You are either with us or against us"]. Gator-screams and "die-cis-scum"-roars rule the day. We obliterate and issue-compress. We communication strangle. Equality is attainable through force. Aggression trumps assertion. Sarcasm blights compassion. Rudeness rewrites decency.
SUCH TERRIBLE WHITEWASHING SEALIONS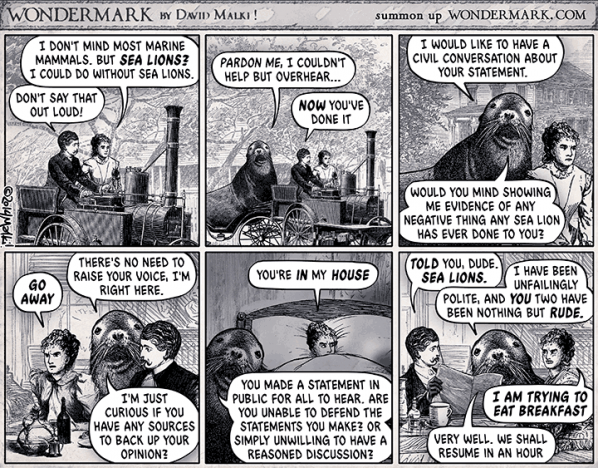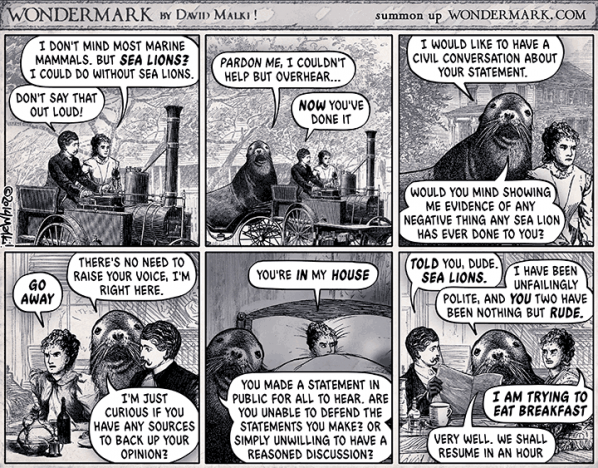 Power-grabs blind the sensitive. To destroy/troll/shame/swamp/embarrass/belittle/d0xx is to "win". Sense of perspectives lose while extremisms gain. Dialogue is gamed: the loudest voices squash and rip, tear and silence. Threats echo the noose. Implications drive output. The end-goal is attention, ratification, dis[e]ruption: a pendulum power swing designed to flatten and redress. We obscure and vilify. We replicate exclusion ethics. We buck-and-doe-pass.
THE VICTIM[IZED] TURN
Online purging results in strange social crevices. Encouraged to instantaneously blurb our stream-of-tweeted-consciousness, we are off the chain. We spontaneity-bark and bleat [at] everything and all. Cohesion shatters. We no longer rely on institutions to dictate, to guide, to sanction. Moral Absolutists war-trawl Moral Relativists. The Arab Spring has turned us inside out. Unsure, we turn on each other. We emoji expose and deride. We [slut]shame and attack: all within banners born from psychologies spouting the benchmark worth of individualisation. Selfies become our egocentric standard.
HOLIER-THAN-THOU + YOU + YOU
We once attempted to codify, to restrain. But now, all gloves are off. We scrabble and lunge. We showcase-badge based on our version of "the categorical truth". We bang and bleed against these corners, these intersections of emotion and intellect. Of private and public. Of control and openness. There is no room for reflection, for consideration, for clarity.
RIGHTING OUR SELF-RIGHTEOUS WRONGS
We refuse anything that calms. Online spaces are for battling. Playfulness and cohesion are sacrificed. Righteous mobs insult fling: they ratify rather than reappropriate. Alternates gleefully spout these insults as proof, stamp-ammo-ing all the while. There are, however, those who stay and observe. We await the wind-down. We desire an eventual dissolve: a fundamental shift. They can't last, these discourse patterns. We wait for rage to course-run, for rage-fatigue. We await the next mediation bump.
Featured image: Thomson and Craighead, Here (2013)
Visiting Jon Thomson and Alison Craighead's survey exhibition, Never Odd Or Even, currently on show at Carroll / Fletcher Gallery, I found myself confronted with an enigma. How to assemble a single vision of a body of work, impelled only by the dislocated narratives it offers me? 'Archaeology' is derived from the Greek word, arche, meaning 'beginning' or 'origin'. The principle that makes a thing possible, but which in itself may remain elusive, unquantifiable, or utterly impervious to analysis. And so it is we search art for an origin, for an arising revelation, knowing full well that meaning is not something we can pin down. Believing, that the arche of a great work is always just about to take place.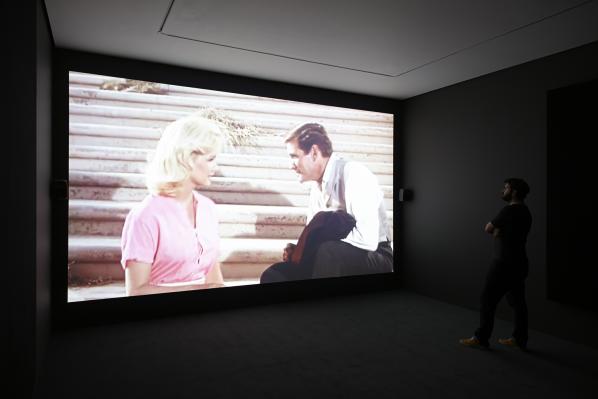 In an essay written especially for the exhibition, David Auerbach foregrounds Thomson and Craighead's work in the overlap between "the quotidian and the global" characteristic of our hyperconnected contemporary culture. Hinged on "the tantalising impossibility of seeing the entire world at once clearly and distinctly" [1] Never Odd Or Even is an exhibition whose origins are explicitly here and everywhere, both now and anywhen. The Time Machine in Alphabetical Order (2010), a video work projected at the heart of the show, offers a compelling example of this. Transposing the 1960 film (directed by George Pal) into the alphabetical order of each word spoken, narrative time is circumvented, allowing the viewer to revel instead in the logic of the database. The dramatic arcs of individual scenes are replaced by alphabetic frames. Short staccato repetitions of the word 'a' or 'you' drive the film onwards, and with each new word comes a chance for the database to rewind. Words with greater significance such as 'laws', 'life', 'man' or 'Morlocks' cause new clusters of meaning to blossom. Scenes taut with tension and activity under a 'normal' viewing feel quiet, slow and tedious next to the repetitive progressions of single words propelled through alphabetic time. In the alphabetic version of the film it is scenes with a heavier focus on dialogue that stand out as pure activity, recurring again and again as the 96 minute 55 second long algorithm has its way with the audience. Regular sites of meaning become backdrop structures, thrusting forward a logic inherent in language which has no apparent bearing on narrative content. The work is reminiscent of Christian Marclay's The Clock, also produced in 2010. A 24 hour long collage of scenes from cinema in which 'real time' is represented or alluded to simultaneously on screen. But whereas The Clock's emphasis on cinema as a formal history grounds the work in narrative sequence, Thomson and Craighead's work insists that the ground is infinitely malleable and should be called into question.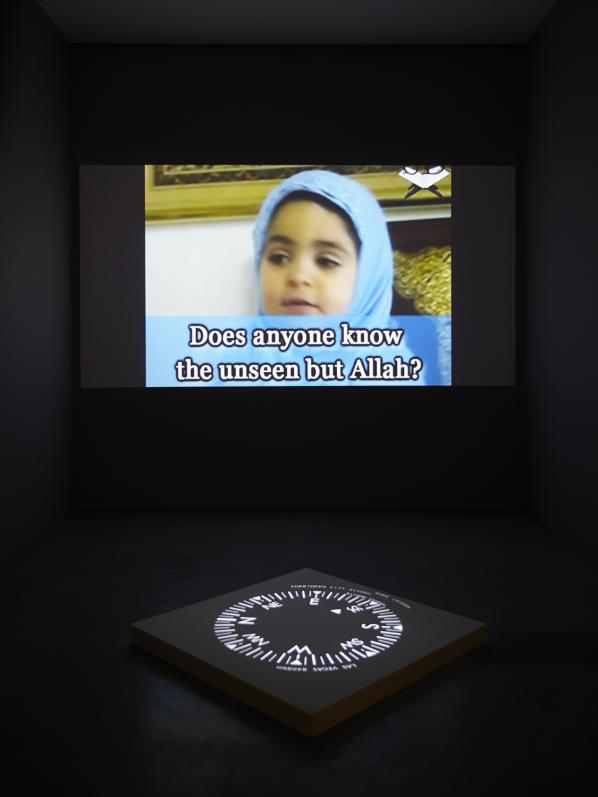 Another work, Belief (2012), depicts the human race as a vast interlinked, self-reflexive system. Its out-stretched nodes ending at webcams pointing to religious mediators, spiritual soliloquists and adamant materialists, all of them searching to define what it means to be in existence. Projected on the floor of the gallery alongside the video a compass points to the location each monologue and interview was filmed, spiralling wildly each time the footage dissolves. Each clip zooms out of a specific house, a town, a city and a continent to a blue Google Earth™ marble haloed by an opaque interface. Far from suggesting a utopian collectivity spawned by the Google machine, Belief once again highlights the mutable structures each of us formalise ourselves through. As David Auerbach suggests, the work intimates the possibility of seeing all human kind at once; a world where all beliefs are represented by the increasingly clever patterns wrought through information technology. Instead, culture, language and information technology are exposed as negligible variables in the human algorithm: the thing we share is that we all believe in something.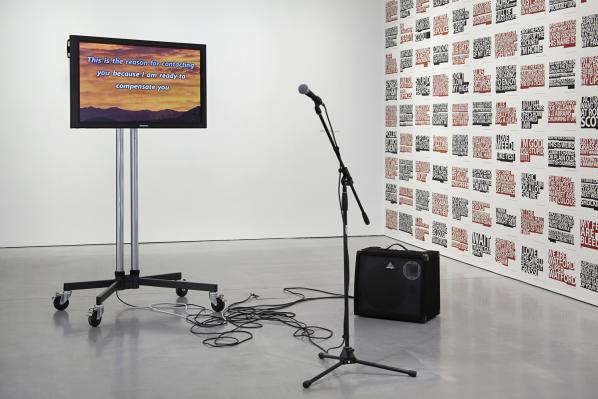 Never Odd Or Even features a series of works that play more explicitly with the internet, including London Wall W1W (2013), a regularly updated wall of tweets sent from within a mile of the gallery. This vision of the "quotidian" out of the "global" suffers once you realise that twitter monikers have been replaced with each tweeter's real name. Far from rooting the ethereal tweets to 'real' people and their geographic vicinity the work paradoxically distances Thomson and Craighead from the very thing twitter already has in abundance: personality. In a most appropriate coincidence I found myself confronted with my own tweet, sent some weeks earlier from a nearby library. My moment of procrastination was now a heavily stylised, neutralised interjection into Carroll / Fletcher gallery. Set against a sea of thoughts about the death of Margaret Thatcher, how brilliant cannabis is, or what someone deserved for lunch I felt the opposite of integration in a work. In past instances of London Wall, including one at Furtherfield gallery, tweeters have been contacted directly, allowing them to visit their tweet in its new context. A gesture which as well as bringing to light the personal reality of twitter and tweeters no doubt created a further flux of geotagged internet traffic. Another work, shown in tandem with London Wall W1W, is More Songs of Innocence and of Experience (2012). Here the kitsch backdrop of karaoke is offered as a way to poetically engage with SPAM emails. But rather than invite me in the work felt sculptural, cold and imposing. Blowing carefully on the attached microphone evoked no response.
The perception and technical malleability of time is a central theme of the show. Both, Flipped Clock (2009), a digital wall clock reprogrammed to display alternate configurations of a liquid crystal display, and Trooper (1998), a single channel news report of a violent arrest, looped with increasing rapidity, uproot the viewer from a state of temporal nonchalance. A switch between time and synchronicity, between actual meaning and the human impetus for meaning, plays out in a multi-channel video work Several Interruptions (2009). A series of disparate videos, no doubt gleaned from YouTube, show people holding their breath underwater. Facial expressions blossom from calm to palpable terror as each series of underwater portraits are held in synchrony. As the divers all finally pull up for breath the sequence switches.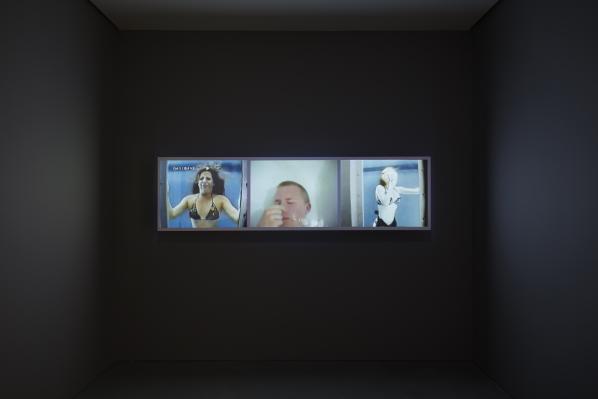 According to David Auerbach, and with echoes from Thomson and Craighead themselves, Never Odd Or Even offers a series of Oulipo inspired experiments, realised with constrained technical, rather than literary, techniques. For my own reading I was drawn to the figure of The Time Traveller, caused so splendidly to judder through time over and over again, whilst never having to repeat the self-same word twice. Mid-way through H.G.Wells' original novel the protagonist stumbles into a crumbling museum. Sweeping the dust off abandoned relics he ponders his machine's ability to hasten their decay. It is at this point that the Time Traveller has a revelation. The museum entombs the history of his own future: an ocean of artefacts whose potential to speak died with the civilisation that created them. [2] In Thomson and Craighead's work the present moment we take for granted becomes malleable in the networks their artworks play with. That moment of arising, that archaeological instant is called into question, because like the Time Traveller, the narratives we tell ourselves are worth nothing if the past and the present arising from it are capable of swapping places. Thomson and Craighead's work, like the digital present it converses with, begins now, and then again now, and then again now. The arche of our networked society erupting as the simulation of a present that has always already slipped into the past. Of course, as my meditation on The Time Traveller and archaeology suggests, this state of constant renewal is something that art as a form of communication has always been intimately intertwined with. What I was fascinated to read in the works of Never Odd Or Even was a suggestion that the kind of world we are invested in right now is one which, perhaps for the first time, begs us to simulate it anew.
Featured image: Internet Cache Self Portrait, 2012, Evan Roth
In an essay for the catalog of Collect the WWWorld: The Artist as Archivist in the Internet Age, an exhibition installed most recently at 319 Scholes in Brooklyn, Josephine Bosma announces that the wilderness is back. Though modernity provided the means for humans to sequester themselves safely in comfortable houses, sheltered from nature's seasons and its bad moods, Bosma points out that the boundaries between the indoors and outdoors, between the private and the public, have been broken down by digital technologies. As data slips into our most intimate spaces, the way rain and wind once ripped through primitive shelters like caves and huts, we return to "a rather basic form of humanity"―an uncanny "21st century version of ancient cultures and traditions." Sorting through an "erratic, uneven mess" of information, human beings are once again hunters and gatherers. [1]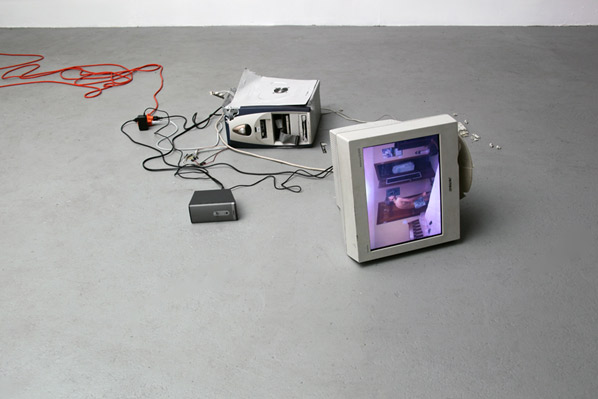 Yet if hunting and gathering are back in digital form, the foraging is not taking place in a scarce economy. We are not looking across vast space for some edible calories, stalking after evasive prey. Instead, we are flooded with resources in an official archive that grows at almost unfathomable speeds. In his catalog essay, curator of Collect the WWWorld, Domenico Quaranta writes,
"Every time we access a web page… the browser memorizes certain data on our computer… whatever we don't deliberately delete, we keep. In the cache era, accumulating data is like breathing: involuntary and mechanical. We don't choose what to keep… but what to delete." [2]
The artists in the 319 Scholes exhibition appropriated and manipulated images, data, animated gifs, video, clip art, and blogs to create screen projections, net art, prints, and installations. Often they transferred foraged data into sculptural pieces, such as the series of pocket bikes by Jon Rafman and the photocopier run amok in Jason Huff's Endless Opportunities, suggesting that online information moves in and through our material world. Moving through the gallery made me feel like I had spent too much time online, overwhelmed by too much information. There were hundreds of polaroids in Alterazioni Video's Olbania, hundreds of images in Evan Roth's collage Internet Cache Self Portrait: July 17, 2012. The title of the seemingly nonsensical Etsy purchase by Brad Troemel, displayed on the gallery wall, captured the detailed randomness of the internet space: Art Smells Why Wait Grab An Unusually Decadent PINE air freshener with a HOTTOPIC pink to black hair extension attached. The sounds of Eva & Franco Mattes' My Generation dominated the gallery's front space. In a pile of smashed computer hardware, a screen displayed videos of hormonal teenage boys freaking out, screaming, and convulsing in front of their computer cams. The collage captures the overflowing, hysterical emotions of adolescents in their now private-public bedrooms but also the frustration that we can feel about life amidst so many networked devices and so much data.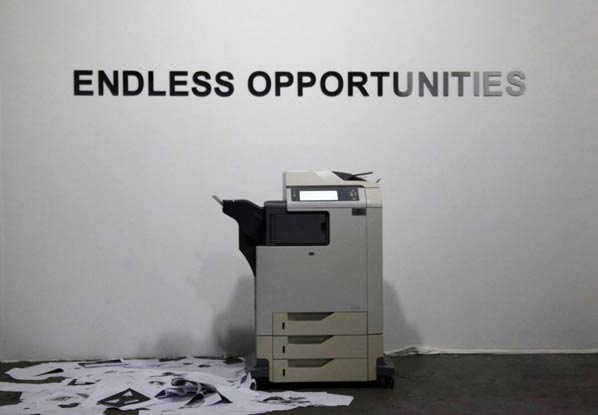 Since many of the works at 319 Scholes made me feel psychologically unsettled and dispersed, the same way I feel after staring at a screen all day long―a feeling that I can fix only by unplugging and taking my dog for a walk―I asked Quaranta how he differentiates Collect the WWWorld artists from the larger population of people interacting with data as simply just hunter-gatherers on an everyday basis. How did he imagine the exhibition representing something beyond what we all do continually, as naturally as breathing? His response:
"Everybody stores, but just a few collect. Storing means downloading (or tagging, pinning, posting, etc.) something and forgetting about it. Collecting means taking care of what you stored, selecting and ordering it according to a personal criterion, applying a human filter to the inhuman, impersonal archive. If the collector is an artist, his collection may be sometimes understood as art." [3]
If we keep with Bosma's ecological metaphor, Quaranta's exhibition, then, presents artists who are also collectors and archivists who, having explored the digital wilderness, have done some weeding in order to plant a garden of cultivated, nurtured, looked-after data. Their art is a gesture toward trying to make some sense or order out of the wildness. In his catalog essay, Quaranta writes,
"Collect the WWWorld takes as its point of departure the very moment an incoherent mass of ideas turns into a hypothesis." [4]
Yet ever since digital media emerged on the contemporary art scene, artists have been appropriating found "objects" from the internet's ever-growing archive, remixing them to create new content. But there is a significant way in which Collect the WWWorld captures a new cultural current. Traditionally, archives were protected spaces, governed by authorities, institutions, the state. They were private, physically and politically remote from the public at large, inaccessible except to sanctioned experts who were able to pass through the proper channels of bureaucracy. Digital technologies upended this sanctified space, producing an unofficial endless archive of internet data, and more recently, with ubiquitous mobile networked devices and social networking applications, anyone can upload any random aspect of their mundane private lives into the public archive. Quaranta explains,
"If in the past, and still in the late Nineties, appropriation and remix were dealing mostly with commercially produced culture, now most of the cultural content we access, consume and remix is produced by so-called amateurs."
In the Web 2.0 world of YouTube and Facebook, brokers, editors, and even curators are no longer indispensable. There are no intermediaries between public and private in the digital wilderness. Furthermore, Quaranta adds, early generations of digital artists were pioneers. Now, the born-digital artist-collectors are "residents dealing with the stuff left by their ancestors." [5]
In this exhibition of second-generation digital art, the most intriguing works in the show were those that did not simply repeat and represent the experience of hunting-gathering in the wilderness but rather intervene in this process to suggest the ways that media technologies rewire our culture, our public/private spaces, and our imagination. In Kevin Bewersdorf's Google Image Search Result for "Exhausted" Printed onto Blanket, an image of an emotionless father holding a passed out son in his arms. (I'm guessing at their roles; the situation could be much less innocuous.) With the printing of this random, private scene onto a blanket, someone could actually sleep in with this odd couple, laying his skin next to theirs. The networking of such intimate moments is at once ludicrous, meaningless, and meaningful―and something that those of us with web access experience all the time.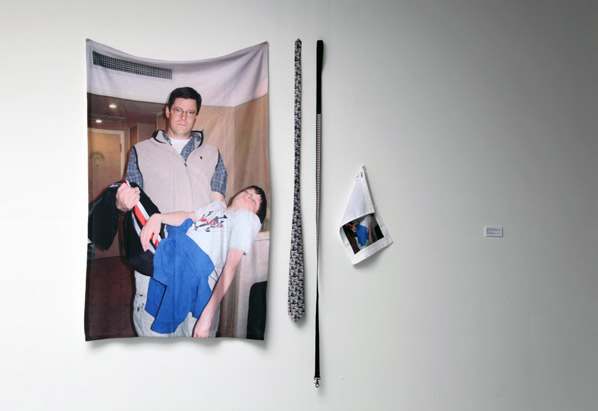 In need ideass!?! PLZ!!, Elisa Giardina Papa has collected online video of mostly teenage girls excited to make new video content except they have one major problem: they have no ideas. The projection at 319 Scholes showed them speaking intimately into their video cams, begging their viewers to help them, confessing their willingness to do anything asked of them:
"Hi YouTube, Hi you guys, Hey um YouTube…. I wanted to start a web show and I need ideas for it but I don't know like any ideas. I have the web show maybe an upcoming website, who knows… Hey YouTube. I'm behind my kitty cat right here. If you guys can give me some ideas I'd greatly appreciate it… Hi you guys I'm Vanessa I'm wondering if any of you can give me any ideas…."
need ideas!?!PLZ!!, Elisa Giardina Papa, 2011
One girl sits on her bed in her pajamas, another stands in front of a shower curtain. Most play with their hair, some have done their makeup, one provides a close up of her glossy pink lips. The kids repeat their willingness to "do anything… crazy stuff." We often hear laments these days about how new media generate a culture without substance. Papa's collage―or rather, her collection―deepened this question: the kids turned loose in the digital wilderness seemed to be aimless, armed with advanced technologies but with no ideas about what to say or what to do. At the same time, they perform Bosma's "21st century version of ancient cultures and traditions." Papa's anxious teenagers seek attention, community, and space away from their probably boring parents, a rite of passage of American kids; one girl has to yell into her cellphone at her mother, "Mom! I'm in the middle of a video!" But though they are in the privacy of their bedrooms, they are also begging strangers for engagement and uploading themselves into the public space of the internet, where presumably annoying Moms can check on what they are doing.
In environmental theory, the wilderness can be a spiritual refuge, a space of healing respite from the frenzied modern world. But being out there, exposed, in the wildness of the mountains or the woods is comforting only once we have our biological needs met, once we are safe and ecologically emancipated by adequate shelter, clothing, and food. Social ecologist Murray Bookchin explains this well: "without a sufficiency in the means of life, life itself is impossible, and without a certain excess in these means, life is degraded to a cruel struggle for survival." [6] With Bosma's language in mind, I have to ask if Collect the WWWorld represents our ecological emancipation and our freedom to play in a mysterious forest, or if the group exhibition represents our desperate grasp for the basic anchors of cultural subsistence? Evan Roth's Internet Cache Self Portrait: July 17, 2012 asks who we are in the eyes of our computers, in the accumulated images stored in our cache capturing our travels through the web. Are we the sum of our clicks and searches? Are we the archivists or are we the archived? Are we in control here, or are we engaged in a "cruel struggle for survival" in the digital wilderness?
---
Collect the WWWorld is a show first produced by the Link Center for the Arts of the Information Age and already presented, in different versions, at Spazio Contemporanea, Brescia (Italy) in September 2011 and at the House of Electronic Arts Basel (Switzerland) in March 2012. The presentation at 319 Scholes, Brooklyn, open from 10/18-11/4, 2012, featured a number of new artists and works in a brand-new arrangement. The show relies on an ongoing research project that can be followed online at http://collectheworld.linkartcenter.eu.
Participating artists include at 319 Scholes included: Alterazioni Video, Kari Altmann, Gazira Babeli, Kevin Bewersdorf, Aleksandra Domanovic, Constant Dullaart, Elisa Giardina Papa, Travis Hallenbeck, Jason Huff, JODI, Olia Lialina & Dragan Espenschied, Eva and Franco Mattes, Oliver Laric, Jon Rafman, Ryder Ripps, Evan Roth, Ryan Trecartin, Brad Troemel, Penelope Umbrico, and Clement Valla.
"The Space Between Analog and Digital": Alan Sondheim's Recent Executables
I've developed, over the last few years, certain assumptions about software art. Just browse through the many entries available at runme.org (http://runme.org/), and you, too will likely come away with some of these assumptions: that software art is, at its heart, utilitarian; it functions, it does something; it's tool-like; it's often more software than art.
Over the last month or so, July and August 2003, the writer Alan Sondheim has been happily chipping away at those assumptions. Alan is well known to netizens for his writing, which operates at the hinge of language and machine code; what isn't so well known about him is that he's spent some time programming–indeed, has been programming since at least the 1970s. A careful visitor to his monumental text work Philosophy and Psychology of the Internet (also known as the Internet Text)(http://www.anu.edu.au/english/internet_txt/), will see that Alan has, embedded in the text, some brilliant source code for Quick BASIC, the revival of the old BASIC language once shipped with all Windows PCs. He has written in Perl as well–see his Julu at runme.org (http://runme.org/project/+sondheimjulu/).
I've developed software art with Alan's inspiration in mind myself–the application sondheim.exe (http://runme.org/project/+sondheim/) is a text editor written in Visual Basic designed to transform user input based on a configurable timer. The idea for this piece was wholly Alan's; in electronic conversation, Alan mentioned that he had once, in the 1970s, written a similar application.
It was shortly after I wrote sondheim.exe that I mailed Alan a copy of Visual Basic, the object-oriented application development environment, developed by Microsoft, based on the old BASIC language. Visual Basic is about as close to English as one can get in the higher-level programming languages; it eschews the funky syntax most other languages have inherited from C, and which is often one of the more apparent stumbling blocks for new coders. And yet, despite its seeming simplicity, it succeeds as one of the most powerful Rapid Application Development (RAD) packages for Windows programming; one can do with Visual Basic almost anything that can be done in C and C++; indeed, if it weren't for the fact that VB is exclusively a Windows programming tool, it might even approach that paragon of portability and power, Java.
Alan took the tool and ran with it. His characteristically unique vision, combined with his agile sense of mathematics, has produced a series of standalone executables in Visual Basic that are challenging the very core of what I had always assumed software art was about–creating strange and wondrous tools, creating functional pieces that interacted with unsuspecting users.
Alan's recent Visual Basic works are nothing like that at all. These are not tools in any sense of the word. They're only minimally interactive; usually, all one of these works require to get started is one simple mouse click from the user. Instead of crafting a functional artistic tool, Alan Sondheim has, in these works, highlighted the very processes one's computer uses. These are narrative works, in the skin of software.
Anyone who has downloaded these is doubtlessly scratching their head right now, thinking, "Narrative? What's narrative about watching an image dissolve or be defaced in some pre-programmed way?" Well, I understand your consternation. I'm not the most stable of people. Children run away from me when I smile.
Be that as it may, I'm sticking to my thesis: these executables are narrative; what we're watching, when we download and run this software, is, as Alan himself states, "mathesis transform(ing) semantics…" And here's how:
The Archaea Series
This is where I first began to notice the gist of Alan's work in Visual Basic. The Archaea series consists of ten executables; they are all predicated on the dissolving and warping of images based on mathematical processes. The most vivid in the series is archaea3, downloadable here: http://www.asondheim.org/portal/archaea3.exe .
"The programs are operating in the space between analog and digital, although totally grounded in the digital," Alan writes. "What are they deconstructing? Language, meaning, symbols, the symbolic. Through erasure and the growth of form."
We're confronted with a very red image of breasts pressed up against some glass when we first open archaea3. The glass is beaded with moisture; either the light or the filter makes the water gleam a sinister red. When we click on the image, what looks like static begins to eat away at the scene from left to right, very slowly; the static looks like it's wiping away the image, as if it were cleansing the screen of this suggestively bloody site. It's almost like watching a linear animation–except here the story, the plot, the interest, hinges on the horizontal erasure sweeping through the image. It's a purgative myth we're witnessing; like the big fish vomiting Jonah up out of the sea.
What clinches process works like these as narrative is the fact that Alan uses evocative images in this software. "…these images are interpreted in terms of the underlying photographs – a lichen-like growth upon them, empathetic and cohering. In turn, they modify, deconstruct…." Alan muses. The images serve as a reference point. The story's there, not just in the images but in the process itself–a process the user stands outside of. Like cinema, like literature, it's a closed system until it's in front of us, in our heads, and when we perform the magic of watching.
The other works in the series follow the same principles. In archaea9 (http://www.asondheim.org/portal/archaea9.exe), its a woman (Alan's wife and long-time collaborator, Azure Carter, whose influence on Alan's work is ever pervasive) paddling in a swimming pool that gets "erased." But what kind of erasure is this? The paradox of this process that Alan is using is precisely in its "lichen-like" growth. In number 9 it's quite evident–this image isn't being erased so much as its getting penetrated by an emptiness. Ripples from the image linger as the process spreads throughout the surface of the picture. The emptiness left behind is an entity unto itself–may, indeed, be the protagonist in these stories.
Or is the image the protagonist? archaea4's image is basically that of a rocky hole. Found at http://www.asondheim.org/portal/archaea4.exe, the erasure in this piece resonates strangely with this hole. Which is the emptiness? Is this a zen koan, a linear animation, or software?
This Program is not Responding
One aspect of these pieces may actually come across as a design flaw; clicking on the close button in the upper right hand corner doesn't close them. Indeed, just trying to move the piece from one area of the screen to the other causes a major hang on CPU resources; the image blanks out completely, along with its erasure.
"The immobility of some of the pieces, as well as the inability to resize is deliberate," Alan maintains. "I thought of these as 'sticky objects,' insistent on their own processes. One of the earlier ones, of course, _does_ kind of stick to the desktop…"
I can see how this would enhance the work. When running one of these strange programs, I often feel as if to do anything at all on the computer while the process is playing itself out would be to violate the principle of the whole thing. I get the sense that what is happening in these pieces is both intense and enormous; and yet, fragile as far as the machine is concerned. This process will not tolerate any other process spinning off in the same space.
I like to leave the works running on my screen. Like a good movie, or a good novel, I'm fascinated enough by the interaction between the characters to sit still for a moment, absorb rather than react.
Featured image: abstract animated visual models working from the audio samples of couples engaging in sexual activities.
Frequency Love is a net art piece, not in the networked sense but conceptually filled to the brim with a net consciousness, a net object. This visual deviation playfully captures the dark side of the Internet and its globally collective and obsessive mannerist activities. It reveals a psychological nuance of the everyday Internet sexual experience.
The source material were originally sound files – mp3's, consisting of couples copulating. Amateurs submitting and declaring their intimately entwined, feral and visceral exertions for other interested parties to hear and enjoy online. Chris Webb abstracted the audio, the data and transformed them into what now are animated gif images of couples having sex.
There is a contradiction at play built by circumstance, that such esoteric interests of sharing intimate, sexual sound files in virtual private clubs do tend to exude. The inevitable occurs. If the multitude of surfers, search hard enough on the net, they collect hidden information by hook or crook somehow; which is part of the nature of using the Internet medium.
When viewing these works it is as though they are breathing, as if they are real souls, real people, even though you know that they are invented visuals, data into sound. Then you remember that they were real people, but mutated into visual form. The 'Plexus', culmination of networked, linked individuals expressing proclivity and what seems an uncontrollable hunger to communicate in a way other than by words, via the motion of sexual intercourse in audio format. There has been a global shift of people exploring new territories regarding their own relational selves. The term virtual is essence of the Internet medium and we used to think that this word stood for the unreal, untouchable but now we know that this is no longer applicable. It is now part of our everyday experience, therefore real.