This family-friendly 'albion' style fair is a co-production between Furtherfield and 2NQ for Finsbury Park's 150th anniversary. It forms part of our 3-year programme Citizen Sci-Fi – crowdsourcing creative and technological visions of our communities and public spaces, together.
Mixing music, games, story-telling, experiments and hacking with a focus on social justice and designing the futures we want for all life forms we invite you to book ahead, or drop by on the day to take part in this expanding range of activities:
Activities Include: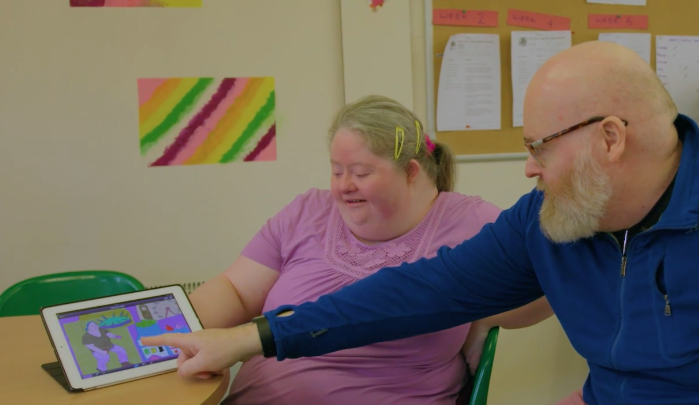 Jason and the Argonauts
Jason Wilsher-Mills

AR- enabled sculptures and inflatables that are produced with and for learning disabled communities telling wild and magical stories about their experiences of the world. This live interaction with the works marks the beginning of a collaboration between Jason, Furtherfield and Pedal Power to produce an interactive sculpture with their members for Finsbury Park.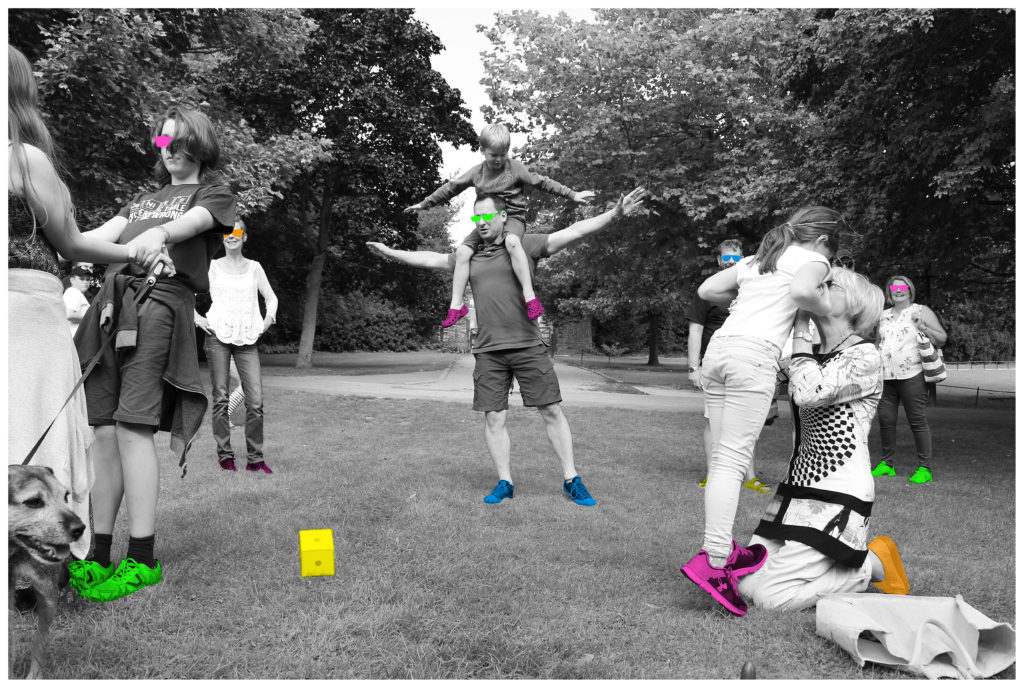 Find a Line to Follow and Face The Future! 'Walkshops'
Helen Stratford and Idit Nathan

Find a line to follow and face the future! Join the artists for playful time-bending walks. Dice will roll, cards will solicit and props will inspire. The walkshops will inform the creation of playful prompts for a map and a digital mobile app that will act as provocations for future park users. The app is launching at Free, Fair and Alive.

Book Now for 5th May workshop (11.00-13.00 & 14.30-16.30)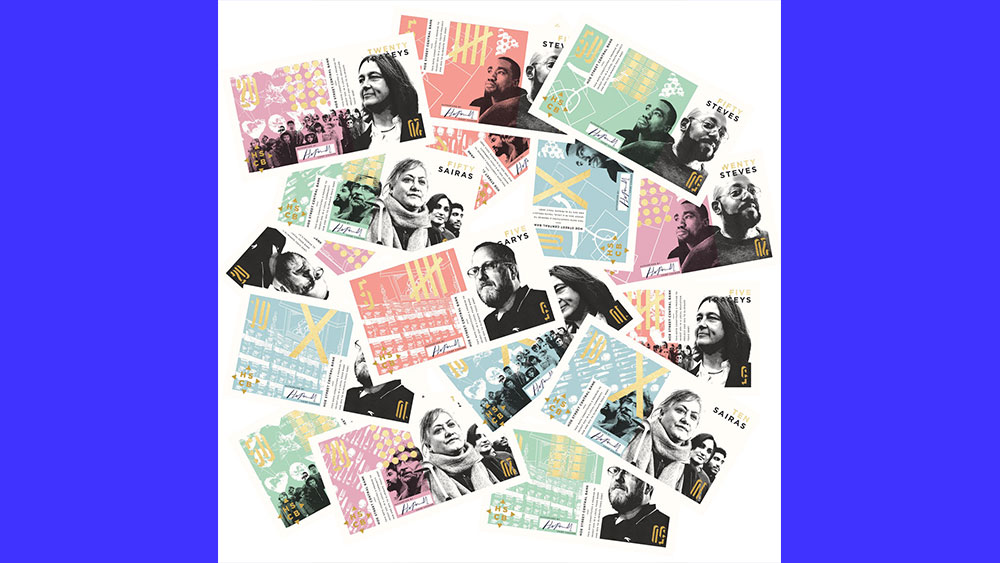 Future of Money Workshops
Martin Zeilinger

Gathering together young people to explore the future of money in a world increasingly dominated by digital payments. These summer 2019 workshops include experts in alternative currencies and will culminate in the production of a graphic novel about London's future monies, copies of which will function as alternative currency notes. At Free, Fair and Alive there will be a mini-version of this workshop series for local people to design their own 'park pounds'.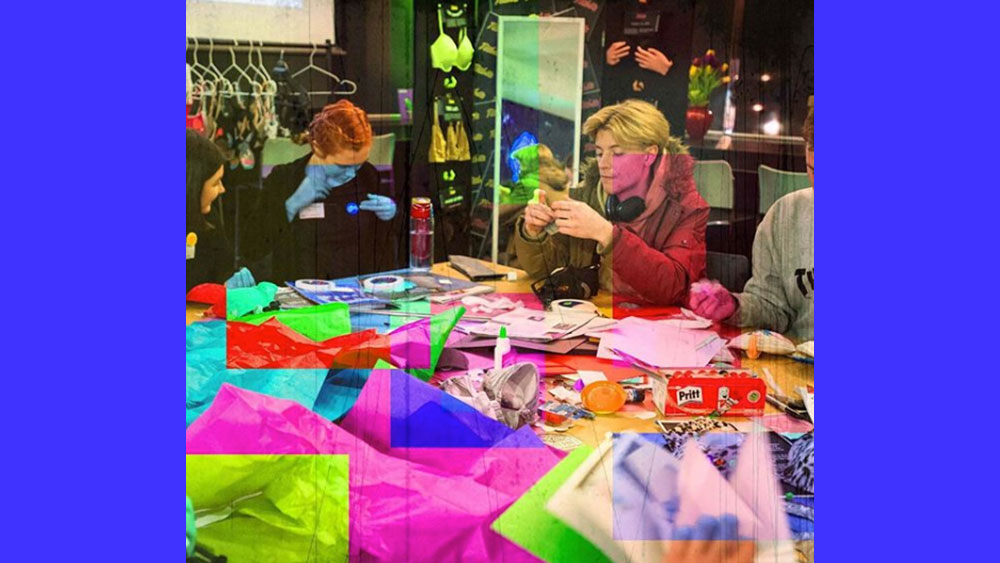 Podcasting the People's Park
Feminist Internet

Uncovering the feminist and queer history of Finsbury Park through interviews and historical research. Led by Conor Rigby and Andrew Mallinson of Feminist Internet the project will seek out dialogues embedded in the Park's material history. A Feminist Internet Podcast and further material will be created to share the site-specific research.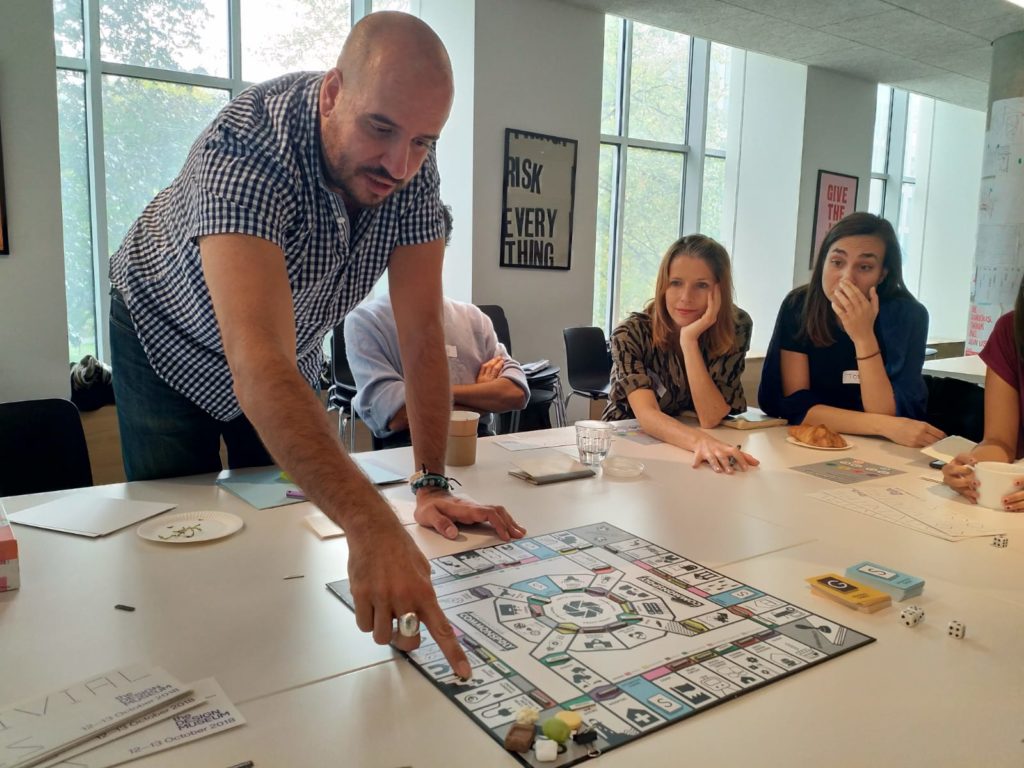 Commonspoly
Commons Transition (Ann Marie Utratel and Stacco Troncoso)

Commonspoly is a free licensed board game with which to reflect and playfully experiment with the possibilities and limits of commons oriented changes in our societies. For this day only players may introduce their own sci-fi inspired technologies and special powers to achieve their goal. This board game is a device to transport us, through fun and instruction, to a future in which cooperative ways of living together are the norm.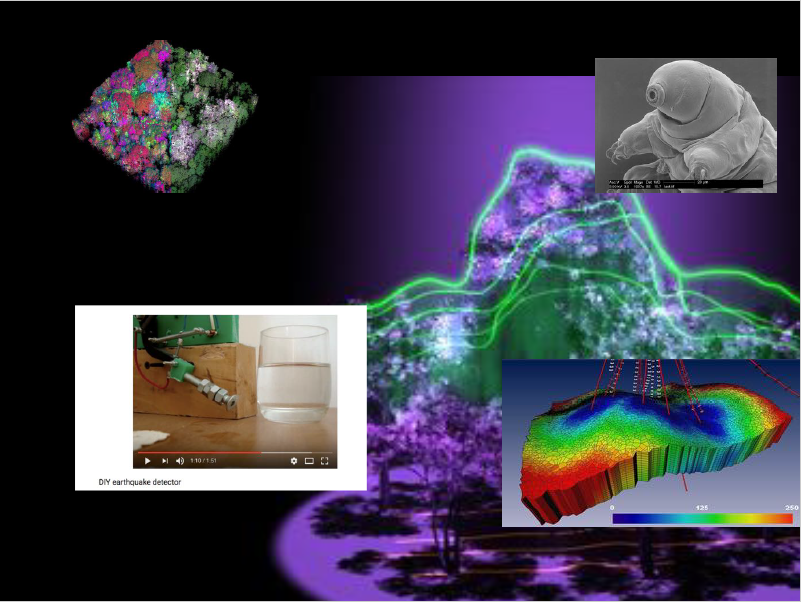 The Extended Trans*Feminist Rendering Program
Possible Bodies (Helen Pritchard, Femke Snelting, Jara Rocha)

Investigating contemporary scanning practices for tectonic and cosmic imaging (such as Terrestrial Light Detection and Ranging, magnetic resonance, UltraSound, and Computer Tomography) together with fiction writers, earth techno-scientists and trans*feminist device problematizers. Come and find Finsbury Park's hidden underground worlds.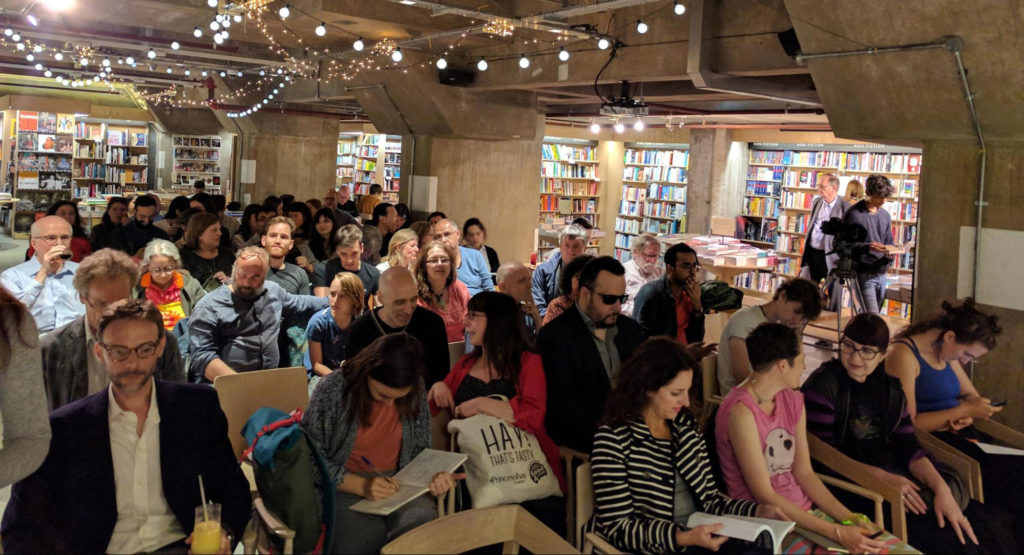 Future Fictions
In partnership with Virtual Futures and authors Mud Howard and Stephen Oram

Readings and discussions of locally-inspired works of science fiction. Writers Howard and Oram are immersing themselves in local culture, meeting and talking with residents, and consulting with scientists in order to create new stories about a Finsbury Park of the future.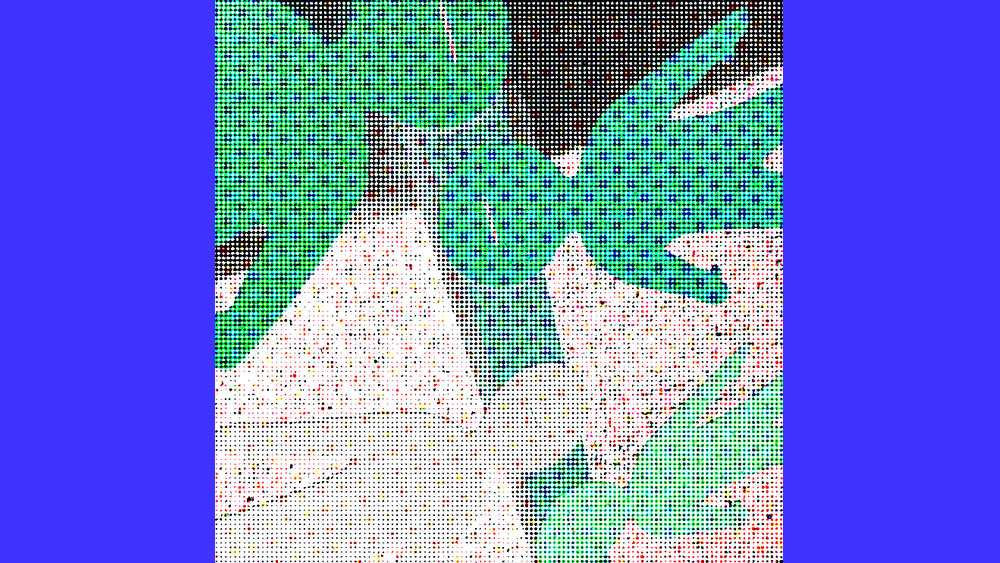 Minutes in the Park
Local&&Ledger (Larisa Blazic)
Future park self-governance starts with learning about present! We gather for a public reading of stakeholders meeting minutes in the style of the Theatre of the Oppressed. This is a part of Furtherfield Micro Residencies programme during which Larisa will experiment with a radical new form of peer production and set of innovative governance tools to engage all members of the public in the analysis of power and governance in the park.

And much, much more! (to be announced soon)
Artist Bios
Larisa Blazic is a London based digital artisan, educator and feminist hacker with practice ranging from net.art to FLOSS art and design. In her most recent work, Data Union Fork, part of Vertigo STARTS Residency, she explores collective response to personal data abuses by state and corporate sector and creates experiments based on technologies developed within the DECODE project and investigates local governance in Local&&Ledger project.
www.e-w-n-s.net/localledger/localledger.html
Feminist Internet is a group of artists and designers working to advance online and offline equalities for women and other marginalised groups through creative and critical practice.
Mud Howard (they/them) is a gender non-conforming poet, performer and activist from the states. mud creates work that explores the intimacy and isolation between queer and trans bodies. mud is a Pushcart Prize nominee. they are currently working on their first full-length novel: a queer and trans memoir full of lies and magic. they were the first annual youth writing fellow for Transfaith in the summer of 2017. their poem "clearing" was selected by Eduardo C. Corral for Sundress Publication's the Best of the Net 2017. mud is a graduate of the low-res MFA Poetry Program at the IPRC in Portland, OR and holds a Masters in Creative Writing from the University of Westminster. you can find their work in THEM, The Lifted Brow, Foglifter, and Cleaver Magazine. they spend a lot of time scheming both how to survive and not perpetuate toxic masculinity. they love to lip sync, show up to the dance party early and paint their mustache turquoise and gold.
Stephen Oram writes thought provoking stories that mix science fiction with social comment, mainly in a recognisable near-future. He is one of the writers for SciFutures and, as 2016 Author in Residence at Virtual Futures – described by the Guardian as "the Glastonbury of cyberculture" – he was one of the masterminds behind the new Near-Future Fiction series and continues to be a lead curator. Oram is a member of the Clockhouse London Writers and a member of the Alliance of Independent Authors. He has two published novels: Fluence and Quantum Confessions, and a collection of sci-fi shorts, Eating Robots and Other Stories. As the Author in Residence for Virtual Futures Salons he wrote stories on the new and exciting worlds of neurostimulation, bionic prosthetics and bio-art. These Salons bring together artists, philosophers, cultural theorists, technologists and fiction writers to consider the future of humanity and technology. Recently, his focus has been on collaborating with experts to understand the work that's going on in neuroscience, artificial intelligence and deep machine learning. From this Oram writes short pieces of near-future science fiction as thought experiments and use them as a starting point for discussion between himself, scientists and the public. Oram is always interested in creating and contributing to debate about potential futures.
Possible Bodies is a collaborative research project, interrogating the concrete and at the same time fictional entities of "bodies" in the context of 3D-tracking, -modelling and -scanning.
www.possiblebodies.constantvzw.org
Jara Rocha is an independent researcher/mediator who tends to attend to the semiotic-material urgencies of present cultures with a trans*feminist sensibility. Works with infrastructural politics and aesthetics, text logistics, body inscriptions and tests non-formal ways of learning in collective situations like Euraca Seminar, Las promesas de los algos, Relearn Summerschool, or The Darmstadt Delegation.
Femke Snelting works as artist and designer, developing undisciplined research at the intersection of feminisms and free software. In various constellations she explores how digital tools and cultural practices might co-construct each other. She is member of Constant, a non-profit, artist-run association for art and media based in Brussels.
www.snelting.domainepublic.net
Helen Pritchard is an artist and researcher, whose interdisciplinary work brings together the fields of Computational Aesthetics, Geography and Feminist TechnoScience. Helen's practice is both one of writing and making and these two modes mutually inform each other in order to consider the impact of computational practices on our engagement with environments. Helen is the head of Digital Art and a lecturer in Computational Art at Goldsmiths, University of London.
Helen Stratford and Idit Nathan – Working collaboratively as Play Anywhere Now or Never! and combining backgrounds in theatre and architecture, Idit and Helen have worked in partnership with Wysing Arts Centre, Kettles Yard, Cambridge and METAL and in locations across the UK (Bristol, Sunderland, Peterborough, Southend and London). In 2015 they formulated Play The City Now or Never! (PCNN) working with METAL Peterborough and Southend to develop the PCNN App, a site-specific geo-locative App for mobile devices positioned at the intersection of art, play and technology. The PCNN App, like other low-tech resources they have developed, such as a compilation of games and scores as well as DIY die, solicits playful engagement with spaces and sites. Other recent and ongoing collaborative projects include developing a mobile artwork for Yorkshire Sculpture Park as well as walkshops for Cambridge Junction, Festival of Ideas Cambridge, CounterPlay '16 Aarhus, Wellcome Trust, Live Art Development Agency and the National Theatre.
www.playanywherenowornever.com
Jason Wilsher-Mills is a disabled digital artist who is based in the East Midlands, using iPads to create paintings which detail his disability, childhood memories, popular culture, social history/heritage, creating new biographical narratives, through theatrical artifice and humour. He initially painted traditionally, with oils, but since becoming disabled has found the iPad screen more manageable – affording him the opportunity to create large pieces of artwork, through high-resolution files, modern Giclée printing methods & projection methods. It has also given him the chance to work collaboratively, due to its connectivity and accessibility. The primary themes of his work include memory, childhood, disability and illness. In parallel to his own artistic practice Wilsher-Mills conducts public art commissions and residencies working primarily with learning disabled collaborators on wild and wacky interactive sculptures.
Martin Zeilinger is a London-based interdisciplinary researcher, curator, and media practitioner. Currently he works as Senior Lecturer in Media at Anglia Ruskin University (Cambridge/UK), and also serves as curator of the Vector Festival (Toronto/CAN). His research interests include digital art, appropriation-based art practices, experimental uses of financial technologies in contemporary art, theories of cultural ownership and intellectual property, political economies of new media, live coding and creative computing, videogame culture, and experimental game art.
Commons Transition (Ann Marie Utratel and Stacco Troncoso):
A native New Yorker now living in Spain, Ann Marie Utratel is part of the P2P Foundation global core team, focused on advocacy and infrastructure. Her work helps connect a widening network of people involved in forward-thinking communities including the P2P/Commons movement, activism, open licensing, environmentalism, alternative currencies, collaborative economy, cooperativism, and more. She is also a co-founder of Guerrilla Translation, a P2P translation collective.

Stacco Troncoso is the advocacy coordinator of the P2P Foundation as well as the project lead for Commons Transition, an organization dedicated to spreading and strengthening the Commons worldwide. He is also co-founder of the P2P translation collective Guerrilla Translation. His work in communicating commons culture extends to public speaking and relationship-building with prefigurative communities, policymakers and potential commoners.

Introduction.
For over 17 years Furtherfield has been working in practices that bridge arts, technology, and social change. Over these years we have been involved in many great projects, and have collaborated with and supported a variety of talented people. Our artistic endeavors include net art, media art, hacking, art activism, hacktivism and co-curating. We have always believed it is essential that the individuals at the heart of Furtherfield practice in arts and technology and are engaged in critical enquiry. For us art is not just about running a gallery or critiquing art for art's sake. The meaning of the art is in perpetual flux, and we examine its changing relationship with the human condition. Furtherfield's role and direction as an arts collective is shaped by the affinities we identify among diverse independent thinkers, individuals and groups who have questions to ask in their work about the culture.
Here I present a selection of Furtherfield projects and exhibitions featured in the public gallery space, we have ran in Finsbury Park in North London for the last two years. I set out some landmarks on the journey we have experienced with others, and end my presentation with news of another space we have recently opened (also in the park) called the Furtherfield Commons.
Running themes in this presentation include how Furtherfield has lived through and actively challenged the disruptions of neoliberalism. The original title for this presentation was 'Artistic Survival in the 21st Century in the Age of Neoliberalism'. The intention was to stress the importance of active and open discussion about the contemporary context with others. The spectre of neoliberalism has paralleled Furtherfield's existence, affecting the social conditions, ideas and intentions that shape the context of our work: collaborators, community and audience. Its effects act directly upon ourselves as individuals and around us: economically, culturally, politically, locally, nationally and globally. Neoliberalism's panoptic encroachment on everyday life has informed Furtherfield's own motives and strategies and, in contrast with most galleries and institutions that engage with art, we have stayed alert to its influence as part of a shared dialogue. The patriarch, neoliberalism, de-regulated market systems, corporate corruption and bad government; each implement the circumstances where us, everyday people are only useful as material to be colonized. This makes us all indigenous peoples struggling under the might of the wealthy few. Hacking around and through this impasse is essential if we are to maintain a sense of human integrity and control over our own social contexts and ultimately to survive as a species.
"The insights of American anarchist ecologist Murray Bookchin, into environmental crisis, hinge on a social conception of ecology that problematises the role of domination in culture. His ideas become increasingly relevant to those working with digital technologies in the post-industrial information age, as big business daily develops new tools and techniques to exploit our sociality across high-speed networks (digital and physical). According to Bookchin our fragile ecological state is bound up with a social pathology. Hierarchical systems and class relationships so thoroughly permeate contemporary human society that the idea of dominating the environment (in order to extract natural resources or to minimise disruption to our daily schedules of work and leisure) seems perfectly natural in spite of the catastrophic consequences for future life on earth (Bookchin 1991). Strategies for economic, technical and social innovation that fixate on establishing ever more efficient and productive systems of control and growth, deployed by fewer, more centralised agents have been shown conclusively to be both unjust and environmentally unsustainable (Jackson 2009). Humanity needs new strategies for social and material renewal and to develop more diverse and lively ecologies of ideas, occupations and values." [1] (Catlow 2012)
It is no longer critical, innovative, experimental, avant-garde, visionary, evolutionary, or imaginative to ignore these large issues of the day. If we as an arts organization, shy away from what other people are experiencing in their daily lives and do not examine, represent and respect their stories, we quite rightly should be considered as part of an irrelevant elite, and seen as saying nothing to most people. Thankfully, there are many artists and thinkers seriously taking on these human themes in their work in various ways, on the Internet and in physical spaces. So much so, this has introduced a dilemma for the mainstream art world regarding its own relevance, and whether it is really contemporary anymore.
Furtherfield has experienced in recent years a large-scale shift of direction in art across the board. And this shift has been ignored (until recently) by mainstream art culture, within its official frameworks. However, we do not only need to thank the artists, critical thinkers, and hackers and independent groups like ours for making these cultural changes, although all have played a big role. It is also due an audience hungry for an art that reflects and incorporates their own social contexts, questions, dialogues, thoughts and experiences. This presentation provides evidence of this change in art culture, and its insights flow from the fact that we have been part of its materialization. This is grounded knowledge based on real experience. Whether it is a singular movement or multifarious, is not necessarily important. But, what is important is that these artistic and cultural shifts are bigger than mainstream art culture's controlling power systems. Make no mistake, this is only the beginning and it will not go away. It is an extraordinary swing of consciousness in art practice forging other ways of seeing, being, thinking, making and becoming.
Furtherfield is proud to have stuck with this experimental and visionary culture of diversity and multiplicity. We have learned much by tuning into this wild, independent and continuously transformative world. On top of this, new tendencies are coming to the fore such as re-evaluations and ideas examining a critical subjectivity that echo what Donna Haraway proposed as 'Situated Knowledges' and what the Vienna based art's collective Monochrom call 'Context Hacking'. Like the DADA and the Situationist artists did in their time; many artists today are re-examining current states of agency beyond the usually well-promoted, proprietorial art brands, controlling hegemonies and dominating, mainstream art systems.
Slide Presentation
Most Art Says Nothing To Most People.
"The more our physical and online experiences and spaces are occupied by the state and corporations rather than people's own rooted needs, the more we become tied up in situations that reflect officially prescribed contexts, and not our own." [2]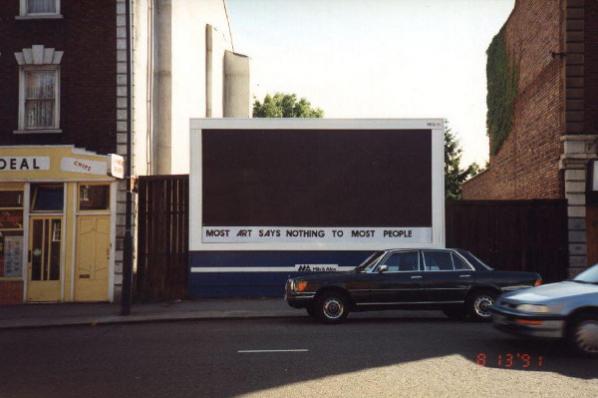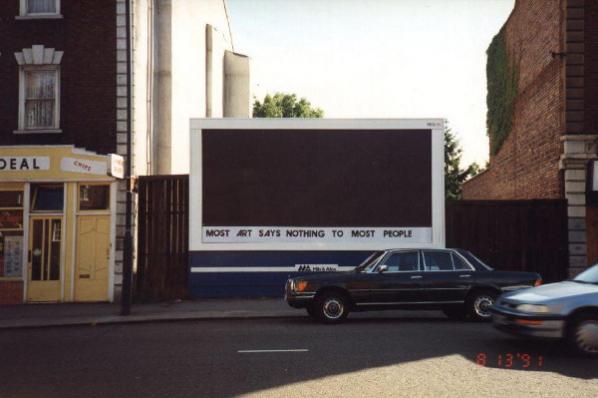 To start things off, I want to refer to a past work that myself and Heath Bunting (co-founder of irational.org) were involved with in 1991. The above image is a large paste-up displayed on billboards around Bristol in the UK. At the time, as well as being part of other street art projects, pirate radio and BBS boards, Heath and I and others were members of the art activist collective Advertising Art. It was street art that critiqued a presumed ownership of art culture by the dominating elites. The words "Most Art Says Nothing To Most People" has remained as an inner mantra in my mind ever since.
Furtherfield is inspired by ideas that reach for a grass roots form of enlightenment, and so nurture progressive ideas and practices of social and cultural emancipation.The Oxford English Dictionary describes Emancipation as "the fact or process of being set free from legal, social, or political restrictions; liberation: the social and political emancipation of women and the freeing of someone from slavery."
"Kant thought that Enlightenment only becomes possible when we are able to reason and to communicate outside of the confines of private institutions, including the state." [3] (Hind 2010)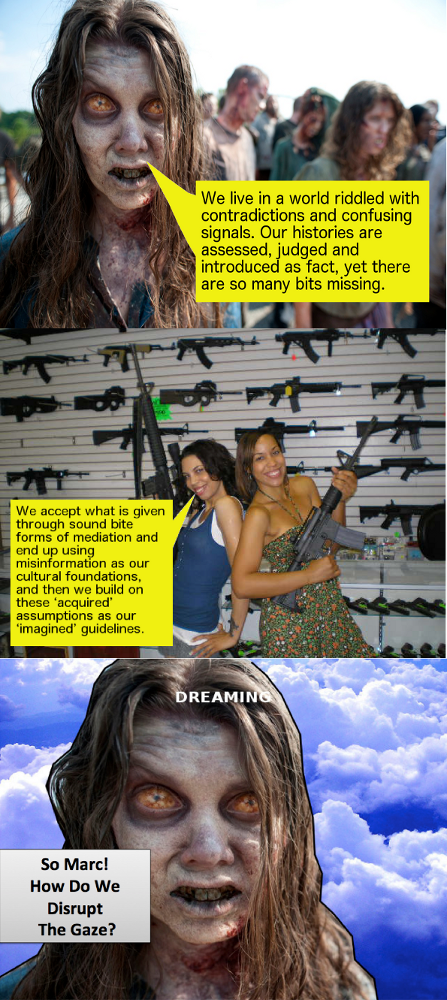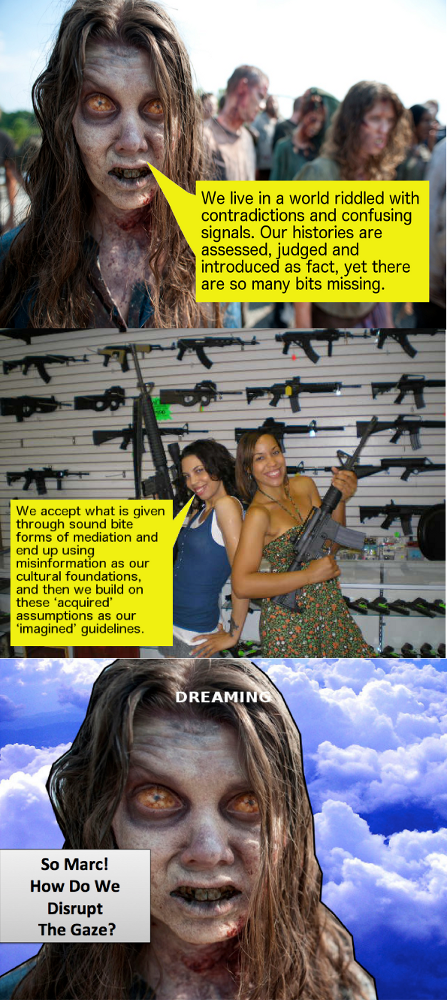 Well, a start would be to get organized and build something of value with others.
As usual, it is up to those people who know that something is not working and those feeling the brunt of the issues affecting them who end up trying to change the conditions. It is unlikely that this pattern of behaviour will change.
To expect or even wish those who rule and those serving them to change, and challenge their own behaviours and seriously critique their own actions is as likely as winning the National Lottery, perhaps even less.
Art critic Julian Stallabrass proposes that there needs to be an analysis of the operation of the art world and its relation to neoliberalism. [4]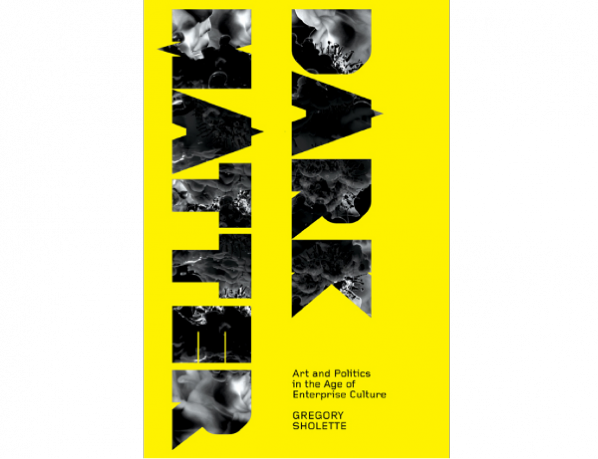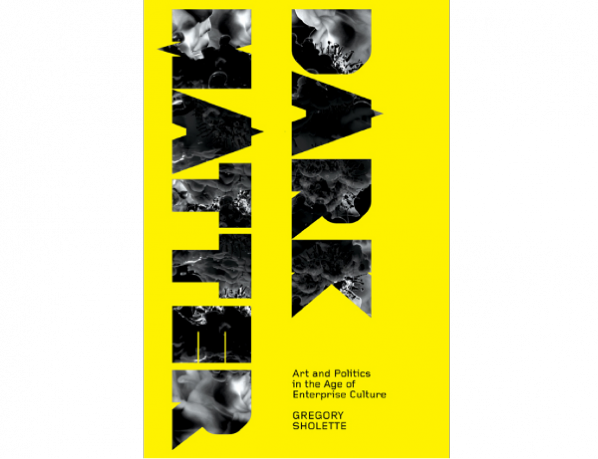 In the above publication Gregory Sholette argues, "that imagination and creativity in the art world thrives in the non-commercial sector, shut off from prestigious galleries and champagne receptions. This broader creative culture feeds the mainstream with new forms, and styles that can be commodified and utilized to sustain the few elite artists admitted into the elite. […] Art is big business: a few artists command huge sums of money, the vast majority are ignored; yet these marginalized artists remain essential to the mainstream cultural economy serving as its missing creative mass. At the same time, a rising sense of oppositional agency is developing within these invisible folds of cultural productivity. Selectively surveying structures of visibility and invisibility, resentment and resistance […] when, the excluded are made visible, when they demand visibility, it is always ultimately a matter of politics and rethinking history." [5] (Sholette 2013)
Drawing upon Sholette's inspirational, unambigious and comprehensive critique of mainstream art culture. I would like to consider examples that are closer to home blocking avenues of artistic and social emancipation that also need an urgent critique. And this blockage resides within media art culture (or whatever we call it now) itself. Recently, I read a paper about 'Post-Media' – said to "unleash new forms of collective expression and experience" [6]- which featured in its text only established names. Furtherfield is native to 'Post-Media' processes, a concept that theorists in media art culture are only just beginning to grasp. This is because they tend to rely on particular theoretical canons and the defaults of institutional hierarchies to validate their concepts. Also, most of the work they include in their research is either shown in established institutions and conferences. They assume that because a particular art work or practice is accepted within the curatorial remits of a conference theme, that this means the art shown is representative of what is actually happening, thus more valid than other works and groups not included. This is a big mistake. It only serves to reinforce the conditions of a systemic, institutionalised, privileged elite and enforces a hierarchy that will reinforce the same myopic syndromes of mainstream art culture. The extra irony here, is that many of these supposedly insightful art historians and theorists advocate a decentralised, networked culture in their writings, or as a relational context. However, many of them are not actually either engaged in supporting or creating these alternative structures with others. The real problem is how they acquire their knowledge. Presently the insular and hermetically sealed dialectical restraints and continual reliance on central hubs as official reference is distancing them from the actual culture they propose to be part of.
Furtherfield and Hack Value.
"We must allow all human creativity to be as free as free software" [7] (Steiner, 2008)
Furtherfield comes from a cultural hacking background and has incorporated into its practice ideas of hacking not only with technology but also in everyday life. In fact, Furtherfield is one big social hack. Hack Value advocates an art practice and cultural agency where the art includes the mechanics of society as part of its medium as well as social contexts with deeper resonances, and a critical look at the (art) systems in place. It disrupts and discovers fresh ways of looking and thinking about art, life and being. Reclaiming artistic and human contexts beyond the conditions controlled by elites.
Hack Value can be a playful disruption. It is also maintenance for the imagination, a call for a sense of wonder beyond the tedium of living in a consumer, dominated culture. It examines crossovers between different fields and practices, in relation to their achievements and approaches in hacking rather than as specific genres. Some are political and some are participatory. This includes works that use digital networks and physical environments as well as printed matter. What binds these examples together is not only the adventures they initiate when experimenting with other ways of seeing, being and thinking. They also share common intentions to loosen the restrictions, distractions and interactions dominating the cultural interfaces, facades and structures in our everyday surroundings. This relates to our relationship with food, tourism, museums, galleries, our dealings with technology, belief systems and community ethics.
Donna Haraway proposes a kind of critical subjectivity in the form of Situated Knowledges.
"We seek not the knowledges ruled by phallogocentrism (nostalgia for the presence of the one true world) and disembodied vision. We seek those ruled by partial sight and limited voice – not partiality for its own sake but, rather, for the sake of the connections and the unexpected openings situated knowledges make possible. Situated knowledges are about communities, not isolated individuals." [8] (Haraway 1996)
Furtherfield's move to the heart of a North London park.
Furtherfield had run [HTTP], London's first public gallery for networked media art, since 2004 from an industrial warehouse in Haringey. In 2012 the gallery moved to a public location at the McKenzie Pavilion in the heart of Finsbury Park, North London.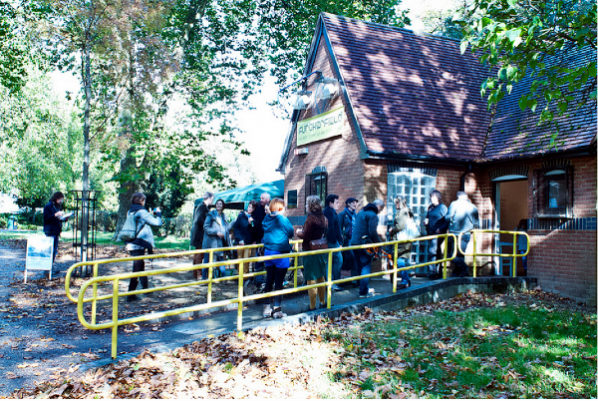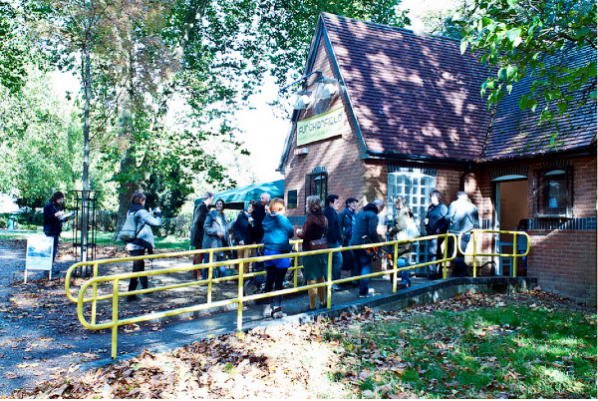 However, we are not just a gallery, we are a network connecting beyond a central hub.
"It is our contention that by engaging with these kinds of projects, the artists, viewers and participants involved become less efficient users and consumers of given informational and material domains as they turn their efforts to new playful forms of exchange. These projects make real decentralised, growth-resistant infrastructures in which alternative worlds start to be articulated and produced as participants share and exchange new knowledge and subjective experiences provoked by the work." [9] (Garrett & Catlow 2013)
The park setting informs our approach to curating exhibitions in a place with a strong local identity, a public green space set aside from the urban environment for leisure and enjoyment by a highly multicultural population.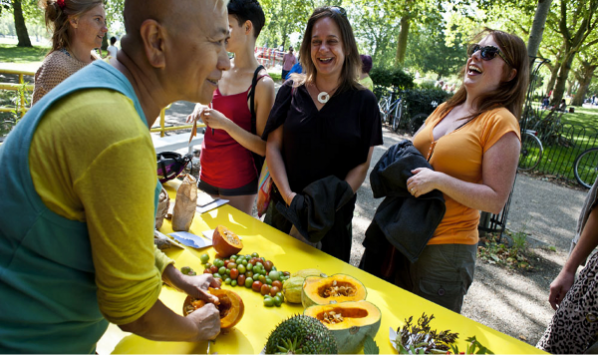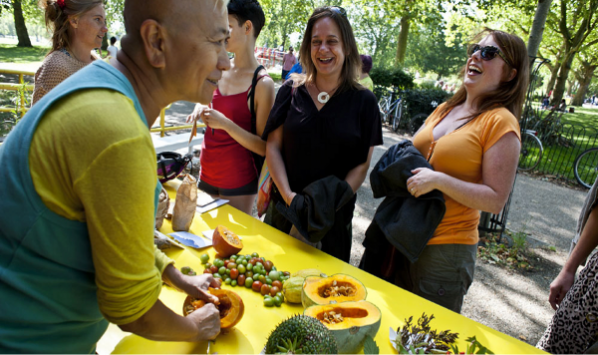 We are simultaneously connected to a network of international critical artists, technologists thinkers and activists through our online platforms and communities, as well as a wider networked art culture. We get all kinds of visitors from all backgrounds and this includes those who do not normally visit art spaces. We are not interested in pushing the mythology of high-art above other, equally significant art practices. Being accessible has nothing to do with dumbing down it concerns making the effort to examine deeper connections between people and the social themes effecting theirs and our lives. We don't avoid big issues and controversies and are constantly engaged in a parallel dialogue between these online communities and those meeting us in the park.
We feature works that incorporate the contributions of local people and this brings them closer to the art and engagement of a social dialogue. For instance, London Wall, N4 by Thomson and Craighead, that reflected a collective stream of consciousness of people all around Finsbury Park, gathering their Tweets to print out and paste onto the gallery walls. By retweeting the images of the tweet posters we were able to gather many of the original authors in the gallery to see their words physically located among others made in the vicinity.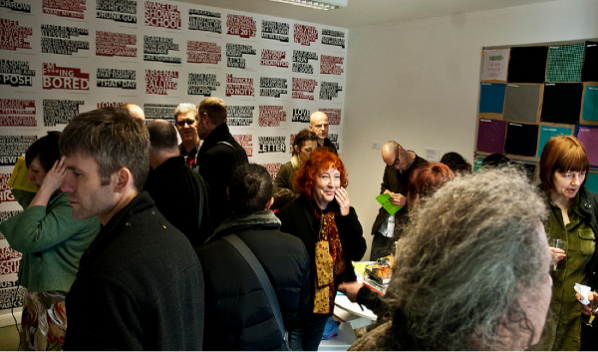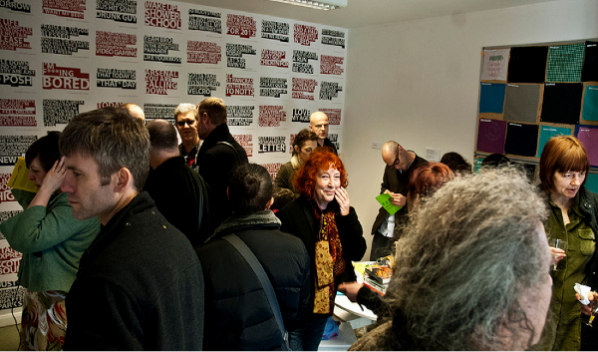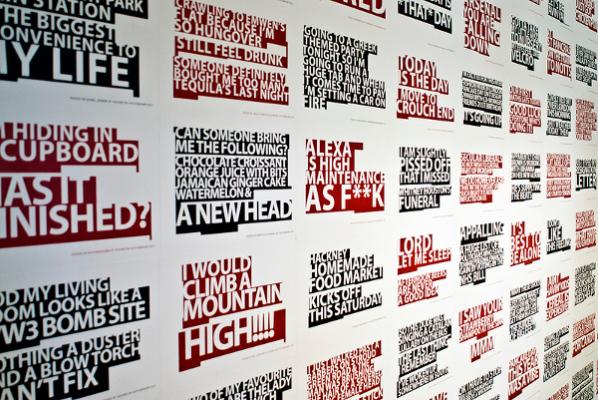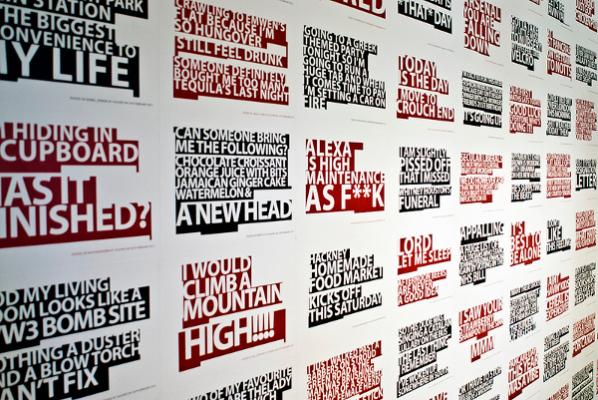 Crow_Sourcing by Andy Deck invited people to tweet animal expressions from around the world – illuminating the link between the formation of human language and our relationships with other wild webs of animal life. Gallery visitors illustrated their own animal idioms, drawing directly onto the gallery walls, inspired by the ducks, crows, squirrels and dogs that inhabit the park.
We feature works that deal with the human and social effects of networked and pervasive technologies. Web 2.0 Suicide Machine by moddr_ proposed an improvement to our 'real' lives by providing a one click service to remove yourself, your data, and your profile information forever, from Facebook, Twitter and MySpace, replacing your icon (again, forever) with a logo depicting a noose. They also reflect on new forms of exposure and vulnerabilities they give rise to such as Kay's Blog, by Liz Sterry, which replicated in physical space the unkempt bedroom of an 18 year old Canadian girl based only on her blog posts, to eirie effect. The intention is to reach people in a way that has people question their own relationship with those technologies. This does not mean promoting technology as a solution to art culture but exploiting it to connect with others and also critique technologies at the same time.
Below: Selection of images from original slide presentation – exhibitions & events.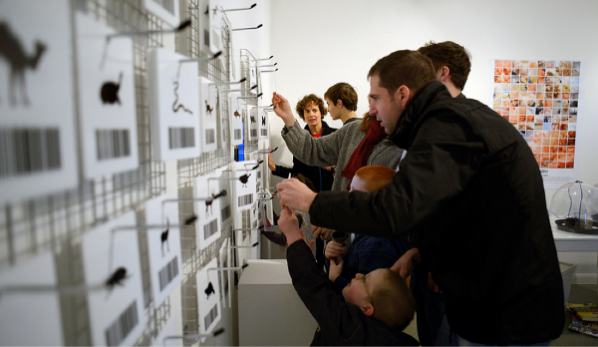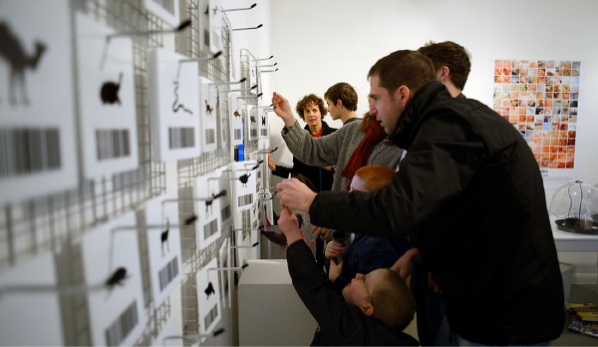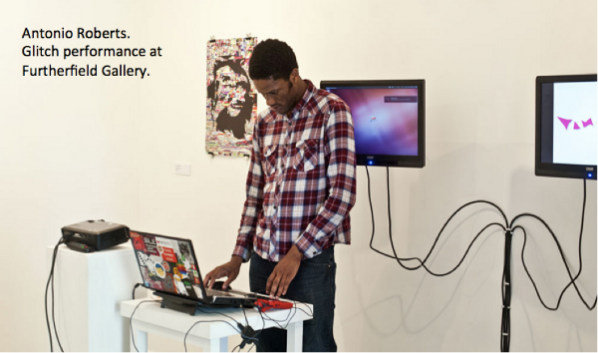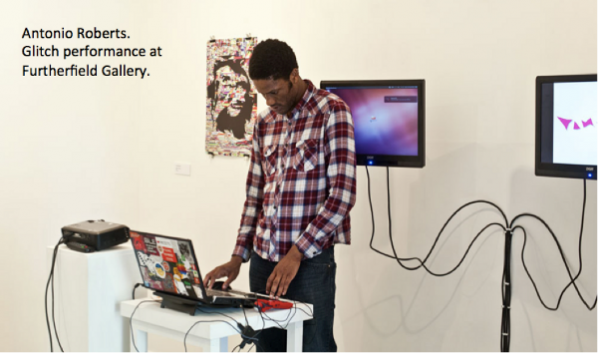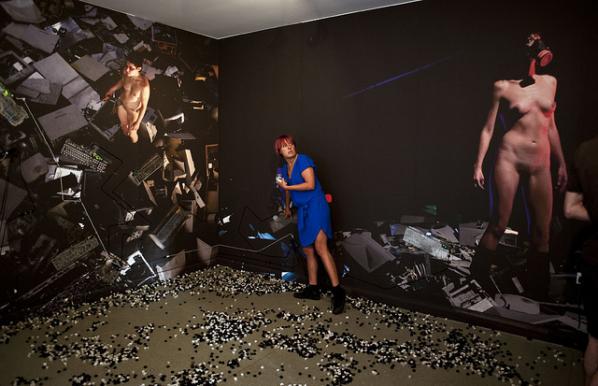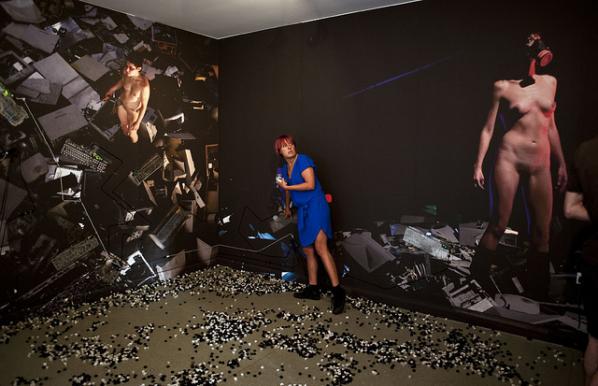 The Furtherfield Commons.
On the 23rd of November we opened our second space in the park 'The Furtherfield Commons'. It kicked off with The Dynamic Site: Finsbury Park Futures, an exhibition by students from the Writtle School of Design (WSD) featuring ideas and visions for future life in Finsbury Park, coinciding with the launch.
This new lab space for experimental arts, technology and community sets out to explore ways to establish commons in the 21st Century. It draws upon influences from 1700s when everyday people in England such as Gerrard Winstanley and collaborators forged a movement known as the Diggers also known as the True Levellers, to reclaim and claim common land from the gentry for grass roots, peer community interests. Through various workshops, residencies, events & talks we will explore what this might mean to people locally and in connection with our international networks. These include free software works, critical approaches to gardening, gaming and other hands-on practices where people can claim direct influence in their everyday environments in the physical world, to initiate new skills and social change on their terms. From what we have learned from our years working with digital networks we intend to apply tactical skills and practices into everyday life.
"You have created a true Peer 2 Peer philosophy of art, with a great network and reach!" – Michel Bauwens, Founder of the P2P foundation
Notes:
Furtherfield is a network across different time zones, platforms & places – online & physical, existing as various decentralised entities. A culture where people interact: to create, discuss, critique, review, share information, collaborate, build new artworks & alternative environments (technological, ecological, social or both), examine & try out value systems. "A rhizome has no beginning or end; it is always in the middle, between things, interbeing, intermezzo." (Brian Massumi 1987)
What Influences Furtherfield?
DADA, Situationism, punk, Occupy, hacktivism, networks, Peer 2 Peer Culture, feminism, D.I.Y, DIWO, Free Software Movement, independent music labels, independent thinkers, people we work with, artists, activism, grass roots culture, community…
This comprises technological and physical forms of hacking. It also includes aspects and actions of: agency-generation, skill, craft, disruption, self-education, social change, activism, aesthetics, re-contextualizing, claiming or reclaiming territories, independence, emancipation, relearning, rediscovering, play, joy, being imaginative, criticalness, challenging borders, breaking into and opening up closed systems, changing a context or situation, highlighting an issue, finding ways around problems, changing defaults, and restructuring things – Claiming social contexts & artistic legacies with others!
Extra Notes:
This text is a re-edited slide presentation first shown at the ICA, London UK on 16th November 2013 (Duration 25 min). Intermediality: Exploring Relationships in Art. Speakers Katrina Sluis, Peter Ride, Sean Cubitt & Marc Garrett.
http://www.ica.org.uk/39077/Talks/Intermediality-Exploring-Relationships-in-Art.html
Transdisciplinary Community (TDC) Leicester UK 27th Nov 2013 (45 min). Institute of Creative Technologies. De Montfort University.
Two projects Gregory Sholette is currently involved in:
It's the Political Economy, Stupid. Curated by Oliver Ressler & Gregory Sholette
http://gallery400.uic.edu/exhibitions/its-the-political-economy-stupid
Matt Greco & Greg Sholette | Saadiyat Island Workers Quarters Collectable, 2013
http://bit.ly/1eSI5kX
—————————————————–
All exhibitions, events & projects at Furtherfield – http://www.furtherfield.org/programmes/exhibitions