Die GstettenSaga: The Rise of Echsenfriedl review. SPOILER WARNING!
Johannes Grenzfurthner's Post-Apocalyptic DIY Epic on Makers, Hacktivism and Media Culture.
"A mad post-collapse satire of information culture and tech fetishism, in a weird sort of melding of Stalker, Network, and The Bed-Sitting Room." (Richard Kadrey)
Die GstettenSaga: The Rise of Echsenfriedl is an Austrian hackploitation art house film by Johannes Grenzfurthner, mastermind of the international art-technology-philosophy group monochrom, co-produced by the media collective Traum & Wahnsinn. Reimagining the makerspace as grindhouse, the story is set in the post-apocalyptic aftermath of the "Google Wars" – an armed global conflict between the last two remaining superpowers China and Google – which has turned what remained of the Alps into a Gstetten.
In Austrian German, "Gstetten" translates to wasteland, outback or 'fourth world' (Manuel Castells) and is a popular name for provincial towns – and sometimes just the less sophisticated parts of them. The area's biggest semi-urban sprawl is Mega City Schwechat, the former home of Vienna International Airport, a refinery and a beer brewery. It is governed by the evil media mogul Thurnher von Pjölk (Martin Auer), a pretender who claims to be the inventor of key publishing technologies such as letterpress printing and rules the area with his tabloid newspaper. But the hegemony of his yellow press empire is contested by – spoiler alert! – makers, hackers and nerds, who are more leaning towards electronic media such as the recently rediscovered television. In order to get rid off this bothersome opposition, Pjölk devises an evil plan for wiping out Schwechat's insubordinate creative class.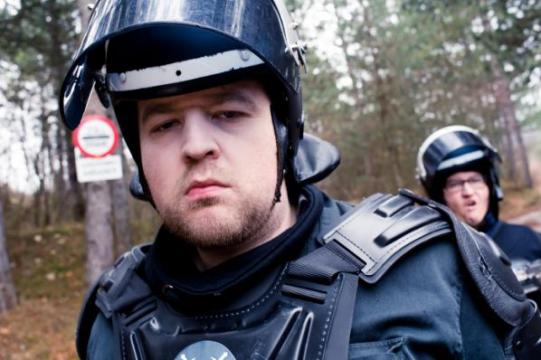 In an insidious political move, he pretends to reach out for the technophile faction by commissioning two of his reporters, the bootlicking opportunist Fratt Aigner (Lukas Tagwerker) and the brainy geek girl Alalia Grundschober (Sophia Grabner), to conduct an exclusive TV interview with the ultimate Gstetterati icon, the legendary innovator Echsenfriedl ("Lizard Freddy") – on the basis of precarious employment conditions. The title character, who turns out to be an basilisk, embodies a mix of Steve Jobs, Richard Stallman and Julian Assange and lives in the depths of Niederpröll in his hideout much like Subcomandante Marcos – partly in order to protect the world from his killing gaze, which would, audio-visually transmitted, turn the whole of his fan base immediately to stone.
Grenzfurthner's sci-fi-horror adaption of the Divine Comedy takes us on a retro-futuristic post-cyberpunk adventure in the tradition of cinema grotesque back to the dark days which preceded the Internet. The journey of our heroes – distinctively resembling Tarkovsky's 'stalkers' – is a quest for extinct media technologies but their search for Echsenfriedl eventually leads the two protagonists to a deepened understanding of who they really are: the media industry's precarious workforce under spectacular capitalism. While Fratt's dirt track to enlightenment is paved with stumbling blocks, his brainy Beatrice advances with the determination of a Harawayian cyborg who makes use of her superior technical skills to save them from the zombified folk populating the Gstetten: uncanny creatures from the Kafkaesque bestiarium of Austria's undead bureaucracy and its hanger-ons like armed-to-the-teeth Postal Service subcontractors (brilliant: monochrom's Evelyn Fürlinger, also Grenzfurthner's ex-wife) or the once powerful Farmers Association led by Jeff Ricketts (Firefly, Buffy the Vampire Slayer), who are worshipping antique pre-war EU funding applications as their sacred scriptures. Our friends receive the final hints for their search from the Sphinx Philine-Codec Comtesse de Cybersdorf (Eva-Christina Binder), a fantasy femme fatale who is torn between Plöjlk and Echsenfriedl, and the bearded drag queen Heinz Rand of Raiká (David Dempsey), an eccentric agricultural cooperative banker and possible descendant of Conchita Wurst.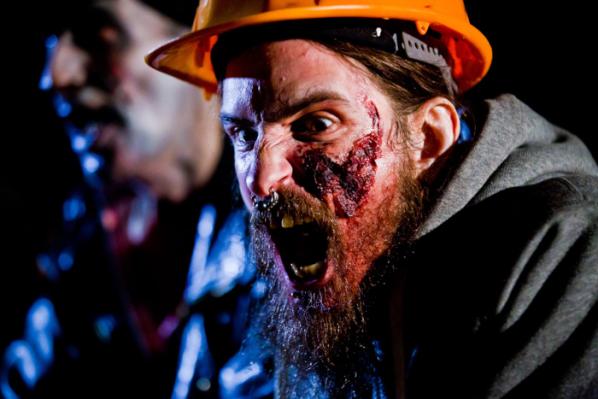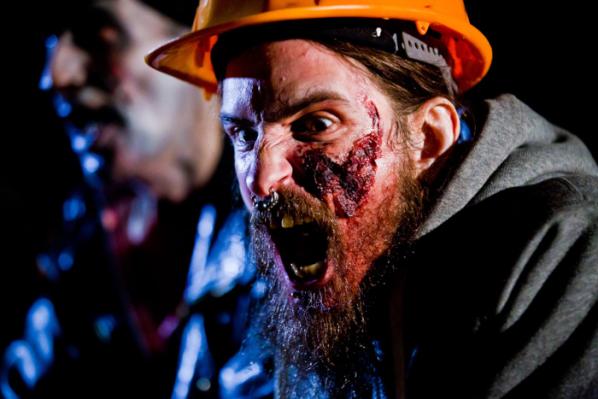 The Gstettensaga's fascinating cinematic pastiche is more than just a firework of rhizomatic intertextuality, a symptom of the depthlessness of postmodern aesthetics or excessive enthusiasm for experimentation in the field of form. In their infamous 1972 book Anti-Oedipus, Gilles Deleuze and Félix Guattari have identified the technique of bricolage as the characteristic mode of production under "schizophrenic" capitalism, a facet triumphantly magnified by the filmmakers. If every discourse is bricoleur, like Jacques Derrida suggested, suddenly 'context' can become the artist's material or even a form of art in its own right:
"The more artists are consigned to an existence within a patchwork of niches, the more dependent they become on information resources, communication and networking. In this respect, aesthetic artefacts must take a stance toward a plethora or markedly heterogeneous contexts that sediment in one way or another: the conditions and circumstances surrounding their production, their various social fields from which (and for or against which) they speak: real or imagined audiences toward (or against) whose values a work, an approach or a position is targeted. This play with the factors affecting it and among which it must mediate has become an essential trait on an art form that might best be described as 'Contextualism'." [1]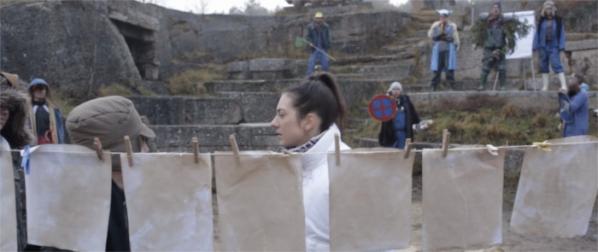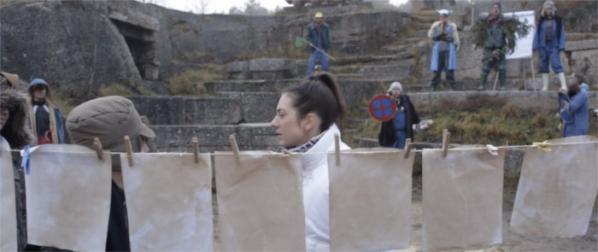 What I found especially intriguing about the Gstettensaga is how the filmmakers responded to the various challenges of the feature film format by contextualising the whole production process, distribution, language adaptions (subtitles are an integral part of the story), soundtrack and even the viewing experience.
The film was initially commissioned by Austrian public broadcasting station ORF III as part of the series Artist-in-Residence for a budget of only €5000, set to be produced within a six months period. In response, monochrom used an embedded prank to raise money. The movie contains a text insert similar to watermarks used in festival viewing copies, which asks the viewer to report the film as copyright infringement by calling a premium-rate phone number (1.09 EUR/minute) and enabled Grenzfurthner to co-finance the film with proceeds from this new strategy he has named 'crowdratting'. [2]
The Contextualist script – including outlines of scenes for improvisation – was written by Grenzfurthner and Roland Gratzer in just a couple of days in November 2013 in a Viennese restaurant. They also incorporated ideas that came up during their weekly meeting with the entire production crew, whereas some of the backstory was first created for monochrom's pen-and-paper role-playing theatre performance Campaign. Principal photography – the camera work of Thomas Weilguny deserves the highest praise – commenced on December 2, 2013 and ended January 19, 2014, which left nearly 5 weeks for post-production and editing. Due to the fast production process and the financial limitations, no film score was composed for the Gstettensaga – instead, Grenzfurthner used an assortment of 8bit, synth pop and electronica tracks especially for their specific retro quality because "they may sound old-school to us, but not in the world of the Gstettensaga, where all retro electronic music is still impossible and futuristic." [3]
The retro-futuristic world of Echsenfriedl is coming to a film festival, hacker con or Pirate Bay near you.
Official Homepage
http://www.monochrom.at/gstettensaga/
Festival screenings
Tamtam (Seara de proiectie la TT) / May 7, 2014 (Timisoara, Romania)
KOMM.ST Festival / May 11, 2014 (Anger, Austria)
Supermarkt (Dismalware) / June 7, 2014 (Berlin, Germany)
Fusion Festival / June 25-29, 2014 (Lärz Airfield, Mecklenburg, Germany)
Roswell International Sci Fi Film Festival / June 26-29, 2014 (Roswell, NM, USA)
iRRland movie night / June 30, 2014 (Munich, Germany)
qujochö Film Summer / July 3, 2014 (Linz, Austria)
HOPE X / July 18-20, 2014 (New York, New York, USA)
Fright Night Film Fest / August 1-3, 2014 (Louisville, KY, USA)
Gen Con Indy Film Festival 2014 / August 14-17, 2014 (Indianapolis, Indiana, USA)
San Francisco Global Movie Fest / August 15-17, 2014 (San Jose, CA, USA)
Rostfest / August 21-24, 2014 (Eisenerz, Austria)
Noisebridge / August 29, 2014 (San Francisco, USA)
/slash Filmfestival / September 18-28, 2014 (Vienna, Austria)
Simultan Fest / October 6-11, 2014 (Timisoara, Romania)
Phuture Fest / October 11, 2014 (Denver, Colorado, USA)
prol.kino / October 14, 2014 (Graz, Austria)
Featured image: Reactor Halls E09: Psychotronic Reactors Ryan Jordan & Jonathan Kemp // Photo: Julian Hughes
Intro: Nathan Jones has his head bent by an evening of psychogeophysics and laboratory manufactured noise at Reactor Halls E09: Psychotronic Reactors, by Ryan Jordan & Jonathan Kemp, at Reactor's new space in Primary, Nottingham. Photos by Julian Hughes.
Approaching an abandoned school in Nottingham as dusk fell, I hopefully considered a new subgenre of science fiction. After the Social-Science Fiction recently reinvented in the film work of Ryan Trecartin, perhaps then the Lab-Science Fiction of the psychogeophysicists. An authored art of reality, one that intrudes under the pretense of the experimental environment and appropriates the materially integral as theoretically freakish.
A red throbbing smoke seethes out of two open windows at the side of the building, blue and yellow light jumps across the window ledge, electric whip-cracks heard down a corridor.
This is the ambience of Kemp and Jordan, UK practitioners of 'psychogeophysics'. The location is Primary, the new art space in Nottingham, home to art experience specialists Reactor and thirty of the city's other independent art initiatives – but in the weekend evenings, all-but-abandoned. The eerie emptiness of the building lends itself to the increasing feeling of having slipped into a fiction.
I enter the old school through a side door, some lost parent in a nightmare, through an empty hall, on the verge of an integral, unfathomable assessment.
The background reading on psychogeophysics[1] is rich with conceptual freakery, based on the application of experimental conditions to pick up signals and messages from the spiritual other – such as the notorious Electronic Voice Phenomena experiments of Konstantin Raudive, which reportedly discerned the voices of the dead in electronic noise. The term psychogeophysics itself is a half-tongue-in-cheek addition to the always-already-playful 'psychogeography' adding to concerns with the summative effects of environment and mind on arts practice, with a pataphysical enquiry into the earth's wave-spectrum effects as they impact on consciousness.
Kebab coagulates with tension, rises up like a deep brown lava-lamp fluid.
Kemp and Jordan, today's psychogeophysics representatives, work at the edges of the believable, taking inspiration and theoretical modes from outside – through the discredited or unfashionable sciences of the mind and matter which proliferated in the 18th century – and projecting them into an experimental arts environments in the form of dystopian noise/rave-scapes.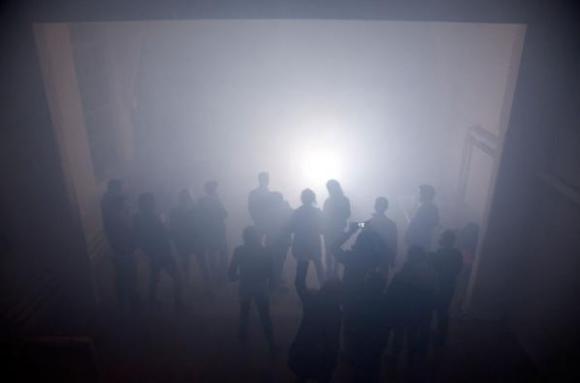 It's a seductive atmosphere. But this isn't a confidence trick, and the initial uncanniness is offset quite quickly by the manner of the artists themselves. Jonathan Kemp and Ryan Jordan have an approach which is the precise inverse of music-hall tricksters. Their diverse range of practices – taking in electronics and chemistry, installation, sound-performance, workshops – are unified around an obsessively open and unassuming approach, which is somehow difficult to reconcile with exotic conceptual grounding, and the promise of hallucinatory, out of body experience of the event. Throughout the evening, this integral conundrum between cynicism and being on the edge of discovery, plays out as a series of modesties, odd-ball crackpot demonstrations, chatty cigarette breaks, and noise abuse.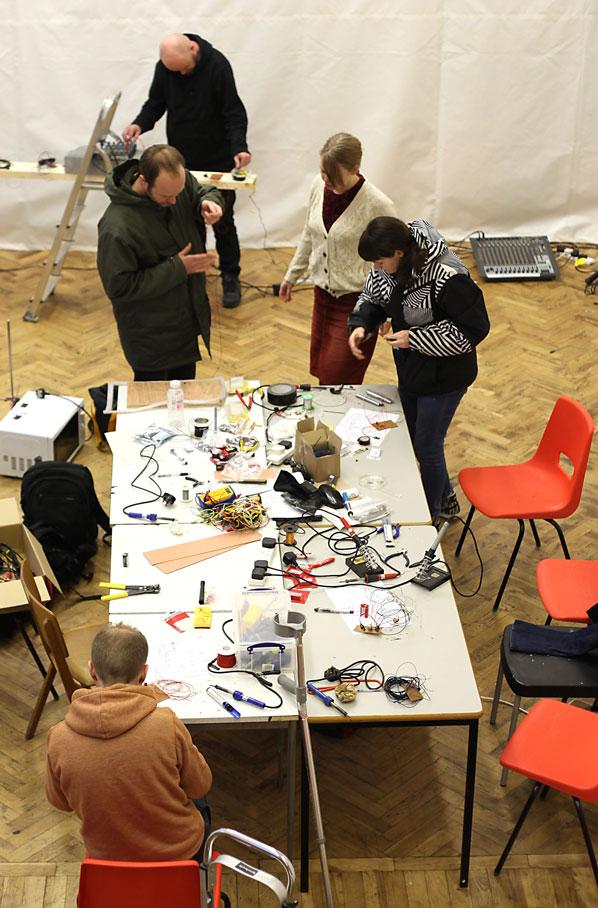 The basis for this evening's bill was a laboratory workshop run by the artists, where participants – Nottingham based artists and Reator's own esoteric cadre – could make their own devices with basic electronics – one for picking up electromagnetic waves, and another 'solo-strobe' unit which allows the user to stick two LED lights melted into lab glasses up close to their eye. It is these glasses that provide the first 'performance' moment of the night. We are invited to put the glasses on, and they are wired into the sound system, so each time the light goes on or off it makes a popping noise. Keeping our eyes closed, we can alter the frequency at which the lights flash on our eyes, and the resulting pulses or screams.
Blood strains in eye-lids. Crystaline salt remnants on pupil. Granular arrangement of optical receptors just before the brain. A familiar green and purple mesh which sieves the world into your soft-matter. Turning, the green grains mould together into white-hot orbs.
A pattern emerges where Kemp and Jordan take it in turns to set up and overload to breaking point a kind of ephemeral circuit between electronic equipment, geological objects, and our own nervous systems. Are we humans, or resistors?
The optical nerves, neuronal receptors and bodies of the audience are, to varying degrees of success, co-opted into a system of electro-magnetic flow across wires and solid matter – one which theoretical precursors might attribute to any number of things, from spirit-world contact, to the healing properties of rock, but that the artists themselves seem content to simply evolve and then break.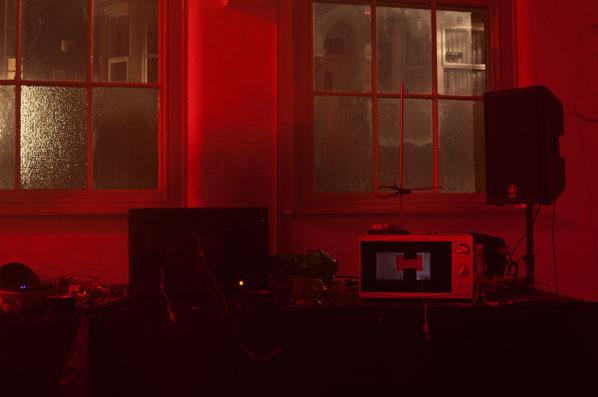 Jonathan Kemp puts tinfoil in a microwave that has a solar panel taped to it. He strings together a number of circuits made by workshop participants, and wires them to a large rock. There is the feeling of being part of something truly special and interesting, twinned with the feeling that an entirely intelligent and sane person might consider the whole evening to be some kind of elaborate joke on an unwitting reviewer. It isn't a complementary train of thought to follow, and one which inevitably leads you to wonder whether the evening could be better presented. Why no introductions, no accompanying materials, no 'show'? For a moment, I imagine my mum and dad standing in the centre of the small school hall demanding to know what is going on.
Back inside after a cigarette in the cracked and melted night, we are finally barraged with a single strobe light, by Ryan Jordan. There is a set of crystals set in front of the strobe also, so the electromagnetic pulses given off by them as innate response to the light stimulation, make the speakers pop and crack. The timing of light and sound is immaculate, and richly textured. Our own circuitry fully descended now from the cerebral, critical, suspicious human being, to a purely biological system, granulating, flipping on and off with the light and sound. Somewhere deep inside the purple matter a tiny voice wondering when it will end.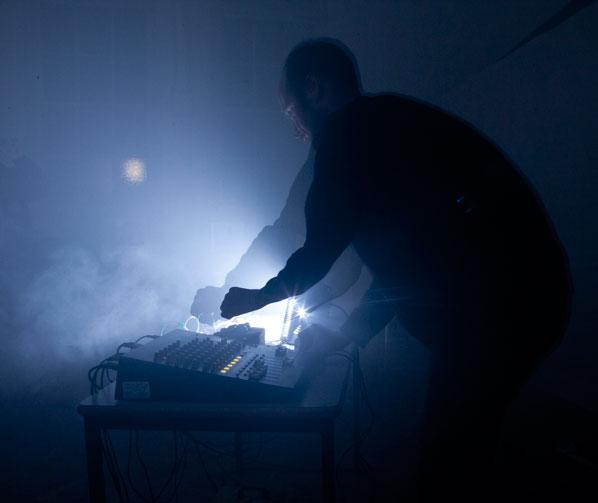 Rising, the mesh pulled upwards by the orbs distorting the front of the eyeball, pushing up at the iris like a small hot hand. The brain responds with a rumbling tide on its underside. The glitching and popping at the ears make your mouth turn up into a grimace.
Among the noise, the roughness and the seeming ambivalence of the artists towards the audience, a feeling of our own innate connection to the technological and chemical comes across very strongly. This connectivity is the hard-won evocation of two artists who have invested fully in the material consequences of their media, a feeling which has lasted well beyond the evening, for me. I did wonder though, whether this one successful evocation is dependent on the anti-showmanship of the artists, or in fact limited by the attention paid to the audience experience – a contrast which is especially stark given the context of the Reactor collective's own portfolio of experiential arts environments. Perhaps not a new genre of sci-fi then, but a discipline that insists along with the noise practices of the last few decades, on the outer limits of entertainment.
Marc Garrett reviews Stefan Szczelkun's book Agit Disco. He is an artist and author interested in culture and democracy. In the early Seventies he was fortunate to be part of the Scratch Orchestra and has since been involved with a series of artists collectives. His doctoral research into the Exploding Cinema collective was completed at the RCA in 2002. Recently his collaborative project Agit Disco was published as a Mute book in 2012. He has been on the Mute magazine editorial board since 2009, and currently working on photographic and performance projects.
Introduction: Entering The Zombie Apocalypse.
"Just cause we can't see the bars
Don't mean we ain't in prison."
Kate Tempest (2009) [1]
The subtle and not so subtle domination by market interests of cultural production and dialogue denies us all access to a wide spectrum of creative expression, especially those that engage in subjects that conflict with the agendas of those in power. Agit Disco by Stefan Szczelkun combats this contemporary trend by focusing on music, politics, DIY culture, and freedom of expression. In doing so he starts to redress the lack of representation across the board for those in grass roots culture and working class lives, whose freedoms to have a voice in society are so commonly restricted.
The future does not look good for those who value cultural and social diversity; who look for a variety of activist histories and experiences to be seen and represented on their own terms. The UK government is changing university regulations so that private companies can become universities. This means tutors will end up replacing educational courses once devised with the public good in mind with modules designed for maximum profit. Luke Martell, a critic of the marketisation and privatisation of education and lecturer of Sociology at the University of Sussex, says "This will lead to a different content to education. Critical thinking is being replaced by conformity to cash. Money-spinning management and business courses are expanding and lower-income adult education is being closed down." [2] (Martell 2013) Already, most researchers, academics and those in professional fields of practice mainly work within insider frameworks, "there is a qualitative difference between the conditions of people living in marginalized communities and those in middle-class suburbia." [3] (Smith 2012)
The knock on effect of an unquestioning culture of compliance with the 'free market' is enormous. How ironic it is that the term 'free market' is attributed with so much value and (a presumed) logic when in actuality it constrains people's freedoms and makes those who are already rich even richer. Because the politicians are not effected by the results personally, and because it also serves their interests, they have handed over their social responsibilities to these market systems. The neoliberal defaults that caused the financial crisis are untouched by our democratic processes. These out of reach, distant power systems are fixed towards property bias and occupy and govern our everyday experiences. How does freedom of expression fit into this and on whose terms?
"The more our physical and online experiences and spaces are occupied by the state and corporations rather than people's own rooted needs, the more we become tied up in situations that reflect officially prescribed contexts, and not our own."[4] (Garrett 2013)
Review of Agit Disco.
Agit Disco offers a breath of fresh air, in the fug of the developing marketisation of everything. It presents grounded examples of difference that contrast with the dominating view of entertainment systems. Published through Mute Books in 2012, it features 23 playlists put forward by 23 different writers, artist and activists. It began as a set of mixed CDs and images, each chapter includes annotations and illustrations. Its contributors are Sian Addicott, Louise Carolin, Peter Conlin, Mel Croucher, Martin Dixon, John Eden, Sarah Falloon, Simon Ford, Peter Haining, Stewart Home, Tom Jennings, DJ Krautpleaser, Roger McKinley, Micheline Mason, Tracey Moberly, Luca Paci, Room 13 – Lochyside Scotland, Howard Slater, Johnny Spencer, Stefan Szczelkun, Andy T, Neil Transpontine, and Tom Vague.
Mostly from working class backgrounds the contributors were invited to focus on politics and music, and share memories relating to what the tunes meant to them at the time. In the preface Szczelkun states, his selection of contributors comes from his own worldview and personal contacts. Anthony Iles, in his introduction says most who have contributed "are closely associated with anti-authoritarian politics and DIY culture."[5] (Iles 2012) Contributors offer insights into the connections between their music and the politics of the time. Louise Carolin says, "When I was a teenager in the '80s I lived through one of the golden ages of British chart pop, listening to music that was by turns, political, danceable, challenging and entertaining. I attended CND rallies, marched against South African Apartheid, ran the feminist group at school and went to GLC-funded music festivals."[6] (Carolin 2011)
What adds depth to Louise's story, as with the rest of the contributions is that many readers feel connected with these histories, and I am one of them. It highlights an indigenous, working class culture and their personal struggles in a period when neoliberalism was in its early stages of world domination. To say that these are merely anecdotal or subjective would completely miss the point. It calls for an awareness and understanding about people giving an account for themselves in relation to music, politics and their social contexts on their own terms.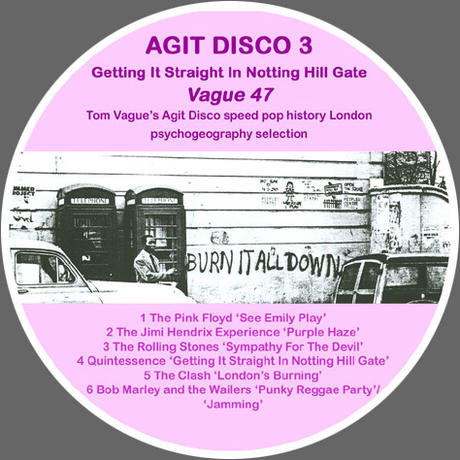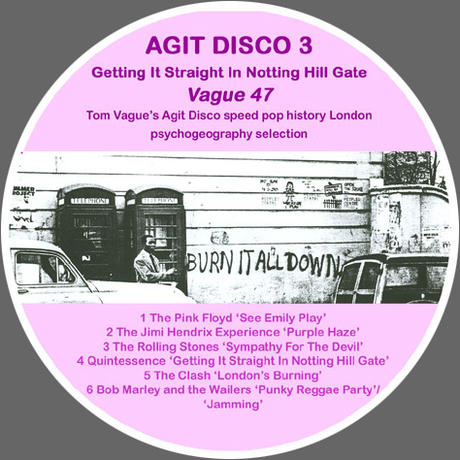 Just as it is important to ask contextual and critical questions of why a particular artwork is being shown at a certain venue or seen in an art magazine. It is also necessary to observe who published Agit Disco and why? It is no coincidence that it's a Mute publication, Szczelkun has been on its editorial board since 2009, and has written various articles, reviews and interviews for Mute.
Agit Disco resonates with Mute's dedication to DIY culture. Indeed, Mute has an excellent history in independent publishing alongside its DIY methods of production. Mute's earliest incarnation used Financial Times' pink paper, broadsheet printing cast offs. Later on a traditional magazine format. From 2005 onwards it moved onto its online site, and developed a publishing platform that allowed the publication of its POD (Print On Demand) magazine. [7] The design and production of Mute and its platforms have come a long way enabling a pamphlet-like production and distribution, echoing Thomas Paine's own DIY releases of the Rights of Man.[8]
DIY Culture (and its distribution channels) offer a vital alternative to mainstream frameworks and their dominating hegemonies as a way to route around the restrictions to content, freedom of thought and free exchange. We have to contend with networked surveillance strategies initiated by corporations and state secret services. Censorship exists in many forms and recently there has been a rise of self censorship by workers and academics worried about losing their jobs if bosses see their interactions on Facebook or similar Web 2.0 social networks.[9] And the worrying antics of Britain's GCHQ, in collaboration with America's National Security Agency (NSA), targeting organisations such as the United Nations development programme, the UN's children's charity Unicef [10] reveal a greater investment in the surveillance of everyone, and the downgrading of privacy and fundamental human rights.
The credo that Anyone Can Do It reached a mass of individuals and groups not content with their assigned cultural roles as disaffected consumers watching the world go by. Like the Situationists, Punk was not merely reflecting or reinterpreting the world it was also about transforming it at an everyday level. Sadie Plant states that with the "emergence of punk in the late 70s […] lay the possibility of a threatening political response to the vacant superficiality of contemporary society." [11] From this, a whole generation of diverse artists emerged; and through their practices they critiqued the very society they lived in, questioning authority and the authenticity of established politics, language, art, history, music and film.
Has the process of appropriating people's civilian personas, and then replacing their social contexts with a corporate role as consumer created a more selfish world, lacking compassion for others and less interest for societal and ethical change? Ubermorgan discussed in a recent interview with Stevphen Shukaitis that people are in a state of 'mediality'. "What we refer to as reality very often is just mediality, and also because that's how human nature often prefers to observe reality, you know, via some media." [12] Perhaps our constant interactions through different interfaces of proprietorial frameworks distances ourselves to what is important. In the 21st Century demonstrations and civil disobedience are policed intensively, and even though much of contemporary activism exists on-line. The frontline, or the heart of politics is still mainly a physical matter; it is still in our streets, our homes, our bodies, in our neighbourhoods and communities.
As Oxblood Ruffin a Canadian hacker and member of the hacker group Cult of the Dead Cow (cDc) and the founder/director of Hacktivismo, said "I know from personal experience that there is a big difference between street and on-line protest. I have been chased down the street by a baton-wielding police officer on horseback. Believe me, it takes a lot less courage to sit in front of the computer." [13]
So Agit Disco reminds us that music is a vital way of both bringing people together in a space, story telling and communicating with each other, sharing what is happening with people's lives. It is usually at the moment of censorship that we then realise how essential this freedom of expression stuff really is. For instance, nine months after Islamic militants had taken over in northern Mali they announced that all music is banned. "It's hard to imagine, in a country that produced such internationally renowned music as Ali Farka Touré's blues, Rokia Traoré's soulful vocals and the Afro-pop traditions of Salif Keita. […] The armed militants sent death threats to local musicians; many were forced into exile. Live music venues were shut down, and militants set fire to guitars and drum kits. The world famous Festival in the Desert was moved to Burkina Faso, and then postponed because of the security risk." [14] (Fernandes 2013)
In her article The Mixtape of the Revolution, Fernandes says that in Africa many rappers are "speaking boldly and openly about a political reality that was not being otherwise acknowledged, rappers hit a nerve, and their music served as a call to arms for the budding protest movements."[15] Regarding Egypt, the rapper Mohamed el Deeb in an interview with Fernandes said, "shallow pop music and love songs got heavy airplay on the radio, but when the revolution broke out, people woke up and refused to accept shallow music with no substance." [16] Music, politics and grass roots dissent are concrete expressions and an essential part of our collective freedoms. Alongside this, independent publishing as an alternative voice to the marketed franchises that dominate our gaze, sight, ears and minds, are needed more than ever. Yet, independent voices are being silenced and whittled down by wars, oppression and the neoliberal created financial crisis and its resulting austerity cuts.
What is to become of us if we lose our skills of discernment and slump into a homogenous consumer class, to define ourselves solely through marketed stereotypes and ideologies?
Agit Disco offers a festival of dance and dialogue for independent minded individuals and groups around the upturned burning car in the barricade against the coming zombie apocalypse.
It has been fun listening to all of the playlist contributions provided in Agit Disco. Below is my own Agit Disco playlist. You are welcome to add your own playlist in the comments section below (with links)…
Agit Disco 24. Marc Garrett.
Damien Dempsey – 'Dublin Town' (2000)
http://www.youtube.com/watch?v=brhO8pqTNHU
Asian Dub Foundation – 'Modern Apprentice' (2000)
http://www.youtube.com/watch?v=zgtWhjaOgQ4
Dan Le Sac & Scroobius Pip – 'Great Britain' (2010)
http://www.youtube.com/watch?v=YeV2cExvnMI
Kirsty MacColl – 'Fifteen Minutes' (2005)
http://www.youtube.com/watch?v=MSQrH3JUQ2s
Jeffrey Lewis – 'Do They Owe Us A Living?' (2007)
http://www.youtube.com/watch?v=jWU-W0SzVE0
The Pop Group – 'Forces of oppression' (1979)
http://www.youtube.com/watch?v=Txzmbu6o-gg
Kieron Means – 'I Worry For This World' (2005)
https://play.spotify.com/track/6AI2QujkrP6B2nfIUK55lY
Robyn Archer – 'Ballad on Approving of the World' (1984)
https://play.spotify.com/album/3hNQY8q9sO3M0R6es2d3ka
Robyn Hitchcock – 'Point it at Gran' (1986)
http://www.youtube.com/watch?v=_HFkimK9FAU
Sound of Rum – 'End Times' (2011)
http://www.youtube.com/watch?v=9dWPe7Au68A
Silver bullet – '20 Seconds to comply (final conflict)' (1990)
http://www.youtube.com/watch?v=24b6pYGT9MM
Maze – 'Color Blind (Featuring Frankie Beverly)' (1977)
http://www.youtube.com/watch?v=COY4gKLwV2I
Akala – 'Bullshit' (2006)
http://www.youtube.com/watch?v=mxpxpQ7j8Sg
Sarah Jones – 'Your Revolution' DJ Vadim (2000)
http://www.youtube.com/watch?v=E62SZ1CmBOI
Julian Cope – 'Soldier Blue' (1991)
http://www.youtube.com/watch?v=8dGOr-JpOmI
June Tabor – 'A place called England' (2009)
https://play.spotify.com/track/3YB6sSlLfB8kmMrrm5COKX
Featured image: printed out photographs of the streets, pasted them back onto the surfaces where they were taken, and then rephotographed them
When we visited New York this spring, we met in Willamsburg, Brooklyn with Christina Ray, founder of Glowlab, multimedia arts lab for experimental psychogeography. According to the article 'Preliminary Problems in Constructing a Situation', in Situationniste Internationale No. 1 (1958), psychogeography studies 'the specific effects of the geographical environment, consciously organised or not, on the emotions and behaviour of individuals'.
We wandered the streets, chatting and observed the effects of the emotions and behaviour of the local communities on the streets of Brooklyn. Christina described for us the significance of various tags, stickers and stencils and told us about the brewing turf wars between the recent influx of middle class artists and disgruntled locals whose families have lived in the area for generations, but who were facing the consequences of creeping gentrification and the threat of fast-rising rents. The diverse concerns of the local community were spelt out in frenetically pasted, posted, taped and painted signs, tags, images and messages of all sorts. Every wall, every piece of street furniture shares its surface with an accretion of eye-catching stickers, advertising local bands, spray painted decorations, tags and statements of protest, like 'more yuppie bullshit'.
The Graffoto project divides into three distinct parts. Graffoto 01 documents the richly textured expressivity of the Brooklyn communities. The social commentary mixes with exuberant, colourful and stunningly executed murals and sometimes inexplicable expressions of appreciation for the absurdity of life, such as 'saving to buy air conditioner- saving to buy a bike (written and illustrated on 2 strips of masking tape stuck to a wall heavy with graffiti). These images draw you to spin out narratives. Sometimes further clues to the complete story lie in the details of the surroundings, whilst other accounts are completely opaque to the outsider but suggest a connection of great significance to individuals, groups or events in the locality.
In Graffoto02, MOTC (man of the crowd) has printed out photographs of the streets, pasted them back onto the surfaces where they were taken, and then rephotographed them in situ. I guess that in the streets these images act as a mirror of sorts for the street artists of Brooklyn. Also as a sign that the guttural and wonderfully articulated expressions of protest, humour, threat and joie de vivre can be both appreciated and participated in but also consumed by the world of mediation. These second stage images do evoke a strange threat of surveillance.
The final layer of the Graffoto project invites us to participate by sending in images of our streets for others to print out and post in their own public localities. Alternatively we can download and print an image from the collection and paste it onto the lamp-post outside our own doors.
We can only imagine these images so rich with local texture and information will start to appear in all the lands of the world; turning up like tourists, marked out by their strange dress, stranger cultural values and the blind spots afforded them by their communities. Or perhaps more like illegal immigrants, their language will be foreign, their deepest and most obvious narratives veiled, their protests displaced and irrelevant to the communities amongst which they find themselves.
MOTC offers a strategy for border crossing. OK, we loose much of the texture, the information and with these, many pieces of the narrative but something equally important is facilitated here. The photographs and printouts of the graffiti are a sign of something foreign, mediated, stuck and mingling in a community that isn't sure why it's there, whether it's any of their business and whether they like it.
August 2003