As part of transmediale's opening night in Berlin, audiences were sat in front of three large screens and taken on a journey through the abstract infrastructures of the imminent 'smart city'. Liam Young, a self-proclaimed speculative architect, narrated the voyage whilst beside him, Aneek Thapar designed live sonic soundscapes complementing the performance. For Young, the smart city is a space where contemporary anxieties are not only unearthed but increasingly multiplied. The smart city manufactures users out of citizens, crafting an expanse whereby the hegemonic grip of super-production evolves into a threateningly subversive entity. According to Young, speculative architecture is one of the methods of combating the city's supremacy – moulding the networks within a smart city to facilitate our human needs within a physical realm. It is a means of becoming active agents in amending the future.
Speculative architecture as a term is relatively new, however the concept's origins date back to the 1970s Italian leftist avant-garde. Back then it was called 'Radical Architecture', a term initiated by SUPERSTUDIO's conceptual speculation regarding the structures of architecture. SUPERSTUDIO's methods were transcendental as they favoured the superiority of mental construction over the estranged act of building. The founders of the group, Adolfo Natalini and Cristiano Toraldo di Francia, acknowledged modernist architecture as reductive to man's ability of living a free life since its core foundations were built on putative methods of indoctrinating society into a pointless culture of consumption. The development of The Continuous Monument was a declaration to end all monuments since the structure itself was designed to cover the expanse of the world. Its function was to form 'a single continuous environment of the world that would remain unchanged by technology, culture and other forms of imperialism' as stated by SUPERSTUDIO itself. A function sufficiently egalitarian, and in some respects utopic, The Continuous Monument, much like Tatlin's Third International in the 1920s, was never intended to be built, but instead to uncover the notion of total possibility and arbitrariness. Likewise, Young's performative smart city does not purpose itself around applicable techniques of construction – it creates scenarios of possibility exploring the autonomous infrastructures that lie between the premeditated present and the predicted future. Hello City! intends to transpire the idea that computation, networks and the anomalies that surround them are no longer a finite set of instructions, but instead constitute an original approach to exploring and facilitating speculative thought through imagined urban fictions.
Liam Young's real-time cinematic narration cruises us like a 'driverless vessel' through the smart city beyond the physical spectrum. The smart city becomes an omnipresent regulator of our existence, as it feeds on the data we wilfully relinquish. Our digital footprint re-routes the city, traversing us into what Young calls 'human machines of the algorithm'. His narrative positions human beings as 'machines of post-human production' within what he names a 'DELTA City'. As an envisioned dystopia which creates perversions between the past, present and future, Hello City! is reminiscent of Kurt Vonnegut's post-modern narrative in Cat's Cradle. San Lorenzo, the setting for Vonnegut's book, is on the brink of an apocalypse – the people's only conjectural saviour would be their deluded but devoted faith to 'Bokononism', a superficial religion created to make life bearable for the island's ill-fated inhabitants. Moreover, the substance 'Ice-9', a technological advancement, is exploited far from its original purpose of military use, leading to looming disaster. Both Bokononism and the existence of Ice-9 resonate Young's narrative as they explore the submissive loss of free will and the consequences of allowing the future to be dictated by uncontainable entities. In Hello City! the metropolis becomes despotic and even more complex as it is designed by algorithms feeding on information instead of the endurances and sensitivities of the human body.
Like software constructed by networks, the future landscape will be a convoluted labyrinth for physical beings. Motion within the city will be ordained by a form of digital dérive structured by self-regulated and sovereign systems. Young's video navigates us through blueprint structures simulating the connections within networks thus proclaiming the voyage as unbridled by our own corporal bodies. The body is no longer dominant. He introduces us to Lena, the world's first facial recognition image, originally a cover from a 1972 Playboy magazine. Furthermore, he makes references to Internet sensation Hatsune Miku as a 'digital ghost in the smart city' whilst the three screens project and repeat the phrase 'to keep everybody smiling' ten times. We may speculate that for Young, the smart city has the potential to function like Alpha 60, a sentient computer system in Godard's film Alphaville, controlling emotions, desires and actions of the inhabitants in the 'Outlands'. As Young dictates 'the City, looks down on the Earth' – it becomes a geological tool and engages the speculative architect to remain relevant within the ever-changing landscape of that space.
In a preceding interview, Young refers to the speculative architect as a 'curator', 'editor' and 'urban strategist' attempting to decentralise power structures from conventional and conformist architectural thought. In 2014, Young's think tank 'Tomorrow's Thoughts Today' envisaged and undertook a project titled New City. New City is a series of photorealistic animated shorts featuring the cities of tomorrow; one is The City in the Sea, another is Keeping Up Appearances and the last is Edgelands. Too often, these works are projected and interpreted with the foreseeable frowning of rising consumerism concurrent with the dissolute development of technological super structures. Without a doubt, the supposition that technology is alienating us from our identities as citizens of a city is undeniable and exhaustively linked to the creation of super consumers and social media. Nonetheless, New Cities is more than just about that – comparable to the architectural intrusions of SUPERSTUDIO, the narrative of Cat's Cradle and Alphaville,New City underlines the impending subsequent loss of human liberty with the advent emergence of the smart city whilst Hello City! injects the audience in within it.
Young's notion of the smart city is consolidated within a Post-Anthropocene existence. Without any dispute, our world will inevitably divulge a post-anthropocene reality, but until that critical moment arrives, acts of speculation, such as speculative architecture, only exist within the hypothesis of potentiality. In fact, throughout Hello City! speculation cannot be positioned as either a positive or negative entity – it appears to lie within a neutral area of hybridity and experimentation. The narrative of Hello City! is purely speculative and thus exceedingly experimental. Like much of SUPERSTUDIO's existence, antithetical notions of egalitarianism and cynicism run throughout Hello City! triggering perpetual seclusion of the audience's contemplations. Conflicting positions reveal an ambivalence resulting to escalated concerns towards the act of execution. Speculative architecture itself is a purely narrative process designed on a fictitious future that is not formulated and so the eternal battle between theory and practice will always occur. Uncertainties raise an issue of pragmatism and whether speculation, evidently in architecture, is commendable. Seeing as speculation for the future is, in its most basic form, an act of research, it is regarded as the most pragmatic practise when taking into consideration any future endeavours. As the performance draws to an end, Young declares that 'In the future everything will be smart, connected and made all better' and then indicates towards the contradicting existence of Detroit subcultures that the future map will be unable to locate. A message loaded with properties that are paradoxical and thus ambiguous in their intent, Hello City! occupies itself with inner contradictions that only create the possibility for plural futures, a functional commons for the infrastructure of tomorrow.
After a full year of events focusing on several topics, from drones to surveillance, cyberfeminism to hacktivism, or even the famous Technoviking and a hot debate on the politics of the Porntubes, the Disruption Network Lab wraps up 2015 with its event STUNTS, focusing on political stunts, interventions, pranks and viralities. It was a year of great success for the DNL and proof of that was a full house, in the middle of a cold Berlin winter, full of people eager to take part of this last gathering on art research, hacktivism and disruption.
Just at the entrance, in the castle-like facade of Kunstquartier Bethanien, the Free Chelsea Manning Initiative projected a video including phrases of support, denouncing the system that violently charges against all the whistleblowers who bravely stand against state-crime. Chelsea Manning, sentenced in August 2013 to 35-years of imprisonment, turned 28 years old on the 17th December. The initiative took the occasion to celebrate her anniversary but also to remind us of her cause and of how vulnerable whistleblowers are under the purview of "justice".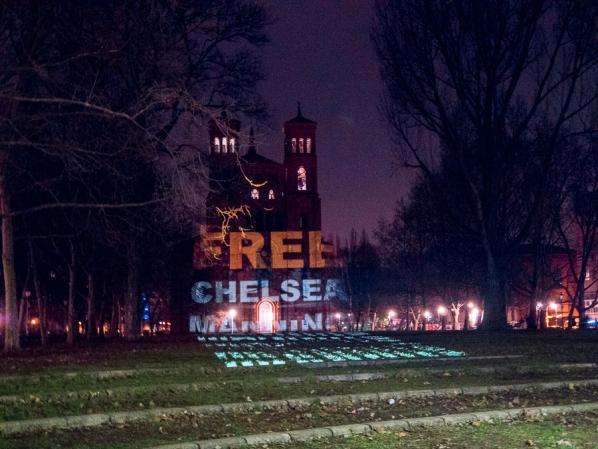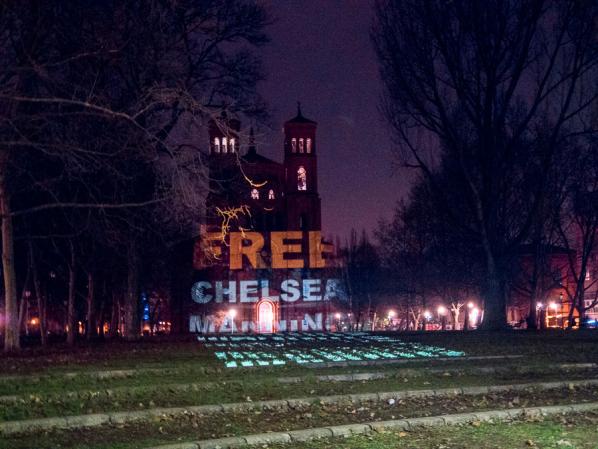 Peter Sunde, one of the founders of Peter Bay, has recently given an interview stating "I have given up" when asked about the current state of free and open internet. The pessimistic tone that might loom among hacktivism has its reasons. With a growing and raging state surveillance, invigorated politics of fear veiled as anti-terrorism propaganda, or the alienating neoliberal order, the seemingly scarce possibilities to fight back can be easily overtaken by a sense of hopelessness. Yet, the proposal of STUNTS claims the possibility of new futures; suggesting that new artistic militancies and political subversions of neoliberal networked digital technologies, hoping to provide a glimpse of another world. What can be done? There's still a lot to be done.
KEYNOTE: FIND OUT WHAT YOU ARE 'SUPPOSED TO DO' – THEN DO SOMETHING ELSE.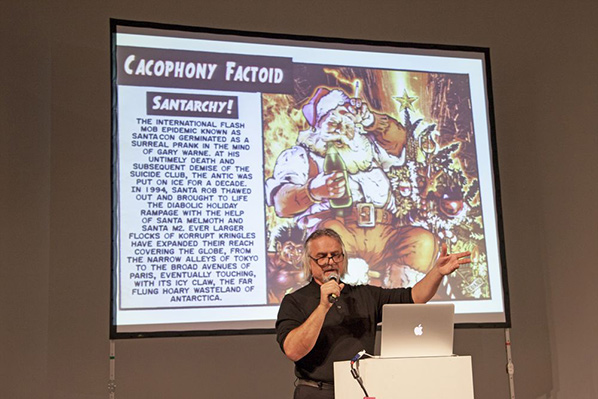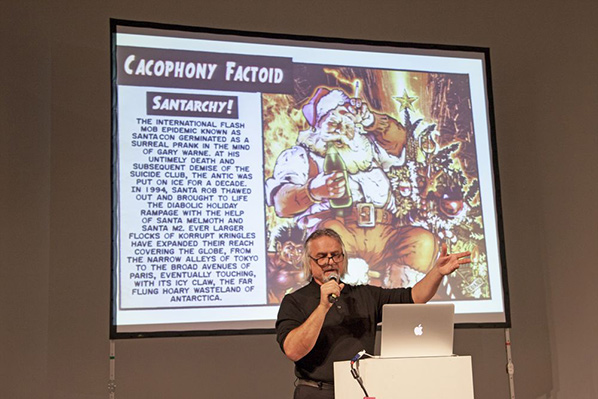 John Law, original member of the Suicide Club and the Cacophony Society. Image by Maria Silvano.
The opening keynote was reserved to John Law, original member of the Suicide Club and Cacophony Society, and one of the initiators of the Burning Man Festival, who gave an inspiring speech condensing 40 years of disruptive movements in the city of San Francisco. Law highlighted how important it was to live in San Francisco, a well-known refuge for many weirdos, hippies and punks, and how the city served as fertile ground for the foundation of many movements of disruption, such as the Suicide Club or the Cacophony Society.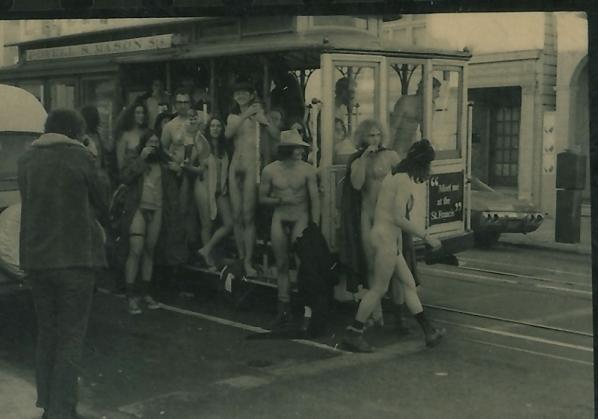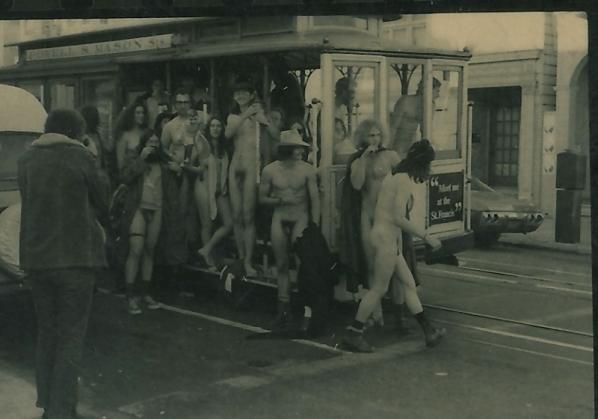 1977, Naked Cable Car : San Francisco Suicide Club http://bit.ly/1nKsD4M
The Suicide Club, born from a course at the Free School Movement (also known as Communiversity) in the late 70s, was one of the pioneers with its events of urban exploration, street theatre and pranks. For several years, its members engendered actions of occupation and appropriation of public spaces, aiming to subvert the order of these spaces and highjack the authorities. Later on, some of its members founded the Cacophony Society which followed the same footsteps, creating social experiments and stunts, which according to Law didn't necessarily mention being political but instead playful acts of liberation from the norm. Yet, in an age of overwhelming neoliberal labour exploitation, we can wonder if having fun among the working class isn't already a political act. As Law said, "the events were illegal but not immoral" reminding everyone that in ethics and politics of disruption, right and wrong should never be defined by law. It seems that disruption is intrinsically political in the sense it questions the ruling order while also being an emancipatory act of dissidence.
PANEL: STUNTS & DUMPS – THE MAKING OF A VIRAL CAUSE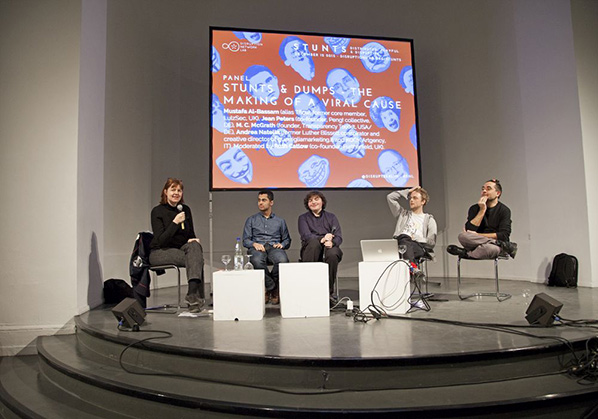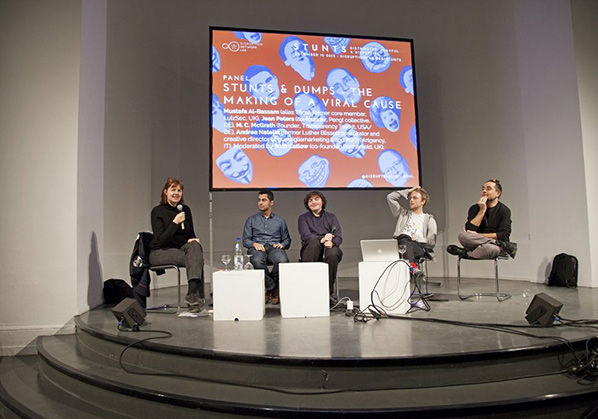 Ruth Catlow, Mustafa Al-Bassam, M.C.McGrath, Jean Peters and Andrea Natella. Image by Maria Silvano.
The panel, moderated by Ruth Catlow, one of the founders of Furtherfield, included a group of four hacktivists and disruptors, two of whom claimed to have once been Luther Blissett, an open-pseudonym used by several artists and activists as an hoax who has taken credit and responsibility over several stunts and pranks over the past 20 years. Following the thread of adopting an emancipatory praxis in the demand for privacy, M.C.McGrath presents the Transparency Toolkit. Motivated to refuse of data collection and the brute quantification that intelligence and corporations enforce as an interpretative lens for evaluating people's lives, with this toolkit McGrath intends to facilitate the access to a database that allows journalists and civilians to surveil the surveyors. Providing easy access to personal data of the intelligence community, he gives intelligence a taste of its own poison. In response to the predictive justice portrayed by nowadays algorithmic supremacy, the Transparency Toolkit disturbs the power asymmetry while possibly enabling for even some form of critical mob justice.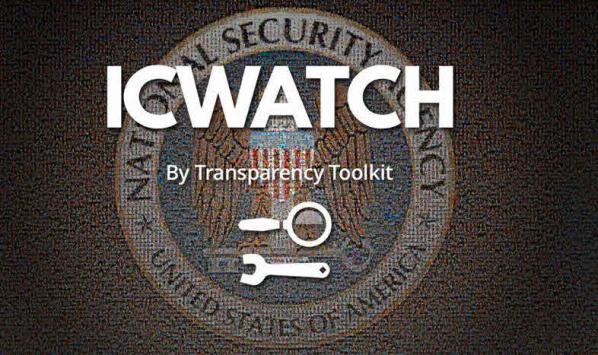 Andrea Natella, creative director of guerrigliamarketing.it and KOOK Artgency, seeks for justice by creating elaborate hoaxes that corrupt corporate advertisement. Hoaxes such as the fake air company Ryanfair which claimed to "welcome aboard refugees" under the Geneva Convention, enabling refugees to fly without a visa. The ingenious mockery resulted in a flamed response from the 'real' company debunking the advertisement while at the same time it has received a great attention from the media, resulting in a broader public discussion on the refugee situation. Once again, Natella presents us with the power of disruption by taking advantage of tools used by the prevailing order.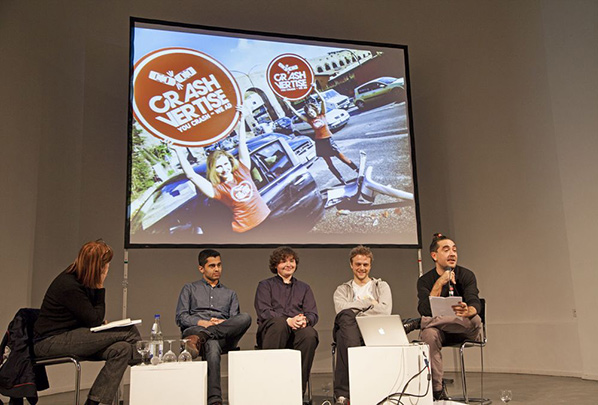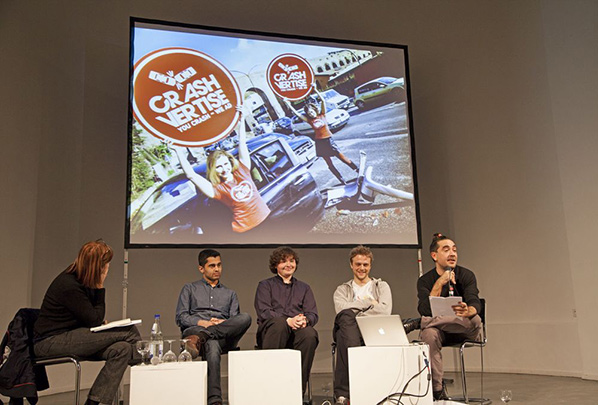 Image by Maria Silvano.
The undergraduate in Computer Sciences Mustafa Al-Bassam has gained notoriety for being a part of LulzSec, a computer hacking group responsible a number of high profile attacks, resulting in being legally banned from the Internet for two years. From an early age Mustafa focused his time in the creation of tools to unmask the tenacious mechanisms of domination. From ironically proving the negative correlation between tests scores and the amount of assigned homework to denouncing violations of online privacy and security perpetrated by state agencies such as the FBI, Mustafa has been a main character in the defence of human rights in the post-digital era.
To close the panel, Jean Peters, co-founder of the Peng! collective, shifts the perspective of the debate. What if instead of blaming or attacking members of intelligence we could provide them the tools to liberate them from their own institutions? Recognising that within the intelligence community resides a great number of whistleblowers, Intelexit, which started as a hoax, is now an initiative that helps people leave the secret service and build a new life. Aimed specially at members of agencies such as CGHQ or NSA, Intelexit offers safe and encrypted channels of communication through which intelligence members can get access to legal and moral support. Without the intention of dismissing responsibility of these members, claiming some banality of evil, by emancipating intelligence members Intelexit conceives another possibility to disrupt the system from within.
CELEBRATING AT SPEKTRUM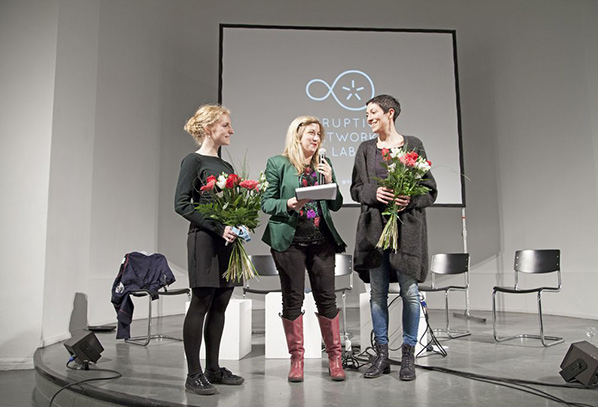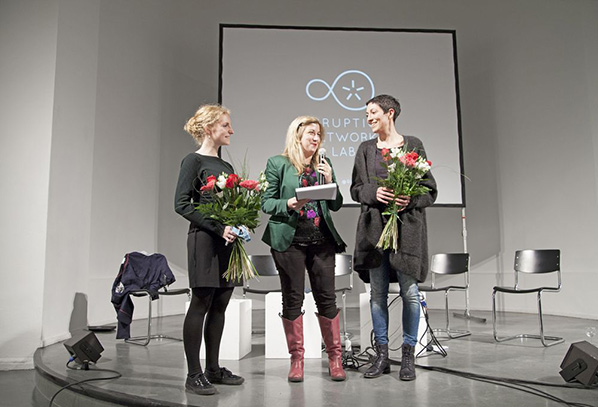 Kim Voss, Tatiana Bazzichelli and Daniela Silvestrin. Image by Maria Silvano.
With an incredible array of playfully disruptive tools and practices, the ending tone of the panel is of hope and optimism. Maybe this is the kind of optimism that inspired Chuck Palahniuk into writing the Fight Club, clearly influenced by the Cacophony Society of which he was a member. Optimistic disruption seems to pave way to new worlds of possibilities, into a new future envisioned with the help of DNL.
To close STUNTS in an even more optimistic way, the celebration of a year of DNL was at SPEKTRUM, another outstanding initiative in Berlin and another example of success. After less than a year of activity, SPEKTRUM, an open space that aims to link art and science, has already gathered a solid reputation in the field along with a trustee community of followers and participants. While we cross fingers for another year of funding for DNL, SPEKTRUM will continue to offer a rich program of concerts, performances, installations and debates.
Last Review – PORNTUBES: Reveals All @Disruption Network Lab, Berlin. By Pedro Marum, 2015
http://furtherfield.org/features/porntubes-reveals-all-disruption-network-lab-berlin
Finally I had the pleasure to attend to a session of the Disruption Network Lab. Physically, let's say. Even though this was the first time I've managed to be in Berlin for one of its events, I've been a compulsory virtual follower, watching the videos of their fully recorded sessions. This is a hint for anyone who would like to watch all the previous keynotes and talks.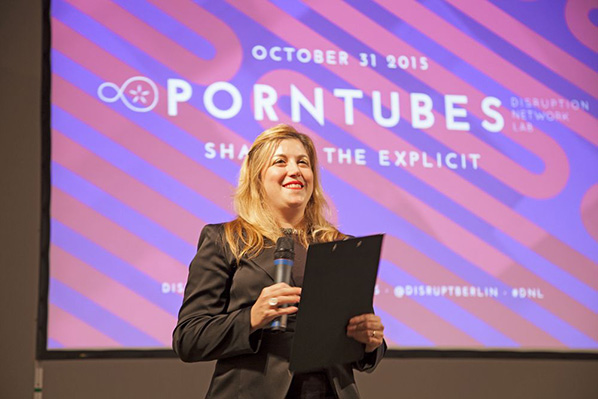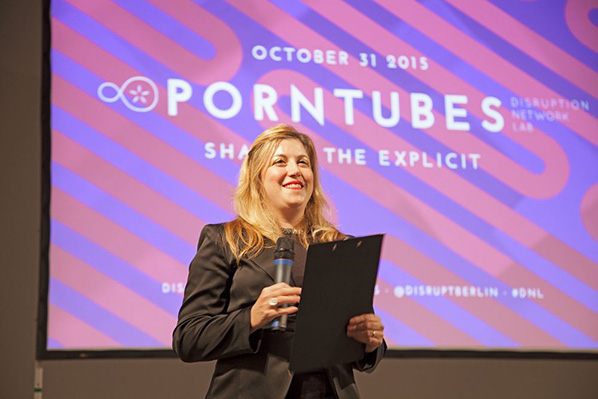 Tatiana Bazzichelli, Director and Curator of Disruption Network Lab. Image by Maria Silvano.
With its first edition in April, Disruption Network Lab is an ongoing platform of events and research on art, hacktivism and disruption, held at Studio 1 of Kunstquartier Bethanien, in partnership with Kunstraum Kreuzberg/Bethanien, in Berlin. On 31st of October it has held its 5th session, PORNTUBES: Sharing the Explicit. Aiming to discuss the role of porntubes in the sex and porn industry it gathered porn practitioners, entrepreneurs, sex work activists and researchers, to engage in a debate on the intertwining of porn with the Internet.
Pornography has always been a pioneer in using new technologies for its distribution and promotion. Internet, by allowing anonymous access to porn from the comfort of everyone's home it seemed to be the ultimate tool for the porn industry's expansion, to say the least. As pointed by Roy Klabin during the talk, 38,5% of the time we spend on the Internet is spent watching porn. As in many other spheres, it also seemed to be the beginning of a new era of labour liberation with an apparent decentralisation from the big porn production houses. This has allowed the blossoming of new small and independent companies with their own place in the market. But if cyberspace once seemed to offer a possibility to escape the tentacular control and exploitation exercised by the corporative monopolies, it is now known that the rebellion of the cybernetic innovators – creators of porntubes and new online sex tools – seems to be purely a coup d'etat.
KEYNOTE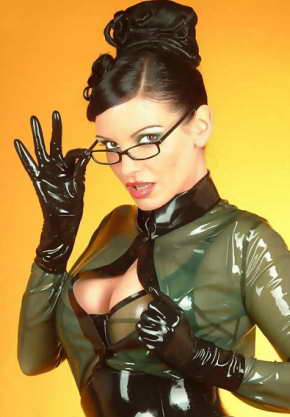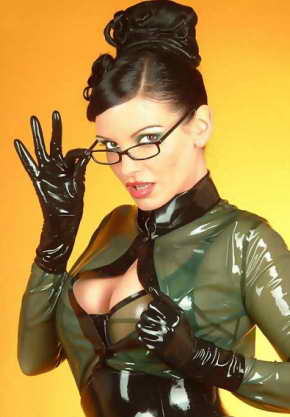 Carmen Rivera, a Mistress and Fetish-SM-performer
The opening keynote was by Carmen Rivera, a Mistress and Fetish-SM-performer, with a long history in the porn industry business, with an experience of the migration of porn from cinema to VHS and later to the Internet and then onto the porntubes. In conversation with Gaia Novati, a net activist and indie porn researcher, Carmen tells us her personal and professional story and immediately gives a better understanding on how porntubes – such as Redtube, X-Hamster or Youporn – have an ambiguous influence in the porn industry. Once perceived as a democratic tool allowing small porn producers to expand their radius of audience-reach, Rivera explains how much of a perverse tool of exploitation it has become and one that small producers have become too dependent on.
The fast pace of the Internet creates a lot of pressure to satisfy the hunger of porn consumers. As has become virtually infinite "fast-porn" is closely aligned with the capitalist paradigm of production, putting a bigger focus on quantity rather than quality. As the Internet leaves no space for durability — one day you're in, the next day you're out — careers become frail, the work of these companies are highly precarious and the concept of the "porn-star" is a short lived mirage.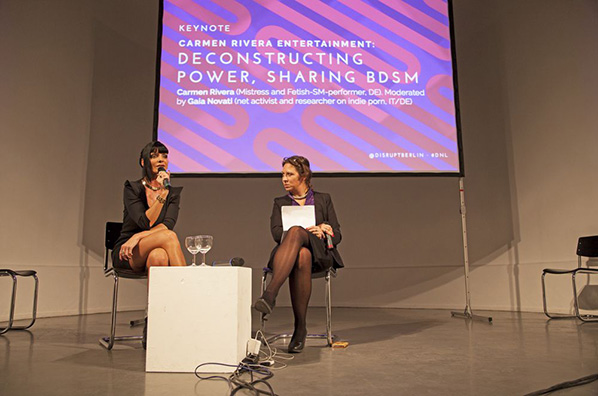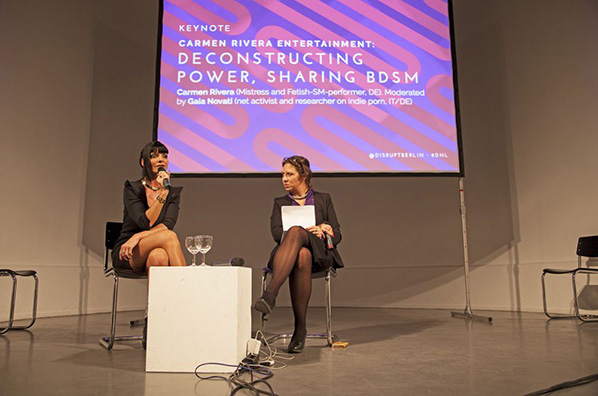 Carmen Rivera and Gaia Novati. Image by Maria Silvano.
Rivera also highlights how online piracy has become virtually unavoidable resulting in gigantic losses to the porn industry. As producers see their films ending up on porntubes free of access, lawsuits don't come as a viable solution but as financial black holes for any small or even medium companies. Even though the future doesn't seem bright, Rivera doesn't quit. Her battle cry: we need to create a bigger awareness of the pestilent system that controls the online porn industry. New tools of disruption need to be found to fight against these new power asymmetries established through the domination of cybernetic capital.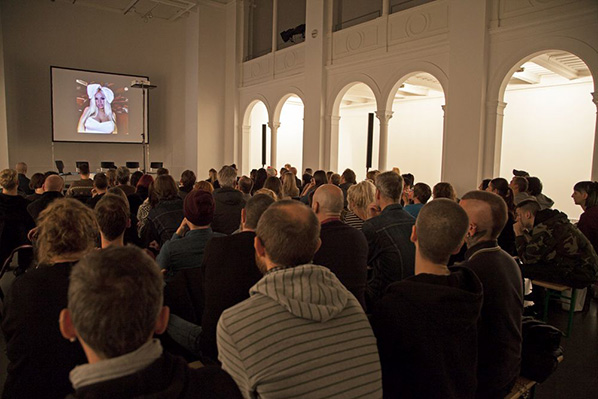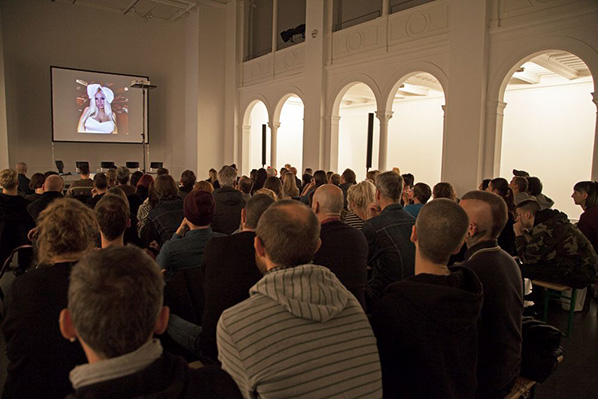 Image by Maria Silvano.
PIGGY BANK GIRLS
After the keynote, the discussion shifted to examining new tools of online sex work such as the project PiggyBankGirls, self-proclaimed as the first erotic crowdfunding for girls. Unfortunately, Sascha Schoonen, CEO of the project, wasn't able to attend. Instead a short promo video was presented introducing the project, giving some tongue-in-cheek examples on how girls could profit from this crowdsourcing tool.
Women upload videos pitching their ideas or projects – financing a shelter for stray animals, the payment of tuition fees, a trip to Japan, – and then share online porn performances in exchange for support from "occasional sugar daddies". Although one wonders if this isn't just a euphemism – a sanitised version, let's say – of already existing tools used by women who need money, regardless of them making public how they intend to spend money Nevertheless, it is true that the actual exploitative system needs to be dismantled, workers should be getting a bigger share for their labour and PiggyBankGirls poses as one more tool to do so, however this project also left many unanswered questions. Who are actually the women who can profit out of it? PiggyBankGirls promo tries to make this form of sex labour sound "cute", easy and accessible. However, is just another tool for established porn actresses to diversify their means of income?
TALK
The panel, moderated by Francesco Warbear Macarone Palmieri, socio-antrophologist and geographer of sexualities, included abstracts showing a wide array of perspectives on the issue of porntubes and online sex work. The researcher Nishant Shah opened the panel with a wonderful talk ranging from porn consumerism to porn politics and how porn is influencing our digital identities. In a porn-consuming society, from establishing clear distinctions between "love" and "porn", respectively meaningful and perverse, desirable and visceral desire, porn seems to be contingent on the morals of the spectator – as it only exists through the spectator it has also become a tool of puritan regulation. From Facebook teams of censorship and sanitisation of the virtual space to websites such as isitporn.com it is possible to understand that the concept of porn becomes itself a regulator of our sexual expressions, defining the line that separates decency from indecency. Paving the way to the pathologization of porn practices but yet dictating the meaning of authentic sexual performances, as the only visceral forms of sexual performances available, Shah pointed out how pornography, as a cultural and digital artefact, works in the regulation of our societies and in the production of our identities. Giving the example of Amanda Todd, who committed suicide after suffering from bullying for exposing her sexual body online, Shah shows how new forms of "porn" take place in the digital, from doxxing to unintended porn being perceived as such, enabling new forms of violence – let's say porn-shaming.
Also focusing on porn consumerism, Roy Klabin, investigative documentarist/filmmaker, goes back to the discussion initiated with Carmen Rivera on porntubes VS porn producers and how producers make money. According to Roy, MindGeek, the company that owns most of the porntubes – from Youporn to Redtube – has been one of the main entities responsible of the destruction of the porn industry. By creating piracy websites holding gigantic libraries of free access to porn and making revenue out of the advertisement, resulting in huge losses for the porn companies which at the same time had become dependent on the tubes to advertise their work. Roy makes an appeal to porn producers to diversify their strategies: from webcams to virtual reality, the porn industry needs to be one step ahead of the contemporary systems of digital exploitation.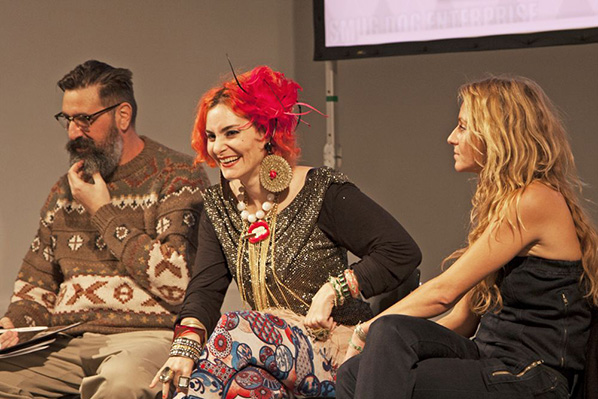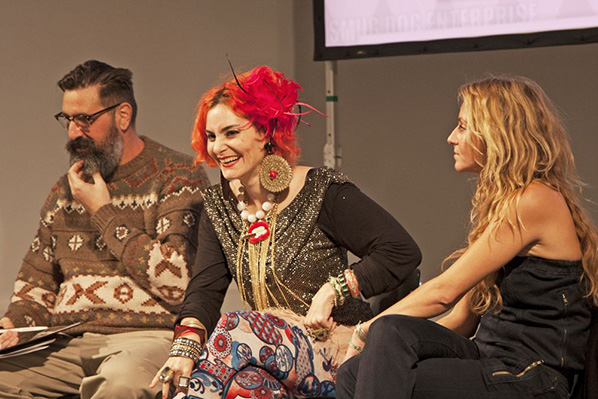 Francesco Warbear Macarone Palmieri, Liad Kantorowicz, MG Macioti. Image by Maria Silvano.
PG Macioti, a researcher and sex workers rights advocate and activist, together with Liad Kantorowicz, performer and sex workers' activist, presented an overview on how the Internet has reshaped sex work – from sustainability to work conditions – listing some of the outcomes, pros and cons, of the extension of sex work to the virtual spaces. Online sex work, namely erotic webcam work, has enabled a proliferation of sex work by offering safe, independent and anonymous services. On the other hand with the insertion of sex work on the capitalist mode of production, just like in many other forms of digital labour it has rendered a bigger alienation to the workers – who work mainly alone and, also due to stigma, don't share any contact with fellow colleagues – resulting in a more and more precarious labour, with sex workers being paid by minute, having to pay for their own means of production and usually paying a big share of their income to the middleman webcam services host agency.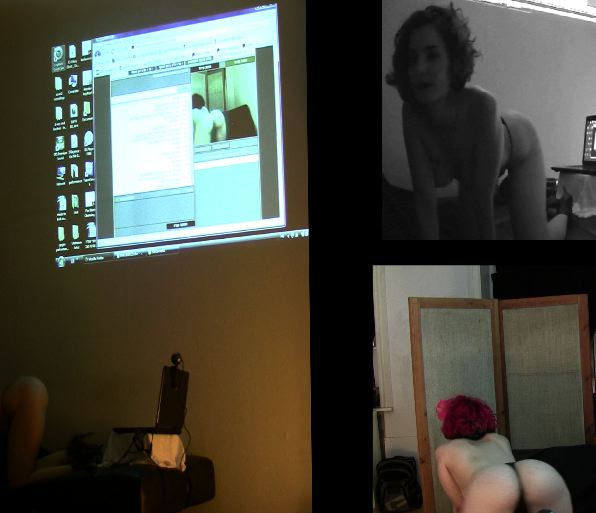 Liad Kantorowicz – Image from video of the live performance WATCH ME WORK
Overall, the Internet has enabled a multiplication of narratives on sex work but the power asymmetries between the online corporations and workers results in a growing exploitation and precariousness. The transversal message to all participants seems to urge for disruptive tools for online sex work, tools of self-empowerment and emancipation within the digital paradigm. Quoting the Xenofeminism manifesto by Laboria Cubonics, "the real emancipatory potential of technology remains unrealised" and the Disruption Network Lab might be the much needed spark for this revolution.
PARTY & STUNTS
The PORNTUBES event couldn't have had a better ending with a party held in the legendary KitKatClubnacht, a sex & techno club that is open since 1994, famous for both its music selection and its sexually uninhibited parties. It seems an exciting idea, to say the least, to bring all together researchers, porn entrepreneurs and activists to this incredible venue after an intense afternoon discussing the porntubes.
Concluding the series of conference events of Disruption Network Labs during 2015, the next event will be STUNTS: Distributed, Playful and Disrupted, taking place on the 12th of December, at the Studio 1 of Kunstquartier Bethanien, and the direct link is: http://www.disruptionlab.org/stunts/. This time the discussion will focus on political stunts as an imaginative and artistic practice, combining hacking and disruption in order to generate criticism of the status quo. As the immense dragnet of state-surveillance extends it becomes imperative to understand which are the available tools of obfuscation, how it is (still) possible to hack the system and which tools of political resistance can be deployed Disruption Network Lab wraps the year with a tempting offer, inviting artists, hackers, mythmakers, hoaxers, critical thinkers and disrupters to present practices of mixing the codes, creating disturbance, subliminal interventions, giving raise to paradoxes, fakes and pranks.