LIVE LINK HERE

In collaboration with Annie Abrahams and Emmanuel Guez, Furtherfield presents two new ReadingClub sessions based on excerpts from McKenzie Wark's A Hacker Manifesto [version 4.0] and the ARPANET dialogues.
ReadingClub proposes a text and an interpretive arena to 4 readers. These readers write together their reading of a text inside the text itself. The audience sees an evolving, cinematographic picture of thoughts and collaborative writing in the making.
Join the performance online at readingclub.fr and use the chat window to exchange, discuss and comment on the performance.
Event Schedule
---
Monday 21 October 2013, 8pm London Time – A Hacker Manifesto [version 4.0]
Online performance session based on an excerpt from A Hacker Manifesto [version 4.0] by McKenzie Wark – with Aileen Derieg, Cornelia Sollfrank, Dmytri Kleiner and Marc Garrett.
Drawing in equal measure on Guy Debord and Gilles Deleuze, A Hacker Manifesto offers a systematic restatement of Marxist thought for the age of cyberspace and globalization. In the widespread revolt against commodified information, McKenzie Wark sees a utopian promise, beyond the property form, and a new progressive class, the hacker class, who voice a shared interest in a new information commons.
Tuesday 22 October 2013, 8pm London Time – The ARPANET dialogues
Online performance session based on an excerpt of the ARPANET dialogues from 1975-1976 – with Alessandro Ludovico, Jennifer Chan, Lanfranco Aceti and Ruth Catlow.
The ARPANET dialogues is an archive of rare conversations within the contemporary social, political and cultural milieu convened between 1975 and 1979 that were conducted via an instant messaging application networked by computers plugged into ARPANET, the United States Department of Defense's experimental computer network. All participants in the conversation were given special access to terminals connected to ARPANET, many of them located in US military installations or DOD-sponsored research institutions around the world.
What was originally thought to be a historic moment, when figures from within and without the established art canon first encountered the disruptive effects of digital network communications, turned out to be an ongoing research project by Bassam El Baroni, Jeremy Beaudry and Nav Haq.
Further reading:
"This pre-Internet chatroom conversation between Jim Henson, Ayn Rand, Yoko Ono and Sidney Nolan is fake. But it's amazing" – Robert Gonzalez in io9, December 2012.
"Ronald Reagan has joined the chatroom" – Interview by Richard Fischer, CultureLab with Jeremy Beaudry, one of the artists behind the project, April 2011.
About the Project
---
The ReadingClub is a project by Annie Abrahams and Emmanuel Guez, inspired by Brad Troemel's Reading Group and the Department of Reading by Sönke Hallman.
The project is supported by Dicréam.
+ More information about ReadingClub
Richard Stallman[1] the outspoken promoter for the Free Software movement, hates Facebook with a passion. He proposes that we should all leave Facebook and either find or build our own alternatives. The evidence offered by Stallman's and the Electronic Frontier Foundation's (EFF), who have been fighting for Internet freedoms since the 90s [2] shows how necessary it is that we understand and are more pro-active in managing the personal data that we give away through our online activities.
When we subscribe to Web 2.0 platforms such as Facebook we are at the mercy of the data brokers. These companies trade in people's personal data; information which is aggregated by monitoring user actions and interactions across social media. This information can include "names, addresses, phone numbers, details of shopping habits, and personal data such as whether someone owns cats or is divorced."[3] Fast moving developments in social media, make it difficult to keep up with the effects and consequences of these platforms. This is why the work of groups such as Commodify Inc. is so valuable. They bring imaginative and critical attention to the situation, sharing their knowledge of these daily networked complexities and correcting what they see as its negative effects.
Commodify Inc. is an artist-run Internet startup producing projects to help individuals capitalize on their online monetary potential. Their intention is to correct the imbalance of power in markets where users have no control over the transactions made with their personal data. They have completed various artistic projects and interventions on social media like, Fame Game, Give Me My Data, and Web 2.0 Suicide Machine. The co-founders are Birgit Bachler, Walter Langelaar, Owen Mundy, Tim Schwartz, with additional contributors Joelle Dietrick and Steven Alvarado.
Their new project Commodify.Us, was initiated when Owen Mundy and Tim Schwartz were invited by moddr_ to a residency in their lab in the summer of 2012 – when they were still a part of the WORM collective in Rotterdam. They worked on an initial idea that would succeed previous experiences of their already well-known and respected projects.
Commodify.Us is currently in beta phase. It promises to provide a platform for people to regain control over the commercial exploitation of their own personal data.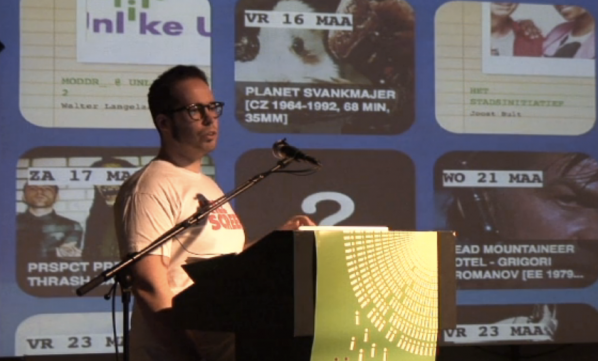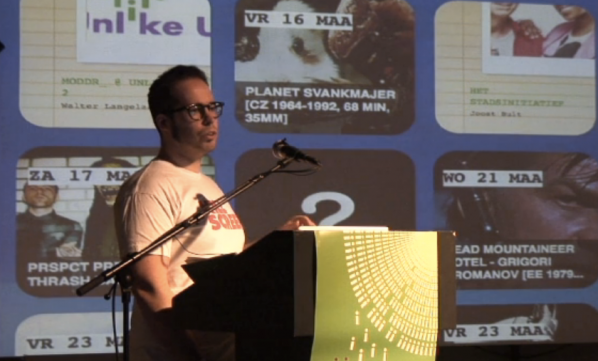 Intrigued by this project I contacted one of the co-founders, Walter Langelaar via email and asked him a few questions about this new platform.
Marc Garrett: Commodify.Us is for people to have greater control over their data. And it works when users export their data from social media websites and upload it to your platform. How will these users gain more control over their data and why is this important?
Walter Langelaar: Commodify.Us provides a platform for you to regain control over the commercial exploitation of your personal data. After exporting your profile data from social media websites and uploading the data to Commodify.Us, you can directly get in contact with interested buyers. On the importance for users I would say that it's part raising awareness surrounding the monetization of profile data, and part creating a platform where people might work out and discuss how to do this themselves.
MG: It proposes to re-imagine the potential of relational data, creating a casting agency for virtual personas. I'm wondering what this may look like?
WL: We were too. In an early stage of the project we played with the idea that peoples' various profiles could function like that within an agency; a client would ask for a specific set of qualities and/or characteristics within a set of profiles, and we could provide for this based on the uploads and their licensing options as set by the user. In the end we abandoned this idea for clarity.
MG: Commodify.Us offers people the opportunity to be part of an economy where interested buyers will pay to use the data supplied, unlike existing social media websites. How does this work?
WL: We are gearing up for a launch where the main goal will be to get a critical mass of around, a 1000 profiles. We anticipate that only with this kind of mass or volume will our initiative take hold with the potential buyers we have in mind, and the same goes for the more creative projects that could use the (open) data. Regarding the open profile data and otherwise licensed profiles that allow for reuse, we are researching the idea of 'Fair Data' (as in Fair Trade) and how to implement this as a profitable protocol for the end-user.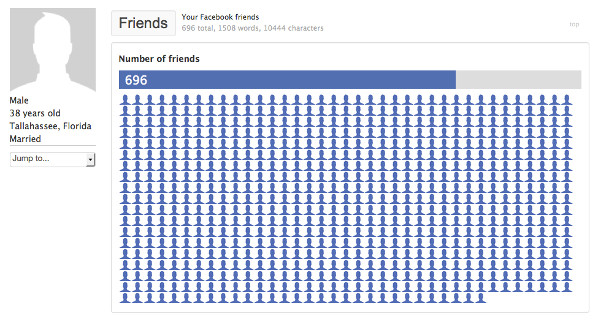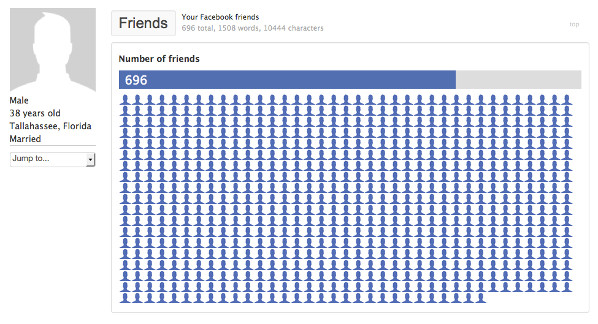 "Net activists construct tools whose intervention potential can be initiated by users under net conditions. These tools enable activists to develop new strategies in the data space of the Internet because they offer new means: New means afford new ends."[4] (Dreher)
In his publication Networks Without a Cause: A Critique of Social Media, Geert Lovink lays down the gauntlet and asks us to "collectively unleash our critical capacities to influence technology design and workspaces, otherwise we will disappear into the cloud." Anna Munster opens her excellent survey, Data Undermining: The Work of Networked Art in an Age of Imperceptibility, by saying "The more data multiplies both quantitatively and qualitatively, the more it requires something more than just visualisation. It also needs to be managed, regulated and interpreted into patterns that are comprehensible to humans."[5] Commodify.Us goes one step further by allowing users to manage, regulate, repattern and reappropriate their own data using tools that share an essential functionality (if not purpose) with the power tools of Web 2.0.
Those previously seen as rebellious hacktivists are moving into new territories that deal with concepts of service. There has been a significant rise of artists exploring technology to influence mass Internet activity, against the domination of corporations who are data mining and tracking our on-line activities. Another example is TrackMeNot developed by Daniel Howe and Helen Nissenbaum. This is an extension created for the Firefox browser. "It hides users' actual search trails in a cloud of 'ghost' queries, significantly increasing the difficulty of aggregating such data into accurate or identifying user profiles."[6]
Howe and Nissenbaum mention they are aware their venture is not an immediate solution. However, the more we hear of and join these imaginative strategies "whereby individuals resist surveillance by taking advantage of blind spots inherent in large-scale systems" [7], and the more we adapt our behaviours to adopt these new 'activist' services, the more we demonstrate the demand for these new alternatives. And by so doing, we argue for the value of services that we can trust not to steal or manipulate our social contexts for financial and political gain.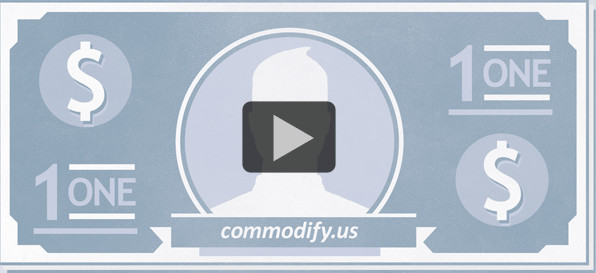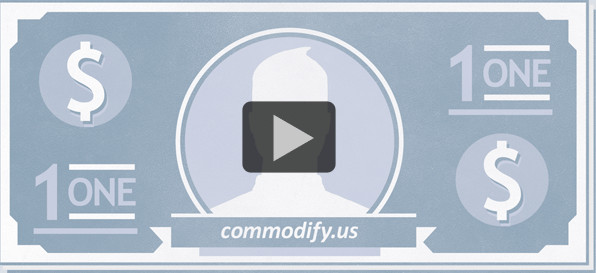 A significant value offered by the Commodify.Us platform is the power to manage our own data. The simple act of downloading our own data from Facebook, and then uploading it to Commodify.Us supports us to rethink what all this information is. What once was just abstract data suddenly becomes material that we can manipulate. Alongside this realization arrives the understanding that this material was made by our interactions with all these platforms, and that other people are spying on us and making money out of it all. Once this data material is uploaded onto the Commodify.Us platform, it asks if we want this stuff to be a product under our own terms, or if we wish to make art out of it using their tools.
This is a cultural shift that demonstrates how contemporary Hacktivists are developing software that promises to offer realistic service infrastrucutures. When I interviewed Charlie Gere in 2012[8] he said that these artists "are not part of the restricted economy of exchange, profit, and return that is at the heart of capitalism, and to which everything else ends up being subordinated and subsumed. Thus they find an enclave away from total subsumption not outside of the market, but at its technical core." For me, this kind of work is of central importance to the contemporary era, and it only occurs where artists cross over into territories where their knowledge of networks directly contributes to the building of alternative structures of social independence.
Shu Lea Cheang
Germinate! Broadcast! Trade! Track!
In conjunction with Shu Lea Cheang and Mark Amerika exhibition, Furtherfield is pleased to host Shu Lea Cheang's Seeds Underground Party.
In certain parts of the world, the vast farmlands have been colonised by genetically modified crops for our staple foods (i.e. wheat, soybeans, corns). Introduced 30 years ago, the transgenic biotechnology has since been commercialised by the patent-protected corporate sectors. Taking over the wholesale markets, the Herbicide-tolerant and pest-resistant seeds promise higher yields and profits without much ecological concerns. This year, the European Union is about to adopt a new seed policy, which favours the seed industry corporations by making all seeds subject to strict regulation. It is feared that this will hurt organic varieties and prevent seed exchange by seed farmers and savers.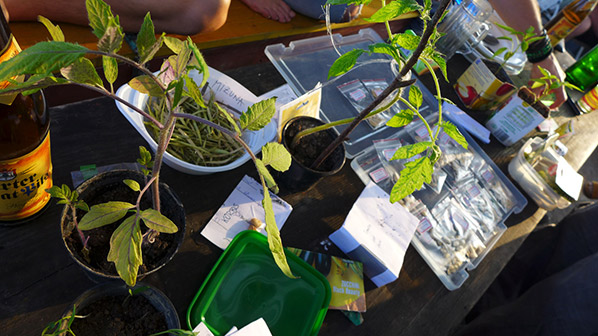 Join us for a seed exchange party where packets of seeds change hands and go underground in the fields around Finsbury Park and beyond.
Bring your self-harvested homegrown seeds of sorts! Sign on to trade seeds, to adopt and germinate, to broadcast and track their distribution. Share some food, drinks and seeds stories while we celebrate the harvest season together in the relaxing setting of Finsbury Park.
+ To join Seeds Underground Party, and trade and track your seeds, please register on http://seedsunderground.net
Click on TRADE and select Furtherfield, London from the "join a seeds underground party" pull down menu.
ABOUT THE PROJECT
Seeds Underground holds seed exchange parties where packets of seeds change hands and go underground in the fields across nation borders.
+ More information:
now@seedsunderground.net
www.seedsunderground.net

LOCATION
Furtherfield Gallery
McKenzie Pavilion, Finsbury Park
London N4 2NQ
T: +44 (0)20 8802 2827
E: info@furtherfield.org
Furtherfield Gallery is supported by Haringey Council and Arts Council England
Opening Event: Seeds Underground Party – Sat 31 August, 2-5pm
Contact: info@furtherfield.org
Visiting Information
ABOUT THE EXHIBITION
ABOUT THE ARTWORKS
ABOUT THE ARTISTS
EVENT: SEEDS UNDERGROUND PARTY
TALK: SHU LEA CHEANG – ART, QUEER TECHNOLOGIES AND SOCIAL INTERFERENCE
LOCATION
SEE IMAGES FROM THE PRIVATE VIEW
WATCH VIDEO OF THE OPENING
ABOUT THE EXHIBITION
---
This exhibition by Mark Amerika (US) and Shu Lea Cheang (US/FR) at Furtherfield Gallery marks a significant moment for contemporary art. Amerika and Cheang are both 'net native' artists. They share many of the obsessions of the growing multitude of artists who have grown up with the net since the early 1990s.
They are also big "names" – internationally established artists who regularly show their work, to critical acclaim, at contemporary art galleries around the world. They have crossed over into the mainstream art world whilst maintaining a critical edge.
Amerika is a media artist, novelist, and theorist of Internet and remix culture, named a "Time Magazine 100 Innovator" in their continuing series of features on the most influential artists, scientists, entertainers and philosophers into the 21st Century.
Cheang is a multimedia artist who works with net-based installation, social interface and film production. She has been a member of the Paper Tiger Television collective since 1981 and BRANDON, a project exploring issues of gender fusion and techno-body, was an early web-based artwork commissioned by the Guggenheim Museum (NY) in 1998.
Both artists continue to shape and be shaped by contemporary networked media art cultures of remix, glitch, social and environmental encounters.
Shu Lea Cheang and Mark Amerika at Furtherfield Gallery provides a physical interface in a local setting in the heart of a North London park to the thriving, international, networked art scene.
ABOUT THE ARTWORKS
---
The exhibition features Cheang's UKI viral love installation and Composting the Net. These are shown alongside pieces from The Museum of Glitch Aesthetics (MOGA), Amerika's latest work in his collaborative series of transmedia narratives.
UKI viral love (2009 – ongoing) – Shu Lea Cheang
The exhibition features large stills from two performance installations. UKI viral love is the sequel to Cheang's acclaimed cyberpunk movie I.K.U. (premiered at Sundance Film Festival, 2000) conceived in two parts – a viral performance and a viral game. The story is about coders dispatched by the Internet porn enterprise, GENOM Corp, to collect human orgasm data for mobile phone plug-ins and consumption. In a post-net crash era they become data deprived and these coders are suddenly dumped into an e-trashscape environment where coders, twitters, networkers are forced to scavenge from techno-waste.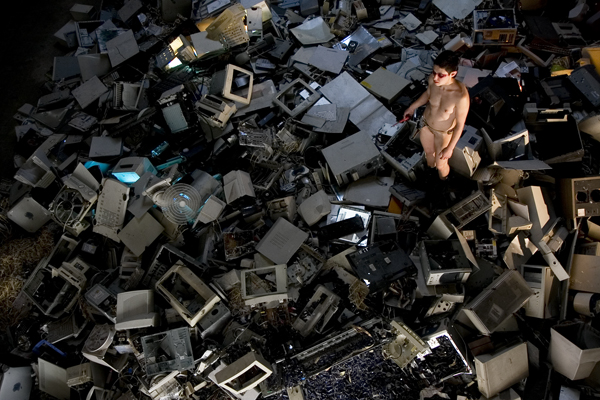 In 2009, Cheang moved into the art studio at Barcelona's Hangar medialab with 4 tons of E-trash, collected in Barcelona's city recycling plant in one day. Amidst the rubble of wires, cables, boards, keyboards and computers, along with the coders and the hackers, UKI the defunct replicants are part of the e-trashscape seeking parts and codes to resurrect themselves.
UKI viral love is developed with collaborations and residencies at HangarBCN [artistas residentes] (Barcelona, Spain), Medialab Prado [Playlab] & [Desvisulizar] (Madrid, Spain) and, LABoral Centro de Arte y Creación Industrial [Plataforma Cero] (Gijón, Spain). The work presented at Furtherfield Gallery is the first physical installation of UKI in a gallery setting.
Composting The Net (2012) – Shu Lea Cheang
Composting the Net sources Internet net cultures' accumulated data. It appropriates open (un)moderated mailing list communities, used for collaboration, sharing information and dialogue, and reprocesses the information into a virtual compost. For this exhibition Cheang composts the Spectre mailing list, a channel for practical information and exchange for media art and culture in "Deep Europe", initiated in August 2001. The abundant info-data is reused and given extra life – an artistic legacy beyond its original purpose. It is also a celebration of the independent spirit of net culture that exists outside of corporate dominated Web 2.0 platforms such as Facebook.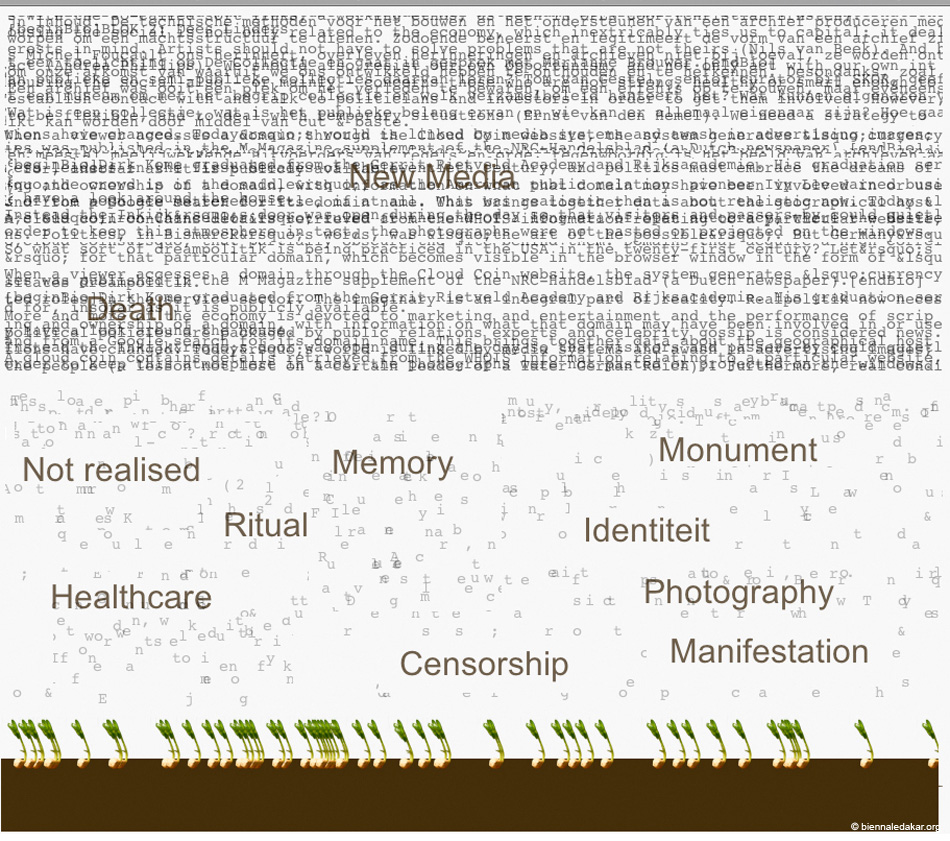 The Museum of Glitch Aesthetics – MOGA (2012) – Mark Amerika

Amerika's The Museum of Glitch Aesthetics (MOGA) features the work of The Artist 2.0, an online persona whose personal mythology and body of digital artworks are rapidly being canonized into the annals of art history. The narrative traces the life of the artist and his ongoing commitment to a practice of 'glitch aesthetics'. MOGA features a wide array of artworks intentionally corrupted by technological processes, including net art, digital video art, digitally manipulated still images, game design, stand-up comedy, sound art, and electronic literature.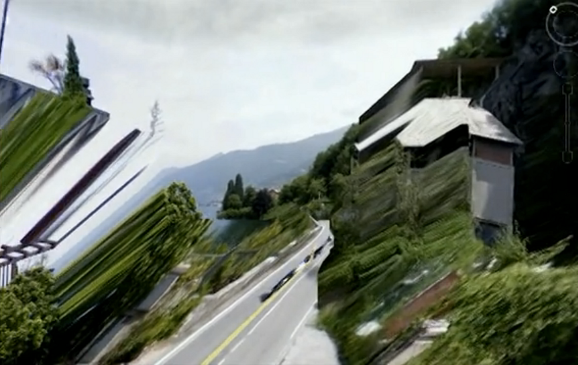 Featured in the Furtherfield Gallery exhibition are three works from the MOGA series: Lake Como Remix, The Comedy of Errors and 8-Bit Heaven.
Museum of Glitch Aesthetics was commissioned by Abandon Normal Devices for the 2012 AND Festival.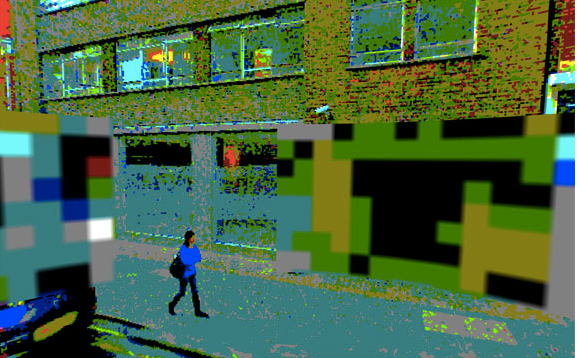 ---
EVENT: Seeds Underground Party
In conjunction with Shu Lea Cheang and Mark Amerika exhibition opening, Furtherfield is pleased to host Shu Lea Cheang's Seeds Underground Party on Saturday 31 August, 2-5pm. Join us for a seed exchange party where packets of seeds change hands and go underground in the fields around Finsbury Park.
+ More information about the Seeds Underground Party.
TALK: SHU LEA CHEANG – ART, QUEER TECHNOLOGIES AND SOCIAL INTERFERENCE
To coincide with the exhibition, on Monday 02 September The White Building hosts a special talk by Shu Lea Cheang who will be in conversation with curator and writer Omar Kholeif.
---
+ More information about the Event.
ABOUT THE ARTISTS
Mark Amerika
Mark Amerika's work has been exhibited internationally at venues such as the Whitney Biennial of American Art, the Denver Art Museum, the Institute of Contemporary Arts in London, and the Walker Art Center. In 2009-2010, The National Museum of Contemporary Art in Athens, Greece, hosted Amerika's comprehensive retrospective exhibition entitled UNREALTIME. He is the author of many books including remixthebook (University of Minnesota Press, 2011) and his collection of artist writings entitled META/DATA: A Digital Poetics (The MIT Press, 2007). Amerika is a Professor of Art and Art History at the University of Colorado at Boulder and Principal Research Fellow in the Faculty of Humanities and Social Science at La Trobe University.

Shu Lea Cheang
As an artist, conceptualist, filmmaker, networker, Shu Lea Cheang (USA/France) constructs networked installation and multi-player performance in participatory impromptu mode. She drafts sci-fi narratives in her film scenario and artwork imagination. She builds social interface and open network that permits public participation. Engaged in media activism with transgressive plots for two decades (the 80s and 90s) in New York City, Cheang concluded her NYC period with the first Guggenheim Museum web art commission/collection BRANDON (1998-1999). Cheang has expanded her cross-genre-gender borderhack performative works since relocating in Eurozone in 2000. Currently situated in post-net BioNet zone, Cheang is composting the city, the net while mutating virus and hosting seeds underground parties.
LOCATION
---
Furtherfield Gallery
McKenzie Pavilion, Finsbury Park
London N4 2NQ
T: +44 (0)20 8802 2827
E: info@furtherfield.org
Furtherfield Gallery is supported by Haringey Council and Arts Council England.
This exhibition is sponsored by Rowans Tenpin Bowl, Carroll/Fletcher and Arts Catalyst.
VIDEO
Alma Alloro, Melissa Barron, Nick Briz, Benjamin Gaulon, José Irion Neto, Antonio Roberts and Ant Scott
Curated by Rosa Menkman & Furtherfield.
Opening Event: Saturday 8 June 2013, 2-5pm
with Glitch Performance by Antonio Roberts at 3pm
Open Friday to Sunday 11-5pmContact: info@furtherfield.org
DOWNLOAD PRESS RELEASE
IMAGES OF THE OPENING ON FLICKR
READ Glitch as a Symbolic Art Form BY ROB MYERS
WATCH VIDEO OF THE OPENING
"The glitch makes the computer itself suddenly appear unconventionally deep, in contrast to the more banal, predictable surface-level behaviours of 'normal' machines and systems. In this way, glitches announce a crazy and dangerous kind of moment(um) instantiated and dictated by the machine itself." Rosa Menkman [1]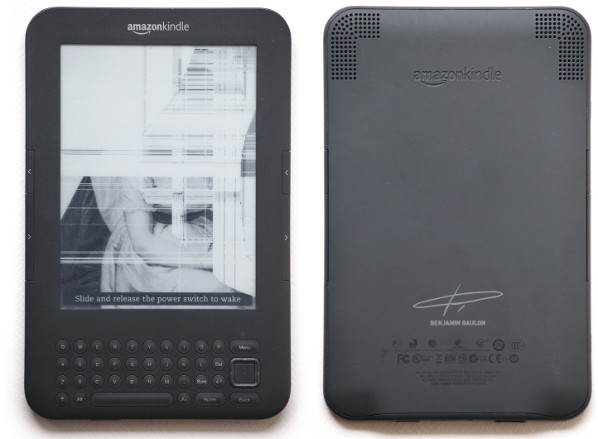 Glitches are commonly understood as malfunctions, bugs or sudden disruptions to the normal running of machine hardware and computer networks. Artists have been tweaking these technologies to deliberately produce glitches that generate new meanings and forms. The high-speed networks of creation and distribution across the Internet have provided the perfect compost to feed this international craze. The exhibition shows various approaches by artists hacking familiar hardware and their devices which include mobile phones, and kindles. They disrupt both the softwares and the digital artefacts produced by these softwares, whether it be in the form of video, sound and woven glitch textiles.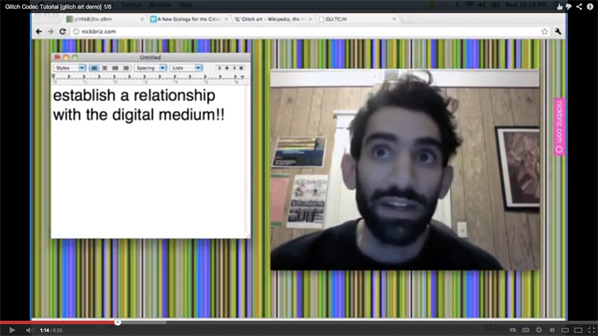 Glitch art subverts the way in which we are supposed to relate to technology, causing playful, imaginative disruptions. It is a low-tech and dirty media approach with a punk attitude. These artists appropriate the medium and forge expressions that go beyond what the mainstream art world expects artists to do, it is unstoppable – it is Glitch Moment/ums.
Copies of Rosa Menkman's groundbreaking Glitch Art critique The Glitch Moment(um) will be available for purchase during the exhibition.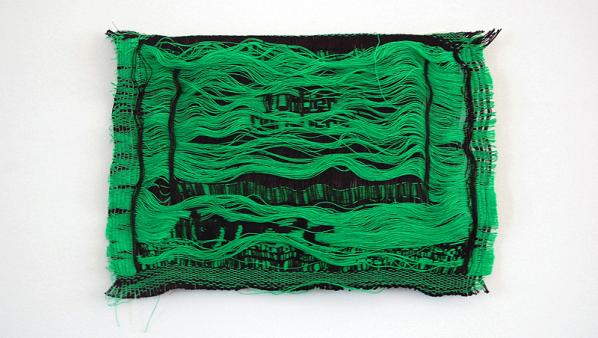 Exhibited Works
Empty Spinning Circle become Full (part b) (2012) from the Further Abstract series by Alma Alloro
One Square in colors (2012) from the Further Abstract series by Alma Alloro
untitled [screencaptures] (2010) by Melissa Barron
The Glitch Codec Tutorial by Nick Briz
KindleGlitched (2012) by Benjamin Gaulon
Thoreau Glitch Portrait (2011) by José Irion Neto
Copyright Atrophy (2013) by Antonio Roberts
What Revolution? (2011) by Antonio Roberts
Beyond Yes and No (2013) by Ant Scott
Glitch Art 0P3NR3P0.NET Open Call
Glitch artists and enthusiasts are invited to add their work to GLI.TC/H 0p3nr3p0.net, a Glitch Art repository coded by and developed by Joseph 'Yølk' Chiocchi & Nick Briz. The submissions will be showcased during Glitch Moment/ums at Furtherfield Gallery. To include your work in the 0P3NR3P0 component of Glitch Moment/ums submit a link to any visually wwweb based file (html, jpg, gif, youtube, vimeo, etc.) and your piece will automatically be included in the line-up (one work per artist).
This new IRL exhibition has been organised in collaboration with Nick Briz and Joseph 'Yølk' Chiocchi.
SUBMIT && SHOW on 0P3NR3P0.NET.

About the Artists
Alma Alloro
Alma Alloro (IL) is an artist, musician and performer from Tel Aviv. She is rooted in the backyard of popular culture using diversified media from drawing, installation, music, and animation to internet; her recent works focus on the correlation between old media and new media.
Melissa Barron
Melissa Barron is an artist living and working in Minneapolis, Minnesota. She studied at the School of the Art Institute of Chicago where she focused on new media and fiber. In her work she combines these two fields by reinterpreting hacked Apple 2 software through different fiber techniques. Her work has been shown at various international events, including the Notacon hack festival in Cleveland, Ohio, GLI.TC/H in Chicago and ISEA 2011 in Instabul.
Nick Briz
Nick Briz is a newmedia artist, educator and organiser based in Chicago IL. His work has been shown internationally at festivals and institutions, including the FILE Media Arts Festival (Rio de Janeiro, BR); Miami Art Basel; the Images Festival (Toronto, CA) and the Museum of Moving Image (NYC). He has lectured and organized events at numerous institutions including STEIM (Amsterdam, NL), the Museum of Contemporary Art Chicago, Marwen Foundation and the School of the Art Institute of Chicago. His work is distributed through Video Out Distribution (Vancouver, CA) as well as openly and freely on the web.
Benjamin Gaulon
Benjamin Gaulon is an artist, researcher and art college lecturer. He has previously released work under the name "Recyclism". His research focuses on the limits and failures of information and communication technologies; planned obsolescence, consumerism and disposable society; ownership and privacy; through the exploration of détournement, hacking and recycling. His projects can be softwares, installations, pieces of hardware, web based projects, interactive works and are, when applicable, open source.
José Irion Neto
José Irion Neto is native of Santa Maria, in southern Brazil. His first contact with computers was in 1982 using a machine equivalent to Sinclair ZX Spectrum. He has an academic background in Media Advertising and worked for some years as a Graphic Designer. Today, he has been working with advertising only occasionally, focusing on creating posters, dedicating most of his time on developing Glitch Art. He has worked and researched Glitch since 2008.
Antonio Roberts
Antonio Roberts is a British digital artist whose artwork focuses on the errors and glitches generated by digital technology. Many people would simply discard such artefacts but Antonio preserves these errors and displays them as art. With his roots in free culture he develops his techniques using open source and freely available software and shares his knowledge through the development of software.
Ant Scott
Ant Scott (UK) is a glitch artist and co-author of the first glitch aesthetics coffee table book Glitch: Designing Imperfection (New York: MBP, 2009). His work is informed by cognitive distortions.
Rosa Menkman
Rosa Menkman is a Dutch visualist who focuses on visual artifacts created by accidents in digital media. The visuals she makes are the result of glitches, compressions, feedback and other forms of noise. By combining both her practical as well as an academic background, she merges her abstract pieces within a grand theory artifacts (a glitch studies), in which she strives for new forms of conceptual synthesis of the two. In 2011 Rosa wrote Glitch Moment/um, a notebook on the exploitation and popularization of glitch artifacts (published by the Institute of Network Cultures), organized the GLI.TC/H festivals in both Chicago and Amsterdam and co-curated the Aesthetics Symposium of Transmediale 2012.
Location
Furtherfield Gallery
McKenzie Pavilion, Finsbury Park
London N4 2NQ
T: +44 (0)20 8802 2827
E: info@furtherfield.org
Furtherfield Gallery is supported by Haringey Council and Arts Council England
Bureau of Inverse Technology, Lawrence Bird, Patrick Lichty, Dave Miller & Gavin Stewart, The Force of Freedom and Dave Young
MOVABLE BORDERS: THE REPOSITION MATRIX workshop
organised by Dave Young
Saturday 18 May 2013, 1-5pm
BOOKING ESSENTIAL. Please register with Alessandra.
ABOUT THIS EXHIBITION
---
The devices that once populated the creepy dystopian futures of science fiction have broken through into our daily reality.
Drones of dozens of different types are becoming a part of everyday life. They scout our public (and private) spaces, carrying out surveillance or reconnaissance in the service of nation states and as unmanned robotic tools, armed with missiles and bombs, acting in defence of "national security".
According to a European commission document drones will be commonplace in the skies within a decade. There are already many companies building these airborne, robotic spies for military and police use and this has "prompted concerns from civil liberties groups, who fear that the unmanned aircraft will result in more forms of surveillance." [1]
During the three weeks of Movable Borders: Here Come the Drones! people are invited to view artworks and join a workshop by artists who are contemplating how drones are changing the way we see and relate to each other and the world around us.
Artworks and projects by Bureau of Inverse Technology (US & AU), Lawrence Bird (US), Patrick Lichty (US), Dave Miller & Gavin Stewart (UK), The Force of Freedom (NL) and Dave Young (NL).
ABOUT THE WORKS

---
Bit Plane by Bureau of Inverse Technology (Natalie Jeremijenko and Kate Rich) is an early artistic reflection on the relation between technology and surveillance and, as such it can be seen as a precursor to the emerging DIY surveillance video enabled by the new availability of drones. The bit plane is a radio-controlled model airplane, designed by the Bureau and equipped with a micro-video camera and transmitter. In 1997 it was launched on a series of sorties over the Silicon Valley to capture an aerial rendering. Guided by the live control-view video feed from
the plane, the pilot on the ground was able to steer the unit deep into the glittering heartlands of the Information Age.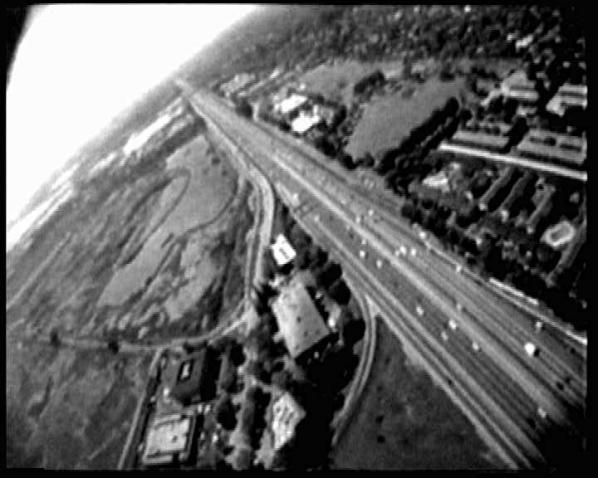 Parallel by Lawrence Bird uses Google Earth to track the 49th parallel, i.e. the prairie border between Canada and the United States. The digital projection invites open interpretations: it is a film about parallel countries; parallel modes of imaging and imagining; parallels between political, technical and visual territories. Obvious digital anomalies in the video, caused by satellite interference, allow for further speculation and imaginative readings.
The Private Life of a Drone by Patrick Lichty is a video travelogue recorded by flying video drones, exploring the area surrounding the Virginia Center for the Creative Arts in Amherst, Virginia (US).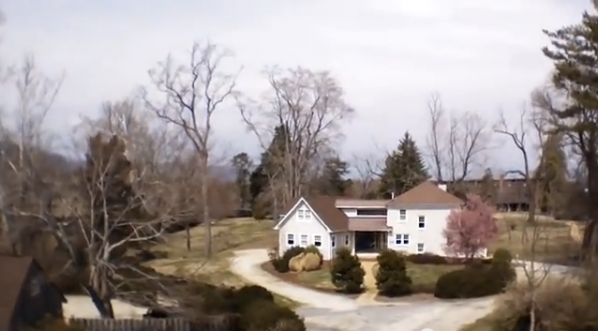 Lines by Dave Miller and Gavin Stewart draws on an emergent cultural interest in drones to explore related issues around privacy, mediation, power, security, morality, legality and others in all aspects of contemporary life. Lines aims to encourage and affect public debate.
TELEWAR is a book and video collaboration between Dave Young and The Force Of Freedom collective. The project tries to make some sense of the uses, effects and developments of the new warfare technologies, like military drones, through the analysis of news reports, military drone culture, drone speak and network theory.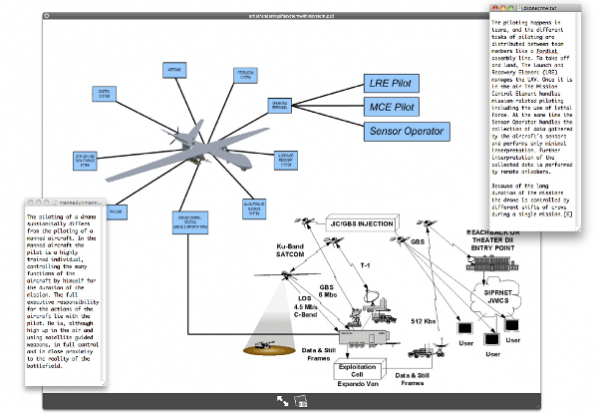 Movable Borders – The Reposition Matrix by Dave Young provides the central installation and information resource of the exhibition.
In a post-national age, where "territorial and political boundaries are increasingly permeable"[2], what has become of the borderline? How is it defined, and what technologies are used to control it?
Movable Borders is an ongoing research project that begins to explore possible answers to these questions through facilitating discussions around the 'reterritorialisation' of the borderline in the information age.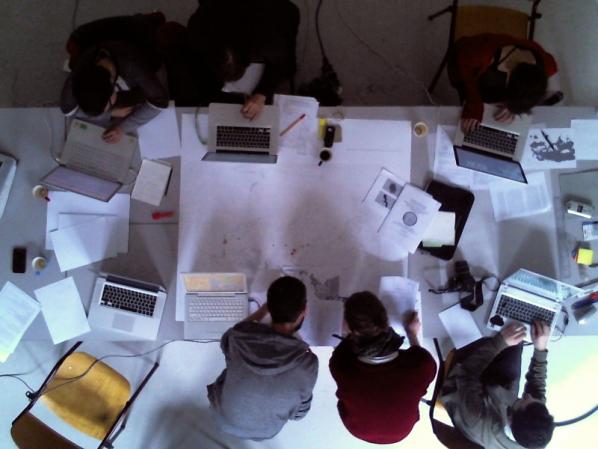 The Reposition Matrix aims to reterritorialise the drone as a physical, industrially-produced technology of war through the creation of an open-access database: a 'reposition matrix' that geopolitically situates the organisations, locations, and trading networks that play a role in the production of military drone technologies.
Alongside the installation Dave Young will be holding a workshop on the subject of drones on Saturday 18 May, 1-5pm – BOOKING ESSENTIAL. More info here.
ABOUT THE ARTISTS

---

Lawrence Bird
Lawrence Bird is a designer, instructor and writer with an interest in cities and their image. He has trained in architecture (B.Arch), social sciences and urban design (MSc), and history and theory of architecture (PhD). He has recently completed the SSHRC-funded postdoctoral project Beyond the Desert of the Real, based in Winnipeg, Canada. The project focused on desolate urban sites, elicited visual narratives from city residents and graduate students of architecture in response to them, experimented with representations of the city based on these narratives, and used these strategies as points of departure for urban design and urban landscape proposals. Lawrence also makes films, and is currently developing a hybrid film and animation project WPG_POV.
Bureau of Inverse Technology
The Bureau of Inverse Technology (aka BIT) is an organisation of artist-engineers whose stated aim is to be an information agency servicing the "Information Age". Bureau engineers are involved from design to deployment and documentation of radical products based on commercially available electronic entertainment components such as cameras, radios, networks, robots, sensors, etc. Though its work has long been publicly available, the composition of the Bureau itself is shrouded in some mystery, for some years cloaking its identity in anonymity. In 2004 the Bureau initiated a "retreat from anonymity" when radio journalist and BIT co-founder Kate Rich took up a three month Research Fellowship at Piet Zwart Institute for Media Design Research, Rotterdam in 2004. Current Bureau products include BIT Radio, Feral Robotic Dogs and the Despondency Index.
Patrick Lichty
is a technologically-based conceptual artist, writer, independent curator, animator for the activist group The Yes Men, and Executive Editor of Intelligent Agent Magazine. He began showing technological media art in 1989, and deals with works and writing that explore the social relations between us and media. Venues in which Lichty has been involved with solo and collaborative works include the Whitney & Turin Biennials, Maribor Triennial, Performa Performance Biennial, Ars Electronica, and the International Symposium on the Electronic Arts (ISEA). Patrick also works extensively with virtual worlds, including Second Life, and his work, both solo and with his performance art group Second Front, has been featured in Flash Art, Eikon Milan and ArtNews. He is also an Assistant Professor of Interactive Arts & Media at Columbia College Chicago, and resides in Baton Rouge, LA.
Dave Miller
Dave Miller is a South London based artist and currently a Research Fellow in Augmented Reality at the University of Bedfordshire. Through his art practice Dave draws out the invisible forces that make life difficult. His work is about caring and being angry as an artist. His art enables him to express feelings about the world, to attempt to explain things in a meaningful, yet subjective way, and make complex information accessible. Recurrent themes in his work are: human stories, injustices, contentious issues and campaigning. Recently he has been very bothered by the financial crisis.
Gavin Stewart
Gavin Stewart is Lecturer in Digital Media at the University of Bedfordshire, poet and writer. He is the current convener of the Interactive Media Group. His research interests are the aesthetics of digital texts and the impact of corporate digital media on our understanding of community. Gavin is course leader in BA Media Production and currently teaches units in Media and Cyberculture and Print, Culture and Technology at MA Level. Gavin is is also the co-organiser of the Playful Paradox mini-festival, the End of Journalism conference and the Under the Mask: Perspective on the Gamer conference series.
The Force Of Freedom
The Force Of Freedom is a Rotterdam based collective founded by Micha Prinsen and Roel Roscam Abbing in 2009. In their work they react critically but playfully to new emerging technologies and developments on the internet.
Dave Young
Dave Young is an artist, musician and researcher currently studying the Networked Media course at the Piet Zwart Institute in Rotterdam (NL). His research deals with the Cold War history of networked culture, exploring the emergence of cybernetic theory as an ideology of the information age and the influence of military technologies on popular culture.
Location
Furtherfield Gallery
McKenzie Pavilion, Finsbury Park
London N4 2NQ
T: +44 (0)20 8802 2827
E: info@furtherfield.org
Furtherfield Gallery is supported by Haringey Council and Arts Council England.
Drake Music launches a making day to inspire the creation of more accessible musical instruments.
On Sunday 21 April Drake Music will run a hackday to create and share new instruments that break down disabling barriers to music making. Run in partnership with Furtherfield and Music Hackspace, makers will have the opportunity to work towards one of two prizes for the most innovative work.
Hacking To Make Music Accessible Day is part of Drake Music's new R&D programme, which aims to:
Increase the number of quality accessible musical instruments available to those facing disabling barriers;
Engage with makers and developers in a spirit of openness for the benefit of the community;
Test and distribute best practice in Assistive Music Technology (AMT).
As of January 2013, there are only 6 widely available solutions for accessible music making. In contrast an orchestra is made up of at least 19 instrument types; rock and pop frequently use 4 or more types; and the instruments used in world, electronic, jazz and folk music add up to a rich and diverse pallet of choice for most aspiring musicians. This disparity needs to be bridged, in particular with the development of more expressive musical instruments for those facing barriers to music making.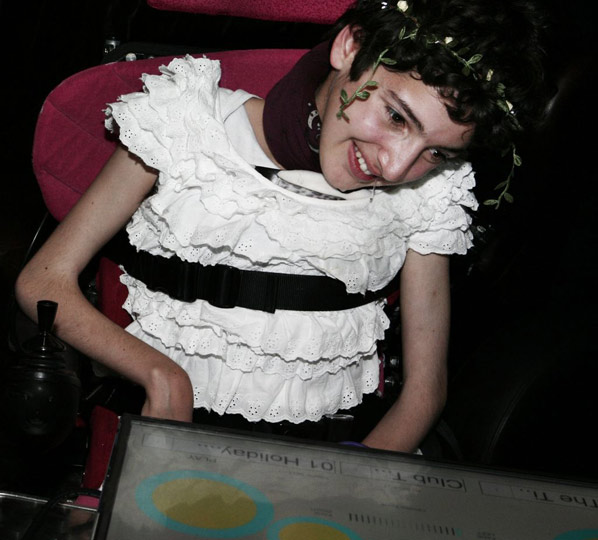 Hacking To Make Music Accessible is developed with and supported by Music Hackspace and Furtherfield. This event is also a precursor to a series of projects and initiatives which will be hosted at the WeShare Lab later this year.
"I have been bowled over by the enthusiasm and seriousness of the hacking community when faced with the question of how we can create and develop new tools to make music making accessible. This event is the first of many, and allows us to collaborate with the widest range of talent in creating the most innovative tools for a sector that desperately needs them. " – Gawain Hewitt
For further information please contact Gawain Hewitt, Drake Music Associate Musician and Associate National Manager – Research and Development.
About Drake Music
Drake Music breaks down disabling barriers to music through innovative approaches to making, learning and teaching music. Now in its 25th year, Drake Music continues to play a pioneering role in the development and imaginative use of Assistive Music Technology (AMT) to make music accessible. Drake Music is the only organisation in England specialising in the use of AMT to break down (physical/societal) barriers to participation.
Our focus is on nurturing creativity through exploring music and technology in imaginative ways. We put quality music making at the heart of everything we do, connecting disabled and non-disabled people locally, nationally and internationally. Drake Music is an Arts Council NPO.
About Music Hackspace
The London Music Hackspace originated as a subgroup of the London Hackspace as a place to share thoughts, knowledge, technologies, processes and aesthetics on music and audio. We foster innovation by gathering skilled professionals and facilitating exchanges between disciplines, from software development to music installations and production. The Music Hackspace organises weekly events, including presentations and talks by artists and musicians, workshops, performances and unexpected collaborations. Music Hackspace are member of London Hackspace.
About WeShare
Drake Music and Furtherfield have come together to create WeShare, a new initiative building on the combined creative assets, specialisms and strengths of both our organisations. In a series of projects in the first phase of WeShare, supported by an organisational development grant from Arts Council England, we tested and piloted new ways of working and collaborating through projects such as Pecha Kucha Beta and Deconstructing Pecha Kucha. This year will see the launch of the WeShare Lab, which will support and host events similar to Hacking to Make Music Accessible.
WeShare has emerged from three years of successful partnership-working between Drake Music and Furtherfield who share a critical and creative engagement with art, music and technology with a focus on participation and collaboration. It aims to amplify the existing quality, reach and value of our organisations' work, finding new ways to share knowledge, ideas, resources and opportunities; creating new ways of producing and sustaining socially engaged art and culture.
Location
Furtherfield Gallery
McKenzie Pavilion, Finsbury Park
London N4 2NQ
T: +44 (0)20 8802 2827
E: info@furtherfield.org
Furtherfield Gallery is supported by Haringey Council and Arts Council England
I met Eugenio Tisselli in Edinburgh at the Remediating the Social conference in November 2012. Eugenio gave a presentation on the project Sauti ya wakulima, "The voice of the farmers": A collaborative knowledge base created by farmers from the Chambezi region of the Bagamoyo District in Tanzania, and "by gathering audiovisual evidence of their practices they use smartphones to publish images and voice recordings on the Internet", documenting and sharing their daily practices.
I was struck by his sensitivity to the social contexts and political questions around this type of project engagement. This interview explores the challenges we all face in connecting to a deeper understanding of what technology can succeed in doing beyond the usual hype of the 'New' and its entwined consumerist diversions. Not only does the conversation highlight how communities can work together in collaborating with technology on their own terms. But, it also discusses the artists' role in the age of climate change and the economic crisis, locally and globally.
Marc Garrett: Can you explain how and why the Sauti ya wakulima, "The voice of the farmers" project came about?
Eugenio Tisselli: Sauti ya wakulima is the fruit of my collaboration in the megafone project, started in 2004 by Catalan artist Antoni Abad. During six years, we worked with different groups at risk of social exclusion, such as disabled people, immigrants or refugees. The idea was to provide these groups with the tools to make their voices heard: smartphones with a special application that made it easy to capture images, sound recordings or short videos, and a web page where these contents could be directly uploaded. Using these tools, the participants of each project were able to create a collaborative, online "community memory", in which they could include whatever they considered to be relevant. Although megafone was relatively successful and, in some cases, made a positive impact on the people who participated, I was worried that the project was becoming too dispersive. We worked in six countries, with extremely different groups. So, in 2011, I decided to follow my own path and apply a similar methodology into more focused projects, related with sustainable agriculture and environmental issues. I realized that the projects which sought to increase the empowerment of a community could become too complex for a single artist to handle. That's why, in Sauti ya wakulima, I'm not "the artist", but a member of a transdisciplinary team which includes biologists, agricultural scientists and technicians. Such a team came together after my PhD advisor Angelika Hilbeck, my colleague Juanita Sclaepfer-Miller and myself came across the possibility of working with farmers in Tanzania. The network formed by local researchers, farmers and ourselves was quickly formed, so we started the project on March, 2011.
MG: I find it interesting that you made the decision to put the role of artist aside. This reminds me of a discussion in Suzi Gablik's book published in 1995 'Conversations before the end of time'; where James Hillman in an interview talks about learning to refocus our attention from ourselves and onto the world. Further into the conversation Gablik says "In our culture, the notion of art being a service to anything is an anathema. Service has been totally deleted from our view point. Aesthetics doesn't serve anything but itself and its own ends".[2]
So, I have two questions here. The first is how important was it for you to put aside your status as an 'artist', and what difference did it make?
And, where do you think you and others may fit when considering the discussion between Gablik and Hillman?
ET: It is important for me to make it clear that I didn't abandon my role as an artist. Instead, I fully assumed my status, but only as a member of a transdisciplinary team. I believe that this may be a point of departure from the classical view of the artist as a "lone genius", which is closely related to the discussion about service in art. So I'll try to interweave both questions together. In a recent publication, Pablo Helguera aimed to set a curriculum for socially engaged art. He identified the new set of skills to be acquired by the artists, and the issues they must address when dealing with social interaction. But, as Helguera suggests, perhaps what's most important is to overcome the "prevailing cult of the individual artist", which becomes problematic for those whose goal is "to work with others, generally in collaborative projects with democratic ideals." [3] To me, this implies that the artist must give up control of the work to a certain degree. I find myself in this scenario, and I think of my role in Sauti ya wakulima as that of an instigator and coordinator. Furthermore, all of us involved in Sauti ya wakulima aim to effect actual changes in the lives of the participating farmers, rather than obtaining purely symbolic results. Our project is a socially engaged artwork that wants to be useful, to deliver a service.
We are living in urgent times, beyond any doubt. Looming global challenges, such as climate change, radically cancel the luxury of being useless, of not doing anything. This includes the artist who, as any other citizen, is called to use his or her abilities to help in preventing a catastrophe. I especially like Franco "Bifo" Berardi's proposal about the new task that the artist might assume: that of reconstructing the conditions for social solidarity. This work of reconstruction would oppose competition, a value often found in the markets that deal with self-referential, self-serving artworks. Solidarity, writes Berardi, is neither an ethical nor a political program, but a pure aesthetic pleasure [4]. In my opinion, the artists who still embrace the idea that art should only serve its own ends will become those who play the lyre while our world burns.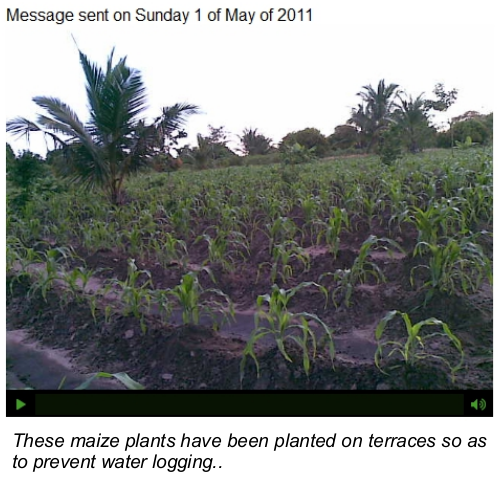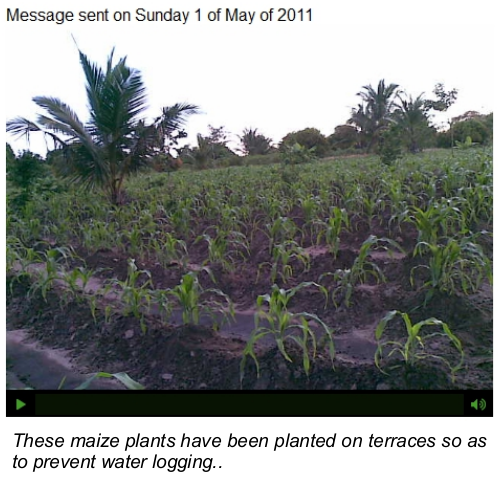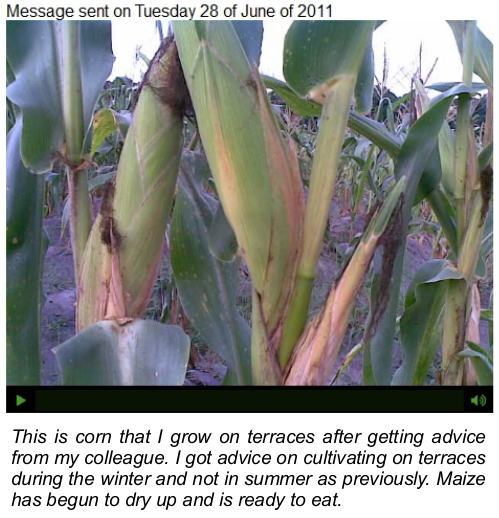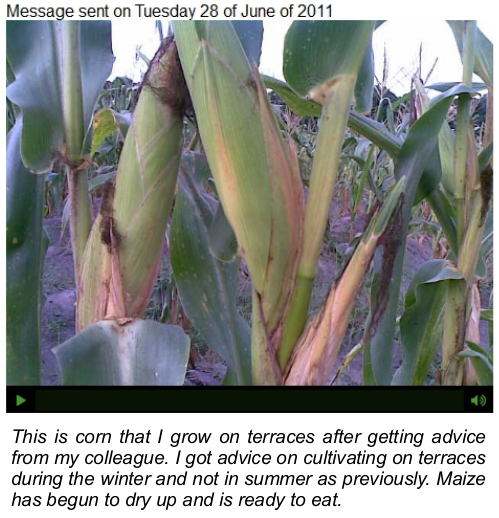 MG: What kind of behaviours began to emerge once the farmers took control of the smartphones supplied?
ET: It was quite interesting to see that the farmers started to use the phones for purposes which were different from those that we had originally proposed. This happened very soon after the project started. Only one month had passed, and the farmers had already started to go beyond merely documenting the effects of climate change. They interviewed other farmers, and asked them all sorts of questions about their crops and agricultural techniques, their opinions and views. In short, they slowly laid out a web of mutual learning. This was a real eye-opener for us. As we began to observe this, the environmental researchers in the team became worried that the farmers were deviating from the goals that we had set. I wanted to leave room for this deviation, as I was particularly interested in studying the process of technological appropriation. So I had to convince the researchers that we should leave enough room for the farmers to freely explore the potentials of the smartphones. It was not easy but, in the end, negotiating the tensions between a goal-oriented and an open-ended research turned out to be quite fruitful.
On one hand, the farmers found that they could shape the project to fit their interests which, as they said, were to "learn about what other farmers in remote areas were doing." On the other, the researchers finally realized that the images and voice narrations posted by the farmers were an invaluable source of information about what was actually going on in the farms and within the communities. Sometimes, agricultural initiatives may be designed with an insufficient understanding of the social context in which they are applied. By allowing the farmers to publish a wide range of topics, Sauti ya wakulima became a "community memory" that reveals rich details about farming and the social life of rural communities in Bagamoyo.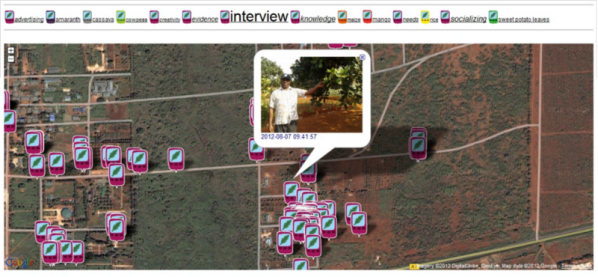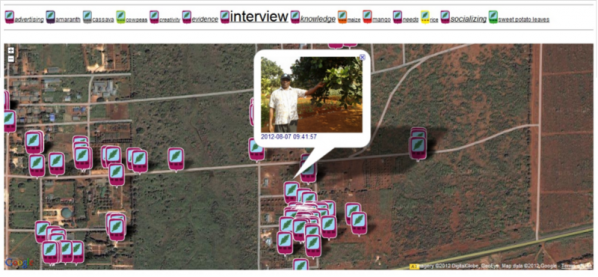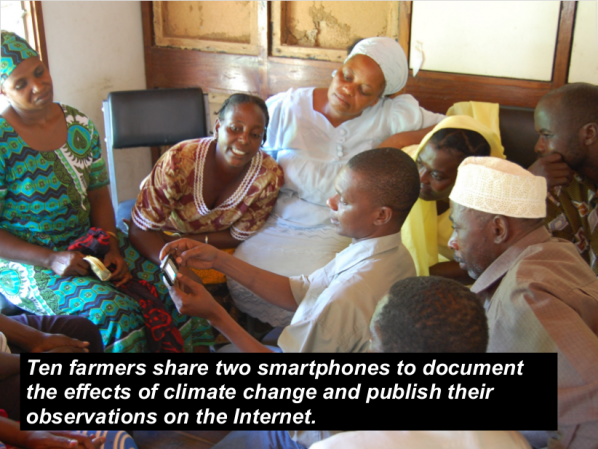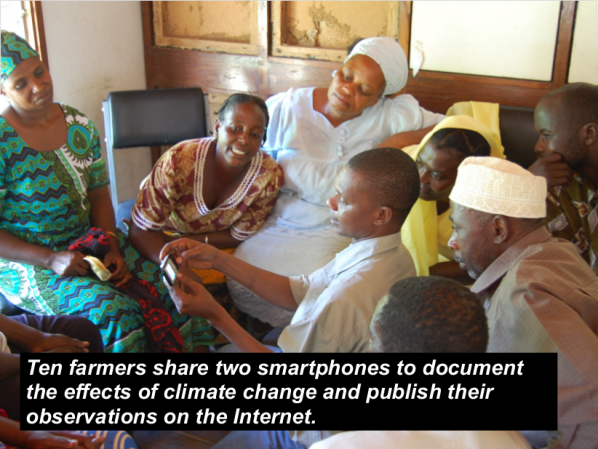 MG: In your presentation at Remediating the Social, I remember a quote from one of the farmers saying "The project helped me learn that phones can be used for other things besides calling people, and that computers can also be used to solve problems: they are not just a fancy thing for the rich people in towns." What's interesting here is, these words could be said any where. And that our consumer orientated culture could still learn a few things regarding uses of technology.
What lessons can the farmers teach 'us' in a culture where computers are part of the everyday life?
ET: I have interpreted this particular quote in two different ways. The first, most obvious one, is that the farmers discovered that the smartphones and the web can be useful tools, which may be shaped and adapted to meet their needs. For many of them, Sauti ya wakulima was their first chance at trying out these technologies. And, happily, the project showed us all that they can become an important ingredient in making farmers' lives a little better.
However, my second interpretation is not as optimistic: in the quote, there is an explicit comparison between the (poor) farmers living in remote areas and "the rich people in towns." Moreover, the fact that smartphones are explicitly considered as fancy devices points towards issues which need to be handled very carefully. In every part of the world, technological gadgets are quickly becoming symbols of social status. Currently, I am working in a rural zone in southern Mexico where cellphone coverage was nonexistent only two years ago. But as soon as the first antennas were installed, young people in those communities started buying smartphones, and now there is an open competition to see who has the fanciest one. A similar thing happens in Bagamoyo.
So, of course, smartphones can be useful tools, but they can also bring more consumerism into poor communities. This is very dangerous. I'd like to stress that, in our project, the smartphones are used as shared tools. This means that there is a limited number of devices available, and everyone must have a chance to use them at least once. I believe that this is a small but significant contribution towards diluting the extreme individualism and consumerism that are closely linked to these technologies.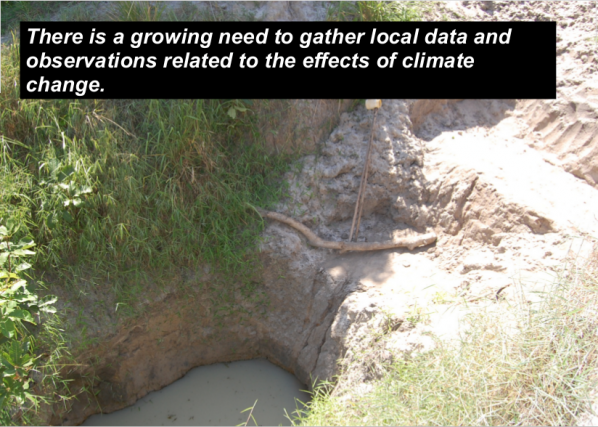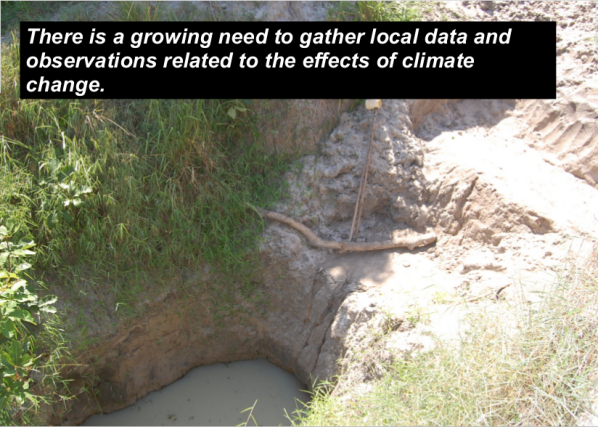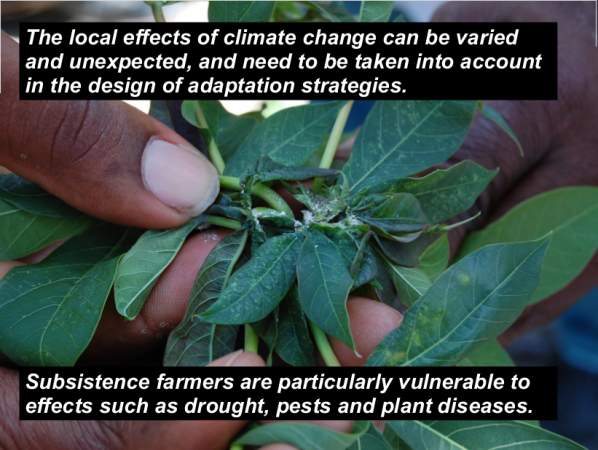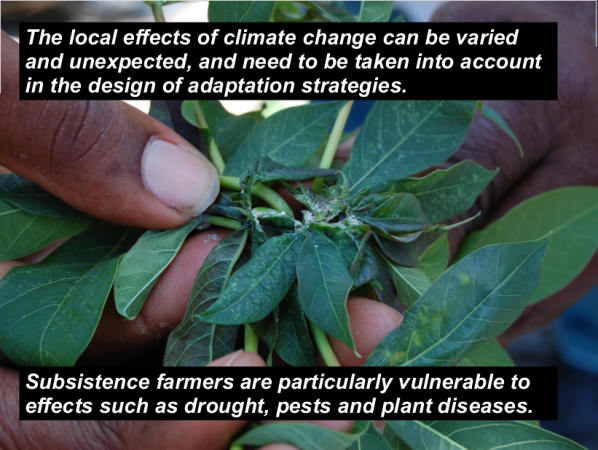 The farmers I have met in Bagamoyo have a very strong sense of community. Although their farms can be very far apart, sometimes with no roads between them, they still get together very often. They work together, learn together, have fun together. That's the biggest lesson I've learned: we need each other's presence. Quoting "Bifo" again, we are living in a time of precarization of the encounter of bodies in physical space. I agree with him that the most important poetic revolution has to be the re-activation of bodies. The farmers, with the great efforts they make to get together, and the great joy they find in doing so, have taught me a great deal: I need to get out of Facebook and step in to the "here and now", together with others.
MG: What has this experience taught you. And how will it impact your future practice as an artist?
ET: I have partially replied to the first part of this question. But besides learning how to re-dimension the importance of computers in my life, I have also learnt a lot about agriculture. This is not a minor thing for me: after all these years of living in big cities, and realizing that I lack a basic connection to the earth, I believe I have found the best possible teachers. Of course, I've also learnt a lot about how to work with non-expert users of technology. This has made me better as a teacher. And, as you can imagine, many of the things we take for granted at home won't necessarily work in Bagamoyo. So, doing projects in difficult environments has taught me to adapt, and to transform things that escape my control into opportunities. All of this changes me, not only as an artist but as a human being. My artistic practice is already quite different from what it was before Sauti ya wakulima. I have adopted a very critical position towards technology. Now, this is also a major shift: I started programming creatively when I was ten years old, and have been a media artist almost since then. But I feel I can't go on with those artistic explorations, knowing what I know now. Consequently, last year I wrote and published a small note explaining why I stopped creating works of e-Literature, a field in which I was involved for more than ten years [5]. That was both a closure and a point of departure. Let's see what the future brings.
Excerpt from 'Why I have stopped creating e-Lit' by Tisselli (November 25th, 2011)
Dear friends: this morning I went for a walk along the Naviglio Grande in Milan, and I entered a shop selling second-hand books. There I found a small book, "The Computer in Art", by Jasia Reichardt, published in London in 1971. The book described the works of pioneers of Computer Art, such as Charles Csuri or Michael Noll, who were active at that time. A real gem. But the biggest surprise came when I turned to the last page, on which the previous owner had written: "I married on 23, November. I would like to be a man, not artist, not engineer, a man."
I took the book with me.
Notes:
Those involved in the Sauti ya wakulima / The voice of the farmers project.
The farmers: Abdallah Jumanne, Mwinyimvua Mohamedi, Fatuma Ngomero, Rehema Maganga, Haeshi Shabani, Renada Msaki, Hamisi Rajabu, Ali Isha Salum, Imani Mlooka, Sina
Rafael.
Group coordinator / extension officer: Mr. Hamza S. Suleyman
Scientific advisors: Dr. Angelika Hilbeck (ETHZ), Dr. Flora Ismail (UDSM)
Programming: Eugenio Tisselli, Lluís Gómez
Translation: Cecilia Leweri
Graphic design: Joana Moll, Eugenio Tisselli
Project by: Eugenio Tisselli, Angelika Hilbeck, Juanita Schläpfer-Miller
Sponsored by: The North-South Center, Swiss Federal Institute of Technology – Zürich
With the support of: The Department of Botany, University of Dar es Salaam (UDSM)
The activist initiatives of this art group from Vienna seem fascinating due to its art-tech philosophy and it puts a smile on my face due to its pop attitude. In May 2011 Günther Friesinger, one of the creators of monochrom, gave a lecture to Media Art Histories students of the Donau Universität, which inspired me to arrange an interview with him. The first question I asked was about establishing monochrom. Günther explained that "monochrom came into being in 1993 as a fanzine for cyberculture, science, theory, cultural studies and the archeology of pop culture in every-day life. Its collage format is reminiscent of both the early DIY fanzines of the punk and new wave underground and the art books of figures such as Dieter Roth, Martin Kippenberger and others. For a while now, monochrom have been venturing further than publishing alone, and have been responsibly influencing people's minds via film production, performances and festivals. If you are in Vienna in autumn by chance, have a look at the paraflows festival – one of the main projects run by monochrom.
Natascha Fuchs: How much has monochrom's aims changed since 1993?
Günther Friesinger: We didn't really develop a concept back then, monochrom has evolved over time. In the beginning there was only the idea of publishing a fanzine – lots of other different things resulted from that. At some point we started doing performances. In the Internet's primordial age we developed a robot that could be controlled via the web, and so we began entering the art scene. Our first exhibition was in 1998 in the Secession, Vienna. Unfortunately, they didn't have Internet access back then, so our little robot simply stood in a corner, immobile. The people visiting the exhibition back then still considered it interesting enough to some extent, but many things back then didn't work the way we'd have liked them to work.
NF: Art, technology and philosophy – are they equal for monochrom? What is the starting point for monochrom's particular initiatives?
GF: We are a political group that gives statements through different means, those of art in all its varieties. I think it is important for us to find a fitting medium for the right story. This is something that specifically characterises us as a group. There are lots of different actions implicated by that, such as writing plays, making a movie, producing a music CD or writing a book. Normally, people try to achieve excellence in one medium. With us, it's the other way round, that's why we're active in so many different areas.
NF: Which historical background concerning the relationship of philosophy, art and technology is especially meaningful for you?
GF: A difficult question. I think that Guy Debord and the Situationists are those one could consider most fitting. Certainly also some parts of Fluxus are of relevance.
NF: To which media theoreticians do you refer in your practice?
GF: I am of the opinion that as a theorist, artist and curator in the areas of media art, net art, digital art and culture it is important to confront oneself with theorists like Kittler, Luhmann, Flusser, McLuhan, Rheingold and many more. However, it is not the case that we refer to one theorist or other in all our works. I think that this system of self-affirmation through referall quite interesting – but I think that for myself, monochrom and for our audience there is value added by self-generated theories for our projects and the discourses they cause.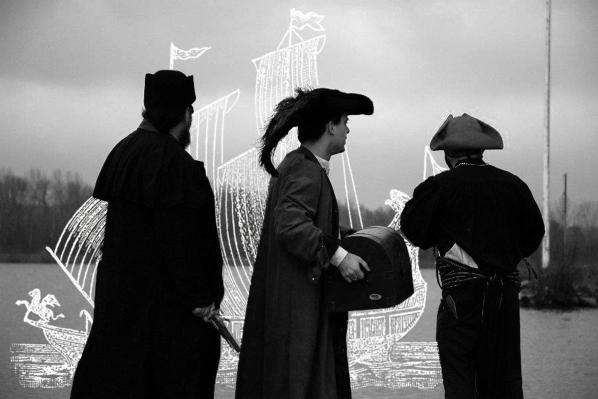 NF: What are international projects of monochrom? And what is the difference between monochrom audiences in Vienna and abroad?
GF: There are too many of those to be listed here. Since our big USA tour of 2005 we produce most of our projects bilingually in German and English, or only in English, in order to be able to have an international impact. Of course, many members of monchrom live and work in Vienna, and we also produce projects in Vienna, but our main focus is on our international presence. One of the big international projects, running since 2007 in San Francisco, is the Arse Elektronika: a conference on pornography, sci-fi, games and the development of technology. I would say that with the San Franciscans we've found the ideal community for such a conference.
NF: You call yourself "edu-hacker". Why that and how is it connected with your studying and teaching experience?
GF: I have always loved reading, learning and continuing to further myself intellectually. I really enjoyed my studies and I enjoy sharing my knowledge and skills with my students. Universities are, in my book, places where it is possible to acquire knowledge, to reflect upon it, places of discussion and freedom. Because of the process of universities becoming more like schools, among other things caused by the Bologna Accords, those in my opinion are important areas that enable students to become self-reliant, critical people are struck from the curriculum. I'm trying to counteract this in my classes, trying to cause rifts in the school-like system, by using other methods of transmitting knowledge, using a great deal of humorous elements, and by always meeting the students eye to eye as equals.
NF: What is philosophical society in contemporary Austria now?
GF: Alive and kicking as always, I'd say 😉 One of the exciting things is that exactly now there are a lot of young, fascinating philosophers out there. The topics that I mostly concern myself with are, however, copyright, intellectual property, culture, art, media and technology.
NF: Is paraflows one of your biggest current projects? What's the concept of this festival? Is it independent from monochrom activities?
GF: paraflows is surely one of the biggest projects that I am working on at the moment, apart from monochrom. monochrom helped to start and grow the festival in the first two years, as monochrom has done with many other projects worldwide. "paraflows – festival for digital art and culture" has been established in the last seven years as a new annual festival situated between the Ars Elektronika and the Steirischer Herbst. It serves as both a platform for the young, local scene of digital art and culture and as an interface to international and renowned media art.
NF: How is monochrom activity is financed?
GF: We do get occasional subsidies for some projects, we get money from performances, the sale of our publications and sometimes the sale of a work of art, and recently we have also acquired crowdfunding. I'd say, however, that around 80% of the projects we do are not financed in any way and are purely done because we have fun doing them.
NF: Do your own curatorial projects serve in some way as a research method for you?
GF: I take the liberty that I only curate projects that I am very interested in myself. That is to say, projects where I have a very strong urge to explore the topic, to read, write and of course also to do research. That is probably the reason why I try to achieve a publication for each project that I curate, in order to give those who are interested in it some sort of preliminary report, a possibility to expand upon.
NF: Is activism capable to envision the future or does it just reflect, react on what is and has happened?
GF: It is getting increasingly difficult to be subversive. monochrom is fundamentally critical of the bourgeois world view. We examine it from a distance, dissociating ourselves from it. The question is: How do we get out? Our current late-capitalist aims for transgressions. That is to say that capitalism requires transgressions as a principle. Viennese Actionism, the most relevant cultural statement in Austria for the last hundred years, was doomed to fail at a certain point, because in the 60ies Austria still had a society based on discipline. One of the central strong points of monochrom: Finding the right story for the right medium could be a opportunity to deal with this situaltion.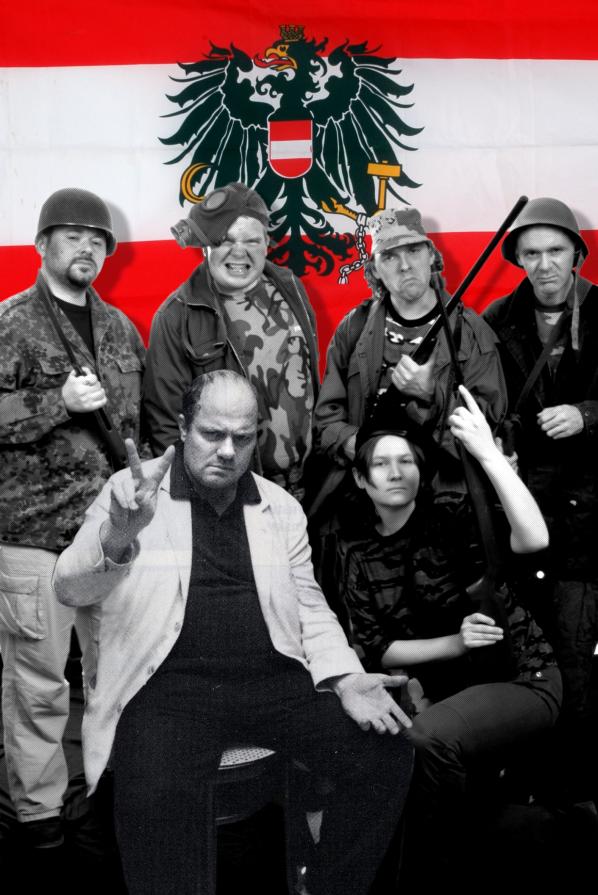 NF: Which publications about monochrom you would recommend to read?
monochrom's ISS. In space no one can hear you complain about your job. (2012)
monochrom's Zeigerpointer. The wonderful world of absence (2011)
Urban Hacking. Cultural Jamming Strategies in the Risky Spaces of Modernity (2011)
monochrom #26-34: Ye Olde Self-Referentiality (2010)
Do Androids Sleep with Electric Sheep? (2009)
Pr0nnovation?: Pornography and Technological Innovation (2008)
Other information:
monochrom: www.monochrom.at
paraflows festival: www.paraflows.at
(c) Natascha Fuchs is an independent expert in cultural projects management and international public relations, graduate of the University of Manchester (Cultural Management) in 2008. She has been living in Vienna, Austria, studying History of Media Arts at the Donau-Universität and collaborating with sound:frame Festival for audio:visual expressions, since her move from Moscow, Russia in 2011. In Russia she was related to MediaArtLab and Media Forum — the special program of the Moscow International Film festival dedicated to media arts, experimental films and digital context with more than 10 years history. As a researcher and practitioner, she works in a variety of topics and participates in different international projects focused on media arts, cinema and sound. Columnist and writer for several online magazines.
In September 2012, Italian tactical media artist Salvatore Iaconesi got the diagnosis. He had a glioma (glial cell brain cancer) of approximately 2×3 cm on the surface of his right hemisphere. Upon asking to see all the data relating to his condition, he found that all of the documents, MRI scans, and so on were in obscure not readily used formats. This meant that if one wanted to view the data, you needed specific or corporate software.
What he did then was remarkable. Iaconesi then hacked the formats of the documents and converted them into open-source ones that anyone could read could read with FLOSS (Free Libre Open Source) software. He then created the site, La Cura, where he presented his records as an "open source cure". People around the world could access his records and then add their recommendations and findings about his condition, cancer, and so on. I begin this interview with Salvatore on September 15, 2012, and the La Cura website already has a rapidly expanding database of information at http://www.artisopensource.net/cure/.
Patrick Lichty: Salvatore, thank you for having this conversation. I remember that it was only a year and a half ago when we were shop-giving copies of the REFF tactical media book from your project, Fake Press in Rome. So, it was a shock when I learned of the glioma the day you launched the site. Could you talk a little about what is on the La Cura site?
Salvatore Iaconesi: Hi Patrick! Yes I do remember, too. And that is also a great explanation on what can be found at La Cura site: it is like one of our "fakes", except that it is not a fake.
La Cura is about an alternative reality which I want to materialize on this planet, now. In this alternative reality, when someone has a serious disease, life does not end. One can be social, creative, and friendly. Work, art, design, fun and entertainment are possible for diseased people in this alternative reality, just as it is possible to reach out to find cures in any philosophy, time, strategy, culture or way one wishes. And consider that even technologies in this alternative reality are designed to enable and facilitate all this, actively promoting the freedom and autonomy of people.But, sadly, life is not like this alternative reality.
I wanted it to be my alternative reality, so I just did everything it took to bring that reality into the world. It's like when you make an Augmented Reality application: you do a series of things to "materialize" some other things into ordinary reality. And then you have them, right there. So, La Cura is my personal Augmented Reality, in which, if I want to, I have all the tools and information I need to find a "cure" for my disease in one of multiple ways and strategies, which are medical, cultural, technological, emotional, artistic, political etc.
To achieve this, I have had to go through a series of obstacles:
The first is connected to language and information, as the first thing you notice at the hospital is that they are not really talking to you. Medical language is difficult and complex, and they rarely take action to make things more understandable to you. One of the testimonies I received in La Cura was that of a lady who has found herself in front of a doctor shouting at her: "You really think that I will explain to you why your thyroid has to be removed? It has to be removed! That's it!"
This is really not "open", in any sense. And, in more than one way, it is an explicit evidence of the approach which medicine has towards patients: they cease to be "humans" and become sets of parameters on a medical record subject to certain protocols and standards. When you are in the hospital, it's often as if you're not there. The only thing that matters is your data: blood pressure, heartbeat, magnetic resonance etc.
And the way in which information reflects this if handled in this context. Data formats may be, technically "open", meaning that they are described somewhere but they're really an explicit reflection that when you're sick you "step out of society". That data is usable and accessible only to "professionals" and to those people who have tools and skills to handle them.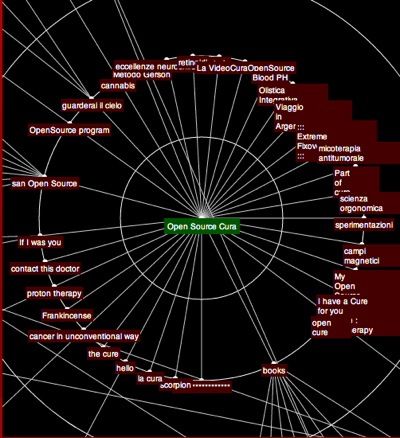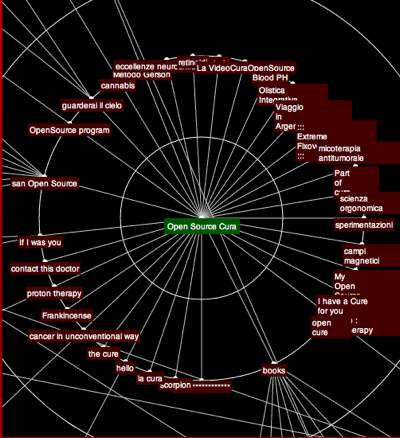 I, as someone with considerable expertise with computers, have had some difficulties in opening them. Imagine someone else with less skill! Most people would not have been able to benefit from all the types of "cure" which I am currently accessing from a variety of sources and modalities. They would not have access to a "cure" that doesn't end at a list of medicines and dosages, but spreads out into society.
To do that, I have had to hack into the information and convert it into really "open" data, using multiple formats that could be used by many kinds of people to do multiple things. In the format that the data was originally in, even if it was "technically open", that data would have been seen only by "professional doctors" and, instead of being a "human being", I would only have been a "patient", or worse yet, a "case".
PL: What do you want people to do with the information?
SI: Whatever they wish! Obviously! What is important in this case is that we must agree on what the "information" is… What I am publishing is my autonomous will to disclose my state of disease, including all data and medical information. I have my own purposes for this, but it does not necessarily mean that this purpose must/should be shared by others.
My personal purpose for this disclosure is to autonomously shape my own human condition. I have a disease but I am not a "diseased person". I am a person. And, as such, I wish to create my personal "cure", which has to do with my life, not with my disease. For what people know, I might even consider cancer as not being a "disease" at all! I might, for example, consider it an expression of the "cure", such as if I adhered to Hamer's theories. Which I don't, or, at least, not in the sense that "I believe" in Hamer's theories; I take them into consideration, but I don't believe in them, just as I don't believe in chemotherapy, in Aloe Vera, in Caisse Formula, in surgery, in shamanism, in healers, oncology or in any of these things. I take all of them into serious consideration, just as I seriously consider certain philosophies that say that we are made of energy, energy creates matter, and cancer is "matter" and so on. Therefore, cancer must be created by energy in some form. And so it could possibly be that I created cancer myself in a way or another.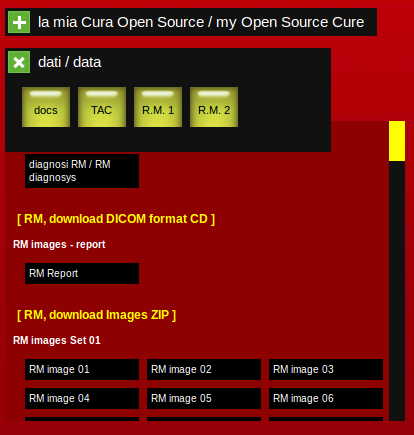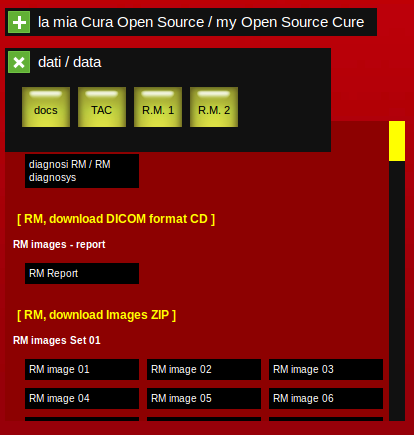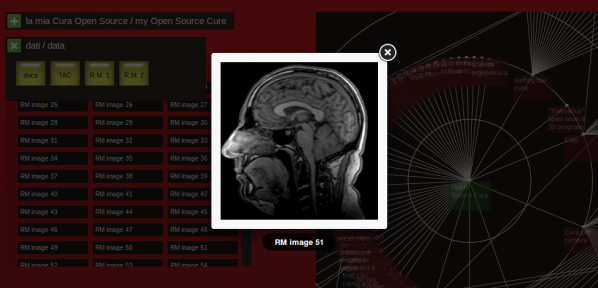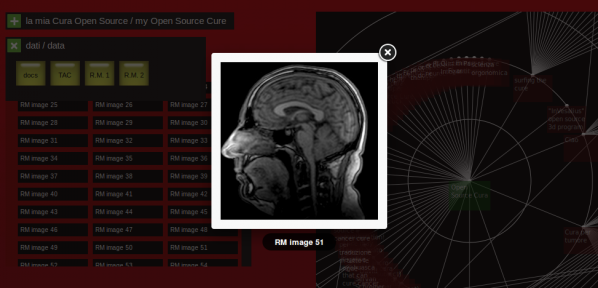 So in this sense, I think it is very important to be able to easily look at the images of my cancer and to say "hello" to them. It is important to turn them upside down, to edit them with GIMP, to make mosaics out of them, to speak to them, asking "hello?" What are you doing in there? Did I do something to cause you? Can I change something to make you/myself feel better?"
Both scientific and traditional evidence shows that art, positive emotions, laughter, reduced stress, and a good social life have great practical benefits to the human body, I want to seriously consider that part of my cure could be formed by receiving an image of my brain with a smiley face drawn across it over the tumor, or a picture of a friend of mine, or a video of a projection mapping done with Processing in which the images of my cancer cover a whole facade of a building.
And since I don't want to believe, but I want to take all of these things into serious consideration, I cannot focus only on the "medical" approach (and the related information, and its formats). I need to access all of my information in multiple ways, and I wish that everyone could do the same (as, from my point of view, it's part of my Cure). And, even if "technically open", the format in which my medical records have been disclosed is not enough, because it is "open for professionals" and so the only thing I could do with it would be "show it to professionals", missing out on all the other wonderful parts of the "cure" which are available in the world.
This for me, is an interesting starting point to think about what things such as "OpenData" could mean. This is far beyond the idea that some government can some data according to ways in which some "professionals" could grab it and, do something like make a visualization or an App out of them. Who knows? In this sense, instead, we would not be talking about "technology", we would be talking about "humanity".
In the end, this is exactly what I'd like people to do with the "information". I want the world to take the fact that I decided to disclose the fact that I have a disease and that I want to actively search for a cure for from all of these perspectives. In the meantime, I want to reconsider what it means to be "diseased" in current times and what new conceptions of the word "cure", "medicine" associated with my condition could mean.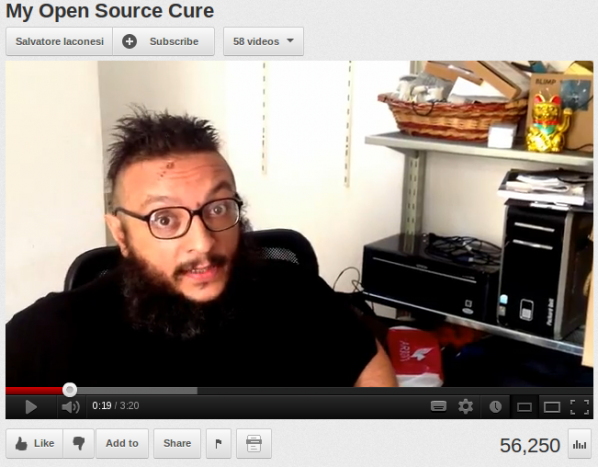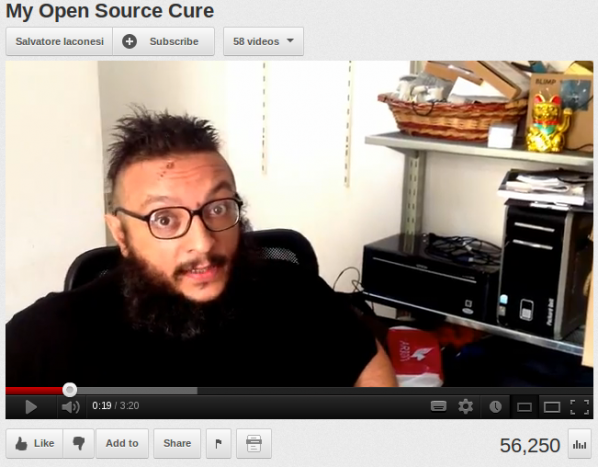 PL: What has happened since you launched the La Cura site?
SI: Lots of things. People are contributing and participating in multiple ways. There are testimonies, art, poetry, suggestions, videos, performances. Many doctors have called in to propose their methodologies and technologies. I have had very interesting and profound discussions with people who are prepared to deal with very complex things every day of their lives. I've communicated with doctors who are perfectly open to the possibility of such a paradigm change for the word "cure". Artists, designers, activists, are giving me wonderful parts of "cure". Many "patients", "ex-patients", "relatives" and "friends" of "diseased people" are sharing their experiences, are opening discussions, are sharing the information I found on possible medical cures. And so many people want to talk to someone in new and different ways, becoming again, simply, humans. Journalists from all kinds of media have started to ask for interviews, texts and videos. We stopped that after a while, as we don't wish to turn this into merely a "spectacle". We only keep on working on this with journalists which we know we can trust and which we know will not transform what we say to produce their news.
PL: For your information, I had an MRI in 2009 here in the States, due to my doctors' concerns of something similar (nothing was found), but when I asked for the data, I got a CD full of JPEG images. Were you surprised when you found out your records were in particular formats?
SI: They were not really in a proprietary format. Let's call them "exotic formats for professionals". And yes, I would have expected something which I could have shared easily (such as your JPEG images, and maybe some meta-data in some easy to use format such as XML, or even a spreadsheet). But this was a sort of paradox: an "open" format which is really hard to open and to use for something else other than putting the CD in an envelope and (snail)mailing to the next doctor.
PL: What do you think the line is between privacy and data oppression? Would that be when the patient is denied access to their rights to access the information and distribute it as they wish?
SI: We should all know this by now. Privacy is not a problem unless the "system" is made by lousy people. We have tools to protect ourselves and to promote ourselves, and these tools are dangerous only when who runs them is a lousy person. Privacy protection arises through education (understanding what is privacy and when/where/how/why would I want to protect it) and through the acquisition of decent ethics from the people and organizations which run the entire infrastructure through which all our digital data goes through. And obviously, and most importantly, our ethics is created by helping each other out in a P2P way, teaching each other what we know, what we discover and how we decided to handle it when we found out.
There is no single line between privacy and data oppression. Not one which everyone would agree on. We have the tools for each one of us to tune this line to our own wishes, according to what we want to do, what are our desires, what are our objectives etc. We "just" need more places (physical, digital, virtual, institutional, occasional…) in which to discuss and share our points of view, as every time this happens, many things are learned on all sides.
PL: Do you consider your site a form of radical tactical media intervention?
SI: I can now say "I have a radical tactical media intervention in my head". Cancer is the new Black. The Cancer is the Message. And we could go on. I don't know. I guess I could call it that. I also guess I could call it a performance. I guess I could call it life. I guess I could call it hacking or whatever. I will just call it La Cura.
PL: What has been the most inspirational information, art, or otherwise that has resulted from the launching of the La Cura site?
SI: The most enlightening thing that happened is the experience of talking about the same exact thing using dozens of different languages. I have spoken with neurosurgeons, shamans, nutritionists, pranotherapists, doctors, activists, macrobiotics, hippies, cyberpunks, punks, friends, relatives. Most of the time, I received incredibly good advice. When you look at that advice from different points of view, you start to understand that you are really talking about the same thing, but in different languages.
For example, two of the most important things which you deal with when you talk about cancer are the idea of creating alkaline environments in your body (because cancer cells cannot stand them) and the facts that anti-oxidants are a great tool in support of any type of therapy (because of the molecular reactions which are at the base of cancer).
Well, speaking of just these two, it occurred to me that multiple theories deal exactly with these two concepts. I have had an esoteric master describe my cancer as an invisible living being, and he suggested to drive it away using sulfur and Rosa Rubiginosa oil, in ways which turn them into two incredible anti-oxidants and creators of alkaline environments as well as powerful stimulants of the immune system. I have also spoken with nutritionists and macrobiotics communities and learned about their instructions on choosing food, cooking and eating, many of which are directed exactly to that: anti-oxidants and creating alkaline environments, but through food.
And when an oncologist explained us his therapy, that's exactly what it was about: powerful anti-oxidants and alkaline environments. And on, and on and on. Aloe Vera, Caisse formula, fungus theory, chemiotherapy, Di Bella method, potassium ascorbate, ketogenic diets, etc: all highlight cancer cells in some way; create an environment around them which is as alkaline as possible; anti-oxidate them; activate the immune system as powerfully as possible so that the highlighted weakened, cancer cells can be more easily "convinced" at mutating back to a decent form or to commit suicide with the help of the immune system. Realizing this is an enlightening experience: it spans across thousands of years and also helps you make some choices (things stand out when they speak about different things!).
Everything else that is going on in La Cura is wonderful, but having realized this fact is just incredible and fascinating. You start imagining about all the other things we discuss about in our daily lives using multiple languages (energy, politics, emotions…) and start to wonder what would happen if you turned on this shared, P2P modality in those cases as well.
PL: How do you hope that others will benefit from the conversation that you are starting through La Cura?
SI: I don't "hope" anything. I did this because I felt I needed to. When one talks about "revolution" dialogues start arriving at the point when one says, "Let's burn everything down!" "Let's destroy everything!" and so on.
We know we can't do it. We can't "destroy everything". It's not possible. What we can do is to create a reality as if everything already happened – as if the "revolution" already happened, as if the world had been burned down already, and rebuilt, just the way you like it. We can live life like this. It is a bit more than "seeing things". But you do Augmented Reality, Patrick. You know what I mean. It's a bit more than "writing", it's about creating worlds.
PL: As of this interview, what is the prognosis of your condition?
SI: Depends on what perspective you look at it from. From the medical point of view I have a low-grade glioma at intensity which is still undecided, between 1 and 2 (we will have to wait an histologic exam to know for sure). From the human point of view: I am fine! I have no apparent symptoms. I just need to be careful because if I find myself in stressful situations I could react by having an epileptic shock. So it is not advised that I drive or things like that. It's the perfect excuse! 🙂
PL: Don't you think it's funny that the abbreviation for your name is "si"?
SI: Sì! Obviously 🙂
Sarah Waterson
ALL WELCOME
A project by Sarah Waterson and dogs (and their human companions) of Finsbury Park.
+ Dog walks: every Wed-Sat, between Wed 17 October and Fri 30 November 2012
Laika's Dérive invites Finsbury Park's dogs and their human companions to record a walk in their local park and surrounding area. This walk offers a chance for interspecies communication and a sharing of knowledge that results in a collaborative mapping of each dog/human's walk.
Each dog is kitted-out with a system that automatically photographs the dog's favourite vistas and objects on location. The photographs are selected via the sniff and interest time of the dog, and are returned to the human as a series of the dog's favourite snaps, and displayed on Laika's Dérive website.
Laika's Dérive is part of the WWW: World Wild Web exhibition at Furtherfield Gallery.
Participate!!!
To take your dog for a dérive, please contact Furtherfield Gallery at info@furtherfield.org or phone 0208 802 2827.
Walks can be booked by one person/dog Wednesday to Saturday between 1-5pm, from Wednesday 17 October to Friday 30 November 2012, so book early to avoid disappointment!
The kit collection point for the walk is Furtherfield Gallery, McKenzie Pavilion, in Finsbury Park.
Event Coordinator: Laura Bottin
Event Producer: Alessandra Scapin
About the Project
Laika's Dérive/Dog's DeTour (2011) is a new media locative data-mapping work by Sarah Waterson about interspecies communication, collaboration and knowledge. Community participants and their dogs use an electronic mapping system (custom iphone app-GPS, accelerometer, interval timed and geo tagged photography) within their local area. The data collected is incorporated into the online mapping and visualisation system (website) together with the participant narrative and profiles. This work engages cross species sensing to explore a psychogeography of place.
A sketch for this project was produced during the Kiss Club incubator residency at the Performance Space, Carriageworks, Sydney. Feb 2010.(A minisite for the project prototype can be found here).
The android mobile phone application and harness system was developed during a residency at Blast Theory, UK, June- July 2011.
More info at http://laikasderive.sarahwaterson.net
About the Artist
Sarah Waterson
Sarah has practised as a new media artist for the past twenty years. Her works include electronic installations, collaborations with performers, video and audio work, generative and software based artworks, VR environments and data visualisations and ecologies. Interdisciplinary and collaborative practice informs the development and ultimately the design of these artworks. Her current interests include data mapping, data ecologies and cross species collaboration.
Sarah's recent interactive installations have included: Laika's Dérive (Performance Space, Carriageworks 2011), 33ºSouth (collaboration with Juan Francisco Salazar, Casula Powerhouse 2009), a custom made data mapping system that juxtaposes the cities of Sydney (Australia) and Santiago (Chile) trope, a e-literature project developed for the Second Life environment (SWF 08, ongoing), subscapePROOF (collaboration with Kate Richards, Australian Centre for the Moving Image, Melbourne), and subscapeBALTIC (ISEA2004, Helsinki, Finland). Sarah is a senior lecturer in interactive media at the School of Humanities and Communication Arts, University of Western Sydney, Australia.
---
Furtherfield Gallery is supported by Haringey Council and Arts Council England
FURTHERFIELD GALLERY OPENING HOURS

WWW: World Wild Web exhibition
18 October – 01 December 2012

Open Thu-Fri 1-5pm, Sat 11-5pm
Opening Event: Saturday 13 October 2012, 1-4pmFree admission to exhibition and events
Location
Furtherfield Gallery
McKenzie Pavilion, Finsbury Park
London N4 2NQ
T: +44 (0)20 8802 2827
E: info@furtherfield.org
Lies, Lawlessness and Disbelief: An Attempt at Thinking Art and Capital is an essay by Canadian artist & critical thinker, Katie McCain. McCain discusses how capitalism has become on the one hand all-encompassing and on the other utterly unreal. Arguing that we need to focus on moments of paradox, illogic and the impossible in order to rethink capital, this essay explores and succumbs to the circuity of it's own thinking. Drawing on a host of sources, it attempts to weave an account in which system failure is seen as a point of rupture, whether in legislation, bureaucracy or thought itself.
Moments of paradox are seen as a space in which to re-orient our capacity for thought, and in doing so find a place for art as a point of resistance. It promotes a negative approach to capital, a re-imagining of nihilism, and fosters a general penchant for the illegal and the illogical. Ultimately it seeks the expansive space contained within what is impossible or unknown, although this is known to be impossible.
Download PDF of Lies, Lawlessness and Disbelief: An Attempt at Thinking Art and Capital
Featured image: corporations are not people – the Overpass Light Brigade
Overpass Light Brigade in Tosa from Overpass Light Brigade on Vimeo.
Wisconsin has arguably been ground zero for union busting, DIY social movements, corporate takeover of government, and divisive – and often misinformed – political debate in the US for more than a year. And the Overpass Light Brigade (OLB), initiated by Milwaukee artists Lane Hall and Lisa Moline, have been a guiding light – literally – in how ground-up messaging and change can happen. Now a collaboration between many people, the OLB relies on an ever-widening community of activists, artists, thinkers, and do-ers for their "Signs of Resistance." After a few rounds of local rye whiskey at Milwaukee's Riverwest Public House Cooperative – one of the only co-op bars in the country – I did an email back and forth with OLB co-founder Lane Hall to find out more about what makes them tick, how they see themselves, and where the movement they are a part of is headed.
Nathaniel Stern: What is OLB? It feels more "struggle-" rather than "goal-" orientated, despite that its first mainstream recognition is in relation to a specific campaign. Can you talk a bit about its history: how it started, where it headed, and what it might become?
Lane Hall / Overpass Light Brigade (OLB): On November 15 of last year a rally was organized by grassroots groups in Wisconsin in order to kick off the Recall Walker campaign. It was to begin right after work, at 5:00 pm. Both Lisa Moline (co-founder of OLB) and I had been very active in what we now think of as the Wisconsin Uprising, and we asked ourselves the simple question, "How do we achieve visibility for graphic messages when it is dark at 4:30?" We began to tinker with off-the-shelf Christmas lights, and found some battery-powered strings of LEDs. We built our first sign, a 3′ x4′ panel that spelled out RECALL WALKER. When we arrived at the rally, we were immediately asked to be behind the speakers. That sign got on the Rachel Maddow and Ed Schultz show that evening, so we knew we had hit on something that afforded powerful visibility. That first sign is now, incidentally, in the archive of the Wisconsin State Historical Society.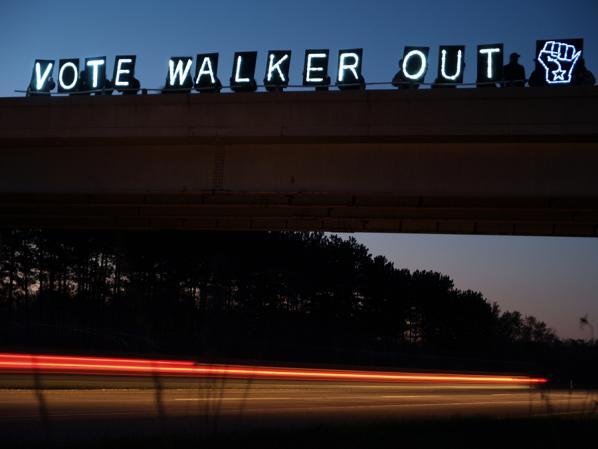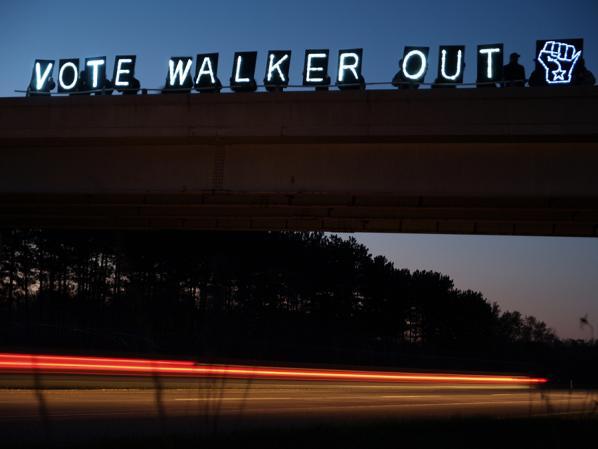 We then proposed a second design challenge to ourselves: how do we get messages out to masses of people, since we can't command the airwaves like Walker's Koch-fueled campaign? Once we decided to go out on highway overpasses, we "scaled-up" the letters so that we could spell out words, refrigerator magnet style, one letter per 2′ x 3′ placard.
Our first night out was on an overpass in South Milwaukee. It was very cold, fairly miserable really, with freezing winds kicking up from the passing semi-trucks. We had a few fellow activists to help, and our idea was to bungee-cord the signs to the fence while we stood by. We were accosted by a right-wing nut, a Young Republican, who was vehement in his insistence that we were breaking the law by affixing the signs to the fencing. He ended up in a physical altercation with Lisa in his insistence to rip our signs off the fence as well as forcefully take Lisa's video camera, since she was capturing his vigilante actions on video. When the police came, they did reiterate that nothing could be affixed to the bridges, though also supported our right to be there. From that night on, we realized that for OLB to work, we needed Holders of the Lights – one person per letter, as well as "spotters" for safety and a couple of people to take video and photos. This was a profound tweak of the original idea, in that it shifted our actions from mere signage to a form of witness or testimonial. It is very powerful to see one person per placard, positioned high above the highway, committed to the politics of physical presence.
We began to go out around the area, scoping out different overpasses, hooking up with different grassroots groups in Madison and Racine and Kenosha and Milwaukee. For about two months we took out RECALL to various locations, often getting hassled by people, questioned by cops, pushed to defend our rights to be out in these odd public spaces. We began to add letters and attract more volunteers who were attracted to our strange mix of Fluxus happening and focused message. RECALL WALKER, then 1% WALKER, then JOHN DOE (referring to an ongoing investigation into alleged campaign corruption when Walker was Milwaukee County Executive), then WALKER=JOBS FAIL and WALKER LIES and WALKER IS A CROOK, etc. We have always tried to index the message to what is breaking in the broader mediascape, so that there is resonance between multiple layers of information and our activist response.
Once Walker was officially recalled (he was "recalled to election") things really picked up. We were getting invited to hold actions around the state – Madison, Fond du Lac, Portage, Appleton, Kenosha, Racine – and more and more people began to join us. The 2 hour overpass occupations began to take on a real festive quality, with people bringing food, making music, chatting, singing, chanting and enjoying the angry and happy honks from the freeway. Our messages expanded, and our Bridge Parties have become somewhat legendary, with anywhere between 40 and 120 people commonly showing up. We even have a bagpiper who often leads us on and off the overpass.
A big part of the success of OLB is its mediagenic quality. Photographs and videos have been distributed freely and widely, at times even virally. We've been highlighted in the NY Times, CNN, Time Magazine, the Milwaukee Journal Sentinel, countless blogs and Facebook sites too numerous to even itemize. Our Facebook "reach" was hitting 182,000, and I was getting constant queries about the project. Our community of activists is extremely diverse, which is one of the things I am most appreciative of. It is odd how powerful holding a sign over a highway is, how many conversations happen in the two hours of bearing witness, and how compelling the action remains for our volunteers.
We immediately went out the night after the disappointing results of the recall. I felt that what I call "essential visibility" was even more important for the progressive community. WE SHALL OVERCOME and SOLIDARITY FOREVER graced the bridges, and we subsequently began to help some striking workers in Milwaukee pizza factory with BOYCOTT PALERMO'S. Since the recall, I feel we have gotten stronger and deeper, no longer relying on the easy binary of our disaffection towards our tea-bagger governor. Our issues are bigger and broader, more national. We just went out in Madison with CORPORATIONS ≠ PEOPLE and 56 volunteers showed up, along with some projector-shine activists, live-streamers, and a phalanx of videographers. We have also taken out QUESTION AUSTERITY and are integrating it with a social media #questionausterity campaign. I see the synthesis of physical and virtual space as the future of OLB actions, as well as our growing ties with the Occupy movement.
NS: This is more than inventive campaigning or even creative activism, but protest art with heavy political, aesthetic, ethical, and technological implications. The Graffiti Research Lab was first to use high technology to ask, "Can any public space be a blackboard?" You take that as given, provide the chalk, and ask for important messages to be broadcast on said blackboards. I'd like for the both of you to write a bit about your practice as artists, as activists, where they are one and the same, and where sometimes they differ.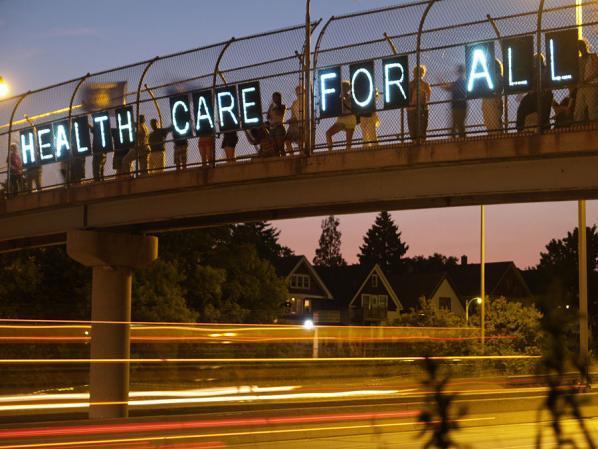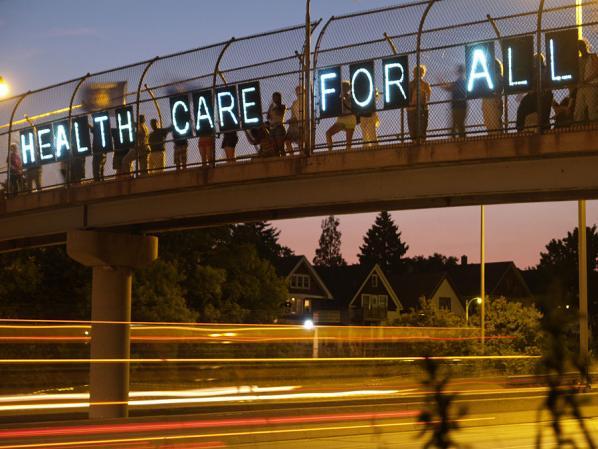 OLB: The Graffiti Research Lab is a continued inspiration for us in terms of their open-source ethos, and their bold pushing at the "public" aspect of "public space." I have great admiration for what they accomplished, yet have always felt frustrated that their messages generally stayed within existential parameters. That is, their presence in urban space was implicitly political, but their projections were generally, "I exist" with variations on the theme such as "Fuck you!" However, the way their events brought people together in the streets is also noteworthy. OLB has achieved some of these same dynamics, though with very directed and explicit political messaging. We are a fluid mix of relational aesthetic, Fluxus happening, street party and progressive messaging, all part of an inherently ethical practice. We think of ourselves as "the people's bandwidth," having found an open venue that takes a lot of dedication but only a small outlay of capitol, which is intrinsically public to thousands of passersby.
Our own work has been collaborative for a long time. Before the Wisconsin Uprising, our art – often about environmental issues and animal subjects – was implicitly political, but rarely pushed the boundaries of sanctified institutional spaces. Once the Uprising began, we got very involved with activist work, and took our creative efforts to the streets. We were inspired, set up a PAC called The Playground Legends with some other activists, and began working within some of Milwaukee's African American communities on voter education and Get Out The Vote campaigns. We set up "parties in the parks" for neighborhood groups, and used these relational activities to help create cohesion around a political purpose. This was exhausting and finally not sustainable for us, but some larger groups such as Wisconsin Jobs Now emulated our inventiveness and have really made a difference in spite of the Right's coordinated campaigns of disenfranchisement.
After working with this PAC, and struggling with the official requirements of a 501C3 and meetings with minutes and budgets and fundraising and reports, we chose to make OLB as flexible and open as possible. We are a loose affiliation of activists who show up on bridges and hold signs. It is very simple. Anyone can join. All ideas are welcome for consideration. Our community of activists is really the heart and key to sustainability with OLB. Most of them don't care whether this is art, or what the cultural precedents might be. All of them value this odd form of engagement, where they can see a beautiful and directed message reflected back through social media, and be a part of a much larger – and historical – emergence of a progressive political movement.
NS: Who do you want to follow your lead? Who do you want to help OLB progress to more innovative interventions? How can we help you help us?
OLB: We freely share the instructions for making the signs. They are very easy in concept, very DIY, and need only basic wood shop fabrication skills, akin to stretching canvasses or making a woodcut print. However, each sign does take a lot of concentrated construction, which can discourage some who have wanted to create their own. So far, we have 3 different chapters that have taken to the bridges: OLB-Fox Valley, OLB-Dane County (both in WI) and OLB-Harrisburg. We've also seen other iterations, such as a Madison based "Sign Brigade" doing daytime roadside actions. I see that OLB has a function as a model of empowerment, as well as the joy (or anger) one gets from seeing a message "done up in lights." One thing that hasn't happened yet is an ongoing series of "hacks" that extend and expand the idea. The off-the-shelf lights get expensive. Could someone figure out how to make battery powered (not big battery + inverter, but lightweight AA batteries) LED light strings so that we could build our own? How about other variations? This would be great to see, especially now that the Graffiti Research Lab's open inquiry with LEDs seems a thing of the past.
NS: What have been some favorite moments from the bridges?
It always amazes me when some random stranger pulls off the highway and comes to find us. Sometimes, especially at first, this would mean trouble, in that aggressors would want to direct anger at us. But one night in the bitter cold weather of January, an African American man came up to the bridge, told us he saw us and wanted to give us a gift, and offered each Holder a beautiful knit hat. He was a salesman of sports clothes, and had a lot of hats. We each left that night with a new Milwaukee Bucks hat!
Another time, just a few weeks ago, two women – an older woman and her adult daughter – came up to the overpass. Both were public school teachers. The teachers have been so demonized in Wisconsin – it is both ridiculous and shameful, but it obviously works to divide us, and as obviously takes its emotional toll on these new "enemies of the state." The older woman exclaimed that they were "so grateful to see us out there doing this" and she burst into tears. There were lots of hugs and they hung around for awhile, held a couple of letters, and left. It was very moving, as a lot of our Holders are themselves teachers.
We also hosted the famous "Nuns on the Bus" tour – the politically progressive group of Sisters who are going around the midwest to decry the austerity budgets of Paul Ryan and the Republicans. It was amazing when their bus pulled up by the overpass, and these elderly activists (along with the powerful Sister Simone) approached the bridge and saw the QUESTION AUSTERITY message we had created just for their tour. There were 96 people on the bridge that night, and they all sang happy birthday to one of the Sisters since it was her 72nd celebration that day. That was a wonderful event, and a great example of diverse activist communities coming together based on these joyful actions.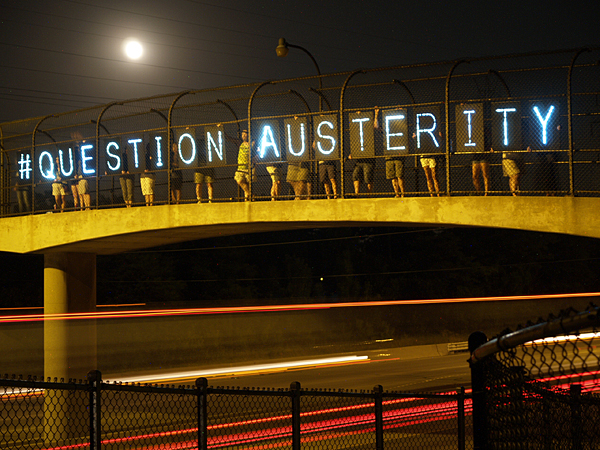 I could go on and on. Each action, each Bridge Party, is a whole narrative – interactions with police, with passersby, with neighbors both supportive and critical, and now and then with aggressors who have busted out our car windows or tried to shut us down. But it is all powerful, all a microcosm of the rifts in our country. The bridge is a forceful metaphor beyond its commanding physical presence over the geospatial distribution network function of our highways. It works both linguistically and architecturally, and affords a curious perch for our loose affiliation of committed brigadiers.
NS: How can we make our own stuff?
OLB: Check out our new site at http://overpasslightbrigade.org/
You can also find "noise of rain" posts on the Daily Kos site
http://www.dailykos.com/user/noise%20of%20rain