Introduction.
Interest in Damien Hirst and his commercialized, celebrity status is well known. So when we heard that Tamiko Thiel was making the artwork "All Hail Damien Hirst!", we were immediately curious. Hirst is an extremely rich individual with powerful allies within wealthy, traditional art establishment circles. This includes Charles Saatchi, and commercially dedicated art mags and art institutions whom have all successfully helped in marketing his particular brand as part of their own economic strategy. With this in mind and acknowledging the potential risk in satirizing a well known art celebrity we thought it was a good idea to interview Thiel about her ideas and experience on the project?

Marc Garrett interviews Tamiko Thiel.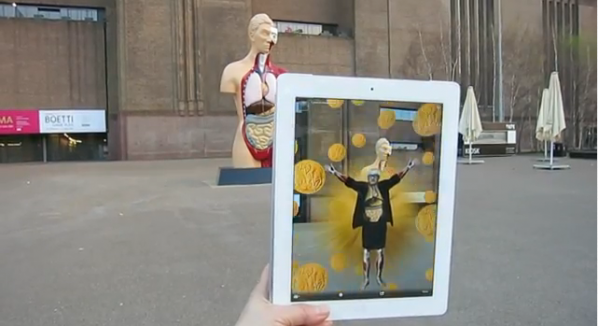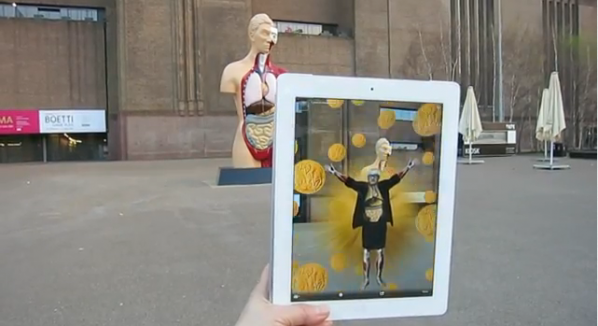 Video documentation of "All Hail Damien Hirst" . The gold coins are a 2012 special edition of the British gold sovereign for Queen Elizabeth II's Diamond Jubilee.
MG: Many are curious about your new augmented reality project "All Hail Damien Hirst!". It is an art installation and intervention. Why have you chosen to create an artwork aimed specifically at him, during his retrospective exhibition at the Tate Modern?
Tamiko Thiel: As a visual artist my projects start with having a strong image in my mind's eye that compels me to pursue the project further. When I heard of the retrospective at the Tate I immediately had an image of Hirst – depicted in a style relating to his own working methods – hovering in the vast space of the Tate Modern Turbine Hall. On findng out that the space was not going to be used except for the small room housing his diamond skull, I saw an opportunity to give visitors an experience that would utilize the space beautifully, compliment his own work and bring the contradictory feelings that many have about him and his work into sharper focus.
In my own work I often draw on the power of religious imagery. This aspect of Hirst's work, and also his themes of the body and death, are very compelling to me. On the other hand, he plays a master hand at making the art market dance to his tune. I find the market value of his carefully ordered spot paintings, for example, in marked contrast to the artistic power of Yayoi Kusama's spot obsessions, which were exhibited probably not by coincidence at the same time at the Tate Modern.
To top it off, while flipping through a United Airlines onboard magazine I chanced upon an image depicting the value of Hirst's artworks as an exaggerated – and spotted – version of the movement of the stock market: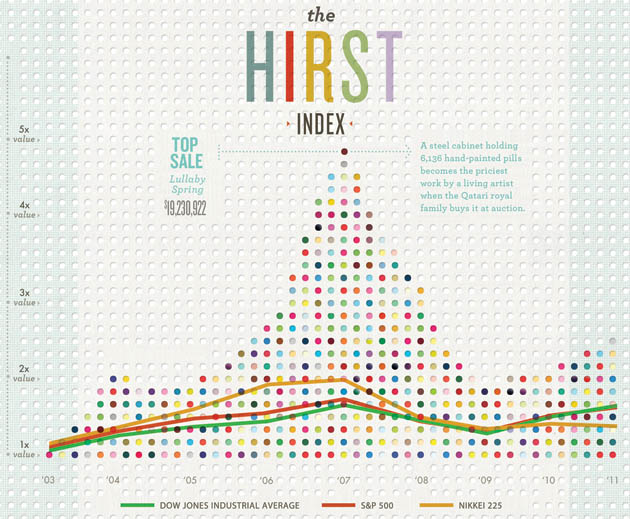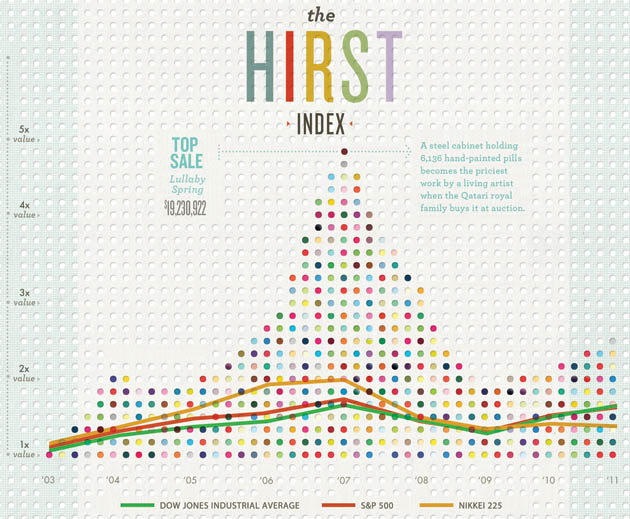 PAINT BY NUMBERS Article. Illustration by Kelli Anderson. hemispheresmagazine
I wanted to make a work that addressed multiple issues surrounding Hirst as a person, as an artist and as a force in the art market at a time of extreme tension in the world's financial markets. I knew however that Hirst is very litigious, so I was careful to use none of Hirst's actual artworks, so I do not infringe on his copyright!
I had done an earlier augmented reality work, Reign of Gold, as part of the AR Occupy Wall Street project. In this work, viewers all over the world can chose the site at which to view the piece on their smartphones, and then see an animated rain of gold coins superimposed over the live camera view of their surroundings. I have photos of this work against the New York Stock Exchange, the Bank of England in London, TEPCO in Tokyo – the company that brought us the Fukushima nuclear disaster – and other choice sites around the world. You will see a clear visual relationship between the rain of gold coins and Hirst's spot paintings, which many say are destined to go through a similar boom and bust cycle as are the world financial markets.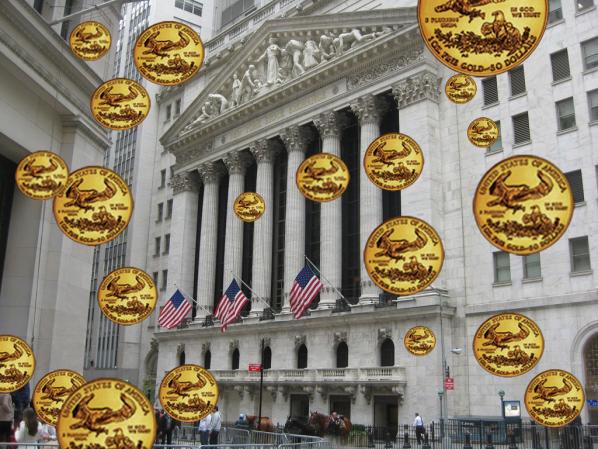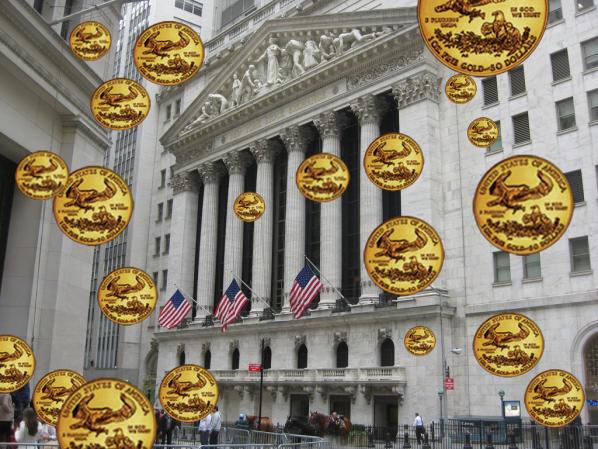 "Reign of Gold," New York Stock Exchange, Broad Street facade. Tamiko Theil.
If I was a painter I would've gone off and made a painting, and that would have been the end of that. Since I work with augmented reality however I could place the image in and around the Tate Modern itself, the very site of Hirst's exhibition. This puts a whole different spin on the artwork, as having an artwork "in" a prominent arts venue is seen as a form of "canonization" in the art world, even if the artist places the work there by him- or herself, as did Banksy.
This brought in yet another level to the project, as the work functions now not only visually, but by dint of its location also questions the system by which the art world consecrates artists and artworks. What does the location of an artwork mean, if every artist decides for herself where to place the work? Walls cannot keep us out, nor can walls keep us in. Even Hirst, who is known as a control freak, cannot exercise control over augmented reality.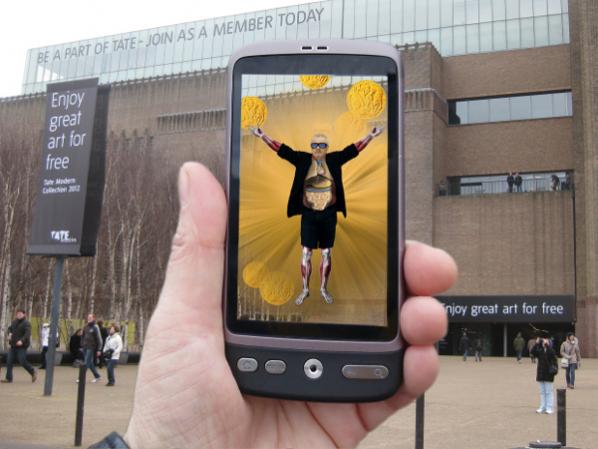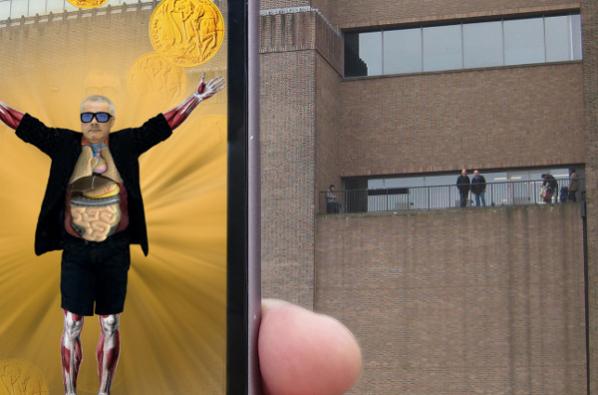 "All Hail Damien Hirst!", Tamiko Thiel, 2012. Enjoy great art for free at the Tate Modern, London.
MG: You visited the Tate Modern and interacted with the public. What kind of responses did you receive by visitors to the intervention?
TT: Delight! Most had come to see Hirst's exhibit with contradictory feelings about the man and his art because of similar issues to those that had motivated me to make my artwork originally. They were delighted at how my artwork spoke to these feelings while leaving the conclusion open for the viewer. They liked the spatiality of the piece, how it surrounded them and filled the cavernous empty space of the Turbine Hall when viewed inside the Tate Modern, and reflected on Hirst's "Hymn" sculpture when viewed outside by the river. There was also fascination about this new technology which none had ever seen before, and of course some puzzlement about how it worked.
MG: What message are you hoping to communicate with this interventionist project?
TT: What attracts my attention as an artist are topics that provoke contradictory or unresolved emotions in myself. By their very nature I can't answer these topics with a simple message. Instead I try to create striking images and visual/kinesthetic experiences that evoke the contradictory feelings I have myself, in the hopes that my works can help focus or sharpen the issue, or at least provoke dialog in those who view them.
To cite a different work from my art practice: even in "Shades of Absence," in which I surround anonymous golden silhouettes of censored artists with terms of censorship, I am myself of two minds about many of the artworks I cite in the linked website on censored artists. I made Shades of Absence as an intervention into the 2011 Venice Biennale, at a time when Ai Wei Wei was imprisoned by his own government. In his case I am strictly against the censorship of him as an artist and a person, but in many other cases I have cited, I myself could not say I would always be against censorship when it could incite hate and physical violence against others.
MG: Is it mainly Hirst you are critiquing here or is he representative of something bigger in art and its culture that you are questioning?
Hirst is the British Jeff Koons! Every era and every country finds such a figure to represent the eternal tension between art as a sublime personal experience and art as the magnet for glamour and status and money. I wonder if it was any different for the artists of the cave paintings?
MG: In the publicity for the project, it says 'Augmented Reality is the Street Art of the 21st Century!'. Could you elaborate what this means to you, and share with us some examples of other interesting works in this field?
TT: In this regard, to be frank I think the work of my cyberartist collective Manifest.AR is the leading work in the field at this moment, perhaps because we are all so diverse and cross-fertilize each other!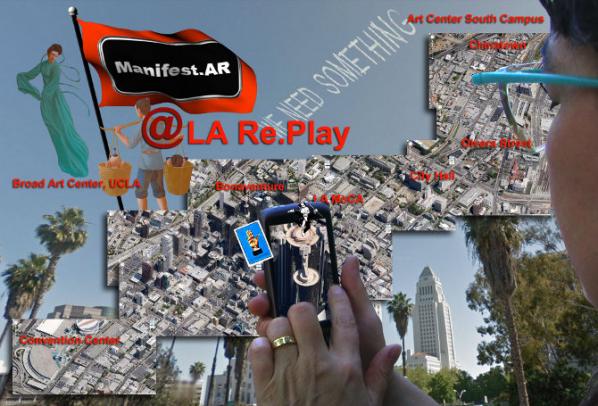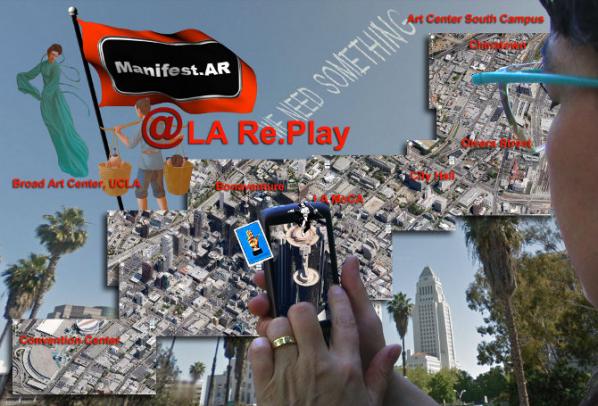 ManifestAR @ LA Re.Play
Of course augmented reality is not as visible as a graffiti on the side of a building – but it also cannot be removed, and we can place them wherever we want without fear – yet – of arrest or fines. Also, the smartphone or mobile tablet is becoming an extension of the self, and our primary interface with the extensive virtual society in which we are embedded. It is how we will communicate, how we will find information, how we will share our social space with everyone who is not standing in exactly the same room at exactly the same time, it will become our entertainment device, our payment device and god forbid our identification device. You do not go to someone's house to look through their photo album, you go to their Facebook site. Why shouldn't you start finding their thoughts and expressions as augmented reality images around you in space?
I just successfully co-wrote a major Rockefeller Foundation grant to help residents of a very poor area of a major city put up their own history and artwork in their neighborhood using augmented reality. I can't say much about it as the official publicity has not yet been released, but the organization I wrote it for is convinced that in a couple of years, more of their youth will look at art on smartphones than in museums and art galleries. Will the middle and upper classes lag behind, because they think the only art worthy of note is hanging on gallery walls?
Links:
All Hail Damien Hirst! An augmented reality installation celebrating Damien Hirst at the Tate Modern.
http://www.allhaildamienhirst.com/
"Reign of Gold" – part of AR Occupy Wall Street
http://www.mission-base.com/tamiko/AR/reign-of-gold.html
Tamiko Thiel – Online Portfolio
http://www.mission-base.com/tamiko/
Tamiko Thiel is a media artist developing the dramatic and poetic capabilities of various forms of virtual and augmented reality as media for exploring social and cultural issues.
A founding member of the cyberartist group Manifest.AR, she participated in the pathbreaking augmented reality exhibit "We AR in MoMA," an uninvited guerilla takeover of MoMA New York. Videos of Thiel's "Art Critic Face Matrix" were featured in articles in the New York Times and on WNYC (National Public Radio). In 2011 she led the Manifest.AR Venice Biennial AR Intervention, placing her work series "Shades of Absence," on censorship in the visual arts, in the Venice Giardini and in the German National Pavilion (which won the Golden Lion Award for best national pavilion). This led to an invitation to participate in the ISEA2011 exhibition UNCONTAINABLE, an official parallel program of the Istanbul Biennial, where she placed her artwork series "Captured Images" into the main biennial exhibition
Anonymous, untitled, dimensions variable is the title of a show by 0100101110101101.ORG (Eva and Franco Mattes) at Carroll/Fletcher gallery in London from 13th April to 18th May 2012. Or at least it was. The title changes each day based on submissions to a blog (http://exhibitiontitlechange.tumblr.com/). The new titles have been printed out and displayed on the wall to the left as you walk in to the gallery.
You don't expect this kind of playful intersection of the virtual and the real in a gallery off of Oxford Street, across from Soho, opposite other new galleries. Carroll/Fletcher's glass-fronted welcomingly brutalist interior says "serious contemporary art space". Inhabiting such a space presents a challenge to net and digital art that must be met with careful presentation and considered curation.
Through the glass front of the gallery, and as you enter, you see a sculpture or assemblage of a (stuffed) cat trapped in a birdcage by a (stuffed) canary (Catt, 2010). The cat has suffered Epic Fail as the Internet would say, and did in the meme image that the sculpture is based on. It's a comic and unnerving object even without the extra layers of reference provided by the original meme and the knowledge that it was originally presented as a fake Maurizo Cattelan sculpture. It is art with its roots in the net that can stand on its own without that context. Its companion piece, Rot, 2011, is a fake Dieter Roth sculpture consisting of detritus in a glass jar on a plinth against the far wall. 0100101110101101.ORG briefly inserted it into the Wikipedia page on Roth, and the fact that its materials were all ordered via the Internet drives home just how commonplace this has become.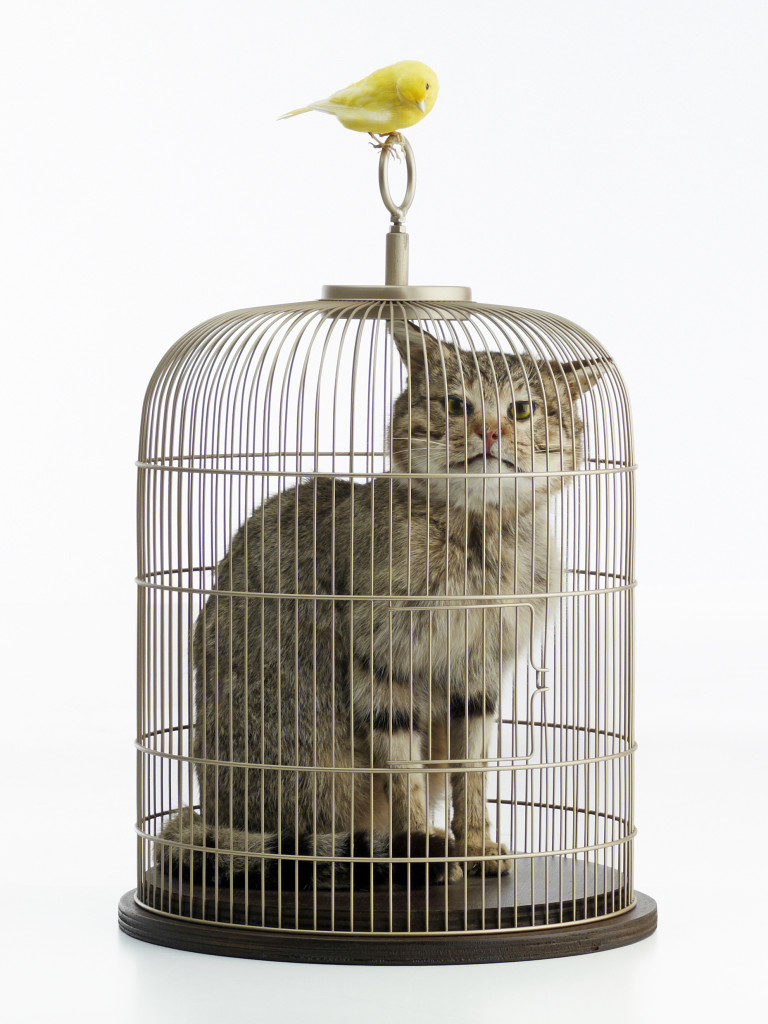 Both are given the room they need to work as objects in a gallery. Neither originates in itself as net art, more in 0100101110101101.ORG's history of tricksterism and transgression. These are concerns that are easily linked to net culture, possibly too easily on the part of the reviewer, but it is telling that they are the works that the show opens with. They physically establish the playful appropriation and hyperreality that is the basis of much of 0100101110101101.ORG's work.
Pride of place in the first room of the gallery goes to the projection The Others, 2011, 10,000 digital photographs (supposedly) copied without authorization from the folders of computers used by people on a peer-to-peer filesharing network that 0100101110101101.ORG used to distribute their own work. These are private images, projected at an angle and slightly across the corner. Configure your peer-to-peer filesharing client wrongly and it shares all the files in the folder you share. Including the images of you naked, drunk, lonely, partying, or whatever else you wouldn't post anywhere a future employer might find them.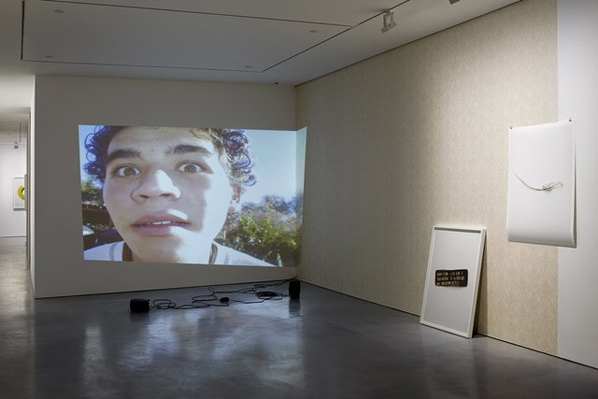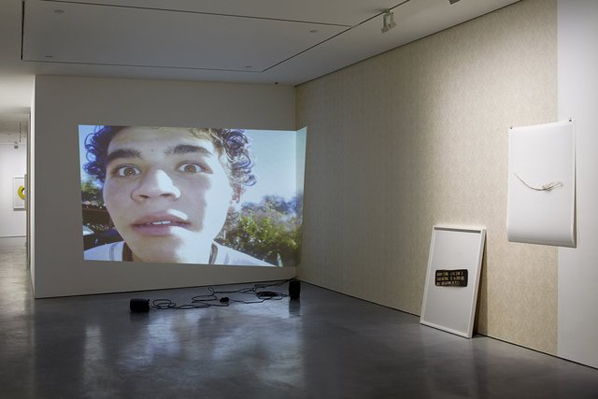 In the next, smaller, room is Colorless, odorless and tasteless, 2011. It is an old-fashioned car racing video arcade game retro-fitted with a petrol engine that starts up when you insert a coin and revs as you press the pedal to accelerate the virtual car on the screen, filling the (sealed…) room with carbon monoxide. Combining the virtual made physical of Catt and the moral impact of The Others, it is the most immediately dangerous artwork I've ever had to review.
Moving into the larger room at the back of the ground floor of the gallery, the video No Fun, 2010, is the most shocking piece in the show. Franco Mattes pretending to hang hineself on the random Internet webcam video chat switchboard Chatroulette is one thing, but the reactions of other Chatroulette users as they connect and see him apparently hanging there is quite another. Some laugh, some jeer, only one I watched displayed any lasting concern. This is the moral and aesthetic flipside of The Others.
Reenactments, 2007, is my aesthetic and technical favourite piece in the show. Videos of canonical performance art pieces being re-enacted by Eva and Franco's Second Life avatars are displayed on CRT monitors arranged at floor level surrounded by the cables and adapters used to play back the video from SD cards. It's much easier for an avatar to remain still as a "Singing Sculpture" than it is for a human being, making it even stranger, and Marina Abramovic's "Imponderabilia" works much better with impossibly buff avatars than with mere naked human models stood in a doorway. It exquisitely foregrounds the social mediation of Second Life and its players self-presentation. A large cartoon wolf squeezes through between the naked avatars, their polygons intersecting. A vampire attempts to fly over them but hits the bounds of the architecture. The crowd in the background chat and bide their time. The virtual intensifies the real, out-doing and critiquing its appropriated source material.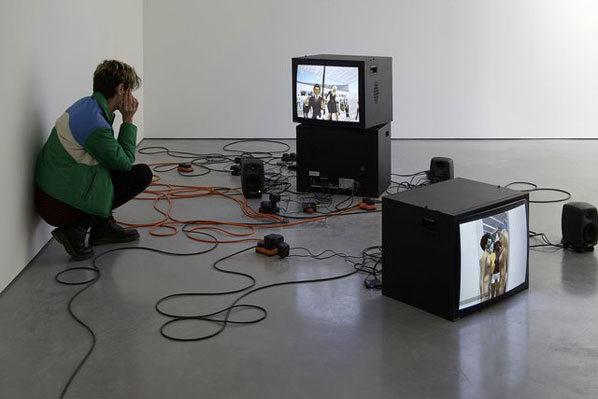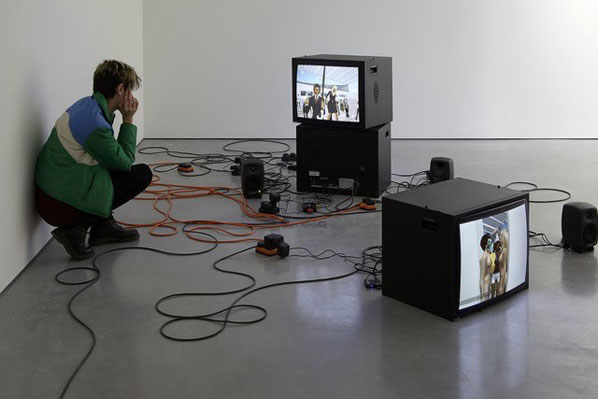 Stolen Pieces, (1995, made public 2010) claims to move beyond fakery and unauthorized copying to physical appropriation. Stolen physical fragments of canonical postmodern artworks (Duchamp, Warhol, Koons, Rauschenberg) are displayed like forensic evidence, protected in small plexiglass containers, accompanied by large photographs of them and by documentary evidence of their theft. There's no statute of limitation on theft in the UK, and damaging artworks shouldn't be applauded. But it's a daring performance and a concrete critique of the fetishism that lies at the heart of the art market and the institutions that help drive its value.
Following the brutalist concrete staircase to the basement reveals My Generation, 2010, a smashed but still working early-2000s PC lying on the floor. On its monitor, that appears to have fallen on its side, show video clips of computer game players giving in to and venting their frustration at the games they play. This isn't the kind of image of yourself you want as your lasting monument on the Internet. Gathered together, like the images in The Others and the videos in No Fun, they again form a summation of an aspect of society and our visual environment that could not be achieved with such immediacy by other means. And the clear space and architectural solidity of the gallery again help to put a different emphasis on the material than if it was encountered on the web.
The wall-filling video projection of Freedom, 2011, records Eva's attempts to plead with the players of networked First Person Shooter computer games not to kill her character. Touch-typing might have helped, but even when Eva manages to type long enough to explain that she's an artist, or to ask people not to shoot, the social and game logic of the virtual world mean that her character is executed again and again, the screen shifting to third person as her avatar moves out of her control in death. Like No Fun, there is a core of callousness to these Internet interactions, and like My Generation they are unexpectedly preserved and presented for contemplation.
The final piece in the show is the documentary Let them believe, 2010, a video record of 0100101110101101.ORG's Tarkovsky-haunted journey into Chernobyl's "Exclusion Zone" in order to recover part of a fairground ride to turn into Plan C, 2010. Bringing part of the ride to life in a place where people can enjoy it is an effective and resonant symbolic resolution of the kind that art more than any other mode of human endeavor can provide.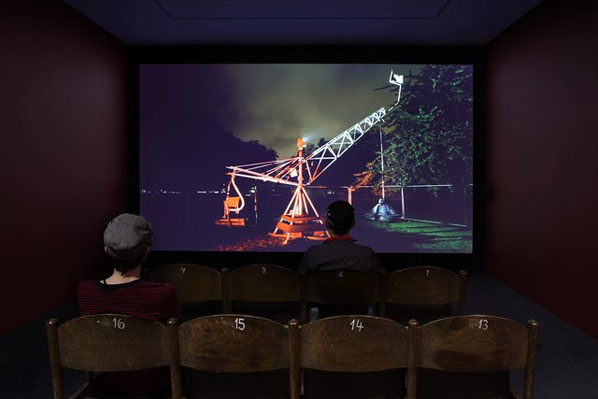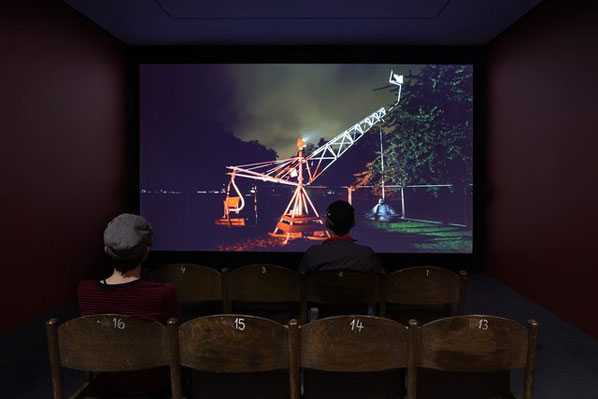 0100101110101101.ORG's work presented physically has more than enough presence to fill the gallery and benefits from the space and the considered curation afforded it here. Some of the work is more physical than virtual and vice versa, sometimes the ethics of the work place 0100101110101101.ORG as the villain sometimes as the victim, and sometimes the work is performance whereas other times it is assemblage. I mention this to point out both the strong themes to the work and how individual the effect of each piece is.
Net art in the gallery might seem a category error, like museum postal art. Or it might seem a commodity, like auctions of land art documentation. But net art is transitioning from being the contact language of artworld emigrants learning the net's protocols to the contact language of net emigrants learning artworld protocols. 0100101110101101.ORG have made art of these encounters from the start, and have always been as at home in the gallery as on the net.
The text of this review is licenced under the Creative Commons BY-SA 3.0 Licence.
Introduction.
Whether Bunting is climbing trees, skateboarding, canoeing or working with technology he approaches it all with the same critical attention. He hacks around systems, physical or digital. Right from when he built his first computer at the age of 14, his life has been an experimental research project. His practice consists of a dry sense of humour and an edgy, minimal-raw aesthetic, mixed with a hyper-awareness of his own artistic persona and agency in the world, whilst engaging with complex political systems, institutions and social contexts.
Even though the subjects he explores are likely to be the most topical or important issues of the day, it always includes playfulness and an element of the prankster in his work. His work regularly highlights issues around infringements on privacy or restriction of individual freedom, as well as contexts concerning the mutation of identity; our values and corporate ownership of our cultural/national 'ID's', as well as our DNA and investigations into Bio-technologies. In an age where we are submersed in frameworks and protocols, designed by a neo-liberal elite for a  generic consumer class, Bunting's work is well placed as observation and practical research into the 'depths' of legal and illegal territories in our contemporary, networked cultures.

North Herts Gazette Series Thursday, November 13, 1980.
The Status Project.
"our identity is constructed as human beings that can possess one or more natural persons and control one or more artificial persons. The higher up in the class system the better the access to status variety."(Bunting)
The Status Project, is a study of the construction of our 'official identities' and creates what Bunting describes as "…an expert system for identity mutation". His research explores how information supplied by the public in their interaction with organisations and institutions is logged. The project draws on his direct encounters with specific database collection processes and the information he was obliged to supply in his life as a public citizen in order to access specific services; this includes data collected from the Internet and information found on governmental databases. This data is then used to map and illustrate how we behave, relate, choose things, travel and move around in social spaces. The project surveys individuals on a local, national and international level producing maps of "influence and personal portraits for both comprehension and social mobility".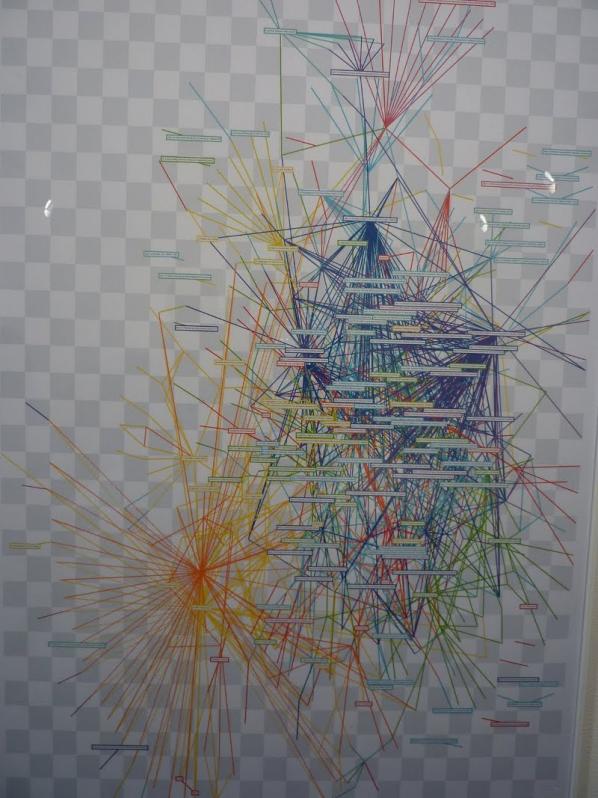 The use of data in contemporary life has made individuals an accessible resource to commercial and political interests. We are a rich source of data-mining material. Data-mining is a process that potentially commodifies our interactions. It's historical roots lie with the development of artificial intelligence (AI) and 20th Century statistical analysis. These two methods of formulating data have grown ever closer together backed by corporations and government initiated military funding. Social networks such as platforms like Facebook and Internet networked institutions such as Google, and the US military are all obsessed with our behaviours online. A good example of this, is NSA's recent rebirth in turning most of its surveillance apparatus to spy on the US and its citizens. They have built a super computer tracing through billions of people's emails, phone calls, online activities, but also in other countries outside of the US. The UK government is currently going through the political process of trying to implement similar spying protocols and systems to watch what UK citizens are up to also.[2]
"Google suffers from data obesity and is indifferent to calls for careful preservation. It would be naive to demand cultural awareness. The prime objective of this cynical enterprise is to monitor user behaviour in order to sell traffic data and profiles to interested third parties." [3] (Lovink)
Bunting is a Hacktivist Artist, acting (playing) out the role of a spy collecting and observing data content. Hacktivist Artists work with technology to explore how to develop their critical and imaginative practice in ways that exist beyond the frameworks of art establishment and its traditions. The established art arena is gradually catching up with this kind of artwork, although one could be forgiven for thinking that many of the art critics and galleries out there are still caught in the 20th Century.
Two other artists also working on people's data are Julian Oliver and Danja Vasiliev. They have collaborated on exploring alternative identities as the mysterious group, Men in Grey.[4] They detect online users vulnerabilities by tapping into and intervening into wireless network traffic – observing, tracing and copying user online activities. It is then redisplayed either online on their web site for others to view, or transfered onto a visual screen on the side of a briefcase as an intervention in cybercafes, for all to view. Although, no one actually knows other than themselves if the data is really hacked and then redisplayed on these briefcases, as proposed in their video featuring one of their interventions. One thing is for sure – they have touched upon issues concerning our fears about personal data being seen by other people who we'd prefer were not viewiing it.
The Status Project also taps into questions concerning technology, hierarchy and power. We are entwined in a complex game where the sacrifice of our information is part of the deal of being connected with others across digital networks. This opens up the issue of our 'human' status being aligned 'to and as' objects, of measurement. Through travel ports, our vehicles, passports, ID cards, library cards, mobile phones, alongside information about our health. We have mutated into networked (information carrying) beings. Bunting's own position on this matter is that "Technology is becoming more advanced and the administration of this technology is becoming more sophisticated and soon, every car in the street will be considered and treated as persons, with human rights. This is not a conspiracy to enslave human beings, it is a result of having to develop usable administration systems for complex relationships. Slaves were not liberated because their owners felt sorry for them, slaves were given more rights as a way to manage them more productively in a more technologically advanced society."[5]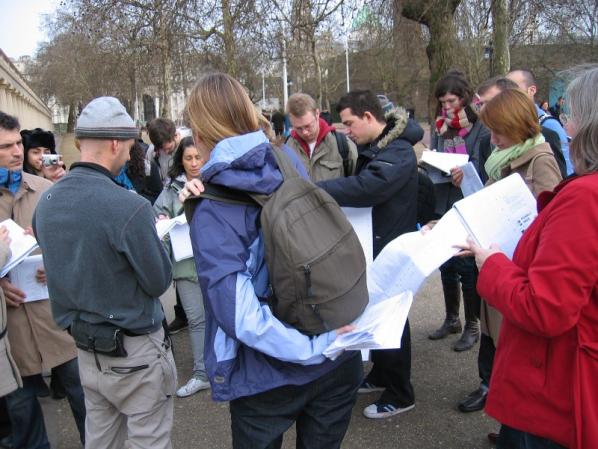 Identity orienteering competition, Piccadilly Circus, Institute of Contemporary Arts (ICA), London, United Kingdom (UK), 2008.
In the UK, in 2006 a research document called 'A Report on the Surveillance Society For the Information Commissioner' was published. Produced by a group of academics called the Surveillance Studies Network. This report was presented to the 28th International Data Protection and Privacy Commissioners' Conference in London, hosted by the Information Commissioner's Office. The publication begins by saying "Conventionally, to speak of surveillance society is to invoke something sinister, smacking of dictators and totalitarianism […] the surveillance society is better thought of as the outcome of modern organizational practices, businesses, government and the military than as a covert conspiracy. Surveillance may be viewed as progress towards efficient administration, in Max Weber's view, a benefit for the development of Western capitalism and the modern nation-state."[6]
We are not only under surveillance by entities we do not trust, we are also tracing each other online. Recently, in a show called 'Being Social'[7] at Furtherfield's new gallery, artist Liz Sterry showed her installation piece, 'Kay's Blog'. Sterry had "collated not only one form of online social engagements but all she could find about a Canadian blogger called Kay. Using everything from photographs to things Kay has mentioned in videos, blogs and posts on social networks, Sterry has recreated Kay's bedroom in the gallery."[8] (Scott)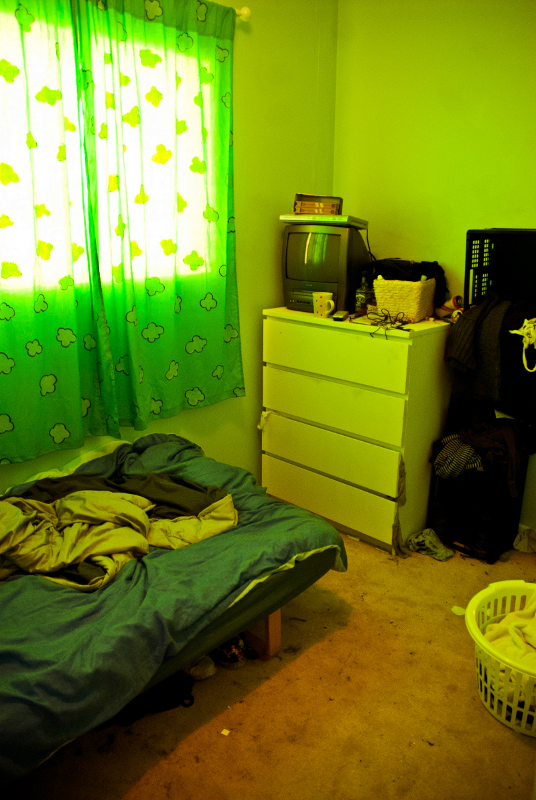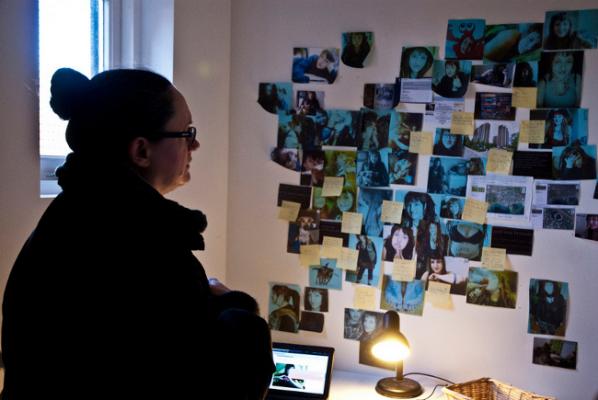 Installation shots. Kay's Blog. Liz Sterry. Being Social exhibition at Furtherfield Gallery,
Finsbury Park – 25 February – 28 April 2012. Images by Pau Ros.
""There were times when I felt quite creepy," says Liz, 28, as she shows me lists of Kay's Facebook friends and a Google Streetview of her apartment block while a playlist of her favourite songs plays in the background."[9]
Yet, as this ever-creeping surveillance culture grows and attaches its all seeing eyes onto us all. Whether we are referring to domestic interactions, organizational or deliberate, this is not the main issue. Neo-liberalism has developed so much now, we are all part of the Netopticon. English philosopher and social theorist Jeremy Bentham in the late Eighteenth Century designed the Panopticon. It allowed officers in institutions, particularly in prisons, to observe (-opticon) all (pan-) inmates without them knowing whether or not they are being watched. In the end it was not built, but the French philosopher Michel Foucault in his publication Discipline and Punish: The Birth of the Prison,[10] in 1975 said that we are not only monitored in prisons, but in all hierarchical structures like the army, schools, hospitals and factories. This process has evolved through history to resemble Bentham's Panopticon. The up-dated version of Panopticon, can now be thought of as the Netopticon – where individuals are complicit in feeding their own forms of collective co-surveillance, as well as being traced by corporations, governments and spammers.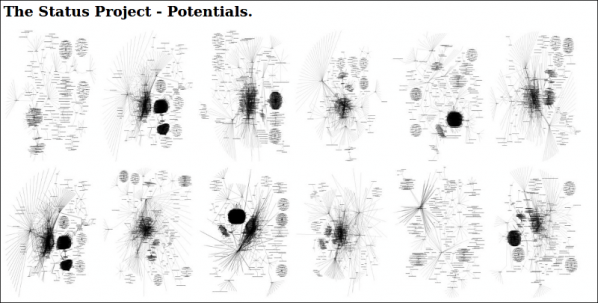 "What your data body says about you is more real than what you say about yourself. The data body is the body by which you are judged in society, and the body which dictates your status in the world. What we are witnessing at this point in time is the triumph of representation over being. The electronic file has conquered self-aware consciousness." [11] (Critical Art Ensemble)
So far, for the project he has created a functioning, sketch database of the UK system with over 10,000 entries – made over 50 maps of sub-sections of the system to aid sense of place and potential for social mobility. Bunting says he is also researching how to convert his identity generating software into a bot recognised under UK law as a person "covered by the human rights act i.e. right to life and liberty; freedom of expression; peaceful enjoyment of property. I am very close to achieving this."
This bring us to another part of the project what I call 'Identity Kits', and Bunting calls 'Synthetic off-the-shelf (OTS) British natural person'.[12] These kits consist of various items, personal business cards, library cards, a national railcard, t-mobile top-up card, national lottery card and much more. They take a few months to compile each of them because they are actual items that everybody uses in their everyday lives, involving evidence of identity. There is also a charge for the package of 500.00 GBP, which is cheap for a new identity.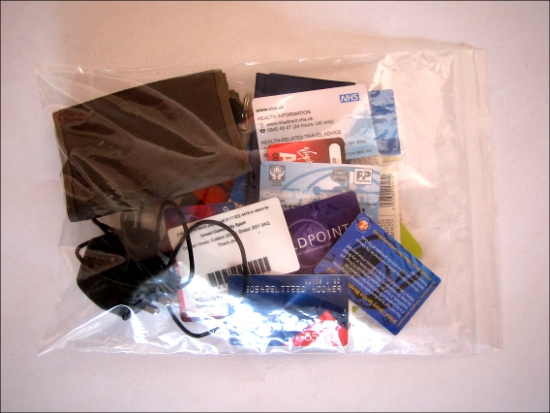 Bunting stresses that these UK identities are lawful and that there is no need for any official consulting or permission from an authority to use or make them. Through this he intends to illustrate a precise codification of class in the UK system. Currently, he defines three classes of identitiy: human being, person and corporate. What class of individual you are places you into categories of evaluation, this process allows others to judge your status, worth and value, within a hierarchy, which is clearly represented in the status maps.
This work touches on issues around our everyday status as a critique, but also as an investigative hack, and plays around with the quagmire of inequality currently in the UK. Inequality is built, constructed into the fabric our societies as an accepted default, through tradition, social or mechanistic, holding in place societal divisions. If there was a status project made in other countries reflecting their own status, worth and value of citizens there would be clear links defining where the connections and divisions lie, between each culture. In fact, another project worth mentioning here is 'The Spirit Level: Why More Equal Societies Almost Always Do Better'. [13] The authors Richard Wilkinson and Kate Pickett have done their own 'extensive', detailed research in highlighting through many different graphs, mapping out inequality around ther globe.
"We know there is something wrong, and this book goes a long way towards explaining what and why." [14] (Hanley)
Bunting's work expresses a discipline conscious of agency, autonomy and enactments for self and collective empowerment. Hacking different routes around what at first is seen as too big to deal with, lessens its power and awe. Like Burbank in the 'The Truman Show', what we have been told is not real. Bunting knows this instinctively, and is on a quest to upturn each stone to see what lies beneath. But at the same time these facilities created to crack the social, and data orientated codes, are shared. He then leaves the paths he has discovered wide open for others pass through, as we all struggle to survive the ever creeping strangle-hold, of the Netopticon.
———————————————————————-
This article was written for and will be published as part of Heath Bunting's presentation in Athens 'Workshop How to Build a New Legal Identity', May 5th 2012.
During the workshop, Heath Bunting will introduce us to techniques and strategies on how to form new identities. The distribution of the workshop How to Build a New Legal Identity across Europe aims at exploring the characteristics of identity in each country.
Artist's Talk: May 4, 2012 @ 19.00
Workshop How to Build a New Legal Identity: May 5, 2012 @ 12.00
Frown Tails, 6 Paramythias str, Keramikos, Athens
Organised by: Katerina Gkoutziouli and Frown Tails
http://www.frowntails.com/heathbunting.html
References:
[1] The NSA Is Building the Country's Biggest Spy Center (Watch What You Say). By James Bamford
– http://www.wired.com/threatlevel/2012/03/ff_nsadatacenter/all/1#
[2] Internet activity 'to be monitored' under new laws
http://www.telegraph.co.uk/technology/news/9179087/Internet-activity-to-be-monitored-under-new-laws.html
[3] Lifetracing 2. The Advent of the Engines. 2.2 Indexing and Privacy Issues. Anne Helmond.
http://helmond.networkedbook.org/lifetracing-2-the-advent-of-the-engines/
[4] Revisiting the Curious World of Art & Hacktivism. By Marc Garrett – 02/03/2012
http://www.furtherfield.org/features/articles/revisiting-curious-world-art-hacktivism
[5] The Status Project: Data-Mining Our Identities. An interview with Heath Bunting by Marc Garrett – 20/07/2010
http://www.furtherfield.org/interviews/status-project-data-mining-our-identities
[6] A Report on the Surveillance Society. For the Information Commissioner by the Surveillance Studies Network Sept 2006
http://news.bbc.co.uk/1/shared/bsp/hi/pdfs/02_11_06_surveillance.pdf
[7] Being Social. Since the mid-90s computers have changed our way of being together. First the Internet then mobile networks have grown as cultural spaces for interaction – wild and banal, bureaucratic and controlling – producing new ways of 'being social'. Visitors are invited to view art installations, software art, networked performances and to get involved with creative activities to explore how our lives – personal and political – are being shaped by digital technologies.
http://www.furtherfield.org/programmes/exhibition/being-social
[8] Furtherfield Gallery opens with exhibition questioning online society. wired.co.uk. By Katie Scott March 2012.
http://www.wired.co.uk/news/archive/2012-03/12/being-social-at-furtherfield-gallery
[9] The Furtherfield Gallery's debut show in its new Finsbury Park home will make you question what you put online. 7th March 2012. By George Nott. Enfield Independent http://tinyurl.com/c3o7bo9
[10] Discipline and Punish: The Birth of the Prison (Penguin Social Sciences). Michel Foucault (Author), Alan Sheridan (Translator). Penguin; New Ed edition (25 April 1991).
[11] The Mythology of Terrorism on the Net. Critical Art Ensemble. Summer 95.
http://www.t0.or.at/cae/mnterror.htm
[12] Synthetic off-the-shelf (OTS) British natural person.
http://status.irational.org/identity_for_sale/#
[13] The Spirit Level: Why More Equal Societies Almost Always Do Better'. by Richard Wilkinson and Kate Pickett. http://www.equalitytrust.org.uk/resource/the-spirit-level
[14] The way we live now: A hard-hitting study of the social effects of inequality has profound implications, says Lynsey Hanley. http://www.guardian.co.uk/books/2009/mar/13/the-spirit-level