To many, technology and spirituality would seem antithetical. Contemporary technology is intertwined with modern science, whereas, spirituality is equally enmeshed within both religion and faith. The Post-Human Gospel self-consciously accepts this awkwardness, and manoeuvres these two uneasy bedfellows together. Offering up a night of performances, by artists whose entangled relation to technology seeks to posit new forms of identity and spirituality.
This is the latest in a series of events, collectively entitled Syndrome, seeking to explore the relationship between technology and affect in performance. The Post-Human Gospel marks the start of the third phase of this activity, collaboratively programmed by Mercy and The Hive Collective. If 3.0 is heading into the realm of spirituality, then earlier phases have played with both language and control – whether the constraints enforced on the body in virtual space, role-playing authority within the State Free State of a.P.A.t.T island, or a 'room as instrument' where you can physically manipulate sound and light. Across these events, those involved ask how we might interact or play with this technology, and in turn, how this experience might then act upon on us – our feelings and emotions?
The venue at 24 Kitchen Street has played host to several past Syndrome events, and as such feels like a hub for this activity as it meanders across the city. Arriving early there is a relaxed feeling to the space: people stand around chatting, whilst others tinker with equipment and final set-up, all bathed within the blue glow of the expectant projection screens. There is a familiarity to the space on a number of levels – not only physically, with decaying white walls and exposed structure typical of the post-industrial use of such buildings, but also in terms of its unclear typology, part-bar, part-residency-space, part-performance-venue, part-something-else-entirely. An earlier performer, Mathew Dryhurst, described a type of 'third space music' that requires a new type of venue. Something that Syndrome is clearly looking to create in Liverpool.
The evening's Gospel was tripartite, starting with SHRINE by Outfit, followed by a first-time collaboration between Lawrence Lek and Siôn Parkinson, and then brought to a close with a live AV set by TCF. All performed from a improvised V-shaped altar – constructed from scaffold, screens, speakers and an array of other equipment – and oriented to the rows of the largely seated congregation.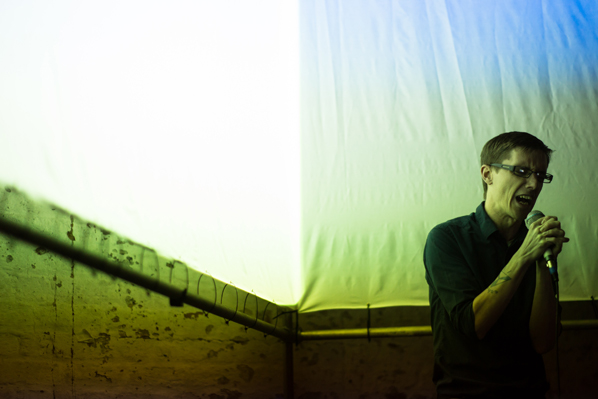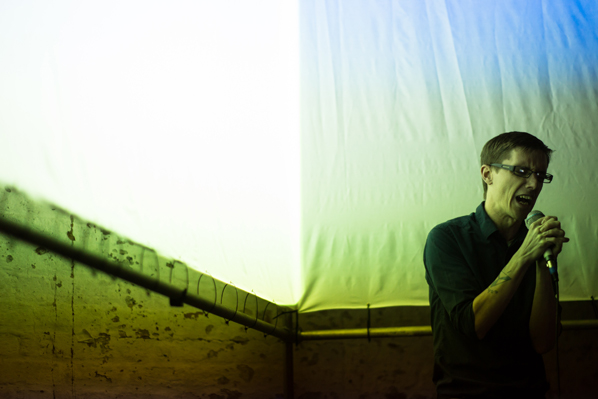 A live performance-cum-guided-meditation, SHRINE was made in collaboration with the band Outfit and performed by lead guitarist Nick Hunt. Against the backdrop of a consistent electronic hum, the light of multiple projections alternates to produce a strobe-like effect. After the instruction to close our eyes, a distant reverberant monologue begins: "What is the meaning of asteroid? What is the meaning of baptism?" The warm flicker on the interior of the eyelid creates a soft trance-like state and the potential hypnotic suggestion washes over us. The minimal rhythmic repetition of this basic structure continues, but strays further and further from these initial references. What is the meaning of blurred lines? … Chandelier? … D-Day? … FIFA? Alliteration and rhyming abound. Selfie. Sophie. Stonehenge. Peter Pan. Quran. Ramadan. There is an emptying out of meaning, and a breakdown of language. KKK … K. The voice has a haunted quality, that of an entity in a state beyond being human. Perhaps it is the voice of the network, which the monologue refers to as 'watching over us', of 'being busy'. It promises a revelation that is coming, that is now, another world, one that we don't reach. Ultimately it leaves us cleansed, or rinsed out. Then I learn that the work was written with the assistance of Google Instant predictions, hence the alphabetical concatenation of words. Not so far from the network watching over us after all.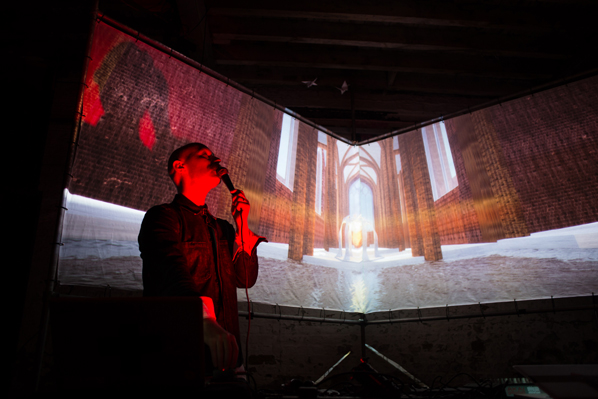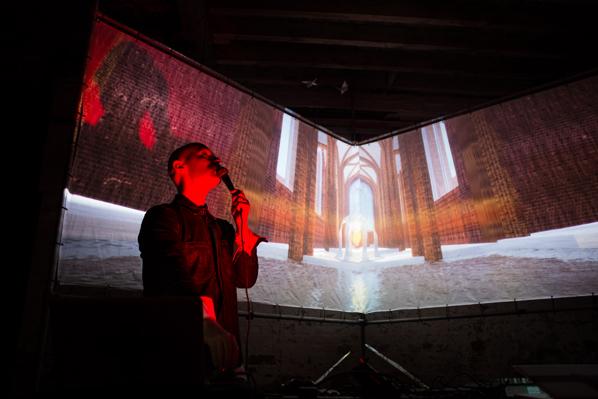 Lawrence Lek and Siôn Parkinson's performance is the result of a short residency leading-up to the event, and therefore has a more involved relation to Syndrome. This residency structure is a recurring feature of the programme, with past residents including K回iro (Holly Herndon and Mathew Dryhurst), and before that Jamie Gledhill and Stefan Kassozoglou. Whereas these past examples involved existing partnerships, Lek and Parkinson's collaboration was the first time that Syndrome brought together two artists, placing Parkinson's vocal performance inside the digital landscape created by Lek.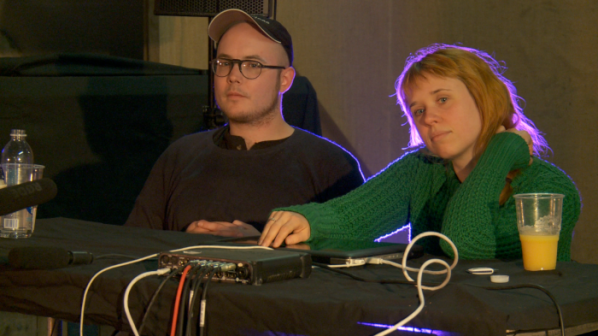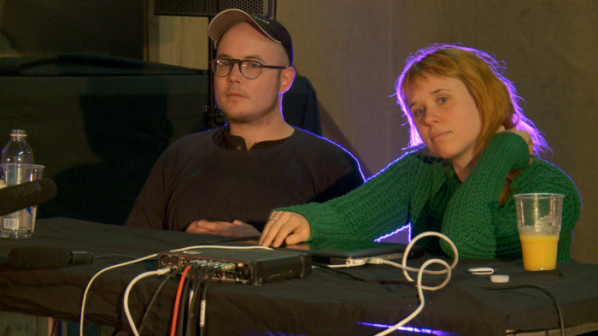 A simulation of Liverpool's Anglican Cathedral frames the performance, and provides an imagined perspective on this familiar architecture. Starting from a removed position – with the spectral cathedral in the distance – we roam through a wood, trees blowing in the wind. This landscape glitches in a way familiar to the experience of online or virtual worlds, and is accompanied by a soundscape produced by Lek on guitar and electronics. Gradually approaching our destination, bells peal, and further sounds produced begin to resemble those of an organ, groaning and droning as we enter its interior. Parkinson's body is silhouetted against the projected architecture, his head bathed in red light and his voice rising as Lek's audio recedes into the background. An otherworldly sermon tells of teeth wrenched out from a mouth to form the keyboard console of the church organ. Moving from sung to spoken word, to deep guttural noises. Rumbling bass emanating from the body, amplified, and shaking the room. Lek's guitar returns, and there is the liquid crackle of noise as water rolls down the walls, and fire inhabits the projected interior. Our point-of-view rises high above the cathedral, and we see it situated in a landscape abundant with lakes and islands, like some stretched-out fantasy where this iconic building is removed from its physical context – as though transplanted from Liverpool to another world.
These mystical images continue through to the final performance by Lars The Contemporary Future Holdus (TCF). Projecting an increasingly entangled use of technology, he plays with encryption, code and algorithms to construct a subdued visual and sonic space. Twisted and distorted beeps shudder as fragments of sound screech and scrape along the digital surface, and liquid forms slip across the projected image. This precise construction appears to breathe, the sonic utterances repeatedly sucked back inside themselves as the molten amorphous form visually expands and contracts like something from within the bodily interior. There are moments where a mouth/voice emerges, a digital blob talking to us in a language that we cannot comprehend. Behind this audio-visual surface there is something else going on, something that Lars Holdus is engrossed within as he operates the TCF system – tinkering with the algorithm to progress through a series of potential compositions. Yet despite this, I feel largely disconnected – lacking in empathy – as though missing something in what is going on. There is an evident penchant for the opaque, that creates a distance between TCF and the audience, potentially even alienates. This is acknowledged by the artist, who states: "even the presentation is an encryption in itself. And therefore the people that won't be triggered like that won't access it."1 I clearly fail to trigger, and my access is denied.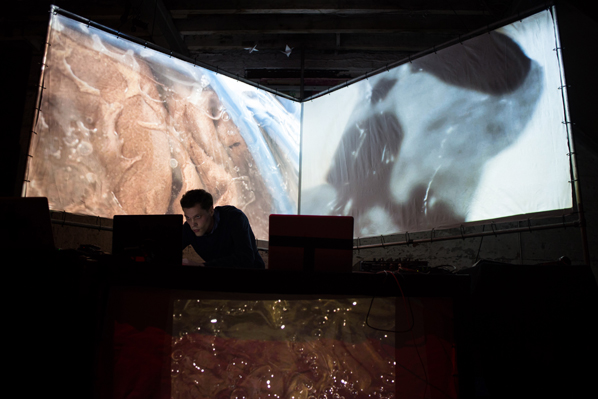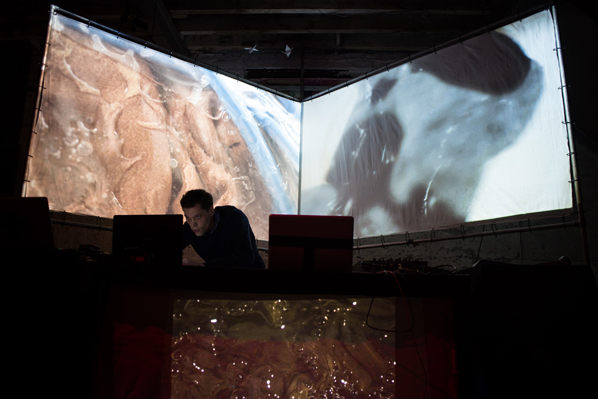 Syndrome is creating a space for artists, musicians and coders to experiment with work that merges electronic music and spoken word performance. The affordance offered by the flexibility of the venue has allowed an approach that would not have been possible within a space in daily use. These latest performative responses make clear that is it not about offering concrete proposals about what is going to happen, before they have time to come into being. Rather, what we witness is artists playing with the resources available, and figuring out what these things might do to us. There is a genuine openness and a potential intimacy to this approach, as well as the acceptance that the results will not always connect or affect audiences in the ways that they might be hope.
Different types of voice seem central to the three works presented within The Post-Human Gospel, affecting the human vocal output as well as trying to give voice to instruments, electronics and digital space. There is something in this that Holly Herndon has described as a "fleshy approach to machinery", where these digital tools can take on a post-human quality, one that can become or embody different identities. This looks set to continue with the forthcoming event Brain/Music Experiments where artist Dave Lynch, neuroscientist Christophe de Bezenac and deaf classical musicians Ruth Montgomery and Danny Lane explore the ways a brain wave scanner can contribute to live music and visual performance.
The intention for Syndrome is to learn from all the visiting artists and the performances they create in this exploratory year. Looking for moments when performances create affective interfaces to communicate with people. Where they speculate on, or re-conceive, the relationship between human and technology. If they go on to develop a new live experience with the artistic community that surrounds Syndrome – as they suggest they will – I look forward to experiencing how the cumulative knowledge built up through these earlier events is harnessed to final affect.