Artist and designer Ling Tan talks about the SUPERPOWER! workshop that explored ways to empower young women through a creative exploration of wearable technology in public space.
Last summer, artist and designer Ling Tan worked with young peer leaders from All Change Arts, and the Furtherfield team to devise a project called SUPERPOWER! Finsbury Park. It brought together young women from different walks of life to discuss their relationship with the city. The project explored the ability for technology to bring about female empowerment, and question the participant's role as female in regards to decision making about our city.
Three common themes by the participants were collectively identified, and linked to a place in Finsbury Park. Using the themes to co-create a series of wearable devices that enabled them to record their subjective perceptions of the city using gesture sensing technology. These were: Cultural diversity and inclusivity in our community; Safety of individuals in the London Borough of Islington and; Wheelchair accessibility around Finsbury Park area
It was all co-scripted and used for an exploration walk, involving the team walking around a specific area of Finsbury Park, performing and recording their subjective experiences using the wearable devices that catalogued their gestures. During the workshop, participants designed body gestures using the wearable technology which track their body gestures and communicate remotely with each other through haptic/audio sensors.
Marc Garrett: Where did the idea for the workshops come from and how did the concept of superpower shape what participants did with your wearable technology.
Ling Tan: In SUPERPOWER! Finsbury Park, the participants were young women aged 15-25 years old and almost all of them have no prior knowledge of electronics and coding. Instead of the workshop being about coding and making, I wanted it to focus on empowerment, challenging them to go beyond their comfort zones. Hence the term "superpower" became a powerful concept to get them to think about technology as a form of superpower that extends their perception into the environment. The idea for the workshop built upon a couple of projects I was doing over the past few years; WearAQ and Fakugesi Social Wearables. The projects use wearable technology to enable different communities to actively record and map out their relationship with their cities through individual subjective perception in the form of body gestures. For example, perception of air quality in London, UK and perception of safety on the streets in Johannesburg, South Africa.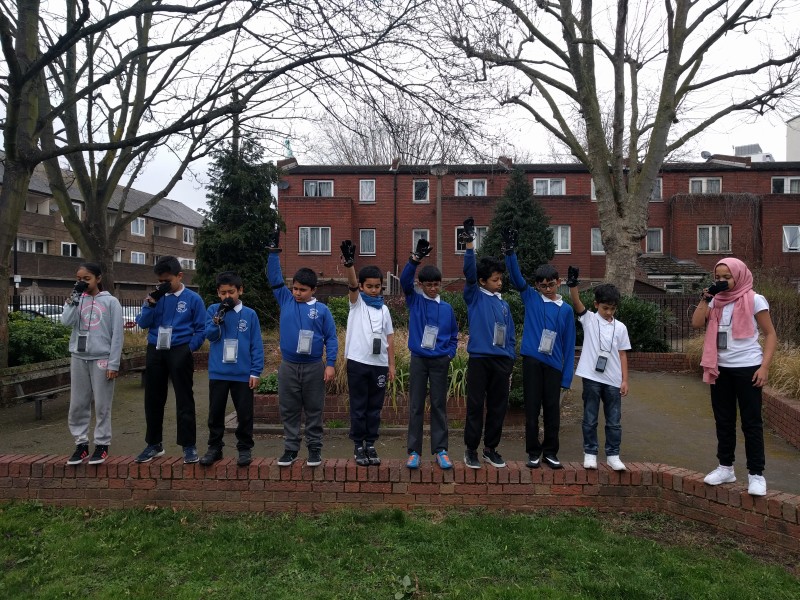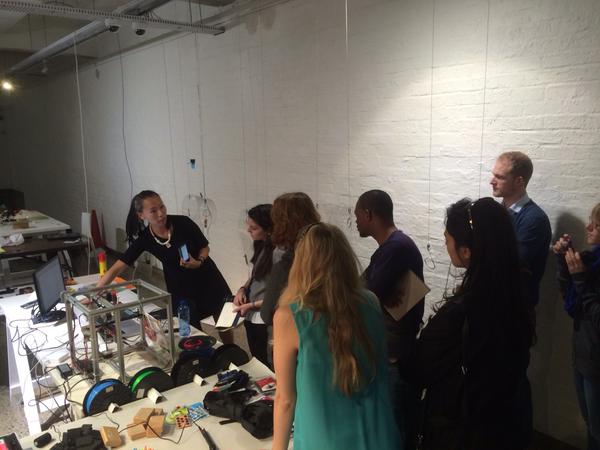 In the workshop, participants discussed about their relationship with Finsbury Park, designed experiments and body gestures to map out their own relationship through the use of an existing set of wearable devices, went out into public space and run with experiments with strangers, park users. For me, learning about what they want to do with technology is more important than picking up skills like coding or fabrication.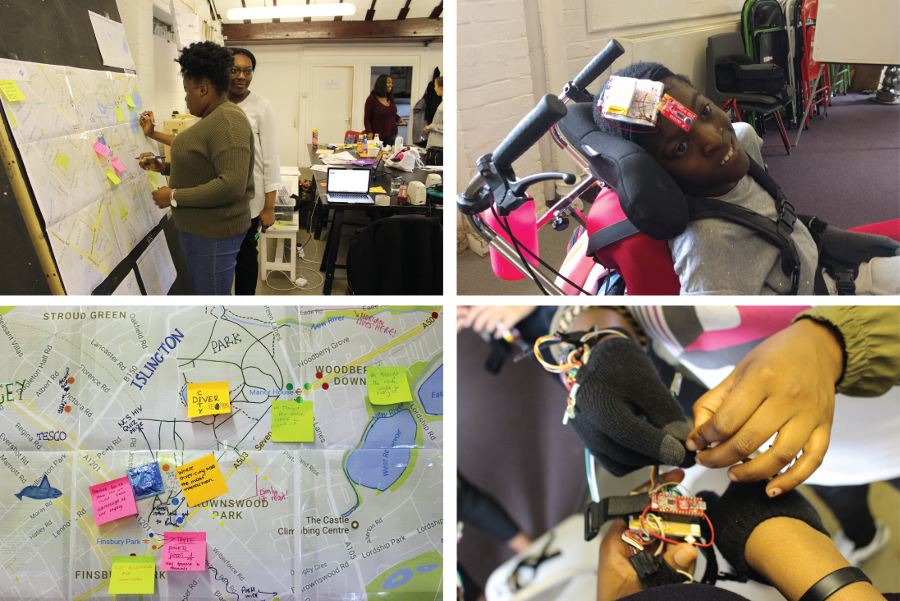 MG: We were surprised to hear how much the young women had appreciated being taught in depth about how the wearable technologies worked as part of this workshop. Do you think this informal workshop format offers a different way of supporting learning about and working with technology? What most surprised you about the way that the young women responded?
LT: I wanted to steer away from a conventional technology workshop where participants would focus on coding and fabrication, than design, because these are skills that they can pick up themselves through on-line documentation and support. For me, what is more important is to figure out what their own interests are with technology, by learning it through hands on design activities with ready made wearable technology. That way, it makes them feel comfortable with tackling complex technology and it also gives them the opportunity to learn about issues that might occur when technology is tested in the real world, checking it out when it does not work and why.

I was most astonished by their speed of learning and how well they picked up the tech knowledge. For example, one part of the workshops involved learning about the body gesture and what the wearables can detect through decoding "1" and "0" read via the body gesture sensors. I was very surprised that they were able to quickly translate that into their own body gesture design.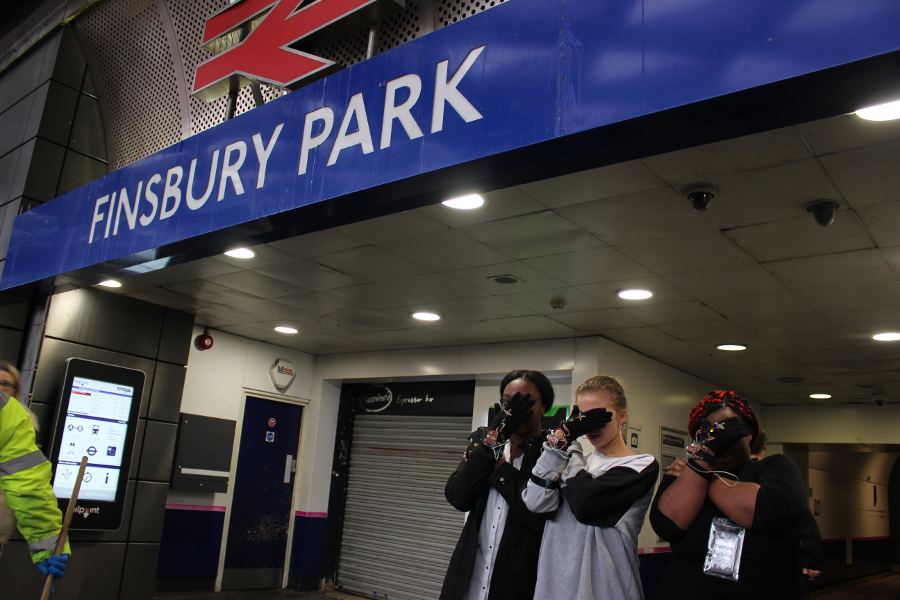 MG: Your workshop addressed questions of value in technology innovation, in the particular context of working in the public space of the park. Please tell us about how you approached these questions and why this is important to you.
LT: I think its is important to demystify technology especially given that we are living in an era where technology is so embedded into our everyday life that we take it for granted and do not notice its impact. It is important for the younger generation to learn about ethics of technology, to be curious about who and why companies are designing specific types of technology, and most importantly, to learn that technology does not always work, that technology cannot solve all our problems. They need to learn to be proactive and have a sense of agency in tackling issues concerning their own environment. For example, issues such as safety on the streets cannot be solved entirely by technology, it also needs other input such as citizen vigilance, policy and law changes.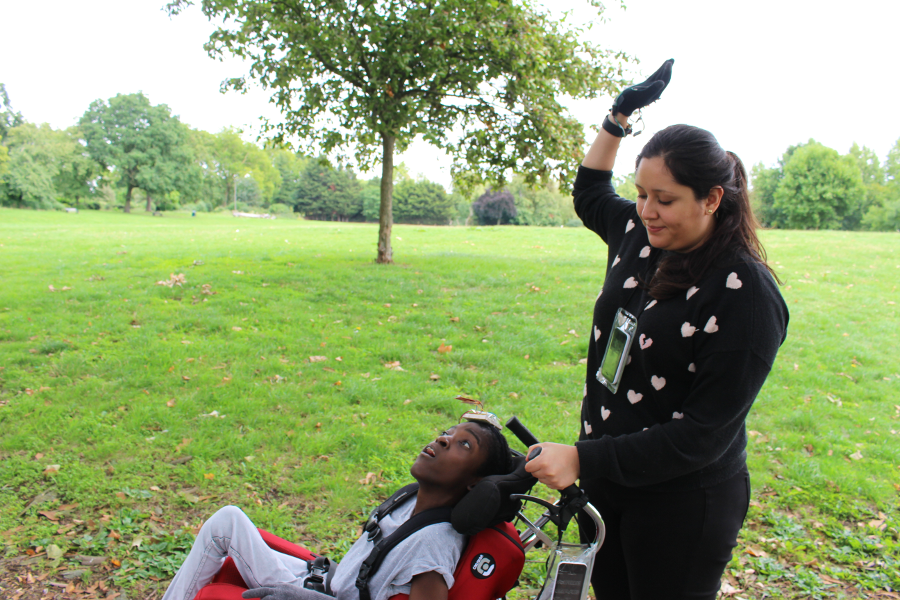 SUPERPOWER! Finsbury Park was a part of the B Creative Summer School, a programme of arts projects created by young women for young women aged 16 – 25 in Islington.
Special thanks to:
All the participants involved in the project
Peer leaders from All Change
Ella Medley Whitfield
Commissioned and supported by: Furtherfield and All Change
This project has been funded with the support from the European Commission. This communication reflects the views only of the author, and the Commission cannot be held responsible for any use which may be made of the information contained therein.