Furtherfield is pleased to present the UK Book launch of STATION ROSE: 20 Digital Years Plus, published by Verlag für Moderne Kunst Nürnberg.
DR. Richard Barbrook will give a short introduction to the evening.
The Digital Art of Station Rose started in Vienna in 1988, at a time when the Web still was far beyond mainstream, when Mondo 2000 never had heard about the music genre "Techno", when future net-art-critics still mostly were university students, and when the Iron Curtain was surrounding Austria´s east, south east and north border.
"Station Rose had every right to claim 'cyberspace is our land.' They were there very early, they raised their antennas and put down deep roots, and they never left." – Bruce Sterling, 2010
Station Rose, pioneers of digital culture, have produced an artist's book which delivers a current description of the situation of media art from 1988, when the studio was founded, until 2010. Station Rose (Elisa Rose and Gary Danner) are considered to be innovators and visionaries in the field of audiovisual art, electronic music, net art and audiovisual live performance. The book features audio-visual works, performances, installations and Web 2.0 activities and linkings. Part of the book is dedicated to the media sculpture LoginCabin exhibited for three months in 2009 in the MAK in Vienna.
The latest art of Station Rose refracts the logistics and glitches of the Internet through the deceptively low-fi aesthetic of contemporary art's installations and performances. "Twenty Digital Years Plus" shows how this fits into their history of using the viruses of visual, verbal and computer language to find insightful ways of conceptualising digital culture.
RSVP – Please contact Ale Scapin
http://www.stationrose.com/STR-Books/20DYplus-book.html
How to get here:
http://www.furtherfield.org/contact
About the book
Station Rose 20 Digital Years plus. 1988–2010 –>
paperbook with flaps 16,5 x 22 cm
192 pages., german/engl.
Euro 40,00/sFr 64,00
ISBN 978-3-86984-111-3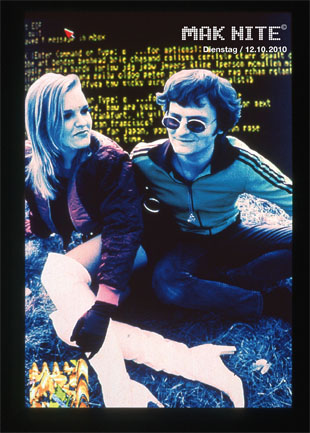 Texts and statements by:
Peter Noever (preface), Howard Rheingold, Bruce Sterling, Gabriele Horn, Vitus H.Weh, Didi Neidhart, Peter Weibel, Dr.Hans Diebner, Christoph Tannert, David Hudson, Terence McKenna, Elisabeth Zimmermann, Doug Millison, Dr.Timothy Leary, Elisa Rose, STR, u. a.

Supported by:
Österreichisches Kulturforum Berlin, Stadt Frankfurt am Main – Dezernat für Kultur und Wissenschaft, BMUKK Wien, Hessisches Ministerium für Wissenschaft und Kunst, Kultur Land Oberösterreich.
Distributed in the United Kingdom
Cornerhouse Publications
70 Oxford Street, Manchester M1 5 NH, UK
phone +44-161-200 15 04, fax +44-161-200 15 04

Distributed outside Europe
D.A.P. Distributed Art Publishers, Inc.
155 Sixth Avenue, 2nd Floor, New York, NY 10013, USA
phone +1-212-627 19 99, fax +1-212-627 94 84