The leaking of the Panama Papers in 2015 (and later the Bahamas and the Paradise Papers), have exposed the extent to which part of the richest world elite has a consolidated habit of avoiding paying taxes. The leaks from the Panamanian global law firm Mossack-Fonseca have uncovered the illegal assets and murky fiscal dealings of hundreds of powerful individuals and corporations, providing detailed information on their bank accounts and shell companies.
Two years after the release of the Panama Papers, the 15th conference of the Disruption Network Lab "DARK HAVENS: Confronting Hidden Money and Power" was held in Berlin Kunstquartier Bethanien, by Disruption Network Lab Berlin, April 5-6 2019. It brought together the researchers and individuals who were part of global investigations, taking severe personal risks to expose the hidden money and power structures. This time, the Disruption Network has focused on the issues of secrecy, financial corruption and tax havens to identify informational, political, technological and artistic countermeasures to such topics.
Tax evasion is a colossal and complicated issue. Several unexpected countries that offer comparatively low corporate tax-rates and protect bank secrecy can indeed be included within a broader definition for tax haven. Many receive information for abroad assets and income but do not share with outside authorities information about what happens domestically, to such an extent that the Caymans and Bahamas are somehow far less permissive than states such as Delaware and Nevada in the US, where shell companies are very easy to open and bank secrecy is essential.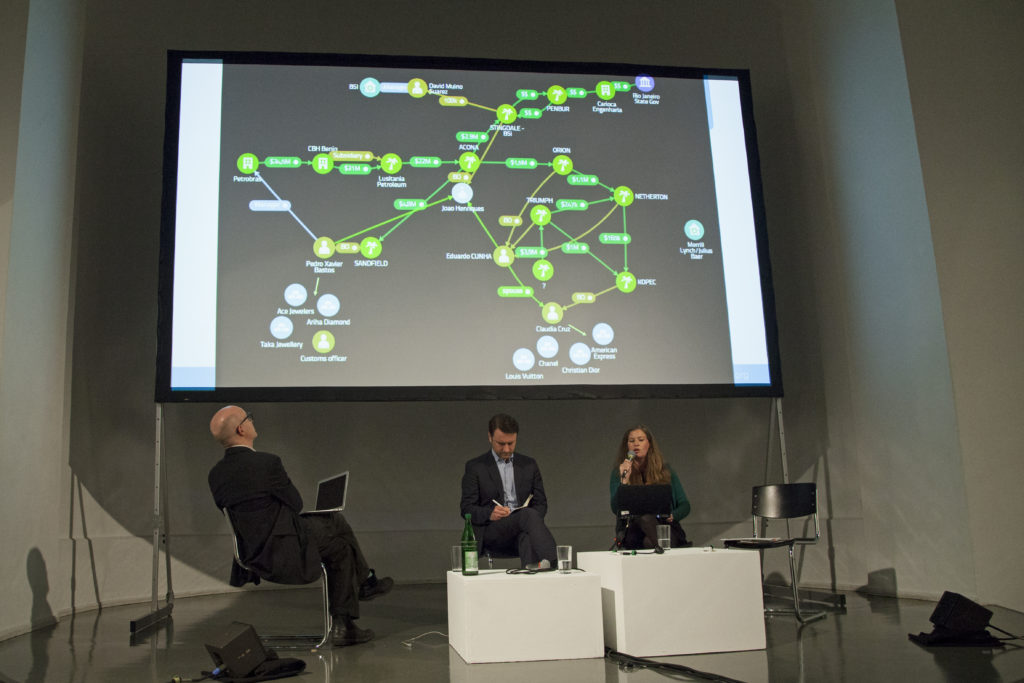 Author and researcher Nicholas Shaxson opened the conference by describing an articulated system that contributes to global inequalities and shifts of wealth from poor to rich. Transparency Internationals Senior Policy Advisor Maìra Martini described the role of banks in cross-border corruption cases, presenting schemes connecting shell companies, multiple offshore bank accounts and money laundering. The panel moderated by Simon Shuster discussed why, despite the global outrage caused by the Papers, the practice of billionaires and corporations stashing their cash in tax havens is still common.
Mossack-Fonseca was indeed just one of the many providers in the off-shore industry of Panama. And Panama is just one of the many tax havens, where complacent governments guarantee international investors that they will neither regulate nor prosecute their conducts, nor share information about their activities.
EU Institutions turn a blind eye to billions of euro's worth of wealth that disappear not always out of sight of local tax authorities across Europe. The MEPs recently stated that seven member states (Belgium, Cyprus, Hungary, Ireland, Luxembourg, Malta and the Netherlands) "display traits of a tax haven and facilitate aggressive tax planning". Obviously, tax avoidance is not related just to exotic illegal corporate offshore activities.
The leaks confirmed that several British satellite havens (E.g. Virgin Islands, Cayman, and the Channel Islands) and the City of London are closely linked through commercial and legal ties, with high chances for dark money to flow through the UK's overseas territories and crown dependencies undetected. As many participants to the conference pointed out, Brexit can just worsen this situation.

The political and economic ramifications of the leeks suggest that such a system is hard to disrupt, since it guarantees the very rich and powerful elite of the world will withhold power. 50% of the wealth held in tax havens belongs to households with more than USD 50 million in net wealth: just ultra-high-net-worth individuals can afford activities in said tax havens as they carry very high fees, although the fees are substantially less than paying taxes owed.
Reporters Ryan Gallagher and Friedrich Lindenberg from the Organized Crime and Corruption Reporting Project (OCCRP) discussed the ethics of massive data leaks, security and secrecy in juxtaposition to openness and transparency, as well as source protection and collective mobilization in the analysis of the material.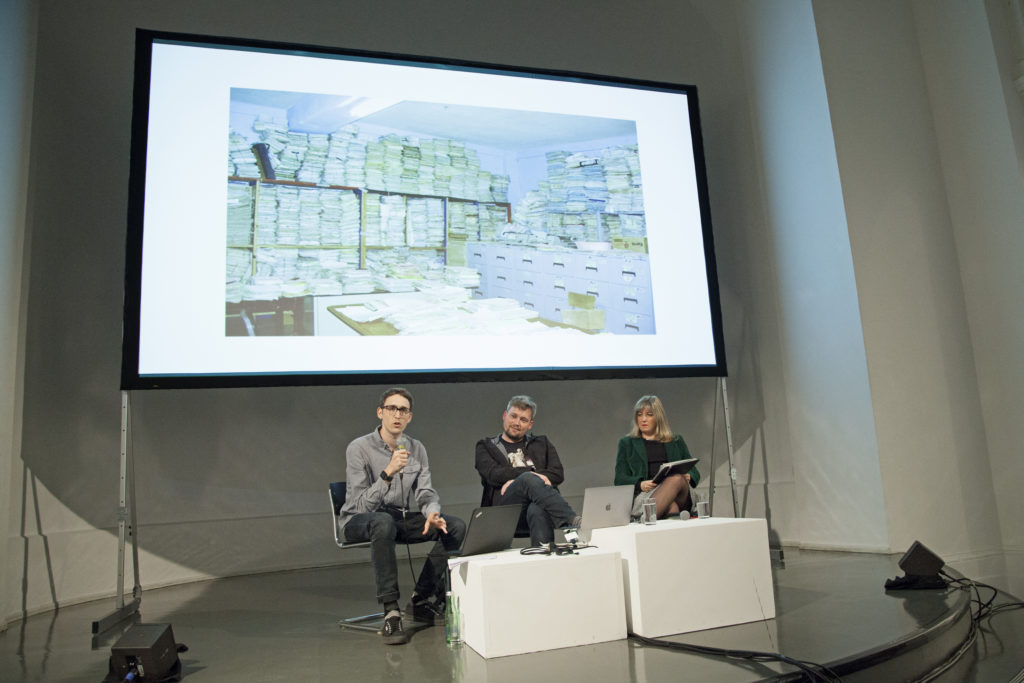 Considering the amount of leaked data (16.8 million financial confidential electronic documents about offshore investments in three years), a collective mobilization is necessary to analyse them all and uncover injustices. By these means people can force companies and privates to end their systematic tax evasion that lies at the heart of the global economic system.
How can we then try to find a road in there? It is important to share information, also creatively, with tools like "The Offshore Tour Operator" a GPS prototype presented during the conference, that guides the walk of the user through the database of the Panama Papers, in search of the physical traces of the offshore banking within the city landscape. A group of twenty people could actually see the tool in action, guided throughout Berlin by two members of RYBN.ORG, the Paris-based collective founded in 1999 that created this project.

Projects and online platforms like this could be part of the solution. They are open to individuals, tax experts and reporters too, not just law enforcement officials and activists and we all shall enhance access and participation.
In 2018, the net wealth of 26 billionaires was the same as the poorest 3.8 billion people of the world (Oxfam). An extreme disparity-rate accelerating year by year, that considers just official capitals and investments, whilst there is a whole universe of dark money stored in tax havens impossible to calculate. The impact of such a private corruption affects public fundamental services like hospitals and schools and is devastating. It's an inequality comparable to that of Versailles before the French Revolution, as the documentary "Panama Papers," that had its German Premiere during the Disruption Network Lab conference suggests.
The documentary shows how millions of files were leaked by anonymous whistle-blower John Doe to journalists of the Süddeutsche Zeitung, Frederik Obermaier and Bastian Obermayer, who shared them with the Washington-based International Consortium of Investigative Journalists (ICIJ) and coordinated a worldwide investigation, setting up an incredible enterprise.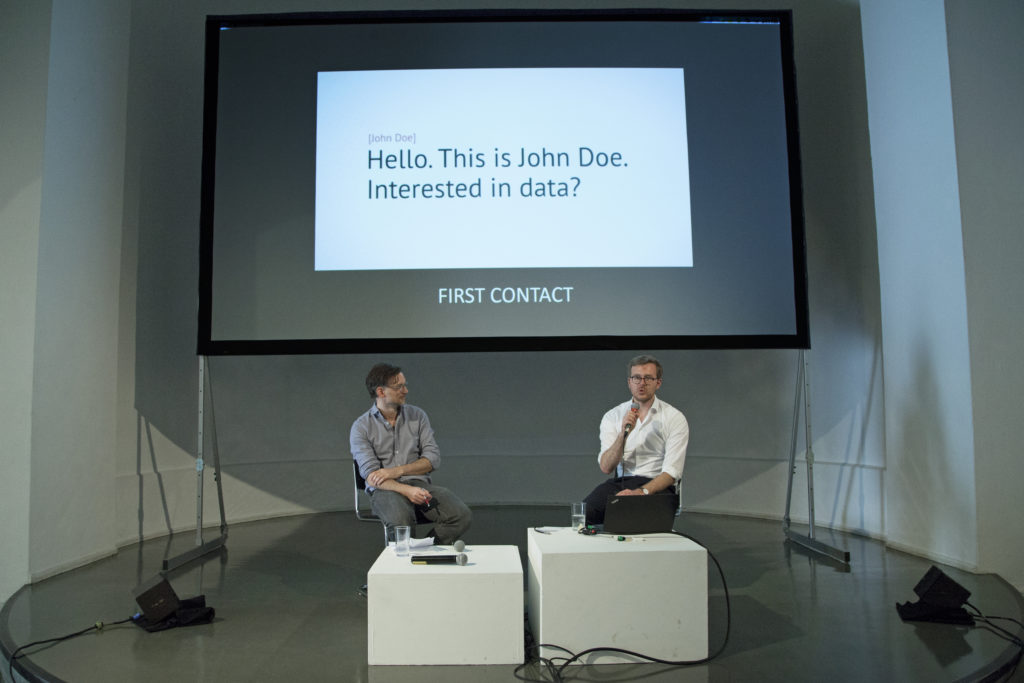 Obermaier described his choice of opening the information to other colleagues as the only possible way of analysing the information, considering that a single person would need 32 years to get through 1.4 Terabyte of leaked data. The efforts of 376 journalists from 76 countries working in secret for two years until the simultaneous publication in April 2016, was awarded with the Pulitzer Prize.

Following the Papers release more than thousands official investigations started and dozens criminal cases have been initiated. Such an activity has brought more than USD 1.2 billion back onshore as governments around the world have recouped money in fines and back taxes (UK 253 million, Germany 150 million). Participation works!
However, whistleblowers and investigative journalists working on tax avoidance and international frauds are criminalised and killed. Obermaier reported that 17% of the countries involved in the Papers has seen backlash against journalists who covered the investigation, instead of offering them effective legal protections.
To reverse this trend, the conference focused on the personal impact of investigative journalism and whistleblowing for those who expose offshore corruption and tax havens. The stories of women suffering the consequences of their anti-corruption activities were presented in a panel moderated by Michael Hornsby, communications officer at Transparency International.
The video "Daphne Caruana Galizia. Anti-Corruption Award Winner 2018" directed by David Velduque, opened the discussion with an interview of Paul Caruana Galizia, son of Daphne, talking about the journalist from Malta assassinated in 2017 after she uncovered a thread of hidden connections linking major multinational deals and global money-laundering operations to the heart of Malta's government.
Exposing injustice caused consequences to the Turkish journalist Pelin Ünker, who – as she narrated – was sentenced to 13 months for writing about the dodgy dealings of the former Turkish prime minister Binali Yildirim and his sons who were found to be stashing cash in a Maltese shell company (Update: one month after the conference, on the 6th of May, Pelin Ünker's prison sentence was overturned by an appeal court, although she still has to pay a fine).
The experience of Stéphanie Gibaud, a whistleblower from France, who revealed tax evasion and fraud by the investment bank UBS, and Khadija Ismayilova, Azerbaijani investigative journalist and radio host well known for her reports on corruption in Azerbaijan, completed the panel. Due to a a travel ban, this last one could just take part to the Disruption Network Lab-conference with a video, by which she described her case made of trumped up accusations, imprisonment, 3.5 years in probation and a 2-year ban on professional activity. As she narrated, she has been spied and blackmailed by her Government for years, and she is still not free.
The importance of collaborative networks of investigative journalists was something that all those taking part in the conference mentioned. Thanks to organisations like OCCRP, that connects 45 non-profit investigative centers in 34 countries, journalists and activists con work together to turn the tables on corruption and build greater accountability through exposing the abuse of power at the expense of the people.

Transparency could be articulated on open platforms for data sharing and technological tools able to ensure access to relevant information, control and participation, fostering accountability. Documents are still available and the still have a lot to say: a collective mobilization could support the work of investigative journalists and oblige authorities to act.
Estimates report that offshore financial wealth is worth USD 7.6 trillion, the 8% of global household financial wealth (Zucman, 2015) others indicate though that super-rich might hold up to USD 32 trillion in offshore havens, excluding non-financial assets as real estate, gold and other undetectable investments (Henry, 2016). Our economic systems are hostage of these numbers. Banks hold massive amounts of loans in tax-haven-based businesses, a small economic elite makes and escapes rules, undermining democracies via financial deregulations, feeding social injustice.

Financial secrecy is a key facilitator of money laundering, corruption and financial crimes. For too long it's been clear that corporations simply shift profits to places where taxes are low, whilst ultrawealthy households hide dark money in a handful of tax shelters to avoid paying their fair share. What is then the opportunity connected with the preservation of bank secrecy, considering that it just increases inequalities and violations of human and social rights?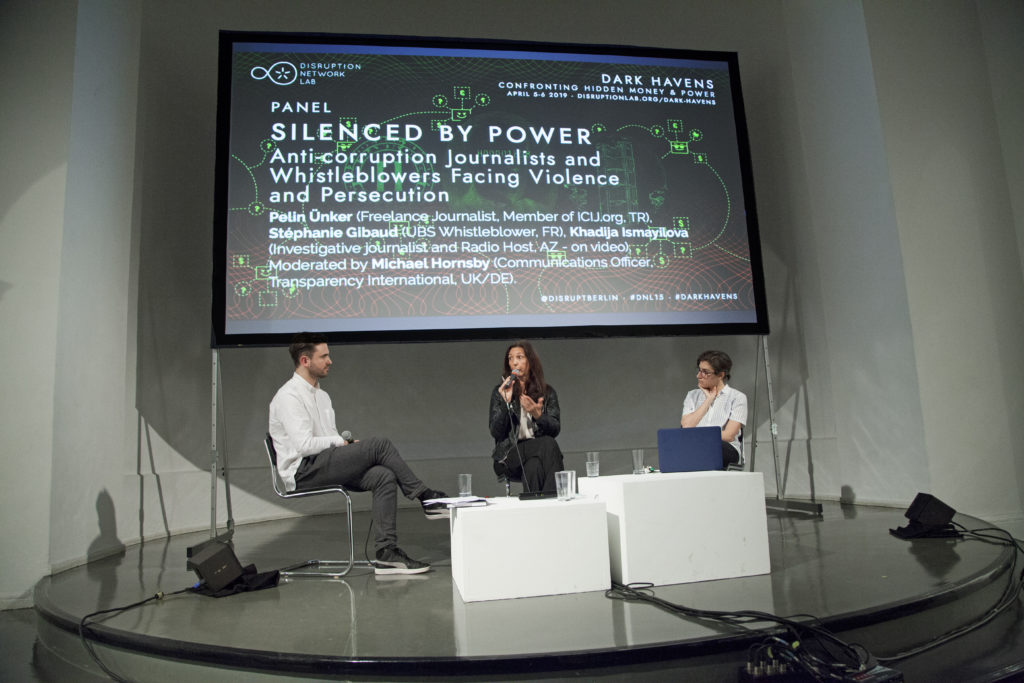 Curated by Tatiana Bazzichelli and developed in cooperation with the Berlin-based International Secretariat of Transparency International, this Disruption Network Lab-conference was the first of the 2019 series "The Art of Exposing Injustice".

Info about the 15th Disruption Network Lab conference, all its speakers and thematic is available here: https://www.disruptionlab.org/dark-havens
The videos of the conference are on Youtube.

To follow the Disruption Network Lab sign up for its Newsletter and get informed about its conferences, ongoing researches and projects. The next Disruption Network Lab event is planned for June. Make sure you don´t miss it!

The Disruption Network Lab is also on Twitter and Facebook.

Photocredits: Maria Silvano for Disruption Network Lab