Art is Open Source
Private View: Friday 25 February, 6.30-9 pm with Live Performance by Garrett Lynch
Special guests on the night: Dr Richard Barbrook, Andy Cameron, Garrett Lynch, Quayola, and Eleonora Oreggia, aka XNAME.
REFF- Remix the World, Reinvent Reality! from Furtherfield on Vimeo.
Directly from Italy, Art is Open Source, and FakePress presents REFF a Fake Cultural Institution to launch, promote and distribute its Augmented Reality (AR) Drug to reinvent reality. Visit the exhibition to discover the effects of three innovative molecules created by the REFF chemical lab: REMIXine, REINVENTum, and REALITene.
About the REFF AR Molecules
REMIXINE
The REMIXine compound is an innovative molecule that forms a fundamental ingredient in all our drugs. The molecule powerfully reacts with others, disconnecting their predetermined bonds and allowing the core elements of other compounds to reassemble, forming entirely new ones in complete freedom. REMIXine augments the total entropy of systems, and it is a known stimulator of creative processes acting for the systematic creation of insights into the world.
REINVENTUM
REINVENTum compounds collaborate with the other molecules found in our drugs to reassemble components into new forms once their bonds have been disassembled. REINVENTum affects the equilibrium of neural ecosystems, as it can effectively activate the neurotransmitters which control human forms of expression: this action has profound impacts on the areas of the brain that engage language and memory, allowing the rapid formation of entire networks of new symbols.
REALITene
REALITene is an unstable compound. Its complex molecule self-arranges into virtually infinite configurations. Furthermore, different patients have been known to react to different molecule configurations at different times in their clinical life.
Also, explore MACME, the new open publishing tool at the exhibition, encounter the artworks and performances, and enjoy the freedom of access and expression. In other words…take the REFF AR Drug.
This exhibition showcases a live glitch performance, an urban intervention and a virtual entity by artists featured in the new REFF book: Garrett Lynch (Ir), Rebar Group (US) and xname (It) alongside a real-time interactive map that describes the life of REFF all over the world: 60 authors, artists, designers, architects, hackers, journalists, activists; dozens of actions; a live and real-time stream of information collectively produced by a worldwide community of re-inventors.
The REFF map on the exhibition is available online from the opening date: http://reff.romaeuropa.org. The mapping process is open: please contact us if you feel that your actions are reinventing reality and, thus, should be added to the visualization.
For more about Art is Open Source and Fake Press
www.romaeuropa.org
www.fakepress.it
www.artisopensource.net
Trav–erse – Live performance by Garrett Lynch
Exploring radio waves on a world band analogue radio, the performance should be perceived as both a linear and non-linear journey progressively moving through the sonic space of broadcast wireless networks and the physical geographies and cultural spaces they both represent and permeate.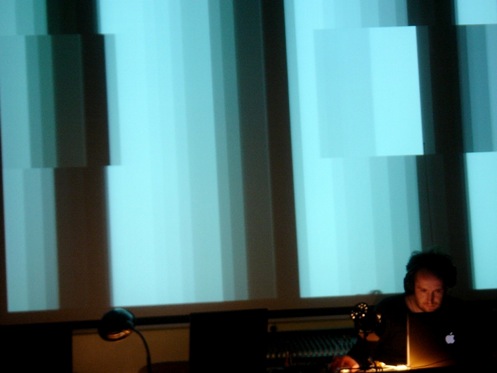 The performance traverses and returns across a radio band, a technological interface, along linear trajectories. Sounds with no correlation between their representation on this band and their 'actual' location will be captured, layered, reworked, and transformed within new media to create a cultural and social sonic dérive where all spaces exist simultaneously.
Garrett Lynch (IRL) is an artist, lecturer, curator and theorist. His work deals with networks (in their most open sense) within an artistic context; the spaces between the artist, artworks and audience as a means, site and context for artistic initiation, creation and discourse. Recently most active in live performance, Garrett's practice covers net.art, installation, performance and writing.
PARKcycle by Rebar Group
The PARKcycle is a human-powered open space distribution system designed for agile movement within the existing auto-centric urban infrastructure.
While its physical dimensions synchronize with the automotive "softscape" of lane stripes and metered stalls, the PARKcycle effectively re-programs the urban hardscape by delivering massive quantities of green open space—up to 4,320 square foot minutes of park per stop—thus temporarily reframing the right-of-way as green space, not just a car space.
Using a plug-and-play approach, the PARKcycle provides open space benefits to neighbourhoods that need it, when they need it, as soon as it is parked.
Built-in collaboration with the kinetic sculptor Ruben Margolin at his studio in Emeryville, California, the PARKcycle made its debut on PARK(ing) Day 2007 in San Francisco.
PARKcycle was made possible by a grant from the Black Rock Arts Foundation.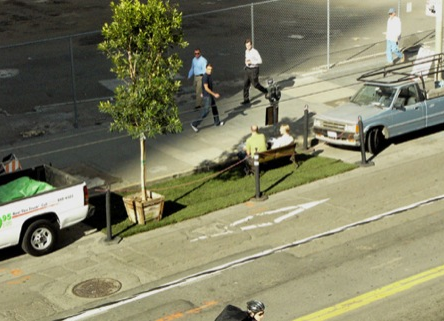 REBAR is an interdisciplinary art and design studio based in San Francisco. Rebar has created public art interventions and design projects around the globe. Rebar remixes the ordinary repurposes the ubiquitous, and restructures the fabric of the urban environment by exposing hidden assumptions and shared meanings embedded in the everyday experience of the built world.
Virtual Entity by XNAME
Virtual Entity is a research project and net-art work trying to redefine the concepts of authenticity, ownership, uniqueness and seriality within the digital domain. The practical aspect of this speculation is a simple application developed to create (and edit) the soul of a file. This is a metaphor: the soul, a text-based soul, is the place where it is written who or what a certain entity is; it is a mark for preserving identity.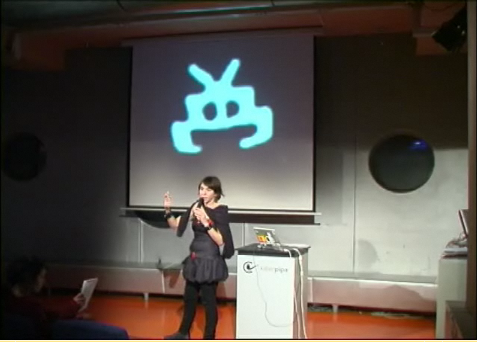 This software, proposing a single answer to the questions raised by the practices of licensing and cataloguing digital files, is transforming the traditional approach towards metadata and digital property. The main idea is that any file is an independent creation living its own life and experiencing various levels of transformation and progressive generation (of meaning, shape, and entities) in the course of its virtual existence. The main focus points are the relations (semantic or genetic) among files and the processes of fragmentation, multiplication and transmutation of the cultural units composing them.
Virtual Entity constructs in parallel a theoretical mythical world and its functional technical counterpart; its ultimate shape (and visualization) is that of a monster, a bodyless entity composed of souls and formed by the structure of their relations – and the history of digital data starts drawing itself.
Virtual Entity is displayed for the first time as an installation at Furtherfield Gallery in London. The work takes the form of a tryptic. The central projection shows the command line application soul, the left monitor displays the web application souls, while the right monitor displays the virtual entity monster, a real-time representation of the database performed by live coding software Fluxus.
Virtual Entity Alpha is prototype software. Its main new features are URL support, macosx install, web application, Fluxus visualisation. This software was designed by xname and coded by xname, megabug, Antonios Galanopoulos and Gabor Papp.
Events at Furtherfield Gallery
Opening event: 25 February 2011, 6.30-9pm
Live Performance by Garrett Lynch at 7.30pm
Special programme by REFF the Fake Institution
Open call to Remix the World! Reinvent Reality
The REFF map on the exhibition is available online from the opening date: http://reff.romaeuropa.org. The mapping process is open: please contact us if you feel that your actions are reinventing reality and, thus, should be added to the visualization. http://www.furtherfield.org/contact
REFF Youth Programme
A special task force was required to ensure the immediate diffusion of the REFF AR Drug to the younger generations. Perhaps surprisingly, the Fake Institution agenda has inspired approval and enthusiasm in the academic world. In the two weeks before the exhibition FakePress, together with Art is Open Source, is running a series of workshops and presentations across universities and to groups of students in and around London to remix the world: Southbank University, Goldsmiths, Writtle College, University of Westminster, Queen Mary University.
Please contact us if you'd like to participate or organise further workshops/presentations http://www.furtherfield.org/contact
More information about student workshops.
Please visit AOS website to learn more about what happened during the REFF workshops
MACME, an open source tool for cross-medial publishing
Created by FakePress, MACME is new a cross-media, multi-author content management system, that enables the creation of multi-device and paper publications, featuring location- based technologies, QR-codes, and augmented reality .
The platform will be released for the first time during the days of the exhibition, under a GPL3 Licence, as a real policy for access promoted by the REFF.
Student movements in Italy/UK
"The use of communication technologies and invasive practices for reinvention reality is crucial for student movements in this difficult moment. We would like to get the students involved in the REFF experiments by providing access to those technologies that can work as effective forms of critical and alternative communication.  Students in the UK and in Italy will have access to all the cross-medial CMS used to build the REFF book, which will enable them to create their own QRCodes and Fiducial markers that they can then stick around the city to disseminate information integrated within their communication across the web and the city." – Art is Open Source.
During the exhibition run, students will also be invited to curate their own event in which they can present their take on the idea of "reinvention of reality", and connect with the students' movements in other countries (using Skype at Furtherfield, at the ESC in Rome and at the Cantiere in Milan) presenting themselves to each other. The event will terminate with an urban performance in which each party exchanges and prints QRCodes stickers that are then disseminated across the city.
More about Art is Open Source
AOS operates interdisciplinarily across universities and research institutes, businesses and associations, critical collectives and extreme practitioners in arts and design, promoting innovative approaches to the environment, to (multi)cultural interaction, and to the creation of real, sustainable and socially responsible opportunities.
More about REFF
REFF started by investigating themes around intellectual property and cultural policies and then expanded to the domains of freedom of expression and the idea that the tactical use of technologies and network-oriented practices can enable people to change the rules of the game and reinvent our reality. Taking inspiration from street arts, raves, skateboarding, and technologies allow us to re-code and write onto the world, creating layers of additional reality that express our own interpretation of the cities we live in, of the things we buy and use every day.
One project outcome is a book published in 2010, which will soon be available in English. The book is a cross-medial publication enacting the theories investigated by FakePress (a next-step publishing house created by AOS in 2009 researching the REFF themes through the idea of reinventing publishing itself): it is simultaneously a book; a location-based, augmented reality application; a living digital ecosystem; and a wide tagging mechanism using QRCodes and Fiducial Markers to disseminate content and interactions on objects, architectures and spaces.
The book was created using a series of technological tools to maximise accessibility to these critical tactical technologies. The tools have been arranged into a platform called MACME (Multi Author Cross Medial Ecosystem) that has just been released under a GPL3 licensing scheme. The release of these and further technologies is an integral part of the work of net.art, which informs the REFF project.
For more information:
http://www.artisopensource.net
http://www.romaeuropa.org/
http://www.fakepress.it/