Featured image: Jon Satrom (left) and jonCates at Intuit, Sept. 20, 2012 (right). image: Shawne Michaelain Holloway
Post-Static: Realtime Performances by jonCates and Jon Satrom @ Intuit, the Center for Intuitive and Outsider Art (Chicago). September 20, 2012. Programmed by Christy LeMaster
Deliver Me from Nowhere
"Alchemy; the science of understanding the structure of matter, breaking it down, then reconstructing it as something else. It can even make gold from lead. But Alchemy is a science, so it must follow the natural laws: To create, something of equal value must be lost. This is the principle of Equivalent Exchange. But on that night, I learned the value of some things can't be measured on a simple scale."[1]
In 1966, Bell Laboratories scientists and engineers collaborated with artists to construct several performance-based installations under the title 9 Evenings: Theatre & Engineering. Works included Variations VII by John Cage and performance engineer Cecil Coker, in which a sound system pulled sounds from radio, telephone lines, microphones and musical instruments, and Carriage Discreteness by Yvonne Rainer and performance engineer Per Biorn, a dance event controlled by walkie-talkie and TEEM (theatre electronic environment modular system). Critic Lucy Lippard was wrote that the event was filled with technical problems and that the artists involved allowed the technology to take precedence over the art. She pointed out that no theatre people took part in the event and suggested that while this event did not offer a specific design for a new approach to theatre, it revealed the possibility that new approaches to theatre might be born from the combination of art and technology:
A new theater might well begin as a non-verbal phenomenon and work back towards words from a different angle. Departing from Samuel Beckett's highly verbal, single-image emphasis, it could move into an area of perceptual experience alone, its tools a more primitive use of sight and non-linguistic sound. Such a theater would not necessarily be the amorphous carnival of psychedelic fame but could be as rigorously controlled as any other.[2]
She also observed that it was often impossible to understand the relationship between the technology and the events it triggered without reading the program, mentioning one such missed connection in Open Score, by Robert Rauschenberg and performance engineer Jim McGee. In this piece, tennis rackets were wired such that each impact of the ball on a racket turned off one light in the performance hall. Lippard wrote that this connection was not noticeable and thus the conceptual framework of the piece was lost to the audience.
To artists working at the intersection of art and technology more than forty years after this event, it is disturbing to note that the same issues Lippard pointed out —the subjugation of concept to technology, the failure of the technology itself and the lack of a radical approach to the intersection— are still all too present in many works taking place in the worlds of new media art [3]
. None of these were issues for jonCates or Jon Satrom as each presented a performance intersecting with the exhibition "Ex-Static: George Kagan's Radios" at Intuit, the Center for Intuitive and Outsider Art in Chicago, IL. Their performances serve as examples of new media employed as a tactic in support of art rather than "new media art" as a condition represented by infatuation with expensive devices. Instead of yet another demo of "cool" tech, the audience experienced a rigorously controlled blast of chaos.
jonCates: ERRORRUNNINGWWWATERNOISES…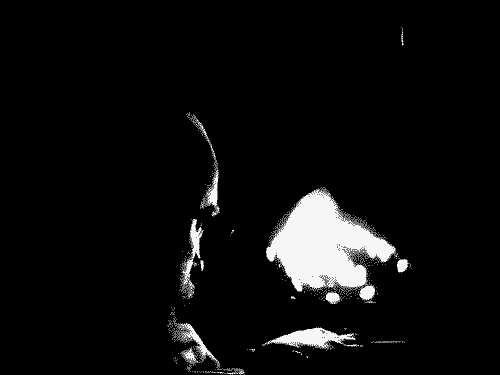 The lights go down completely and we are illuminated by a large amorphous video projection behind a table stacked with equipment. The video is black and white as is the video monitor facing us from the table. jonCates moves between the back and front of the table, with purpose. While the equipment stack is familiar, multiple mixers and cases, this is no DJ set. Much closer is the image of a few men in long sleeves and ties tending to tables full of equipment for John Cage's "Variations VII". With several nondescript devices on and adjusted, the air around us has become alive with a noisy drone that, by this date and to this audience, is very familiar (parallels extend back to sonic attacks from Peter Christopherson and Chris Carter with Throbbing Gristle) but now the sound is comforting, an aural field that is neither alien nor distracting.
A droning, machine sound, or the droning machine sound, has become a ridiculously common element of a contemporary "experimental" sound and video work. It is thus all the more surprising to be instantly drawn into jonCates' audio, to take pleasure in it and to lose track of time completely. We are watching him control the mixer and occasionally speak into the microphone that is set in front of a conspicuous security camera. Again, jonCates uses the most expected situation —the camera faces upward toward the video projection screen, creating a counter-clockwise tilting feedback loop. And again, we are not distracted by this, it is familiar yet beautifully framed and we are drawn in. We have been invited to a field constructed by a tactician expertly employing simple situations.
The raw quality of both the droning audio and the feedback loop combine with jonCates' humble appearance to remove the expectation of a spectacle and we return to the real situation with questions: who is this man and what is he going to do? He keeps speaking into the microphone, his eyes look desperate, and, despite seeing him perform a similar (although much less engaging) performance at the 2011 Gli.tc/h festival, we are surprised as we realize, as it is nearly two-thirds complete, what he is doing: giving a lecture.
jonCates has been speaking for some time but only a few echoed fragments are reaching out beyond the drone. It has been an incantation without purpose, a repetition of the meaningless words one says when one is presenting something to an audience. Finally, jonCates drops the distortion and the volume on the droning sound and his voice becomes clearer. It is obvious that some communication is going to happen and everyone shifts slightly as we strain to remember how to listen to a voice. Are we here to see another performance or hear something important?. The voice is not strong and it has no authority. It is perfectly ordinary, slightly academic with a hint of vulnerability. It's the voice of a mad scientist who has begun to understand that his experiments may be his undoing. At this point the piece could collapse and jonCates has not propped himself up with his technology. Instead, he's used it to lead us to key moments and obliterating everything else. Still, he seems not so much frightened as curious to see where this will end, if what he needs to say can be given a short lifespan in this space. This is where performance lives —in the unfolding present. And jonCates says:
"…and I thought [?] … I thought [?] about how I should remix something in realtime for you that I should reflect upon the past, I should reflect upon [?] …patterns so I thought that I should probably do this as a remix and render it in realtime for you but then I found … from 1997…and it was sitting right next to the first tape … it was sitting right next to the first tape, had the same title as the first one, that also said "Flow" and right next to it had another a label that said "Remix" and I thought 'I already made that piece' [sampled voice droning: 'oceanic waves upon waves upon waves upon waves'] and that's almost too good to be true so I put the tape called 'remix' into the VCR, not this VCR. I had to buy a new VCR that VCR broke and … called 'remix' .. rendered in realtime for you … and I watched it, and almost [? ] [?] decide … I had already … [sampled voice droning: 'we can stay in the spell of the laser lights'] … and I've been thinking about these things … [sampled voice droning: 'we are all together … in the time space continuum of … of … of …' and the drone continues.]"[4]
12:01
"The peculiarity of the time bounce, as he mulled it over, was that the resumption of the earlier state of being not only set physical objects back to their former positions, it actually wiped out the events of the lost hour. Like daylight saving indeed! With the lost hour unhappened, even memories of the time were obliterated…They might be reliving a given moment for the fifth time, the fiftieth, the five millionth, and never notice it!"[5]
"A representation is the occasion when something is re-presented, when something from the past is shown again —something that once was, now is. For representation it is not an imitation or description of a past event, a representation denies time. It abolishes that difference between yesterday and today. It takes yesterday's action and makes it live again in every one of its aspects —including it's immediacy. In other words, a representation is what it claims to be —a making present."[6]
Jon Satrom: Prepared Laptop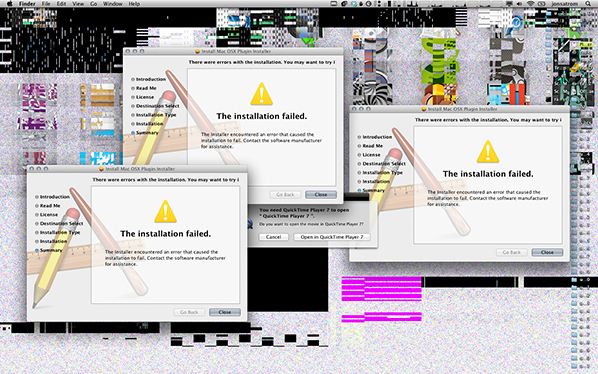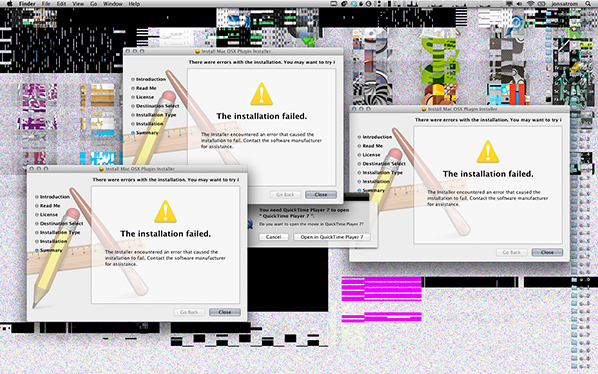 Jon Satrom is incredibly bad at using his laptop.
Andy Kaufman, "foreign man" performs Elvis.
John Cage: "Composing for the prepared piano is not a criticism of the instrument. I'm only being practical." [7]
!= Cage (utility), instead Satrom approaches Jean Tinguely (destruction).
(…but can he develop a drawn out, real failure like 'Homage to New York'?)
Jon Satrom doesn't need to know how to use the fucking Adobe Creative Suite.
Jon Satrom makes us slightly ashamed at how little we do with the ridiculous amount of power that we have.
Jon Satrom points out how our minimal awareness of control, interface. <= Cage?
Jon Satrom sometimes smiles as he invokes the demon other from the Operating system.
Satrom's work is not detached and ironic …
…and it is never a fucking metaphor. Jon Satrom's computer is not "okay."
"For every organ-machine, an energy-machine: all the time, flows and interruptions. Judge Schreber has sunbeams in his ass. A solar anus. And rest assured that it works: Judge Schreber feels something, produces something, and is capable of explaining the process theoretically. Something is produced: the effects of a machine, not mere metaphors."[8]
Radio Buttons
They are called radio buttons because on old car radios you pushed one button and the other popped out. The performances of jonCates and Jon Satrom were developed as an intersection with the exhibition Ex-Static: George Kagan's Radios at Intuit, the Center for Intuitive and Outsider Art, on display until January 5, 2013, curated by Erik Peterson and Jeremiah Hulsebos-Spofford.
"In the wee, wee hours your mind get hazy / Radio relay towers lead me to my baby / The radio's jammed up with talk show stations / Its just talk, talk, talk, talk, till you lose your patience"[9]
Bios:
jonCates makes Dirty New Media Art, Noise Musics and Computer Glitchcraft. His experimental New Media Art projects are presented internationally in exhibitions and events from Berlin to Beijing, Cairo to Chicago, Madrid to Mexico City and widely available online. His writings on Media Art Histories also appear online and in print publications, as in recent books from Gestalten, The Penn State University Press and Unsorted Books. He is the Chair of the Film, Video, New Media & Animation department at the School of the Art Institute of Chicago:
http://systemsapproach.net/
Jon Satrom undermines interfaces, problematizes presets, and bends data. He spends his days fixing things and making things work. He spends his evenings breaking things and searching for the unique blips inherent to the systems he explores and exploits. By over-clocking everyday digital tools, Satrom kludges abandonware, funware, necroware, and artware into extended-dirty-glitchy-systems for performance, execution, and collaboration. His time-based works have been enjoyed on screens of all sizes; his Prepared Desktop has been performed in many localizations. Satrom organizes, develops, and performs with I ♥ PRESETS, poxparty, GLI.TC/H, in addition to other initiatives with talented dirty new-media comrades.
http://jonsatrom.com/