Post Digital Print
The Mutation of Publishing Since 1894
Alessandro Ludovico, 2012
Onamatopee 77
The sticky fingerprints on the black-and-pink 1970s photomechanical typography-style lettered cover of "Post Digital Print" speak volumes about the nature of physical print after the event of digital typography. It is this sense, of print in a state of technical and historical play after the full event of the digital rather than its end or irrelevance, that Alessandro Ludovico is considering history of print publishing here. But why 1894?
Ludovico dates the first announcement of "the death of print" to that year. More than a century later independent bookshops, large bookshop chains, newspapers and magazines are having to compete with Internet-based publishing or be wiped out. It's not clear whether physical print publishing believes it can survive this encounter with the digital. Ludovico explains how it can and why it is important that it should.
There are three main threads to "Post Digital Print". The first is a wide-ranging technical history of print, including technologies that were imagined or proposed but never became widespread. The second is a history of radical political and avant-garde historical use, misuse and critique of those technologies. And the third is an analysis of the social and technological networks that distributed the products of the first two. These threads tie together finally in a consideration of the current situation and future prospects of physical print publishing.
The mainstream history of printing goes from movable type through hot metal to photomechanical and finally PostScript-based publishing. This is how books and newspapers have reached millions of people. But not every print production technology has lasted or gained mass adoption. I was surprised to read that Ezra Pound once wrote a poem specifically for Bob Brown's "Readies" (an imagined 1930s motorized-paper-strip book replacement), and in the first half of the twentieth century newspapers were transmitted by telegraph, telephone and radio ready to be listened to or remotely printed.
The technical failings of dead media become aesthetic affordances in their afterlives. Letterpress embosses the paper it is printed on, lithography suffers misregistration and other artifacts, and newsprint smears and creases. These are now the very qualities people seek from those media. This is different from mere nostalgia, in that it is used to create a contemporary aesthetic, but what of the "Readies" and other book replacements that never were? They are the subconscious or the dreams of print technology, forgotten futures that help to understand the paths that were taken.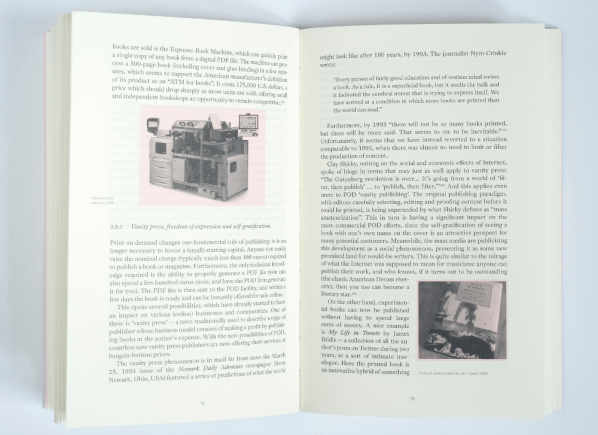 Not every print technology was designed to print millions of copies. Spirit duplicators, photocopiers and print-on-demand publishing all allowed democratic access to print for smaller print runs of projects with less mass appeal. Ludovico tracks this thread of print history from mid-twentieth-century science fiction fanzines through the alternative press to the contemporary fanzine scene.
Artists and political groups pushed the technology and aesthetics of each new print technology with pamphlets, unlicensed newspapers, the alternative press, fanzines, and books and journals. Ludovico uses avant-garde and culture jamming artistic publications, from the Dadaists and Futurists to the Yes Men and Decapitator to demonstrate how artists have pushed the form and content of print publications.
Once you have printed a publication you must distribute it. For publications outside of mainstream or official culture, this is a task that has varied in difficulty from inconvenient to deadly. British newspapers had to be licensed (and thereby censored) by the state in the early nineteenth century. Alternative political views were printed in unlicensed newspapers printed by sympathetic printers. These newspapers outsold the official press, and were subject to repression by the state, leading to funds being set up to support the families of arrested printers.
In the Soviet union, Samizdat copies of books were produced with stolen or smuggled paper and borrowed presses. Less dramatically but still outside the mainstream or official culture, the alternative press and fanzine scenes have survived through mail-order print and online catalogues and through conventions. And the Fluxus scene distributed its print products through an international network of distributors.
The "gesture" of publishing, as Ludovico calls it, is an editorial one and without this editorial control the Internet of blogs and social media presents a problem of filtering rather than access. Writing from the web can be taken into print cheaply through print-on-demand, led by the example of James Bridle's "My Life In Tweets", 2009. Where an artist led, business followed and there are now many services that will print your social media as books for you.
(What of eBooks? Ludovico considers their technology and its history in depth, but is not hopeful for them. They simulate print ever more closely, confirming Ludovico's argument that print is the better interface. They have an environmental impact that makes books look more appealing, and suffer all the problems of censorship and technological obsolescence that print now does not.)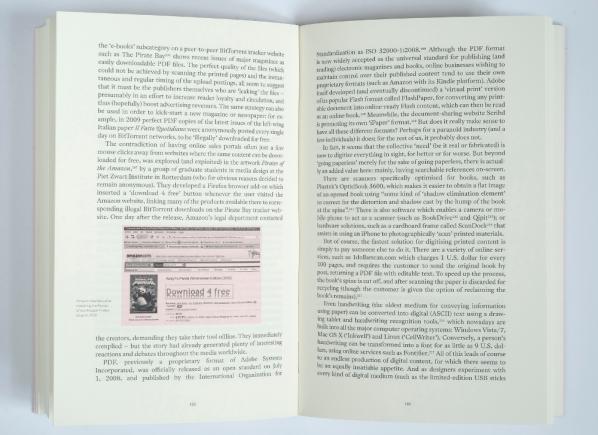 In the final chapter ("The Network") the author enters the story that he is telling. Since the early 1990s Ludovico has produced the magazine "Neural" (I'm a subscriber and I cannot recommend it highly enough), and has been involved in other art projects, events and interventions that have placed him in the thick of the action of the changes in publishing and textual media that have occurred over this period. Rather than affect a false objectivity, Ludovico lets you know where he is coming from and shares the particularities of his broad experience. This lends his conclusions a context and authority that mere theory might lack.
The history and experience that Ludovico lays out leads to the present crisis of print and answers it with the terms that he has established. How can we continue to print physical books? With the kinds of networks that have always propagated and paid for art and for the alternative press. Why should we continue to make them? Because they are better interfaces, archives, and art objects than purely digital objects.
Post-digital print is print with its production and in some ways its very meaning transformed. Print must adopt digital-inspired models of production and distribution to survive. As Ludovico argues it must adopt the digital strategy of the network, in a free and open way. If it does not, we lose a vital part of our collective cultural voice and memory.
"Paper is flesh, screen is metal. … Flesh and metal will thus merge as in a cyberpunk film, hopefully spawning useful new models for carrying and spreading unprecedented amounts of information and culture." (Post-Digital Print, p117)
The text of this review is licenced under the Creative Commons BY-SA 3.0 Licence.
(Thank you to Freek Lomme of Onomatopee for providing the book interior images.)