Playing Hard: Urban Art Games of Summer 2010.
Not long ago, urban games were a kind of novelty. Some grew out of the street performance tradition of live theater. Some came from gamers who were involved in tabletop RPG and wanted to experiment with live reenactment. Others were produced by media artists as a way of experimenting with new technologies like GPS and text messaging. But along with these approaches to play, and at times learning from their carefree attitude towards entertainment, there grew another tradition of the urban game, a tradition of using the city focusing on exploration, and as a specific kind of critique. At its worst, the artist produced street game replicates of hollow self-promotion, through corporate, sponsored seasonal festivals. But just as experimental art can involve an analysis of mainstream art, the urban game can embody a palatable critique of the routines of city systems, including the deadening routines of metropolitan life and some of the large scale mechanisms of corporate capitalism.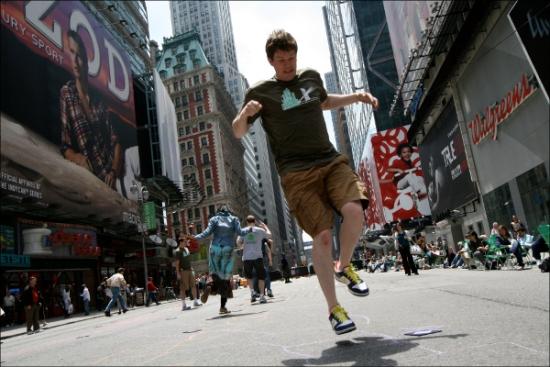 These kinds of games echo the spirit of the Situationist International, which called on artists to create alternate experiences through the construction of situations, psychogeography, and the use of play as a form of critical thinking. Urban games can also remind us of Hakim Bey and his idea of a Temporary Autonomous Zone by using goals, rules, and play with the creation of the 'magic circle', a world inside a world, as a method of directing public imagination towards an alternative presence, a way of acting and existing as an independent community within a larger, more repressive reality, even if only momentarily. Urban games also continue the Fluxus idea of the 'happening', a participatory media form in which audiences support artists, moving beyond the role of observers of performance to become collaborators in events. With the urban games season about to begin, this review takes a look at how several groups, either consciously or at times not so consciously, have interpreted these traditions for summer 2010.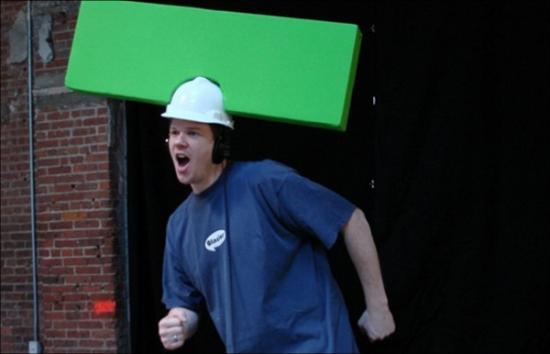 In New York, the much loved Come Out and Play Festival will run from June 4th through June 6th, with events scattered throughout the city borough of Brooklyn. Games include playground mods, GPS exploits, extreme sports, narrative quests, and massively multiplayer scavenger hunts. The festival hosts about forty game designers from around the world and about two thousand people will attend. Executive producer Greg Trefry says COaP strives to be entertaining and is not so much concerned with philosophy as it is with place: "Where the festival is located each year is actually really important to us. We look for interesting parts of the city to experiment on and use as the stage for the festival. So we've played everywhere from big anonymous urban areas like Times Square to now more family oriented locales like Park Slope."
Still, the designers of COaP seem to have a way of engulfing serious issues with comedy and encouraging people reclaim neglected parts of the city by giving them a second look. Along these lines, Atmosphere Industries of Toronto will present Gentrification, a game that picks up on Brooklyn's ongoing housing conflicts by asking players to assume the roles of real estate developers or neighborhood locals while collecting properties and gentrifying neighborhoods. Meanwhile, Gnarwhal Studios of Baltimore will sponsor 'Humans vs. Zombies', a modification of the playground game tag that introduces large groups of strangers to one another by sending players out into the city as the walking dead.. It's hard to sit in a park, completely shut off from everyone around you, during a two hundred person simulation of a zombie attack. Also part of COaP, New York's Crux Club will confront community fears of toxic contamination through their game 'It Lurks in Gowanus', a hide-and-seek mod that asks participants to track down a creature who has ominously escaped from legendary pollution of the neighborhood's Gowanus Canal.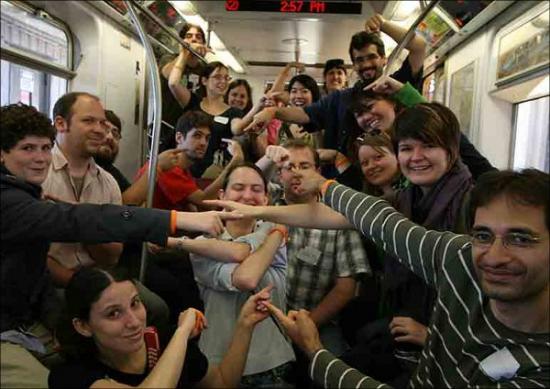 Although he agrees that all urban game events take some kind of cue from historical antecedents like the Situationist International or Fluxus, producer Trefry resists making a formal connection between these movements and COaP. Instead, he says, the main concern was and continues to be community building, getting people together in a surprising way and in an unexpected space: "At its heart, the festival is about running around outside and having fun with your friends. It sounds silly, but that's such an amazing thing to experience." This goal of community building has caused COaP to inspire other urban games festivals, including the Hide & Seek Festival in London and the igFest in Bristol, and the Steel City Games Fest in Pittsburgh. The organized versus the random, or the juxtaposition of the carefully designed structure of a game with the largely unstructured, seemingly arbitrary activity of ordinary public space continues to be a common interest among COaP design groups, which are likely to include engineers, academics, and urban planners alongside artists and actors.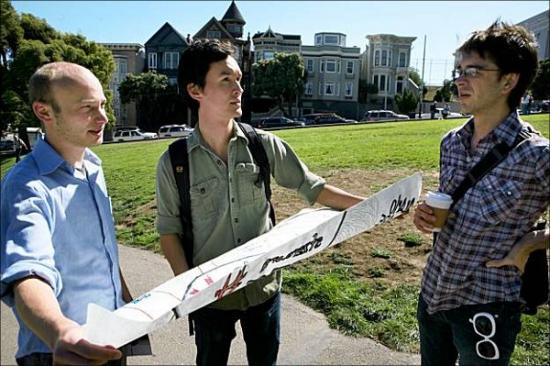 In San Francisco, the artists of SFZero cite Situationism and Fluxus as fundamental to their practice. The SFZero collective was founded by Ian Kizu-Blair, Sam Lavigne, and Sean Mahan in January 2006. Initially, the group used something like a Fluxus process of writing instructions for happening-like events that teams of other players acted out. Soon, these collaborations became the basis for both an online community and real world urban games network that now include over five thousand players. Through the SFZero website, participants initiate events by challenging other participants to 'Eat a food that frightens you', or 'Go to a street corner of your choosing and wait for something fantastic to happen.' SFZero seems to agree with classic Situationist objectives. A good game shifts awareness, Kizu-Blair says, changing the city for the people who play: 'Oftentimes the players report that they have a completely different experience of the urban environment as a result of playing and go to places in their city where they have never been before. There is a cinematic quality whereby players live out experiences that normally exist only in spy movies – chases down dark alleys, chance meetings, etc.' Typical SFZero tasks range from exploring overlooked locations in the city to taking a chance on meeting new people.
As fantastic as some of these instructions sound, and as important as the Internet is to SFZero's success, Kizu-Blair says it is essential that some productions have a real world component: 'As people become disenchanted with eight plus hours per day of screen time, they are increasingly gravitating towards hybrid activities that bridge the space between the virtual imaginary and the physical real world. These activities blend the safety and simple pleasure of screens with the risk, tension and excitement of physical interaction. More and more, members of our society will seek to escape from escapism towards an ethics of action, to escape from movies to real experiences. They will find that they have little idea how to have real experiences after their time in the imaginary. SFZero is the transition. 'SFZero offers both real-world excitement and eternal return to the screen, to re-live, re-experience and re-imagine your engagement with reality.'
Recently, Kizu-Blair, Lavigne, and Mahan have begun staging riskier, more elaborate game events like 'Journey To the End Of Night', in which runners try to make it through six checkpoints on foot or by public transportation, while avoiding capture by chasers. An early version of Journey actually opened the 2006 season of Come Out and Play. This July, the veteran SFZero player Lincoln will stage a further production of Journey in Los Angeles.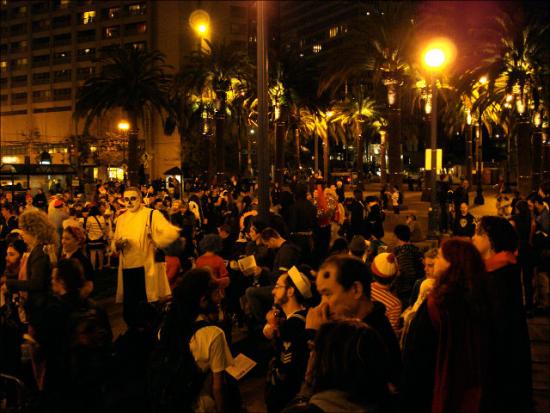 This summer, SFZero will present The Wanderers Union, a game that is loosely based on a French style of self-supported long-distance cycling called randonneuring. To perform Wanderers Union, players get a set amount of time to travel on foot and by public transportation through a series of zones. The idea is to create a single holistic experience of a urban area. The journey intends to juxtapose city spaces in ways that reveal meanings that might otherwise remain unobserved. Players who complete all of the events will progress from an initial four hour wandering to a final twenty-four hour wandering. By using play as a means of gaining understanding, participants will hopefully gain a small degree of mastery over urban space. Kizu-Blair says: 'It's like a video game – you level up and gain powers – but you have the added satisfaction of doing something real, and you can include anyone in the experience.'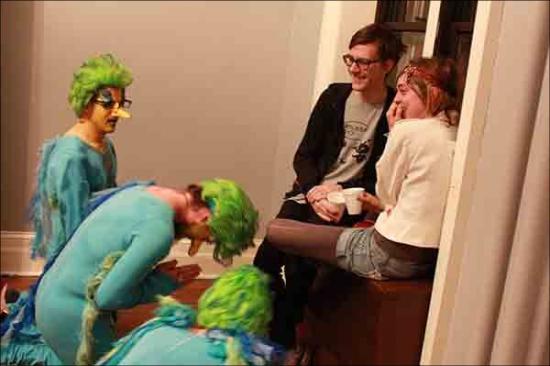 Back on the East coast, the New York based artist's collective Opt-In found that what started as a thesis project for an experimental film class unexpectedly became a series of multimedia events that now includes filmmakers, fine artists, dancers, performers, and musicians. Titled 'ZeroDay Exploits', these evenings are the work of Bryn Jackson, Sarah Lerner, and Nathaniel Barker, who says the group has adapted the Fluxus concept of "happening" to the 21st century: 'We create immersive environments in which strangers and friends can form new communities around a project, an idea, or a simple good time. We bring people from all walks of life together by promoting open dialogue and the creative expression of public discourse through a vast array of mediums and the use of public space.'
Past themes for the Opt-In exploits have included faith and technology. This July, the group plans to explore the idea of "home" by inviting guest artists and guests to contribute items and materials that evoke a sensation of home. The goal of this event is to create a sense of rootedness in New York, a city of perpetual resettlement. Another major goal for Opt-In is the deconstruction of the digital experience through live performance. According to Barker: 'Our focus has always been on participation, so our events offer multiple means for encouraging visitors to get their hands dirty including music, secret actors to stimulate conversation, inclusive performances, and free art materials for spontaneous art creation.'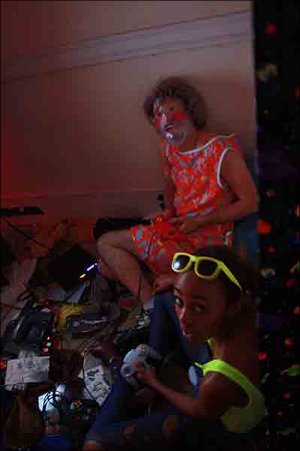 Also related to Fluxus, but in a gesture that seems more directed towards the Brazilian director Augusto Boal, a group calling themselves Invisible Playground Berlin, uses the urban game as a kind of political visualization. Founded by the artist known as Sebastian Quack Sebastian, this group's interests lie at the intersection of theater and digital gaming. In 'F Be I, See I A', Invisible Playground re-enacted peer-to-peer communication as a giant game of urban capture the flag. Later, in Space Station Escape, the group simulated the release of an alien virus inside a phantom space station supposedly docked underground beneath Alexanderplatz.
Sebastian views missions and rule sets as 'experience systems', Games are a kind of participatory appropriation, an interrogative code that is placed over or enacted within an existing urban mechanism. In other words, if you want to get people to think more critically about the way immigration works in your city, you'd design a game that plays with the existing locations, activities, and mechanisms of immigration. In this way, Invisible Playground intends to put forward what otherwise goes unnoticed, tolerated, or is even passively accepted. Sebastian is careful to structure his rule sets in ways that highlight the power structures that arise between groups of players, between players and their environments, or between players and organizers. According to the Schwellenland site: 'Players must work together and against each other. Over SMS and email you are guided to appointments and arrive at places where you were barred from entry until now. The game asks you to decipher who is legal, who is questionable, who can be trusted, who will trust you, who observes you, what should be ignored, what is critical. You are accompanied by a coach and by referees who left the usual national borders behind long ago and are now in Vienna as refugees without papers. These specialists can help you to master the challenges of being from a developing country. But they have also power to turn on you if you make too many errors.'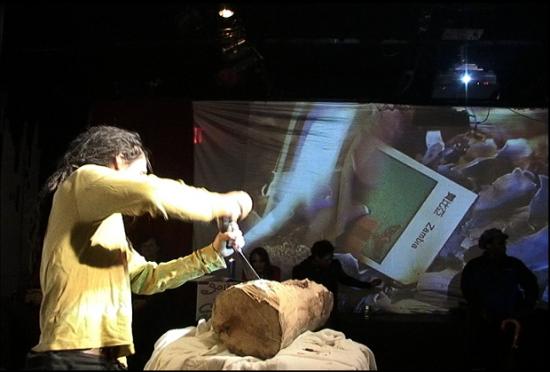 Finally, with a practice based in both New York and in Brazil, Adriana Varella is one of the artists behind the AnarkoArtLab, a collective of new-media, visual, dancers and genre benders in residence at the Living Theatre. Each month, Anarko creates a multimedia event that runs as part lab, part performance. This summer, the group plans to become mobile and to bring the Lab to different situations and neighborhoods. 'We are searching,' Varella says 'for a last trace of that most ephemeral and elusive state where only a dusty dystopian haunting may yet remain. 'Of course,' Varella says, 'all of them, Dada, the Situationists, Fluxus they are all our ancestors.'