An Interview with Julian Oliver By Taina Bucher.
I met the Berlin-based media artist and programmer Julian Oliver in Toronto as part of the Subtle Technologies festival, where he taught a workshop on the Network as Material. The aim of the workshop reflects Oliver's artistic and pedagogical philosophy nicely; to not only make people aware of the hidden technical infrastructures of everyday life but to also provide people with tools to interrogate these constructed and governed public spaces.
Julian Oliver, born in New Zealand (anyone who has seen him give a talk will know not to mistake him for an Australian) is not only an extremely well versed programmer but is increasingly as equally knowledgeable with computer hardware. His background is as diverse as the places he has lived and the journeys it has taken him on. Julian started out with architecture but became increasingly interested in electronic art after working as Stelarc's assistant on 'Ping Body', Auckland,1996. He moved on to Melbourne, Australia, and worked as guest researcher at a Virtual Reality center. Later he established the artistic game-development collective Select Parks and in 2003 left for Gotland to work at the Interactive Institute of Sweden's game lab. He then moved on to Madrid where he had extensive involvement with the Media Lab Prado. Several countries, projects and residencies later, he made Berlin his preferred base, setting up a studio there with colleagues. Julian is also an outspoken advocate of free software and thinks of his artistic practice not so much as art but more in terms of being a 'critical engineer', a term that he applies particularly to his collaborations with his studio partner Danja Vasiliev.
Their latest collaboration called Newstweek, was recently announced as winners of the Golden Nica in the Interactive art category of the Prix Ars Electronica 2011. The project leverages on the network as a medium for rigorous, creative investigation, exploring the intersection between the perceived trustworthiness of mass media and the conditions of networked insecurity.
His artistic practice clearly reflects his hacker and gaming background, playing around and messing with routers, capturing data from open wireless networks, visually augmenting commercial billboards in the cityscape, sonifying Facebook chats, visualizing protocols and otherwise manipulating networks for artistic purposes. I sat down with Julian on June 1st to talk about his most recent art projects, his reflections on software and digital media arts more generally. The interview was transcribed from a voice recording in a busy cafe to the best of my ability.

Taina Bucher: You started out with architecture and then moved over to games. How did that transition come about?
Julian Oliver: I realized quite early on that I was less interested in buildings than I was in exploring architecture in the context of the language within which it operates. I was more interested in hypothetical architecture. Like impossible structures such as what Buckminster Fuller proposed, and when I ended up working in a virtual reality centre in Melbourne I found that sitting behind a bunch of SGI machines dedicated to rendering virtual experiences, that I no longer really needed to invest in the idea to build something. I was more interested in something more plastic and mutable. The bridge from there to games came about around 1997-1998. Source code from games started to become available and it became apparent to me that it was possible to modify these games to explore an artistic practice, an architectural and sculptural practice really, using the medium of computer games. There were only 4-5 of us in the world working on this and we quickly made contact with each other. I left the VR centre and started an artistic game based modification lab in Melbourne called Select Parks. For about six years we did a whole bunch of projects based on computer games. We also established an online archive of the ever-increasing experiments and artistic investigations into computer game technology under selectparks.net. The archive is still there now.
TB: Was it the same interest in the mutability of the medium that led you to work with software more generally?
JO: I've been programming since I was pretty young and I've been around computers since I was a boy and working with them, but it was when I started to increase my freedom of movement with the medium of computer games that I became a programmer. I started to learn C, C++ and scripting languages and I quickly became hooked with the mix between technical challenges and rigorous creative exploration. I think the balance of the two still remains in my work.
TB: In one of your academic papers on games you ask the question of how much of the medium, as a raw field of possibilities, really is available to the artist. Well, let me ask you the same question in relation to software given that software always comes with a certain kind of aesthetic expectation.
JO: Definitely. I think it is a bit of a shame that much of what is called digital art is in fact made by using software suits built by large corporations. Macromedia, now the Adobe suite, is almost an infrastructure of the media arts. Painters of 200 years ago would never have accepted this brand attached to their canvas. They would never have accepted that their tools would be designed with such a generic mass audience in mind. I think that while the digital arts are certainly an exciting field there is an unadmitted dependency on a food chain that comes entirely from a corporation. The contemporary artist would then talk about breaking these tools, or you know, misusing them. But who is really holding the power? I think at a certain point for me, this was the reason why I moved entirely into free software. I really wanted to look at software as a core medium itself and I wanted to get at the guts of it. I wanted to have a rigorous personal relationship with technology so that I could bend it to my needs rather than my needs being bent.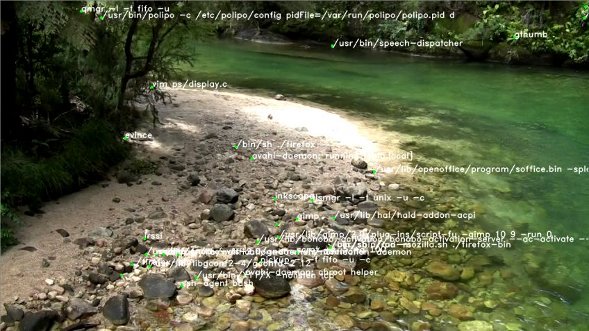 TB: How do you picture a genuinely critical media arts practice then, moving away from the Adobe suites of the world?
JO: No, I think it is fine to use Adobe if it satisfies your expectations. However I think that the expectations themselves are already defined by these external corporate market inputs. I think it is really important for digital artists to understand what digits are. They call themselves software artists but they do not really write software or know what it is. By using it their works become symptomatic of a process that they themselves have not defined.
TB: Does this mean we have to know code in order to be critical of code?
JO: Yes. I think you need to speak the language. It is the same thing with other cultural practices; you need to know the basics of how a violin or a guitar works before you can pass a judgement on the player. There is a parallel history to the new media arts that is not written and that's all of those technical and cultural contributions that artists and technologists make when they are producing a work of new media. There is certainly a very well written history for the work of art in the galleries but there is nothing of the sorts for the fundaments of the technical achievements. I mean we have that with music for instance, with the evolution of the piano, but there are things happening in the new media arts all the time that no one other than the technologists can really appreciate. These are significant contributions that actually shape the way in which media are used in the future. This is certainly the case with the development of a new programming language that a historian might not necessarily notice. A language like Python or a framework like open frameworks has shifted media arts in such an influential way. Most people only see the end product. Understanding just a little in this regard is enough for enriching the history of the field I think.
TB: One could certainly argue that the 'democratization of code' with web 2.0 technologies and open APIs potentially lets anyone produce software art?
JO: Yes certainly. Take Processing for instance, anyone can make a digital square if they want. There is nothing inherently wrong with that. What I am interested in is to make people understand what's behind it. I think we as artists need to describe what we do and part of this is to publish the source code. For me personally this is an obligation. By publishing the source code I am enriching the scene by allowing other people to have an insight into how it works. Take the project that Danja and I have been doing with Newstweek. If we would hide the way it works it would not enrich anything. We'd only be contributing to our own careers. We therefore publish all our code. You can download it now and already be learning how we did it and so together as a whole we move forward.
TB: Is code ever finished?
JO: That's a really good question. Probably not. Someone could come along and improve what you think is finished. Every problem can be solved in a multitude of different ways. What constitutes being finished for one program might be elegance of expression. For another one it might be its performance. There are different value systems for programmers. Code in an open context, that is published openly, tends to be living or have the opportunity to live and be contributed to.
TB: You mentioned that most people do not know what software is, would you mind elaborating on that?
JO: Software in its simplest form is a group of instructions that work together somewhat contiguously to process data with an intended outcome. Data itself is everything that is not program code and program code itself is instructions written in a human readable language that are compiled into a form that the computer can understand. Computers have their own language; they are interpreters in a sense. You can really understand software as an automation of multitudinous processes to speed up the production of an intended or desirable outcome. Decision-making can occur, so it is not just a one-dimensional procedure. For the user though, software is generally just a skin of metaphors. If you think about it, clicking a picture becomes an initiation of an event and software is made to allow for the clicking of pictures to allow it to start a program. I mean software is many things at the same time, a field of illusions and metaphors.
TB: To what extent can you be taken by surprise by the software as an artistic medium given that it is your instructions?
JO: Well it depends on the scale of the project. Much of the time the software is a field of limitations. Working with software is about finding ways to make these limitations work and move within them. Unless you (of course) do something in Processing and you just want it to make a square then you just want the program to do exactly this. But for more complex projects I'd describe computer programming as a process of self-humiliation. It is about finding out how poor your initial assumptions about your own abilities are, you feel frustration and you need to fight against your own attention deficit disorder. It is a conversation with yourself, self-development ultimately. Secondly, it is a process of breaking down big problems into smaller ones until so much of the smaller problems are solved that the big one is solved too. But first and foremost I think that software development is self-development.
TB: Speaking of self-development. It is interesting to note that you have in a way returned to architecture, the difference being that you are not sculpting the physical space but the immaterial space. Maybe more so than building things one could say that you deconstruct them, take them apart through intervening and disrupting space.
JO: Yeah. Danja and I work together a lot these days and we refer to ourselves less as artists than as critical engineers. We firmly believe that the most transformative language of our time, one that defines whole economies, I mean how we trade, how and what we eat, how we converse with each other, how we move around the world is engineering. Art itself is increasingly diluted in transformative power, it has become more like entertainment than necessarily anything that is intrinsically rigorous. In the early days of the 1920s and 1930s we had interventionists' strategies that are now known as art but they didn't call themselves artists at the time. So as I have been saying to myself quite a lot recently it doesn't matter if I call what I do art, others will do it for me anyway. So I better describe myself as a critical engineer by taking the language of engineering and lifting it out from a strictly utilitarian space and look at it as a language for rich, critical inquiry and really take on that challenge. It is really about taking the language of engineering and blowing it wide open, taking it away from this kind of black box reality, of big companies making stuff for civilians. This is essentially our relationship to technology. The companies and government make technologies upon which we depend and I think as any technology becomes more ubiquitous like smart phones our ignorance increases. With ubiquity comes ignorance and it seems to be a plottable, predictable curve. The idea of being a critical engineer is to intervene at this point and say "No! Stop!". We need to reflect on what we are working with and how what we depend upon is shaping us. So learning this hard stuff in order to evade the top down superstructure is necessary.
TB: This might be a good transition to talking about Newstweek, a project that precisely seeks to evade the top down superstructure that you mentioned. How did this project that you've collaborated on with Danja Vasiliev come about?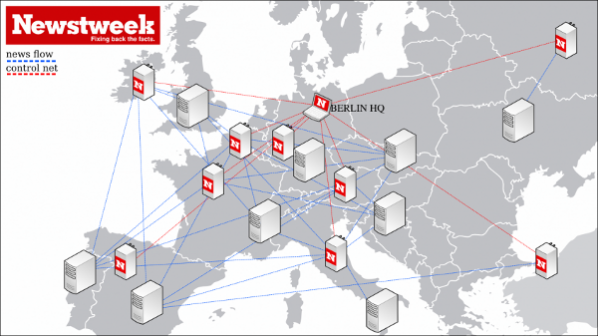 JO: We were at the Chaos Computer Club early this year and we put a little plug into the wall where we put a small router inside. Our goal was really simple, to go into the Berlin congress centre with thousands of hackers and put the thing into the wall and see how long it would last without anybody noticing. We expected it would last a few hours but it was there for the entire conference. One could see it from hundreds of meters away but nobody did something about it, so we realized we were onto something. So we wanted to build a device that looks so much like part of the infrastructure that it would appear harmless.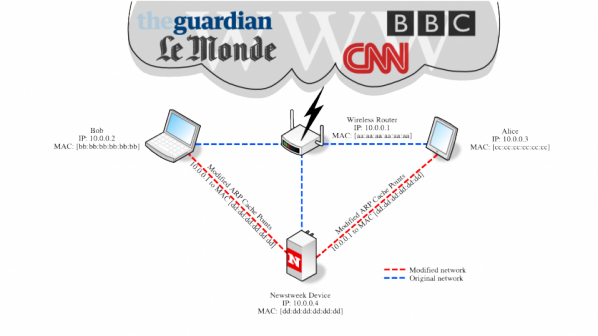 Newstweek: fixing the facts from newstweek on Vimeo.
The second thing was to couple it with a man-in-the-middle attack and to interrogate what we increasingly refer to as a browser-defined reality. Meaning that if it manifests in the browser, it is somehow authentic. It is this idea of going to a major news site, and as long as what one sees comes from this imaginary thing called a server and propagates in your browser, it is somehow trustworthy. We wanted to explore the limits of the impossibility of intervening in an otherwise top-down distribution of news. We wanted to find an on-the-ground way for civilians to intervene with this authority by manipulating the facts. It is really about allowing for a lateral interception of news sources, such as the BBC, the Guardian and CNN.
TB: Did you also record or document people's reactions to their suddenly altered or tweaked news?
JO: Yeah, we have done this. The thing for us though was merely to provide a platform. People didn't really believe that Newstweek worked. So we released the how-to saying here is where you buy the hardware, how you open it up, the firmware, the script, and so forth. Only then we had this quiet retrospect where people were going "aha". What we have changed is their relationship with their environment. It doesn't matter whether there has been a Newstweek-device in the environment or not. The very fact that they are looking around them and thinking that what is happening in their browser may have been tweaked is the most desirable outcome. This is exactly what happened. Most of the comments are of that nature, saying, "I will never trust the news again". I mean, even when the attention for the project falls back to the sleepy town of acceptance, I think we can still be very proud of ourselves.
TB: Not just Newstweek, but much of your work is about intervening in public space and exploring the meaning of place. What do these concepts mean to you?
JO: Well I am very interested in the writings of Edward S Casey and the phenomenologist's Husserl, Mearleau-Ponty and Heidegger of course. One of the great things that has come out of that thought is that Space in itself does not really exist, just as there is no number 2 in the universe. What we have done is to create a concept in order to pre-empt space, to reduce contingency, and in this way so much scientific thought is about reduction of contingency. Space of course is a projection of mathematical constituents to make determinations. Through mathematics and cartography and the like we have seen a growth in trust in the space model rather than the place model. So what I am really interest in, is that rationalization of place has allowed us to live in cities, which have been atomically and economically particularized, privatized. I am interested in how the distinctions between public and private is often extraordinarily blurry. A good example is the fact that a company can pay to put a huge picture outside your apartment during construction for instance yet when it is a millimetre or two away from your wall it no longer belongs to you. Or when you are drilling a hole through your wall in your house at a certain point you are going to hit the neighbours next door. Where does it begin and where does it end? It really shows that territory and place are just constructions. The same goes for wireless technology.
TB: Why is it important to question the ways in which we experience public space?
JO: Well take my work Artvertiser as an example. We have come to accept that our cities are covered in proprietary imagery. So I find it important to question this read-only space much in the line of ad busting and culture jamming. We just did a big streetwise exhibition in Helsinki where artists chose their brands and they made concise commentary simultaneously finding a new way of being in their city.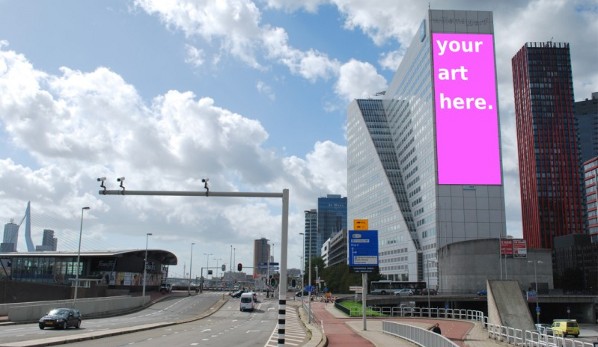 TB: Place often resides in memory and to a certain extent requires permanence. With Artvertiser it is only a temporary intervention. In the end the proprietary imagery stays. What do you hope people take away from an artwork like the Artvertiser?
JO: True. But again, the most productive outcome is conversation. We have the public coming up and looking again and again, through the binoculars at the modified billboards. We even had security guards getting angry. I mean all we are doing is producing a new experience in the visual cortex. Why would a member of the public like the security guard get angry that we are modifying our own experience voluntarily? It is kind of curious.