AKA the Castle
Strategy workshops: How Can A Forest Move?
Part of Moving Forest London2012 development workshops
All events are free but space is limited.
Booking essential. Please RSVP to now@movingforest.net
EVENTS
Friday 9 December 2011, 11-4pm. Furtherfield Gallery
Isaac Marrero-Guillamón – The Militant City
Saturday 10 December 2011, 11-4pm. Furtherfield Gallery
Rachel Baker and Kayle Brandon – The Witches and 3-Keys
Monday 12 December 2011, 6-9pm. Furtherfield at SPACE MediaLab
The Laboratory of Insurrectionary Imagination presents:
TREE THOUGHTS: Strategies of artivisme and permaculture, a taster
MORE ABOUT THESE EVENTS

Isaac Marrero-Guillamón – The Militant City
Furtherfield Gallery, McKenzie Pavilion, Finsbury Park, London N4 2NQ
Friday 9 December 2011, 11-4pm
The Olympic mega-event is akin to Rancière's 'order of the police'. It regulates what is visible and invisible, sayable and unsayable, thinkable and unthinkable; it distributes individuals and groups in positions of ruler or ruled." Join Isaac Marrero-Guillamón, researcher for The Militant City, in a discussion and workshop on exploring the role of art in relation to the Olympics, its legal architecture, and its elevation to a 'state of exception'. Bring projects, ideas, stories and prepare for battle over the control of language, sign, transmission and public space.
Rachel Baker and Kayle Brandon – The Witches and 3-Keys
Furtherfield Gallery, McKenzie Pavilion, Finsbury Park, London N4 2NQ
Saturday 10 December 2011, 11-4pm
Rachel Baker and Kayle Brandon jointly lead this day of prophecy, prediction and mobilization strategies for mapping the Moving Forest onto the London Olympics; tuning in the camouflaged branches to the contemporary mood of economic chaos and revolt.
Rachel Baker – Witches, Prophecy and Prediction
The story of Macbeth began with a witches' prophecy and ended in murder and revolt. Did the witches predict a future already seen or did they merely plant some well-placed psychological seeds to trigger a self-fulfilling prophecy? In doing so, were they able to influence reality? What prior information did they need to have? Is it the magical, spectral appearance of the witch that lends the prophecy its power, or their insertion into everyday life?
Kayle Brandon- 3-Keys
The three witches' prophecy and their tools and techniques of divination are deployed to make a card game called The 3-Keys. Illuminating insurgent mobilisation strategies, the game will map the key relational powers within the Olympic game, matching/twinning them with the essential Macbeth elemental and physical conditions. Discussion will surround further oracle, divination tools and techniques that enable one's actions to be fated or influenced by these processes.
The Laboratory of Insurrectionary Imagination presents:
Furtherfield at SPACE MediaLab
, 129—131 Mare Street, London E8 3RH, 020 8525 4330
Monday 12 December 2011, 6-9pm
This workshop is a taster to methodologies that merge ecological design models of Permaculture with forms of creative resistance. Permaculture mimics the patterns of living systems and applies them to human designs, these whole system thinking tools will be applied to strategies for developing creative actions. The workshop is suitable for artists and activists of all sorts and with any kind of experience and aims to give a feel of how it might be to "think like a forest".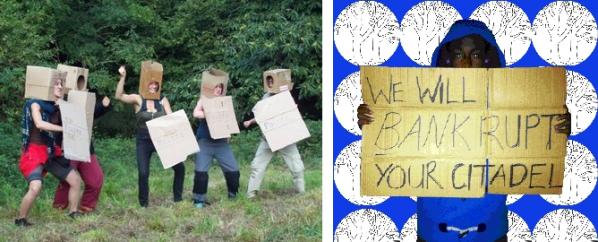 FURTHER INFORMATION

About Moving Forest strategy workshops
The workshops are in preparation for a performance of Moving Forest, first presented at Transmediale.08 in Berlin, during London Olympics 2012 by AKA the Castle in partnership with MA Interactive Media & Centre for Cultural Studies at Goldsmiths, University of London, Furtherfield, Space, MzTEK, Digital Programmes and Victoria and Albert Museum.
A 12 hour, five act, visual, sonic, digital, electronic and urban performance collectively realized by AKA the Castle, a temporal performance troupe bringing together visual artists, writers, soundists, silk threaders, codedecoders, macromikro, boombox mass, mobile agents, wifi fielders and urbanites. 12 hours of sonic, coded action map an imaginary Castle and camouflage forest revolt onto a given modern day metropolis.
More about workshop leaders
Isaac Marrero-Guillamón
Isaac Marrero-Guillamón is a sociologist/anthropologist. He has lived and worked in London since 2007. He is currently a post-doctoral research fellow at Birkbeck, University of London, undertaking a two-year project called The Militant City, which investigates artistic practices critical towards the Olympics.
Rachel Baker
Rachel Baker is a network artist who collaborated on the influential irational.org. Her art practice explores techniques used in contemporary marketing to gather and distribute data for the purposes of manipulation and propaganda. Networks of all kinds are "sites" for Baker's public and private distributed art practice, including radio combined with Internet (Net.radio), mobile phones and SMS messaging, and rail networks.
Kayle Brandon
Kayle Brandon is a inter-disciplinary Artist/researcher, whose work is sited within the public, social realm. She predominantly works in collaborative and collective fields; a working method which informs much of her ethos around the making of art. Her main areas of interest are in the relationships between the natural and urban worlds and Human/Non-human relations. She investigates this field via physical intelligence, provocative intervention, observation, self-guided exploration and collective experiences.
The Laboratory of Insurrectionary Imagination
Infamous for fermenting mass disobedience on bicycles during the Copenhagen climate summit, throwing snowballs at bankers, touring the UK recruiting a rebel clown army and covering the Tate in unwanted molasses to get them to drop BP funding, The Laboratory of Insurrectionary Imagination (Lab of ii) exists somewhere between art and activism, protest and poetics.
Furtherfield Gallery, McKenzie Pavilion
Finsbury Park, London N4 2NQ. Open 11-4pm
For details on how to find us visit our contact page.