Blue Sausage Infant is the solo electronic project from Washington DC's Chester Hawkins. Active on the live scene since the late 1980s, he's shared the stage with touring and local luminaries, whose stylistic echoes radiate his own productions. Hints from prog, industrial, dark ambient, and noise all come across on BSI's first LP release, Negative Space. Issued on Zeromoon in gorgeous packaging and colored 180-gram vinyl, Negative Space's three tracks combine into a diverse snapshot of Hawkins' musical creativity and expertise using a fair number of electronic and other diverse instruments (including electric toothbrush), all helpfully enumerated on the inner sleeve.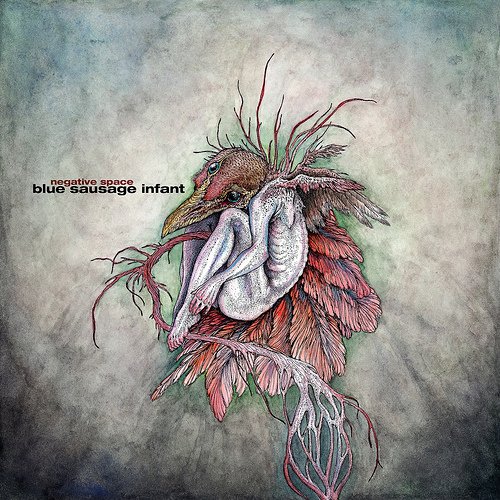 Side one is the single solo track "Motion Parallax," a drifting space music riff that evolves through increasingly soupy accompaniments. From the Berlin overtones that emerge from the opening swirling white noise to a tribal electronic rhythm that reminded me of the proto-noise-punk band Chrome, BSI creates a diorama of timbral and harmonic landscapes. A distorted voice just out of comprehension earnestly and repeatedly strives, but fails to make herself understood, channeling an obscure Samuel Beckett character. Perhaps because of its murkiness, present even in the background of the rhythmic passages, Motion Parallax carries a lulling quality, a hard-edged long-form ambient work.
By contrast, side two opens considerably further towards krautrock with the title track, thanks to the assistance of a guitarist, a drummer, and a fourth performer on percussion and electronics. For all that side one referenced ambient, "Negative Space" draws from post-rock, with sustained guitar textures, rhythmic bass riffs, four-bar phrase structures, and a continuous dramatic build over the fourteen-minute performance. The side concludes with the shorter solo track "Subferal," dense electronics dotted with sirens and alarms, led by an obsessive oscillation that starts on an intense single note and dissolves into swizzling distortion.
Originally posted on Furthernoise: http://www.furthernoise.org/index.php?url=page.php&ID=430&iss=96