[Trigger warnings for just about everything goes here. Please Do Not Read the following if you're sensitive, or concerned about trigger(ing)s.]
"An uproar of voices was coming from the farmhouse. They rushed back and looked through the window again. Yes, a violent quarrel was in progress. There were shoutings, bangings on the table, sharp suspicious glances, furious denials…Twelve voices were shouting in anger, and they were all alike. No question, now, what had happened to the faces of the pigs. The creatures outside looked from pig to man, and from man to pig, and from pig to man again; but already it was impossible to say which was which."
– George Orwell, Animal Farm.
OUR ANTAGONISTIC CESSPOOL
Today's online spaces are communication minefields. When interacting in multiplayer games or social media niches, networks come drenched in reactivity bile. And although we might seem to bile-dilute, instead we intellectually saw at each other through a polite veneer. Here, civil discourse is label-trotted. Discourse bile may also erupt in balls-to-the-wall screaming matches. Such bouts involve trollbaiting, d0xxing, and Internet Rage Machine power-ups. Whatever the magnitude/form, online dialogues appear to be flooded with antagonistic commentary.
Truncated attention spans rage-burst. Such anger pockets are far from static: fuelled by such shameblood, the righteous degrade. We humiliate in order to inflate. We confront-tar and belittle-feather. The [s]urge for relevancy is sycophantically baked. We mobilize to unearth, to finger-point: we present affectivity as fact. Hate groups spread across factions, divide-blurring.
NUANCE REMOVAL + THE RUBRIC OF ABUSE
The search for sodalities is constant. Nuances are fudged. Contexts are ignored. Catharsis mutates through a checklist that reduces, confines, and truncates. We are force-fed trauma anecdotes as reality fulcrums. Baggage is exposed in painful lumps. We are not consideration-encouraged: we are expectation-drilled. We must agree. Must acquiesce. Must uncritically support. Anything else denunciation-equates.
"IN-AND-OUT"RAGE
Public shaming is the norm. We bully. We armchair-critique. Bipartisan voices lynchmob-morph, all-indignation-like. Roughshodders censor and context erase. Power drugs the inflamed and injects the underdog[s] with sudden shifting surges. Reference frames are smashed, then reiterated repeatedly till they become a thing of horror, of replication thrown from "side a" to hit "side b". Such targets are then mirror-captured and magnified. Empathy is to be derided as weakness. Barbs are flung at all who seek to ponder "isms" or reclaim them. We must not listen in order to comprehend, to understand: we must shout.
[PIGEON]HOLE[D]-IN-ONE
We word weaponise ["…getting all soul-rapey on SJWs"/"…gut-cutting misogynistic neckbeards"/ "You are either with us or against us"]. Gator-screams and "die-cis-scum"-roars rule the day. We obliterate and issue-compress. We communication strangle. Equality is attainable through force. Aggression trumps assertion. Sarcasm blights compassion. Rudeness rewrites decency.
SUCH TERRIBLE WHITEWASHING SEALIONS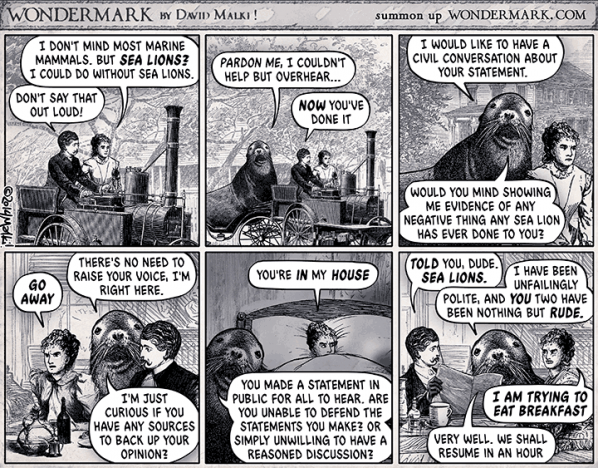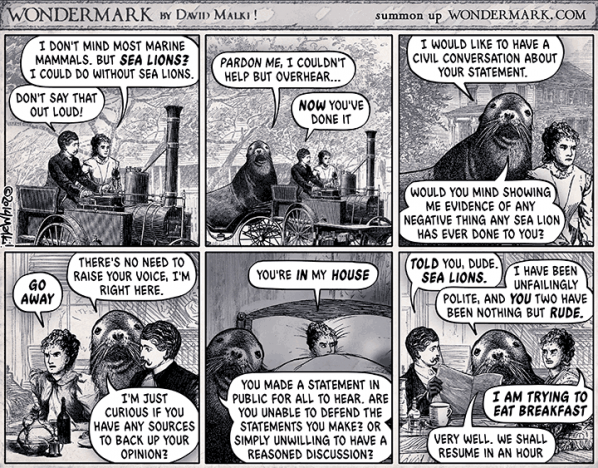 Power-grabs blind the sensitive. To destroy/troll/shame/swamp/embarrass/belittle/d0xx is to "win". Sense of perspectives lose while extremisms gain. Dialogue is gamed: the loudest voices squash and rip, tear and silence. Threats echo the noose. Implications drive output. The end-goal is attention, ratification, dis[e]ruption: a pendulum power swing designed to flatten and redress. We obscure and vilify. We replicate exclusion ethics. We buck-and-doe-pass.
THE VICTIM[IZED] TURN
Online purging results in strange social crevices. Encouraged to instantaneously blurb our stream-of-tweeted-consciousness, we are off the chain. We spontaneity-bark and bleat [at] everything and all. Cohesion shatters. We no longer rely on institutions to dictate, to guide, to sanction. Moral Absolutists war-trawl Moral Relativists. The Arab Spring has turned us inside out. Unsure, we turn on each other. We emoji expose and deride. We [slut]shame and attack: all within banners born from psychologies spouting the benchmark worth of individualisation. Selfies become our egocentric standard.
HOLIER-THAN-THOU + YOU + YOU
We once attempted to codify, to restrain. But now, all gloves are off. We scrabble and lunge. We showcase-badge based on our version of "the categorical truth". We bang and bleed against these corners, these intersections of emotion and intellect. Of private and public. Of control and openness. There is no room for reflection, for consideration, for clarity.
RIGHTING OUR SELF-RIGHTEOUS WRONGS
We refuse anything that calms. Online spaces are for battling. Playfulness and cohesion are sacrificed. Righteous mobs insult fling: they ratify rather than reappropriate. Alternates gleefully spout these insults as proof, stamp-ammo-ing all the while. There are, however, those who stay and observe. We await the wind-down. We desire an eventual dissolve: a fundamental shift. They can't last, these discourse patterns. We wait for rage to course-run, for rage-fatigue. We await the next mediation bump.