Introduction
In the introduction of Civic Radar, editor Peter Weibel sets out the motivation, layout and journey of the book. This first comprehensive monograph of Lynn Hershman Leeson's artistic career, spanning across five decades. It must have been a dizzying publication to work on, when compiling her pioneering work in the fields of photography, video, film, performance, installation, and interactive and net-based media art. It is noteworthy that Hershman Leeson collaborated in its production. One feels her personal involvement in the book – its richness, care and detail, shows in its nearly 400 pages, and approximately 500 illustrations. It also features supporting texts by other writers, curators, theorists, and artists, such as: Andreas Beitin, Pamela Lee, Peggy Phelan, Ruby Rich, Jeffrey Schnapp, Kyle Stephan, Kristine Stiles, Tilda Swinton, Peter Weibel and interview by Hou Hanru and Laura Poitras with the artist.
Review.
"I try to live in the present, because most people live in the past. If you live in the present, most people think you live in the future, because they don't know what happens in their own time." Lynn Hershman Leeson.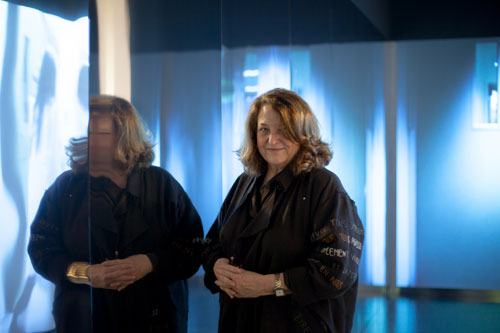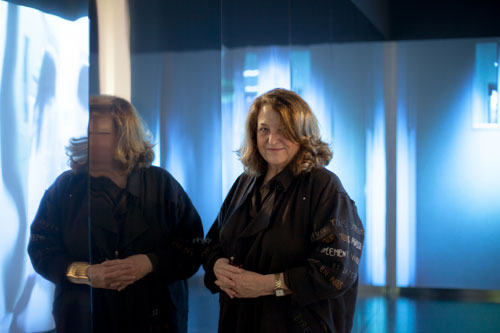 Lynn Hershman Leeson has pioneered uses of new technologies, recognized as key to the workings of our society today. She tackles the big questions surrounding: identity in a time of mass, overpowering consumerism; privacy in an era of surveillance; the interfacing of humans and machines; the relationship between real and virtual worlds; and new bio-ethics surrounding practices such as growing parts of the human body from DNA samples. We can think of Hershman Leeson as a direct artistic descendant of Mary Shelley. Consider Shelley's celebrated publication, Frankenstein: Prometheus Unbound, published in 1818, and its challenges towards macho revolutionaries of 'reason', and her critique of the misuses of science and technology by the patriarch. We can see strong parallels between both women. They are feminists, who have managed to find ways around (and to work with) traditional forms of dominant, patriarchal frameworks, so to express personal, creative and cultural identities, on their own terms.
"Lynn Hershman Leeson's mission statement seems to be that the body is a programmable software embedded in a changeable hardware. Therefore, she shows us so many hybrids and mutants, aliens and agents, actors and avatars, in real life and second life. From Dolls to clones, she demonstrates the paradox plurality of identities especially in the age of total observation." [1] (Weibel 2016)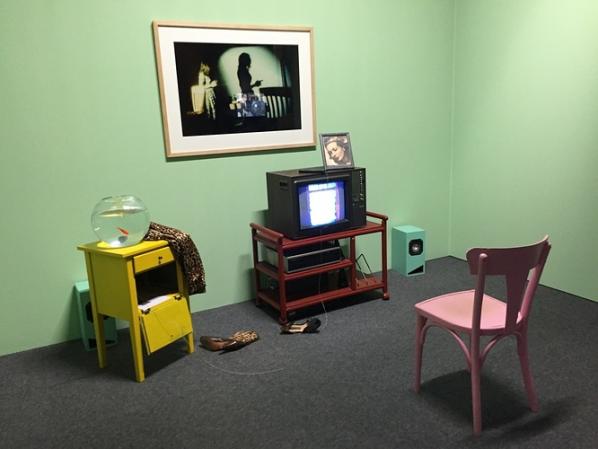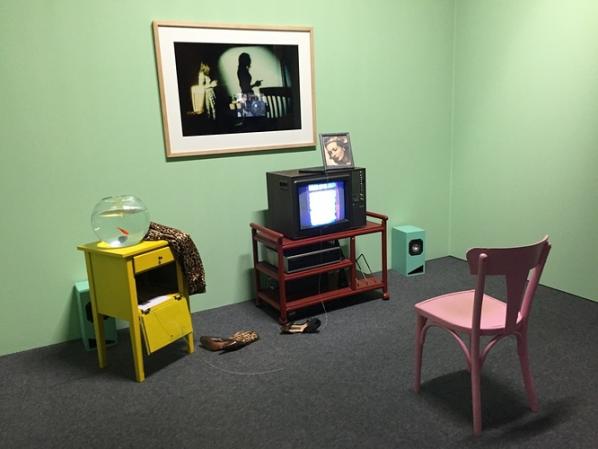 Hershman Leeson's artistic process however does not keep its distance from the processes of science and technology. She leaps into the depths of our fears and unreservedly engulfs herself, and her imagination in their material influences and modifications. Like Donna Haraway, Hershman Leeson takes cyborgs, misfits, biology, mutation and transformation as her inspiration, contexts and materials. And also like Haraway, she playfully and critically owns concerns around science and technology, along with the ethical issues that may arise out of their continuously shifting, influences on society; and, thus not owned by or weighed down by them. Every work put forward by Hershman Leeson, is an experiment. Her interests and knowledge inspired by science and technology reflects her constant state of contemporariness. Her work directly correlates to breaking down systems of perceived values.
"Hershman Leeson confronted conventional gender roles and exposed the normative construction of gender identity. Some of her videos have included cross-dressers and transgender men and women, as in Double Cross Click Click (1995), and her assumed male pseudonyms at a time when the art world was dominated by men who mostly ignored women." [2] (Beitin 2016)
Hershman Leeson's art moves fluidly between different formats, contexts and disciplines. This of course is not easy to brand. The art market survives by promoting art that fits into particular roles and products that are easy to promote, predict and consume. The irony here is that the art world promotes the idea of itself as a site of novelty and insights, but in reality represents a deeply conservative culture. Some artists, Hershman Leeson is one of them, transcend the contemporary artworld norm and build alternative universes, contexts and identities, where the art is so investigatory and esoteric, traditional conventions are challenged.
When I interviewed Hershman Leeson last year for Furtherfield she talked about how she'd like to "eradicate censorship, and make more transparent the capitalistic underpinnings that are polluting access, value and visibility". In the 70's, she was the first artist working on a prison art project in San Quentin, and many of her early public art works "geared toward social change." [3]
Civic Radar shows us that her work is not reduced to a singular, reflection of her own creative self. There is a wider story and it includes the voices of many others as part of the narrative of her life and her work, as well as reclaiming a history in a male dominated society.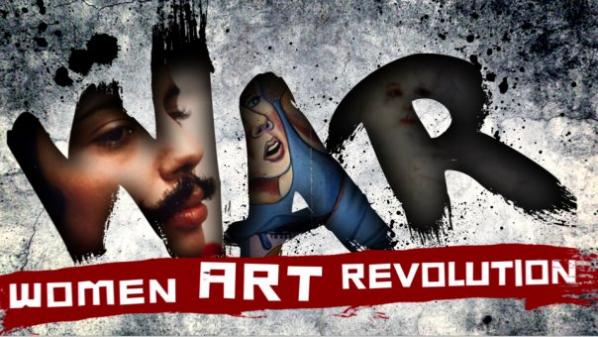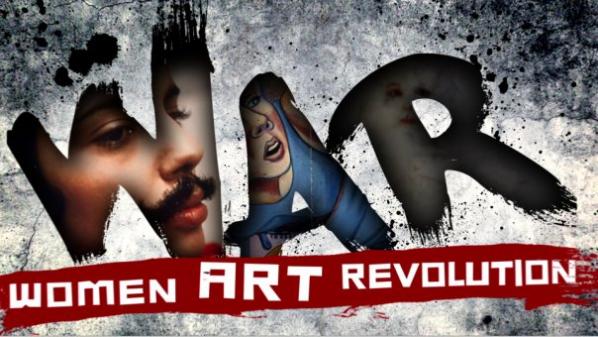 We see reaffirmed a varied and dynamic history where she has been involved in strengthening the role of women in society, as part of an extension of her art process. One excellent example of this rich history is that over a period of 40 years she interviewed an extensive array of women artists, historians, activists, and critics who integrated personal and political content into their work. Then, some of that gathered material was made into a film project !Women Art Revolution, in 2010.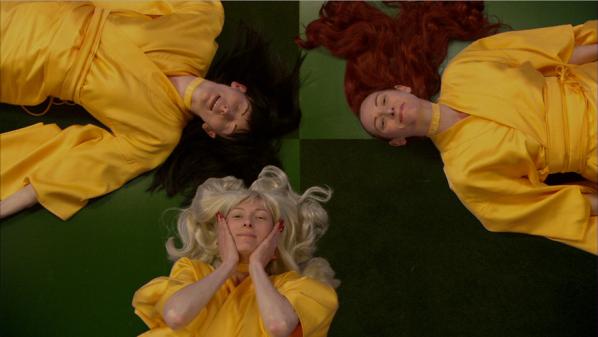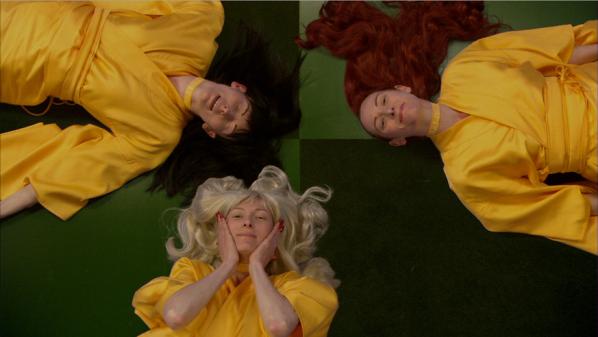 Lynn Hershman Leeson has not only achieved pioneering work as an artist, but also as filmmaker. She has collaborated with actor and Oscar winner Tilda Swinton in several feature films that have gone on to receive numerous awards at international film festivals on account of their outstanding quality and innovative themes. »Teknolust« is an absurd, amusing and scientifically highly topical science-fiction drama on the subjects of cyber-identities, biogenetics, gender constructions and sexual self-determination in the age of the Internet. The plot turns on the scientist Rosetta Stone (Tilda Swinton), who illegally produces three clones of herself. The artificial entities can only be distinguished by the color of their clothing and live in an enclosed cyberspace. Because they are dependent for survival on the male Y chromosome, Ruby, the femme fatale among the clones, goes in regular pursuit of men. Sexual contact with Ruby leads to impotence in her lovers as well as to an allergic reaction triggered by a computer virus which is transferable to human beings. The FBI becomes aware of the clone family's machinations following the increased incidents of infection among men, and begins to investigate. Note*
Her work has crossed into many different fields and formats. Which includes: installations, videos, films, sculptures, robots, avatars, contracts, computer programs, photography, paintings, drawings, collages, browser based art, artificial intelligence, bio-matter, network communication systems and devices. Synthia Stock Ticker and Dollie Clones are just two examples that demonstrate how ahead she has been with her ideas and her integration of digital technologies into art. Synthia Stock Ticker, is a networked-based media artwork made in 2000. It refers to the stock ticker invented by Thomas Edison and is unusually prescient in its portrayal of the emotional life of global markets. Inside a glass casing sits a small monitor screen, showing a video of a woman character named Synthia. "When the market is up, the character dances and shops at Christian Dior: when the market is down, she chain smokes, has nightmares, and shops at Goodwill." [4]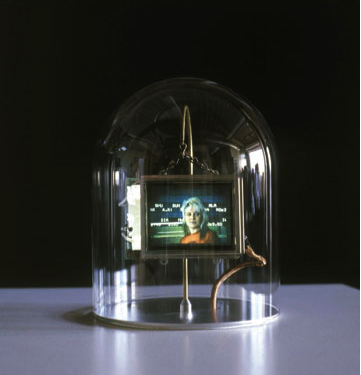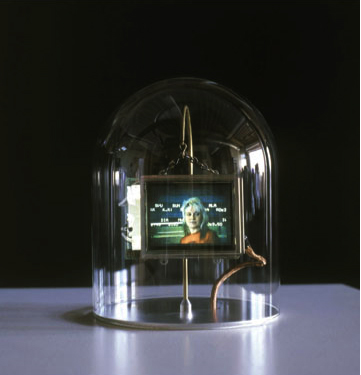 Again The Dollie Clones 1995-96 predate a contemporary artistic obsession with creeping surveillance. Two telerobotic dolls, Tillie the Telerobotic Doll and CyberRoberta, whose eyes have been replaced with cameras. Each doll has a website that allows users to view the images taken by the webcams and click on an "eyecon" to telerobotically turn the doll's head 180 degrees to survey the gallery.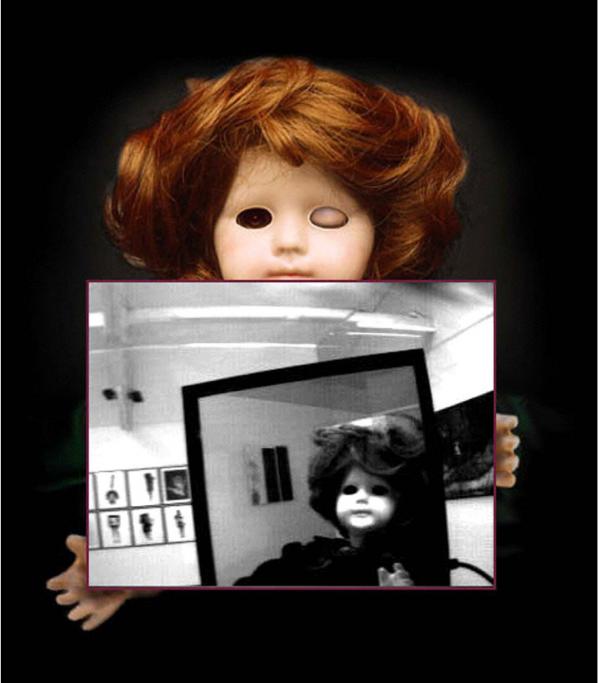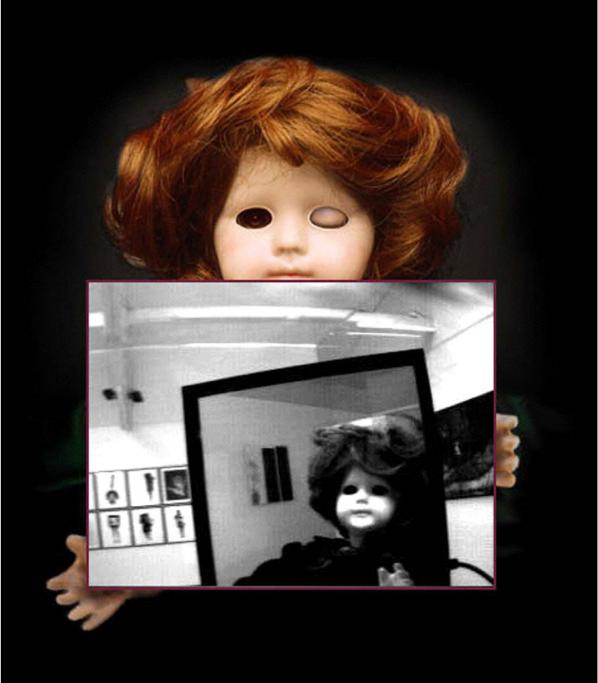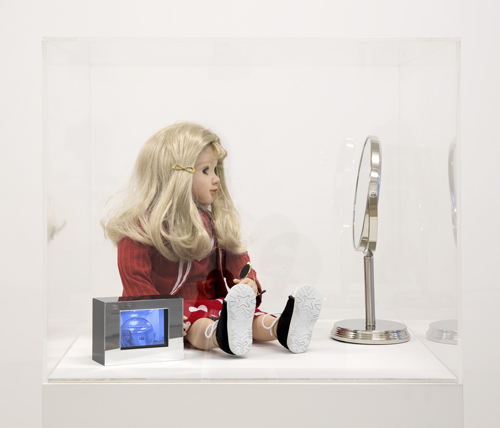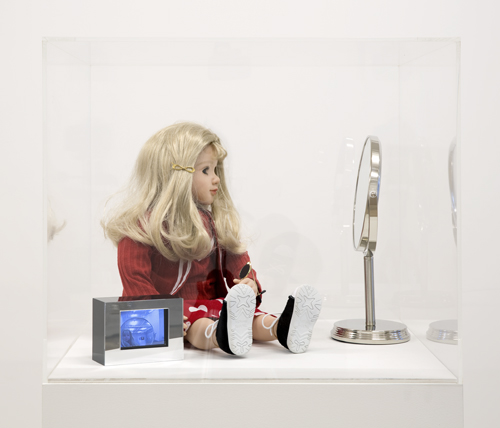 Hershman Leeson's most prominent performance work was as another woman, Roberta Breitmore. This elaborate alter ego existed between 1973 and 1978. The Breitmore character was well developed, possessing different behaviors and attitudes to Hershman Leeson's own personal identity. Roberta Breitmore had her own handwriting, clothing, wig, makeup, driver's license, apartment, psychologist, bank account, credit cards, acquaintances, life story, and adventures. Hershman Leeson took the audacious leap and sporadically became Roberta Breitmore for 5 years. Other women also lived as Roberta Breitmore and sometimes simultaneously. [5]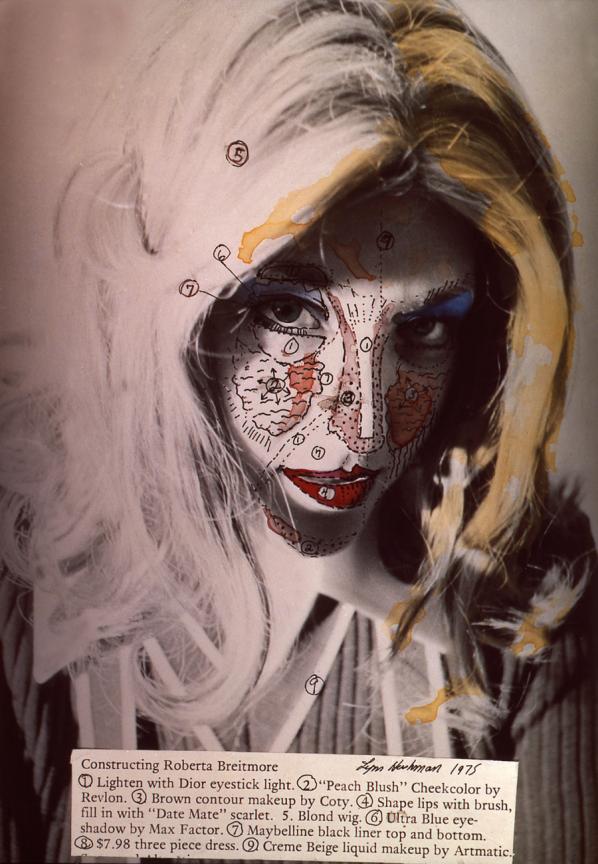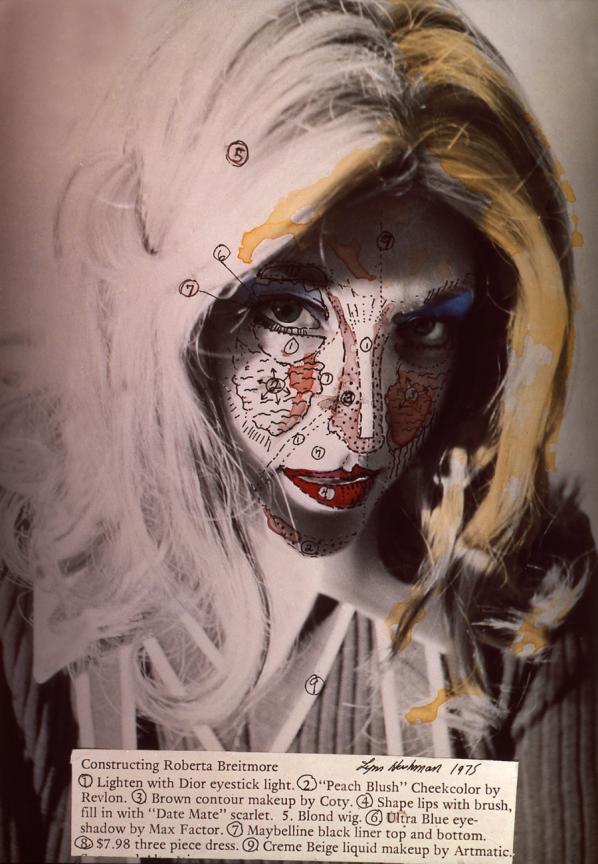 "Hershman Leeson hired three additional performers, all women, to play Roberta. They wore costumes identical to the ones Hershman Leeson herself wore, and they treated Roberta essentially as a professional (albeit part-time) gig. They undertook some of Roberta Breitmore's correspondence and went on some of her dates (which were documented in photos and audio recordings). Eventually, Hershman Leeson stopped enacting Breitmore, reducing the instantiations of Roberta Breitmore from 4 to 3." [6] (LaFarge 2007)
The spirit of Hershman Leeson's radical art persona can be seen in younger, contemporary artists today. For instance, Heath Bunting's Identity Kits, part of his larger The Status Project consist of various items, personal business cards, library cards, a national railcard, T-Mobile top-up card, national lottery card and much more. "They take a few months to compile each of them because they are actual items that everybody uses in their everyday lives, involving evidence of identity. There is also a charge for the package of 500.00 GBP, which is cheap for a new identity." [7] (Garrett 2014) Then we have Karen Blissett, an Internet artist who suddenly decided to go multiple by opening up all of her email, Twitter, Facebook and Google accounts to many different women around the world. "A torrent of provocative, poetic, and often contradictory voices issued proclamations, made auto portraits, and shared psalm-like meditations on her existential transformation; distributed across online platforms and social spaces, in text, image and video." [8] (Catlow 2014)
Towards the end of Civic Radar a collection of pages show us various images of the exhibition by the same name at the ZKM Museum of Contemporary Art, in Germany 2014. When viewing the images of her work in the large gallery spaces you realize the scale of it all, and how substantial her work is.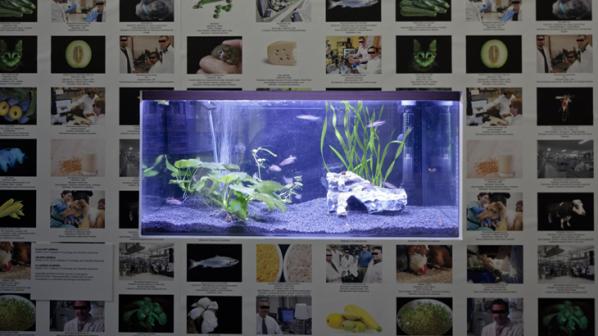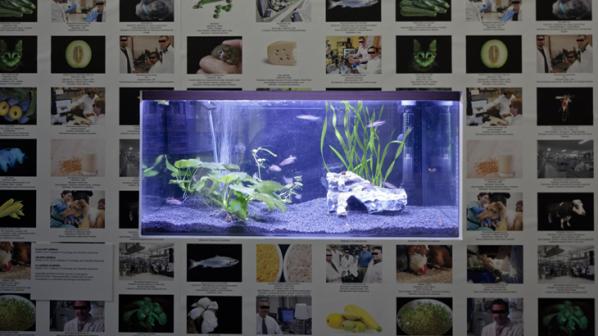 Moving on after the images of the works in ZKM, there is a selection of Hershman Leeson's texts written, from 1984 and 2014. These writings, take us through different stages of her career, revealing ideas and intentions behind much of her work and also some of the work included in the publication. In the last paragraph of the last text in a short essay, titled The Terror of Immortality she writes about the contexts that have given rise to her most recent work. "As organic printing and DNA manipulation reshapes the identities of newly manipulated organisms, so too the culture of absorbed surveillance has dynamically shifted. In the next 100 years, the materials used to create DNA will become increasingly distributed and hybridized. The implications of this research include not only the creation of a sustainable planet of hybrid life forms that can survive a sixth extinction and incorporate into to its existence a morally responsible future." (Leeson 2016)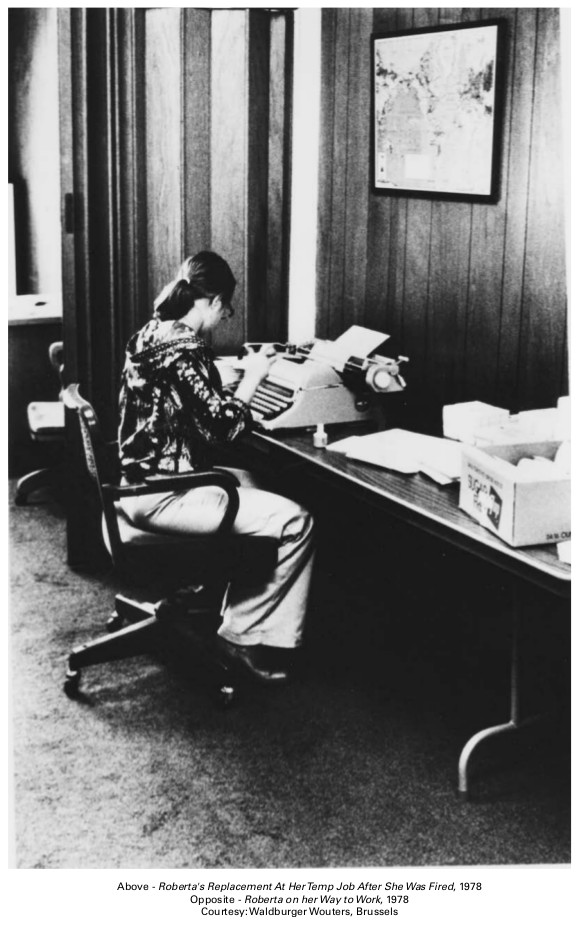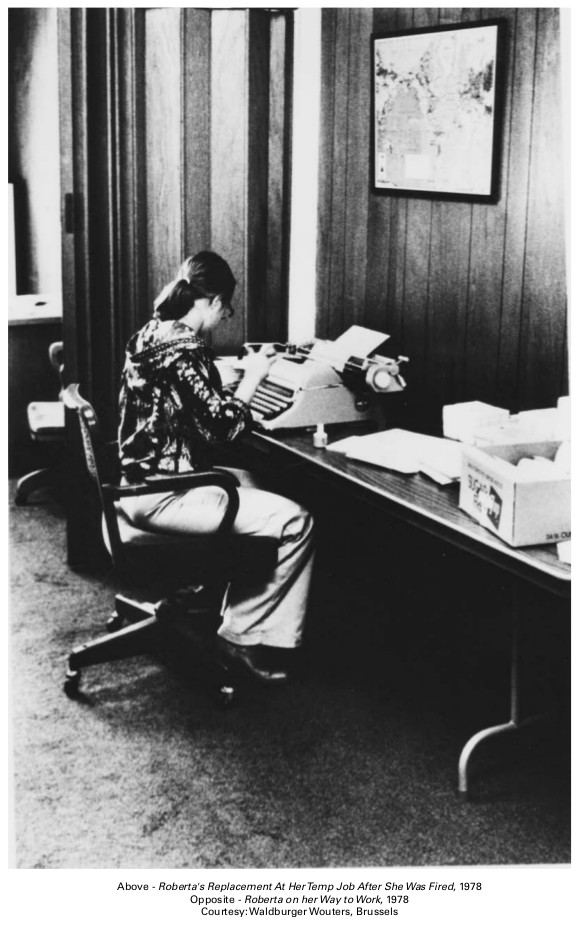 This book is a profound read, offering an insight to this generous and profound artists' fantastical journey in an era marked by accelerating change. And what's so amazing is that the content, the narratives, and the histories, are real. It is an Aladdin's Cave of rich, exceptional artworks, flowing with brilliant ideas. Hershman Leeson has had her finger right on the pulse of what's relevant in the world for a long time, and transmuted the knowledge she unearths in her examination of identity, feminism, science, technology and more into her own artistic language.
Her work is way ahead of most contemporary artists showing now. This book should be read everywhere. Not just because it features great art, but also because features a woman with a great mind. I am not a fan of the words genius or masterpiece; I find them tiresome terms reflecting a form of male domination over women and the non-privileged classes. Yet, after spending time with Civic Radar, I cannot help myself thinking that I have just witnessed something equivalent without the negative baggage attached.
*Text from ZKM – Teknolust. With Lynn Hershman Leeson at the cinema.
http://zkm.de/en/event/2015/03/teknolust-with-lynn-hershman-leeson-at-the-cinema

In 2015, ZKM in cooperation with the Deichtorhallen Hamburg / Sammlung Falckenberg exhibited the first comprehensive retrospective of Leeson's work, including her most recent productions of art. Last year Modern Art Oxford hosted a major solo exhibition of her work Origins of a Species, Part 2 and she also has work in The Electronic Superhighway, at Whitechapel Gallery, in London.