Featured image: Screenshot of Apodemy by Katerina Athanasopoulou
Eva Kekou interviews Katerina Athanasopoulou about her film Apodemy commissioned by The Onassis Cultural Center on the theme of Emigration for Visual Dialogues 2012, and her hybrid art practice of live action, animation and film. In 2013 Athanasoppulou won the Lumen Prize, described by the Guardian as "The World's Pre-eminent Digital Art Prize". She works as an Animation Director, collaborates with other artists and companies, and is an Animation Lecturer at the London College of Communication.
What is your background and what brought you to London?
I studied Painting at the School of Fine Arts of Aristotle University in Thessaloniki. My work involved large canvases painted in a serendipitous way, building layers, erasing and restarting, seeing where my lines were going to take me. I was frustrated by the stillness of the final piece, longing to recreate the gesture in time that had created it. At the same time, I was passionate for cinema and animation so I tried it out in my own computer at home. In a way, I discovered animation for myself, as there was no film nor digital element in my course. That meant that there was no right and wrong way to go and it was such a joy to be producing moving images, to be able to finally paint in time! My first films were digital cutouts and manipulated live action. The big change came when I arrived in London in 2000 to do an Animation MA at the RCA, where suddenly completely new creative possibilities appeared. Short film festivals were also a source of great inspiration, places to meet like-minded filmmakers and watch films all day long.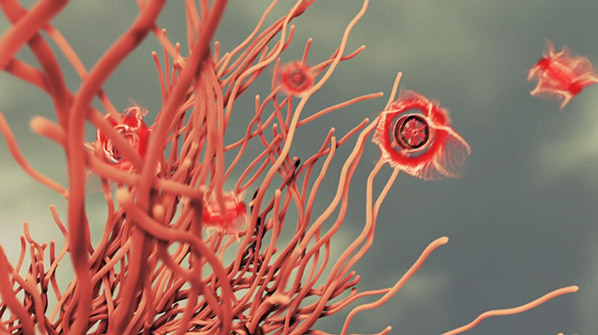 What's the effect of English education in your work and in the way you appreciate art?
When I became a student in the UK, I was at the same time delighted and terrified by the informality of the teacher-student relationship, like addressing your tutor by their first name. I was really impressed by the enthusiasm for research and for the creative journey itself. Process becomes a major part of the work and that frees you from concentrating only on the outcome. I saw how Animation can be enlisted in very different ways, from a more commercial manner to very left-field experimental practices so that was an exciting new point of view for me. At the same time, the early 2000s were a time of conflict between analogue and digital practices – which of course has not quite gone. As an educator myself, I love the intensity of the way that students debate their work, so the English system of education still very much inspires me.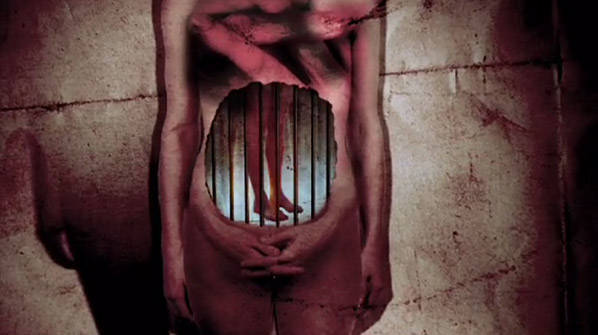 What was your creative practice up to the Lumen Prize.
Since 2002 I have been making short experimental films that have been screened in film festivals and galleries, my process being one of playfulness and embracing chance. I like to try out different ways of creating moving images, and I try to make each film follow a different road, even though it's very tempting – and at times fruitful – to revisit old concepts. In the last three years I have developed a big interest in Architecture and how that can be depicted in time, through 3D, 2D and live action. Animation for me is Alchemy, I combine elements together, in textured space and time and see what happens. These experiments some times involve diving into live action that I have captured on location, and other times are about creating that space digitally.
Animation Installation is a field I'm fascinated by at the moment, devising ways of materialising the digital element, of making it even more about light and shadow. My latest film, Triptych 1, was made especially for the facade of the Museum of Contemporary Art in Zagreb and reimagines it as built of interconnecting corridors.
Talk to us about the theoretical and philosophical background of Apodemy.
Apodemy was commissioned by the Onassis Foundation (Stegi) on the theme of Emigration and the Economic Crisis. It was to be part of an Art Show in an old archaeological park in Athens, called Plato's Academy Park, where the philosopher is believed to have taught. The title of the Installation was Visual Dialogues so I was drawn to Plato's Dialogues where I discovered the metaphor of the human soul as a birdcage. I was very keen to instil in the work philosophical elements related to the space itself. With migratory birds being one of my initial ideas about the piece, the solution of a travelling birdcage in an abandoned half-finished city became apparent. The marble arms were part of Plato's birdcage metaphor, where he describes how, as we grow up we fill our mind/birdcage with ideas/birds. When we need to recall something, we put our hand in the cage and grab a bird. I imagined those hands to be aggressive, so they became statue fragments carried by cranes that eventually mar the trolley cage's journey. Theo Aggelopoulos inspired me with his images of a Lenin statue traversing the river and of a single arm, floating accusingly yet innocently. In times of political upheaval we like to break down our past heroes, in an attempt to cleanse ourselves of mistakes. Only that sometimes those past leaders still come back to haunt us.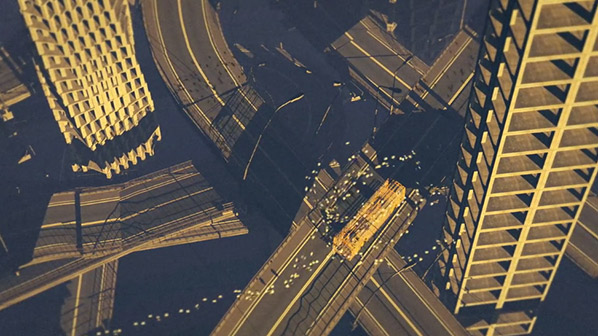 What techniques did you use?
I designed the city on the computer in 3D and then started to drive cameras inside it, discovering it on the road, like I was exploring a real landscape. The film was built like a documentary, following the migration journey of a cage that is also a trolleybus, the yellow kind that I was riding in Athens when – in the late nineties – everything was promising.The construction industry ground to a halt when the crisis took hold so, today, many buildings remain unfinished and look like birdcages themselves. After the City was built, I started making the birds and the bus. Then I moved it inside the city, following a broken road which eventually leads to the fall. The entire film developed through trial and error, it was my first 3D film and I had limited time and resources. But restriction breeds creativity and, in the two months that I had to complete it, I tried to make a film designed in a minimal but impactful way.
What does the Lumen Prize mean to you and how can such a recognition make a difference in your work and life?
Winning the Lumen Prize was a great honour, especially amongst so many great works from entirely different platforms. The prize revolves around fine digital art and encompasses film, installations, interactive work, print, sculpture, collage. Amongst such a plethora of forms, it meant a lot that Apodemy was awarded, both in terms of my digital animation practice, but also as it's a film that's about the collapse of my country of origin. The Lumen Prize show has already been to New York and will also be part of the Digital Symposium at Chelsea College of Art and Design in March, as well as in Hong Kong in June. It's wonderful that Lumen is propelling the film further forwards, and it's been great to meet some of the other artists involved. Seeing the works by Nicolas Feldmyer, Kalos&Klio, Margarita Koulikourdi, Vasileios Chlorokostas and others has been very inspiring.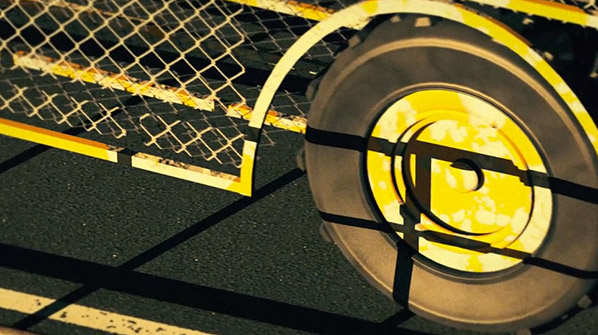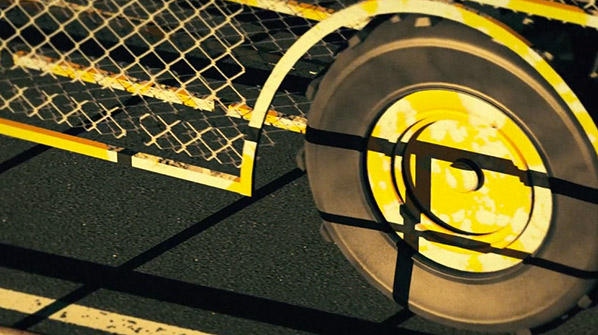 What draws you to animation?
Through cinema, we immerse ourselves in different waters, achieving a kind of immortality. One could argue that also happens whilst reading, or listening to music – yet somehow film combines literature and poetry and music too and almost all the senses get involved. What's more interesting for me is the connection between moving image and the imagined: it's almost like we dream other people's visions and we physically try to make that disconnection from reality by favouring watching films in dark rooms. The cinema I'm interested in is one of spectacle, that transforms reality into a surreal play, that explores light and shadow and looks for monsters under the bed. At the same time, I'm currently very curious about taking animation off the screen and applying it in space, by projecting rooms, objects, corners. For me, there's no greater magic than instilling life in the inanimate and create moving worlds that don't depend on cameras and actors – what's in your head can be made real, a real that's still beautifully elusive and chimeric, that doesn't contain all the answers but asks exciting questions.
What are your future plans?
I have been working on an experimental narrative of an obsessive mother that cocoons her children, which may work as a single screen work or perhaps as an installation that includes a film. I'm also researching the Architecture of Melancholy, which lies somewhere between cabinets of curiosities and abandoned homes. I always have several experiments on the go, it's really about finding the right time and opportunity to commit to a project. As delightful as animation is, it takes time to complete, but it also means that ideas may have time to mature and not be rushed. As long as my ideas keep me entangled, I'm happy.
---
See Katerina Athanasopoulou's work online at kineticat.co.uk