Interview by Ruth Catlow
Transcribed by Anna Monkman
---
Ingrid LaFleur is on a mission to ensure "equal distribution of the future". The curator of Manifest Destiny in Detroit, she also recently stood for mayor with an Afrofuturist manifesto.
Detroit has long played a critical role in the history of 'domestic and global labor struggles.'
And now its quest for social justice has an avant-entrepreneurial dynamic, working across art, politics and technology. Activists respond to the city's (often highly racialised) political failures to provide basic utilities with impressive social innovation. The recent boot-strapping community mesh networks for instance, was a response to the fact that 40 percent of Detroit residents have no access to the Internet at all. The alliances and networks formed in this project are now providing the social grounding for peer-to-peer technical education and experimentation with emerging decentralisation technologies. DACTROIT (an EOS project) is now exploring how payment for this infrastructure might be made through a community token.
I first interviewed LaFleur in July shortly before Detroit Art Week and the opening of Manifest Destiny at Library Street Collective Gallery.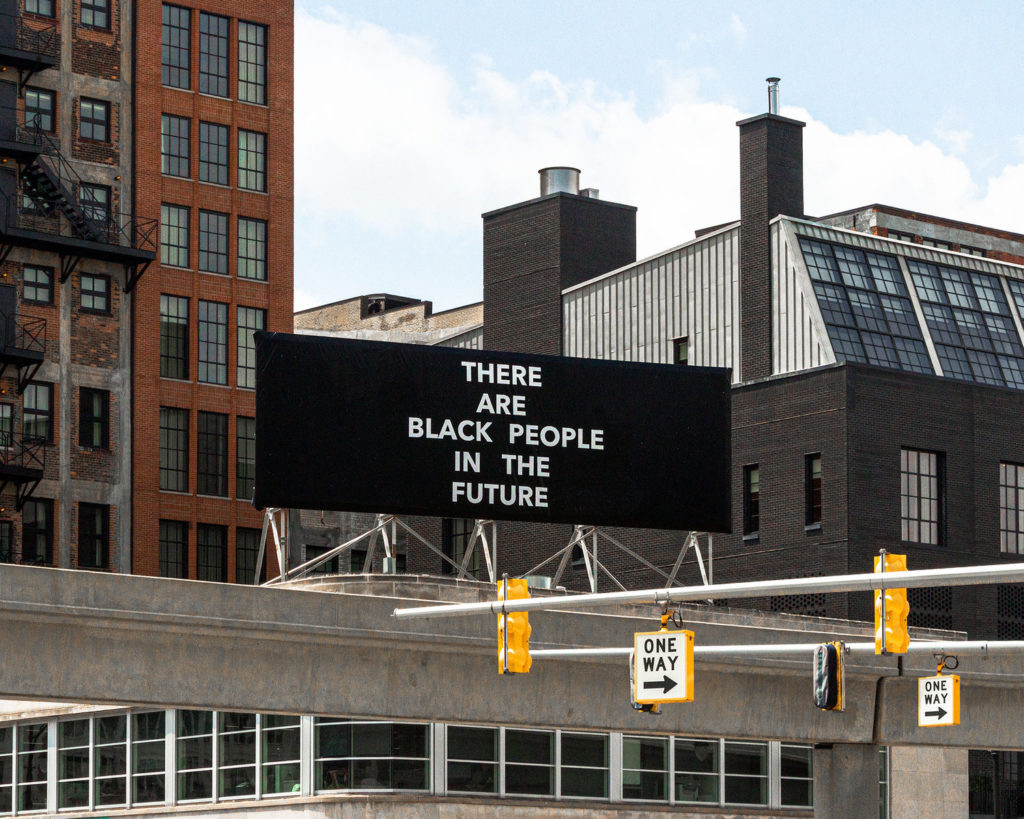 Ruth Catlow: I have wanted to talk with you for a while about your current curatorial work. But first I think it's worth noting that we share a number of unusual preoccupations. We are both inspired by the social justice sci-fi of Octavia E Butler; we root our work in locality; and have experimented with blockchain technologies as a site for artistic experimentation and social change. I have not however, stood for mayor. You have, and we will come to that later.
Please can you start by telling us about your exhibition Manifest Destiny.
Ingrid LaFleur: I only curate once every two or three years, almost like a museum curator. Manifest Destiny is a culmination of things that I have been thinking about for a while. Working across art and blockchain technology I've been very action-oriented thinking about what we need to be implementing, learning, adapting, innovating, in order to basically get free – that's the whole point of my work.
I'm constantly trying to figure out how Black bodies can be free, which means I really need everyone to be free. And so I'm constantly unpacking, dissecting Afrofuturism as a framework or launchpad. I'm working to see what I'm missing, where are the gaps and how can I fill them in so that we can then make pathways forward and develop the futures that we really want to see. The exhibition title comes from this work.
I wanted to look at this in an abstract way. For instance, the painting series by Satch Hoyt, The Course of Stars of the Sirius System, are illustrating the star Sirius constellation, ground us in an ancient history which I think is very important as we plan and create these processes for manifestation. Satch Hoyt's painting, Afro-Sonic Map (Black Mapping), is looking at how sound has been cultivated and informed by the different places through which it has travelled. And I'm pulling this interpretation out, because I believe that as we are imagining our destinies we have to be grounded in ancestral wisdom and Afro-Sonic Map (Black Mapping) reminds us of that ancestor from which the sounds are coming… But how they've also been wonderfully altered and transformed as a result of coming in contact with different realities – meaning that different times and history have informed the music, have informed how we are communicating sonically.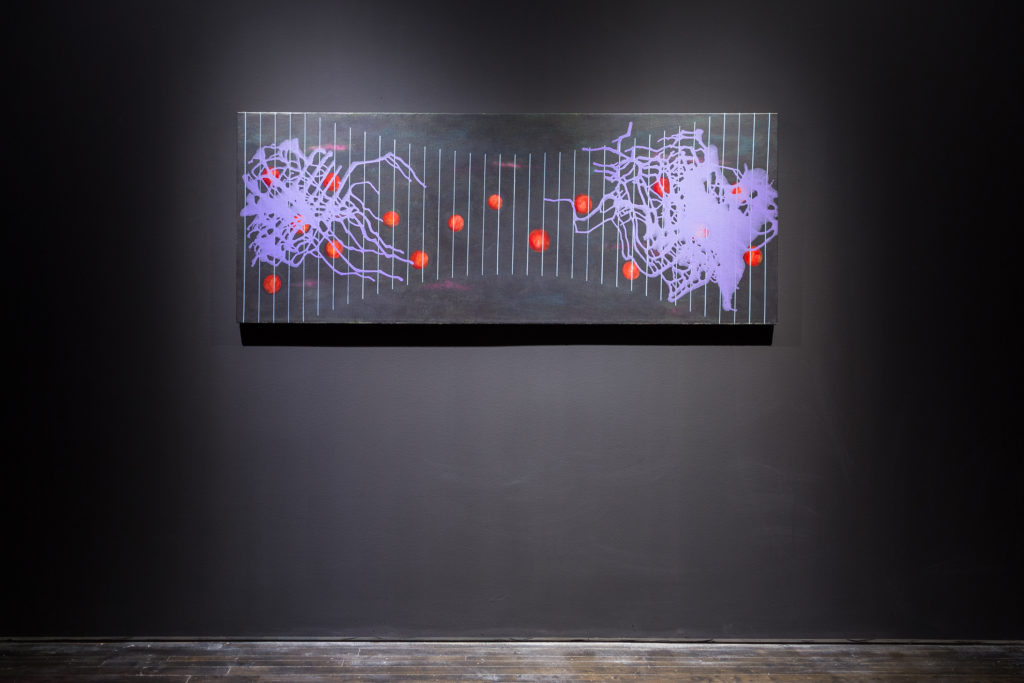 So this is a type of time travel, but it is not just time, it is realities, places and environments and all of these things that inform the work and how there is still always this thread that can always lead back to the original.
And in speaking of the original, the exhibition begins with an Afrofuturist boutique called DINKINESH. I created it because I really wanted to be able to provide items that were affordable and Afrofuturistic. One of the issues that I am having especially when it comes to Afrofuturist imagery is that it is very digital. I am here to bring it out into a physical space and make it both portable and affordable so then people can have it in their homes, place of work, wherever in the physical realm. The whole purpose of Afrofuturism is to shift consciousness and so I want it to be as available as possible. DINKINESH means "you are marvelous" and it is the name that was given to the oldest human remains found thus far, and they were found in Ethiopia. So this store is greeting you, it's welcoming you into this space, but it's also a gentle reminder that we all come from this one woman who is in, what we call now, Africa. And we are united by her. So DINKINESH initially will have this Afrofuturistic focus but over time it will grow to include Chicanofuturism and Indofuturism and all the futurisms of Black bodied and Brown bodied people. I am working on the boutique with Utē Petit who is based in New Orleans but from Detroit. He is designing the space and he is using imagery of flora from the Ethiopian region where Dinkinesh was found. The flora has been woven into the wallpaper for the space, so that is really exciting. I am very excited about DINKINESH.
RC: So people will be able to buy Afrofuturist art in the boutique.
ILF: Yes, like digital prints
RC: And will they be buying work that relates to work across the whole show?
ILF: Not really. Some of the artists will have products in the store like zines, hand-printed bags, but they were curated separately from the exhibition.
RC: This is work produced by just one artist or a group of people?
ILF: It's literally like a retail store so it is work by a lot of different people. It's like a museum store so it's a lot of different people from all over. I am basically trying to gather it all together into one space. We don't currently have one physical store to go and buy Afrofuturist anything.
RC: Wow! How have you sourced all of this? Is it all Afrofuturist art?
IF: Yeah, it's a combination of people that I have been following online, or different groups that I have heard about, some of my friends might have items that I like, I know some of the artists personally, so it's a variety of things. It is great, it is exciting, and slightly overwhelming- because it will keep going. To live on, beyond this exhibition.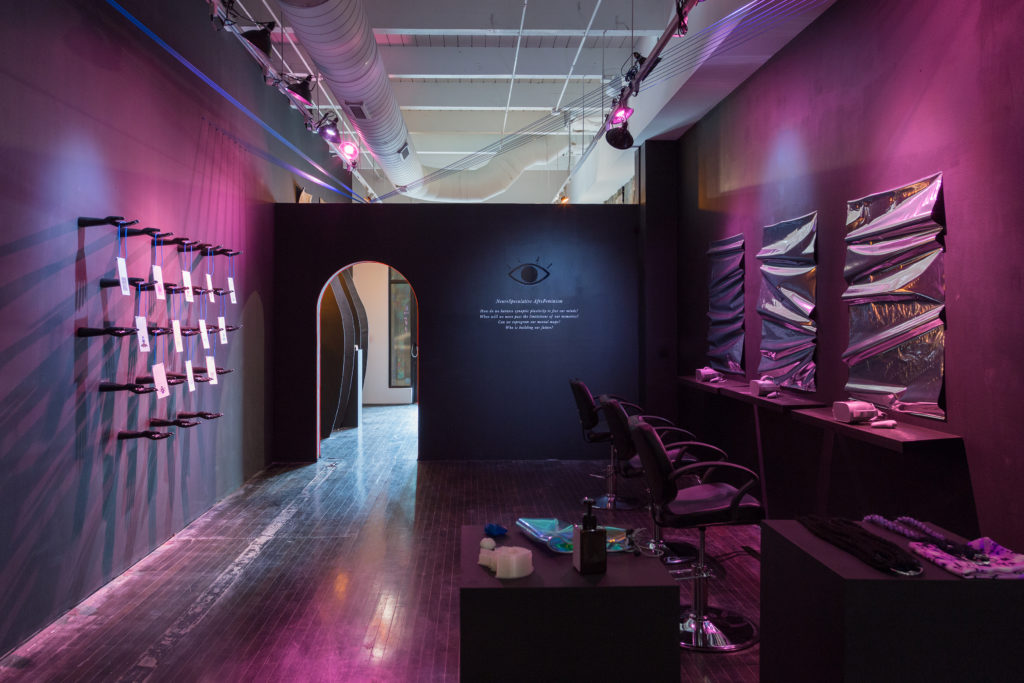 RC: How will it live on afterwards?
ILF: We're going to be popping up in different places, I can't announce it yet. I imagine that each place will offer different kinds of experiences. There will be some augmented reality involved in this iteration. I want to grow that, and expand into virtual reality experiences.
RC: I can see why that would be a bit daunting, because if it's a boutique and people will be buying things it means you will need to keep it stocked.
ILF: It's a real store!
RC: And are you selling things on the blockchain?
ILF: That might become complicated. But eventually I do want to accept crypto once I find a point of sale system I feel comfortable with. But first, right now, I just need to understand what it means to have a retail space.
RC: To come back to Manifest Destiny, Can you tell us a little bit about the title of the exhibition? What's the context and significance of Manifest Destiny as a phrase or as a name?
ILF: I am looking at what does it take to manifest one's destiny. So as I mentioned before, the guidance of ancestral wisdom is really important, otherwise the possibilities of the past become inaccessible in the present. I've also learned, as we move into working with new technologies like blockchain, and the philosophies that are behind it, and becoming more familiar with the tech industry in general, how important it is that the planning phase should be a heart-led process. We can see how a person's perspective is really going to affect the tech and how it interacts with the world and so I've become very sensitive to how we're planning and approaching a thing in order to manifest it.
And then finally there are the tools to make the physical thing and that's when I get really excited. Implementation.
RC: OK So can you talk me through the exhibition?
ILF: Yes, so it starts off with DINKINESH. Then it goes into Hyphen Labs's NeuroSpeculative AfroFeminism project which recreates a Black hair salon where you are getting your brain optimised. This is like that beginning process. And I think of the optimisation process as a way of decolonising because you don't want to plan something that is a result of a colonised, limiting, narrow kind of perspective that is really based on someone else's agenda. So you want to clear that and clean that up. Then Satch Hoyt's beautiful paintings, Afro-Sonic Map (Black Mapping) and The Course of the Stars of the Sirius System. These give a reminder of the foundation of histories and ancient ancestral lineage. Then Alisha B. Wormsley created this really wonderful installation that is connecting the two gallery spaces. We also have her billboard that is placed outside of the gallery space above a bar right by public transportation, that says 'There Are Black People In The Future'. I'm really excited about that because downtown Detroit has become 90% white even though the city is 85% Black so it's like a little colony. The billboard is disrupting that space.

In the second gallery we have Maikoiyo Alley-Barnes has created a black and white film called Sacred, which is accompanied by a gorgeous sound that creates an ethereal multi-reality. Sacred is hard to talk about without giving away the mystery that's embedded in it, but the thing that is sacred, you come to understand is sacred to us all. He has also created two sculptures that expresses the continuum that is necessary for the evolution of the future. And then there is Jasmine Murrell who created a collage tapestry, one of them titled Walking Time Travelers: Future will remind you of what is most important, what was lost, what was stolen, and what can never be replaced. Jasmine also created a deconstructed sculptures of hands that are coming through from a different reality.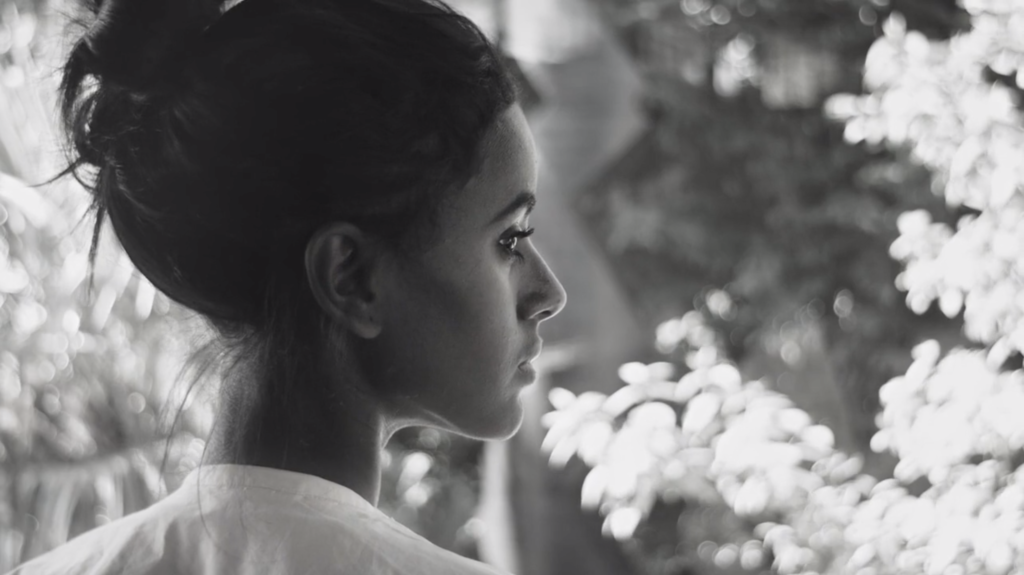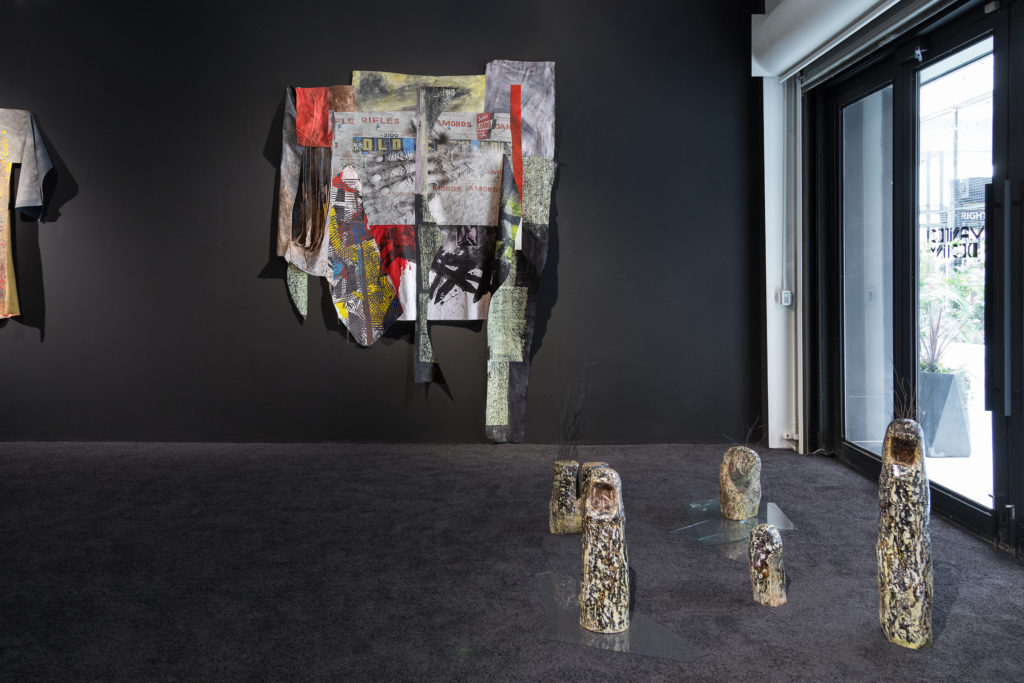 That second gallery space opens up to an alleyway that has been fully renovated where there are clubs and restaurants and bars and all types of artwork, there will be five very large panels that will have augmented reality artwork. This work is coming from the Digitalia exhibition that was shown in San Francisco at the Museum of the African Diaspora, MoAD. I was such a fan of the exhibit that I invited Lady PheOnix who is the curator of Digitalia to travel a portion of the exhibition to Detroit. I was able to choose some images from that exhibition that is on display in the alleyway called The Belt. It will be up for a year. I'm very excited about this because not everybody is going to walk into the gallery space so this is a way of making the afrofuture a little more public, also because augmented reality is participatory it's a fun activity that everyone can enjoy. For many this will be their first introduction to AR.
The last component of Manifest Destiny is the skills training through a series of workshops. The workshop programme includes a talk by Rasheedah Phillips who is known for her theoretical work on quantum futurism. The Black School reimagines the art school into a Black art school taught participants about ancient architectural techniques and fractals and then as a group built a pyramid. Creative technologist Onyx Ashanti held a 3-D printing workshop. And I gave a workshop on decentralizing power and new economies. The programme ends with DC comics writer Tony Patrick who led us into a worldbuild session over three days. We developed a vision for Detroit in 2040 that will become a comic and eventually a virtual reality experience.
RC: It sounds just amazing! Like there are a lot of different ways in for different kinds of people. How much do you think or care about who this is for and how they find out about it, and also what their experience of it is.
ILF: This show is literally for Detroiters. I am constantly thinking about the exhibitions, the materials, the exposure, making sure that Detroiters have exposure to what is happening in the entire world and I really don't care if you have never been to a museum or if you go all the time. Most of my work has been directed towards people who might be in-between. They like art and are curious but maybe they are not going to gallery exhibitions all the time or following museum shows. I am very much aware that the gallery space is on the alleyway, The Belt, which is party central for downtown, day and night in the summer. What I love is part of the exhibition in the gallery is visible in The Belt because one of the walls is all window. Downtown attracts all kinds of people, definitely people who have probably not experienced as much artwork by Black artists in their life and who might be a little afraid of Black bodies and hopefully they can develop a new relationship based on this show.
I'm very clear with artists about where they are showing, the politics of what's going on and who's going to come through those doors, because some artists might be sensitive to this. Some artists might want to engage in a very particular way as a result. One artist wanted to do something a little more artistic that would work in MOMA, and I was there with him, I got it, but I was like, I just want you to understand that the people who are going to come through these doors have been day drinking. They are going to be in shorts and flip flops, like 'oh this looks cool' and 'oh this is great' and within minutes they are gone. To help ease people into the space I asked for black carpeting on the floor because I want people to pause when they enter, I want the hushness when you come in so you are a little more reflective. This did happen but also what I did not expect is how people then felt comfortable to sit and chat on the carpeted floor. That warmed my heart. I love when a traditionally austre space becomes an inviting one.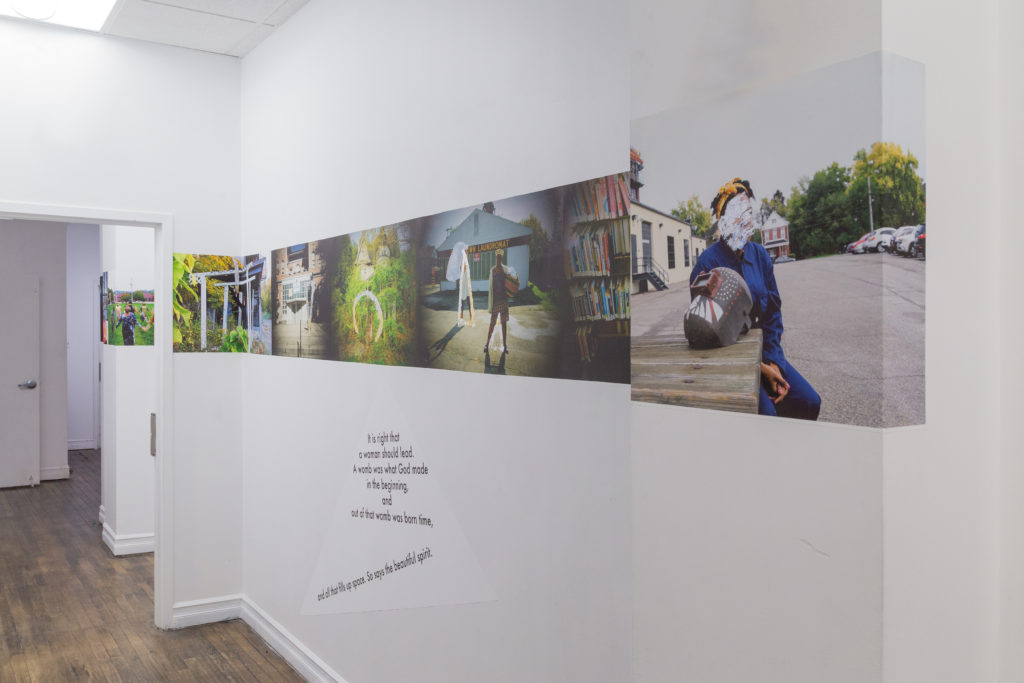 RC: So we run a gallery in the heart of a public park in North London, so we also get the day drinkers, and we also welcome the day drinkers! So it's interesting to hear you talk about this.
RC: Given that Furtherfield has a readership from all over the world, I imagine that many people will not really have a sense of Detroit. So it would be great to hear you talk about why it's important to you that this is happening in Detroit. And why Detroit?
ILF: Detroit is going through a major transformation, and some of us are in the midst of it, some of us are making it happen, and then some of us are running behind watching it happen and trying to figure out where we fit in. There is really no reason to leave anyone behind. It's a critical moment because we are getting an influx of white people moving into a majority Black city. White people in the United States of America are not used to being minorities. Being a minority in their minds mean they have less power. It seems like they are saying to themselves, 'I'm not used to being the only white person in a room so I'm going to stick with all the gentrified places where I remain majority in the room and I feel safer, more comfortable'. But what that means is that they are still not confronting their fear of Black people so it's like they've decided to live in a tiny hut in a big forest and won't explore the forest even though it offers new insights and experiences. And it's ok if that's what they really want, but then don't stare or become hostile because Black people have entered a space.
My presence as a Black person can be very disruptive in these spaces, it's like people forget that they are in a majority Black city. Nobody really cares when there are white people walking into a majority Black bar. The reason we don't care is because we are in our safe space so a white person coming in is like [shrugs]. But when a Black person enters a majority white space a mixed bag perspectives awaits–a sprinkling of Trump supporters or a sprinkling of racists. A Black person has to figure it out in real-time constantly, whereas a white person coming into a Black space we are just like, 'do you want a drink?' It's not like 'Where are you from?', 'Why are you here?'. We don't have it in us to do all the microaggressions that white people do and I really think it's the lack of understanding Black people and culture that has caused a lot of harm. Also, the constant reinforcing of whites to separate themselves from people just because of the color of their skin, it's dehumanising, causing a level of fear and depression that then becomes violent.
This exhibition is my way of confronting the anti-Blackness and making people face their fears, see it and think about it. What does it mean? Why is there a sign that says 'There Are Black People In The Future'? Why is it even necessary to say that? What does that make me feel? What does that make me see in the future? And then it makes you question, how was I imagining the future? Did I imagine Black people there? Was I just imagining me and my people? It's very much confrontational but in a very loving way and that's why I put DINKINESH, our mother at the beginning.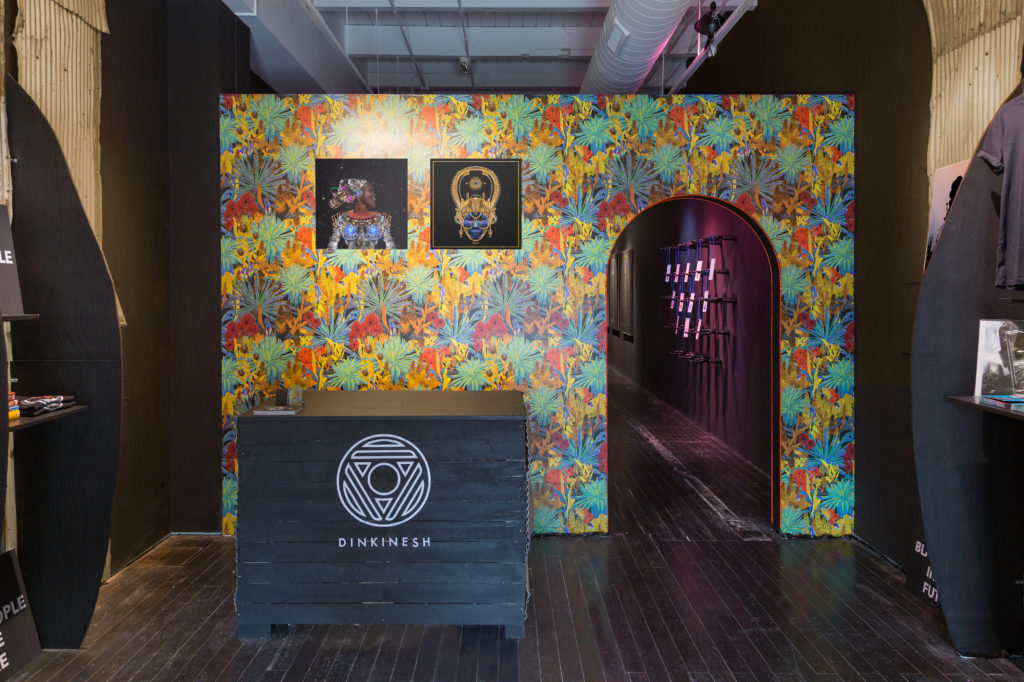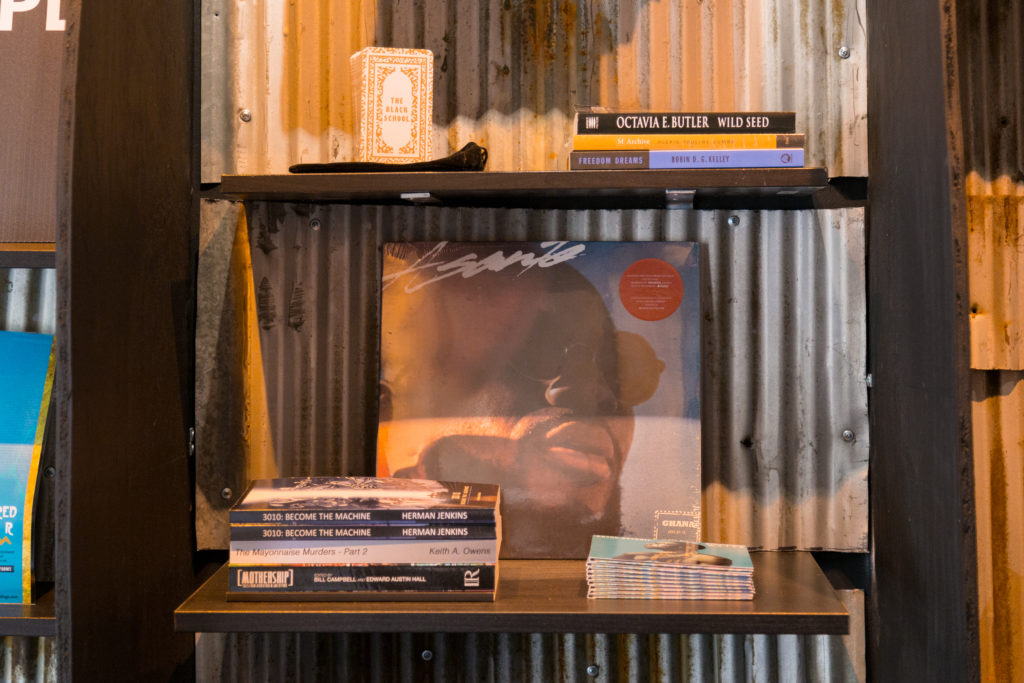 RC: You talk about confrontation but you are also confronting the fear. So you are recognising what's at play not just at the surface, but on many levels here.
ILF: Exactly. You cannot heal that which you do not acknowledge exists, so I need people to confront the fact that the fear exists somewhere, subconsciously, in your DNA, your heart. Once the fear is acknowledged, the healing begins and then liberation is close. But the problem in the United States is that whites don't have to confront their fears. But what is misunderstood is how by not confronting fear they are limiting their own life, and they are denying themselves access to humanity.
RC: The first time I met you was at The Gray Area festival when you were talking about running as mayor with an Afrofuturist manifesto. I love that I can now wrap up this interview with a question about your political career!
ILF: Yes! I was the first political candidate to use Afrofuturism as a framework in a mayoral campaign. It was very much of a process to understand what it means to be an Afrofuturist within a political sphere because it had never happened before.
RC: And we should also look for the connection between your work with Decentralised Detroit and your curation of Manifest Destiny?
ILF: As I stated before, I have been in a space of action and because I am an impatient person and I would love to see everyone liberated and happy in my utopia while I am alive, I began investigating ways to tackle the poverty issue in Detroit. It was after I proposed a universal basic income using a cryptocurrency Detroit would create that I began exploring how cryptocurrency and blockchain technology allows for the development of new economies and ways to make money but how it is a tool allowing for efficiency when creating and building with people. Anybody who has worked in groups understands we need as much organization as possible so as a result of working with blockchain technology I've come to learn about decentralised autonomous communities and that's when I become really excited. This is my Afrofuturist self trying to figure out what are the obstacles that Black bodies face in imagining futures, new futures, decolonised futures, futures of their own making from the desire of their own heart, not because of someone else's agenda or brainwashing.
There are a lot of obstacles but I've come naturally and organically to a point where I decided to focus on economics. And so economic justice has been my centre point for a couple of years now. By really attending to the racial wealth gap (it would take the average Black American family approximately 228 years to accrue the wealth of the average white American family), we will then be able to see people have more control over their lives and the neighborhoods they live in. Now we have a pathway for growing wealth, which was something that was denied to Black Americans for over 400 years and continues today.
For me everything is always related, all of it, the art, the blockchain, everything. I am trying to attend to the mind, body, and soul, all at the same time. It is hard for me to focus on just one pathway towards liberation. I like to understand and be involved in multiple pathways to freedom. That's what keeps me exploring, curating, teaching, lecturing and creating workshops.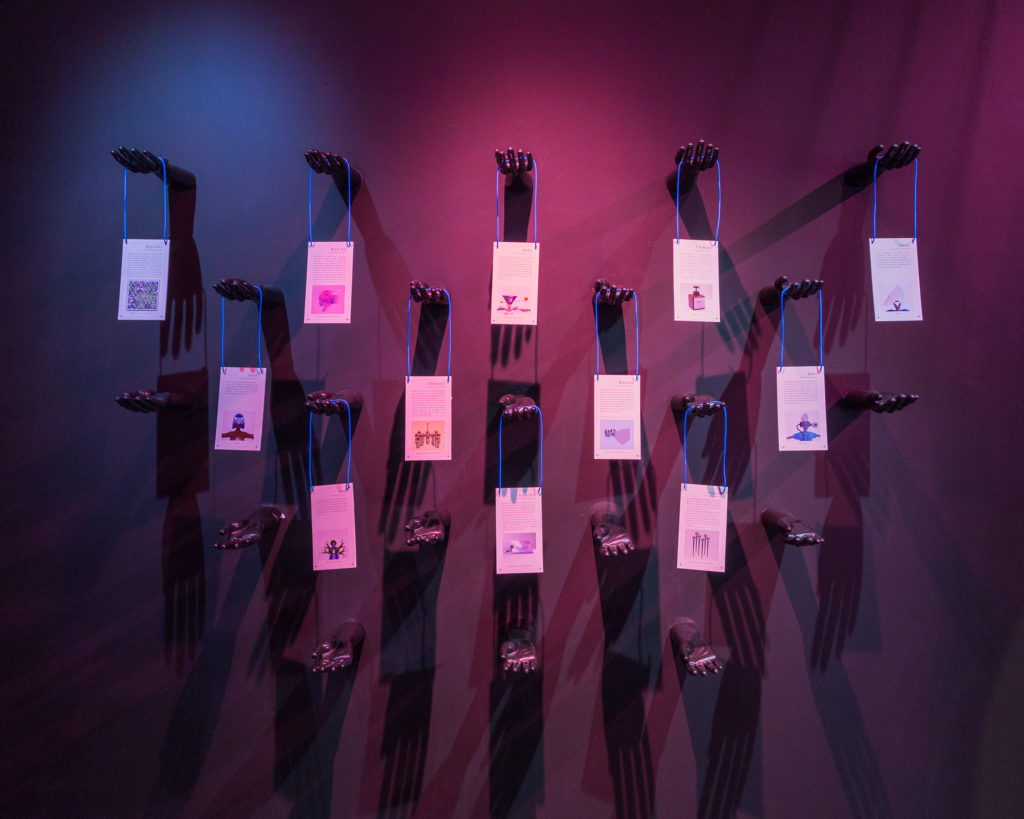 Manifest Destiny, is curated by Ingrid LaFleur. It is now on view at the Library Street Collective Gallery until 5 October 2019

Ingrid LaFleur Bio
Curator, pleasure activist and Afrofuturist. Her mission is to ensure equal distribution of the future, exploring the frontiers of social justice through new technologies, economies and modes of government. As a recent Detroit Mayoral candidate and founder and director of AFROTOPIA, LaFleur implements Afrofuturist strategies to empower Black bodies and oppressed communities through frameworks such as blockchain and universal basic income. Ingrid LaFleur is currently the Director of Social Impact for Detroit Blockchain Center and curator of Manifest Destiny currently taking place at Library Street Collective in Detroit.