Featured image: A group of Australian media artists known as Horse Bazaar produce Digital Fringe at the festival
Every year as part of the Melbourne Fringe Festival (September 23rd – October 11th), a group of Australian media artists known as Horse Bazaar produces Digital Fringe. This is a nonstop digital playlist of short form video, sound, and images, some of it made by artists, some of it not, uploaded to the Digital Fringe website from around the world. Once individual entries are catalogued, the work is assembled into feeds and DVDs, and then streamed or delivered to a network of public and private locations. As expected, the festival's general stream is sent to museums and galleries but, in an effort to commandeer every available space, Horse Bazaar also sends Digital Fringe to bars, cafes, public squares, libraries, restaurants, and pretty much any other location that will allow them in. You can see the festival online, along with an interactive map of this year's screen locations, at the Digital Fringe website, http://digitalfringe.com.au.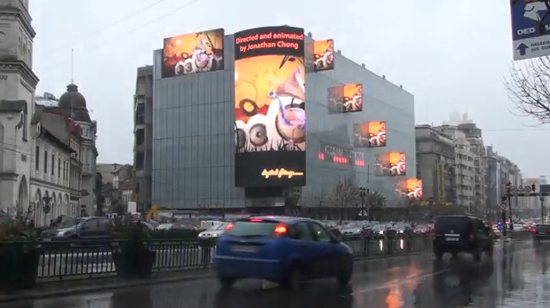 According to festival co-producer Simeon Moran, an estimated half-million people saw this year's festival which was broadcast on about 250 screens. Most of these showings were in Australia, but there were also screenings in Africa, Europe, Asia, the US, and the UK. To project at locations where there is no existing equipment, on a street or in a public building, Horse Bazaar gathers donated screens from schools, community groups, and private supporters. To project across key buildings or monuments, Horse Bazaar calls in its mobile unit, also known as the MPU. Other than that, the festival can be, and is, about anything. There's no jury. Submissions are not restricted to a theme. There's just a global call for work followed by a global response.
As a result, one of the most enjoyable aspects of Digital Fringe is the range of sensibilities it manages to present. Emerging artists especially stand out. Among the more lyrical of this year's entries is Waveform (2009), by the Amsterdam based French photographer Federico Campanale. Using video shot in Finland, Campanale lays an ambient track of digital pops and clicks against a perfect, languid, 360 degree pan of a line of trees reflected in a lake at dusk. The harsh, guttural rasp of the soundtrack set against the blue infinity of the horizon forms a direct commentary on environment and endurance, and on nature's coexistence with the manmade.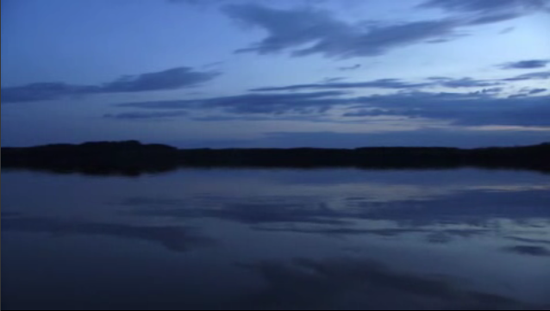 There is the moody, existential narrative The Man in His Tower (2009) from Tone Gellein of Oslo. In this video, one of those tough guy movie characters walks down the street while suffering jump cuts and odd camera angles. He ends up swinging from lampposts in a cinematic expression of an existential state of mind. Other films may be less accomplished, but are equally philosophical. For example, filmmaker Joe Tusley sent in Spud & Amp in the Barra, Part 2 (2009), a no-frills documentary about a few minutes of fishing in the Apsley Straight, Bathurst Island, NT. Maybe it's a personal reaction, but it's hard not to think about the big picture as, on camera, Spud reels in a huge, silver barramundi, then slits its throat.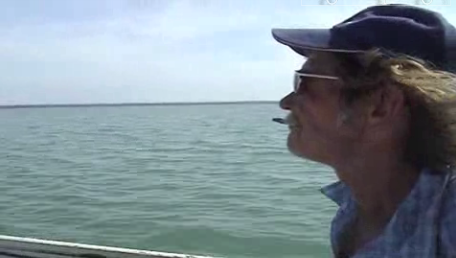 Digital Fringe also streams sound pieces, music videos, machinima, and performance films. There is a good amount of 3D modeling and animation. Colliderscope artist Zennor Alexander and musician Fiona Soe Paing submitted Thayn Tyha Hai (2009) from New Zealand. In this work, the sun and moon follow each other across a wispy, ethereal sky that lies somewhere between dreaming and waking. If you prefer something more scientific, there is the stop-motion simulation Every Second Equals Forty Million Years (2009) by animator Gregory Crocetti of Melbourne. In just under two minutes, Crocetti uses children's blocks to build the Tree of Life from the beginning of time to just a little while ago.
There is software art such as Turkish programmer Tahir Un's screensaver project Concepts and Images (2007). Ãœn chooses words ending with the suffix 'ism' as the query strings for an internet image search. After collecting images for 90 minutes, a software program fixes a random sampling of that data set into a collage.
Another interesting aspect of Digital Fringe is its continued support of open source computing and shared culture. Artists uploading work to the Fringe website keep all rights to their projects and are able to license their work in a number of different ways. These include the traditional 'all rights reserved' copyright, the Creative Commons 'some rights reserved' license, and the completely unrestricted category of 'public domain'. Creative Commons says that about 75 percent of the festival's participants choose the CC license, which secures rights of ownership while allowing for mash-ups and remixes. This shows that many emerging artists are willing to distribute under non-traditional copyright provided there are a still few small protections.
Ultimately, Digital Fringe, is a festival that intends to include everyone, play everywhere, and show it all from the dreamscape of the perfect virtual environment to the underlit reality of the amateur video guy. Aside from its inspiring generosity, we get a lot of interesting experiments, the unmediated juxtaposition of the professional and the amateur, and a kind of yearly almanac of what up and coming digital media makers seem to have on their minds.
—
Link: Digital Fringe Trailer.