Featured image: Ein Identity-Workshop mit dem britischen Künstler Heath Bunting. Vertiefung Mediale Künste, Sihlquai 131, 8005 Zürich. Dienstag,
Introduction.
Whether Bunting is climbing trees, skateboarding, canoeing or working with technology he approaches it all with the same critical attention. He hacks around systems, physical or digital. Right from when he built his first computer at the age of 14, his life has been an experimental research project. His practice consists of a dry sense of humour and an edgy, minimal-raw aesthetic, mixed with a hyper-awareness of his own artistic persona and agency in the world, whilst engaging with complex political systems, institutions and social contexts.
Even though the subjects he explores are likely to be the most topical or important issues of the day, it always includes playfulness and an element of the prankster in his work. His work regularly highlights issues around infringements on privacy or restriction of individual freedom, as well as contexts concerning the mutation of identity, our values and corporate ownership of our cultural/national 'ID's', as well as our DNA and investigations into Bio-technologies. In an age where we are submersed in frameworks and protocols designed by a neo-liberal elite for a  generic consumer class, Bunting's work is well placed as observation and practical research into the 'depths' of legal and illegal territories in our contemporary, networked cultures.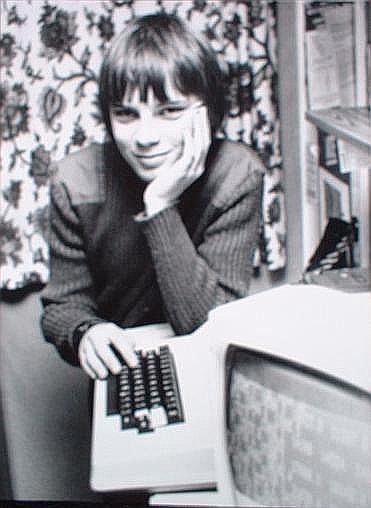 The Status Project.
"our identity is constructed as human beings that can possess one or more natural persons and control one or more artificial persons. The higher up in the class system the better the access to status variety."(Bunting)
The Status Project, is a study of the construction of our 'official identities' and creates what Bunting describes as "…an expert system for identity mutation". His research explores how information the public supplies in their interaction with organisations and institutions is logged. The project draws on his direct encounters with specific database collection processes and the information he was obliged to supply as a public citizen to access specific services; this includes data collected from the Internet and information found on governmental databases. This data is then used to map and illustrate how we behave, relate, choose things, travel and move around in social spaces. The project surveys individuals locally, nationally and internationally, producing maps of "influence and personal portraits for both comprehension and social mobility".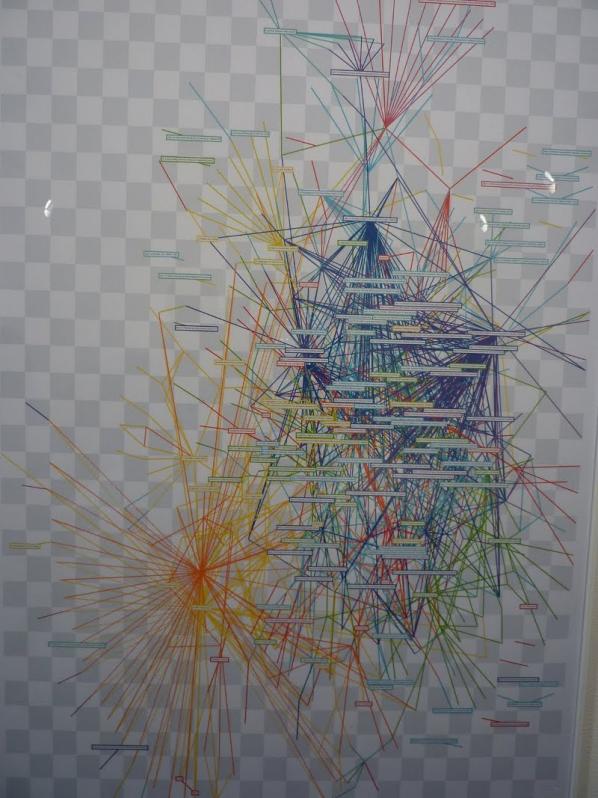 The use of data in contemporary life has made individuals an accessible resource for commercial and political interests. We are a rich source of data-mining material. Data mining is a process that potentially commodifies our interactions. Its historical roots lie with the development of artificial intelligence (AI) and 20th Century statistical analysis. These two methods of formulating data have grown ever closer together, backed by corporations and government-initiated military funding. Social networks such as platforms like Facebook and Internet networked institutions such as Google and the US military are all obsessed with our behaviours online. A good example is the NSA's recent rebirth in turning most of its surveillance apparatus to spy on the US and its citizens. They have built a supercomputer tracing through billions of people's emails, phone calls, and online activities in other countries outside of the US. The UK government is currently going through the political process of trying to implement similar spying protocols and systems to watch what UK citizens are up to.[2]
"Google suffers from data obesity and is indifferent to calls for careful preservation. It would be naive to demand cultural awareness. The prime objective of this cynical enterprise is to monitor user behaviour in order to sell traffic data and profiles to interested third parties." [3] (Lovink)
Bunting is a Hacktivist Artist, acting (playing) out the role of a spy collecting and observing data content. Hacktivist Artists work with technology to explore how to develop their critical and imaginative practice in ways beyond the frameworks of the art establishment and its traditions. The established art arena is gradually catching up with this kind of artwork. However, one could be forgiven for thinking that many art critics and galleries are still caught in the 20th Century.
Two other artists also working on people's data are Julian Oliver and Danja Vasiliev. They have collaborated on exploring alternative identities as the mysterious group, Men in Grey.[4] They detect online users' vulnerabilities by tapping into and intervening in wireless network traffic – observing, tracing and copying user online activities. It is then redisplayed online on their website for others to view or transferred onto a visual screen on the side of a briefcase as an intervention in cybercafes for all to view. Although, no one knows other than themselves if the data is hacked and then redisplayed on these briefcases, as proposed in their video featuring one of their interventions. One thing is for sure – they have touched upon issues concerning our fears about personal data being seen by other people who we'd prefer were not viewing it.
The Status Project also taps into questions concerning technology, hierarchy and power. We are entwined in a complex game where the sacrifice of our information is part of connecting with others across digital networks. This raises the issue of our 'human' status being aligned 'to and as' objects of measurement. Through travel ports, our vehicles, passports, ID cards, library cards, mobile phones, alongside information about our health. We have mutated into networked (information-carrying) beings. Bunting's own position on this matter is that "Technology is becoming more advanced and the administration of this technology is becoming more sophisticated, and soon, every car in the street will be considered and treated as persons, with human rights. This is not a conspiracy to enslave human beings, and it is a result of having to develop usable administration systems for complex relationships. Slaves were not liberated because their owners felt sorry for them; slaves were given more rights as a way to manage them more productively in a more technologically advanced society."[5]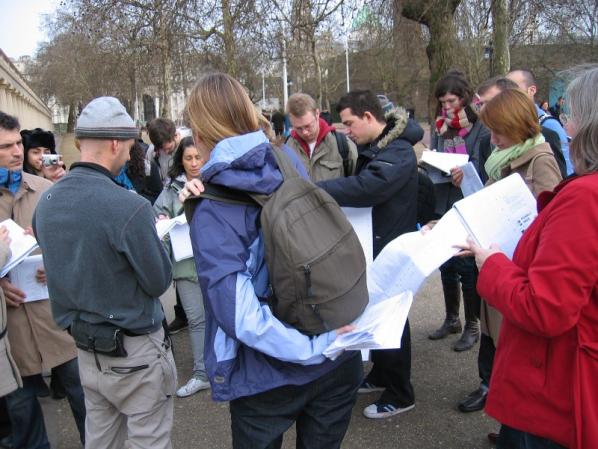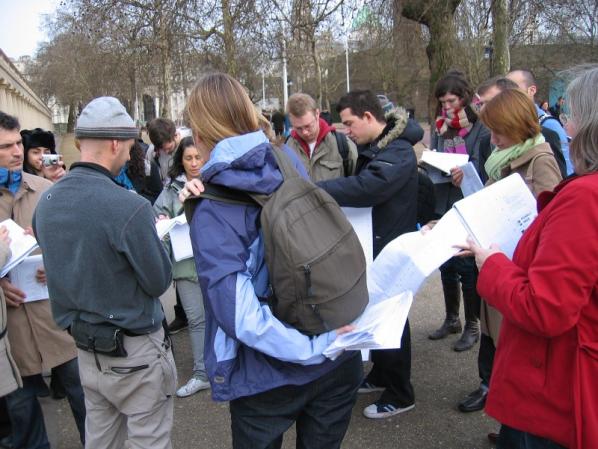 In the UK, in 2006 a research document called 'A Report on the Surveillance Society For the Information Commissioner' was published. Produced by a group of academics called the Surveillance Studies Network. This report was presented to the 28th International Data Protection and Privacy Commissioners' Conference in London, hosted by the Information Commissioner's Office. The publication begins by saying "Conventionally, to speak of surveillance society is to invoke something sinister, smacking of dictators and totalitarianism […] the surveillance society is better thought of as the outcome of modern organizational practices, businesses, government and the military than as a covert conspiracy. Surveillance may be viewed as progress towards efficient administration, in Max Weber's view, a benefit for the development of Western capitalism and the modern nation-state."[6]
We are not only under surveillance by entities we do not trust, we are also tracing each other online. Recently, in a show called 'Being Social'[7] at Furtherfield's new gallery, artist Liz Sterry showed her installation piece, 'Kay's Blog'. Sterry had "collated not only one form of online social engagements but all she could find about a Canadian blogger called Kay. Using everything from photographs to things Kay has mentioned in videos, blogs and posts on social networks, Sterry has recreated Kay's bedroom in the gallery."[8] (Scott)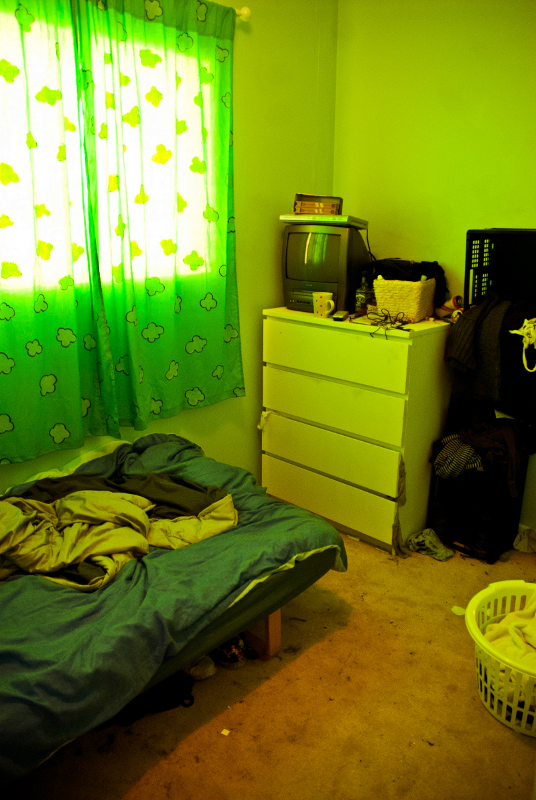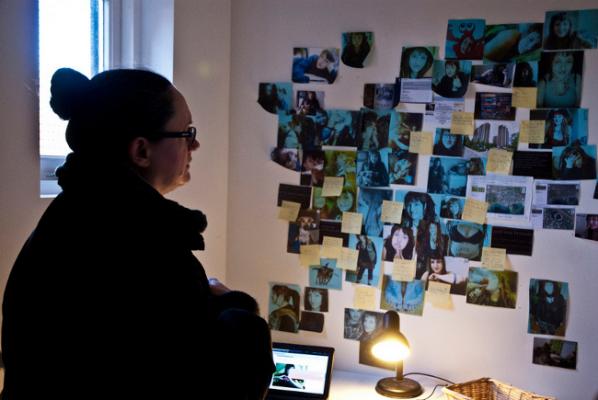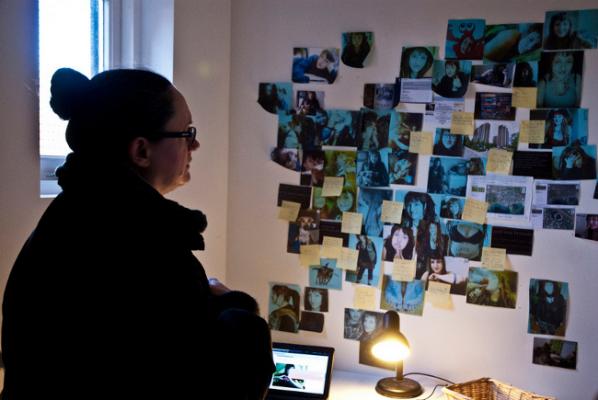 ""There were times when I felt quite creepy," says Liz, 28, as she shows me lists of Kay's Facebook friends and a Google Streetview of her apartment block while a playlist of her favourite songs plays in the background."[9]
Yet, as this ever-creeping surveillance culture grows and attaches its all seeing eyes onto us all. Whether we are referring to domestic interactions, organizational or deliberate, this is not the main issue. Neo-liberalism has developed so much now, we are all part of the Netopticon. English philosopher and social theorist Jeremy Bentham in the late Eighteenth Century designed the Panopticon. It allowed officers in institutions, particularly in prisons, to observe (-opticon) all (pan-) inmates without them knowing whether or not they are being watched. In the end it was not built, but the French philosopher Michel Foucault in his publication Discipline and Punish: The Birth of the Prison,[10] in 1975 said that we are not only monitored in prisons, but in all hierarchical structures like the army, schools, hospitals and factories. This process has evolved through history to resemble Bentham's Panopticon. The up-dated version of Panopticon, can now be thought of as the Netopticon – where individuals are complicit in feeding their own forms of collective co-surveillance, as well as being traced by corporations, governments and spammers.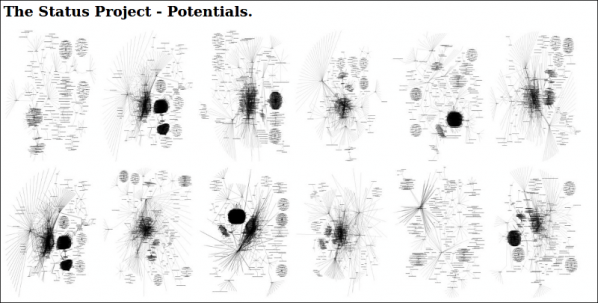 "What your data body says about you is more real than what you say about yourself. The data body is the body by which you are judged in society, and the body which dictates your status in the world. What we are witnessing at this point in time is the triumph of representation over being. The electronic file has conquered self-aware consciousness." [11] (Critical Art Ensemble)
So far, for the project he has created a functioning, sketch database of the UK system with over 10,000 entries – made over 50 maps of sub-sections of the system to aid sense of place and potential for social mobility. Bunting says he is also researching how to convert his identity generating software into a bot recognised under UK law as a person "covered by the human rights act i.e. right to life and liberty; freedom of expression; peaceful enjoyment of property. I am very close to achieving this."
This bring us to another part of the project what I call 'Identity Kits', and Bunting calls 'Synthetic off-the-shelf (OTS) British natural person'.[12] These kits consist of various items, personal business cards, library cards, a national railcard, t-mobile top-up card, national lottery card and much more. They take a few months to compile each of them because they are actual items that everybody uses in their everyday lives, involving evidence of identity. There is also a charge for the package of 500.00 GBP, which is cheap for a new identity.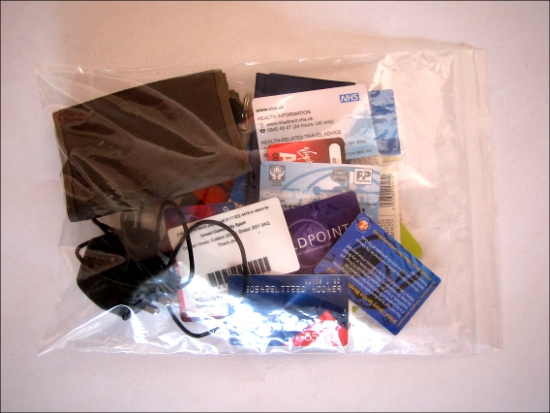 Bunting stresses that these UK identities are lawful and that there is no need for any official consulting or permission from an authority to use or make them. Through this he intends to illustrate a precise codification of class in the UK system. Currently, he defines three classes of identitiy: human being, person and corporate. What class of individual you are places you into categories of evaluation, this process allows others to judge your status, worth and value, within a hierarchy, which is clearly represented in the status maps.
This work touches on issues around our everyday status as a critique, but also as an investigative hack, and plays around with the quagmire of inequality currently in the UK. Inequality is built, constructed into the fabric our societies as an accepted default, through tradition, social or mechanistic, holding in place societal divisions. If there was a status project made in other countries reflecting their own status, worth and value of citizens there would be clear links defining where the connections and divisions lie, between each culture. In fact, another project worth mentioning here is 'The Spirit Level: Why More Equal Societies Almost Always Do Better'. [13] The authors Richard Wilkinson and Kate Pickett have done their own 'extensive', detailed research in highlighting through many different graphs, mapping out inequality around ther globe.
"We know there is something wrong, and this book goes a long way towards explaining what and why." [14] (Hanley)
Bunting's work expresses a discipline conscious of agency, autonomy and enactments for self and collective empowerment. Hacking different routes around what at first is seen as too big to deal with, lessens its power and awe. Like Burbank in the 'The Truman Show', what we have been told is not real. Bunting knows this instinctively, and is on a quest to upturn each stone to see what lies beneath. But at the same time these facilities created to crack the social, and data orientated codes, are shared. He then leaves the paths he has discovered wide open for others pass through, as we all struggle to survive the ever creeping strangle-hold, of the Netopticon.
———————————————————————-
This article was written for and will be published as part of Heath Bunting's presentation in Athens 'Workshop How to Build a New Legal Identity', May 5th 2012.
During the workshop, Heath Bunting will introduce us to techniques and strategies on how to form new identities. The distribution of the workshop How to Build a New Legal Identity across Europe aims at exploring the characteristics of identity in each country.
Artist's Talk: May 4, 2012 @ 19.00
Workshop How to Build a New Legal Identity: May 5, 2012 @ 12.00
Frown Tails, 6 Paramythias str, Keramikos, Athens
Organised by: Katerina Gkoutziouli and Frown Tails