Drake Music launches a making day to inspire the creation of more accessible musical instruments.
On Sunday 21 April Drake Music will run a hackday to create and share new instruments that break down disabling barriers to music making. Run in partnership with Furtherfield and Music Hackspace, makers will have the opportunity to work towards one of two prizes for the most innovative work.
Hacking To Make Music Accessible Day is part of Drake Music's new R&D programme, which aims to:
Increase the number of quality accessible musical instruments available to those facing disabling barriers;
Engage with makers and developers in a spirit of openness for the benefit of the community;
Test and distribute best practice in Assistive Music Technology (AMT).
As of January 2013, there are only 6 widely available solutions for accessible music making. In contrast an orchestra is made up of at least 19 instrument types; rock and pop frequently use 4 or more types; and the instruments used in world, electronic, jazz and folk music add up to a rich and diverse pallet of choice for most aspiring musicians. This disparity needs to be bridged, in particular with the development of more expressive musical instruments for those facing barriers to music making.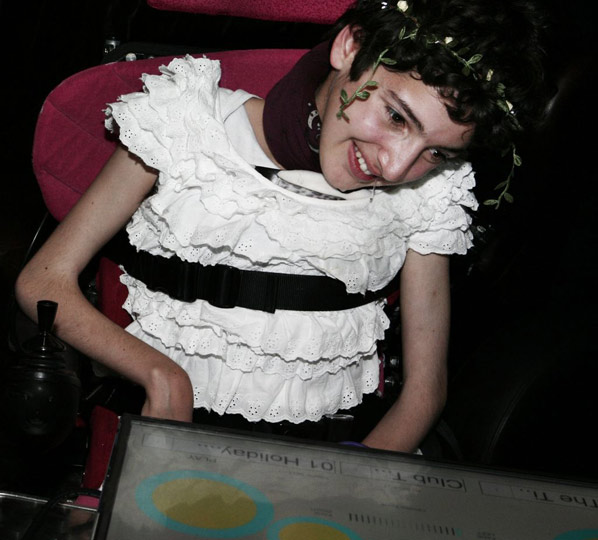 Hacking To Make Music Accessible is developed with and supported by Music Hackspace and Furtherfield. This event is also a precursor to a series of projects and initiatives which will be hosted at the WeShare Lab later this year.
"I have been bowled over by the enthusiasm and seriousness of the hacking community when faced with the question of how we can create and develop new tools to make music making accessible. This event is the first of many, and allows us to collaborate with the widest range of talent in creating the most innovative tools for a sector that desperately needs them. " – Gawain Hewitt
For further information please contact Gawain Hewitt, Drake Music Associate Musician and Associate National Manager – Research and Development.
About Drake Music
Drake Music breaks down disabling barriers to music through innovative approaches to making, learning and teaching music. Now in its 25th year, Drake Music continues to play a pioneering role in the development and imaginative use of Assistive Music Technology (AMT) to make music accessible. Drake Music is the only organisation in England specialising in the use of AMT to break down (physical/societal) barriers to participation.
Our focus is on nurturing creativity through exploring music and technology in imaginative ways. We put quality music making at the heart of everything we do, connecting disabled and non-disabled people locally, nationally and internationally. Drake Music is an Arts Council NPO.
About Music Hackspace
The London Music Hackspace originated as a subgroup of the London Hackspace as a place to share thoughts, knowledge, technologies, processes and aesthetics on music and audio. We foster innovation by gathering skilled professionals and facilitating exchanges between disciplines, from software development to music installations and production. The Music Hackspace organises weekly events, including presentations and talks by artists and musicians, workshops, performances and unexpected collaborations. Music Hackspace are member of London Hackspace.
About WeShare
Drake Music and Furtherfield have come together to create WeShare, a new initiative building on the combined creative assets, specialisms and strengths of both our organisations. In a series of projects in the first phase of WeShare, supported by an organisational development grant from Arts Council England, we tested and piloted new ways of working and collaborating through projects such as Pecha Kucha Beta and Deconstructing Pecha Kucha. This year will see the launch of the WeShare Lab, which will support and host events similar to Hacking to Make Music Accessible.
WeShare has emerged from three years of successful partnership-working between Drake Music and Furtherfield who share a critical and creative engagement with art, music and technology with a focus on participation and collaboration. It aims to amplify the existing quality, reach and value of our organisations' work, finding new ways to share knowledge, ideas, resources and opportunities; creating new ways of producing and sustaining socially engaged art and culture.
Location
Furtherfield Gallery
McKenzie Pavilion, Finsbury Park
London N4 2NQ
T: +44 (0)20 8802 2827
E: info@furtherfield.org
Furtherfield Gallery is supported by Haringey Council and Arts Council England