Future Fictions for Finsbury Park is part of our Citizen Sci-Fi initiative. It brings together sci-fi writers in residence with local residents and set of scientific experts to explore written visions of a Finsbury Park of the future. 
For our 2019/2020 year of FF4FP we worked with sci-fi writers Mud Howard and Stephen Oram to create two new short stories about the park, based on deep research conducted with community members and experts. Via a set of workshops organised by Producer, Ruth Fenton, participants were invited to explore both near and far future ideas based on the current knowledge we have of climate change and technological developments, to imagine how we might like to see Finsbury Park evolve.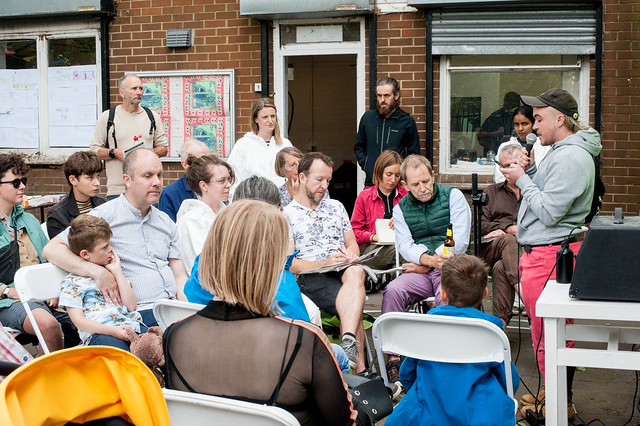 At our Future Fair on 10th August 2019, both Mud and Stephen gave live readings of their stories, which will be published on the Furtherfield website this Autumn.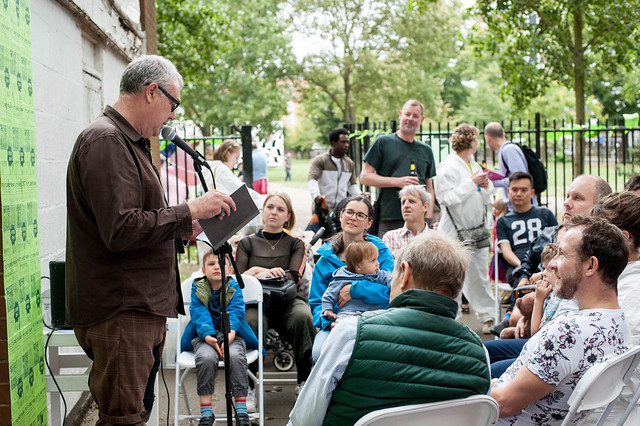 Sci-Fi writers:
Mud Howard (they/them)
A gender non-conforming poet, performer and activist from the states. mud creates work that explores the intimacy and isolation between queer and trans bodies. mud is a Pushcart Prize nominee. they are currently working on their first full-length novel: a queer and trans memoir full of lies and magic. they were the first annual youth writing fellow for Transfaith in the summer of 2017. their poem "clearing" was selected by Eduardo C. Corral for Sundress Publication's the Best of the Net 2017. mud is a graduate of the low-res MFA Poetry Program at the IPRC in Portland, OR and holds a Masters in Creative Writing from the University of Westminster. you can find their work in THEM, The Lifted Brow, Foglifter, and Cleaver Magazine. they spend a lot of time scheming both how to survive and not perpetuate toxic masculinity. they love to lip sync, show up to the dance party early and paint their mustache turquoise and gold.

Stephen Oram
Who writes thought provoking stories that mix science fiction with social comment, mainly in a recognisable near-future. He is one of the writers for SciFutures and, as 2016 Author in Residence at Virtual Futures – described by the Guardian as "the Glastonbury of cyberculture" – he was one of the masterminds behind the new Near-Future Fiction series and continues to be a lead curator. Oram is a member of the Clockhouse London Writers and a member of the Alliance of Independent Authors. He has two published novels: Fluence and Quantum Confessions, and a collection of sci-fi shorts, Eating Robots and Other Stories. As the Author in Residence for Virtual Futures Salons he wrote stories on the new and exciting worlds of neurostimulation, bionic prosthetics and bio-art. These Salons bring together artists, philosophers, cultural theorists, technologists and fiction writers to consider the future of humanity and technology. Recently, his focus has been on collaborating with experts to understand the work that's going on in neuroscience, artificial intelligence and deep machine learning. From this Oram writes short pieces of near-future science fiction as thought experiments and use them as a starting point for discussion between himself, scientists and the public. Oram is always interested in creating and contributing to debate about potential futures.

Future Experts:
The Future Experts comprised of local residents of Finsbury Park, who brought invaluable knowledge of the area, and professional experts from a variety of scientific and design based backgrounds, who brought expertise in future thinking in many areas including health, transport, technology and architecture.
Expert Biographies
Ling Tan
Ling Tan is a designer, maker and coder interested in how people interact with the built environment and wearable technology. Trained as an architect, she enjoys building physical machines and prototypes ranging from urban scale to wearable scale to explore different modes of interaction between people and their surrounding spaces. Her work falls somewhere within the genre of the built environment, wearable technology, Internet of Things(IoT) and citizen participation. It involves working with various communities in different cities and uses wearable technology as tools to express their relationship with the city, touching on demographic, race, gender and the subjective experience of the city through people.
Paul Dobraszczyk
I am a researcher and writer based in Manchester, UK, and a teaching fellow at the Bartlett School of Architecture in London. I'm currently researching anarchism and architecture as well as completing a co-edited book Manchester: Something Rich and Strange (Manchester University Press, forthcoming in 2020). I'm the author of Future Cities: Architecture and the imagination (Reaktion, 2019); The Dead City: Urban Ruins and the Spectacle of Decay (IB Tauris, 2017); London's Sewers (Shire, 2014); Iron, Ornament and Architecture in Victorian Britain (Ashgate, 2014); and Into the Belly of the Beast: Exploring London's Victorian Sewers (Spire, 2009). I also co-edited Global Undergrounds: Exploring Cities Within (Reaktion, 2016); and Function & Fantasy: Iron Architecture in Long Nineteenth Century (Routledge, 2016). I am also a visual artist and photographer and built the website http://www.stonesofmanchester.com. I blog at https://ragpickinghistory.co.uk/.
Dr Rasmus Birk
I am a social scientist, currently working as a Visiting Postdoctoral Fellow at the Department of Global Health & Social Medicine, King's College London. My research here explores the relationship between city life and mental health, specifically how living in the city leads, for some people, to the development of mental health problems. I am currently researching the experiences of young people with common mental health problems (such as depression, anxiety, or stress) in South East London.
Dr Kate Pangbourne
University Academic Fellow at the Institute for Transport Studies (University of Leeds). She has an MA (Hons) in Philosophy with English Literature, an MSc in Sustainable Rural Development and a PhD in Geography – Environmental (Transport Governance). Her research is oriented towards shifting our transport system and individual choices towards greater environmental sustainability, social inclusion and meaningful prosperity. She is particularly interested in the implications of rapid technological change in the transport sector. Current work includes improving the persuasiveness of travel behaviour messages (ADAPT, funded by EPSRC), enhancing the rail passenger experience (SMaRTE, funded by the EU through Shift2Rail) and the societal challenges posed by self-driving vehicles and new concepts such as Mobility as a Service. Proof of humanity: has children, grows vegetables, sews and knits, sings, plays the piano, and used to play jazz sax (badly). Weird info: is a Freeman of the Worshipful Company of Cordwainers and of the City of London (but lives in Scotland).
https://environment.leeds.ac.uk/transport/staff/971/dr-kate-pangbourne
Dr Christine Aicardi
Originally trained in applied mathematics, computer sciences and project management, with a MEng from the Ecole Nationale des Ponts et Chaussées in France. She worked for many years in the Information and Communication Technologies industry, where she held a variety of positions (analyst/programmer, junior consultant, sales engineer, major account manager). She returned to higher education and came to Science and Technology Studies in 2003 as a mature student. After her MSc at the London Centre for the History of Science, Medicine and Technology, she was funded by the ESRC through her doctoral studies, and in 2010, she completed her PhD in Science and Technology Studies at UCL, in the area of Artificial Life. She is currently a Senior Research Fellow for the Human Brain Project Foresight Laboratory. The Lab aims to evaluate the potential social and ethical implications of the knowledge and technologies produced by the Human Brain Project for European citizens, society, industry, and economy. Prior to this, she was Wellcome Library Research Fellow, working on a sociological history project focused on the later career of Francis Crick, British molecular biologist and geneticist, who in the 1970s moved to Southern California and became a neuroscientist.
Featured image: Rusty Russ Twisted Tree ReTwisted via photopin (license)