This family-friendly 'Albion' style fair for Finsbury Park's 150th anniversary forms part of our 3-year programme Citizen Sci-Fi – crowdsourcing creative and technological visions of our communities and public spaces, together.

Music, storytelling, costumes, food, and all kinds of activities for exploring the future of the park and beyond!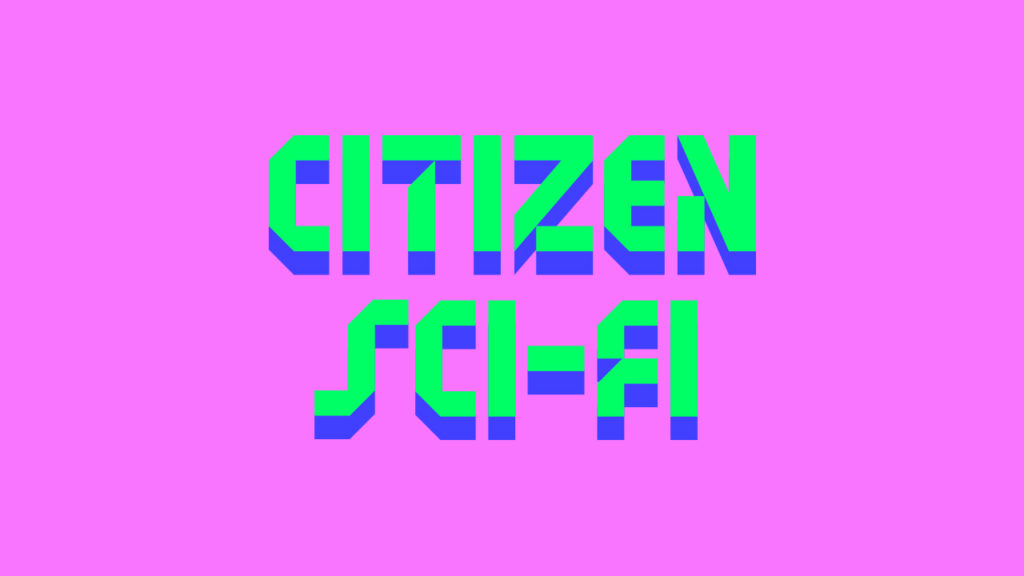 Activities Include:
Planet Cashless 2029
Martin Zeilinger
Should a cashless society leave us quaking in our boots? Come play our game imagining the future of money – and how we'll get by if there's no cash to pay for things. You'll get given a scenario and asked to design a way to make exchanges in the future. Are you a 'Barter Bender' or 'Sharey Carey'? Or will you sink the system and start again? Find out!
Times: 10.00-5.00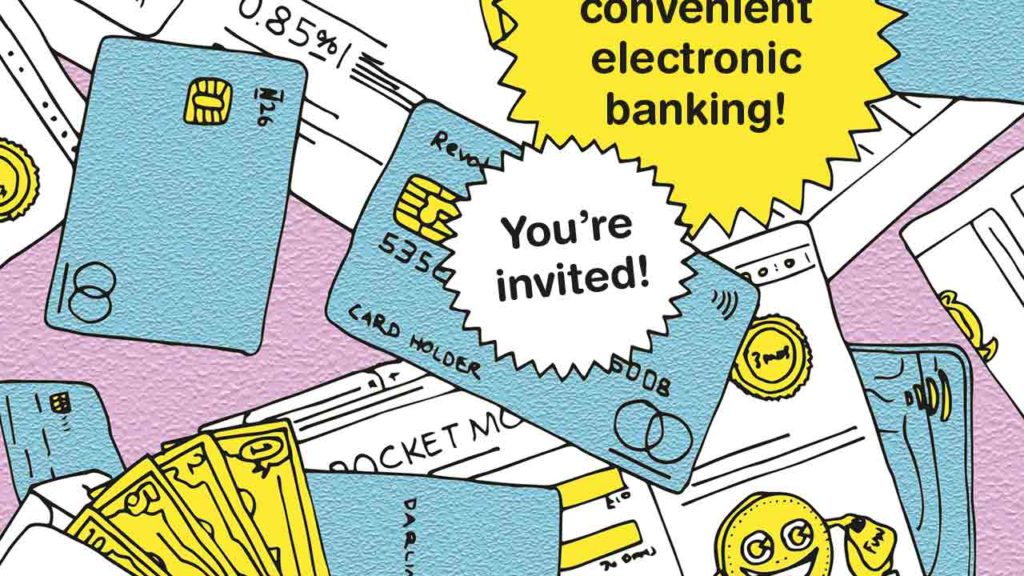 Future Fictions of Finsbury Park
Mud Howard and Stephen Oram
Gather round and listen to two short stories emerging from the heady mix of sci-fi authors, scientists and the folk of Finsbury Park. Come and decide if these are the futures you want for your park?
Times: 11.30, 2.30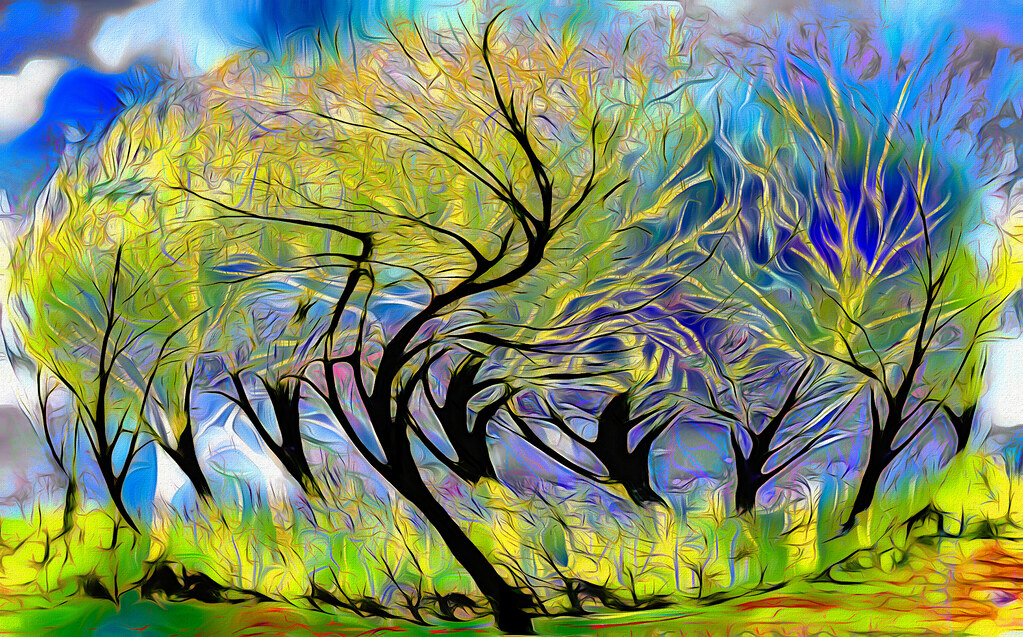 Play Then Now or Never
Idit Nathan and Helen Stratford
Take part in the launch of an entirely new app that leads you on a walk of the park that's like no park walk you've ever been on before! This app was designed with local people through similarly silly strolls and we need YOU to bring it to life! Drop by and we'll show you how to download the app (it's very easy!) and collect a map that will help you 'catch' prompts all around the park. We'll also have colourful badges for you to take home.
Times: 10.00-5.00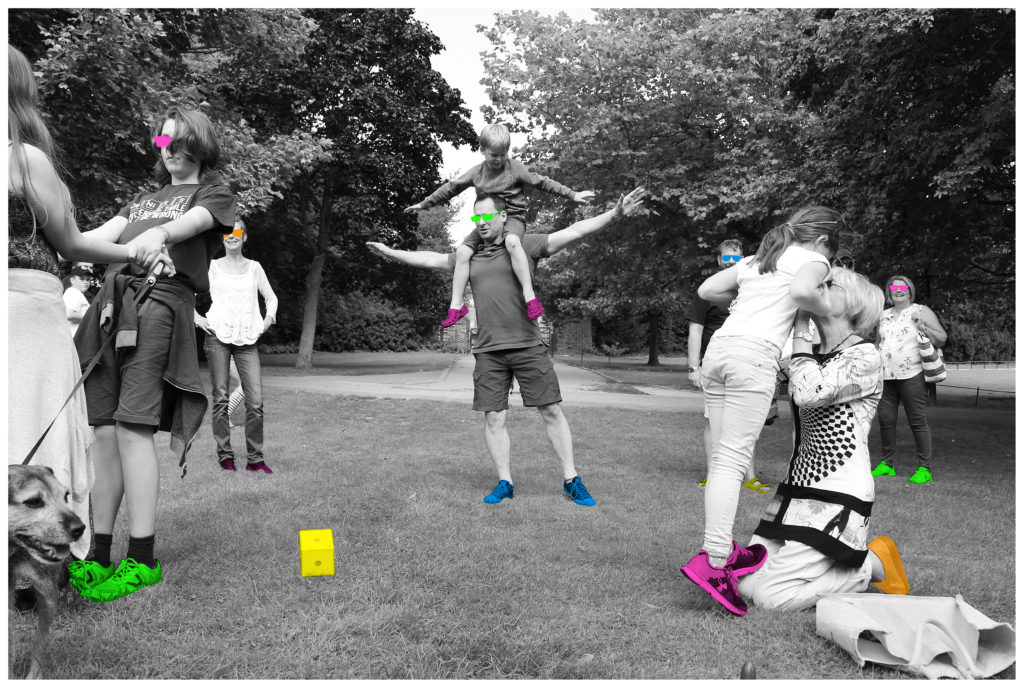 Jason and the Argonauts
Jason Wilsher-Mills
Pedal Power, come meet Jason and the Argonauts – a set of wild and wacky AR-enabled characters who have come to visit you. Jason will show you how he made them and how you can help him make new ones all about the Pedal Power community. (this activity is especially for Pedal Power, but all welcome)
Times: 10.00-5.00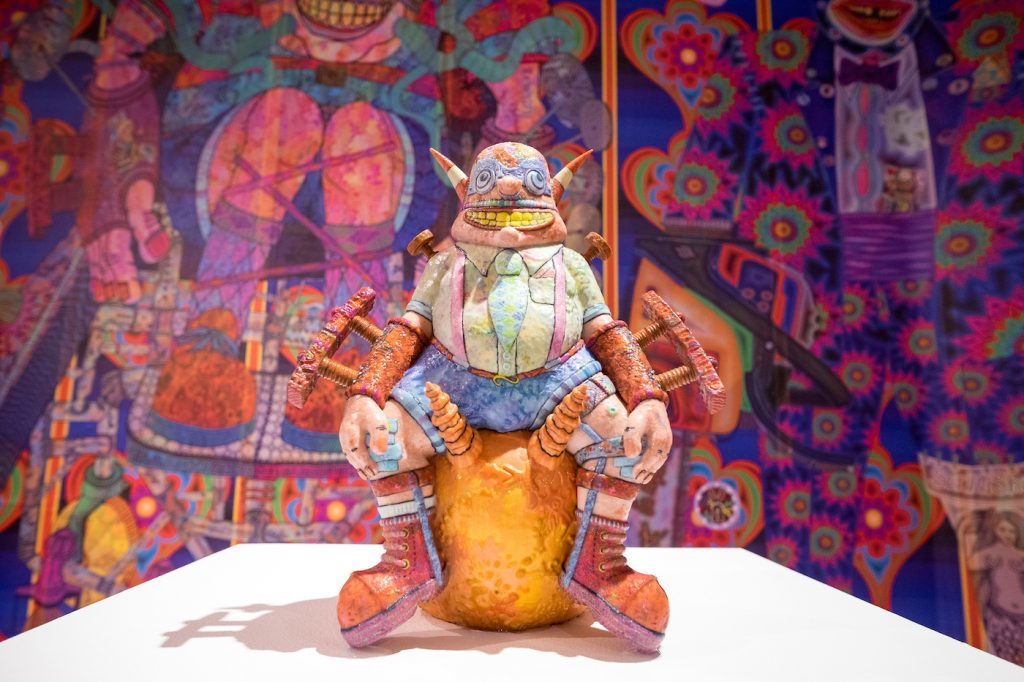 Community Drumming
Alex Dayo
Drop by and join in a family-friendly Community Drumming workshop led by Alex Dayo, master drummer from Burkina Faso (West Africa), find your inner rhythm and let it out!
Times: 10.30, 4.00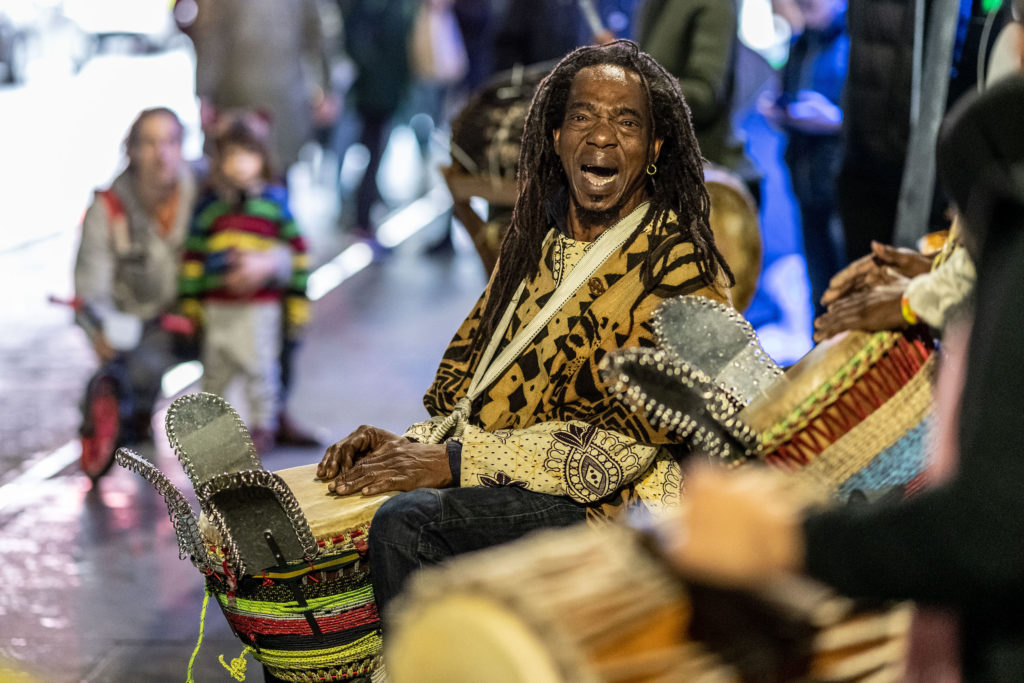 The Extended Trans*feminist Rendering Programme
Possible Bodies: The Underground Division – Helen Pritchard, Jara Rocha, Femke Snelting
Join a research session with Possible Bodies: The Underground Division, a team of fiction writers, geo-techno-scientists and trans*feminist device problematizers. A hands-on collective investigation into the micro, meso and macro political consequences of earth scanning practices. Together we'll look at what undergrounds are rendered when using techniques such as Terrestrial Light Detection and Ranging, magnetic resonance, UltraSound, and Computer Tomography.
Times: All day but limited places, book now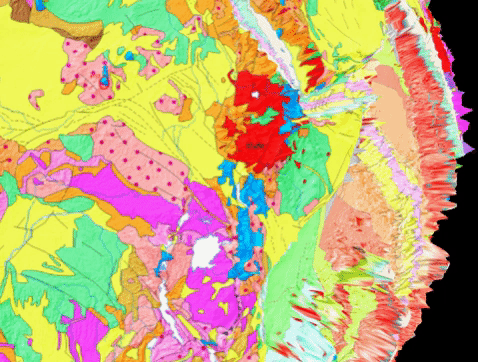 Prototyping a People's Park
Feminist Internet
What have parks done for their communities? What role do they play in our lives both socially and politically? What kind of spaces could they be for us in the future? Feminist Internet launch a special episode of their podcast series and an accompanying zine for the Albion fair that unearths the history of Finsbury Park, examining the role urban parks play within their communities and speculates about their potential futures.
Times: 10.00-5.00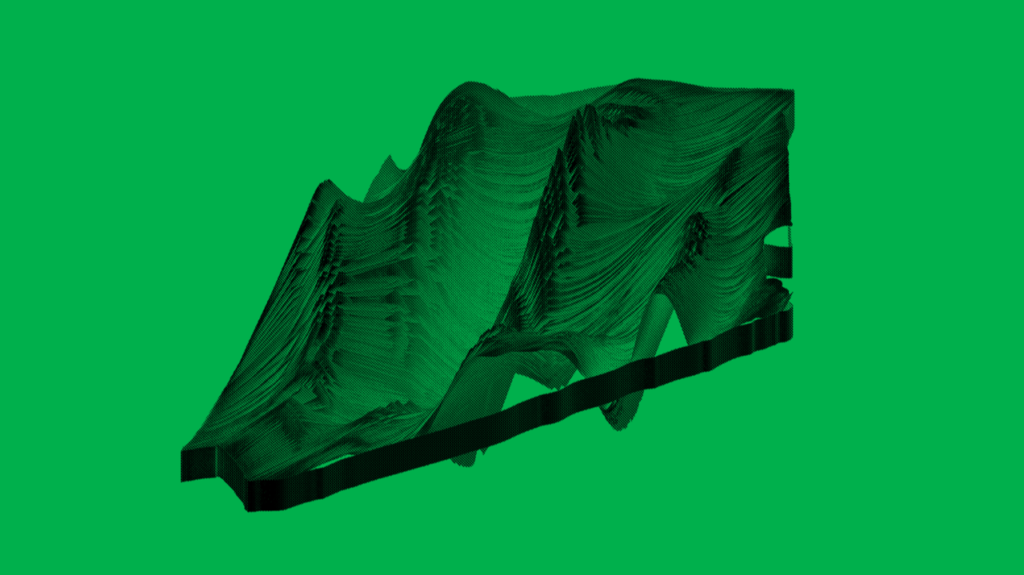 Minutes in the Park
Larisa Blazic
It's time to call this meeting to order! Join a special Theatre of the Oppressed inspired performance by reading aloud meeting minutes published by Finsbury Park's many organisations and community hubs.
Times: 12.00-2.30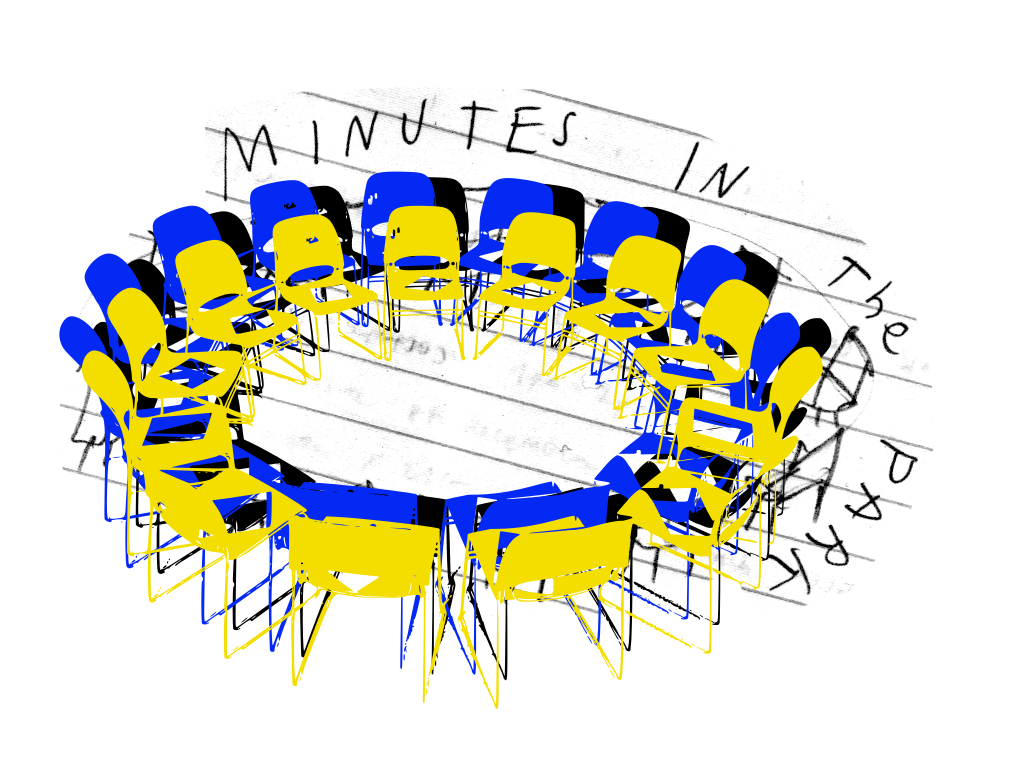 Who Am I?
Sunara Begum
The 'Who Am I?' workshop is about reversing technology and reflecting on history through creativity. Design and create your own special crest and emblem to signify who you are. Investigate the world of sound through percussion-led music making and immerse yourself in the art of expression through movement. The workshop looks at understanding who we are, tapping into our inner self, asking questions, seeking answers and sharing personal and collective journeys.
Times: 10.00-5.00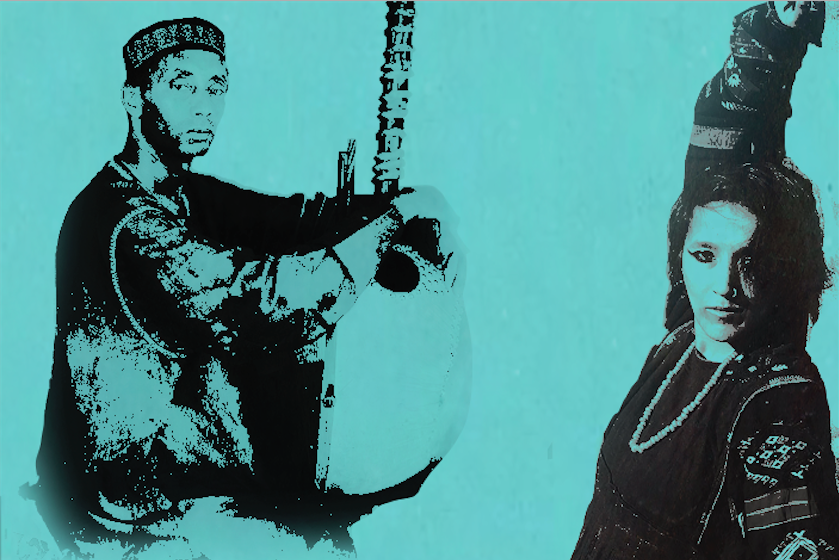 DoxBox trustbot
Artist: Alistair Gentry. Curators: Hannah Redler Hawes and Julie Freeman.
Just how trusting are you? Meet the hot-pink puppet-robot who wants to tell you all about your life online! How much will you reveal and how much does the trustbot know already?
Times: 10.00-11.30, 12.00-2.00, 3.00-5.00
This work was produced as part of an ODI R&D project funded by Innovate UK.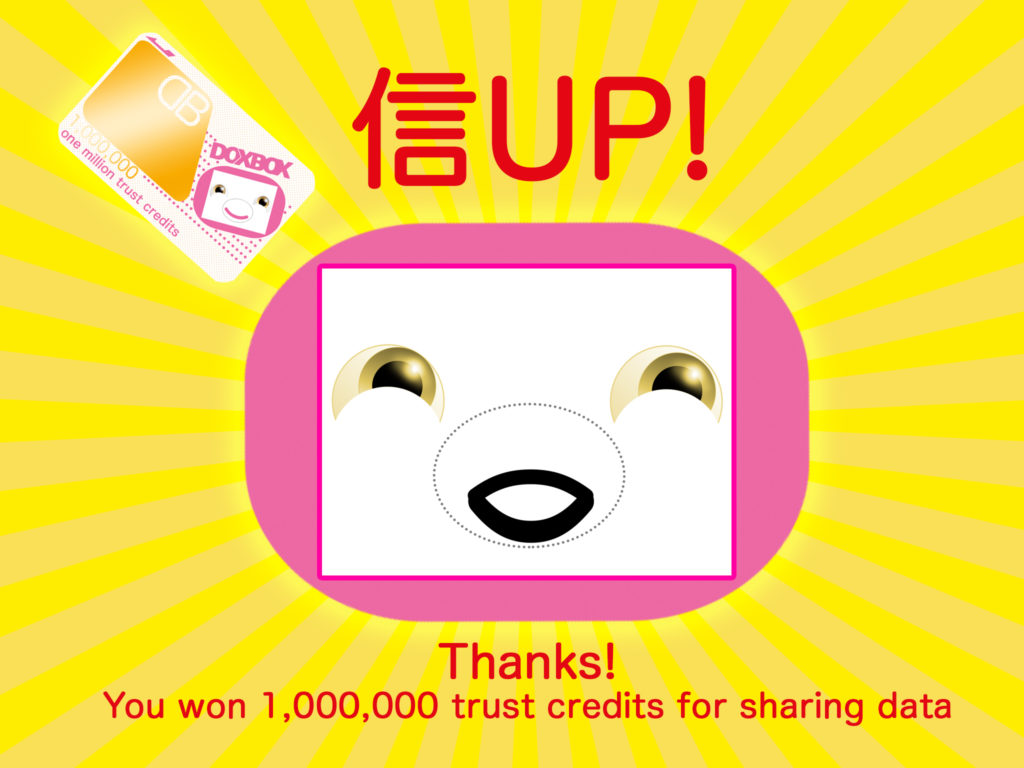 Future Machine
Rachel Jacobs
How will you dress fancy for the Future Machine? Rachel Jacobs needs your help to create a stylish parade for the unveiling of the Future Machine this autumn. What will you wear?
Times: 10.00-5.00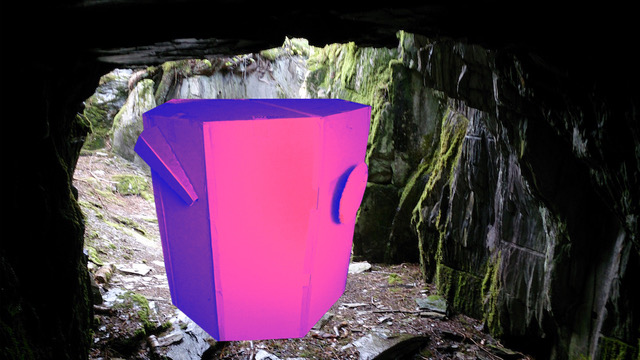 Solidarity Barbeque
They Are Here
There will be a vegetarian and Halal barbeque on the go, with servings inspired by recipes from the refugees They Are Here have been collaborating with. Food will be offered in exchange for a sketch reimagining the transformation of the garden, this will inform the changes taking place in the Autumn.
Times: DJ 12.00-4.30. BBQ 1.00-4.30
Curating London: Finsbury Park
Kathryn Davis, Dhelia Snoussi and Zey Kussan, Museum of London
What might future archaeologist say about us in the park? How right (or wrong!) could they be? Discover the left objects found in park through the Everything project, and see what connections you can make to you, the park and 2019.
Times: 11.00-1.00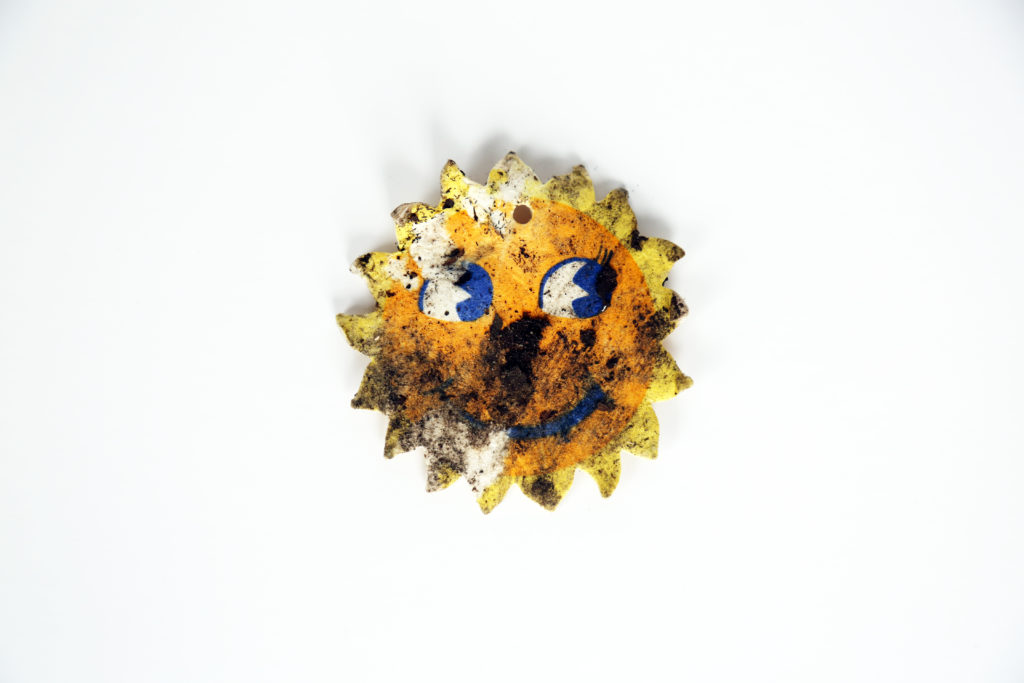 Festivals, Events and Inclusive Parks
Andrew Smith, Goran Vodicka
Come and map your experiences of Finsbury Park and feed into research about urban parks and festivals.
Times: 10.00-5.00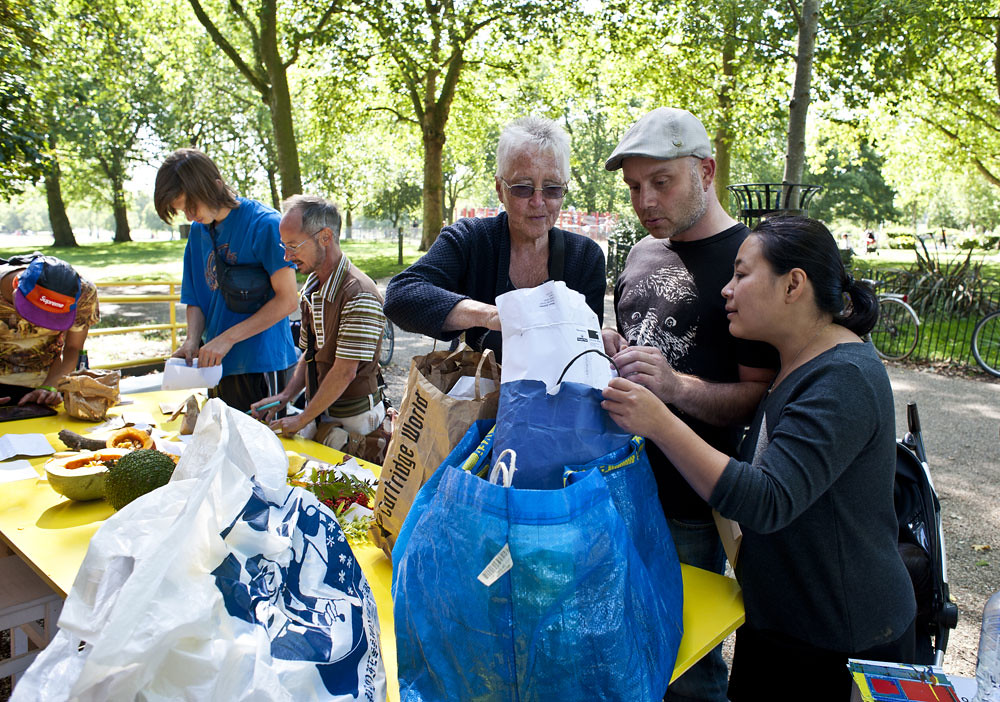 Featured image: Image by Studio Hyte, artwork in image by Jason Wilsher-Mills
Contributor Bios
Alex Dayo
Alex Dayo is a versatile composer, arranger and musician (he primarily plays percussion instruments), who was born in Burkina Faso, West Africa. Alex recalls growing up to the sound of drumbeats all around him – music has been part of his everyday life from birth, with instruments replacing childhood toys. His professional musical career started in the 1980s, accompanying the National Ballet Kouledafourou on tour as well as playing for African Royalty and globally-recognised dignitaries at private and public events and the Ensemble des Radios and Televisions of Burkina Faso, based in Bobo-Dioulasso. In 1985, Alex founded Fusion band Wountey, and, for fifteen years, toured with his band and the Ballet across Africa and Europe, spreading Burkina Faso's cultural fusion to a wider audience. His musical collaborations include Ali Farka Toure, Femi Kuti and Salif Keita from Africa and traditional Master Griots from Burkina Faso/Mali/Guinea/Gambia. An accomplished arranger, Alex modifies his style according to the need, incorporating African traditional, Fusion, Jazz, Rock, Latin and Caribbean influences. A highlight of Alex's career was being chosen to play at the Opening and Closing ceremonies at the London 2012 Olympics. As well as gaining British community music teaching qualifications, Alex developed his teaching skills working throughout Europe (Switzerland, Italy, Germany, Austria, Luxembourg, Belgium, France and Holland) and Africa and has played at numerous festivals and events, including Notting Hill and Hackney Carnivals, where he has performed for the past ten years.
Alistair Gentry
Alistair Gentry is a science fiction artist. He likes silly costumes, museums, absurdity, visiting the uncanny valley, the Oxford comma, and making machines do things their manufacturers wouldn't approve of. DoxBox trustbot was developed during his embedded research residency at The Open Data Institute. Other recent projects include an imaginary tourist information agency and a technological ritual with televisions and credit card shredders.
Andrew Smith
Andrew Smith is a Reader in the School of Architecture and Cities at the University of Westminster. His background is in urban geography and one of his main research interests is the significance of organised events in post-industrial and entrepreneurial cities.
Goran Vodicka is a Research Fellow in the School of Architecture and Cities at the University of Westminster. He is an architect/urbanist and his research is broadly focused on diversity and inclusion in public spaces.
Feminist Internet
Feminist Internet is a group of artists and designers working to advance online and offline equalities for women and other marginalised groups through creative and critical practice.
Hannah Redler Hawes
Hannah is the director of the Data as Culture art programme at the ODI and an idneoendent curator. She specialises in art and technology, art and science and emerging artistic practice with an interest in participatory process. She develops interdisciplinary projects for galleries, museums, digital space and non-art contexts. Alongside her work with ODI she curates exhibitions, events and art interventions. Past projects have been with Science Gallery London, Tate Modern, Natural History Museum, FACT Liverpool, the Digital Catapult and the Institute of Physics. As an artist, Julie's focus is the investigation of data as an art material, using it to create work that reflects the human condition through the analysis and representation of data. As a computer scientist and artist, Julie oftens works collaboratively and experimentally with scientists. Her work has been shown widely in the UK and internationally, and she has won awards from the Wellcome Trust, the Arts Council and Nesta. She holds a PhD in Media & Arts Technology from QMUL and is the founder of the Data as Culture art programme at the ODI.
http://culture.theodi.org/about/

Helen Stratford and Idit Nathan
Helen Stratford and Idit Nathan – Working collaboratively as Play Anywhere Now or Never! and combining backgrounds in theatre and architecture, Idit and Helen have worked in partnership with Wysing Arts Centre, Kettles Yard, Cambridge and METAL and in locations across the UK (Bristol, Sunderland, Peterborough, Southend and London). In 2015 they formulated Play The City Now or Never! (PCNN) working with METAL Peterborough and Southend to develop the PCNN App, a site-specific geo-locative App for mobile devices positioned at the intersection of art, play and technology. The PCNN App, like other low-tech resources they have developed, such as a compilation of games and scores as well as DIY die, solicits playful engagement with spaces and sites. Other recent and ongoing collaborative projects include developing a mobile artwork for Yorkshire Sculpture Park as well as walkshops for Cambridge Junction, Festival of Ideas Cambridge, CounterPlay '16 Aarhus, Wellcome Trust, Live Art Development Agency and the National Theatre.
www.playanywherenowornever.com
Jason Wilsher-Mills
Jason Wilsher-Mills is a disabled digital artist who is based in the East Midlands, using iPads to create paintings which detail his disability, childhood memories, popular culture, social history/heritage, creating new biographical narratives, through theatrical artifice and humour. He initially painted traditionally, with oils, but since becoming disabled has found the iPad screen more manageable – affording him the opportunity to create large pieces of artwork, through high-resolution files, modern Giclée printing methods & projection methods. It has also given him the chance to work collaboratively, due to its connectivity and accessibility. The primary themes of his work include memory, childhood, disability and illness. In parallel to his own artistic practice Wilsher-Mills conducts public art commissions and residencies working primarily with learning disabled collaborators on wild and wacky interactive sculptures.
Larisa Blazic
Larisa Blazic is a London based digital artisan, educator and feminist hacker with practice ranging from net.art to FLOSS art and design. In her most recent work, Data Union Fork, part of Vertigo STARTS Residency, she explores collective response to personal data abuses by state and corporate sector and creates experiments based on technologies developed within the DECODE project and investigates local governance in Local&&Ledger project.
Martin Zeilinger
Martin Zeilinger is a London-based interdisciplinary researcher, curator, and media practitioner. Currently he works as Senior Lecturer in Media at Anglia Ruskin University (Cambridge/UK), and also serves as curator of the Vector Festival (Toronto/CAN). His research interests include digital art, appropriation-based art practices, experimental uses of financial technologies in contemporary art, theories of cultural ownership and intellectual property, political economies of new media, live coding and creative computing, videogame culture, and experimental game art.
Mud Howard
Mud Howard (they/them) is a gender non-conforming poet, performer and activist from the states. mud creates work that explores the intimacy and isolation between queer and trans bodies. mud is a Pushcart Prize nominee. they are currently working on their first full-length novel: a queer and trans memoir full of lies and magic. they were the first annual youth writing fellow for Transfaith in the summer of 2017. their poem "clearing" was selected by Eduardo C. Corral for Sundress Publication's the Best of the Net 2017. mud is a graduate of the low-res MFA Poetry Program at the IPRC in Portland, OR and holds a Masters in Creative Writing from the University of Westminster. you can find their work in THEM, The Lifted Brow, Foglifter, and Cleaver Magazine. they spend a lot of time scheming both how to survive and not perpetuate toxic masculinity. they love to lip sync, show up to the dance party early and paint their mustache turquoise and gold.
Possible Bodies – Femke Snelting
Femke Snelting works as artist and designer, developing undisciplined research at the intersection of feminisms and free software. In various constellations she explores how digital tools and cultural practices might co-construct each other. She is member of Constant, a non-profit, artist-run association for art and media based in Brussels.
www.snelting.domainepublic.net
Possible Bodies – Helen Pritchard
Helen Pritchard is an artist and researcher, whose interdisciplinary work brings together the fields of Computational Aesthetics, Geography and Feminist TechnoScience. Helen's practice is both one of writing and making and these two modes mutually inform each other in order to consider the impact of computational practices on our engagement with environments. Helen is the head of Digital Art and a lecturer in Computational Art at Goldsmiths, University of London.
Possible Bodies – Jara Rocha
Jara Rocha is an independent researcher/mediator who tends to attend to the semiotic-material urgencies of present cultures with a trans*feminist sensibility. Works with infrastructural politics and aesthetics, text logistics, body inscriptions and tests non-formal ways of learning in collective situations like Euraca Seminar, Las promesas de los algos, Relearn Summerschool, or The Darmstadt Delegation.
Rachel Jacobs
Rachel Jacobs is an artist, researcher and games designer. She co-founded the artist-led collective Active Ingredient in 1996 and the commercial games company Mudlark Production Company in 2007. She completed a Doctorate in Computer Science in 2014. Rachel is a practising artist exhibiting nationally and internationally, and a Research Associate at the Horizon Digital Economy Institute, University of Nottingham. Her artworks include the award winning 'Heartlands (Ere Be Dragons)' one of the first mobile games that took place on city streets in Sao Paulo, Yokhama, Berlin, Paris, Cambridge, Bristol and Nottingham; 'A Conversation Between Trees', a touring artwork and schools exchange using environmental sensors to connect forests in the UK and Brazil; and 'The Prediction Machine', an interactive installation that predicts the future impacted by climate change. Rachel is currently developing a series of artists interventions 'Creating Rituals for When The Future Comes', alongside a mobile interactive artwork the 'Future Machine'.
Stephen Oram
Stephen Oram writes thought provoking stories that mix science fiction with social comment, mainly in a recognisable near-future. He is one of the writers for SciFutures and, as 2016 Author in Residence at Virtual Futures – described by the Guardian as "the Glastonbury of cyberculture" – he was one of the masterminds behind the new Near-Future Fiction series and continues to be a lead curator. Oram is a member of the Clockhouse London Writers and a member of the Alliance of Independent Authors. He has two published novels: Fluence and Quantum Confessions, and a collection of sci-fi shorts, Eating Robots and Other Stories. As the Author in Residence for Virtual Futures Salons he wrote stories on the new and exciting worlds of neurostimulation, bionic prosthetics and bio-art. These Salons bring together artists, philosophers, cultural theorists, technologists and fiction writers to consider the future of humanity and technology. Recently, his focus has been on collaborating with experts to understand the work that's going on in neuroscience, artificial intelligence and deep machine learning. From this Oram writes short pieces of near-future science fiction as thought experiments and use them as a starting point for discussion between himself, scientists and the public. Oram is always interested in creating and contributing to debate about potential futures.
Sunara Begum
Originally from Bangladesh, Sunara Begum studied film and fine art in the UK and Yoga and Ayurveda in India. She lives between London and Lagos where she is the co-founder of several international arts initiatives including Chand Aftara, an artist's collective dedicated to the exhibition and production of experimental cinema, New Horizons Africa, an annual music and arts festival and Living Legacies, Gambia's first traditional music archive. Begum's work has been widely exhibited in film festivals, museums, galleries and cinematheques worldwide. In 2017, her film Meditation on Stillness was selected as the Best Experimental Short at the Art Africa Film Festival and the Jury Grand Prize at the 21st Media City Film Festival. Her films are in the permanent collections of Dimbola Museum & Galleries (UK), Lionel Wendt Gallery (Sri Lanka), Centre for Contemporary Art (Nigeria), Drik Gallery (Bangladesh) as well as Central Saint Martins College of Art & Design. Sunara's work is a highly personal expression of themes including gender, memory and migration with powerful imagery that evokes deep-rooted feelings of reflection, contemplation and stillness. Sunara has developed a visual language that is distinctly her own drawn from her unique lived experience, straddling the dialectics of east and west, cultural identity, femininity and the immutable polarities of displacement.
They Are Here
They Are Here (f. 2006) is a collaborative practice steered by Helen Walker and Harun Morrison. They are currently based in London and on the River Lea. Their work can be read as a series of context specific games. The entry, invitation or participation can be as significant as the game's conditions and structure. Through these games, they seek to create ephemeral systems and temporary, micro-communities that offer an alternate means of engaging with a situation, history or ideology. In parallel, they initiate multiyear socially engaged projects that become generative spaces for further works. They Are Here work across media and types of site, particularly civic spaces.
Museum of London
Curating London will change how the museum collects 21st century London. It also seeks to recruit staff from a broader range of backgrounds and professional experience and puts Londoners at the heart of our collecting practice by working in partnership with local communities. From physical objects to interviewing Londoners about their own histories and memories, Curating London will capture, collect and record contemporary London.

The project started in April 2018 and runs until March 2022.

Each year the museum will begin four projects: three area studies of particular areas and one themed study that spans the whole of London.
https://www.museumoflondon.org.uk/discover/curating-london-collecting-community-contemporary-city