Featured Image: Smoke Signals at the International Anthony Burgess Foundation, Manchester
Red floodlights illuminate the silhouette of a grand piano standing in the centre of a darkened room. As musician and composer Jonathan Hering begins to strike the keys of the late Anthony Burgess' piano, a hidden bank of machines cough a sequence of smoke rings into the air, which catch in the red light above. The room fills with a ghostly red mist, all but obscuring the source of the beautiful music. The irregular pattern of smoke puffs suggest it's some sort of message or code. In fact, it's a sequence based on email data from seven arts organisations, put through a Polybius cipher.
Smoke Signals places digital communication in context, as simply the latest in a line of our approaches to long-distance forms of communication," explains co-creator Ed Carter. "I was very interested in the way that as the smoke, or 'data', filled the room it became more and more dense. At the beginning, you can decipher it if you understood the code, but eventually it becomes more of a fog – which is a nice analogy for the way data works on a big scale."
This performance of Smoke Signals at Manchester's International Anthony Burgess Foundation captures much of what FutureEverything festival is all about: looking simultaneously backward and forward through technology, fusing the analogue and the digital, the theoretical and the artistic, and uniting practitioners across disciplines.
FutureEverything is an innovation lab for digital culture and an annual ideas festival exploring the space where technology, society and culture collide. Featuring thought-provoking panel discussions, original commissions and parties, this year it took place in arts venues across the city, from Wednesday 30th March to Saturday 2nd April.
This summary explores how the festival encourages multi-disciplinary collaboration between different creative communities through interviews with artists who embody this collaborative ethos in a variety of different ways. How do they bridge the divides between disciplines to break new ground and meet the challenges of the future?
Commissioned for FutureEverything, artist Ed Carter created Smoke Signals with engineer and technologist David Cranmer. Musicians Sara Lowes and Jo Dudderidge & Harry Fausing Smith and Hering, then devised original compositions in response to the piece, taking each performance in a new direction. "Working with a collaborator or collaborators is like working with a process or working with a data set," Ed says. "You create a framework but leave a degree of openness which allows for the unexpected."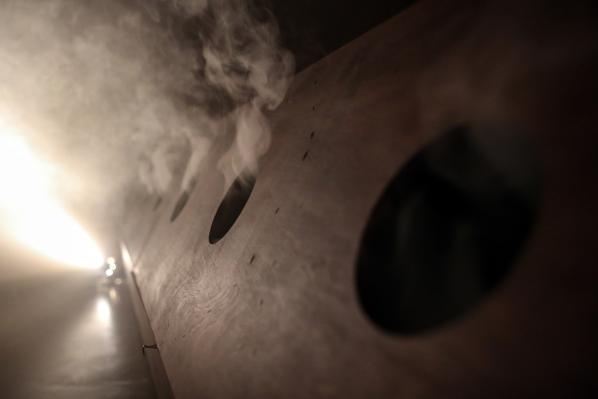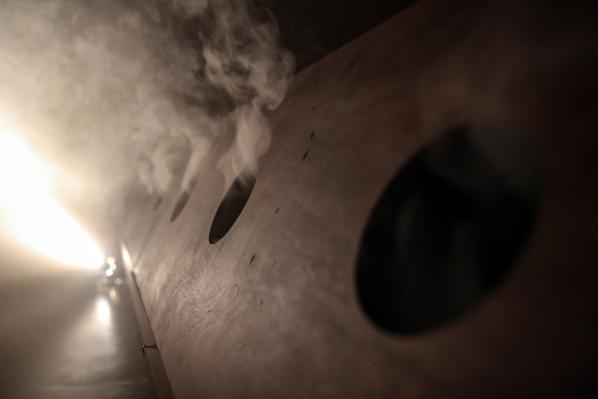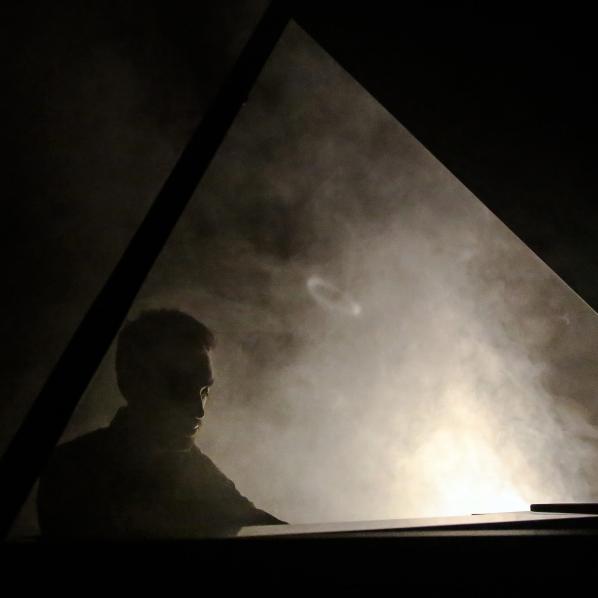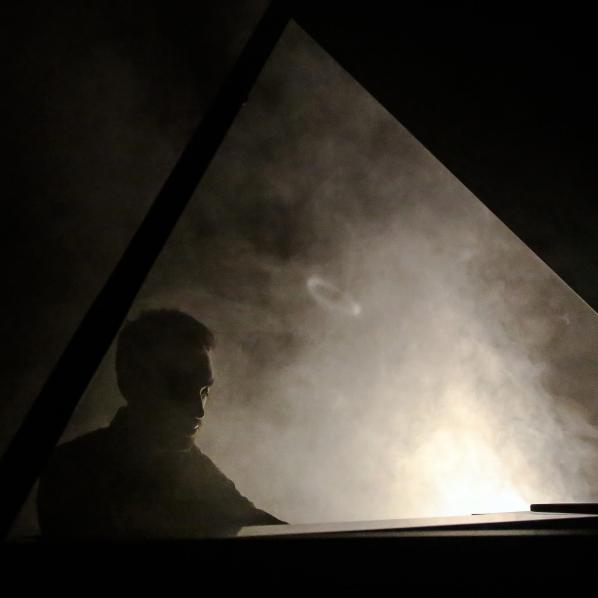 Newcastle's Occasion Collective chose to deconstruct the collaboration process behind their Babble series of improvised performances at Islington Mill in a lively workshop on the final day of the festival. The collective invited participants to get hands-on with improvised dance and live-sampling in sound and video, to help reveal the feedback loops between artists at the heart of their multilayered performances.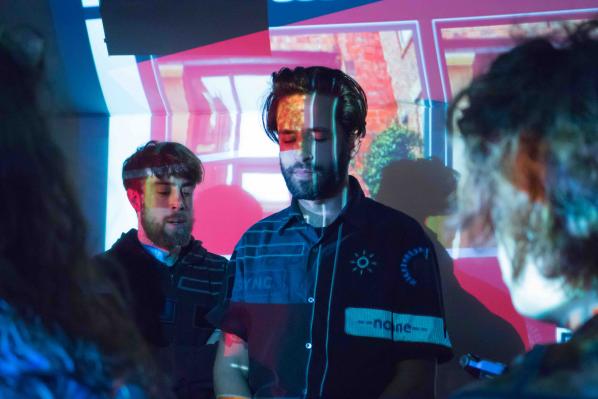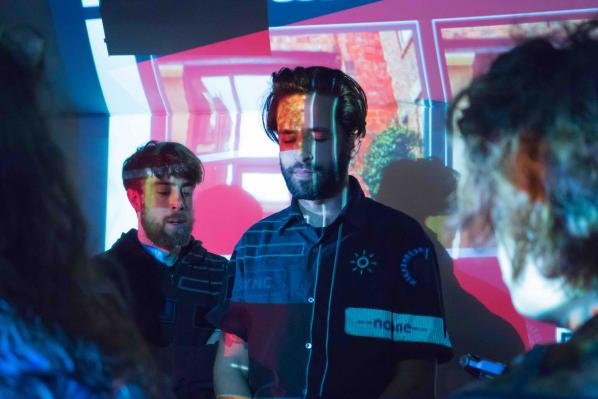 The concept grew from musician Jamie Cook's final-year music degree performance, where he played with a saxophonist and manipulated her audio live, creating loops, sampling, applying effects and changing speed. "I wanted to use electronics in a very tactile way, so that the audience weren't shut out between me and the computer screen," he says. "They could see all of the sounds I was creating, they could see them being taken and then transformed. Over time I added more members from other media, like dancers and visual artists, which grew into this ensemble where everyone improvises live and feeds off each-other's ideas."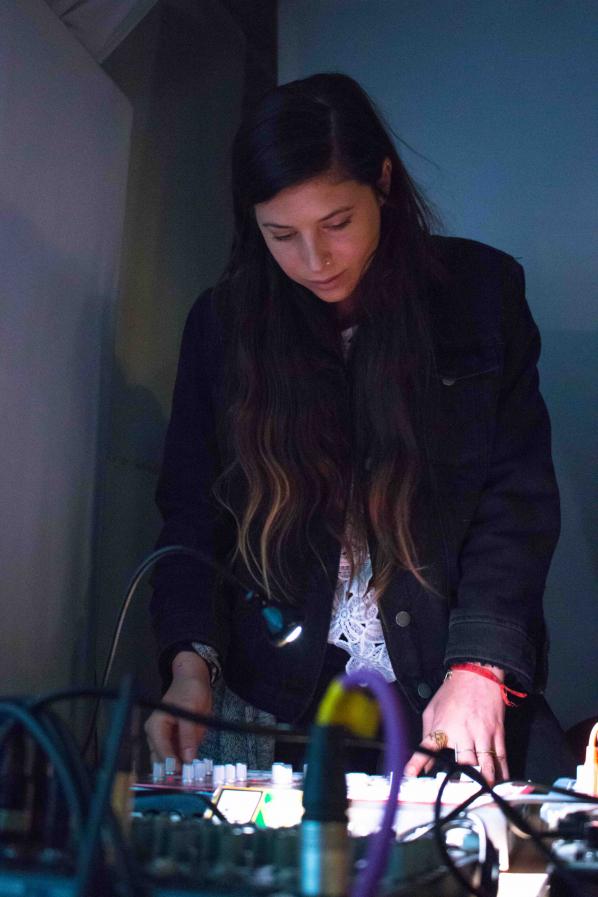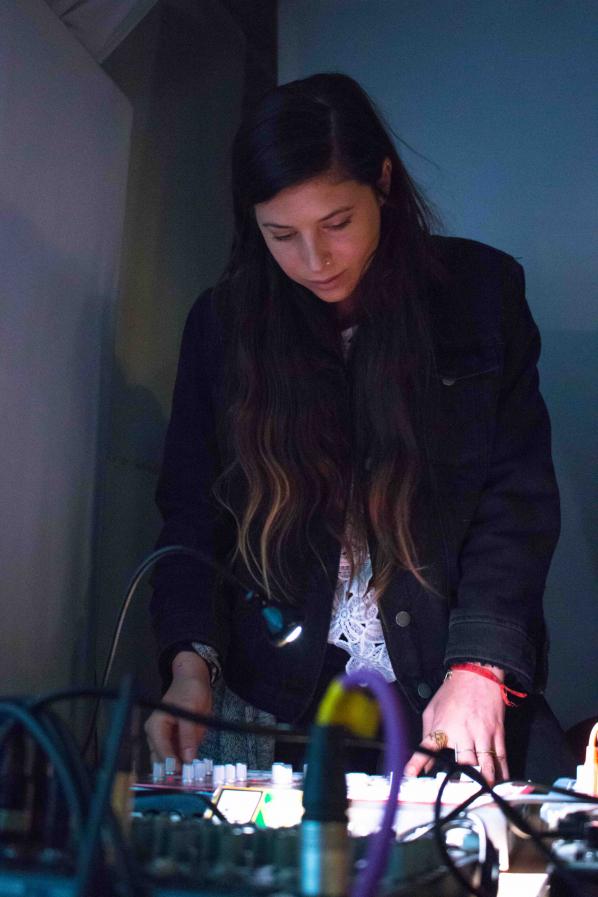 Each Babble performance refers to a short poem written by Charlie Dearnley, based on stories told by his grandmother, which "all grapple with a point of death or unburdening," he explains. While performing, sensors on his costume feed to digital artist Sean Cotterill, whose software translates the movement into light and sound. "The idea of digital communities, using digital technologies to gather creative communities around them, is important to me," Sean explains. Written in the supercollider language, Sean has put all his code for the show online, in the hope of developing further feedback loops beyond the live performance.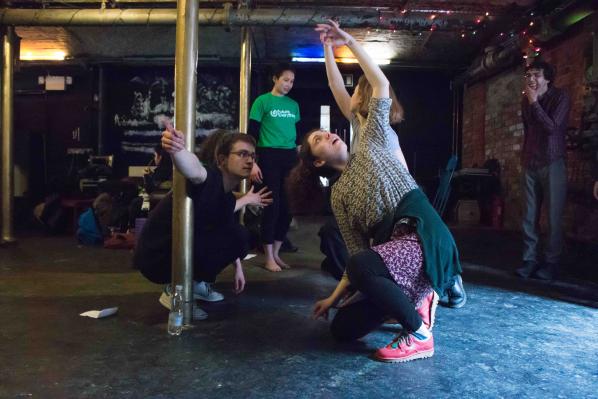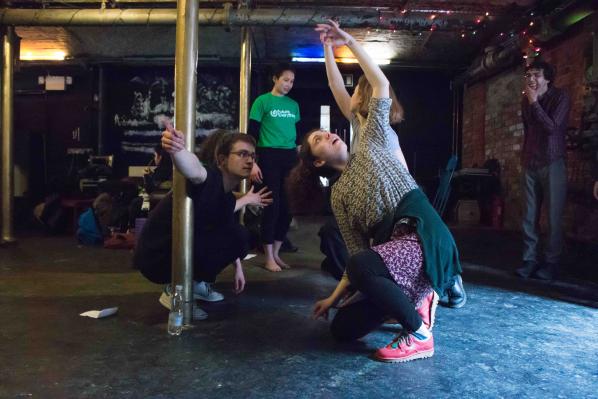 While process is an explicit part of Occasion Collective's performances, each one feels stirring and organic. "It's an attempt at honest expression which is heightened and realised through collaboration and working with others," Charlie says, "acknowledging, for myself, the inadequacy of words in genuinely conveying experience; trying to create something that is more engaging."
Engaging people is the challenge at the heart of Nelly Ben Hayoun's work, as she explained after her talk at the Intelligence panel. The so-called 'Willy Wonka of design', Nelly is a one-woman nexus of collaboration who creates experiences to generate social action around science and technology, often space exploration. She assembled the International Space Orchestra, the world's first orchestra composed of space scientists from NASA's Ames Research Center and the SETI Institute (Search for Extraterrestrial Life). Featuring original music by Beck, Damon Albarn, The Prodigy, Penguin Cafe, Two time Grammy award winner Evan Price and Bobby Womack, she convinced scientists and astronauts to participate in an ambitious musical retelling of the Apollo 11 moon landing in 1969.
Video embed: The International Space Orchestra_ Official IFFR selection 2013 (https://vimeo.com/57863847)
"There are audiences that are not keen to be transported or play any part, but it's my role to then force them into it," she explains. "Most of the public is becoming quite lethargic, so it's really difficult to get them to move. My way of doing things is what I call total bombardment: getting to people through the fields of music, design, arts, theatre, tech, digital and architecture. Even though you might not want to be engaged with the issues or the questions I'm raising, you will find yourself confronted, in any case."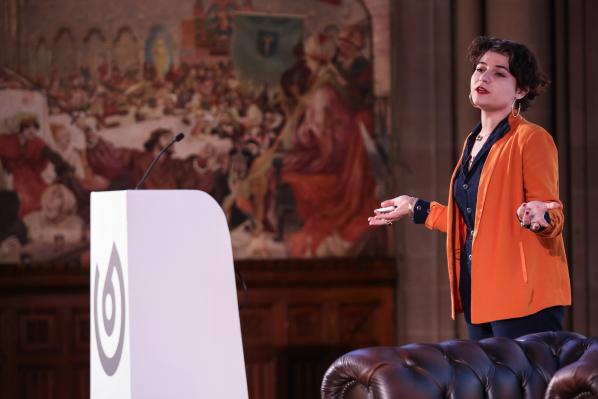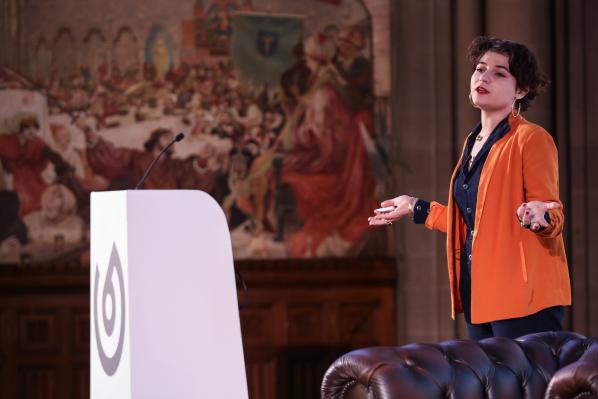 Nelly studied at the Royal College of Art under Anthony Dunne and Fiona Raby, who inspired her problem-finding rather than problem-solving approach to design, particularly with regard to future challenges and the potential impact of evolving technology. Her most recent project, Disaster Playground, investigates the planet's emergency procedures through attempts to stage a simulation of an asteroid strike. Soberingly, Nelly finds that only about 20 ageing scientists are charged with planning for disasters such as asteroid collisions and meteor showers.
Video embed: Disaster Playground Teaser (https://vimeo.com/107466074)
"I'm applying critical thinking and critical design, but also looking at a range of artistic fields to see how we can merge all of these different disciplines to aim for social action," Nelly says. "I apply Antonin Artaud's theory of the Theatre of Cruelty to the way I engage members of the public with scientific research, looking for much more extreme and visceral ways to engage them, which you open up through collaboration. Whenever I work with scientific partners or sociologists or philosophers, I pick the ones who will fight with me. I believe that conflict generates innovation."
The Turner Prize-winning Assemble collective prefers a more harmonious atmosphere. Comprised of 18 members, Assemble's collaborative approach to architecture and urban development puts local people at the heart of development, implementation and ultimately the long-term life of each project. They also work on sustainable principles, choosing where possible to work with pre-existing local materials, reusing or repurposing them to better serve the area's needs.
Assemble's Mat Leung posed new ways to think about communities in a thought-provoking panel discussion with science fiction writer and futurist Madeline Ashby and new communication technologies expert Sarah Kember at FutureEverything's Community panel. "[Sarah, Madeline and Assemble] understand community not as a monolithic term," Mat explains. "Obviously there are loads of different elements to it. The term community is difficult because it assumes a single kind of identity, but together we wanted to interrogate that."
Multiple communities can exist simultaneously and overlap in a given area, such as a community of residents, who Assemble empowered through the Turner Prize-winning Granby Workshop project, creating jobs through rebuilding a neglected area of Liverpool from the grassroots up; or a community of makers and artists, with whom they worked on the Blackhorse Workshop project in East London.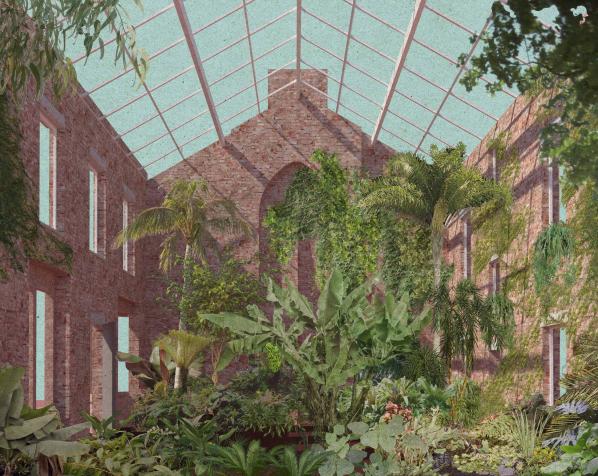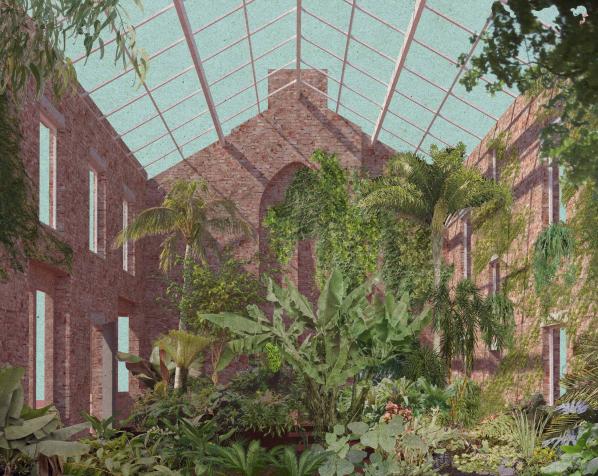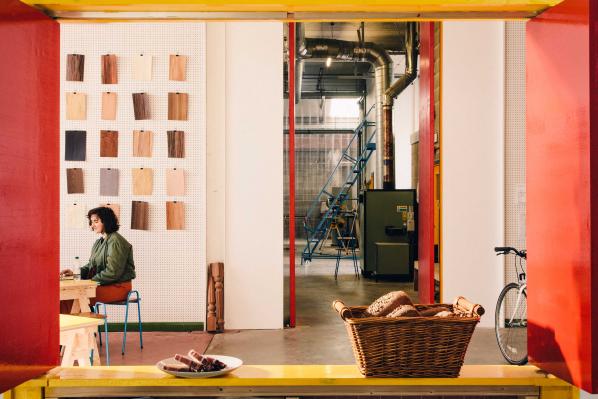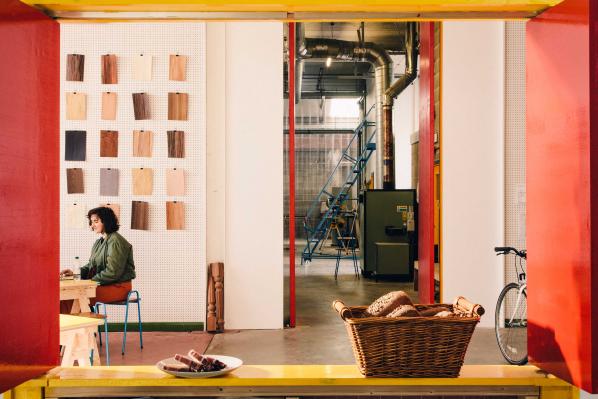 The Community panel developed a theme that ran through the festival: that no one individual or group is capable of meeting the challenges of the future alone. Finding ways to positively engage multiple stakeholders with a variety of knowledge and skills is vital to finding solutions that meet the needs of the wider community.
"Our successful collaborations come from an understanding that there's a diversity of stakeholders, skills and knowledge," Mat says. "We're interested in a broad range of things, but we acknowledge we're not amazing at everything. Each different member of Assemble has their own training and expertise, but when we work with a community, people who've been there for 15 years know more than we do – they're experts in a different way. They might not know about which materials to use for a given job, but they can tell you the effect of a layout or the practical implications of what you're doing. You have to acknowledge that people are experts in different fields".
Projecting a vision into the future can be one of the hardest challenges for architects – but Assemble have developed what appears to be a powerful and effective way of ensuring the longevity of projects. "When you say 'Let's talk about the near future', architects get hysterical, designers go into meltdown," Mat explains. "As soon as you say community, legacy, or things like that, it brings up a set of expectations. But what you're really saying is that you want your idea to be taken on and exist beyond the period you're directly involved in its life. So we've found that collaborating with the community throughout the process, through workshops for example, is a great way to encourage people to continue using spaces after we've moved on."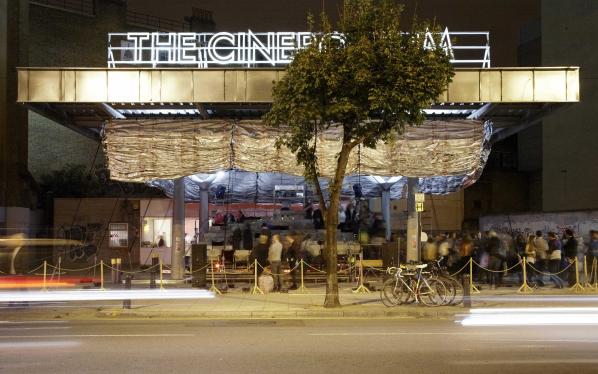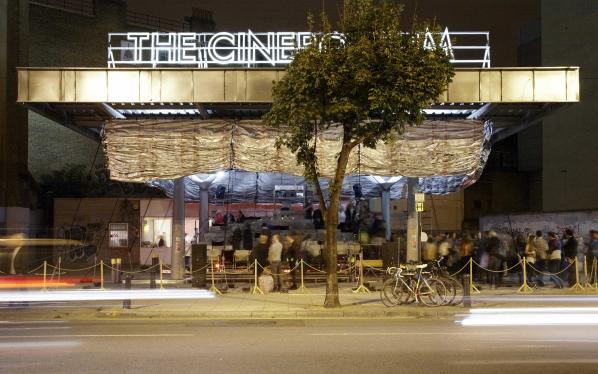 The enthusiastic spirit of collaboration fostered by FutureEverything transcended each event and sparked conversations between practitioners from a variety of different fields, who gave each other new perspectives through which to consider their own work. Drawing on the participatory ethos of progressive digital communities, the festival encouraged a refreshingly open atmosphere. But how to keep this energy going once the festival comes to an end? Many of the artists involved shared their processes in the hope that others can build on their achievements. The vibrant creative melting pot FutureEverything presided over will ensure that the new connections created will lead to even more inspiring projects in the years to come, from networks that extend far beyond Manchester.
Find out more about FutureEverything.