The four day event at the Showroom collated a series of practitioners, artists, theorists and historians, to examine, test and explore ideas stemming from cybernetics and information theory and more specifically the idea of feedback.
Described as an 'experimental cross-disciplinary research project', Signal : Noise was a fusion of talks, lectures, performances, screenings and debates that made diverse contemporary evaluations of the legacy of cybernetics using an inter-disciplinary approach. It tackled subjects as seemingly diverse as economic theory; urbanism and the arrival of the motor car in London; game theory; linguistics; media-performance art from the 1970's; and the problematic legacies of the recent UK arts funding system on artists – all viewed using the concepts and terminologies of cybernetics and systems.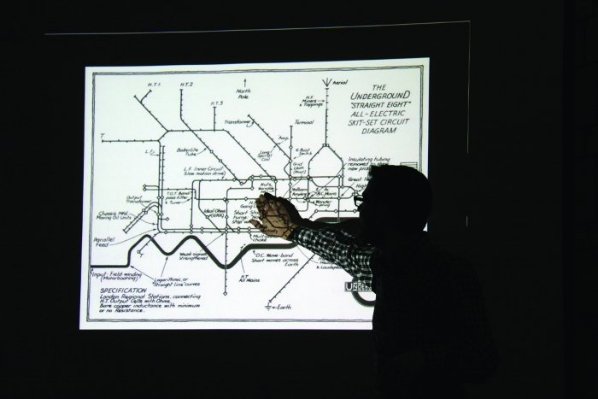 Signal : Noise, in part, played out like a small conference, mainly set in The Showroom Gallery space with one wall covered with a network diagram drawing by Stephen Willats, and fly posted theoretical systems diagrams from his recently re-published 1973 book, or maybe manual, 'The Artist as Instigator of Changes in Social Cognition and Behaviour'.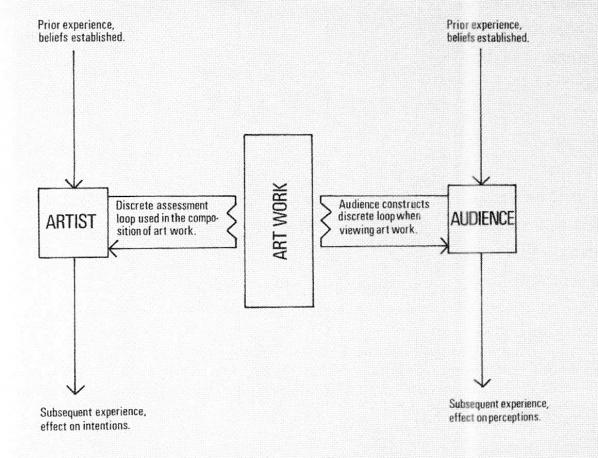 This visual reference served as a backdrop to the proceedings and served as an on going reminder that despite the deep theoretical and historical base being presented and discussed in its many forms, Signal : Noise was ultimately attempting to re ignite debates, and help reset the ideas of cybernetics and systems into a contemporary context of practical application. Willats' book describes his process as an 'investigation by the artist into the processes, procedures and models' of the 'Art Environment' using 'cybernetics as a research tool'.
The first night introductory presentations by Charlie Gere and Steve Rushton provided an overview of many ideas explored throughout the weekend. Artist and writer Steve Rushton on 'How Media Masters Reality' used an array of examples, from conceptual and media architecture group Ant Farm using pioneering ideas of investigating media feedback, through to the 500 millions votes (!) on US TV programme American Idol; the latter an example of how contemporary applications of media feedback loops are now often conceptually embedded into the core of television productions, and in turn, are now part of the audiences expectations and involvement.
Ant Farm's 1975 work 'The Eternal Frame', screened later during the weekend, along with Gary Hill's Why Do Things Always Get in a Muddle (Come on Petunia), based on Gregory Bateson's Metalogues.
Ant Farm's 1975 work 'The Eternal Frame', screened later during the weekend, was their carefully staged, somewhat trashy live 're enactment' of the 8mm film footage of the Kennedy assassination, complete with a drag version of Jackie Kennedy and sunglass wearing suited security. This film sequence is familiar today, but in 1975 it had yet to reach the public domain. Working to a tightly choreographed moment derived from a bootleg of the 29 seconds of 8mm film, Ant Farm's grotesque mimicry of the assassination was performed as an ongoing loop, complete with car driving around the block (interestingly, the random people watching in the street in 1975 took photographs like they were at a theme park).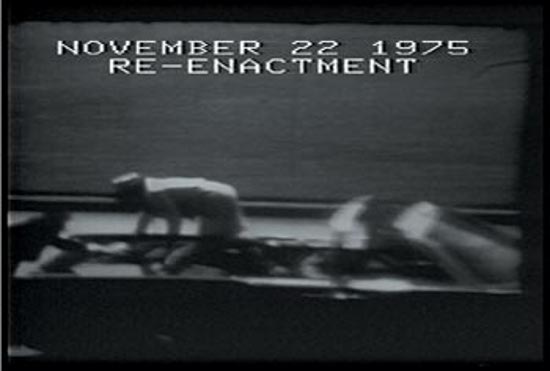 Despite being conceived in the mid '70s media environment of portable video and cassettes, the documentation of Ant Farm's performance resonated with something surprisingly familiar and contemporary in our era of the internet, social media and rolling 24 hour news, and what Rushton termed our "society of self performance".
Rushton's historical threads from the origins of Cybernetics and to the Whole Earth Catalogue and the WELL served as a excellent base for the oncoming proceedings of the weekend, and showed that the arrival of the contemporary mass information network in the form of the internet, has habituated it's millions of users into a kind of cybernetic practice based on input, observation, control, intervention, response, feedback, and adaptation but without necessarily using or being aware of its lexicon.
Nearby, in the Cockpit Theatre, was 'Closed Circuit' a performative work by Rod Dickinson (along with Rushton), which consisted of two actors staged and dressed, in a precise duplication of a set for political announcements; wooden lecterns, curtained background, complete with an array of flags – but all carefully neutralized by the removal of logos and national flags identities into plain white.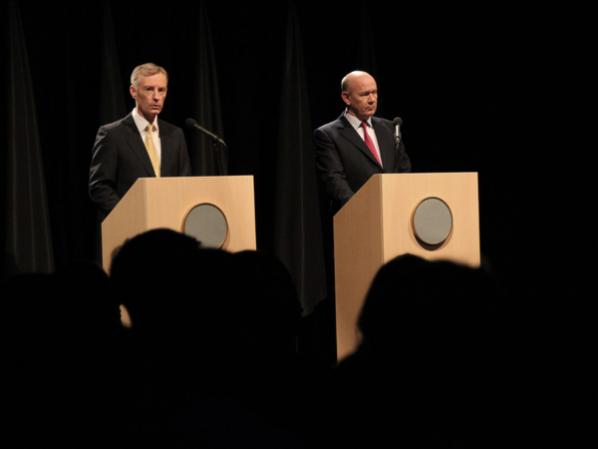 What followed was a series of political speeches utilizing the familiar language and tone of grandeur and crisis, delivered by the actors in the style of a world leader address. What they delivered, was a carefully sequenced remixed script derived from political speeches over the past 50 years; Margaret Thatcher; Richard Nixon; Ronald Reagan; Tony Blair; Yasser Arafat and others. All the details from each specific event they were referring to had been carefully edited out. The only way to differentiate one world leader, country or event from another, were the large projected auto cues for the actors, situated behind the audience at the rear of the theatre. Each one gave the full scrolling speech text and also the year and original context for each leaders' delivery. Looking towards the stage, it sounded like a single coherent speech, but eluding any specific meaning, isolating the language of threat and authoritarian political control, leaving us just the husk of political presentation and the transparency of the format itself.
Ideas explored in Stephen Willats' network drawing were expanded further during his talk in the final morning session of Signal : Noise, where he gave a refreshing clarion call to abandon 'last century thinking' during his prescient and timely discussion. His seminal works have persistently and methodically challenged the process, structure and meaning of art making and display. Willats made his earliest system diagrams in the late 1950's, and was the first artist to make the artwork itself a map of communication. But maybe it is this century, rather than our last, that will connect with his provocations to the hierarchical, highly codified, object obsessed 'Art Environment', as he terms it, to see that 'object based thinking is still a hangover from last century attitudes'.
Willats was an early reference for emerging net art and media art in the mid 90's, with artists then clutching for any art historical roots that gave the field of networked and computer based practice some practical grounding.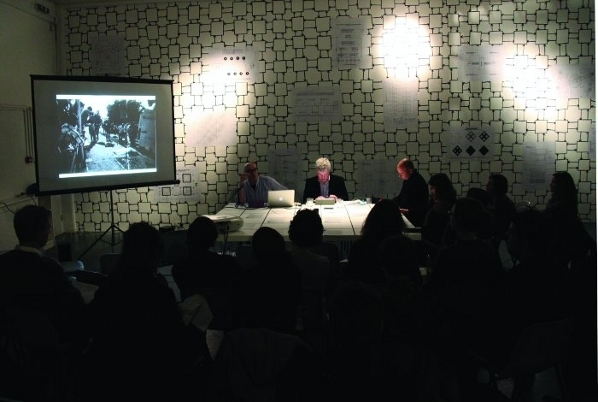 This in-conversation with Emily Pethick surveyed his own personal development and immersion in Cybernetics in its differing stages, a short history lesson, moving from Norbert Weiner to Gregory Bateson and Gordon Pask, but always resolutely en route to the practical issues in the present and what Willats defines as the artist as an 'instigator of transformation'.
In parallel to Willats, was a presentation and discussion hosted by Emma Smith and Sophie Hope which began to interrogate the legacy of a the New Labour arts commissioning process. It discussed how the criteria for successful funding was intrinsically linked to a social agenda, audience and location set by government policy. Discussions followed about how the arts commissioning process may turn out to have skewed a generation of artists practice, as they slowly lost control of their own output, became tagged with being an 'artist facilitator', and began conceiving works to fit in with the criteria of funding bodies, with each funder slowly extending their own prospective reaches. All this supported by an immense drive to build 'Cultural Industries' into mechanisms for regeneration.
Seeing this placed against Willats, whose ongoing practice could initially seem in tune with the past decades cultural policies and its overtly prescribed socially engaged agenda, in fact served to show how contrasting, distinct and rich his rigourous thoughtful approach is by comparison.
All this made for a timely discussion. With the approaching withdrawal and decimation of arts funding in the UK, Signal : Noise could prove to be a prescient event. With presentations, workshops and panels by Stuart Bailey and David Reinfurt of Dexter Sinister, Charlie Gere, Matthew Fuller, Marina Vishmidt and others, the interdisciplinary approach of Signal : Noise worked well despite its fairly dense timetable.
Using the gallery as a discursive space, with theorists and writers set within context of practice, is a good base for the next event in this on going series. What it maybe didn't allow for, which is easily rectified, is a more unpredictable agenda, and more intervention by the 'audience'. The whole event could function more as a real feedback working system, an adaptable structure that potentially allows for input from its participants (both presenters and audience) letting things move in unexpected directions both on line and offline, leaving a physicalised network as a residue after the event. With the decision to include food and beer in the ticket price (great dumplings, fresh vegetables and miso soup), there is potential here to expand this type of event even further.
With the on coming cultural landscape in the UK moving into un-chartered territory, it is potentially events like Signal : Noise which might begin to unearth and test new ideas and ignite debate within a less rigid format than a 'curated' show. In the future this type of event may even re-claim the word 'radicalise' from its current narrow, negative media usage, and re-purpose it for artists who decide to reject art market values, in favour of a exploring new ways of working within the emerging (and significantly less funded) 'Art Environment'.
Extra info & links:
Signal : Noise. The project was led by Steve Rushton, Dexter Sinister (David Reinfurt and Stuart Bailey), Marina Vishmidt, Rod Dickinson and Emily Pethick. http://www.theshowroom.org/research.html?id=161&mi=254
The Artist as an Instigator of Changes in Social Cognition and Behaviour. 1973. Stephen Willats. http://www.occasionalpapers.org/?page_id=825

Closed Circuit, Rod Dickinson in collaboration with Steve Rushton.
http://www.roddickinson.net/pages/closedcircuit/project-synopsis.php
Dr Charlie Gere. Reader in New Media Research. Department: Lancaster Institute for the Contemporary Arts. http://www.lancs.ac.uk/fass/faculty/profiles/charlie-gere
ANT FARM. ART/ARCHTECTURE/MEDIA [1968-1978]. http://artsites.ucsc.edu/faculty/lord/AntFarm.html
The Eternal Frame by T.R. Uthco and Ant Farm: Doug Hall, Chip Lord, Doug Michels, Jody Procter. 1975, 23:50 min, b&w and color, sound. http://arttorrents.blogspot.com/2008/02/ant-farm-eternal-frame-1976.html
Emma Smith. Social practice that is both research and production based and responds to site-specific issues. http://www.emma-smith.com/www.emma-smith.com/Homeindex.ext.html
Sophie Hope's work inspects the uncertain relationships between art and society. http://www.welcomebb.org.uk/aboutSophie.html