Face to facebook is the final project in a three part series named "Tha Hacking Monopolism Triology" by the two Italian artists Paolo Cirio and Alessandro Ludovico. It was launched on the 2nd February 2011, with a mixed media installation at the Transmediale festival in Berlin, and a press release announcing a new dating website called lovely-faces.com.
The set-up for the 'Face to facebook' project was to steal 1 million facebook profiles and re-contextualize them on a custom made dating website (lovely-faces.com). The data collected from the profiles was only information available publicly on the internet, like the users name and profile picture. No facebook account was needed to access it. The 1 million facebook profile pictures were then checked for images that were usable in a dating webstie context. The remaining 250,000 profile pictures were then fed through various face recognition filters to assign an assumed personality to the subjects and a new profile was created ready for the dating website. Once published on lovely-faces.com, interested pursuers could get in contact with the people behind the original facebook profiles through facebook messages.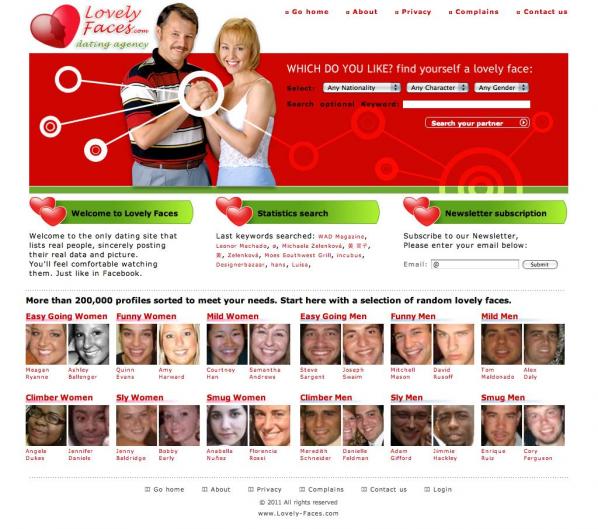 On the 10th February, 8 days after its launch, the dating website lovely-faces.com was shut down. This was following a cease and decease letter from Facebook[1]. Back in 1999, the net artist Heath Bunting was also subject to a cease and decease letter, that time from American Express. The letter sent to Paolo Cirio and Alessandro Ludovico in 2011 (as PDF) can be seen here, and the letter sent to Heath Bunting in 1999 is published here.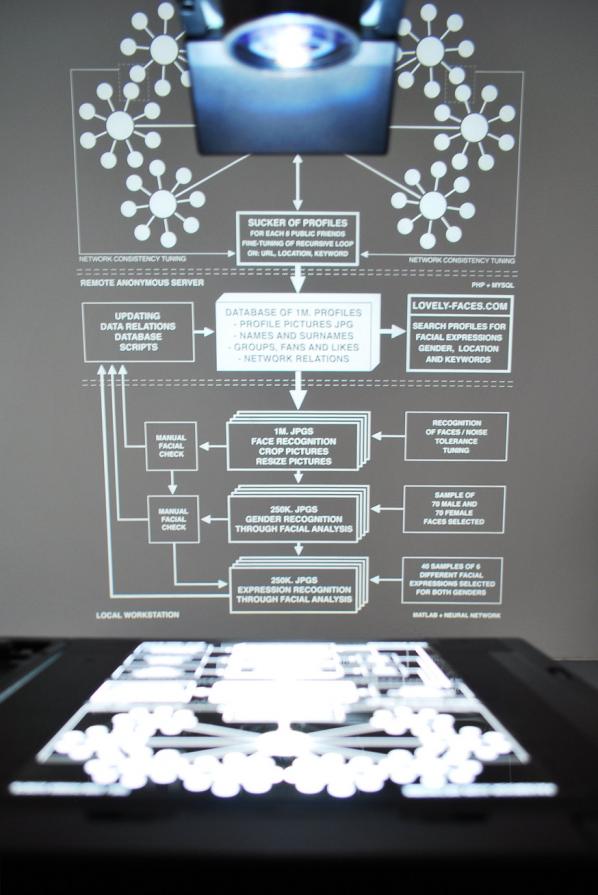 This project, and the ripples it left on the media water, highlights an ambiguous relationship many have with facebook. Many people sign up, upload a smiling profile picture of themselves and declare personal details to the large corporation that is Facebook without concern. Not until these identities and personal images were scavenged and then reused, the ownership and potential audience of this personal data is questioned. As the artists state themselves: "The final step is to be aware that almost everything posted online can have a different life if simply recontextualized. "
"The process is always illustrated in a diagram that shows the main directions and processes under which the software has been developed. We found a significant conceptual hole in all of these corporate systems and we used it to expose the fragility of their omnipotent commercial and marketing strategies. In fact all these corporations established a monopoly in their respective sectors (Google, search engine; Amazon, book selling; Facebook, social media), but despite that their self-protective strategies are not infallible. And we have been successful in demonstrating this."
Web 2.0 Suicide machine (http://suicidemachine.org/) is another project which deals with your online identity. It allows you to automatically delete all your social network profiles and it simplifies the process – according to their website 8.5h quick then a manual deletion. Incidentially, the facebook is not one of the profiles subject to deletion in the suicide machine anymore, following another cease and decease letter: http://suicidemachine.org/download/Web_2.0_Suicide_Machine.pdf.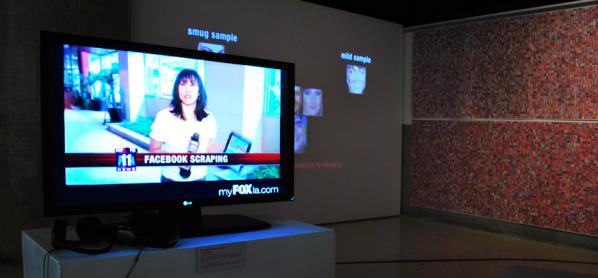 Since the lovely-faces.com dating website is still closed down, the project now (September 2011) consists of: documentation of the process used to acquire the facebook profiles; documentation of the global mass media hack performance, in the form of news broadcasts, magazine articles and blog post referring to the project; legal correspondence between the lawyers of the artists and Facebook; a mixed media installation; a touring lecture given by the authors. The latter two being re-performed and installed in various venues around Europe and beyond. The former are all available on the website face-to-facebook.net
The ever changing nature of this project therefore makes it a great example of a piece of contemporary art of variable nature, one which is in constant flux and is formed by the cultural, networked and physical landscape surrounding it. It does not only challenge the ownership of your online identity, it is also a nuisance for a mainstream contemporary art market based on institutional preservation and commercial commodification. These disruptions may also be linked. On the one hand there is an action to copy a system collecting and commodfying people and then use them as assets in one's art expression and experience. "In all the three projects, the theft is not used to generate money at all, or for personal economic advantage, but only to twist the stolen data or knowledge against the respective corporations." And then on the other hand, it is an art project which is not straightforward to see what the remaining artefacts actually are, whilst defying the process of being added to traditional art collections.
Other Info:
The Hacking Monopolism Trilogy. Face to Facebook is the third work in a series that began with Google Will Eat Itself and Amazon Noir. http://www.face-to-facebook.net/hacking-monopolism-trilogy.php
Elin Ahlberg is studying Art and Visual culture at the University of the West of England in Bristol. She has been living in the UK, and Bristol, since her move from Sweden in 2006. As an artist, she works in a variety of mediums and produces work which aims to both amuse and provoke. Her practice and research is informed by quasi-anthropological observations and an interest in technology. "One year ago I gave up Facebook for lent. It was quite an interesting experiment and I realised how integrated my life was with the social networking website as I actually felt that I missed out on things." Ahlberg's essay Meanings constructed around Facebook can be found here http://elinahlberg.wordpress.com/2011/07/18/essay-meanings-constructed-around-facebook-2011/