Featured image: F.A.T. Lab (Free Art and Technology Lab) were found causing trouble at the Transmediale.10 this year.
A collaborative review/interview by Marcello Lussana and Gaia Novati
An interesting outsider project at Transmediale.10 this year, was F.A.T. Lab (Free Art and Technology Lab). A collective of artists, engineers, scientists, lawyers, musicians and trouble-makers who have been working together for two years, on the intersections of Pop culture and Open source. Their stapline describes them as "An organization who is dedicated to enriching the public domain through the research and development of creative technologies and media". Beware, they love using the word 'Fuck'. A lot! Which means they are cool, and some you grown ups may feel slightly unnerved by their over generous outpouring of flippant explitives, but the kids out there just love it!
You can read an explanation of their work in the about section on their website, and view a video presenting some of their ideas and works. With a simple rap base with nasty yellow and pink colors, it could be considered as a joke. Perhaps, to some degree it is, but at another level they are playing around with social contexts of the Internet culture's, presumptions and acceptance of things. Through an omnipresent ludic approach they reuse what is given to us all with a contemporary pop attitude – showing us the many contradictions from these given systems. Proposing other possibilities in order to loosen and to free things up from the copyright laws and prescribed rules of both big companies and clumsy governments.
One of their projects called Public Domain Donor, consists of D.I.Y stickers saying "In the event of death please donate all intellectual property to the public domain". They write "Why let all of your ideas die with you? Current Copyright law prevents anyone from building upon your creativity for 70 years after your death. Live on in collaboration with others. Make an intellectual property donation. By donating your IP into the public domain you will "promote the progress of science and useful arts" (U.S. Constitution). Ensure that your creativity will live on after you are gone, make a donation today."Simple and humurous.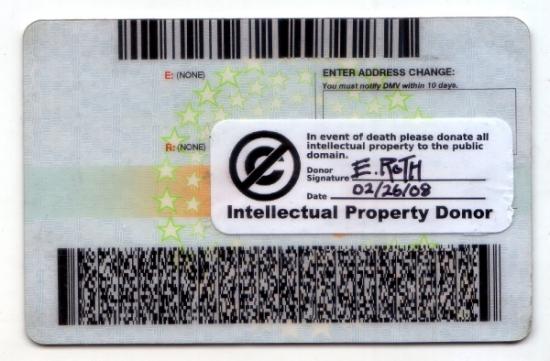 Yet, behind their process of cultural detournment exists a reference to earlier net art critique, by Critical Art Ensemble who way back in 1995 said "Each one of us has files that rest at the state's fingertips. Education files, medical files, employment files, financial files, communication files, travel files, and for some, criminal files. Each strand in the trajectory of each person's life is recorded and maintained. The total collection of records on an individual is his or her data body -a state-and-corporate-controlled doppelganger. What is most unfortunate about this development is that the data body not only claims to have ontological privilege, but actually has it. What your data body says about you is more real than what you say about yourself. The data body is the body by which you are judged in society, and the body which dictates your status in the world. What we are witnessing at this point in time is the triumph of representation over being. The electronic file has conquered self-aware consciousness." The Mythology of Terrorism on the Net. Critical Art Ensemble Summer, 95
Also as stimulating, is the idea Graffiti Markup Language, an XML file type specifically designed for archiving graffiti tags, and easily reproducing them.
Their style is easy, effective and of course – Pop!!!
For Transmediale.10 they presented a project called Fuck google, one of their more involved works, appropriating the image of Haus der Kultur der Welt, the futuristic bulding hosting Transmediale, formerly known as the Kongresshalle conference hall, a gift from the United States, designed in 1957 by the American architect Hugh Stubbins Jr. as a part of the Interbau exhibition. John F. Kennedy spoke there during his June 1963 visit to West Berlin. Fuckgoogle focuses on reminding us all how this big company has become omnipresent in our digital lives, refering to the risk that too much data is owned and is going to be owned more and more, just by Google alone. It exists as a collection of browser add-ons, open source software, theoretical musings and direct actions.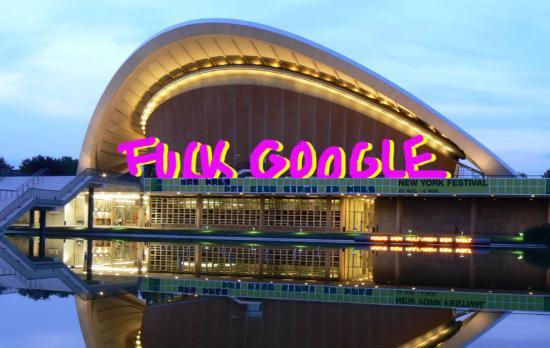 Not necessarily trying to be a definitive solution against the big G in any sense of the word, but more a reminder, a provocative virus to diffuse. So we have a graffiti firefox skin, fuck google pins, The F.A.T Pad or some plugins to reclaim your public individual space on your browser. Everything is D.I.Y and opensource, so you can easily replicate it. The approach can be find with FuckFlickr a free image gallery script offering everyone who visits a Flicker-like image gallery.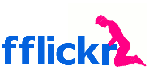 The F.A.T. Lab is an example of technological sabotage. Of course, it's not a new thing in respect of the hacker community: using the instrument, medium directly, in order to change perceived assumptions of our reality. What is quite new is F.A.T. Lab's blatant exploitation of everyday Pop culture and its language. The hacker counterculture has always had it's own way of communication, built in the late 80's and 90's. These days, more and more people use the computer, not just hackers. Using Pop culture in order to communicate one's message could be one possible way to escape the duality culture/counterculture. On the other hand, F.A.T. Lab could be creating a fresh paradigm which allows others who would not normally appreciate hacker culture or even media art culture, filling a space beyond art culture which could be considered as too refined.
Interview with Evan Roth from F.A.T. Lab at Transmediale.10
Marcello & Gaia: Can you describe who you are and how do you connect each other?
Evan Roth from F.A.T. Lab: We are a group of friends. There's not any formal application process or open call, many come from typical art organizations. It started out as a group of friends and then slowly, more friends joined. We also made more friends, collaborators on line. Here at Transmediale.10, it's actually our first chance to meet face to face and some of us have not met before. There are two things that mainly characterize us. On one side, there is the open source culture and advertisement free culture, but also the idea that this all should be fun. Art and political activism doesn't have to be a boring, the interface of it all, can be accessible to more people. We try to push this candy coding, get the those audiences who are using youtube videos, that is our primary audience. We like it when art organizations pay attention to us but really our main audience is at the borders of things, using different networks, commercial networks out there, happening outside of the gallery.
M&G: If we look at the projects you are showing here there is a kind of aesthetic in common, the colours are really interesting, the pink and the yellow remind us early 90's spam. Is that aesthetic a primary decision, is the style you choose to define you, or has it just happened in the progress of your work.
E: I answer that in two. There is a thing from open source development culture that is 'release early and release often', we try to apply this model to the media production. We try to release 'early and often'. If you are on the fence where you should release something or not and it is not quite ready, just push out the door, because it is better to have it in the public counter system than not. So the aesthetic of the website is in part probably pushing out the door rather taking care of the nuances or the color it is. We just try to get this thing published quickly. Someone could be sitting on their brilliant idea and waiting for years to release, waiting for some details and then you find that no one really cares about this in the end. But there is also an aesthetic interest in common, that comes from this 'dirty style'. There is an artist friend, Cory Arcangel who is one of my favorites, and he describes the dirty style as 'either you take little interest in design so it becomes so un-aesthetic or you over-work it to a point that the work itself becomes something too trivial'. We don't have meetings about how the website is going or what it looks like.
M&G: Don't you think that this "dirty style" is somehow hiding the real content or the message? The use of 'dirty style' is obviously an answer of the hyper sensibilization, concern of the form but at the same time this makes your work splitting in between the no-attention of form and pushes content in the corner.
E: The way our websites look matter's less and less now, because people don't go to websites for content anymore. Most of the traffic in the websites do not even see the pink and the yellow, design. There is some kind of form/function relationship going on. We are interested in rolling up this web 2.0 idea a little bit, and that's what this installation here is about at Transmediale. The early 90's aesthetic was with people hand coding html and making tables, not downloading a WordPress thing. In that sense, there is a sort of connection to the DIY, rolling back to the way of 1.0 – where the files are hosted in your own server and not google or yahoo.
M&G: Isn't it more interesting to try and critique in a more constructive way, creating something else, not just another google appropriation but other kind of net platform for a community? Could that be one of the important challenges for artists now?
E: Open source is a big movement and free culture is even bigger and so we know that there are people out there hacking in this way right now, but we are not programmers, there are programmers taking part but these are not our skills. Our place in this movement is in the media side. We do have programmers in our group but we feel more like media makers. We make these videos and they are kind of funny and taking something from the pop/culture, twisting them, possibly people have a look and pass them around. But there are messages in them. And the messages are trying to reveal the money and the branding business that google is making and saying it is not cool, and being involved in an alternative open source culture looks better. We also have a development tool like fuck flicker and flv player where you can have your own videos up like you tube.
M&G: Why are you are supposed to win this year's Transmediale? You stood up on the stage during the award claiming the award for yourselves!
E: Oh no, we don't think we are supposed to win. Do you know Kanye West? This is a USA story, we joked about Kanye a little bit. We're always trying to pay attention to what is going on in pop culture and surf a little bit. Kanye was notorious for interrupting a ceremony whenever he lost, grabbing the mic. As we were for this fuck google project – last night, the winner was a youtube related project, and google is a sponsor. The message we tried to get across last night, was a reference to this, and we are gonna have an official press release on it soon. But I think that for Transmediale, our project was an anomolie, showing this fuckgoogle in contrast to accepting web 2.0, which is actually a range of projects. We were surprised to be invited, who know's what for? But we think that it was a very wise decision, and we are really happy to be here.
On their website you can get a clear impression of their feelings towards Google "So, what is so "fuck-worthy" about Mother-google? It is the fact that a corporate entity, even one as beloved and competent as Google, is in control of such a large stake in the digital network and public utility upon which we have all grown so reliant. And, that as a publicly traded company, it doesn't have to answer to anyone but its largest shareholders, despite the fact that its decisions effect the lives and private information of millions of people. Few even question or raise a voice in opposition to the Google-ification of the Internet."
There were more than 1,500 submissions for the Transmediale.10 awards, nine art projects were nominated and F.A.T. Lab was a runner up amongst them. Showing contemporary, activist art within a larger more incorporated festival is to be commended, it is not an easy thing to do. And we all know how easy it is to criticize rather than make something 'real' and positive happen. F.A.T. Lab are a tangible byproduct of a culture, caught in the trappiings of Hyperreal situations, a confused world losing itself even further into a perpetual state of denial. Pop culture and celebrity related banalities are constantly distracting our gaze. It is an interface which can only handle life via mediated proxy. F.A.T. Lab know's this, and have adapted themselves to literally scrap with it on their own terms. Their role and place in the world is to get out there on the front line and go places where the common people reside. They want to be on the main stage battling it out, whilst challenging the interface presented to us all – making it their playground.
You can also read Marcello Lussana and Gaia Novati's article about this year's Transmediale.10 here…