On May 29, 2020, the Disruption Network Lab opened its 19th conference, "Evicted by Greed: Global Finance, Housing & Resistance". The three-day-event was supposed to take place in Berlin in March, on the days of the global call for the Housing Action Days. Instead, it took place online due to ongoing safety concerns relating to the coronavirus pandemic.
Chaired by Tatiana Bazzichelli and Lieke Ploeger, programme and community director of the Disruption Network Lab, the interactive digital event brought together speakers and audience members from their homes from all over the world to investigate how speculative finance drives global and local housing crises. The topic of how aggressive speculative real-estate purchases by shell companies, anonymous entities, and corporations negatively impacts peoples' lives formed the core conversation for the presentations, panel discussions, and interactive question and answer sessions. The conference served as a platform for sharing experiences and finding counter-strategies.
In her introductory statement, Bazzichelli took stock of the situation. As the pandemic appeared, it became clear worldwide that the "stay-at-home" order and campaigns were not considering people who cannot comply since they haven't got any place to stay. Tenants, whose work and lives have been impacted, struggle to pay rent, bills, or other essentials, and in many cases had to leave their homes or have been threatened with forced eviction. People called on lawmakers at a national and local level to freeze rent requirements as part of their response to the pandemic, but very few measures have been put in place to protect them. However, scarce and unaffordable housing is neither a new, nor a local problem found in just a few places.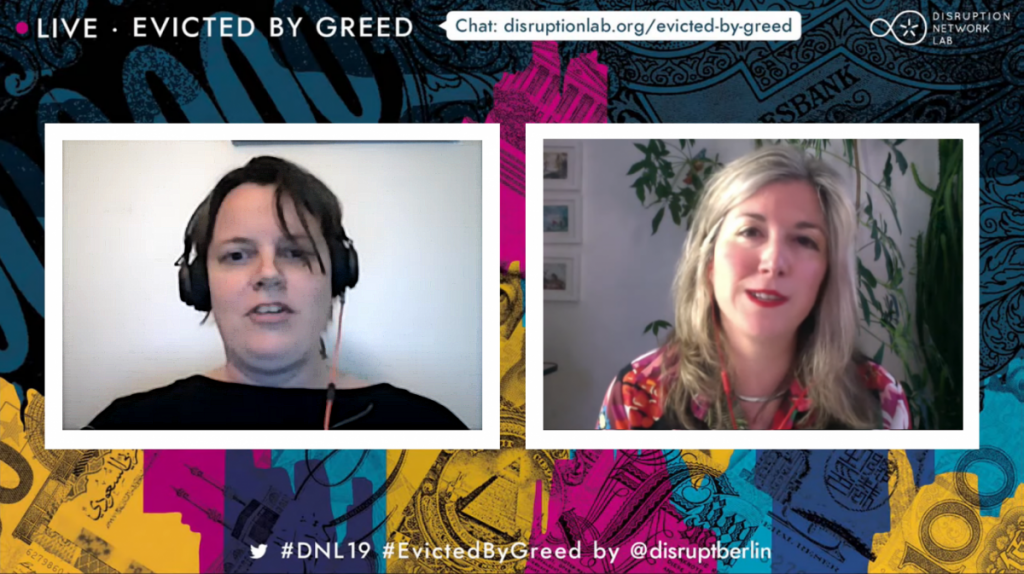 Christoph Trautvetter, public policy expert and German activist of
Netzwerk Steuergerechtigkeit (Network for Tax Justice) and Wem gehört
die Stadt (Who Owns the City) of the Rosa-Luxemburg Foundation, and Manuel Gabarre de Sus, Spanish lawyer and activist from the Observatory Against Economical Crime, delivered the opening keynote "Anonymous & Aggressive Investors: Who owns Berlin & Barcelona?" moderated by Eka Rostomashvili, advocacy and campaigns coordinator at Transparency International.
In the last decade waves of private equity real estate investments have reshaped the rental housing markets in cities like Berlin and Barcelona. Housing and real estate have been deformed by global capital markets and financial excess, treated as a commodity, a vehicle for predatory investment and wealth rather than a social good reflecting a human right. This led to evictions, discriminations in the housing sphere, and lack of access to basic housing-related services, all put in place by aggressive real estate investors.
Trautvetter is co-author of a recent study tracing the ownership of 400 companies owning real estate in Berlin. He explained that in the city, where about 85% of the population are renters, exploding house prices and rentals have been guaranteeing investors returns far beyond 10% per year after the financial crises of 2009. Here the emergence of corporate landlords changed the city. They are entities that own and operate rental housing on a massive scale, replacing the traditional "gentle old lady" landlord. At 17.5%, Berlin has a law proportion of direct investors renting out their properties.
Activists, politicians, and organisations of tenants are trying to fight unlawful evictions and speculative investments reshaping the German capital, but often face anonymity. Almost half of the city is in the hands of listed companies, professional investors, or indirect investors shielded by property management firms and lawyers that operate on their behalf. International private equity companies are one of the most obscure and greedy embodiments of policy failure in this context.
Gabarre de Sus focused on the problem of the opportunistic investment funds that appeared in Spain due to strong deregulation. After the global financial crisis of 2009, the rescue of the Spanish financial system ensured that hundreds of thousands of households were indirectly under public control. But the European Union and the Spanish Government decided in 2012 to sell these properties to opportunistic investors. Many say that if public ownership of these real estates had been maintained for social renting, the rent bubble of recent years would not have occurred. As a result, many vulture funds, particularly from the United States like Blackstone, Hayfin, TPG, and millionaires like the Mexican Carlos Slim, made huge profits. Since then, rent prizes have increased of more than the 50% in the main Spanish cities, more than 30 times faster than wages.
Whilst describing this process, Gabarre de Sus focused on the political and legal ties of big investment funds that invest in real estate. There are structures of political and economic interest that allow companies like Blackstone Group Inc. — one of the largest real estate private equity and investment management firms in the world declaring $140 billion of real estate assets under management, 25% of its total assets — to scale business models in which properties are bought, renovated, and then put back on the market at rents that tenants cannot afford. These actors are influential, with economic partners at international level, including banks from the world's largest economies.
In many cases, real estate registers do not contain any information on beneficial owners or there is no way to link legal and beneficial owners, so that both authorities and citizens know very little about who owns their cities. EU legislation obliges information on real estate holders to be available to authorities and specifies that the general public shall receive access to beneficial ownership information of EU based companies. The problem is that such registers are usually maintained under self-disclosure principles based on data internally identified by the reporting entity. Access to data is often difficult and expensive. Once you get the information, it can take time to check it and find out contradictory data. Moreover, an articulated system of international shell companies, secrecy legislation, and strategic financial loopholes provides immunity and contributes to global inequality, consolidating the incessant shift of wealth from the poor to the rich.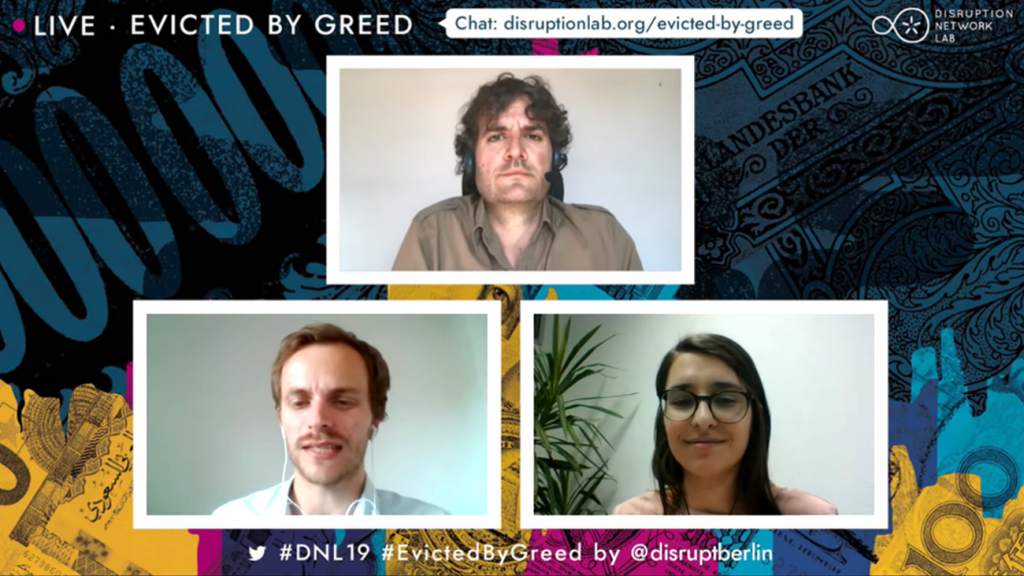 In Berlin nearly half of the real estate investors remain anonymous and there is no certainty of how much dirty money hides behind their investments, which is something common to many places around the world. The current situation — revealed also by the Panama Papers investigation — shows that governments profit from illegal wealth from transnational money-laundering, hosting international criminal enterprises within their territories and capital cities, thus providing a grey area for illegal practices where false or inappropriate identification represents the other face of fraudulent records and corruption.
The panel "Foggy Properties & Golden Sands: Money Laundering in London & Dubai" moderated by Rima Sghaier, outreach and research fellow at the Hermes Centre for Transparency and Digital Human Rights, made clear how easy and common it is for global elites and organised criminality to open offshore companies, move assets, and buy real estate in big capital cities, with investments that integrate illegal funds into the financial system and legitimate economy.
Sam Leon, data investigations lead at Global Witness, referred to the relations between satellite fiscal havens such as the Virgin Islands, the Cayman, and the Channel Islands, and the City of London. These countries are linked through commercial and legal ties with high probabilities for dark money to flow through the UK's Overseas territories and Crown Dependencies undetected.
The UK has a public land registry, but it is difficult to effectively scrutiny data. Companies are obliged to file good quality information, but many do not and authorities are not able to check it accurately. Britain is defined by detractors as the world's greatest enabler of corporate tax avoidance. Considering real estate, Leon explained that tens of thousands of tenants in England and Wales are in the hands of unscrupulous owners, who hide behind anonymous companies and trusts.
One loophole real estate investors use is acquiring shares in a company that owns real estate, rather than the real estate itself; the property can be then sold by selling the shares in the company with no UK corporate tax. If the company is registered in a country that guarantees secrecy and free hands, no name appears. According Global Witness in England and Wales 87,000 properties with an estimated value of more than 1 billion pounds are owned by companies incorporated in secrecy jurisdictions, which keep secret the information about the real owners. Scotland suffers from the same problem, and in this context Scottish Limited Partnerships are a major concern too.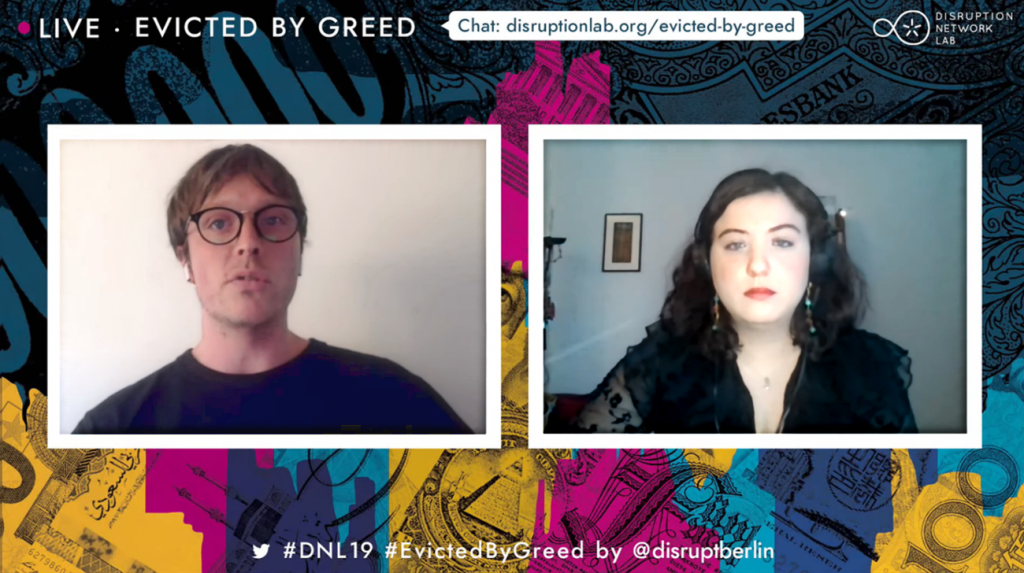 Companies avoid inheritance tax and capital gain tax, riding fiscal loopholes. The use of firms based in countries which are known tax havens to purchase property is being observed all around the world, with concerns about how much property is owned by unaccountable offshore entities.
The analyses of Leon introduced topics covered by the second panellist Karina Shedrofsky, who presented her work as head of OCCRP's research team "Dubai's Golden Sands." Recently leaked datasets of property and residency details were obtained by the non-profit group C4ADS, and provided to the international investigative journalists of the OCCRP as part of the Global Anticorruption Consortium, in collaboration with Transparency International.
International criticism of governments and independent organisations pointed out that Dubai has become an open market for money laundering and a safe haven for the corrupt at a global level, due to the lack of controls along with very profitable conditions. The United Arab Emirates are accused of weakly regulating the financial sector, guaranteeing secrecy, and offering the world's criminals a range of services. The country's land registry is not open to the public and a lack of enforcement and oversight in the property sector is ideal to stash vast amounts of dirty money.
Shedrofsky pointed out that Dubai is an absolute monarchy ruled as a business. Several transnational investigations show that its laws seem to be a facilitator for international money laundering, corruption, and other financial crimes.
The emirate has been attracting secretive real estate purchases by foreign companies and individuals for years. Construction and real estate sector represents 20% of the country's gross domestic product (2016). In the country it is possible to move money with very little regulatory scrutiny, cash-based transactions are incentivised, and the volume of gold trafficked accounts for around 25% of global trade, with almost no questions about its origins. Wealthy investors are offered a property investment visa by an investment in real estate of minimum $272,000 dollars, and get the benefits of light financial regulation, anonymity, and banking secrecy.
Shedrofsky explained how researchers from 8 countries worked on thousands of spreadsheets maintained by real estate professionals, in an accurate cross-border investigation that led to the publication of a hundred names of wealthy people, who have invested millions in Dubai. The non-official records from the years 2014-2016 provided more than 129,000 owner's data, which the team organised per country and verified, revealing only information that could be proven beyond doubt. A website hosting an interactive map with the detected properties is online, and anyone can check it (occrp.org/en/goldensands/).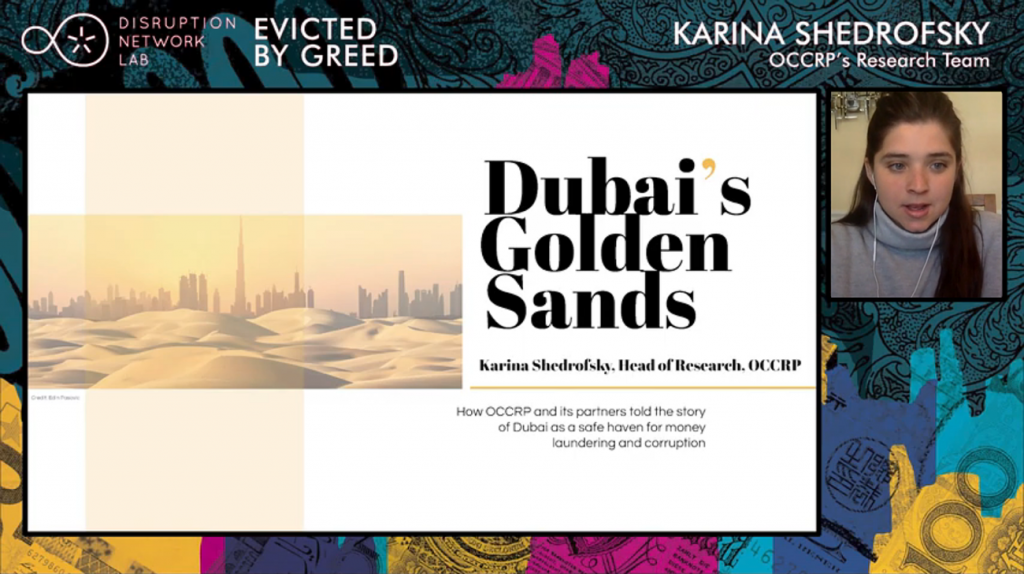 The first day of the conference closed with filmmaker and journalist Fredrik Gertten and Leilani Farha, former UN Special Rapporteur on the right to housing, in a live conversation moderated by Tatiana Bazzichelli. Gertten's latest documentary investigates the factors that push people out from their own city, turning it into an unaffordable place that is more and more difficult to live in due to the extreme difference between housing prices and wage development.
From New York to Barcelona "Push: The Film" narrates how corporations and financial elites are speculating on people's lives. Renters worldwide are drowning in a sea of self-doubt, with feelings of inadequacy and fears, because they think they are unable to keep up with life. But the documentary shows that this condition is the consequence of a system intended to harm, marginalise, and discriminate them. Even if residents should be able to afford to live in their own cities, this process inexorably condemns them to move away.
The work of the speakers on the first day of the conference reinforced the idea that crowd-based and data-driven research projects, together with independent and cross-border investigations, can allow a glimpse behind the curtain of the real estate market. Anonymity and secrecy in juxtaposition to openness and transparency, obtained through collective mobilisation, collecting, sharing, and analysing data.
A depressingly similar pattern emerges in countries all over the world. Housing has been financialised and turned into an investment vehicle, which has caused an oversupply of luxury estates and empty buildings in many cities, and a chronic shortage of adequate housing for the least advantaged, for the working class, and often for the middle class too. A process often encouraged by governments.
In this context, "financialisation" refers to tendencies within the economic system characterised by the expansion and proliferation of financial markets penetrating into a range of both economic and social sectors, and consequently affecting human rights related goods — such as housing, pensions and healthcare — making huge profits out of basic needs and human sufferings.
With regard to the financialisation of housing, not just banks, corporations, and big investment funds play this ruthless game. Fraudsters, money launderers, and organised crime are very active internationally, and look for weak financial systems and a moment of crisis to speculate on the property market.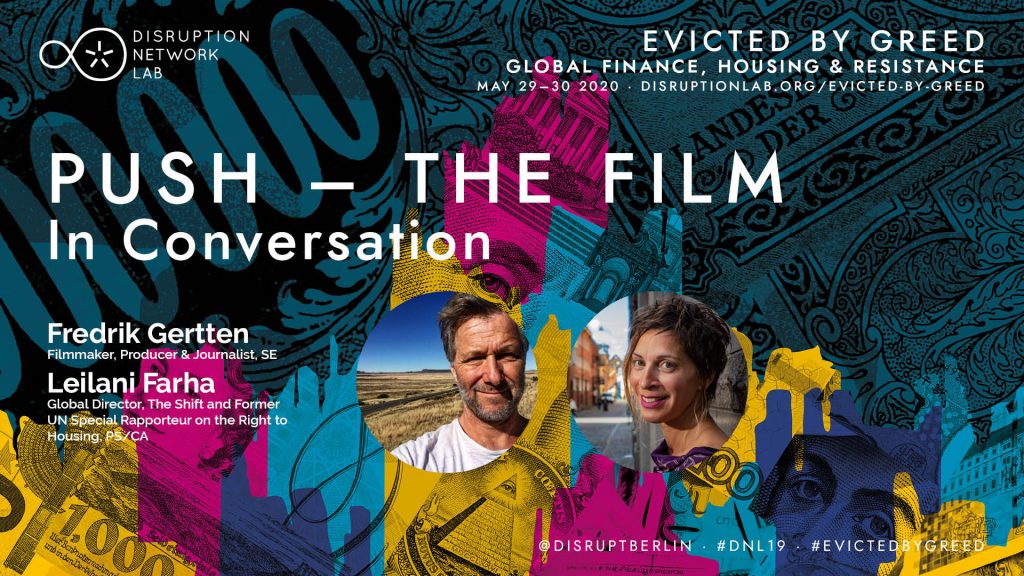 Ela Kagel, digital strategist and founder of Supermarkt Berlin, discussed collective solutions to tackle housing, social, and economic injustices with the sociologist Volkan Sayman, promoter of the campaign "Expropriate Deutsche Wohnen & Co!". This movement is an example of how residents can involve themselves to determine and achieve their own objectives, acting on their rights to create a space for their perspectives and needs within an urban context.
After a majority of citizens were found to be in favour of the initiative in early 2019, a city-wide referendum could be now called on the expropriation of private housing companies with more than 3,000 housing units. Local political parties have not managed to find agreement yet and, as a result, the effects of the referendum in Berlin are likely to be minor if people do not keep on supporting it. The expropriation would put 240,000 flats under public control.
As outlined, investors from the international capital market made huge purchases in Berlin's residential and commercial real estate: the company Deutsche Wohnen alone owns 111,500 apartments in the city. Together with Vonovia, BlackRock, Akelius, Blackstone, Carlyle, Optimum Evolution, and others, these companies own almost one fourth of the city. In the early 2000s Berlin's government sold many public housing units and areas to these companies, instead of offering them to residents as development project to focus on local communities and their needs. The Expropriate Deutsche Wohnen & Co! community has forced large real estate companies and politicians from all parties to address the issue and successfully raised awareness among Berliners who engaged in it.
In Berlin exasperated renters successfully came together and organised themselves in several ways. They are also appealing to the local council to stop the sale of their homes, and the "Rent Price Cap," a new policy in force since 2020, has frozen rents on around 1.4 million homes in the German capital. The "Mietendeckel" is supposed to last for 5 years. Twelve constitutional complaints have already been filed against it.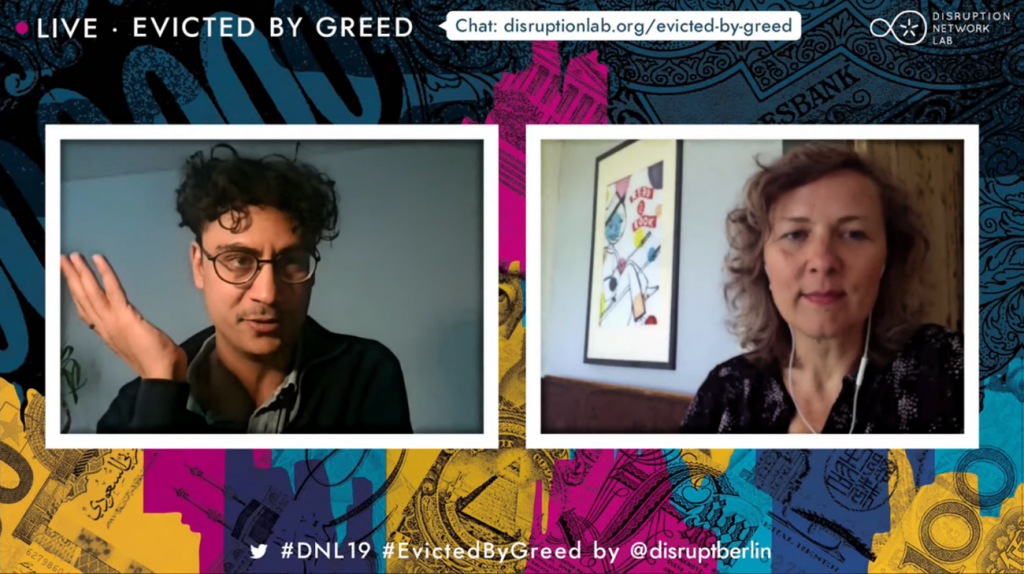 The keynote on the second day "The Human Rights Solution: Tackling the housing crisis" focused on the work of Leilani Farha, UN former Special Rapporteur on adequate housing, in conversation with Justus von Daniels, Editor-in-Chief of CORRECTIV, non-profit newsroom for investigative journalism. Opening the keynote Von Daniels presented the German crowdsourced project he runs — Who owns the city? — which is based on community-powered investigations collecting data to gain a better understanding of the German housing market.
Farha recalled that international human rights law recognizes everyone's right to an adequate housing and living conditions. Global real estate today represents nearly 60% of the value of all global assets; with housing comprising nearly 75%. That´s more than twice the world's total gross domestic product. The aspect to consider is that such a vast amount of wealth seems to have left governments accountable to real estate investors rather than to their international human rights obligations.
Farha criticised Blackstone Group Inc. and its subsidiaries for a practice she also confirms has become common throughout the industry in many countries around the world. These companies are targeting multi-family residences in neighbourhoods deemed to be "undervalued," so a building or several buildings from an area of poor and low-income tenants. The former UN rapporteur described how Blackstone purchases a building, undertakes repairs or renovation, and then increases the rent driving existing tenants out, and replacing them with higher income ones.
As the speakers pointed out, there has been little attention given to the impact of financialisation on housing, which has caused displacement and evictions, changing urban areas forever. Until the massive financial deregulation of the 1980s, housing was built and paid for locally. Governments, local savings, and loan institutions were supposed to provide the bulk of financing for housing up. Due to an ideological shift, determined by the impact of the dominance on financial markets of big investment funds, banks and corporations, housing is increasingly intertwined with flows of global capital. Housing markets are now more responsive to these flows than to local conditions becoming a global industry.
With roots in the 2008 financial crisis, the recent massive wave of investments by international corporations, banks, and big investment funds completed the shift from housing as a place to build a home, to housing as an investment, with devastating consequences for millions of people. The current real-estate cycle started in 2009 and led to significant price increases for residential property in many cities all over the world. Among several factors, the proliferation of predatory equity funds sifting through the world searching for undervalued investment opportunities and finding them in housing.
The global goal is to guarantee everybody legal security and protection against unlawful forced evictions, harassment and other threats, to make sure that personal or household financial costs associated with housing do not threaten or compromise the attainment and satisfaction of other basic needs. We see instead that the needs of disadvantaged and marginalized groups are not taken into account at all. In urban areas public spaces and social facilities disappear together with the expression of cultural identities and ways of life of the original residents.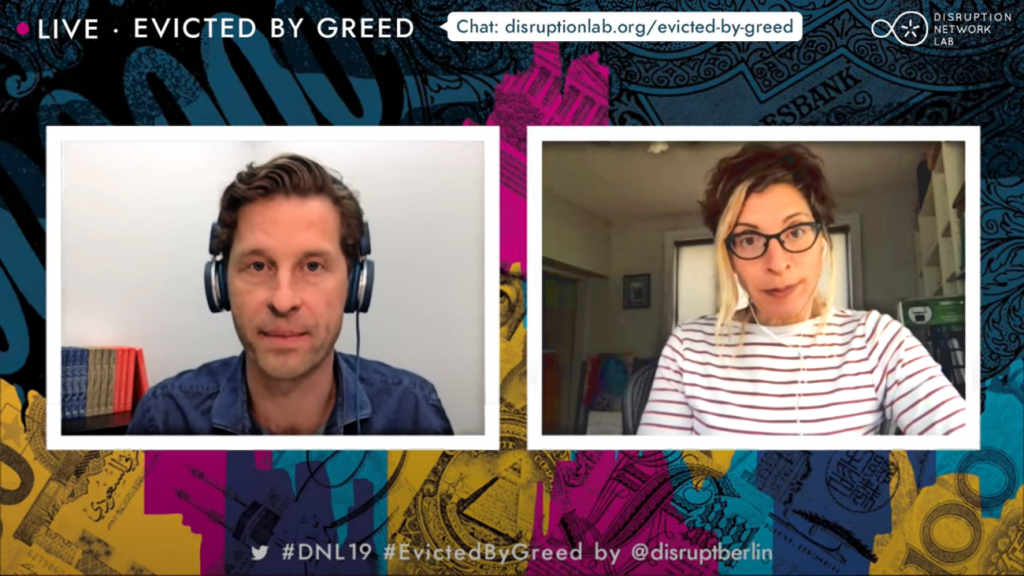 Statistics show that many of the less advantaged are renters, not owners. And rents have increased even faster than housing prices in many metropolitan areas. Some call for more expansion at the urban peripheries with sustainable and modern public housing projects and better infrastructures. Others call for empowering neighbourhoods and local communities to reverse the financialisation process and to improve the conditions of the areas, that are most affected by this process, building more housing for themselves, and distributing those empty ones.
The conclusive panel on the second day was moderated by Iva Čukić, cofounder of the urban development organisation Ministry of Space, set up to occupy abandoned and neglected urban spaces and fill them with projects, workplaces, housing, or alternative art galleries, to enhance everyone's right to the city. The panel brought into dialogue different modalities of fighting property speculation, and sharing tactics of resistance in the political and media landscape, and presented concrete alternatives for the urban territory.
The first panelist to speak, Marco Clausen, is the co-founder of the Prinzessinnengarten in Berlin, an island of collective gardening in Moritzplatz. The garden represents an open space to share and develop new forms of urban life, where to practice ideas of social-ecological positive transformation, in the context of privatisation and financialisation of real estate in the city.
In the 2000s Berlin was still a city with vast empty areas, dismissed military facilities and many old empty buildings. In the last 20 years over 3,000 sites in Berlin owned by public housing societies have been privatised. The garden started as a temporary project in 2009 and has been struggling since 2012 against private investors and speculation. Back then activists mobilised 30,000 people to stop the selling process to an investor, and obtained a new contract until 2018. The area around the garden was first in the hands of a Goldmann Sachs fund, and later to Deutsche Wohnen. A small group fought for two years to keep the garden a collective project, managing to prolong the contract for another six years and receiving public funding to rebuild the garden as an open learning and cultural centre.
Always in Berlin, another group of activists has been mobilising to fight the Amazon tower, that is to be completed in 2023 in the area of Berlin-Friedrichshain. Yonatan Miller, tech-worker and activist from the coalition "Berlin vs. Amazon," talked about the movement that opposes the big tech company's project, that will reshape the area and impact many people's lives. On one side, over the last five years Berlin has already seen the fastest increase in housing prices globally, on the other big tech corporations are known for getting into real-estate market and make things worse for local residents, gentrifying the area. Miler discussed the challenges of the activists, presenting their strategy for the struggle ahead to replicate the success story of New York's ousting of Amazon in 2019.
The panel proceeded with the StealThisPoster collective and their online archive "stealthisposter.org" maintained by artists and activists part of a network formed around the right to housing movements of London and Rome. The group presented the practice of subvertising, the artistic hacking of corporate and political advertisements to make counter-statements by disrupting lucrative communication of induced desires and needs and parodying of them. Inside urban areas subvertising (portmanteau of subvert and advertise) is an act of reappropriation of those public spaces that have been turned into a vehicle for intrusive and harmful commercial communications.
StealThisPoster recently supported with various guerrilla actions a community fighting against the eviction of the "Lucha y Siesta," a space of social housing and the first inhabited by an all-female squat in Rome. Their evocative pictures of Roman monuments lit at night by the words "on sale" became viral and helped the cause. However, the existence of this independent legendary social space is still at risk. Lucha Y Siesta was put on auction by the city council of Rome on April 7 this year. The short film premiere "StealThisPoster: Artivism & the Struggle of Lucha Y Siesta" that StealThisPoster created in occasion of Evicted By Greed, focuses on this experience and introduces the practice of subvertising.
A video contribute by Penny Travlou from the University of Edinburgh concluded the panel. Travlou talked about the housing crisis in Athens and the local activists of the AARG collective, Action Against Regeneration & Gentrification, born to fight against eviction, financial speculation, and to support the rights of the refugees.
Alongside the main conference sessions, a workshop on the third day enriched the programme.
The virtual tour "Visiting the Invisible" by Christoph Trautvetter discovers the anonymous and aggressive real estate investors of Berlin, drawing on the findings of the project "Wem gehört die Stadt" of the Rosa-Luxemburg Stiftung, and including further recent studies from other collectives.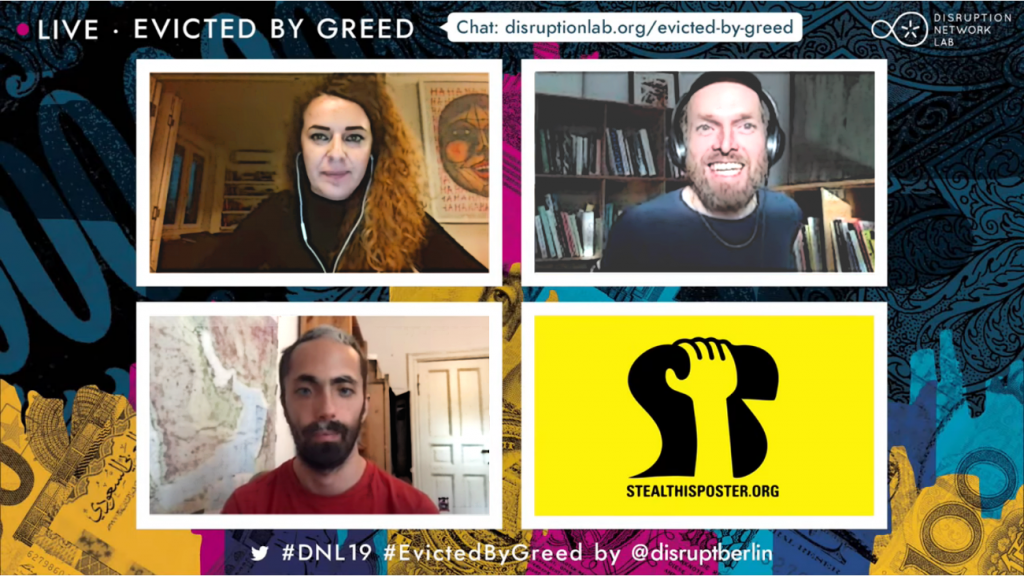 The conference "Evicted by Greed" presented experts working on anti-corruption, investigative journalists, artists and activists, who met to share effective strategies and community-based approaches to increase awareness on the issues related to the financialisation of housing and its negative effects. Here bottom-up approaches and methods that include local communities in the development of solutions appear to be fundamental. Projects that capacitate collectives, minorities, and marginalized groups to develop and exploit tools to combat systematic inequalities, injustices, and speculation are to be enhanced.
Ghostly shell companies and real estate speculators evict real people from their homes. It is not possible to state that all of these companies are acting illegally, or indeed avoiding paying taxes by being based in tax havens, but it is proven that opaque offshore firms are routinely used by criminals for systemic tax evasion, to buy property as a means to launder or stash dirty money, as well as to dodge taxes.
Open registers and open debate about these issues are very important, and not just for possible judicial outcomes. It is important to find out who the owners of real estates are and give a name to the landlords. Sometimes they might not be speculation oriented individuals and might not be aware of the consequences of their investments, but have delegated ruthless intermediates, lawyers, and investment consultants. There could be hundreds of workers who invested in a pension found without knowing that their profit is based on aggressive speculation.
Equal and non-discriminatory access to public spaces and adequate housing is not possible without an appropriate and effective regulation. The researches, the projects and the investigations presented in this conference are all worthwhile experiences with proven benefits, but ultimately, they may not be enough to alter the structural forces in play. The pandemic has shown that speculators all over the world wait for moments of crisis to purchase new real estates for a lower price, taking advantage of the financial difficulties that many people are experiencing. A growing number of property investors are preparing for what they believe could be a once-in-a generation opportunity to buy distressed real-estate assets at bargain prices. The system facilitates the concentration of real states in the hands of big international landlords and governments remain inert.
The solution cannot be found in one simple formula, or by asking people to buy real estate and become direct investors and new owners, in a deregulated system based on speculation, where most of the individuals struggle to make a living. The global economic system is based on banks holding massive amounts of loans to companies based in tax havens, speculative real estate investments and a small economic elite that makes and escapes rules, defending financial deregulations and feeding social injustice.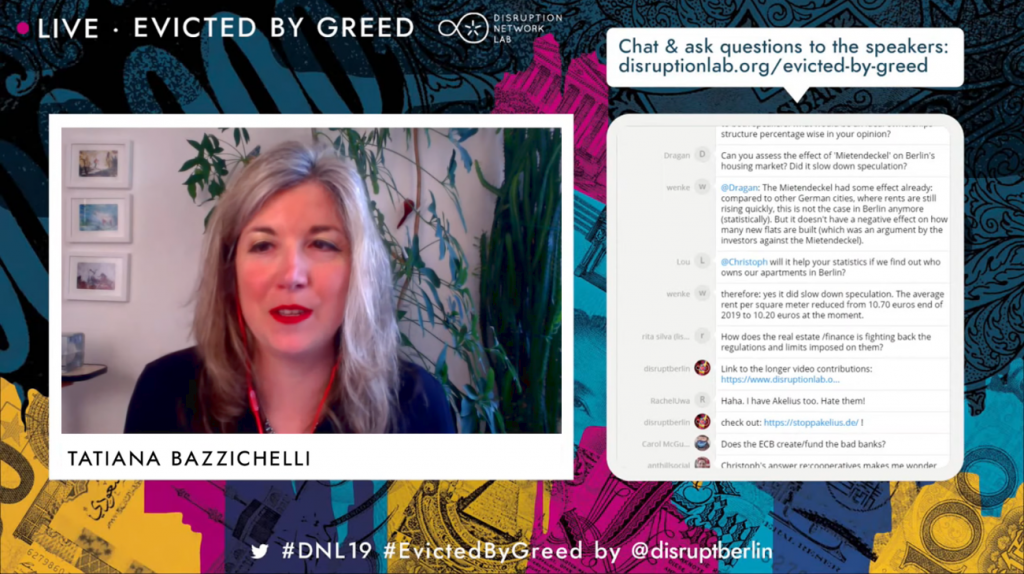 Videos of the conference are also available on YouTube.
In-depth video contributes by the speakers recorded before the conference are available here: https://www.disruptionlab.org/evicted-videos
For details of speakers and topics, please visit the event page here: https://www.disruptionlab.org/evicted-by-greed
The 20th conference of the Disruption Network Lab curated by Tatiana
Bazzichelli & Mauro Mondello is DATA CITIES: SMART TECHNOLOGIES,
TRACKING & HUMAN RIGHTS. It will take place on September 25-27 at Studio 1, Kunstquartier Bethanien, Mariannenplatz 2, 10997 Berlin. More info: https://www.disruptionlab.org/data-cities
To follow the Disruption Network Lab sign up for its Newsletter and get informed about its conferences, ongoing researches and projects.

The Disruption Network Lab is also on Twitter and Facebook.