For more than two decades, Italian artist duo Eva and Franco Mattes have sought to subvert and expose the systems which produce power. Their current exhibition, Abuse Standards Violations at Carroll/Fletcher gallery, looks at who and what is made visible and invisible in the process of producing culture for online consumption.
The artists, who did not receive a formal arts education, describe themselves as "a couple of restless con-artists who use non-conventional communication tactics to obtain the largest visibility with the minimal effort." They repeatedly worry the edges of technical structures – legal, religious, software – observe the resultant content and feed it back into new structures. It's a process which acknowledges and seeks to communicate erasure, loss and chaos as well as their inverses. In Abuse Standards Violations, the artists acknowledge that chaos, and slippiness of boundaries in the arrangement of work that collides fragments of different disciplines and practices together.
The central work in the exhibition is Dark Content. When their project No Fun (2010), presented unchallenged in a gallery, was removed from YouTube on the grounds of being 'shocking and disgusting content', the Mattes' began investigating content moderation. The video, image and text content we encounter on platforms like Youtube is there because it has been permitted to be there. To gain permission, content once produced must be approved. The approval process involves a number of decision-making structures. The rules determining which content passes or fails (is good or bad, safe or unsafe) are built by, and entangled with, the organisational framework of the platform. To deploy this framework and enforce its rules, algorithms organise data and trace patterns, and people – working as 'content moderators' – are paid to decide which criteria a piece of content belongs to, and act accordingly.
Eva and Franco spoke to a number of content moderators about their work. These interviews give insight into a role which is simultaneously powerful and socially stigmatised (one moderator does not tell their partner what they do); which, despite actively forming culture, is in many ways concealed. Following the neoliberal pattern, process is skipped over to reach the content; moderators are scarcely mentioned by the culture in whose production they are thoroughly implicated. This is unsurprising given that the moderators are people like you and me, as well as being points through whom the governing structures of social media can be accessed.
The Mattes' interviews with content moderators are presented in the exhibition as stock avatars, preserving the anonymity of the speakers; away from the exhibition, the interviews can be seen only on the Darknet. The avatars in Dark Content are displayed on screens within booths constructed from office furniture; structures designed for typing and filing are flipped around like tetris blocks to become a new kind of structure. The furniture is simultaneously recognisable, and out-of-place – particularly, no doubt to the freelance, self-employed person who often works from the sofa or cafe.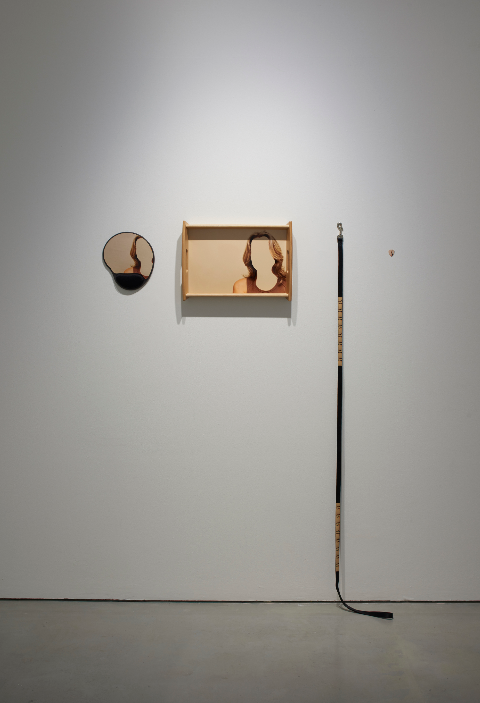 As well as creating hybrid structures, the presentation of the works in the exhibition addresses questions of agency in relation to the production of content. Among these questions are some about the agency of the artists. Presenting an artistic project involves numerous choices which tangle the agencies and the work of different people and systems. These choices cover, among other things, who gets paid, how to choose which materials to use, and what particular configuration of concepts and materials should be the one eventually presented publicly. The Mattes' often choose to use readymade or found components in the exhibition. For example, one work in the Image Search Result series displays objects printed by online services featuring the result of a search for the word 'invisible'. By outsourcing the production of the objects, the artists make visible their reliance on remote work. The neoliberalist trade in values relies heavily on the expenditure of energy of distant bodies, actively concealed; the Mattes' choice to make their outsourcing explicit is a challenge to empty abstract value, whether in the gallery or elsewhere.
BEFNOED (Be Everyone For No One Every Day), deploys unusual positioning of screens in the gallery space. Visitors are required to lie on their backs, crouch down or otherwise contort themselves in order to watch videos of other people carrying out banal tasks such as putting a bucket on their head. The latter group of people has been paid for their work, the tasks having been advertised on crowdsourcing websites. Both groups have spent energy and time on their endeavours, and now both come together in a space. The intimacy is an interface which suggests the connectedness of gallery visitor and global networks and their mutual implication in the way culture is produced.
The works in Abuse Standards Violations relate and separate different lives, different cultures and different kinds of labour. They muddle contexts and objects, creating spaces and structures that are – clearly and disconcertingly – no less strange than those already available in contemporary society. These spaces and structures complicate the difference between reality and simulation. They also make the distribution of power painfully clear. For a powerful structure to appear trustworthy it is useful to appear impartial, logical, scientific; to appear trustworthy it is useful to destabilise or dismantle other structures by choosing what is made visible and what is not, what to make public and what to keep private. Those who are unfamiliar with the regulatory structures become implicated unknowingly. One of the moderators interviewed for Dark Content did not consider their work censorship since they worked for the government. Another comment ran along the lines of 'I am only enforcing the rules; I don't make them'.
In making clearer the arrangements of power behind YouTube, the arrangements of power in the art world – one of the routes to cultural production – are necessarily also challenged. The aesthetic choices the artists have made have clear social and political implications which create uncomfortable questions about concepts such as privacy. The complicated act of content moderation makes some information unavailable in order to communicate other information. This process is by no means limited to the world of content moderation – it applies wherever there is a message to pass on.
Invisible labour and visible outputs are separated by social stigma, sophisticated regulatory systems and other factors, local and global, which create a powerful invisibility. The works in Abuse Standards Violations combine objects, images, texts and concepts in surprising ways which give some substance to this invisibility. The job of the content moderator is part of culture, as is the expenditure of energy by bodies, as are rotas, as are company regulations, as are artists and galleries and gallery visitors. Thinking about how such things relate leads to challenging and powerful questions.
Abuse Standards Violations is at Carroll/Fletcher gallery in Soho until 27 August alongside Planetary-scale Computation by Joshua Citarella.
http://www.carrollfletcher.com/exhibitions/55/overview/