Introduction
These days, drones are everywhere: conducting military strikes across Pakistan, Yemen, Somalia and Afghanistan; as the underpinning technology for public health infrastructure; for sale to delighted kids in Hamleys toyshop; or as D.I.Y kits and readymades from the Internet. Amazon has proposed to sell fleets of drones, offering super-fast deliveries to its customers.[1] In Haiti, Bhutan, Papua New Guinea and the Philippines, drones have helped rescue natural disaster victims – and transport medical samples and supplies[2] and the Aerial Robotics Laboratory at Imperial College London is developing networks of drones to deliver blood supplies to rural health clinics in Africa[3]. The new ubiquity of drones in these contexts means that we need to think carefully about the personal and political impacts of the emerging drone culture?
Drones: Eyes From A Distance will be the first gathering in Berlin- April 17-18 2015 – of the Disruption Network Lab. This two day symposium presents keynote presentations, panels, round tables, and a film screening held in cooperation with Kunstraum Kreuzberg /Bethanien, with the support of the Free Chelsea Manning Initiative. The event is being held at the Sudio 1 of Kunstquartier Bethanien. And this conference would not be happening if it wasn't for the tireless dedication of Tatiana Bazzichelli, founder of the Disruption Lab.
As part of Furtherfield's partnership with the Disruption Network Lab I will chair a panel with Tonje Hessen Schei (filmmaker, NO), Jack Serle (investigative journalist, UK), Dave Young (artist, musician and researcher, IE).This interview with Dave Young is the first of three, in the lead up to the Berlin event.
The Interview: Dave Young
Dave Young is an artist and researcher based in Edinburgh. His practice follows critical research into digital culture, manifested through workshops, website development, and talks on subjects varying from cybernetics and the Cold War history of network technologies, to issues around copyright and open source/free culture. He is founder of Localhost, a forum for discussing, dismantling and disrupting network technologies. Past events have focused on Google's entry into media art curation, and the role of analogue radio as a potential commons in the digital age.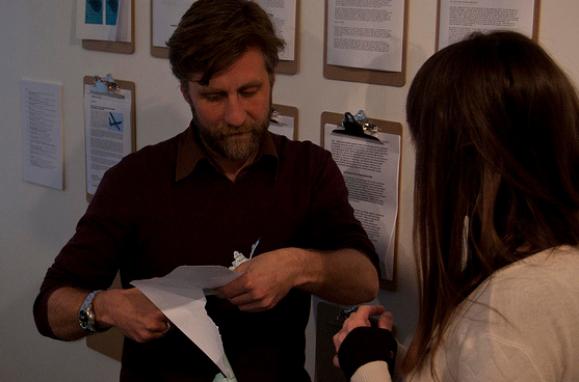 Marc Garrett: Hello Dave, I first met you in London when you hosted the Movable Borders: The Reposition Matrix Workshop's at Furtherfield Gallery in 2013 as part of a larger exhibition called Movable Borders: Here Come the Drones! I remember it well, because the exhibition and your workshops were very well attended and a cross section of the local community came along and got involved. Could you tell us what your workshops consisted of and why you did them?
Dave Young: The workshop series came out of my own research into the history of cybernetics and networked military technologies while I was studying at the Piet Zwart Institute in Rotterdam. The US Military's use of drones in the War on Terror had been officially acknowledged by the Obama administration by this time, and I was becoming increasingly curious about the apparent division of labour and accountability involved in the so-called 'kill chain' – that is, the structure and protocols that lead from identification of a potential target to a 'kinetic strike'. As the use of drones was still largely a covert effort, there was much speculation in the media about where and how they were being used, so the idea of exploring these issues in a workshop format seemed to be a good way to create a public space for considered discussion and debate.
The workshops had quite an open format, with outcomes largely dependent on the interests and knowledge of the participants. The central task of each workshop was to collectively research a particular aspect of the military use of drones, and through the process of charting this research on a world map, we could then begin to discuss various geopolitical patterns and trends as they emerged. Rooting the workshop in this act of collaborative mapping provided an interface for discussing drones in specific terms, and helped situate their use within the reality of an incredibly complex historical and geopolitical narrative. To me, this provided a useful alternative to the mainstream media reporting styles that seemed to often rely on the same metaphors and controversies in the absence of real information coming through official sources.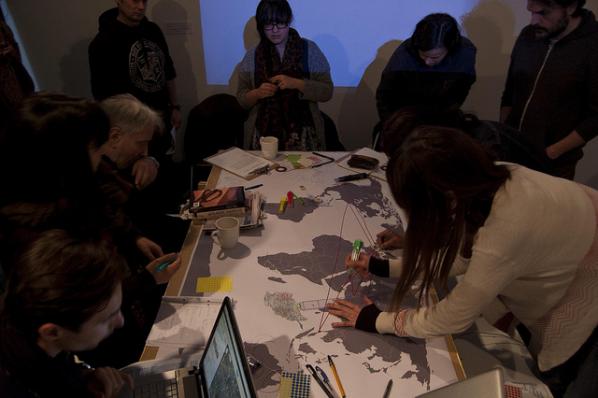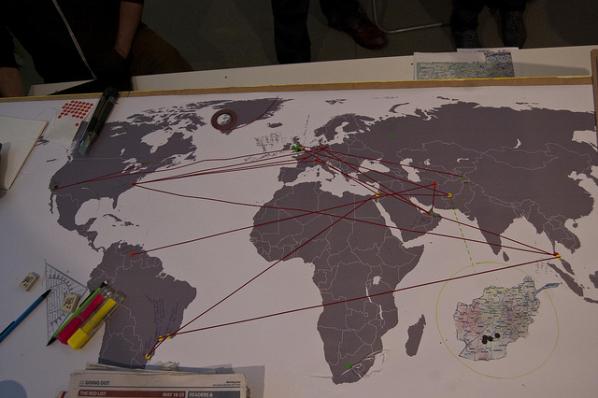 MG: What are the specific concerns you have regarding the development of drones and how do you think these conditions can be changed for the better?
DY: This is a question I was more sure of before I started the workshop series – I feel the more I've gained an understanding of the way they're used, the less sure I am of what needs to change. I see the drone as a symbol for the way conflict is understood post 9-11. It is part of the language, aesthetics, and transnational politics of the War on Terror. What is most concerning to me is the idea that the drone allows a state to fight a war while apparently sidestepping the otherwise necessary apparatuses of legality and oversight. As a covert weapon, it can be implemented in exceptional, extra-judicial ways that have not been legislated for as yet. The "targeted strike" and "signature strike", while distinct from each other in protocol and circumstance, are particularly problematic – the former amounts to what many journalists describe as an assassination, although this word is rejected by the US government.
The CIA Torture Report released at the end of last year was an important acknowledgement of institutional subversions of legal and moral codes. I'd expect that a similar report into the use and effects of military drones would create space for an informed public debate about how they might be used in the future.
MG: Regarding you own relation and interests around drone and military culture, what are your plans in the near future?
DY: The outcomes of The Reposition Matrix have led me to approach this issue in a different way, looking for alternative ways of instigating conversations around this difficult subject. I'm still quite occupied with issues around the collection and presentation of data – during the workshops we covered a lot of diverse subjects, but always situating research outcomes on the surface of a world map. The question for me right now is what information is important to work with, and how can it be usefully represented? I'm looking at alternative methods of "mapping", perhaps based in mapping technologies/software but using them in more disruptive non-geographic ways. I've been quite inspired by Metahaven's 'Sunshine Unfinished' and the recently published book 'Cartographies of the Absolute' – both works have brought me back to some possibilities that went unexplored in the initial run of workshops back in 2013.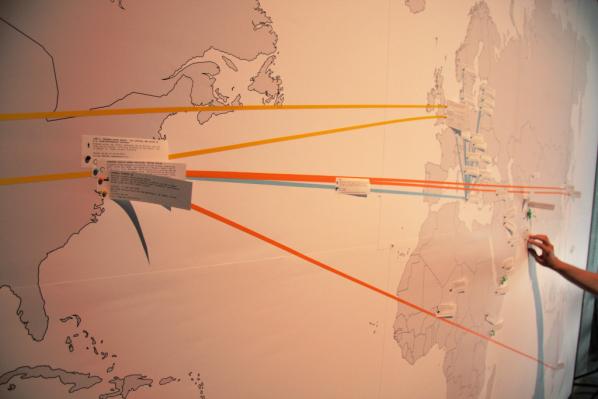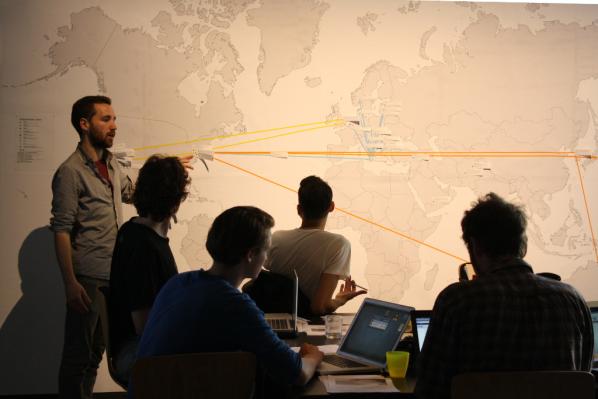 MG: What other projects are you involved in?
DY: Aside from this research, I'm currently collaborating on a project titled "Cursor" with Jake Watts and Kirsty Hendry as part of New Media Scotland's Alt-W fund. We're investigating current trends in fitness tracking technologies, and attempting to uncover and critique the way such intimate personal data is produced, distributed, and commodified. You can follow our research as it evolves on http://cursorware.me
I'm also running a space here in Edinburgh called Localhost, with the aim of stimulating discussions around the political aspects of digital art/culture. I run regular workshops and more occasionally special events, but I'm also very happy to provide a platform for others who wish to share their thoughts & skills on related subjects. Check http://l-o-c-a-l-h-o-s-t.com/ for more information and how to get involved.
Thank you very much 🙂