Digital Pioneers
Victoria And Albert Museum
7 December 2009 – 25 April 2010
(Illustration – Herbert W. Franke, Squares (Quadrate), screenprint, 1969/70)
Digital Pioneers is a deceptively modest exhibition hidden away in two rooms upstairs at the Victoria and Albert Museum. It contains some of the earliest examples of art produced using electronic devices and computing machinery along with some creative later work.
The bulk of the art in the show was produced between the 1950s and the 1970s. This means that it was produced or recorded as photographs from cathode ray tubes or as print-outs from teletypes and pen plotters. Some of this work will be familiar to students of the history of art computing through reproductions but as with most art reproductions do not tell the whole story.
Seeing the actual work itself is as important for art made using the paraphernalia of early digital computing as it is for art made with linseed oil and cotton duck. What Digital Pioneers drives home is just how deeply and intentionally involved early computer artists were in manipulating the aesthetically limited but socially and ideologically key technology of computing machinery. This leaves both social art historians and code aesthetes with some explaining to do, or at least some catching up.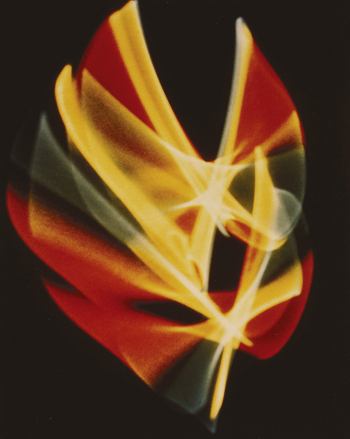 The show starts in the 1950s with the algorithmic and electronic but non-digital and non-computational photographs of oscilloscope patterns by Ben Laposky and screen-prints of photographs by Herbert W. Franke. Most of the works included in the show are prints of one kind or another, and these are no exception. They record the movement of a beam of light on a cathode ray tube as other prints in the show record the movement of a plotter pen or a laser in a laser printer.
If Constructivism was socially realistic for revolutionary Russia then these works are socially realistic against the backdrop of NATO's military-industrial-educational complex. They turn the technology of that culture back on itself, using it not to produce weapons or market products but to produce aesthetics. This reclaims a space for perception and contemplation that is not simply militarily or economically exploited. The obsessively quantitative managerial culture of spreadsheets and inventories yields uncomfortably to the qualitative culture of aesthetics, productively so. These strategies continue through the show. Technology is pushed beyond its intended uses to address cultural tasks.
Many of the prints in the show have a similar number of stages of production to Franke's process of screen, then photograph, then silkscreen prints. His later plotter-drawn work is also screen printed, as are Klee-inspired generative images by Frieder Nake, and Charles Csuri's random montage of flies. I don't know what to make of this. It feels like something should have been lost in the move from an original to a print but plotter drawings aren't particularly originals, being already representations of data structures in the computer's memory.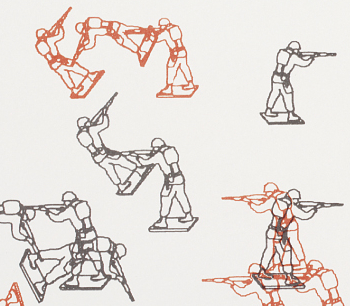 Csuri's lithograph of randomly placed vector outlines of toy soldiers was produced in 1967 during the Vietnam War, a war that ran as long as it did in no small part due to game theory and computer simulation. There are two armies, one plotted in red and one plotted in black. They meet and presumably battle inevitably but only by chance. There's more of the outside world in art computing than is often assumed.
William Fetter's wonderful three dimensional vector images of human figures produced for the aircraft manufacturer Boeing, a lithograph from the Cybernetic Serendipity show of 1968, also deal with the human figure within the military-industrial complex. We should not be confused about the status of such images as art by the use and funding of computer graphics by corporations any more than we should be confused about the status of painting as art by the use and funding of oil painting by the Catholic church.
Ken Knowlton's cheeky nudes and other typographic images of the 1960s and 1980s are an effective escape or release from the constraints of corporate information culture. I'd seen them many times in reproduction but again they are much richer visually as prints.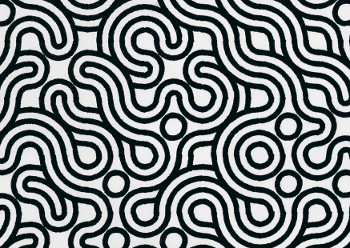 More detailed systems-based patterns emerge in the 1970s in the work of artists such as Manfred Mohr, Paul Brown, and Vera Molnar. This era that epitomises the approach of rule based serendipity so beloved of later Generative artists. These images are pleasurable to look at but also contain visual or psychological complexity. They also continues to push the performance of computer systems outside of their intended use cases.
By the late 1980s the technical achievements of computerised mass media were exceeding those of art computing. Pen plotters, where they were still used, were no rival to laser printers. Rendered images had to compete with the earliest rumblings of Pixar and Adobe. The increasing availability of digitally designed fashion and entertainment meant that far from being the exception, digital elements in the lived visual environment were becoming the rule.
The reactions to this that art computing in general have made are the subject of the Decode show that is also running at the V&A. Digital Pioneers instead follows the printmaking thread of art computing into the present day where artists such as Roman Verostko, Mark Wilson and Paul Brown have continued with the systems art all-overness of print-based art computing.
To continue in this way marks such work out as something different from the all-pervasive presence of digital imagery in the visual environment. The work has to look different from graphic design and new media rather than from CAD plots or teletype reports, and it does. These works remind us of the history and of the wiring under the board of digital culture. They successfully resist any attempt to reduce them to digital mass media images comparable to the output of the design software that they exist in the same era as.
This switch away from early adoption is necessary to maintain a figure/ground relationship (or a critical distance, or a constructive difference) between the general level of technology in society and the level of technology in art computing. It is not the only solution to this problem, as the Decode show demonstrates, but it is not a retreat.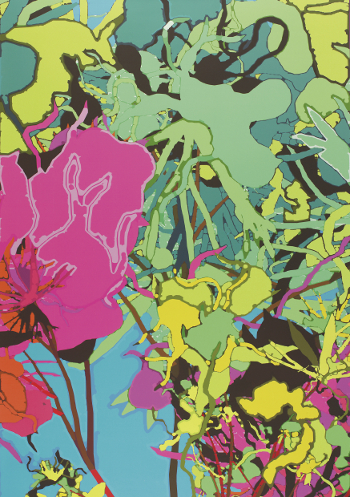 As a long time fan of Harold Cohen, I found the show's inclusion of computer generated works from his very earliest 1960s felt-tip-on-teletype-print experiments with generating figure and ground relationships computationally to a recent large-scale full-colour inkjet abstract was a real treat. Plotter drawings of abstract shapes from the 1970s and of human and plant forms from the 1980s show the progress that Cohen made in using computers to rigorously explore how art and images are created and function. Being able to study this work close-up reveals details such as debugging information in the teletype prints and the operation of the collision-detection algorithm in the 1980s images. And it provides the pleasure of seeing detailed, well-composed drawings.
This is a recurring experience in Digital Pioneers. Despite the uniformly dismissive attitude of both popular and academic criticism towards art computing the fact is that when you actually see the work in the flesh it rewards sustained attention. Not as historical or technical curiosities, but as images with cultural and aesthetic content and resonance. To ignore this and to continue to claim that this art is less than the sum of its parts would ironically be to fall prey to a particularly extreme attitude of technological determinism.
The show also contains displays of ephemera including magazines and books such as back issues of the Computer Arts Society's "PAGE" and William Gibson's supposedly self-erasing story on a floppy disk "Agrippa". I'd not seen an actual copy of "Agrippa" before. PAGE back-issues are available online, but their presence here flags an important point.
The revived Computer Arts Society has been key in promoting and deepening understanding of the history of art computing in the UK. The Digital Pioneers show and its excellent accompanying book are a good example of how CAS's project has spread out into more traditional cultural institutions, and many of the images and exhibits in the show come from the archives that CAS has donated to the V&A.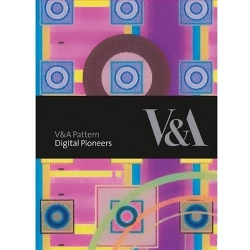 The "Digital Pioneers" book (by Honor Beddard and Douglas Dodds, V & A Publishing, 2009) serves as a catalogue for the show . It contains an informative introductory essay and printed images of many of the works on display as well as a CD-ROM with 200dpi scans of them. These scans are high-resolution enough to be able to examine the images in some detail, although they are no substitute for seeing the images in the gallery. A slightly excessive copyright licencing notice is the only indication that the book has in fact been produced as one in a series of pattern books from the V&A. It's a must-have if you enjoy the show or have any interest in early art computing.
Digital Pioneers is an opportunity to really look at the work of early computer artists and to evaluate that work directly rather than through the medium of poor reproductions or through the fog of received critical opinion. As a slice of artistic history that just so happens to have been produced on computer it contains much to reward both the eye and the mind.
Update: Two recently published books provide more extensive background to the period covered by the show, making the history of this fascinating era available to current practitioners –
White Heat, Cold Logic: British Computer Art 1960-1980' edited by Charlie Gere et al covers the history of British computer art and the Computer Arts Society.
A Computer in the Art Room by Catherine Mason describes the relationship between British art schools and computing (which is how I became interested in this area in the first place).
The text of this review is licenced under the Creative Commons BY-SA 3.0 Licence.