Die GstettenSaga: The Rise of Echsenfriedl review. SPOILER WARNING!
Johannes Grenzfurthner's Post-Apocalyptic DIY Epic on Makers, Hacktivism and Media Culture.
"A mad post-collapse satire of information culture and tech fetishism, in a weird sort of melding of Stalker, Network, and The Bed-Sitting Room." (Richard Kadrey)
Die GstettenSaga: The Rise of Echsenfriedl is an Austrian hackploitation art house film by Johannes Grenzfurthner, mastermind of the international art-technology-philosophy group monochrom, co-produced by the media collective Traum & Wahnsinn. Reimagining the makerspace as grindhouse, the story is set in the post-apocalyptic aftermath of the "Google Wars" – an armed global conflict between the last two remaining superpowers China and Google – which has turned what remained of the Alps into a Gstetten.
In Austrian German, "Gstetten" translates to wasteland, outback or 'fourth world' (Manuel Castells) and is a popular name for provincial towns – and sometimes just the less sophisticated parts of them. The area's biggest semi-urban sprawl is Mega City Schwechat, the former home of Vienna International Airport, a refinery and a beer brewery. It is governed by the evil media mogul Thurnher von Pjölk (Martin Auer), a pretender who claims to be the inventor of key publishing technologies such as letterpress printing and rules the area with his tabloid newspaper. But the hegemony of his yellow press empire is contested by – spoiler alert! – makers, hackers and nerds, who are more leaning towards electronic media such as the recently rediscovered television. In order to get rid off this bothersome opposition, Pjölk devises an evil plan for wiping out Schwechat's insubordinate creative class.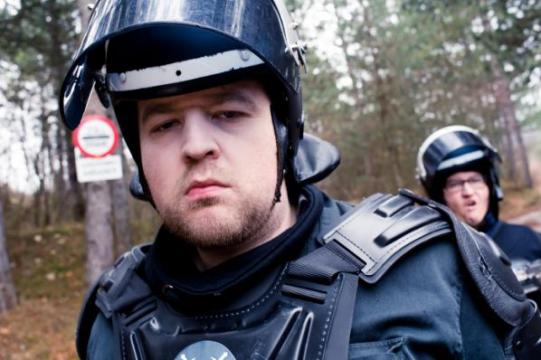 In an insidious political move, he pretends to reach out for the technophile faction by commissioning two of his reporters, the bootlicking opportunist Fratt Aigner (Lukas Tagwerker) and the brainy geek girl Alalia Grundschober (Sophia Grabner), to conduct an exclusive TV interview with the ultimate Gstetterati icon, the legendary innovator Echsenfriedl ("Lizard Freddy") – on the basis of precarious employment conditions. The title character, who turns out to be an basilisk, embodies a mix of Steve Jobs, Richard Stallman and Julian Assange and lives in the depths of Niederpröll in his hideout much like Subcomandante Marcos – partly in order to protect the world from his killing gaze, which would, audio-visually transmitted, turn the whole of his fan base immediately to stone.
Grenzfurthner's sci-fi-horror adaption of the Divine Comedy takes us on a retro-futuristic post-cyberpunk adventure in the tradition of cinema grotesque back to the dark days which preceded the Internet. The journey of our heroes – distinctively resembling Tarkovsky's 'stalkers' – is a quest for extinct media technologies but their search for Echsenfriedl eventually leads the two protagonists to a deepened understanding of who they really are: the media industry's precarious workforce under spectacular capitalism. While Fratt's dirt track to enlightenment is paved with stumbling blocks, his brainy Beatrice advances with the determination of a Harawayian cyborg who makes use of her superior technical skills to save them from the zombified folk populating the Gstetten: uncanny creatures from the Kafkaesque bestiarium of Austria's undead bureaucracy and its hanger-ons like armed-to-the-teeth Postal Service subcontractors (brilliant: monochrom's Evelyn Fürlinger, also Grenzfurthner's ex-wife) or the once powerful Farmers Association led by Jeff Ricketts (Firefly, Buffy the Vampire Slayer), who are worshipping antique pre-war EU funding applications as their sacred scriptures. Our friends receive the final hints for their search from the Sphinx Philine-Codec Comtesse de Cybersdorf (Eva-Christina Binder), a fantasy femme fatale who is torn between Plöjlk and Echsenfriedl, and the bearded drag queen Heinz Rand of Raiká (David Dempsey), an eccentric agricultural cooperative banker and possible descendant of Conchita Wurst.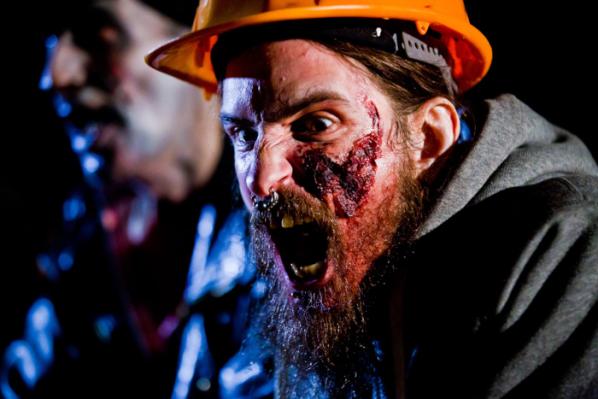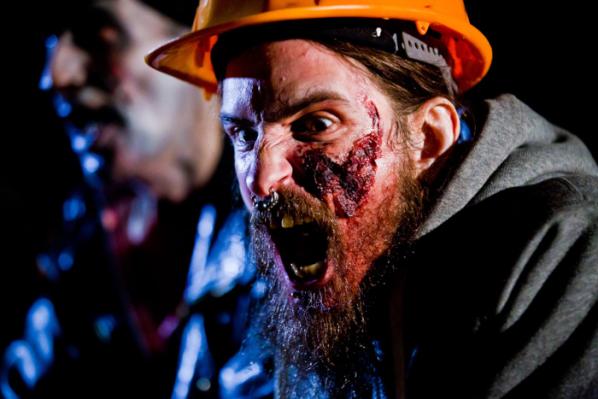 The Gstettensaga's fascinating cinematic pastiche is more than just a firework of rhizomatic intertextuality, a symptom of the depthlessness of postmodern aesthetics or excessive enthusiasm for experimentation in the field of form. In their infamous 1972 book Anti-Oedipus, Gilles Deleuze and Félix Guattari have identified the technique of bricolage as the characteristic mode of production under "schizophrenic" capitalism, a facet triumphantly magnified by the filmmakers. If every discourse is bricoleur, like Jacques Derrida suggested, suddenly 'context' can become the artist's material or even a form of art in its own right:
"The more artists are consigned to an existence within a patchwork of niches, the more dependent they become on information resources, communication and networking. In this respect, aesthetic artefacts must take a stance toward a plethora or markedly heterogeneous contexts that sediment in one way or another: the conditions and circumstances surrounding their production, their various social fields from which (and for or against which) they speak: real or imagined audiences toward (or against) whose values a work, an approach or a position is targeted. This play with the factors affecting it and among which it must mediate has become an essential trait on an art form that might best be described as 'Contextualism'." [1]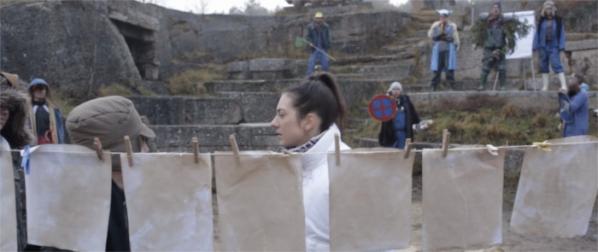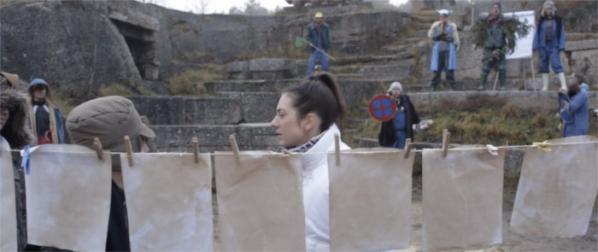 What I found especially intriguing about the Gstettensaga is how the filmmakers responded to the various challenges of the feature film format by contextualising the whole production process, distribution, language adaptions (subtitles are an integral part of the story), soundtrack and even the viewing experience.
The film was initially commissioned by Austrian public broadcasting station ORF III as part of the series Artist-in-Residence for a budget of only €5000, set to be produced within a six months period. In response, monochrom used an embedded prank to raise money. The movie contains a text insert similar to watermarks used in festival viewing copies, which asks the viewer to report the film as copyright infringement by calling a premium-rate phone number (1.09 EUR/minute) and enabled Grenzfurthner to co-finance the film with proceeds from this new strategy he has named 'crowdratting'. [2]
The Contextualist script – including outlines of scenes for improvisation – was written by Grenzfurthner and Roland Gratzer in just a couple of days in November 2013 in a Viennese restaurant. They also incorporated ideas that came up during their weekly meeting with the entire production crew, whereas some of the backstory was first created for monochrom's pen-and-paper role-playing theatre performance Campaign. Principal photography – the camera work of Thomas Weilguny deserves the highest praise – commenced on December 2, 2013 and ended January 19, 2014, which left nearly 5 weeks for post-production and editing. Due to the fast production process and the financial limitations, no film score was composed for the Gstettensaga – instead, Grenzfurthner used an assortment of 8bit, synth pop and electronica tracks especially for their specific retro quality because "they may sound old-school to us, but not in the world of the Gstettensaga, where all retro electronic music is still impossible and futuristic." [3]
The retro-futuristic world of Echsenfriedl is coming to a film festival, hacker con or Pirate Bay near you.
Official Homepage
http://www.monochrom.at/gstettensaga/
Festival screenings
Tamtam (Seara de proiectie la TT) / May 7, 2014 (Timisoara, Romania)
KOMM.ST Festival / May 11, 2014 (Anger, Austria)
Supermarkt (Dismalware) / June 7, 2014 (Berlin, Germany)
Fusion Festival / June 25-29, 2014 (Lärz Airfield, Mecklenburg, Germany)
Roswell International Sci Fi Film Festival / June 26-29, 2014 (Roswell, NM, USA)
iRRland movie night / June 30, 2014 (Munich, Germany)
qujochö Film Summer / July 3, 2014 (Linz, Austria)
HOPE X / July 18-20, 2014 (New York, New York, USA)
Fright Night Film Fest / August 1-3, 2014 (Louisville, KY, USA)
Gen Con Indy Film Festival 2014 / August 14-17, 2014 (Indianapolis, Indiana, USA)
San Francisco Global Movie Fest / August 15-17, 2014 (San Jose, CA, USA)
Rostfest / August 21-24, 2014 (Eisenerz, Austria)
Noisebridge / August 29, 2014 (San Francisco, USA)
/slash Filmfestival / September 18-28, 2014 (Vienna, Austria)
Simultan Fest / October 6-11, 2014 (Timisoara, Romania)
Phuture Fest / October 11, 2014 (Denver, Colorado, USA)
prol.kino / October 14, 2014 (Graz, Austria)