In the second part of this two-part interview series Carleigh Morgan interviews Jussi Parikka about Burak Arikan's work, discussing the way data and networks condition and construct the way we view and interact with the world. The first part of the series, an interview with Burak Arikan, can be read here.
Burak Arikan is one of Turkey's leading media artists. Through his practice he maps relations of power and invisible infrastructures using network mapping tools. Arikan's Graph Commons, an online network mapping tool, is an open platform for the creation of networks that encourages its users to explore the functional limits of network architectures as a mechanism for storytelling, data visualization, and modelling our contemporary moment, from graphing financial microtransactions to mapping superstructures splayed across a continent.
Arikan's most recent body of work, Data Asymmetry, was hosted at the Winchester School of Art from November 10-24, 2016. The exhibition was curated by new media theorist Jussi Parikka (Professor in Technological Culture & Aesthetics at Winchester School of Art) who comments on the themes, provocations, and challenges that this show invites its audience to consider.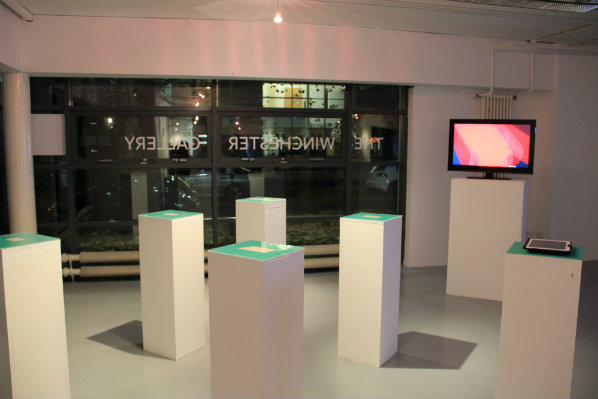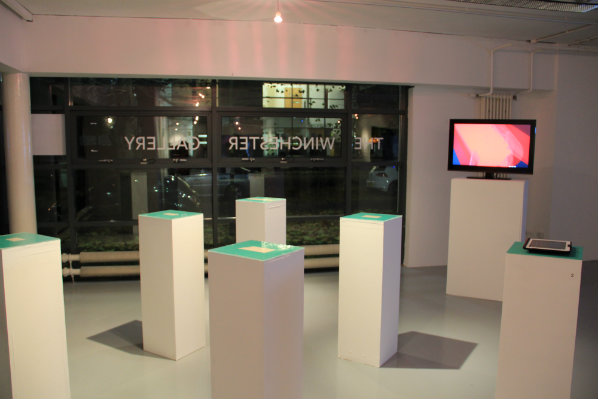 CM: In your essay New Materialism as Media Theory, you conclude: "I propose a multiplicity of materialisms, and the task of new materialism is to address how to think materialisms in a multiplicity in such a methodological way that enables a grounded analysis of contemporary culture. Such methodologies and vocabularies need to be able to talk not only of objects, but also as much about nonsolids and the processual…so we can understand what might be the specificity of this brand of materialism that we encounter (but do not always perceive) in contemporary media culture."
Are network visualizations like those in Burak Arikan's art practice—for example, Islam Republic Neoliberalism, which organises data collected about the urban infrastructure—one way to capture the materialism that "we encounter but do not always perceive"? Are networks as a vocabulary sufficient to do this, and are these limitations to Burak's methodologies that alert us to this kind of multiplicity of materialisms that cannot conform to the network graph?
JP: The network is one form of seeing the world; it gives one form to things we might sense around us as intuitively present even when we are not sure how to express that. The network is not necessarily an end in itself but one particular frame through which to map things – such as urban transformations, architectures as they pertain to our lived experience – and allows you to put yourself on that map. I don't see networks as an overarching ontology but as a methodological entry to those relations that then scale on other levels too: experiences, narratives, etc. What's interesting is how Burak's work plays out this network relationality not only as a visual reality to be looked at, but as a collective form of doing: how to build a network through workshops, or how to express things that we feel crucial to our existence, especially in some of the more politically oriented activist works.
CM: Networking mapping seems to cover a range of modes: cultural epitome, critical methodology, data visualisation tool, a kind mediation narrative etc. Is there a danger to the multiplicities and modalities of representation that networks capture, namely a danger of being misused or misunderstood?
JP: I remember earlier discussions with Benjamin Bratton where we discussed "big data apophenia": a particular sort of disorder that is conditioned by data: namely, to see relations and to establish them, even if they are not necessarily as real as one can infer from data. The same thing pertains to network methods: you could use it as a pataphysical tool as well to create imaginary worlds of relations, to offer causalities across logical relations, and to create as such a speculative alternative world. Oddly enough, this is exactly something that speaks to the now hot topic of "post truth politics": how to manipulate and cater data and "information" in ways that becomes effective whether true or not. We are in any case talking of such methods than can be mobilized for multiple uses.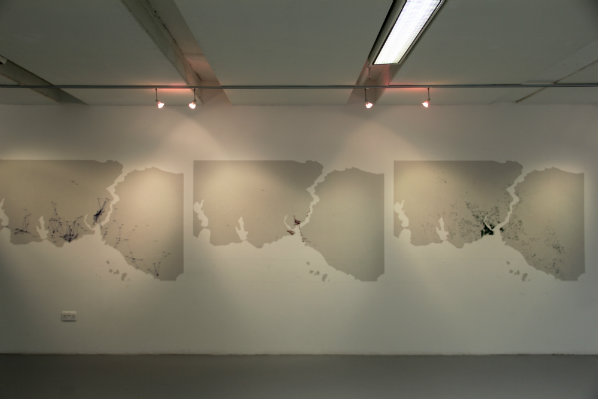 CM: "To produce maps is a method of mapping power, addressing by visual means the asymmetry that defines our situation. Not only asking where we are, but inquiring: where is our data and who owns your data trail? This exhibition maps the shift from information asymmetry to data asymmetry, where aggregation of data is where contemporary power lies."
Do you see network mapping as inherently emancipatory? Is the need to orient oneself via networking mapping also an exercise in self-reflexive targeting, one that uses modes of surveillance and data capture in an attempt to evade those same modes of capture executed at the level of the corporate-state nexus–is this a contradiction and a risk worth taking in order to achieve an orientation within our own data?
JP: It's a great point—and demonstrates the paradoxes in this sort of activist work. It's pretty much a necessity to engage head on and inside such techniques to understand their work: the critical distance often required in institutional or political critique is not really sufficient if we want to understand data culture. We need to be able to work inside such techniques and data, also institutions, in order to be able to shift, transform and manipulate those tools to other ends.
CM: Any other comments on the Furtherfield show and Burak's body of work?
JP: For us it was a really pleasurable opportunity to bring an internationally known artist's work to Winchester Gallery, and exhibit work that is at that interesting triangle of activism, contemporary media arts and issues that we discuss in media and network studies. Hence while the exhibition was on in the gallery, we also wanted to expand it into other forms of work that build on our earlier collaborations, like at transmediale where we also had Burak as our guest. We also introduced his work into workshops we organised in Winchester and London. It's this sort of dynamic exchange that also make his works alive: his practice does not merely look at maps and visual relations of data, but also engages, understands, and uses them.
—
Burak's visit was part of our AHRC funded project Internet of Cultural Things but also our new research group, or office "AMT": Archaeologies of Media and Technology.
Burak Arikan's most recent body of work, Data Asymmetries, was hosted at the Winchester School of Art from November 10-24, 2016. His network mapping tool, Graph Commons, is viewable here.
*Inline image photo credits: Olcay Öztürk