Lately, I have noticed in myself a tendency to sign up for events which reveal little of what to expect beforehand. This leads to a heady mix of anticipation and mild terror. Dark Days, the brainchild of Ellie Harrison fitted that description, although I felt that at 16hrs long, it was a mere blip on my riskometer, compared to week-long excursions I've previously taken into the unknown. In short, I would be spending the night in Glasgow's Gallery of Modern Art (GoMA), in a pop-up community of 99 strangers, contemplating how we might manage to live together (put up with each other) in a future where buildings might need to be used in ways which serve the needs of the population better…Count me in!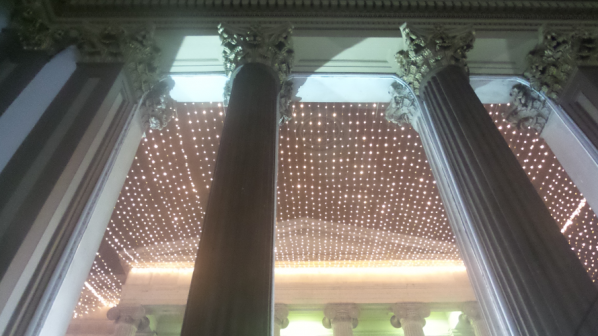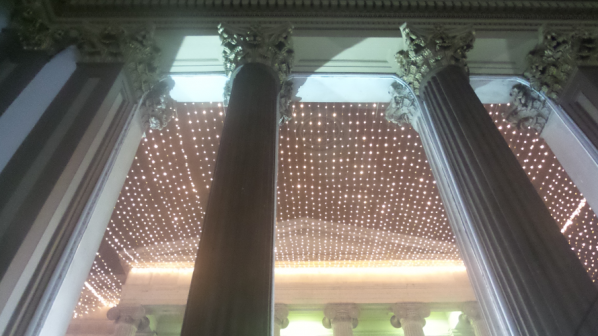 The camp manual gave thorough and due attention to health & safety issues like pyjamas and woollen blankets, but scant reassurance on how the experiment would avoid a rapid descent into anarchy. In the absence of concrete information, my mind ran amok. I therefore decided, that on arrival we would be immersed in an imagined scenario where all manner of crises has befallen our village, that it would be up to us to work out how we would rebuild society. This would be a tense, high adrenaline experience involving sleep deprivation, maybe starvation, and intractable social issues, to be debated until we all came to a common vision. We might never make it out of there.
As it turned out, Dark Days was none of those things; it was a whole lot more. On arrival in Glasgow, I succumbed to mild panic and bought myself a sleeping pad, twinpack of nougat caramel chocolate, and a bottle of fizzy pop (in direct contravention of the bring a bottle of water mandate), to supplement the food I already had in my rucksack. Provisions bolstered, I relaxed & enjoyed my pilgrimage to GoMA; I felt carefree, adventurous and rebellious; none of the strangers walking beside me had a clue what I was about to do. I felt dangerous and daring.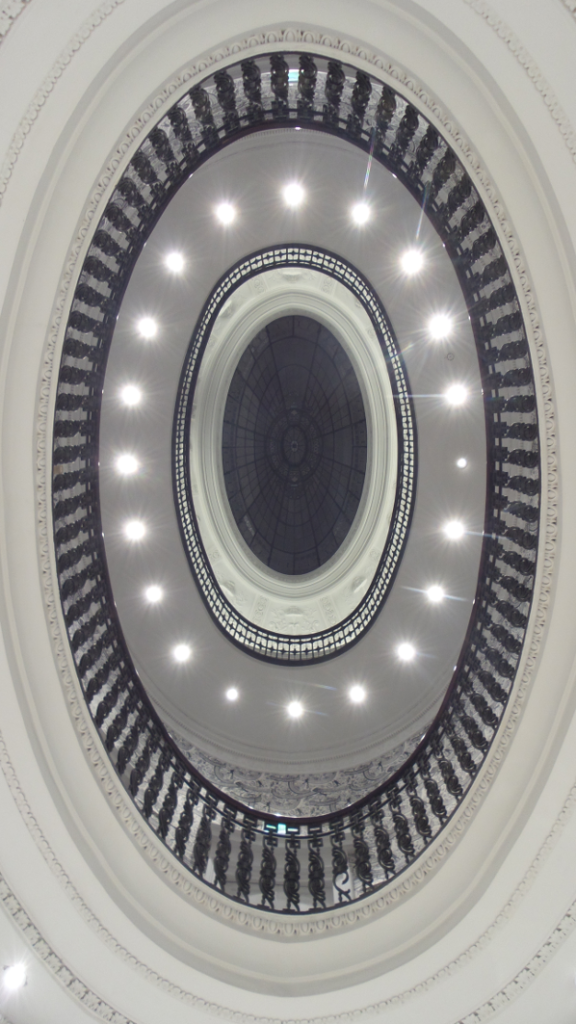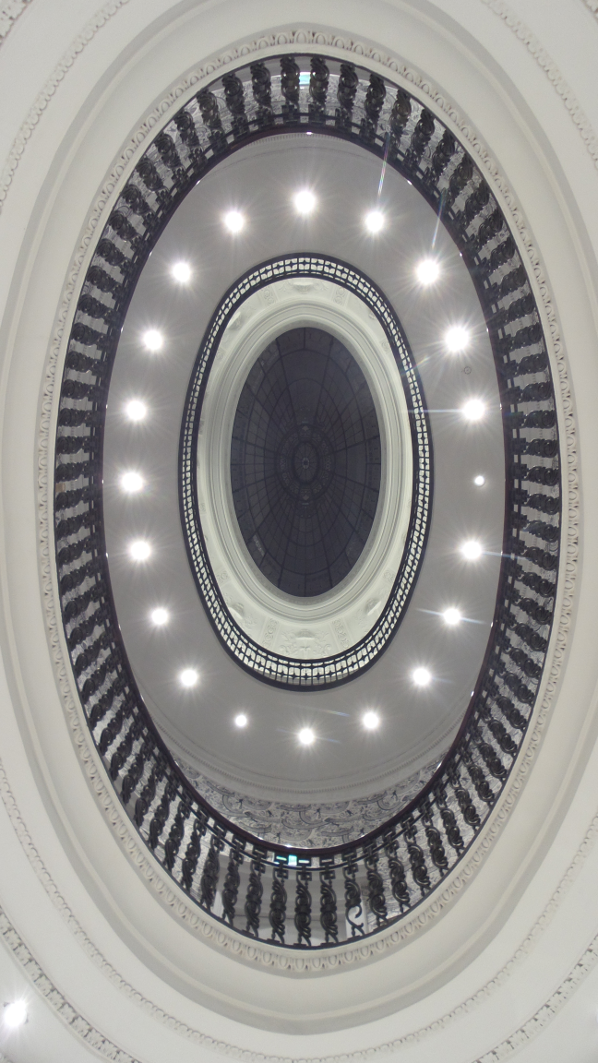 I joined the short queue outside GoMA, exchanging nervous banter with fellow participants ("Is this where the over-excited and slightly nervous should queue for the coming apocalypse?"). We eyed each other up, I began to relax. We all looked pretty 'normal and balanced' individuals. Who could predict what would surface once the pressure was on, though? A child walking past was overheard saying "you're the worst Mum ever". He was joking of course, or was he? Was society breaking down already? When the doors opened, we edged inside, one and two at a time. We were subjected to challenging initiative tests – first to register with the clipboard on the right if your surname is A-L. I was standing on the left, I dithered. My surname begins with a 'G'. My faculties were already leaving me. Through the archway to the welcome desk, I shuffled forward and joined the queue on the right. More nervous exchanges. The queue on the left was faster, we silently wondered whether it would be impolite to skip over to the other line. No one moved. A couple of minutes later, I spotted a notice 'A-L' taped to the left side of the desk. A dastardly ploy! Somewhere, a hidden camera would be watching me, a witness to my ineptitude. This was before the evening had even begun. My nerves jangled. Beyond the mysterious white cube that had blocked our view of the great hall (was that where the mind games would take place?), we placed our belongings around the edges and sat in the large circle of chairs which awaited. More nervous chatter, it was clear that no one had the faintest notion what the night would hold. I was reassured. Speakers, microphones and video cameras (with red light already flashing) were dotted around the space, we did our best to ignore them. There will be screenings in March in Glasgow, and the film will be made available online #ohdear. Someone noticed that there were not enough chairs for all members of the community to have a seat. 20ish people stood, or sat on the floor. Was this a lack of resources on GoMA's part, or was it intentional? Time would tell.
An entertaining and enlightening journey followed, into the challenges of consensus decision making, based around the formation of 'affinity groups'. The groups were determined by allowing anyone who felt brave enough to make suggestions of how we might spend our time together, members of the community chose which group they wanted to join. The options were many and varied; building a Tower of Awesome; a general knowledge quiz; game playing; climate change discussion group; music & dance; a group with no plan; a manifesto writing group; a skills sharing group and a community focused 'hub' group. This was the fascinating moment for me, as my intended plan for the evening was abandoned. Along with my keen interest in community building, I was at GoMA to write poetry, to create a distillation of the night's happenings for future posterity. Logic would dictate that I should go where the most words would be; but I was filled with an irresistible urge to play games. I had already co-dreamed an impressive list of sleeping bag related games with the person sitting to my left (slug, husky races, who can wear the most sleeping bags, sack races to name a few).
We gathered in our groups to discuss what we would do, what we would need, what format the evening should take and (as it turns out, crucially) what time we would like the lights to go out. A spokesperson was selected to represent each group on a 'spokescouncil', where the representatives would reach a consensus on the issues of how the evening would go, any conflicts over resources and at what time the lights should go out. The facilitators did a magnificently heroic job of keeping the discussions focused; 'brief' overviews spiralled out of control, the facilitator gently herded the kittens. "I'll say again: Each spokesperson is to give a brief outline of what their group will do tonight" quickly became "Each person has 30 seconds to tell us". Those not on the spokescouncil chortled and tried to stifle the mounting hysteria. The only spokesperson not tempted to flout the guidance was from the 'no plan' group, because well, they had 'no plan'. It became clear that with the proposed 'Tower of Awesome' and sub-idea of sleeping bag fort, that chairs were the key resource to be negotiated. Turning out the lights also became a decision to be much wrangled over; there were lots of needs, ranging from 'pretty much now' to 'what the hell, let's stay up all night'.
Negotiations were funny, tense, agonising and did I mention funny? At one point, I was weeping with laughter; we were tantalisingly close to reaching consensus when out of leftfield came a demand for an opening ceremony. Fine we all said, have your opening ceremony, let's just get this done. The sage advice of the facilitators was beginning to hit home – only use consensus decision making for important decisions and ask yourself 'do I want to spend all night making decisions, or do I want to have some fun?'. By now it was heading towards 11pm, and there were games waiting to be played. We were close. We were restless. The facilitator then fulfilled the most crucial obligation of consensus decision making, and asked the spokescouncil whether there were any objections. We held our breath, pleading inwardly for no one to speak up. Come on spokescouncil, you could do it! Hands went up. Sigh. 15mins of jaw-clenching tension followed, as the universal 'need to be heard' surfaced in a few last desperate arm waves; "Well, this isn't exactly an objection, but I'd just like to say…". "Any final objections?" our facilitator said, possibly through gritted teeth. Silence. We breathed a collective sigh of relief. "I think we have a consensus". We cheered. Let the games begin.
The opening ceremony was a resounding success, as we all 'became the chairs' in a self-supporting and poignant human chair circle. Next, we lined up in small groups, ran the length of the gallery, and then turned and felt the breeze on our faces. It was magical. We smiled broad smiles, laughed, and revelled in a joyful camaraderie for the rest of the night. How could anyone think of going to sleep when there was crowdsurfing to be done, wink murder to be played (epic) and thigh drumming to be learned? It was a fascinating experience. I observed an interesting phenomenon; each time an activity gained a certain number of people, others noticed and ran to join. The wink murder circle doubled in size while the detective was behind a column and the silent disco grew within minutes, without a word being spoken. We generally didn't stay segregated in our own groups, we welcomed others in unreservedly, and joined other groups when the mood took us. We were a model society, just for one night. We self-organised, and ensured that there were enough chairs to meet the needs of towers, forts, hubs and deep discussions. It was beautiful and inspiring. It was epic and poetic. We had survived. No, we had flourished.
Extract from my #DarkDays poem:
Dissent can be difficult,
blocks disrupt.
Build a safe environment
for breaking power,
freefall into your position,
annex yourself from your ideas;
interrupt silence,
with or without permission,
be the instigator of your rebellion.
Move the chairs
Wind-down at 2am came all too soon, and we made ourselves cosy for the night. My mind was skipping and crowdsurfing, and reliving dramatic wink murder deaths; how on earth was I going to sleep?? I didn't. Well, maybe an hour or so. I lay under my blanket (not woollen) and listened to the rise and fall of contented breathing, with the occasional soft, acoustically augmented, echo-y snoring (cautionary note; snorers should choose their sleeping spot carefully). I contemplated how different the experience might have been in the 'real world', where people wouldn't be so accommodating, wouldn't be on their best behaviour. I suspect there might have been less laughter and fewer games, certainly no Tower of Awesome or sleeping bag fort. Time will tell.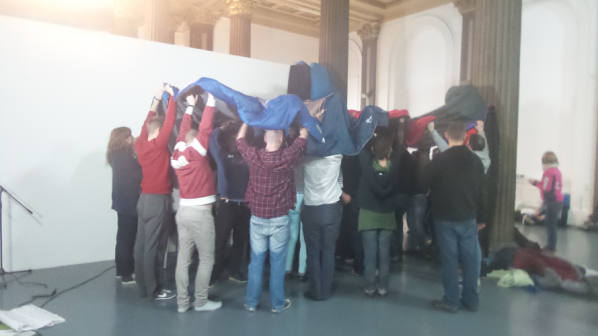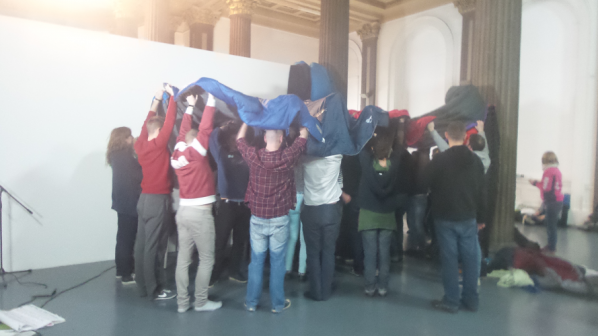 There is a distinct buzz that goes with embracing the opportunity to stay in a public building overnight, I encourage everyone reading this to add such an experience to their bucket list. You might have to go to some lengths, might have to personally orchestrate an event, in order to create your opportunity. Whatever it takes, it will be worth it. I promise. Think 'Night in the Museum', meets giant slumber party, with midnight feast thrown in, but with no adults to tell you what you can and can't do. We were the adults, we made our own rules. Even when a camper was scaling internal walls in the importance of building the most spectacular sleeping bag fort ever seen, no one came to tell us to stop. We all learned something valuable from that endeavour; the fort was unbearably hot inside, so could only be tolerated for short periods of time. Next time – ventilation. One participant put our limited imaginations to shame, by bringing a hammock to sleep in. We all wanted to be that guy. We ate chocolate and muffins for breakfast.
All of your dreams for a different world, made real in one spectacular night in a museum, art gallery, library, school or conference room (the possibilities are endless). Life will never be the same again, you will be changed, and you will want to do it again and again.
Note from reviewer: Names have been omitted in order to protect the subversive, the wall-scaling, the almost-pyjama-wearing, the non-sleeping campers.