Featured image: The facade of Kunstquartier Bethanien. Image by Nadine Nelken.
After a full year of events focusing on several topics, from drones to surveillance, cyberfeminism to hacktivism, or even the famous Technoviking and a hot debate on the politics of the Porntubes, the Disruption Network Lab wraps up 2015 with its event STUNTS, focusing on political stunts, interventions, pranks and viralities. It was a year of great success for the DNL and proof of that was a full house, in the middle of a cold Berlin winter, full of people eager to take part of this last gathering on art research, hacktivism and disruption.
Just at the entrance, in the castle-like facade of Kunstquartier Bethanien, the Free Chelsea Manning Initiative projected a video including phrases of support, denouncing the system that violently charges against all the whistleblowers who bravely stand against state-crime. Chelsea Manning, sentenced in August 2013 to 35-years of imprisonment, turned 28 years old on the 17th December. The initiative took the occasion to celebrate her anniversary but also to remind us of her cause and of how vulnerable whistleblowers are under the purview of "justice".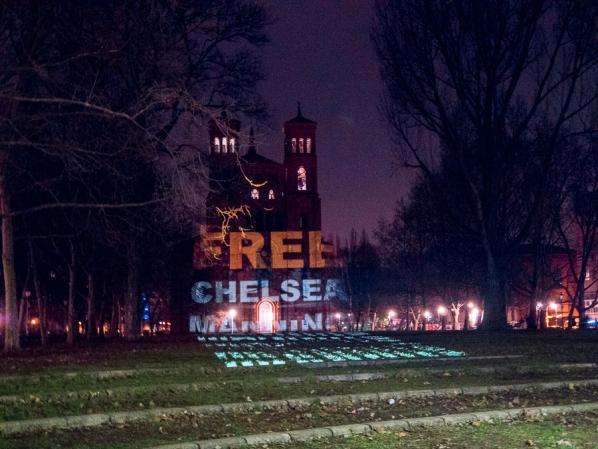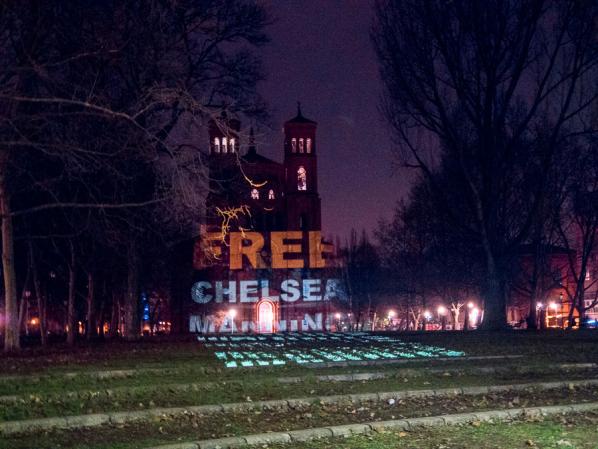 Peter Sunde, one of the founders of Peter Bay, has recently given an interview stating "I have given up" when asked about the current state of free and open internet. The pessimistic tone that might loom among hacktivism has its reasons. With a growing and raging state surveillance, invigorated politics of fear veiled as anti-terrorism propaganda, or the alienating neoliberal order, the seemingly scarce possibilities to fight back can be easily overtaken by a sense of hopelessness. Yet, the proposal of STUNTS claims the possibility of new futures; suggesting that new artistic militancies and political subversions of neoliberal networked digital technologies, hoping to provide a glimpse of another world. What can be done? There's still a lot to be done.
KEYNOTE: FIND OUT WHAT YOU ARE 'SUPPOSED TO DO' – THEN DO SOMETHING ELSE.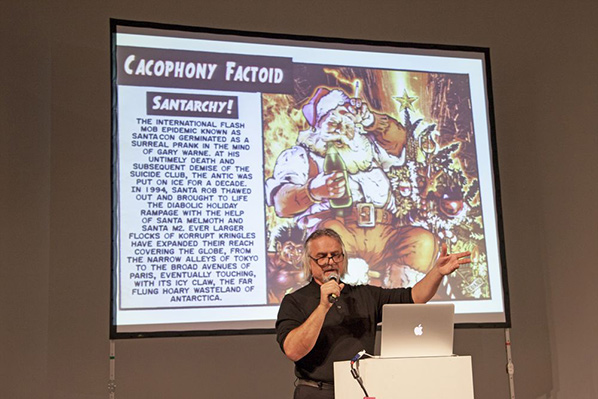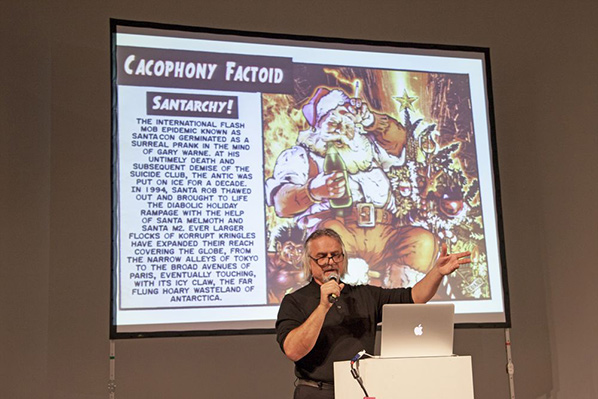 The opening keynote was reserved to John Law, original member of the Suicide Club and Cacophony Society, and one of the initiators of the Burning Man Festival, who gave an inspiring speech condensing 40 years of disruptive movements in the city of San Francisco. Law highlighted how important it was to live in San Francisco, a well-known refuge for many weirdos, hippies and punks, and how the city served as fertile ground for the foundation of many movements of disruption, such as the Suicide Club or the Cacophony Society.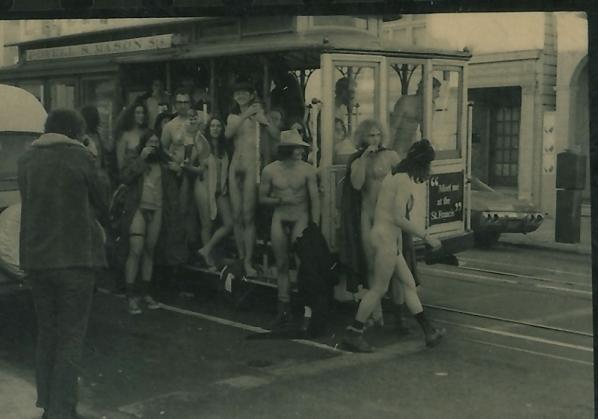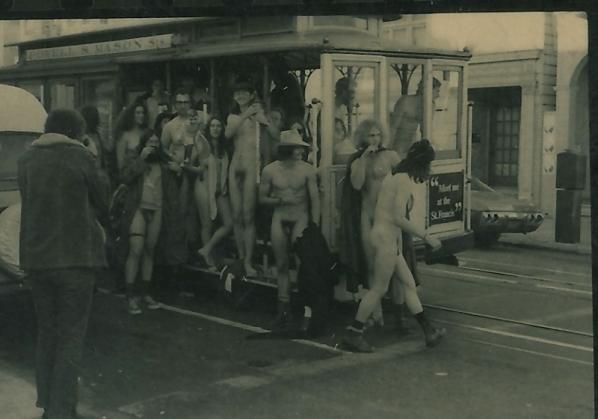 The Suicide Club, born from a course at the Free School Movement (also known as Communiversity) in the late 70s, was one of the pioneers with its events of urban exploration, street theatre and pranks. For several years, its members engendered actions of occupation and appropriation of public spaces, aiming to subvert the order of these spaces and highjack the authorities. Later on, some of its members founded the Cacophony Society which followed the same footsteps, creating social experiments and stunts, which according to Law didn't necessarily mention being political but instead playful acts of liberation from the norm. Yet, in an age of overwhelming neoliberal labour exploitation, we can wonder if having fun among the working class isn't already a political act. As Law said, "the events were illegal but not immoral" reminding everyone that in ethics and politics of disruption, right and wrong should never be defined by law. It seems that disruption is intrinsically political in the sense it questions the ruling order while also being an emancipatory act of dissidence.
PANEL: STUNTS & DUMPS – THE MAKING OF A VIRAL CAUSE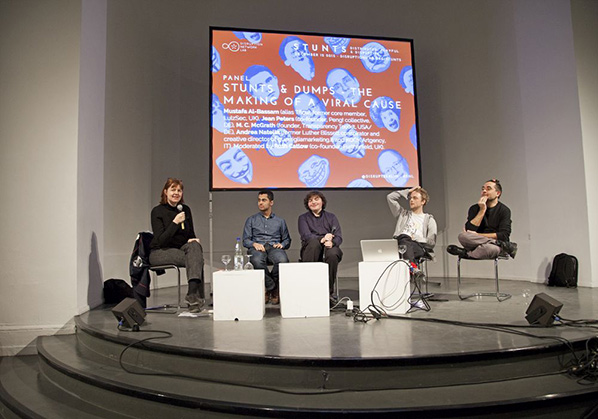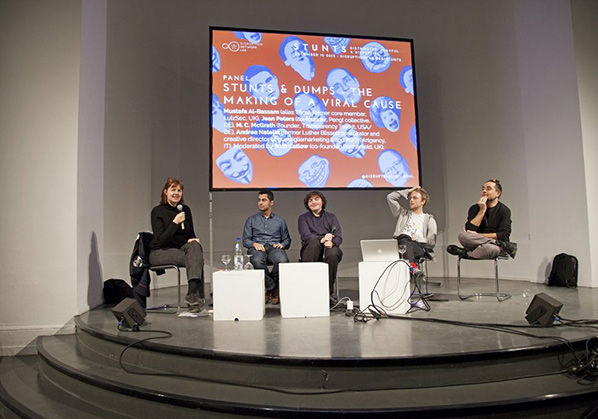 The panel, moderated by Ruth Catlow, one of the founders of Furtherfield, included a group of four hacktivists and disruptors, two of whom claimed to have once been Luther Blissett, an open-pseudonym used by several artists and activists as an hoax who has taken credit and responsibility over several stunts and pranks over the past 20 years. Following the thread of adopting an emancipatory praxis in the demand for privacy, M.C.McGrath presents the Transparency Toolkit. Motivated to refuse of data collection and the brute quantification that intelligence and corporations enforce as an interpretative lens for evaluating people's lives, with this toolkit McGrath intends to facilitate the access to a database that allows journalists and civilians to surveil the surveyors. Providing easy access to personal data of the intelligence community, he gives intelligence a taste of its own poison. In response to the predictive justice portrayed by nowadays algorithmic supremacy, the Transparency Toolkit disturbs the power asymmetry while possibly enabling for even some form of critical mob justice.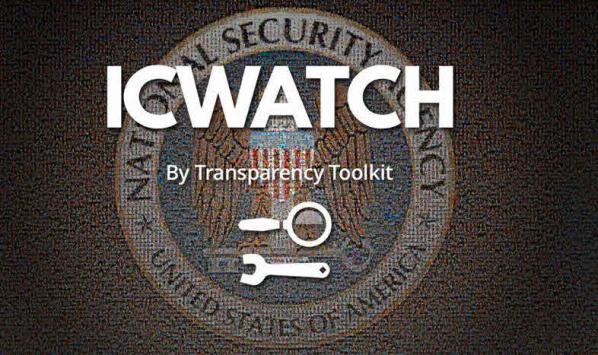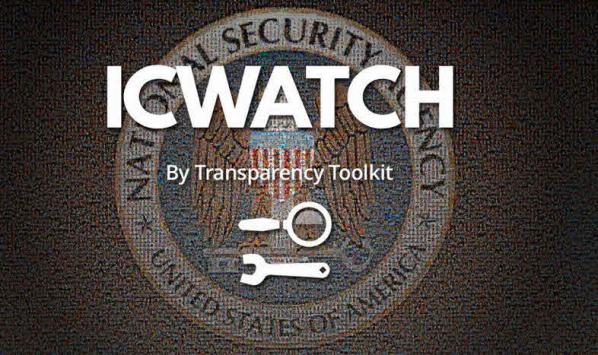 Andrea Natella, creative director of guerrigliamarketing.it and KOOK Artgency, seeks for justice by creating elaborate hoaxes that corrupt corporate advertisement. Hoaxes such as the fake air company Ryanfair which claimed to "welcome aboard refugees" under the Geneva Convention, enabling refugees to fly without a visa. The ingenious mockery resulted in a flamed response from the 'real' company debunking the advertisement while at the same time it has received a great attention from the media, resulting in a broader public discussion on the refugee situation. Once again, Natella presents us with the power of disruption by taking advantage of tools used by the prevailing order.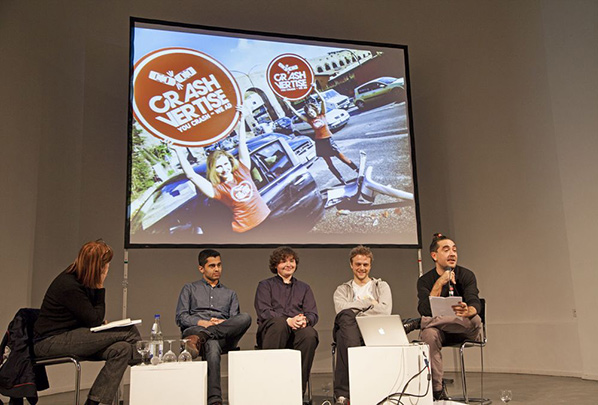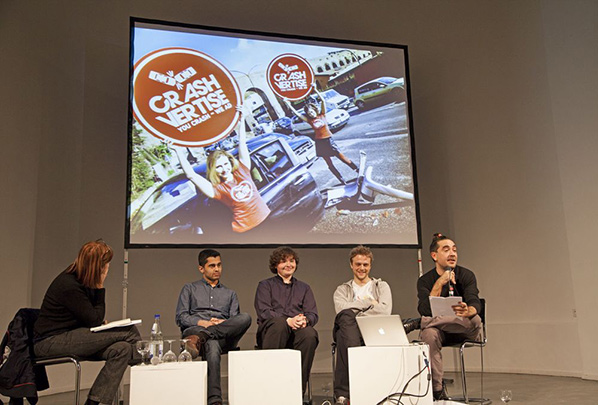 The undergraduate in Computer Sciences Mustafa Al-Bassam has gained notoriety for being a part of LulzSec, a computer hacking group responsible a number of high profile attacks, resulting in being legally banned from the Internet for two years. From an early age Mustafa focused his time in the creation of tools to unmask the tenacious mechanisms of domination. From ironically proving the negative correlation between tests scores and the amount of assigned homework to denouncing violations of online privacy and security perpetrated by state agencies such as the FBI, Mustafa has been a main character in the defence of human rights in the post-digital era.
To close the panel, Jean Peters, co-founder of the Peng! collective, shifts the perspective of the debate. What if instead of blaming or attacking members of intelligence we could provide them the tools to liberate them from their own institutions? Recognising that within the intelligence community resides a great number of whistleblowers, Intelexit, which started as a hoax, is now an initiative that helps people leave the secret service and build a new life. Aimed specially at members of agencies such as CGHQ or NSA, Intelexit offers safe and encrypted channels of communication through which intelligence members can get access to legal and moral support. Without the intention of dismissing responsibility of these members, claiming some banality of evil, by emancipating intelligence members Intelexit conceives another possibility to disrupt the system from within.
CELEBRATING AT SPEKTRUM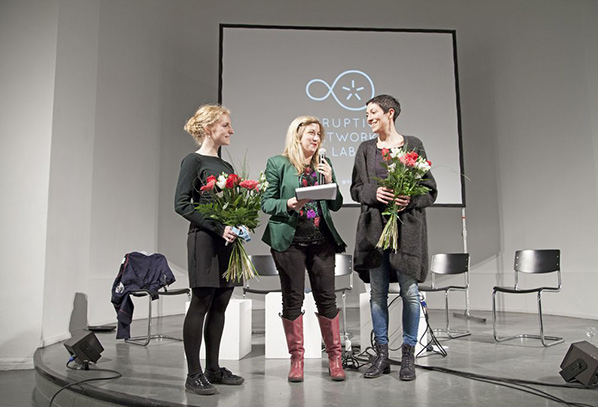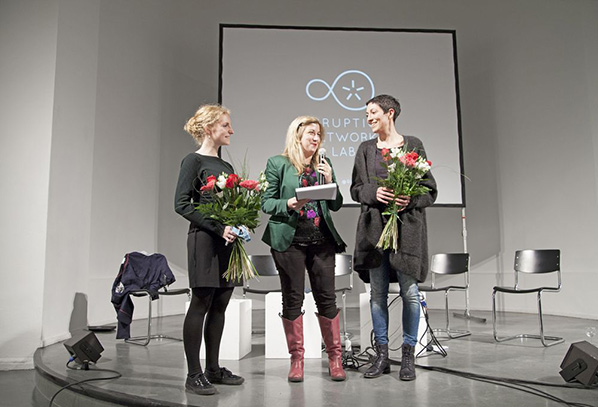 With an incredible array of playfully disruptive tools and practices, the ending tone of the panel is of hope and optimism. Maybe this is the kind of optimism that inspired Chuck Palahniuk into writing the Fight Club, clearly influenced by the Cacophony Society of which he was a member. Optimistic disruption seems to pave way to new worlds of possibilities, into a new future envisioned with the help of DNL.
To close STUNTS in an even more optimistic way, the celebration of a year of DNL was at SPEKTRUM, another outstanding initiative in Berlin and another example of success. After less than a year of activity, SPEKTRUM, an open space that aims to link art and science, has already gathered a solid reputation in the field along with a trustee community of followers and participants. While we cross fingers for another year of funding for DNL, SPEKTRUM will continue to offer a rich program of concerts, performances, installations and debates.
Last Review – PORNTUBES: Reveals All @Disruption Network Lab, Berlin. By Pedro Marum, 2015
http://furtherfield.org/features/porntubes-reveals-all-disruption-network-lab-berlin