Introduction.
Stanza is an internationally recognised artist who has been exhibiting worldwide since 1984. He has won so many prizes you'd have trouble fitting them all on one mantlepiece. He has exhibited over fifty exhibitions globally and is an expert in arts technology, CCTV, online networks, touch screens, environmental sensors, and interaction. His artworks examine artistic and technical perspectives, within the contexts of architecture, data spaces and online environments.
Recurring themes throughout his career include the urban landscape, surveillance culture, privacy and alienation in the city. Stanza is interested in the patterns we leave behind, and real time networked events, that are usually re-imagined and sourced for information. He uses multiple new technologies so to create distances between real time, multi point perspectives that emphasis a new visual space. The purpose of this is to communicate feelings and emotions that we encounter daily which impact on our lives and which are outside our control.
Much of his work has centered on the idea of the city as a display system and various projects have been made using live data, the use of live data in architectural space, and how it can be made into meaningful representations. See Publicity, Robotica, Sensity, as well as a whole series of work manipulating real time CCTV data to making artworks with them: See, Velocity, Authenticity, Urban Generation. These works reform the data, work with the idea of bringing data from outside into the inside, and then present it back out again in open ended systems where the public is often engaged in or directly embedded in the artwork. Interactive and visually appealing, his style also maintains the substantive power through multi-facetted content.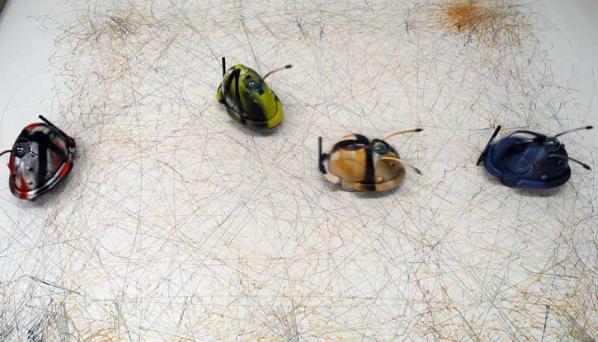 Marc Garrett: Could you tell us who has inspired you the most in your work and why?
Stanza: I don't really get inspiration from the "who" question, I prefer the "what" and "why" questions. As a professional artist I look at loads of art so to understand what art is and can be, and it's always an ever changing and fluid response. I also spend a lot of time ignoring stuff and material; (focused ignoring) because it has become harder and harder to see though the fog; the noise of it all. Maybe it's better to think of a working model for inspiration, Andy Warhol had one. Just make the work. That's what I do. I am not a part time artist in academia or an artist with another job, I've done this for the last thirty years, inspired by and in response to the world around me.
This dogmatic commitment to my work comes from my believes that the system you have to trust and invest in yourself. Inspiration, quite literally is everything all around you all at once, all at the same time, moment by moment. This is what inspires my work and it influences the creation of real time information flows, and works in parallel realities. It allows me to stand back at a distance and work with complex data sets while at the same time making meaning from them. Forming data into a shape, because this confluence might inspire a repositioning of thought and values while at the same time unlocking a hidden meaning to enable the viewer to feel and experience something new or to do something creative with the results.
MG: How have they influenced your own practice and could you share with us some examples?
S: There's a saying be careful what you wish for. If one reverses this then it could be wish for what you want and need. Influence is problematic because it's both negative and positive. The idea of influence seems causal, but my own practise isn't based on influence but in research into certain themes. This enables me to get into both sides of particular questions or debate, so to frame the work I make. Works like these have been inspired by this focus…
The Singing Trees, focus in the invisible things and the environment http://stanza.co.uk/tree/index.html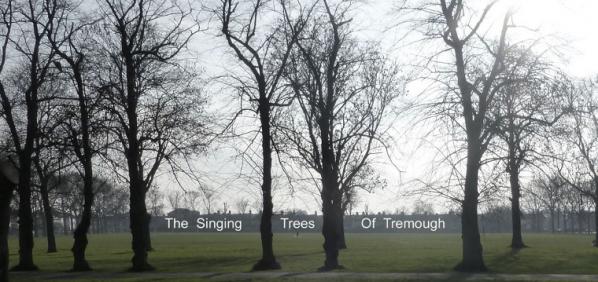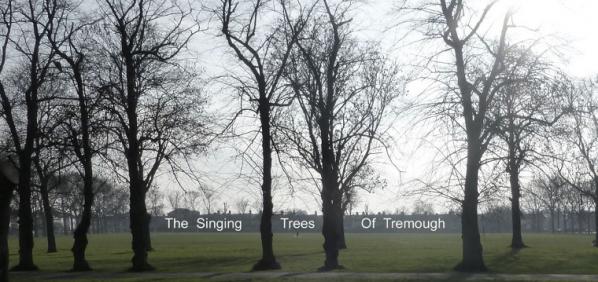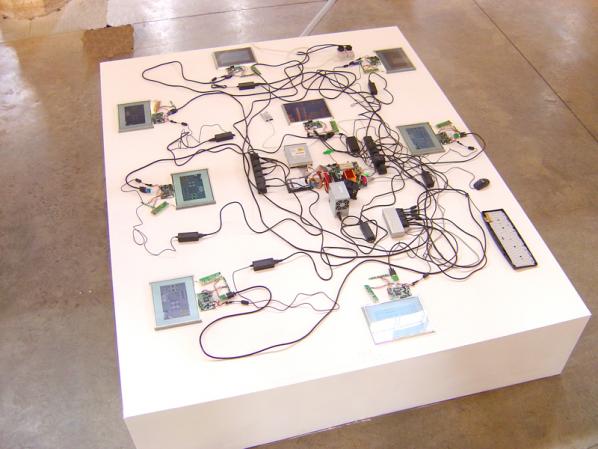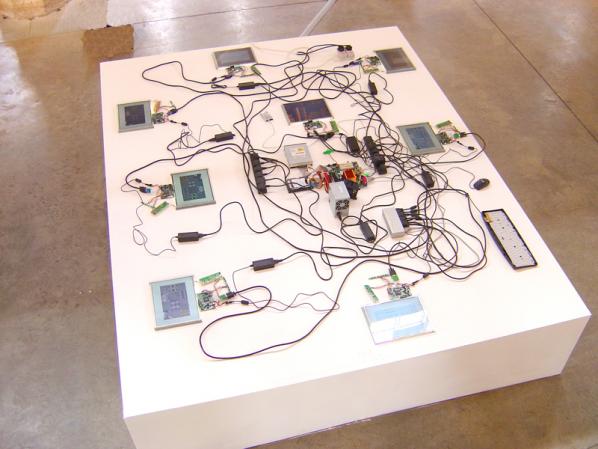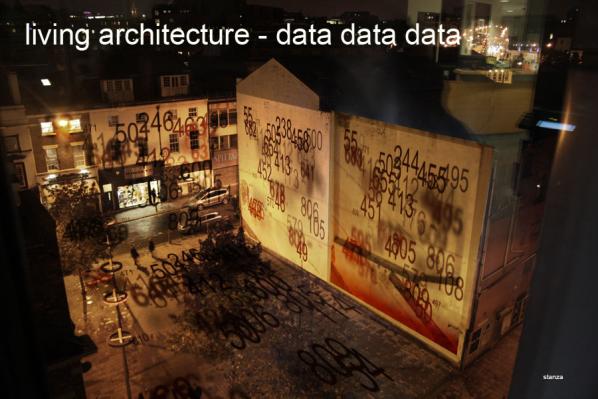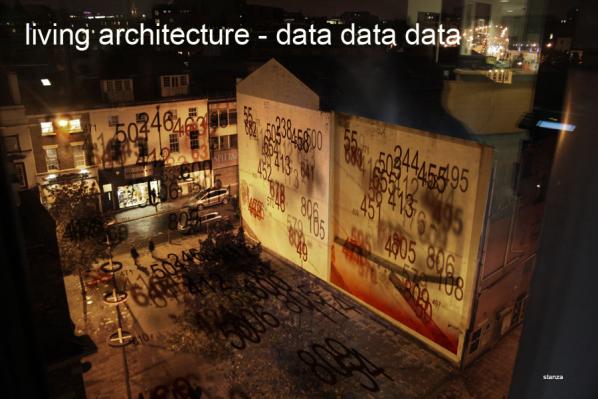 MG: How different is your work from your influences and what are the reasons for this?
S: I have been researching smart cites, urbanisn, and have collected 'big data' since 2004. I have been building my own wireless sensor network. This eventually manifested itself in an artwork called Capacities in 2010 which then influenced all the others in the series until it now has this form.
Capacities: Life In The Emergent City, captures the changes over time in the environment (city) and represents the changing life and complexity of space as an emergent artwork
http://stanza.co.uk/capacities/index.html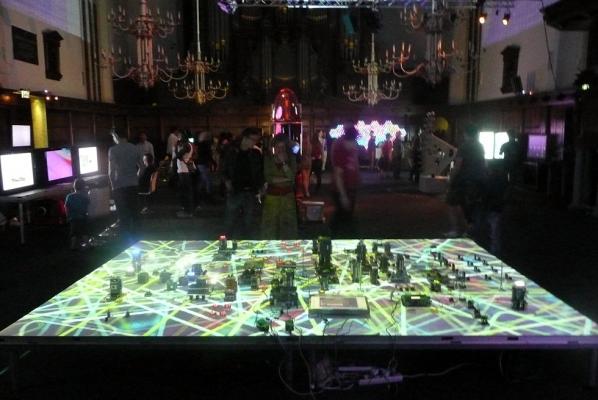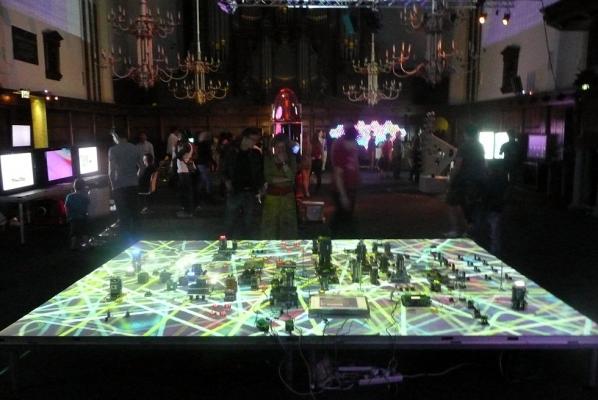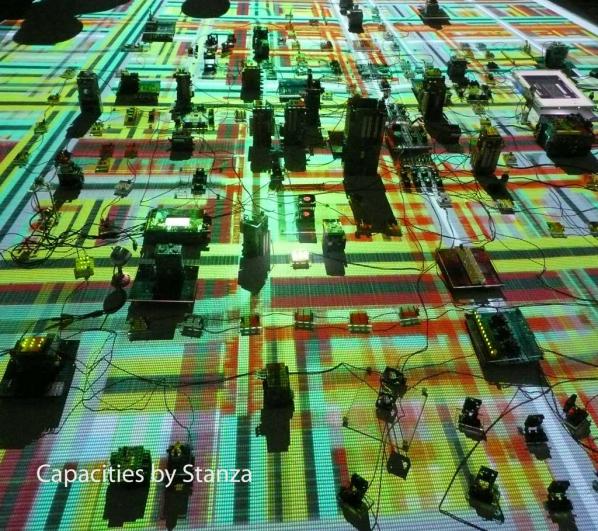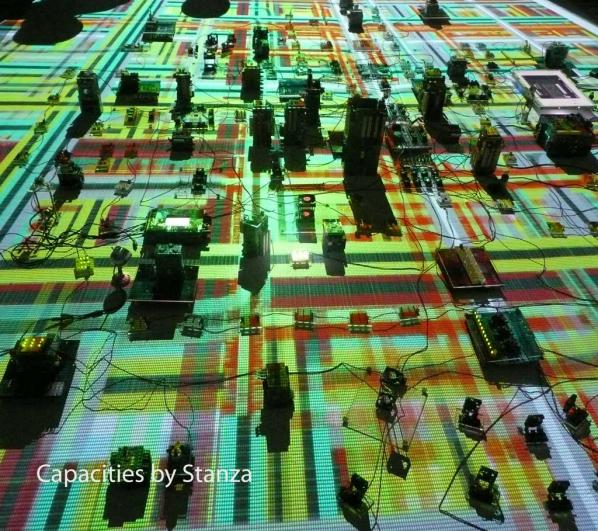 Which led to…
The Nemesis Machine- From Metropolis to Megalopolis to Ecumenopolis.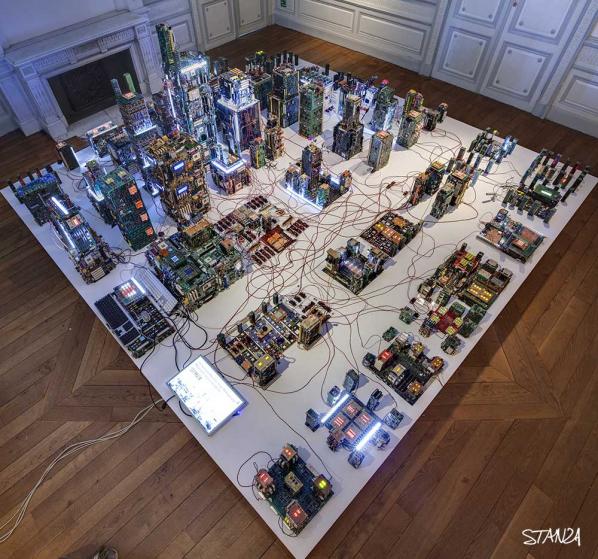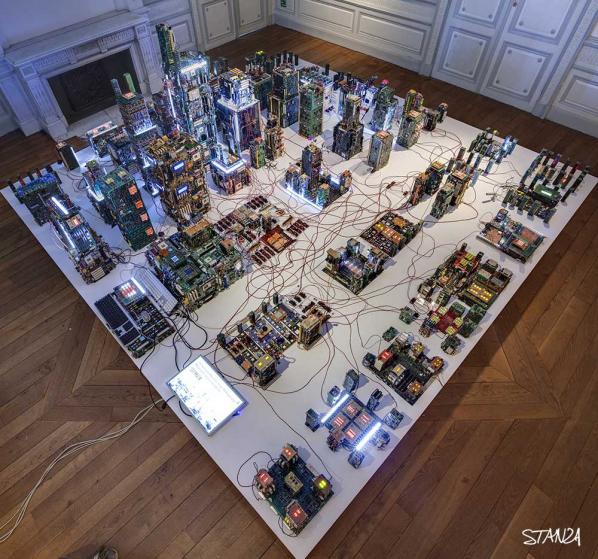 "A Mini, Mechanical Metropolis Runs On Real-Time Urban Data. The artwork captures the changes over time in the environment (city) and represents the changing life and complexity of space as an emergent artwork. The artwork explores new ways of thinking about life, emergence and interaction within public space. The project uses environmental monitoring technologies and security based technologies, to question audiences' experiences of real time events and create visualizations of life as it unfolds. The installation goes beyond simple single user interaction to monitor and survey in real time the whole city and entirely represent the complexities of the real time city as a shifting morphing complex system.

The data and their interactions – that is, the events occurring in the environment that surrounds and envelops the installation – are translated into the force that brings the electronic city to life by causing movement and change – that is, new events and actions – to occur. In this way the city performs itself in real time through its physical avatar or electronic double: The city performs itself through an-other city. Cause and effect become apparent in a discreet, intuitive manner, when certain events that occur in the real city cause certain other events to occur in its completely different, but seamlessly incorporated, double. The avatar city is not only controlled by the real city in terms of its function and operation, but also utterly dependent upon it for its existence."
MG: Is there something you'd like to change in the art world, or in fields of art, technology and social change; if so, what would it be?
S: It's the museum I would like to change or engage with. It seems that anything and everything will end up in the museum. We have become the museum. We are the sum of our collections catalogs and archives. Since the current trend is for public engagement we will see a mix of these new technologies aiding and abetting this and various dialogues.
Therefore these questions need to be raised more vocally. How do visitors interact with each other and artworks? How do visitors behave in public space and what patterns or communities do they form. Can these outputs reshape our experience of public space and the art?
So, new immersive technologies could be used to investigate how visitors interact with art works, with each other and what impact their experiences have in forming new user interactions within public space. This space could be made more social and lead to new real time artworks based on visitor interaction and new visualizations of the gallery space based on gathered data.
Artists used to occupy specific issues but now there aren't many topics artists haven't engaged in or reached out to. The issues that will resonate will be the ones closest to the issue of the day…. and, they will be economics, the environment and migration. Because of this I would like to less focus on public engagement spectacle or entertainment and more on the quality and public engagement rooted in intellectual rigour.
Technology affords new ways of working with audiences and curators as participants in artworks. The concept of the exhibition as an active site for experimentation and collaboration between curators, artists and audiences prefigures a general cultural movement towards the centrality of experience and away from the reification of the object.
However, how audience activities and movements can be used as the subject of new artwork as well as modify engagement with existing collections is a cultural and technological challenge.
SeePublic Domain: You Are My Property, My Data, My Art, My Love.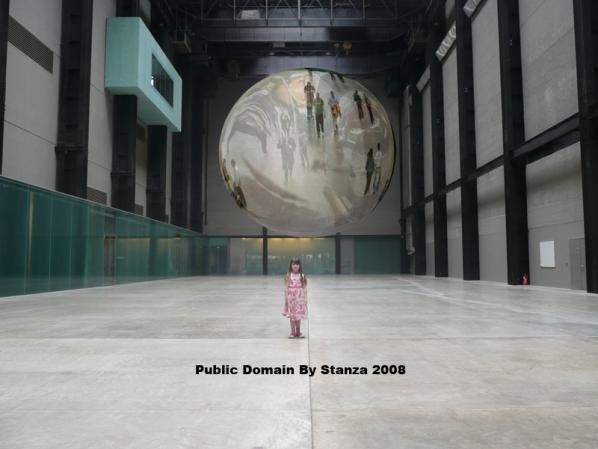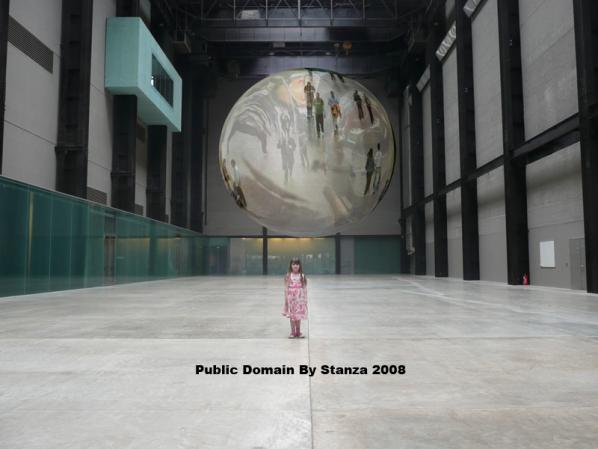 The Public Domain Series involves using live CCTV systems that are already installed then using these cameras to enhance gallery space and the audiences experience of the gallery. http://stanza.co.uk/public_domain_outside/index.html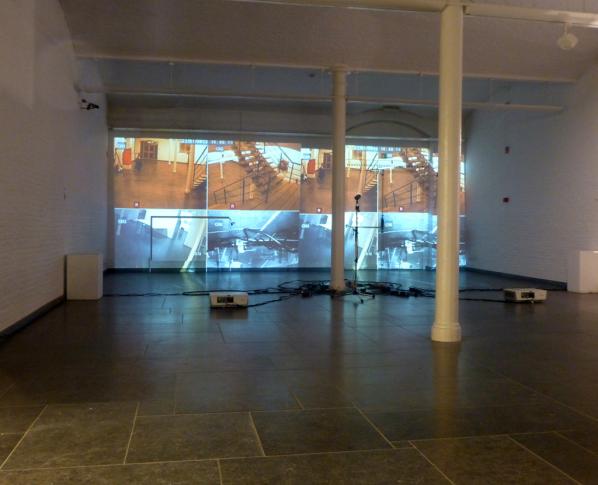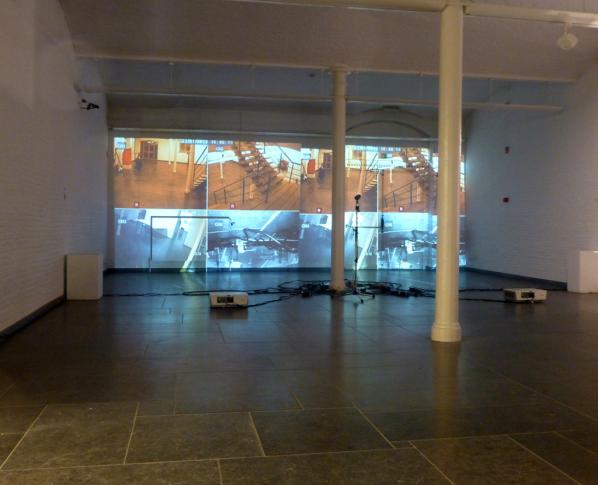 Visitors to a Gallery – referential self, embedded. Stanza uses a live CCTV system inside an art gallery to create a responsive mediated architecture. Anyone in any of the galleries and all spaces in the building can appear inside the artwork at any time.
http://stanza.co.uk/cctv_web/index.html
The social challenge within urban space is one I like to play with. In The Binary Graffiti Club, is a project I set up to try and work in this area. The Binary Graffiti Club are invited members of the public at each location for each event; they are given the hoodie to keep as thanks for their participation and contribution. The Binary Graffiti Club set off across the city and create artworks.
http://stanza.co.uk/binary_club/index.html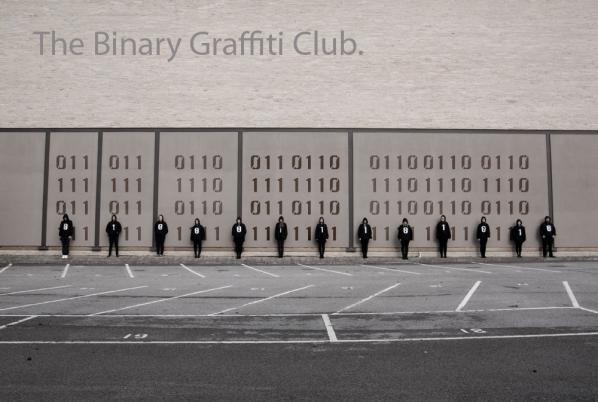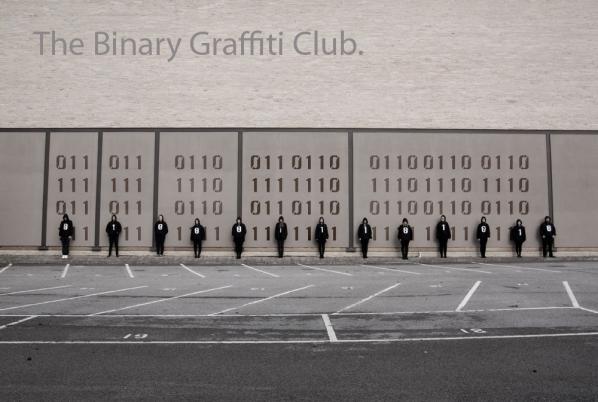 "Youths dressed in black hoodies swarmed the historic city streets of Lincoln during Frequency Festival 2013, their backs emblazoned with bold white digits, the zeros and ones. Their ominous presence was marked with a series of binary code graff-tags on official buildings throughout the city; messages of insurrection for a digital cult now active among us or analogue reminders of the digital soup of signals we wade through on a daily basis? There's an engaging playfulness and an aesthetic pleasure to Stanza's work that pays rewards on deeper investigation. His urban interventions remind us of the invisible occupation of the cyberspace around us and encourages us to ask whose hand manipulates these systems of control." Barry Hale, Festival Co-Director of Frequency Festival 2013: Stanza: Timescapes/Binary Graffiti Club.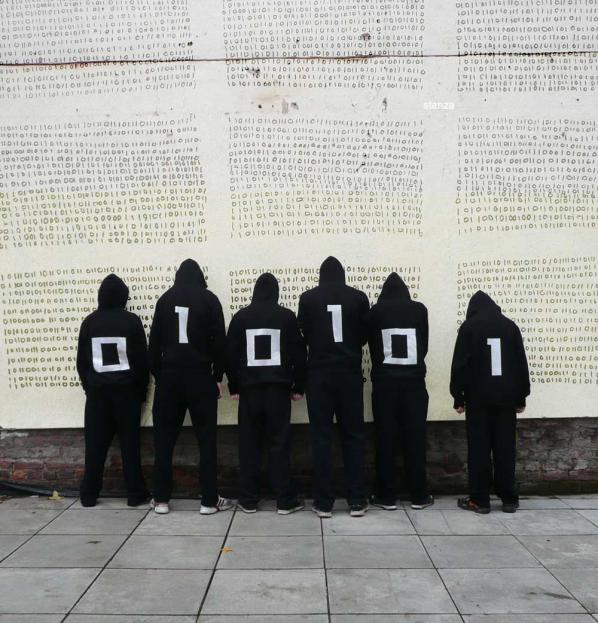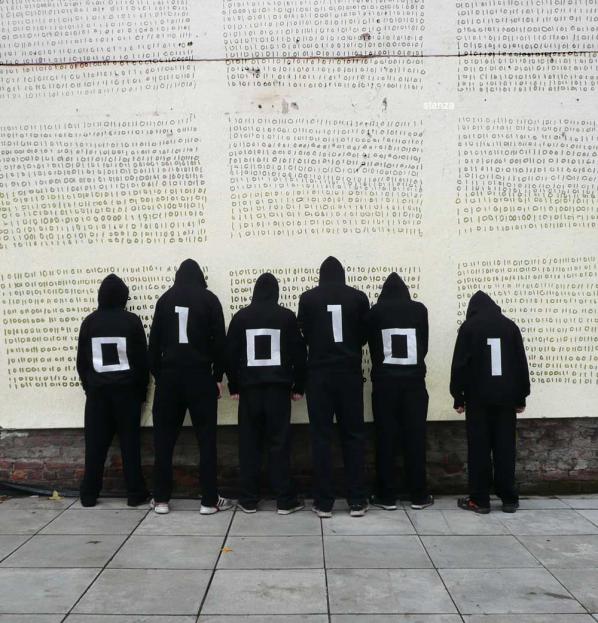 MG: Describe a real-life situation that inspired you and then describe a current idea or art work that has inspired you?
The invention of the toothpaste tube caused a revolution in painting.
The greatest discovery of the age was that the world is full of atoms.
Doing many small things instead one on big thing.
We seam to victimise out children we give them ASBO'S and anti social behaviour orders. For a while I wanted one. They actually give you a certificate like rockers, mods punks etc. The hoodie is a symbol of youth culture as well as being anti social. My new artwork the Reader and the idea of reading books and being anti-social led to this project.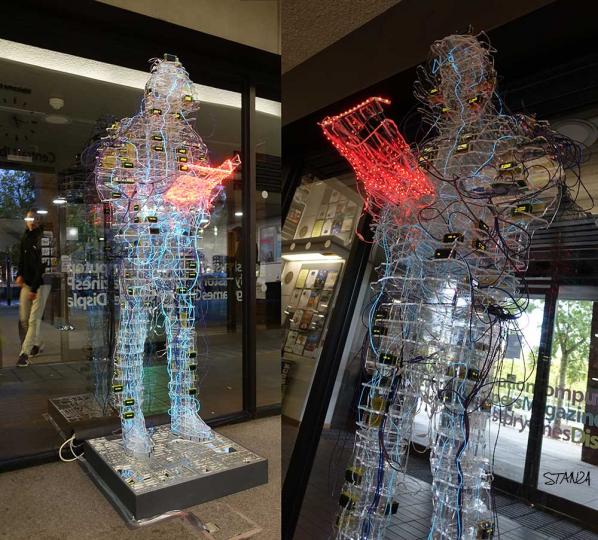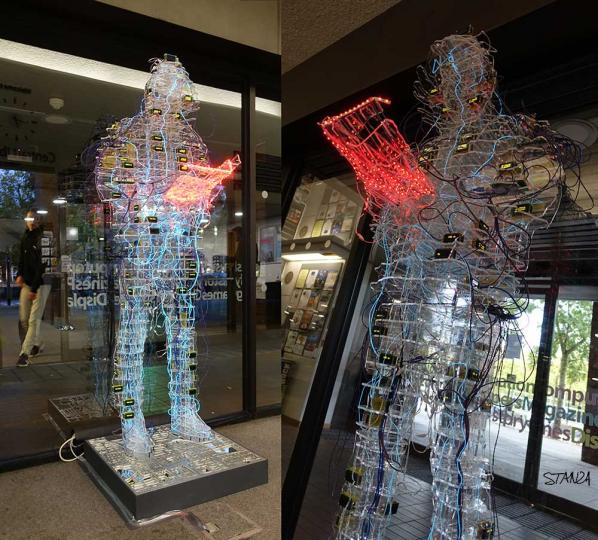 The Reader is a large six foot sculpture of the artist Stanza wearing a hoodie reading a book. The artwork is a metaphor for the engagement of reading in the digital age. The sculpture acts as a focal point for community and public engagement and has taken over one year to make and design; it has been commissioned to act as a focal point for the identity of the library. The reader reads all the books published since 1953 inside a data body sculpture. http://stanza.co.uk/TheReader_web/
MG: What's the best piece of advice you can give to anyone thinking of starting up in the fields of art, technology and or social change?
S: Make work, make more work, and remember nothing lasts forever except true love.
Re: Art, Study it
Re: Technology. Learn it
Re: Social change . Be part of it.
MG: Finally, could you recommend any reading materials or exhibitions past or present that you think would be great for the readers to view, and if so why?
Yes the Books…
The Bible The Quran And The Torah.
Because…they are the most influential books ever written and have guided the lives of billions so it's a good idea to have had a read… at least "view" them.
See…
Lost in Translation. This custom made robot responds to a series of texts and makes drawings unique to each reader. The work questions not only the meaning and interpretation of text but just who controls our understanding of the outputs and indeed what is Lost In Translation. This is a very playful user friendly work and actively engages the audience not only to think about the text but the meaning of how automation and networked technology is changing the control of understanding. http://stanza.co.uk/lost_in_translation/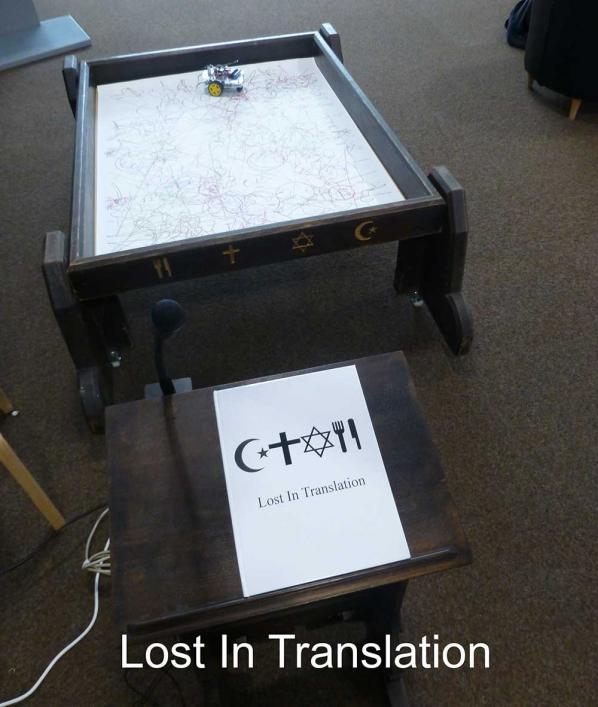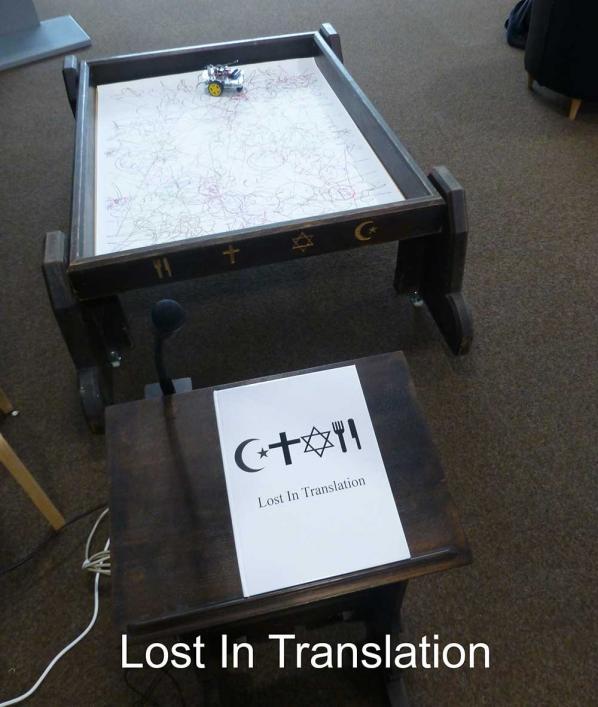 Thank you…