Featured image: External Transformations: Roberta's Construction Chart, No. 1,from the series Roberta Breitmore, 1974–78
Introduction.
Choose Your Muse is a new series of interviews where Marc Garrett asks emerging and established artists, curators, techies, hacktivists, activists and theorists; practising across the fields of art, technology and social change, how and what has inspired them, personally, artistically and culturally.
Lynn Hershman Leeson artist and filmmaker, who over the last three decades, has been internationally acclaimed for her pioneering use of new technologies and her investigations of issues that are now recognized as key to the working of our society: identity in a time of consumerism, privacy in a era of surveillance, interfacing of humans and machines, and the relationship between real and virtual worlds. Her work was featured in "A Bigger Splash: Painting After Performance" at the Tate Modern London in 2012 and a retrospective and catalogue are being planned for 2015 at the Zentrum fur Kunst Und Medientechnologie, Germany. Modern Art Oxford is hosting a major solo exhibition of her work Origins of a Species, Part 2, and it's open until 9 August 2015.
Lynn Hershman Leeson released the ground-breaking documentary !Women Art Revolution in 2011. It has been screened at major museums internationally and named by the Museum of Modern Art as one of the three best documentaries of the year.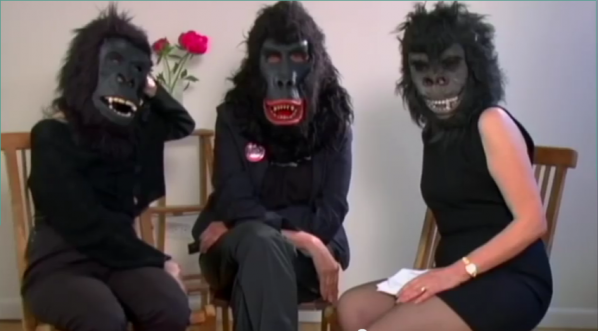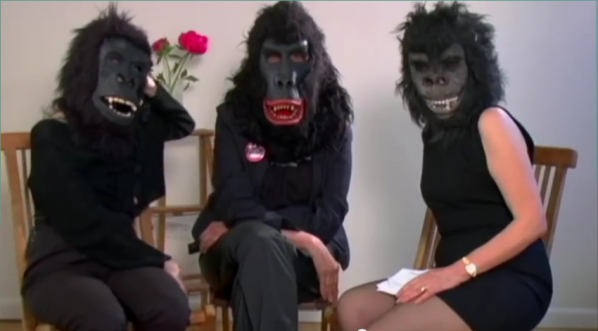 The image above is from !Women Art Revolution, which introduces the Guerilla Girls who draw attention to injustice and under-representation across artistic platforms and institutions. Several members discuss their origin story and modus operandi, including "the penis countdown. !Women Art Revolution won the first prize in 2012 at the festival in Montreal on Films on Art.
She also wrote, directed, produced and edited the feature films Strange Culture, Conceiving Ada, and Teknolust. All featured Tilda Swinton and were showcased at the Sundance Film Festival, Toronto International Film Festival and Berlin International Film Festival before being distributed internationally. After her retrospective, at CIVIC RADAR in December 2014, a bumper catalogue consiosting of 450 pages will be published in Oct 2015. Featuring writing by Peter Weibel, Laura Poitras, Tilda Swinton, Kristine Stiles, B Ruby Rich, Hou Hanru, Andreas Beitin, Peggy Phelan, Pamela Lee, Jeffrey Schnapp, kyle Stephan and Ingeborg Reichle. Civic Radar is now at Diechterhallen Falkenberg till November 19, 2015.
Start of Interview.
Marc Garrett: Could you tell us who has inspired you the most in your work and why?
Lynn Hershman Leeson: What has inspired me are people who work with courage to do original work that has a political and authentic ethic. These include, to name a few only, it seems a bit strange because naming them isolates these artists from the context of their contributions. But I have been inspired by Lee Miller, Mayakovsky, Tinguely, early Automata and so many more like Thomas Edison, Jules Etienne Marrey, even Cezanne. Early on I educated myself by copying works to get a sense of how particular artists formulated their language – the way Rembrandt used light, Leonardo's draftsmanship and parallels he found between technology and science, Gauguin's color reversals, Brecht, Breton and Duchamp's ironic and iconic archetypal identities, Tadeauz Kantor, and Grotowsky's extension of the frame.
Also younger artists (nearly everyone is) like Rafael Lezano Hemmer, particularly the work he is doing now in using facial recognition to locate kidnapped victims, Amy Siegal's Providence, Janet Biggs, Annika Yi, Nonny de la Pena, Tania Bruguera, Ricardo Dominguez, and many many more.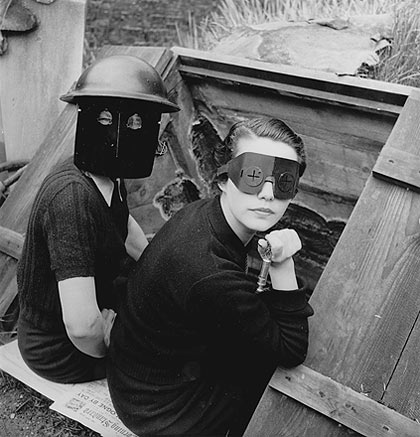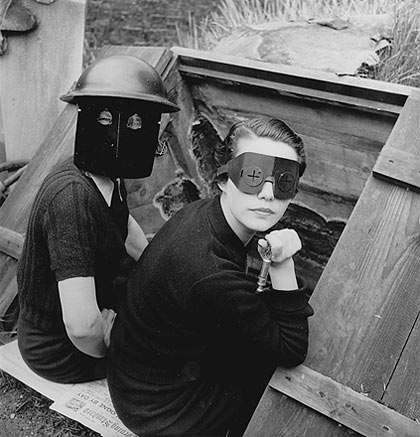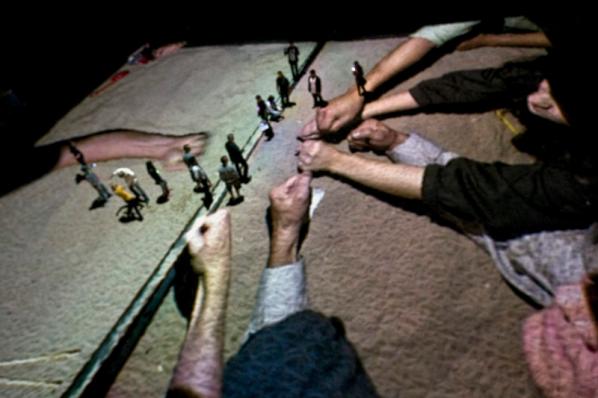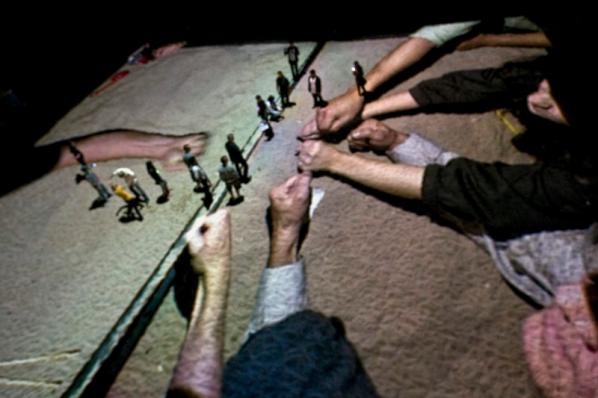 MG: How have they influenced your own practice and could you share with us some examples?
LHL: I think these examples added to my conceptual dimensional and historical overview which has been reflected in my practice. There are direct links also, like how the breathing machines and suicide machines relate to Tinguely, or how Roberta relates to Duchamp and Breton. But these are obvious and on the surface. The deeper perspectives embed themselves into the structure and architecture of the work. Political references like Civil Rights and The Feminist Movement are part of the core of the time I lived through and the resulting collage that is my work.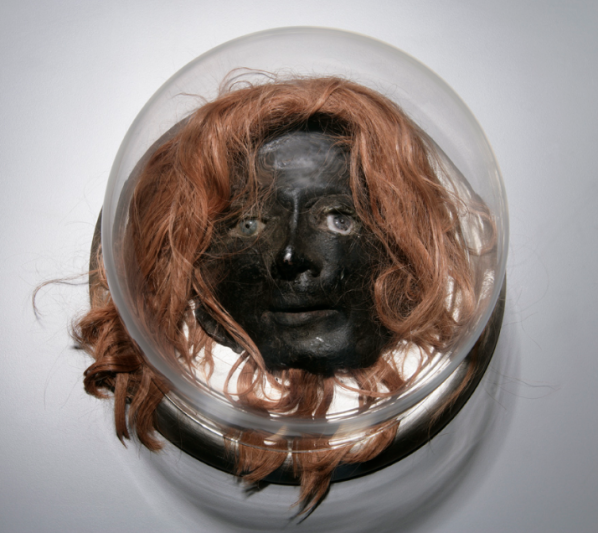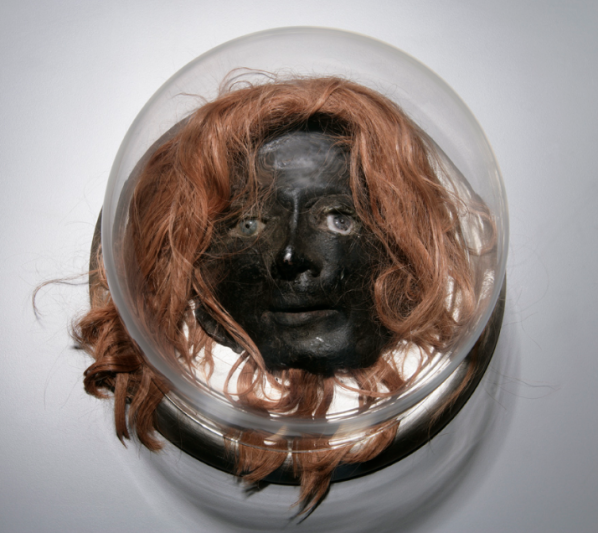 MG: How different is your work from your influences and what do you think the reasons for this are?
LHL: I think we all work in the time frame we are born into, and if we are lucky use the materials or invent the technologies to give presence and voice to the political gestures of that era. We cannot produce work from another era other than what we inhabit and really have to be in tune with the global framing of the tools and language invented during our life time.
MG: Is there something you'd like to change in the art world, or in fields of art, technology and social change; if so, what would it be? How would that happen?
LHL: Of course I would open up the process and systemic repressions, which would hopefully result in eradicating censorship, and the making more transparent the capitalistic underpinnings that are polluting access, value and visibility. In the 70's, I did the first prison art project in San Quentin, and many early public art works geared toward social change, and it just required fortitude and clarity that resulted in breaking down systems of perceived values.
MG: Describe a real-life situation that inspired you and then describe a current idea or art work that has inspired you?
LHL: Well, hearing about Steve Kurtz's predicament and the unfairness of it caused me to make the film Strange Culture. I personally experienced exclusion and rejection – as did many women, and that inspired !Women Art Revolution. I think work comes out of awareness of the situations of one's time.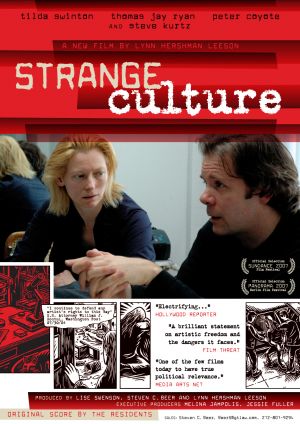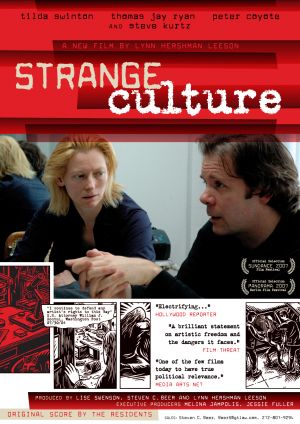 Steve Kurtz's nightmare began on May 11, 2004, when he awoke to find his wife Hope dead of a heart attack. Police responding to his distressed 911 call became suspicious of scientific paraphernalia in his house (materials for an art project on genetically modified food) and contacted the FBI. Soon his world was turned upside down. Only hours after his wife's tragic death he was suddenly a murder suspect, an accused bioterrorist, and a pariah to all but his closest friends.
The film is told through a unique blend of interviews, documentary footage, and reconstructed scenes starring Tilda Swinton, Thomas Jay Ryan, and Peter Coyote, Hershman's critically-acclaimed film is a sophisticated, look at how the traumatic events of 9/11 altered American society and undermined its long-held values. [1]
MG: What's the best piece of advice you can give to anyone thinking of starting up in the fields of art, technology and social change?
LHL: Stay true to your vision, forge ahead no matter what the obstacles are and keep your sense of humor.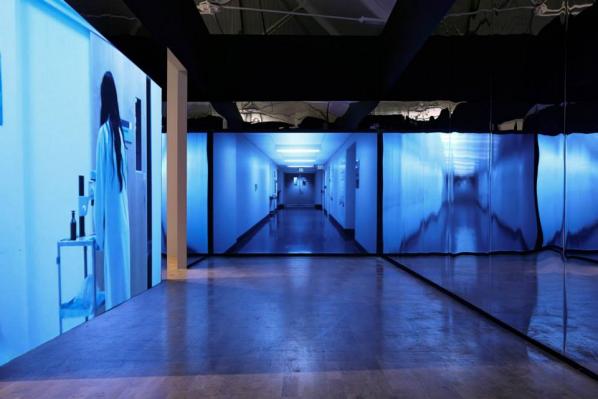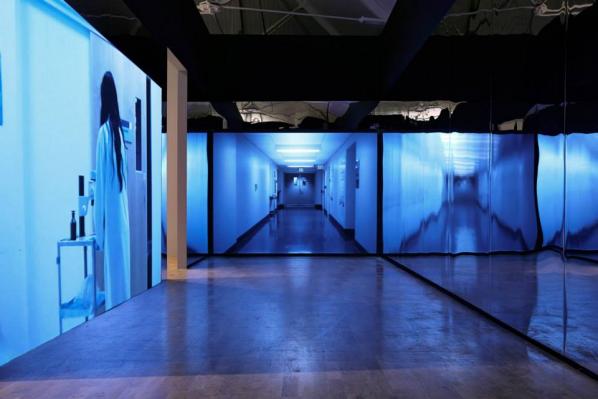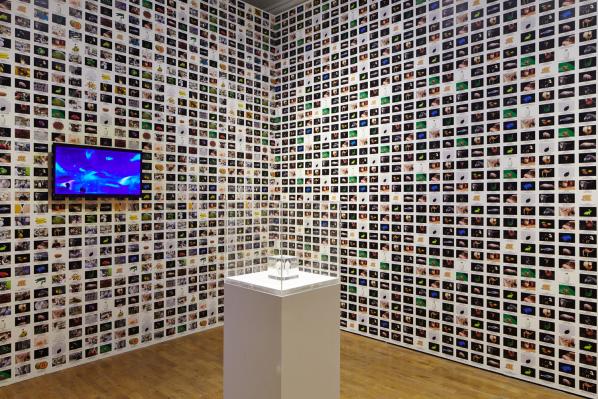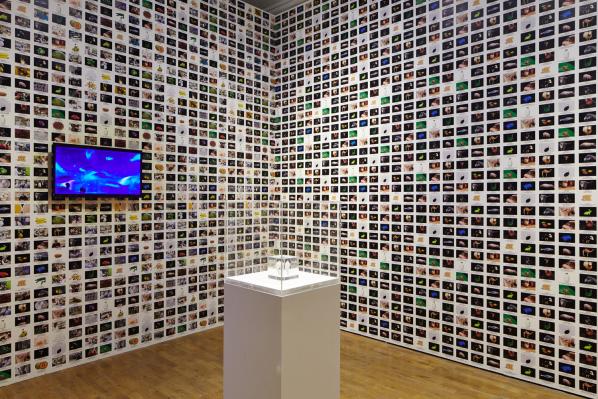 "Ms. Hershman Leeson continues to use art as an advance warning system in new work, developed with scientists, that focuses on, and participates in, the phenomenon of genetic manipulation. The show's most recent piece is an installation of wallpaper made from images of hybrid animals, plants, and human limbs created through DNA manipulation, regenerative medicine and 3-D bio-printing. It looks great in the gallery, and like much of this artist's work, it takes both ethics and aesthetics in ungraspable directions."[2]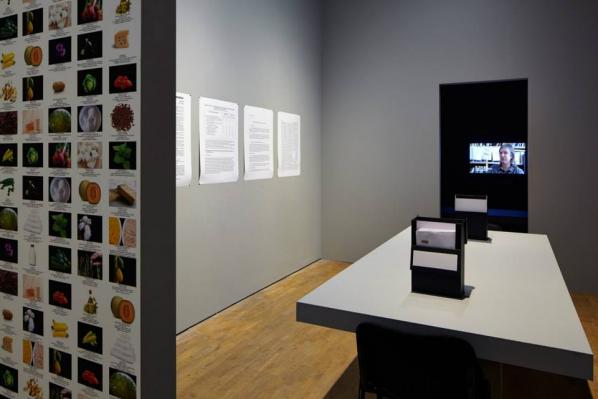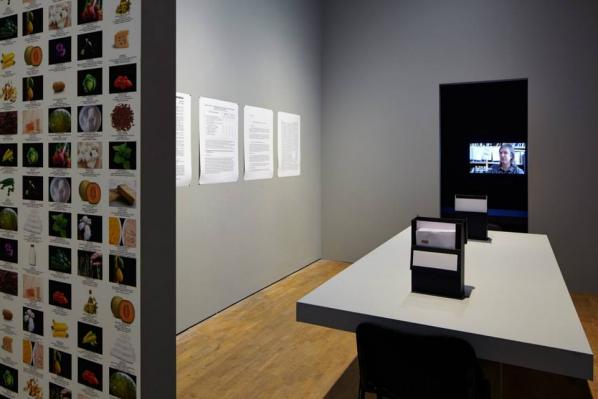 MG: Finally, could you recommend any reading materials or exhibitions past or present that you think would be great for the readers to view, and if so why?
LHL: The Art and Technology show in MdM at Salzburg, my exhibition and catalogue for The Burden of Guilt. The Electronic Super Highway and catalogue coming up at Whitechapel next year. Recommendations for catalogues: !War Graphic Novel, Marshal McLuhan, Rebecca Solnet's River of Shadows, Edweard Muybridge and the Technological Wild, Kristine Stiles: States of Mind, Peter Weibel: The Global Contemporary and the Rise of the New Art World, and so many others. I also think for instance that James Watson's Double Helix is beautifully written. So many possibilities for educating one's self exist.