Introduction
Marc Garrett, curator of the current incarnation of the Children of Prometheus exhibition at the NeMe gallery, interviews artist Joana Moll about the artwork, The Virtual Watchers, developed in collaboration with french anthropologist Cédric Parizot.
This project began in 2010, and looks critically at an online platform group, consisting of 203,633 volunteers surveilling the US-Mexico border, through a social media platform, such as Facebook. The community of The Virtual Watchers existed well before, and briefly, during, President Donald Trump's signature promise in 2016 to build a wall at the US southern border, to stop more migrants crossing over onto US soil. The project also touches upon the wider online culture of attacks by bots and trolls from clandestine right-wing groups. The interview also explores Joana Moll's interpretation of the Children of Prometheus exhibition, and briefly discusses other projects such as CO2GLE, which is an attempt to visualize how much carbon dioxide the company is emitting per second.
Interview
Marc Garrett: I remember when I first came across The Virtual Watchers, it left a deeply, unnerving impression on me. It reminded me of how threatening people can be towards others through the Internet. The project illustrates how participatory platforms which have come about, due to the rise of Web 2.0 culture; has not only paved the way for positive forms of mass communications for small groups and individuals to connect with each other, and with families and friends, but, there is also a darker side that people around the world have only in the last few years become aware of.
Out of the many scenarios you have witnessed when studying this virtual surveillance group, what has grabbed your attention the most, or feels most significant to you?
Joana Moll: The platform that gathered this group of people was specifically created to crowdsource national security by allowing citizens to monitor and report illegal activity in the us/mexico border. Ultimately the project shows how citizens can easily, and silently, be militarized by means of free labour, by translating a physical territory into social media, in this case, a border. Personally, what surprised me the most was the fact that most of the users we investigated, were either retired, unemployed or sick and couldn't leave home.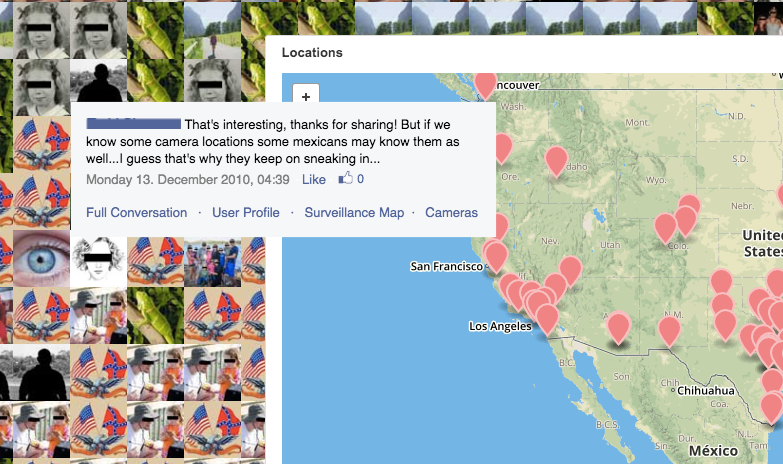 The platform was a stage which allowed them to socialize and feel useful. A couple of users even claimed that the platform saved their lives, that their days became meaningful again. This use of the platform also revealed something important: according to the authorities, and this was that it was quite ineffective when it came to stop illegal activity around the border. Actually, some Sheriffs claimed that the amount of reports that they received on a daily basis were useless and difficult to process. However, the platform worked quite well in terms of keeping a large number of users monitoring the border. It had more than 200.000 registered users which spent more than 1 million hours securing the border for free.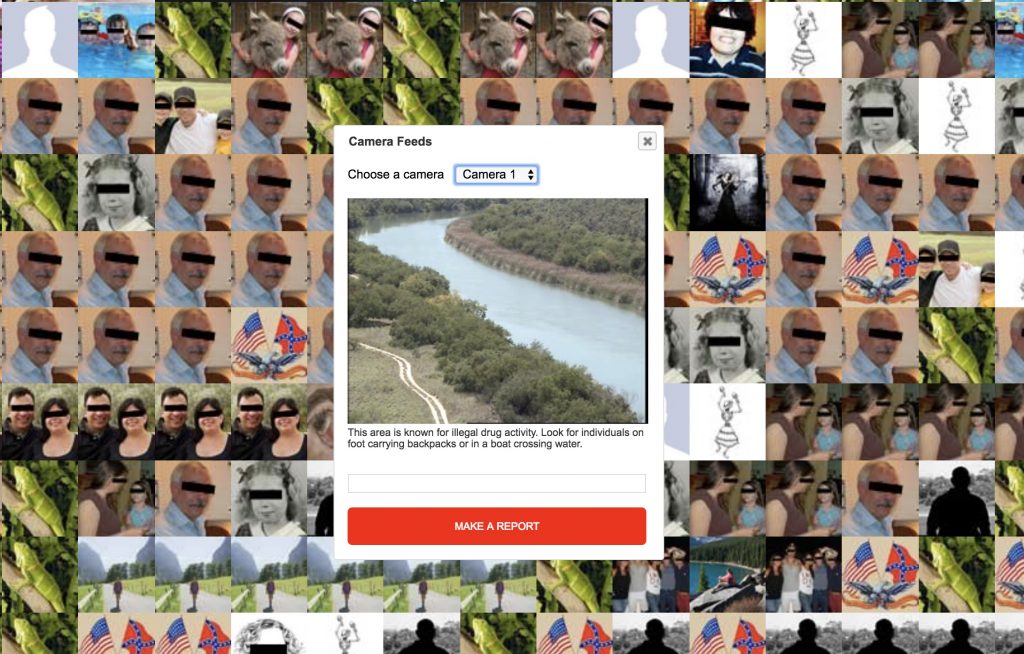 Marc Garrett: This project and or artwork, has been around for nine years now. Yet, its subject matter was ahead of its time, and looking at it now it feels even more relevant. For example, across the world, the general public is only now coming to terms with the political and social, aspects and consequences behind the varied forms of virtual surveillance, dominating online interaction.
This is also true in regard to climate collapse, which brings me to your essay Deep Carbon (2018 ), where you say, the "amount of users and network connections has increased at a whooping pace ever since. In 2015, the Internet registered 966 Exabytes of IP traffic (1.037.234.601.984 GB) and is expected to reach 1579,2 Exabytes by 20182."
And, then you say, "despite the growing number of Internet users and information flows, the material representation of the Internet and surveillance economy behind it remains blurred in the social imagination."
What do you think will help to resolve the difficult issue in respect of material representation, in your terms?
Joana Moll: This is quite a difficult question to answer, indeed! I think there has to be a radical change in the way we produce and consume data, but most importantly, in the way our interfaces and interactions are designed. Even though our internet ecosystem is expansive we only interact with it through interfaces, and I really believe interfaces hold the key to start solving the problem. The energy consumption of most of our interactions in the digital realm are very opaque, we have no idea about all the processes that are taking place beyond the interface (i.e. a website, an app) and where all our data is going. I'm about to launch a project called The Hidden Life of an Amazon User which tries to bring to light all the amount of processes that are triggered by doing a simple purchase in Amazon. The amount of information that is involuntarily being loaded in the user's browser is massive, let alone its energy consumption and environmental impact.
Since 2015, within the Critical Interface Politics group I founded at HANGAR (Barcelona), we've been developing experimental workshops that focus on developing sustainable interfaces. We usually work with a limited energy budget, which means that the interfaces we design can just use a certain amount of energy. It is really amazing how this seemingly small shift radically changes the way we think and design online interactions. If this would be a standard process when it comes to design our online experiences (which it should), would possibly have tremendous collateral positive consequences for the entire internet ecosystem, specially in terms of preventing to collect massive amounts of user data, which consume vast amount of resources. In this sense sustainable websites would be privacy friendly 😉
Marc Garrett: In what way do you think your own work fits into the context of the exhibition?
Joana Moll: It's always hard to talk about my own work beyond my own work, but I'll do my best! I feel my work tries to reveal very complex and hard to grasp techno-social arrangements in a very simple way. To allow people to understand the infrastructures and processes that govern their day to day lives without feeling smashed about their complexities it's a central concern in my practice. I think my work fits in the exhibition in many ways, but I believe that this need to urgently discuss critical implications of our technologies with broader communities is one of the most relevant.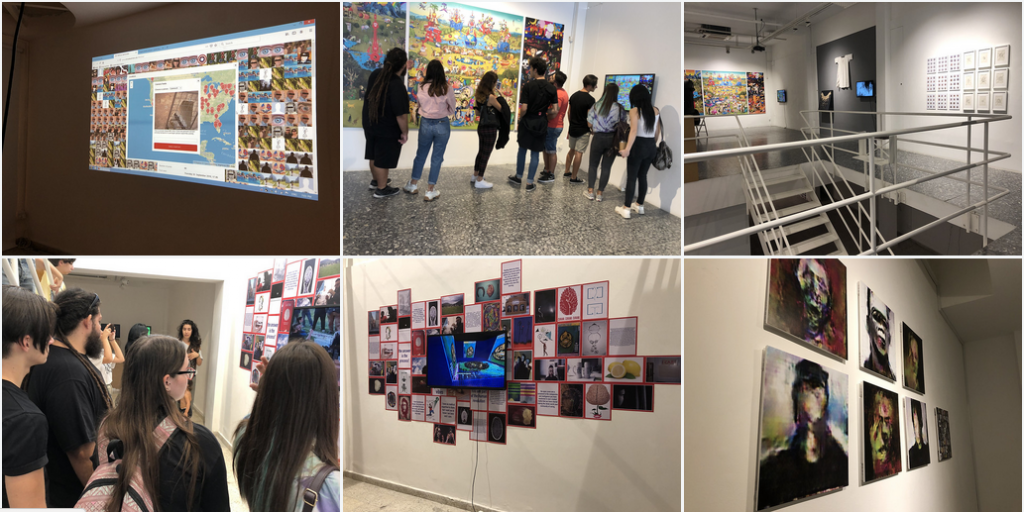 Marc Garrett: The postmodernist, feminist and theorist, Donna Haraway has recently re-emphasized the importance of re-evaluating certain contemporary contexts, especially those involving the patriarchy, politics, and climate change, in the age of the Anthropocene. I consider yourself, and myself, have been exploring our practices in parallel to Haraway's critical ambitions, in respect that, we share similar values, but express them differently.
Thus, we need to re-examine our relationship with the world in the midst of spiraling ecological devastation, and find new ways to reconfigure our approach and connection to the earth and all its inhabitants.
Could you give us an example of your current works that you feel could be materializing Haraway's writings, but as part of your own artistic production and or intention, and what the links and differences are?
Joana Moll: I agree, our work involves many of Haraway's concerns, indeed. As for my practice, I believe politics, patriarchy, climate change and technology are continuously meeting and being questioned, in the sense that I always approach this contexts from different angles, which also talks a lot about my own process of understanding complex contemporary arrangements and how they affect and modify each other. For example, in my latest projects: The Dating Brokers and The Hidden Life of an Amazon User (HLAU), I examine how user activity, or in other words free labour, is heavily monetized by third parties. However in HLAU I also examine the energy costs that such exploitation is involuntarily assumed by the user. Graham Harman said it is very important no to assume that everything is connected, but to continuously trace the connections between things, which is something that I try to remember when I do a new project and I believe that Haraway's body of work heavily points in that direction. However, I believe that techno-colonialism is a central issue to tackle while re-evaluating technology, politics, environment and most importantly, the way it affects and informs our ability to think and imagine. Together with my colleague Jara Rocha we've been recently collaborating in a series of projects and workshops that aim to reveal tangible outcomes of techno-colonialism in our daily lives.
Marc Garrett: The Children of Prometheus exhibition was mainly inspired by Mary Shelley. What elements in the exhibition's: themes, ideas, and contexts, do you relate to personally?
Joana Moll: I relate to all of them, they are all so relevant and urgent! As for my work, I especially connect with the way invisible processes triggered by human-centered technologies affect our natural habitats. I believe that the exhibition opens highly relevant and urgent discussions about how society has been "Frankensteined" at large. The way our technologies are designed, produced and used are seriously damaging not just our life-giving habitats but also our relationship to them, our ability to imagine habitable ways to inhabit this planet.
Conclusion
When I first began the Children of Prometheus exhibition project, it was called Monsters of the Machine: Frankenstein in the 21s Century. Both titles fit the same curation function, and that is, to examine critically with other the artists in this touring show, Mary Shelley's questions, that were asked in 1818, today, looking through her eyes.
I can't imagine what she would think of Trump and all the other extreme right-wing, racist, groups and politicians, and dodgy corporations, exploiting people's data, whilst adding to the destruction of the planet. However, in the spirit of Shelley, we have individuals such as Joana Moll who can play that role, with other artists doing what Shelley did so well then, but today. Our world is dying and those in power are part of non-friendly systems designed to kill it further, while the poor and oppressed take the brunt of it all. Moll, and the other Artists the exhibition, are presenting us with serious questions. But, accompanying these necessary and urgent concerns, are also answers at the same time. But there's not much time.
Joana Moll is part of the touring exhibition, Children of Prometheus currently at the NeMe Arts Centre, Limassol, Cyprus 11 Oct – 20 Dec, 2019. This exhibition was originally produced in partnership with LABoral, in Gijon, and is an extension of the Monsters of the Machine: Frankenstein in the 21st Century, 18 Nov 2016 – 21 May 2017. We are currently negotiating other venues, in different countries across the world. Please contact if you're interested in the exhibition.
Joana Moll will also be leading a workshop, THE INTERFACE, DECONSTRUCTED, and participating in a conversation with Tatiana Bazzichelli, founder of Disruption Network Lab as part of ACTIVATION: Collective Strategies to Expose Injustice, Saturday, 30 November 2019.
Artist Bio
Joana Moll is a Barcelona / Berlin based artist and researcher. Her work critically explores the way post-capitalist narratives affect the alphabetization of machines, humans and ecosystems. Her main research topics include Internet materiality, surveillance, social profiling and interfaces. She has lectured, performed and exhibited her work in different museums, art centers, universities, festivals and publications around the world. Furthermore she is the co-founder of the Critical Interface Politics Research Group at HANGAR [Barcelona] and co-founder of The Institute for the Advancement of Popular Automatisms. She is currently a visiting lecturer at Universität Potsdam and Escola Superior d'Art de Vic [Barcelona].