Featured image: Gambiologia presenting one of their projects made specially for the festival. Image: aloysio araripe.

Festival Cultura Digital took place in Rio de Janeiro between the 2nd and the 4th of December 2011. It was the third edition of the event known as Forum da Cultura Digital that happened in Sao Paulo in the first two years. It gathered 6 thousand people in about 20 open discussions, 20 workshops and 52 international and national projects presented in MAM Rio de Janeiro (the Museum of Modern Art) and Cine Odeon.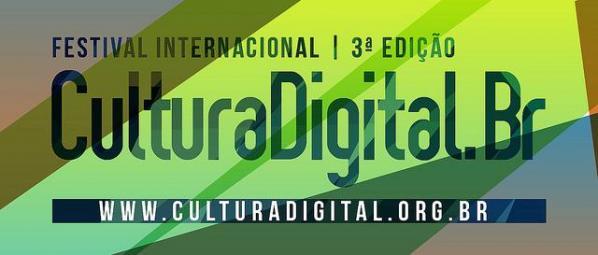 The Festival Cultura Digital is a project from Casa de Cultura Digital, "a criative cluster from São Paulo" composed by 15 institutions. For this project, Casa de Cultura Digital received an honourable mention in the Digital Communities category by Ars Electronica 2010.
One of the particularities of this event is that it brings together political institutions, artists, companies, activists and intellectuals in a hybrid format. The main goal is to change and broaden the limits of digital practices and connect to other people and networks from other cities, states and countries.
This edition of the festival had as key speakers Yochai Benkler (Harvard Professor and co-director of Berkman Center for Internet and Society), Kenneth Goldsmith (poetry professor of Pennsylvania University and founder of Ubuweb), Hugues Sweeney (producer of Interactive movies of National Film Board of Canada), Michel Bauwens (founder of P2P Alternatives), Philippe Aigrain (Sopinspace, CEO), Paulo Coelho (the famous Brazilian writer that made all his books available for download) and Heloisa Buarque de Hollanda (researcher on the relations of "marginal culture" and digital culture).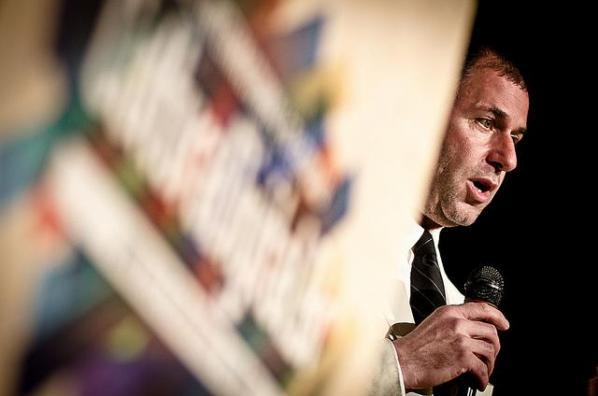 For the first time projects were chosen through an international open call and selected by a group of people involved with the festival. They've received almost 400 projects and selected about 80 that were organised in different themes: Construção de laboratórios de cultura digital (constructing digital culture labs), Encontros de rede (network meetings), Mostra de experiências (experience show) and Visualidades (visuals, that gather artistic projects to be shown and discussed).
Casa de Cultura, as defined by them, connects the counterculture from the 60s-70s to the cyberculture from the 21st century. The group itself has members as Claudio Prado, a key figure from the Tropicalia movement. He's a cultural producer, co-founder of Glastonbury Festival and has produced many concerts of Mutantes and Novos Baianos. He currently coordinates the Laboratório Brasileiro de Cultura Digital. Gilberto Gil, the musician and ex minister of culture of Brazil is the "ambassador of Festival Cultura Digital". Besides that, many members of Casa de Cultura are journalists, videomakers and programmers in their 30s or under that are directly involved with hackerspaces, independent journalism and public policies for digital culture.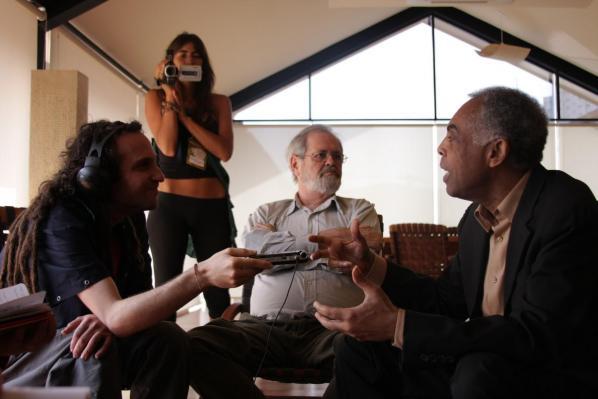 It brings together as partners members of the international mass media as The Wall Street Journal and Reuters, Folha de Sao Paulo (one of the main newspapers in Brazil) as well as the blog Falha de Sao Paulo, that was sued by Folha de Sao Paulo for being critical about its content. Casa de Cultura Digital also represents the Brazilian node of Wikileaks.
Besides international selected projects like Waste2No, Pretty Resistant, Protei / Oil Compass, Bitcoin, Generadores de electricidad con basura electrónica, or The Cartographer; and nacional groups like Cotidiano Sensitivo, Garoa Hacker Clube, Gambiologia, Pandeiro Montagem, or Espaço Macambira, there were projects such as: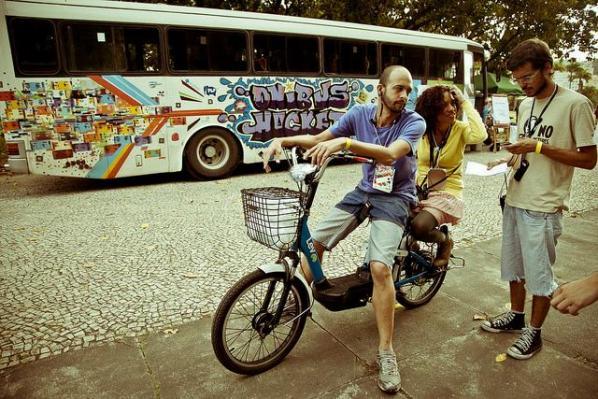 Onibus Hacker was a idea to buy a bus through donation to be modified to include webcam, 3G connection and GPS for Transparencia Hacker [1] projects. The projects are done during the trips to small cities among the group that travels in the bus and also virtually. Some of the projects include workshops, Hackdays and Install Fest to small towns (less than 5,000 inhabitants), also allowing local people to organize themselves (according to Brazilian legislature, anyone can propose a law if it's signed by 5% of the local electors) that would benefit these contexts. The bus was bought and went to Rio de Janeiro to be shown and visited during the festival.
Brasuíno BS1 is a single board microcontroller inspired on Arduino that uses the AVR microcontroller. This Brazillian version was redesigned using Libre Software, free to reuse and derive, and it's licensed as GPLv2+ (the original Arduino still uses a microchip that is not open hardware). It's also compatible with Arduino Uno and Arduino software.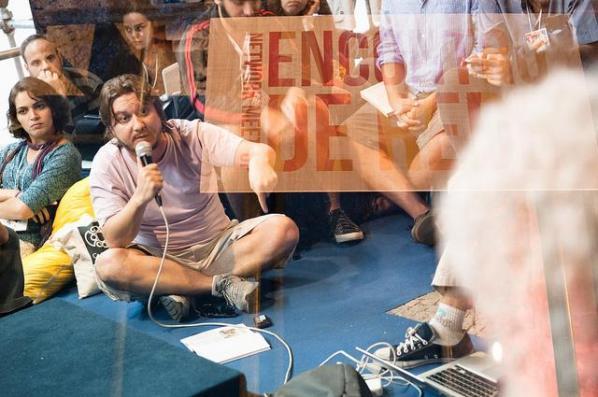 The project is composed by an IT lab based in the Kaiowá community Nhandejara that integrates the indigenous community to straighter demands and opens the discussion about their issues and projects outside the reserve through a web portal. Furthermore it offers workshops for inhabitants and people involved with the group and it's a source of information for researchers. The project includes organization, digitalization, production and analysis of historical and cultural elements from the Kaiowá and Guarani tribes. The website is bilingual (Guarani-Portuguese).
Cultivo is the first crowdfunding network for Cultural Incentive Laws in Brazil. The main goal is to connect companies and projects approved so that they can contribute to their development. The project was launched during the festival. One of the ideas is to enhance the participation of the private sector in cultural projects. If a project is selected, the companies can use part of the tax money to support it. Nevertheless, many companies don't know the projects or how to proceed, so Cultivo would be a portal to present the projects to the private community.
LALOCA is the Laboratory for Locative Media and GPS Films. It's a centre for the production and research of mobile media at the Federal University of Juiz de Fora in collaboration with the University of California San Diego. The projects focus on locative cinema with interactive scripts based on open source OS and tools, as HiperGps, HiperGeo and walkingtools, whose project The Transborder Immigrant Tool [2] has caused great media frenzy and issues with the government for Ricardo Dominguez, professor, activist and one of the developers of the tool.
It's a platform for mapping soundscapes in Rio de Janeiro and Niterói (greater Rio de Janeiro) based on the Universidade Federal Fluminense. It's built in a collaborative way to collect a "Museum of sounds" of neighbourhoods and favelas.
Circuito Fora do Eixo is a network of cultural producers and artists from parts of Brazil outside Rio and Sao Paulo. These two cities are known as the cultural and economical "axis" concentrating the funds, spaces and media interest of the country – thus the name Circuito Fora do Eixo which literally means "circuit outside the axis". The group began in 2005 as a way to stimulate bands to play and tour across Brazil. With the aid of certain technological developments that allowed direct distribution and the lowering of production costs they have created many small festivals (about 180 until today) and gained great relevance in terms of connection with the government and artists. Now Fora do Eixo has two permanent spaces called Casas Fora do Eixo, it has gained a national presence and has broadened its activities to include an interest in free digital cultural policies for education, audiovisual production, etc. [3]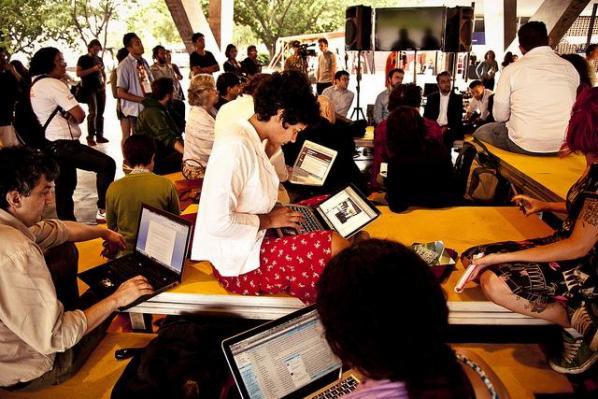 The Festival Cultura Digital is an exciting example of how collectives and individuals create a public and open space for sharing information, not depending but also not ignoring the public and private role in the national scenario. This process is particularly interesting for a country that is learning how to use networked technologies to overcome its gigantic size and its many cultural and socio-economic differences. It's not an easy task, but it's a lesson which is worth learning in times where the boundaries between public and private are blurred, when governments are ruled by investors and individuals change drastically the laws of the market as we know it.
Links:
Congresso Fora do Eixo – http://congresso.foradoeixo.org.br
Festival Cultura Digital – http://culturadigital.org.br
Casa de Cultura Digital – http://www.casadaculturadigital.com.br
According to the organization, there'll be videos from the presentation available on the website by the beginning of 2012.