Body Drift: Butler, Hayles, Haraway (Posthumanities)
Author Arthur Kroker. University of Minnesota Press (22 Oct. 2012).
Introduction
Body Drift by Arthur Kroker, takes the work of three leading women thinkers as its main focus. It therefore would feel strange, before venturing on to the review, not to mention Marilouise Kroker, his wife and collaborator who he credits with shaping the critical direction of his thought "on bodies and power." [1] Together Marilouise and Arthur Kroker have created an abundance of work in the fields of technology and contemporary culture. They both edit the peer publishing electronic journal CTheory founded in 1996. They co-authored the influential Hacking the Future (1996), and Marilouise Kroker has co-edited and introduced numerous anthologies including Digital Delirium (1997), Body Invaders (1987), and Last Sex (1993) and Critical Digital Studies: A Reader. Marilouise Kroker is Senior Research Scholar at the University of Victoria. A recent bio written about them says "Arthur and Marilouise Kroker are the hipsters of Canadian media theory." [2]
Arthur Kroker is Canada Research Chair in Technology, Culture and Theory, Professor of Political Science, and the Director of the Pacific Centre for Technology and Culture (PACTAC) at the University of Victoria. His recent publications include The Will to Technology and the Culture of Nihilism: Heidegger, Nietzsche, and Marx (University of Toronto Press) and Born Again Ideology: Religion, Technology and Terrorism. Dr. Kroker's current research focuses on the new area of critical digital studies and the politics of the body in contemporary techno-culture. http://web.uvic.ca/~akroker/
Review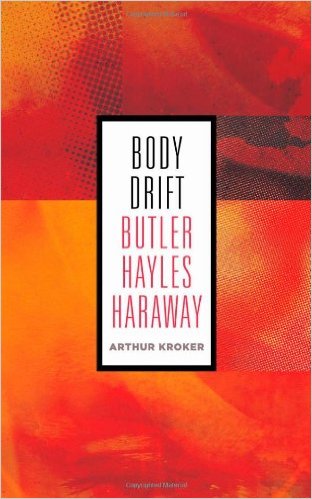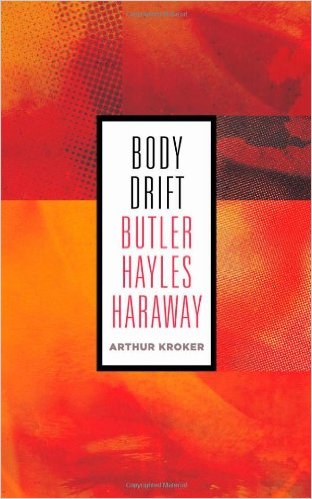 This review is written three years after the publication of the book but it feels even more relevant now than ever for reasons that will, I hope become plain…
Body Drift focuses on three major feminist theorists, Judith Butler, Katherine Hayles and Donna Haraway. They have had a deep influence on my own work and of course on media art culture through the years. They have profoundly altered our views on technology, feminism, queer theory, postmodernism, marxism, hacking, hacktivism, cybernetics, the Internet, network culture, politics and posthumaniism. Re-examining their critical perspectives and creative processes – assemblages, remixing and cyborgs- Kroker terms the emerging technological spectre body drift. He examines the connections between what he sees as Judith Butler's postmodernism, Katherine Hayles's posthumanism, and Donna Haraway's companionism.
Through the spectrum of Body Drift he attempts to find a clearer understanding of the contemporary material body and its societal complexities. He views two opposing forces at work in body drift. One is, the continual disappearance of human things and values, alongside excluded ethnicities and outlawed sexualities. He connects this with an entrapment by social crisis in which actual democratic aspiration is dwindling. In parallel to this mass loss of our freedoms other factors are at work. He sees it as overall, and an eventual series and states of resistances. These are evolutionary forms of hybridity and as such are key paths for what he argues is the function of our posthuman condition. [3]
There are numerous techno-visions expounding how technology will change our lives and futures. What for me, separates a classic posthumanist and a critically aware posthumanist is that the latter is not only aware of the necessity of grass roots culture and inclusion of female voices, but is also critical of domination over others as key when engaging in the processes of innovation. Thus moving beyond existing frameworks that perpetuate patriarchal language, methods of centralization and colonial habits.
In his book You Are Not A Gadget: A Manifesto, Jaron Lanier described Ray Kurzweil's excitement about The Singularity as apocalyptic. Lanier says "The coming Singularity is a popular belief in the society of technologists. Singularity books are as common in a computer science department as Rapture images are in an evangelical bookstore." [4] Kurzweil's digestible techno-bites fit well alongside big business and with Peter Diamandis a wealthy entrepreneur. Dr. Peter H. Diamandis and Dr. Ray Kurzweil co-founded the Singularity University. In To Save Everything, Click Here: Technology, Solutionism, and the Urge to Fix Problems that Don't Exist, Evgeny Morozov writes that Diamandis "promises us a world of abundance that will essentially require no sacrifice from anyone – and since no one's interests will be hurt, politics itself will be unnecessary." [5]


In The Joy of Revolution Ken Knabb wrote, "Marx considered it presumptuous to attempt to predict how people would live in a liberated society. "It will be up to those people to decide if, when and what they want to do about it, and what means to employ."" [6] Kroker says, "In my estimation, while Marx, Nietzsche and Heidegger may have provided premonitory signs of the charred landscape of the technological blast, it is the specific contribution of Butler, Hayles and Haraway to provide a deeply compelling account of the fate of the body in contemporary society." [7] This includes how we evolve our Internet freedoms, surveillance, and cyber attacks in a post-Snowden world. While we're, either reshaping or being reshaped through the constant production of new technologies and political re-invention, it is crucial that there exists regular critique reflecting on these influences and changes on people, animals, society, the planet, and the universe. Thankfully, Butler, Hayles and Haraway disrupt the normalization and dangerously hegemonic acceptance of 'the male overlord and his machine' over the rest of us.
How our bodies and the idea of our bodies relate to this complex world is Kroker's primary interest. In the introduction Kroker says that we no longer inhabit a body in any meaningful sense of the term but rather occupy a multiplicity of bodies – imaginary, sexualized, disciplined, gendered, laboring technologically augmented bodies. [8] Hayles has not only bridged the gap between science and literature, but also media art. In 2000, Hayles wrote an insightful piece on Patchwork Girl, an artwork made by Shelley Jackson in 1995, a hypertext fiction and remix of Mary Shelley's Frankenstein. When discussing Jackson's piece Hayles said, "As the unified subject is thus broken apart and reassembled as a multiplicity, the work also highlights the technologies that make the textual body itself a multiplicity." [9]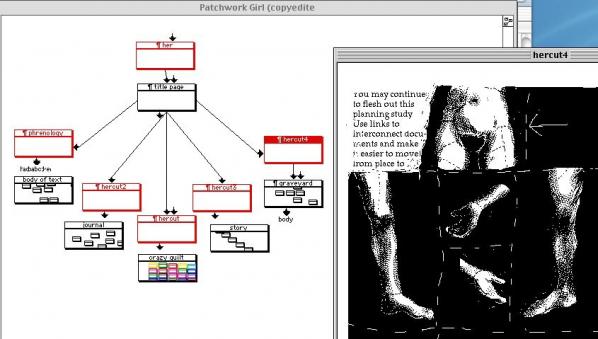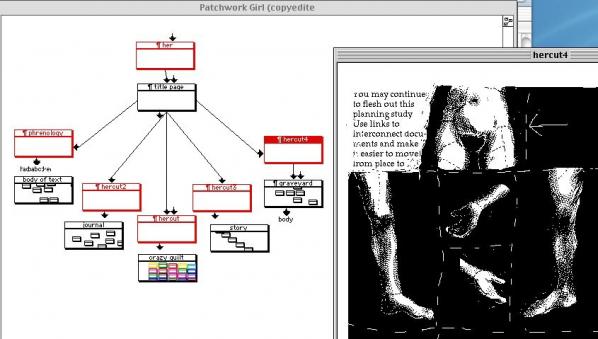 Kroker says, ""Like Heidegger before her, Hayles refuses to privilege either interpretation to the exclusion of its opposite, preferring a form of thought similar to "pendurance," that moment when, in the folded twists of complexity theory, "one comes over the other, one arrives in the other."" [10] In an interview with Josephine Bosma on the Nettime email list, in Nov 1998, Hayles said "There may be other ways to think about the subject that don't find themselves first and foremost on this notion of ownership. New technologies open up possibilities for rethinking other ways to begin to construct the subject." [11] Krokers sees Hayles as providing us with the digital alphabet to explore the complexity and connections of technopoesis. "To read Hayles is, in fact, to begin to experience the fractures, bifurcations, and liminality that stretches across the skin of posthuman culture." [12]
Donna Haraway in her introduction to A Cyborg Manifesto: Science, Technology, and Socialist-Feminism in the Late Twentieth Century, in 1985 she said, "Though both are bound in the spiral dance. I would rather be a cyborg than a goddess." This unsettled many feminists at the time. Haraway was not interested in reclaiming what she saw as a lost ideal based on matriarchal values. Instead, she wanted women to re-invent and create their own versions of what a female could be or not be, by playfully exploiting the cyborg myth and concept in the here and now. [13] This reconstruction of the woman, Kroker says, poses particular twists and knots, and contradictions. He emphasises that we're not discussing a traditional form of feminism but a hybrid vision of feminism. [14]
"Not waiting passively for the capricious experience of biotechnology to produce spliced bodies, Haraway has made of her own mind a biopolitics on creative hyperdrive. Deeply immersed in the (bio)scientific disciplines, always distancing herself from seductions of technological representationality by feminist difference, continuously provoking boundary breakdowns in her own thought by refusing to assent to an anthropomorphic species-heirarchy, Haraway is a theorist of the splice." [15] Kroker (2012)
Kroker moves on from Haraway's concepts on the cyborg to her later inter-species theory. He tries to untangle the complexity of her personal, political and theoretical relations in respect to where her critical strength is best engaged. He's drawn to what he sees as ""Haraway's profound conceptualization of "companion species."" Haraway challenges the established role and hierarchical control by us humans over animals, plants, objects, and humans. [16] In her publication The Companion Manifesto: Dogs, People, And Significant Otherness, Haraway says, "I believe that all ethical relating, within or between species, is knit from the silk-strong thread of ongoing alertness to otherness-in-relation." [17]
Haraway's text in The Companion Manifesto conveys a shocking sense of freedom as if written by someone who longer gives a damn about her academic reputation. Perhaps, what I mean here is that the thinking reaches further than academia and builds alliances with others who may not have read her other works. In the chapter A Category of One's own, Haraway says, "Anyone who has done historical research knows that the undocumented often have more to say about how the world is put together than do the well pedigreed." [18] As with her concept for Situated knowledges her intention is to connect beyond officially accepted canons and norms, and established hegemonies. In his chapter HYBRIDITIES Kroker says "Haraway's writings reveal the apocalypse that is possibly the end condition of hundreds of years of (Western) scientific experimentalism." [19] This does not mean the West is doomed. However, Haraway has always been on the side of otherness, whether for humans or nonhuman entities. In her eyes our futures or the world as it actually is may not necessarily be as reliant on technology as we like to think.
"Perhaps most importantly, we must recognise that ethics requires us to risk ourselves precisely at moments of unknowingness, when what forms us diverges from what lies before us, when our willingness to become undone in relation to others constitutes our chance of becoming human." [20] Judith Butler.
Of this quote from Butler's Giving an Account of Oneself, 2005 [21], which opens the second chapter in Body Drift, Kroker says, "Could there be any text more appropriate to both understanding and perhaps, if the winds of fate are favorable, transforming contemporary politics than Judith Butler's eloquent study of moral philosophy..?" [21] In Giving an Account of Oneself, Butler presents us with an outline for a different type of ethical practice and proposes that, before you even ask what ought I to do? Ask yourself the question who is this 'I'? Butler, proposes that it is "a matter of necessity" that every person should "become a social theorist." [22] Indeed, in the City Lights interview with Peter Maravelis, Kroker says Butler is speaking in terms of people breaking their silence, such as "the repetition chorus of OCCUPY during the Wall Street insurrection". [23] And then he says, "In many ways, all of Butler's thought is "standing as witness." [24] Butler stands witness to what we now know in the 21st century as a violent regime of heterosexual masculinity spreading its domination over history, technology and life itself.
Butler, Hayles and Haraway are major players in feminist and queer academia and media art culture. They have all been active in breaking away from the traditional behaviours that have kept us caught within loops in various ways. Their fluid and progressive approaches to feminism are not only of value to women alone but it can also help others think beyond restrictive behaviours. Kroker's book manages to reflect the fluidity of networked and contemporary aspects of body drift well, especially from a critically aware, posthumanist perspective. However, no matter how you slice it, it's about personal and collective freedoms, how we can somehow reclaim our states of being, and how we can own our subjectivities and our psyches in whatever forms these may take. As artists, as humans and or as posthumans – we need Butler, Hayles and Haraway to guide us through this ever-changing, twisting, everyday, posthuman terrain.