Featured image: System Map by Andrea Crespo, 2015, image
Fear is easily attributable to a cause—we fear something in particular. Anxiety, however, can be described as fear without the source. Yet, anxiety is also a safety mechanism. Without it, we would walk in the face of danger. In the online exhibition Body Anxiety, curated by Leah Schrager and Jennifer Chan, the disquiet is experienced in the flesh, whether this is as a symptom or sublimation.
Whatever your gender, your body is politicised in ways you cannot control. If you are female, or gender queer, there is also a fight against power. The works in Body Anxiety specifically problematise the image of women in the media and in the art world. Women artists, they claim with good arguments, are powerless; sothe show gives time and space to a group of artists the curators call 'female painters'. Even though few paint (in fact, probably only Schrager herself does), Schrager puts forward the argument of painting as the highest artistic form, one dominated my males. She recontextualises painting for this exhibition, where most artists use their own bodies as canvases for video performances, sound works, photographs and writing. Perhaps this is peinture féminine to Helene Cixous' écriture féminine.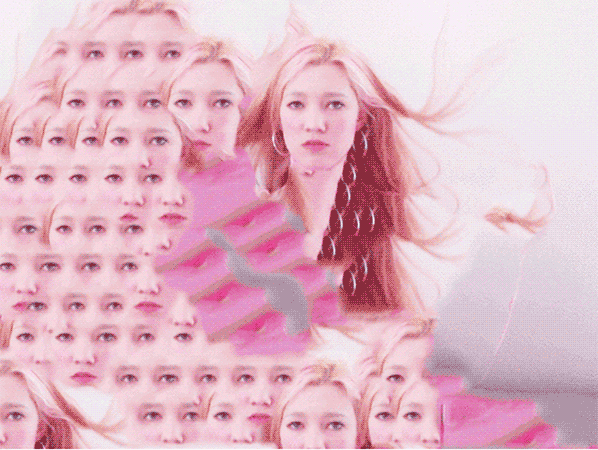 Good examples of the symptomatic are Victoria Campbell's The Penelope Files, an auto-interview video with a reflexive sound monologue where she explores her thoughts on images of herself while browsing through her computer files. We hear her; we only see the screen. Exploring her relation to image, authorship, labour and the body, something about photography is revealed in the repetitive moving of files on her desktop's finder window. Narrative also inhabits the work of Randon Rosenbohm. She presents a scan of a handwritten diary entry where artistic labour, exploitation and male artists feature. Her other work consists of a tumblr blog of rejected selfies. Both are pieces we should not see. This is also the case in Ann Hirsh's video. Dance party just us girls shows footage that should be for private consumption, part of a home video, a laugh, documentation of a personal exploration. Using generic distorting video software available in most computers, the two-channel work shows the torso of a woman bobbing away to a song next to an image of moving genitalia, in a feminist version of Courbet's painting The origin of the world. The two images share a pair of glasses and the genitalia is converted into a talking face, like in Denis Diderot's libertine novel The Indiscreet Jewels.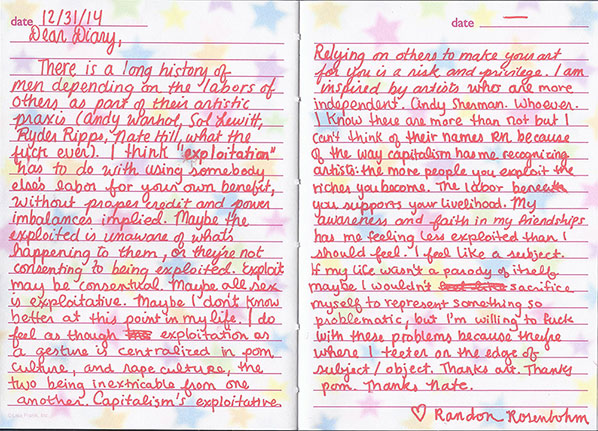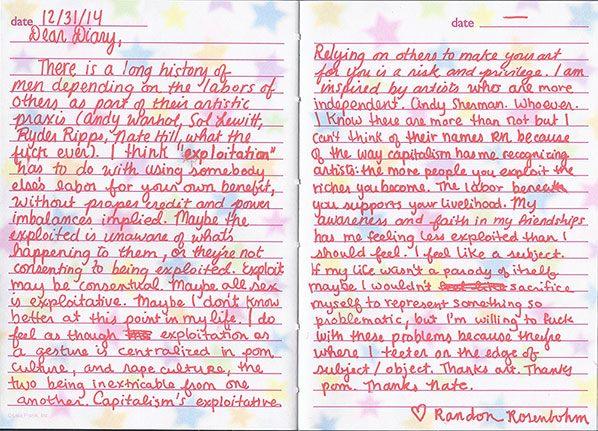 Saoirse Walls' Den Perfekte Saoirse(2012) quotes Jurgen Leth's The Perfect Human. She replicates some of the famous body poses and music from the classic black and white film, showing us the best of her individual self in a sublimation. She can do a side crow, twerk, walk in heels and, thanks to camera tricks, have a 100% symmetrical face. The work gets more and more bizarre with the appearance of make up and hair extensions. Where has Leth's serious exploration of perfection gone in her quote? What are we demanding of Saoirse Walls? Another good example of an impossible demand and how this conflict is shown in a work of art is Nancy Leticia's video. Her youthful, gorgeous self plays piano in her underwear. She plays very well, but how does this relate to the image setting?
Screenshot of Den Perfekte Saoirse by Saoirse Wall, 2012, video, 2:22 mins
The writer Marie Calloway—an alt lit writer, also a female painter in the way Schrager intends—features in Rachel Rabbit White's work A Story In The Shape Of A Selfie Of The Writer And Her Friend, Marie Calloway. Her writing with images addresses the issue of anxiety head on. 'Refresh', 'refresh', 'refresh', she writes at the end of a blog post-merging stories about Marie, public events, selfies, feminist writers and artists, and social media.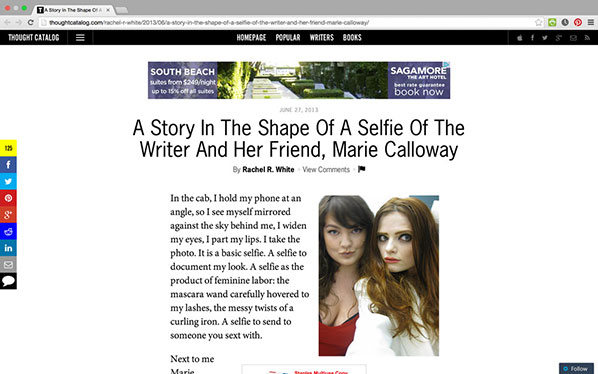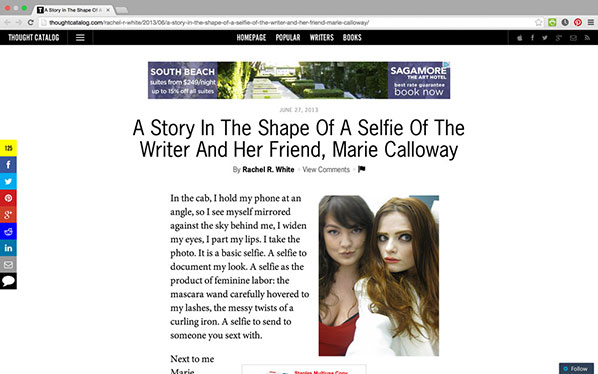 These diverse works are playful, at times irreverent, and certainly thought provoking. The curation is purposeful, direct and erudite. Yet, I have some issues with the display, with the sidebar prefaced by curatorial statements and with links to the artists' biographies and websites. It feels more a catalogue than an exhibition. I don't have a solution, though, as maybe this is a constraint of the medium. A few of the works are hosted on external websites—vimeo, red tube. Some of them even require passwords and this provokes a particular way of looking, a gaze, then a click, a search away from what is presented in front of us. I am an active viewer, often in the position of a Peeping Jane.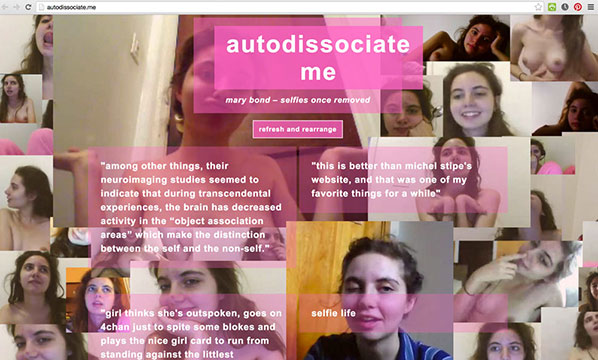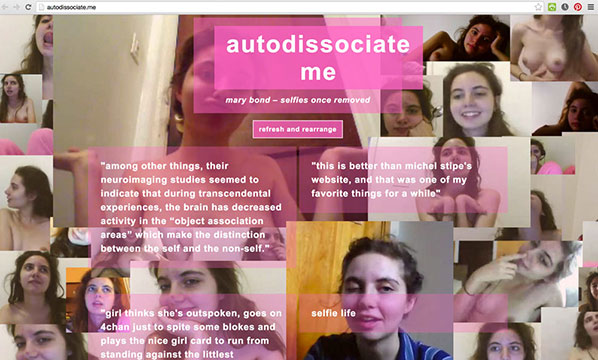 In her 1975 essay 'Visual Pleasure and Narrative Cinema' Laura Mulvey examines scopophilia, the pleasure in looking. This is not an innocent act. She argued that the relation between looker and looked is unequal in cinema, with woman as image and man as bearer of the look. If woman is a 'one dimensional fetish', as Mulvey writes (a thought which will be later echoed in Nina Power's 2009 book One Dimensional Woman), the artists in Body Anxiety take this to its hysterical consequences, attempting to break the Master-Slave bond, making woman image AND bearer of the look. Let me return to the title for a moment. Anxiety, Sigmund Freud wrote, is neurotic fear, as distinct from real fear. So one is a reality, something tangible and worthy of our concern whereas the other sounds like is made up, accusation of fabrication (like hysteria). It is this last idea the show is trying to contend. The anxiety felt and displayed in these bodies, the imperative to conform to a certain standard and behaviour, the manipulation of femaleness in pornography, the shutting down of the woman's voice are indeed neurotic, but not because of it they are less real. As a body of work, the exhibition is convincing and raises clear issues around female empowerment, agency and exploitation, and how these are linked to flesh. Converting the anxiety into an intelligible fear that can be stood up against, as these artists do, might be the first step towards overcoming it.