Introduction.
In a mysterious pine forest, inhabited by half-human, half-animal creatures, the dismembered white body of a furry god is slowly reassembled. A creature with the head of a black bear pulls down the decapitated body from a tall rock. A red-robed character with a crimson wolf's face, decorated with sharp white teeth, fetches the severed head. Another brings the eyeballs; another, the skull. Finally, in an illuminated multi-coloured tent glowing in the darkness of the woods, a character with the head of a triceratops and a cloak of many-coloured feathers performs a ritual involving magic crystals and a dead bird doused in blood. The film ends with a single glimpse of the white god's foot, planted in a field of snow, sufficient to suggest that he, she or it has been brought back to life.
I first came across Magic Blood Machine as one of the staff picks on the Vimeo site in October 2014. It was on a list of spooky videos for Hallowe'en. The rest of them looked fairly conventional, but the still for Magic Blood Machine stood out: the red-robed character from the film standing amongst dark pine trees, looking a bit like a Roman Catholic Cardinal, a bit like Anubis – the jackal-headed god of Egyptian mythology – and a bit like Reynard the Fox. When I watched the video, I was struck by the same mixture of associations: it seemed to combine elements of the crucifiction and resurrection of Jesus, the dismemberment and restoration of Osiris, and the Green Man myth. Folk-stories, mythology, the occult, the macabre, and even a touch of science fiction were all in the mix. But its visual design, filmic and narrative qualities were just as striking. There are no words spoken, and the pace is slow, but nevertheless the film exerts a powerful compulsion, partly because of the expertise with which each sequence unfolds and leads us to the next, and partly because it's so full of unanswered questions. The actions of the strange characters in the pine forest seem charged with hidden meaning, as do the characters themselves, sharply-differentiated from one another as they are by virtue of the brilliant costume-design. There is a strong sense of place in the outdoor filming, and a strong sense of the tactile as well: the way the characters stroke the dead god's fur, fondle the magic crystals or pour blood over the breast of the dead bird, for example. And despite the use of expressionless masks, there are moments of powerful emotion. When the red creature, having retrieved the white god's severed head, lays it next to the rest of the body and then sits beside the corpse, holding its hand, it eloquently conveys a sense of love and grief.
Magic Blood Machine was made by a Norwegian artist and film-maker called Ingrid Torvund, in close collaboration with her partner Jonas Mailand, and with music by Jan Erik Mikalsen. It took three years to make (2009-12), and a sequel called When I Go Out I Bleed Magic – which Ingrid describes as the second part of a trilogy – was released earlier in 2015. For me, When I Go Out I Bleed Magic is less compelling than its predecessor, but if anything the design of the film, in terms of costumes and settings, is even more impressive. Ingrid makes almost all the costumes and props herself, and they are works of art in their own right, some of which she has exhibited separately. She has also exhibited her drawings and published many of them in a book, again with the title When I Go Out I Bleed Magic.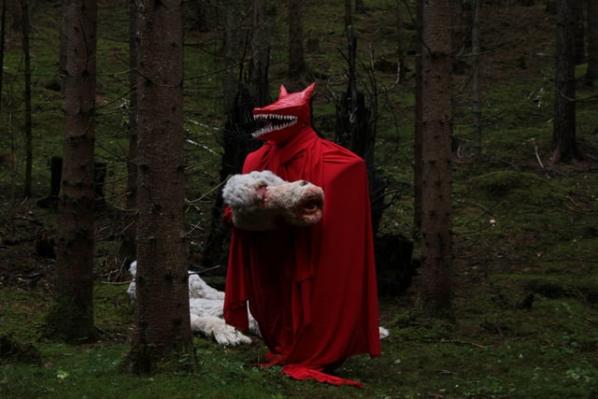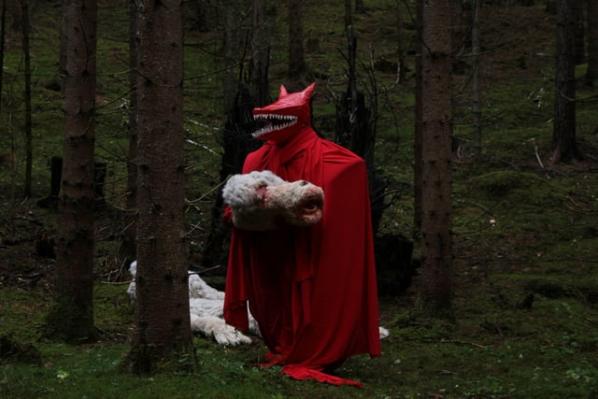 Ingrid's work strikes me as an example of the enabling power of the Web, which can sometimes allow genuinely original artists to reach international audiences they would have found it very difficult to access at any time before the 1990s. It also allows the likes of me to get in touch and start up a conversation out of the blue. Accordingly, I contacted Ingrid via email to ask about her work, and the results are reproduced below.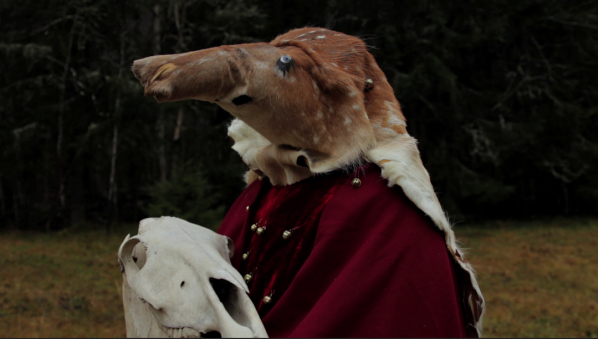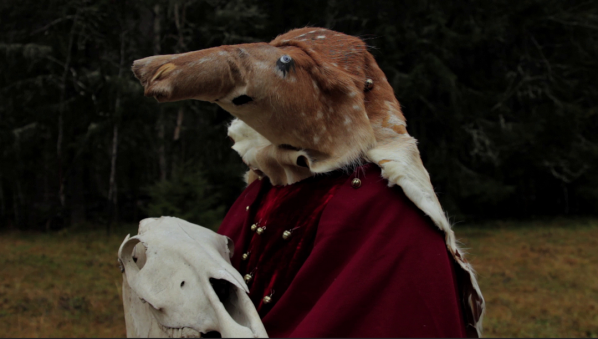 Edward Picot: Can I ask you about the making of the costumes and props for your films?
Ingrid Torvund: I make the costumes and props myself mostly, sometimes I get some help from my friends and family, if it´s large set pieces and so on. I like to take my time making these things, it`s a slow process but it´s one of these things that makes life worth living.
EP: Were you at art school, and if so did you study art, textiles, film or all three?
IT: I went to Oslo National Academy of the Arts,where I took a bachelor degree in fine art. While I was there I made my first short, "Magic Blood Machine", and I worked on it for three years. I took courses in film, philosophy and many other subjects.
EP: Can you describe your creative process a little bit? Do you start off with an idea for a story, or with sketches in your sketchbook?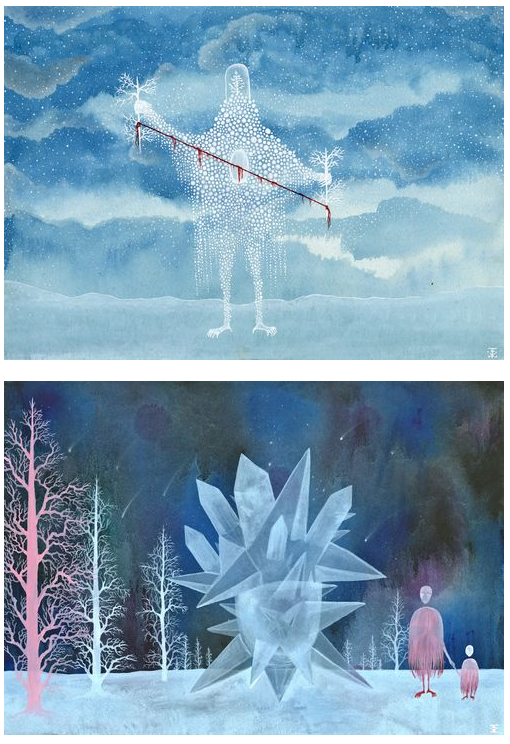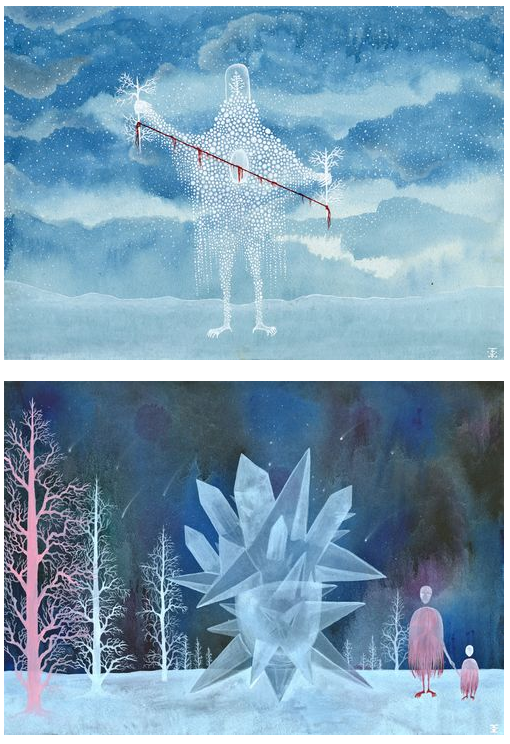 IT: it's really random how I find inspiration, but sometimes I find a nice tactile material that I want to work with and I start by just trying out how and then I can make something that gives the audience the same feeling I got when I first saw it. And sometimes I get a picture in my head of a scene I want to make and then I try to figure out how to make it, then I draw it (but not very detailed and not very good 🙂
I wish I could say I plan out projects better, but I usually just make what I want to make. Over the years the planning of the filmprojects has become more detailed, but this is because I have to [plan things out] when I apply for funding and it's a real creative killer.
For the last film "When I Go Out I Bleed Magic" we (me and Jonas) made a long storyboard with many scenes, but in the end we didn't get to make them all due to lack of funding, lack of time and plain exhaustion.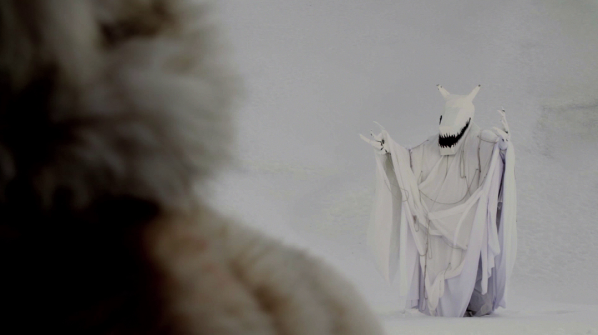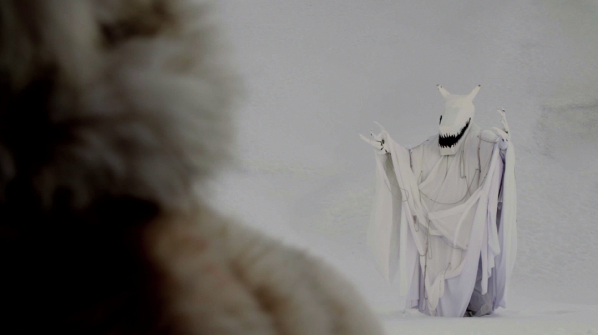 EP: You say you like to take your time making the costumes, props and so forth. Does this mean that your ideas about the film you're going to make grow quite slowly and organically as you're in the process of making things?
IT: Yes it does, it's a long process and I usually try to finish one little part at a time: a costume, a set piece and so forth. But when the time comes to shoot the scene, I have to but all the pieces together, and then I have a time limit. In the two films I've made so far I've been borrowing my dad's place, because there I have the space to actually build a little studio in the summer. But since this is his workplace normally, I have to clean it out before they come back from their holiday 🙂 So the summer is a really intense period in the year for me and I have to plan it out more, due to the fact that when I go to work there, I can't get away, so I must buy all the materials I need before I go. I don't have a car or a licence and it's in the countryside. We do have a little boat that I can take to the grocery store 🙂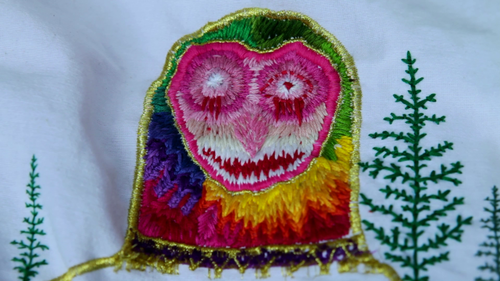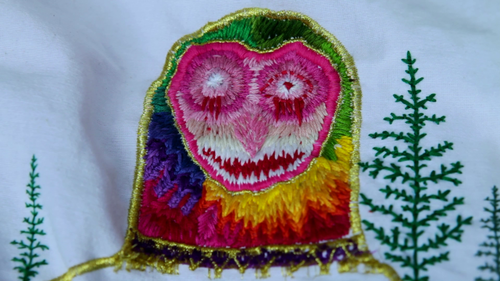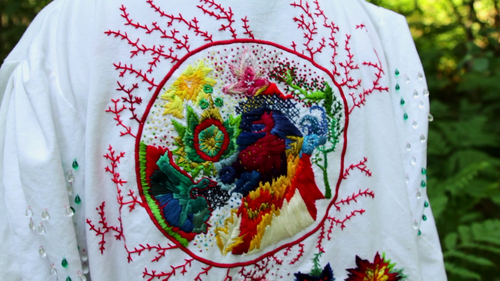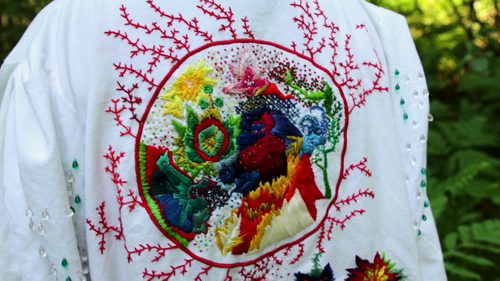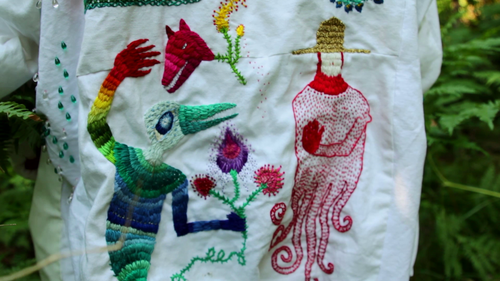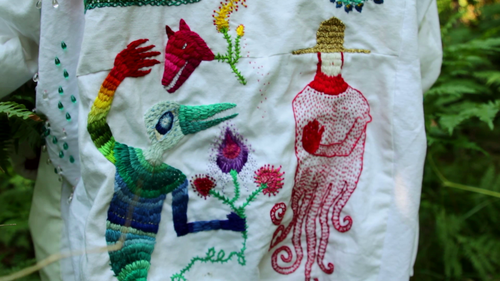 EP: You mention you've got a boat – and lo and behold, there's the red character rowing a boat in Magic Blood Machine. I'm guessing from this that the boat in the film is your own boat, and the lake which appears in both films is the lake where you live.
IT: Yes, most of the places in the movies are from around where I grew up. I also think that it's important to find inspiration from real and often personal things in life. it feels important to me to know that the project has some kind of root in something real. At my last exhibition my mother gave me some very old school books that I had made some drawings in, and it was almost disturbing how much some of them resembled some of my more current drawings!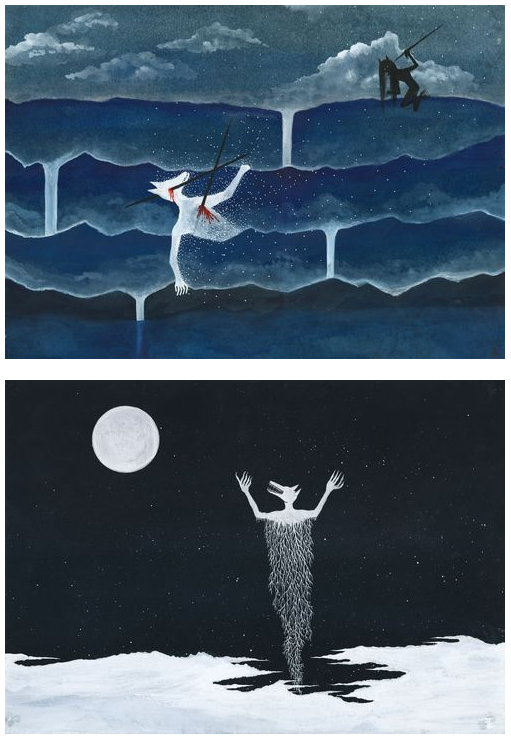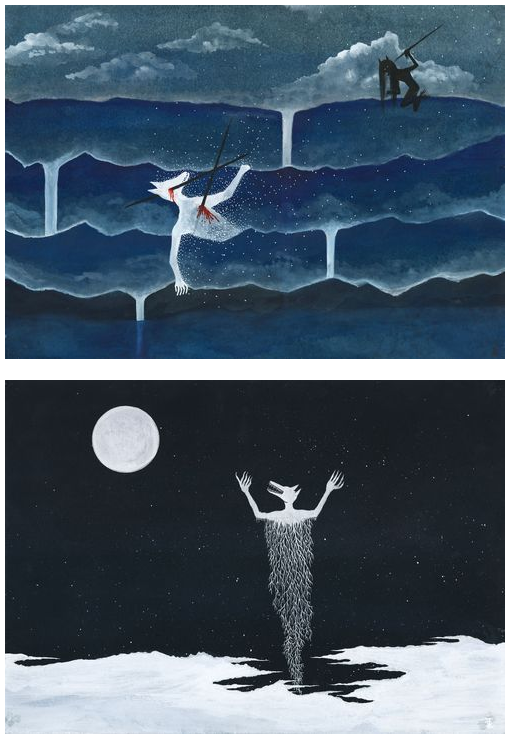 EP: Let me ask you about Jonas. How do you work with him? How did you get to know each other and work together, and do you write together, or does he do the camerawork while you put on the costumes and do the acting?
IT: I met Jonas while we were going to an art school in Oslo seven years ago, at the time I was already making characters and installations and we started to date while I was building a forest installation inside a room. He has always had great interest for films and making them, and at that point I was thinking of trying to bring my characters to life by making them into costumes I could wear. After a year we started working on Magic Blood Machine. From that point he has done all the camerawork, while I do all the costumes, set pieces and "acting". We usually edit the films together and sometimes we make an edit each and then compare them, and choose what we think works the best. I've been asked before how we collaborate on these projects and sometimes I find it a little difficult to answer, because we live and work together and we have no rules on who does what in these films. But I do know I spend most of my time thinking or working on these films and Jonas takes part in that if I ask him to. Without him I would not be able to make films like these and my life would suck.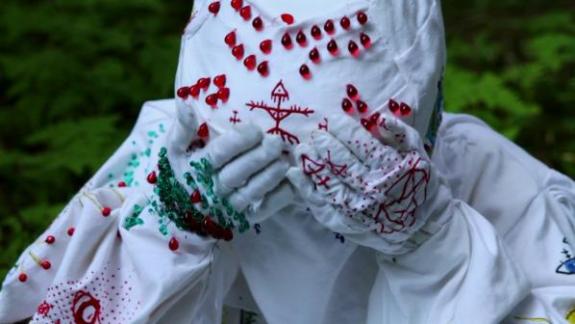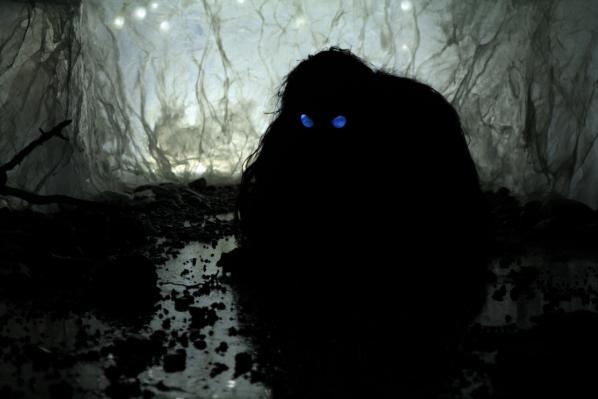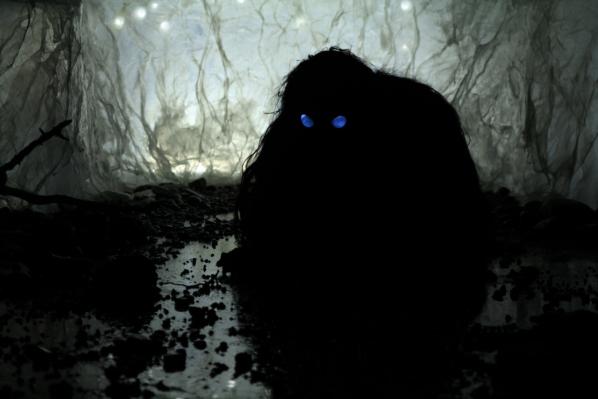 EP: Lastly, would you like to say a bit about the mixture of mythological references in your films?
IT: I have always been fascinated with the mixture of pagan and Christian culture. When I was young I found a book called "Norske Hexeformularer og magiske opskrifter": it's a collection of spells and magical recepies from 1600-1900. The spells are collected from small black books found throughout the country, often hidden away. Some would put them under the church steps in an attempt to get rid of them. My films are inspired by these rituals and the conflict between nature and religion. I grew up going to church a lot and I think the mix of church and folklore is something I use as inspiration when I make films.
I think I find the history of how people lived and their traditions even more fascinating then fairy tales, for example people used to think that their newborn babies sometimes got exchanged with a person from under the earth.The child then got some kind of physical change,like a weird growth or huge eyes or it suddenly looks very old. The only way to fix it was to lure the under earth person to tell you their real age. You did this by doing weird and absurd stuff, like making porridge in an eggshell or making blood sausage in an catskin. Then it would suddenly tell you how old it was and then it would die. Leaving a little lump of ash and bones…
More information about Ingrid Torvund can be found on her website, http://torvund.tumblr.com/. Magic Blood Machine is on Vimeo at https://vimeo.com/44936472, and When I Go Out I Bleed Magic is also on Vimeo, at https://vimeo.com/44936472.