In 2021 we rolled out our new format for presenting accessible open-all-hours digital artworks in Finsbury Park called the People's Park Plinth. In parallel, we launched our CultureStake collective cultural decision-making app.
Thousands of you showed up online and in the park to experience a set of interactive artistic proposals for larger artworks. Each one presented its own mini-experience in the park and online using web apps, free data, and AR technologies. Three times as many people got involved with our programmes and ultimately picked Based On A Tree Story for their summer 2022 art experience.
Since then we've been busy working with HERVISIONS and Bones Tan Jones, respectively the curator and artist behind Based on a Tree Story, to build the full digital art experience and install it in the park.
Now, we're extremely excited to tell you that from 13th August the tree sprites of Finsbury Park will be ready for you to find them.
Based on a Tree Story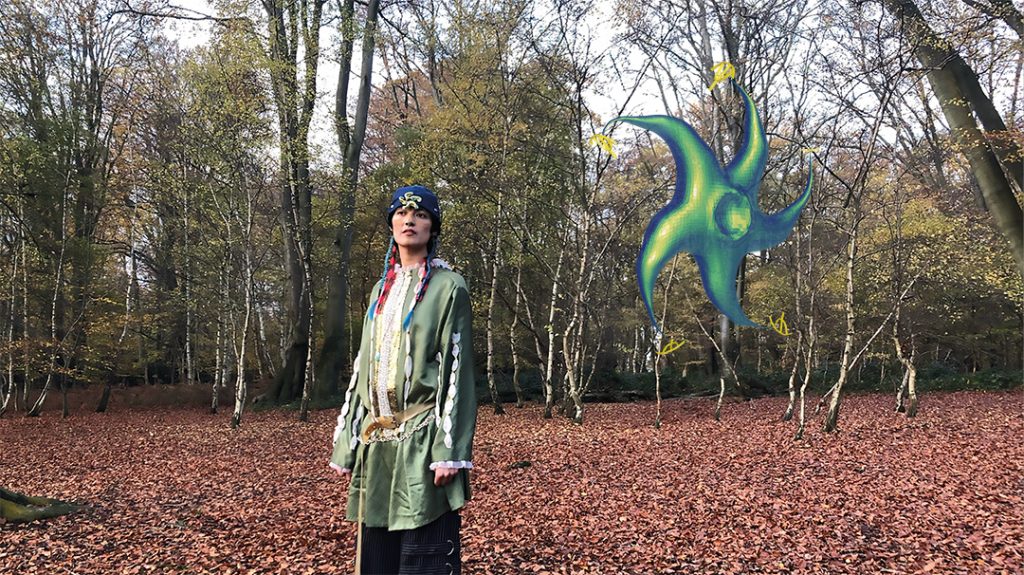 The trees of Finsbury Park bear witness to myriad happenings. Through deep time they wait, they watch, they grow – wiser, wilder…. In this new commission by HERVISIONS X Bones Tan Jones, the special stories of the trees are translated by three mystical sprites that live within the trees, becoming their voice. Use the map to locate clusters of trees and identify the amulet wearers among them. With the app open, scan the symbol to summon the sprite and release a cascade of tree wisdom – time travelling to the roots of their having-beens into the twiggy tips of their future-becomings. And as you crisscross the park, seeking out your next sprite, imagine the ley lines you draw onto and into the earth – and cast your own connective spell.
"We invite you to visit the tree, call forth the sprite and dance together. Let your feet connect to the soil and the movement of the sprite inspire your rhythms. Stomp on the ground and the layers of earth from years of life will reverberate with your sound! Hear their echoes!"
– Zaiba Jabbar, HERVISIONS
Sprite Dance
To celebrate this amazing news, we've invited you to join us for a magical sundown experience seeking out and – if they'll let you – dancing with the tree sprites of Finsbury Park.
Furtherfield Gallery, Saturday 13th August 2022 from 5pm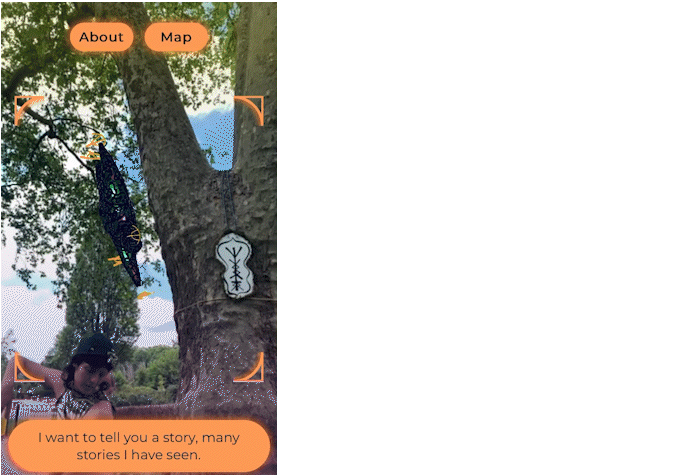 Team
HERVISIONS
Responsible for curating, commissioning, conceptualisation, and research HERVISIONS is a femme-focussed antidisciplinary curatorial agency supporting and promoting artists working across new and emergent technologies, and platforms with a strong focus on the intersection of art, technology and culture.
IG: @hervisions_
Bones Tan Jones
Responsible for conceptualisation, research, and artistic production, Bones Tan Jones' work is a spiritual practice that seeks to present an alternative, queer, optimistic dystopia. They work through ritual, meditating through craft, dancing through the veil betwixt nature and the other. Bones weaves a mycelial web of diverse, eco-conscious narratives which aim to connect, enthral and induce audiences to think more sustainably and ethically. Traversing pop music, sculpture, alter-egos, digital image and video work, Bones sanctifies these mediums as tool's in their craft.
IG: @yaya.bones
Studio Hyte
Responsible for the visual identity, 3D modelling and technical development, Studio Hyte is a South London-based design studio. Working between graphic design, interaction, and emergent communication. We specialise in forward-thinking, multifaceted visual identities and experiences within the arts and education sector. Our aim is to create meaningful, accessible and thought-provoking work.
IG: @studiohyte