Featured Image: Stock photography from Google Image search "happy creative tech startup"
Neoliberal Lulz: Constant Dullaart, Femke Herregraven, Émilie Brought & Maxime Marion, and Jennifer Lyn Morone.
Showed at the Carroll/Fletcher Gallery 12 February – 2 April 2016.
Neoliberal Lulz asserts to have born witness, arm-in-arm with rest of us, to an unprecedented shift in the volatility and increasing speculative power of financial markets and the dissolution of value indexing to physical commodities. This relationship has been made particularly palpable in the realization that investment banks and corporations hold a tremendous sway (perhaps even tremendous to an unknowable degree) over our lives. The four artist/groups brought together make work as a way of trying to bring this dynamic into knowing.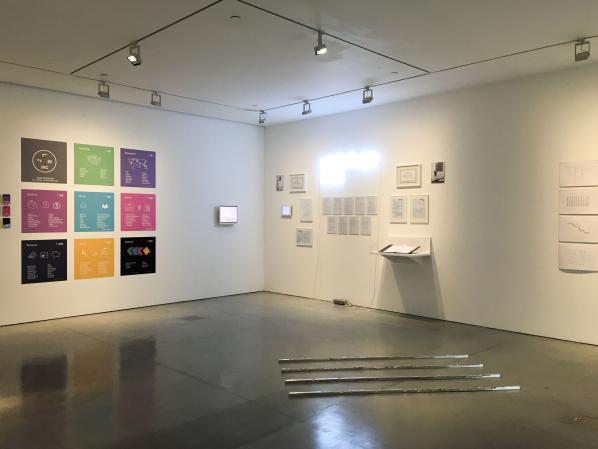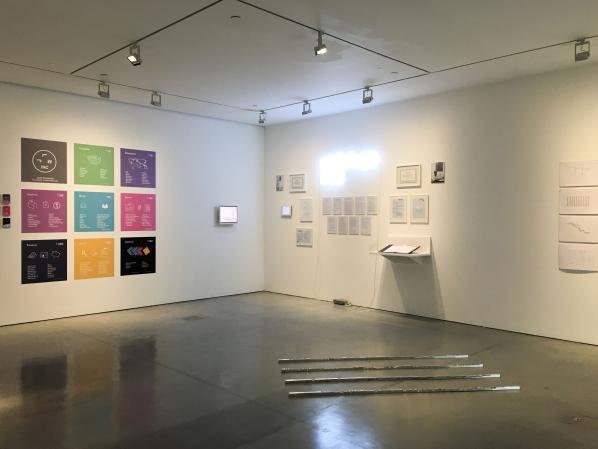 Neoliberal Lulz is not so much about this relationship, or the realization of this relationship, between market forces and lived experience. It's more accurate to say that the exhibition and the artworks contained within it rather serve as a populist blueprint for how individuals can talk to the market. If political economies speak in the limited language of supply and demand, then how can we make ourselves heard?
New media is a particularly good way of addressing this question because of the way hardware and software must constantly negotiate the terms of inter-communication. The success of media is dependent on this trafficking in translations, between file formats, online and IRL, technical apparatuses, outdated and current softwares. So when artists like Constant Dullaart, Femke Herregraven, Émilie Brought & Maxime Marion, and Jennifer Lyn Morone make themselves "corporate," mimicking the neoliberal virus, this move feels right at home with the kinds of techno-alchemist work being displayed.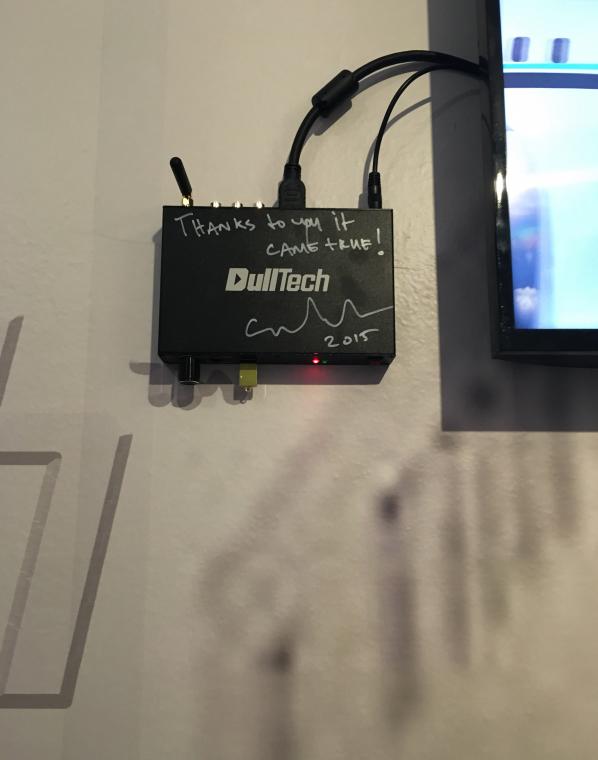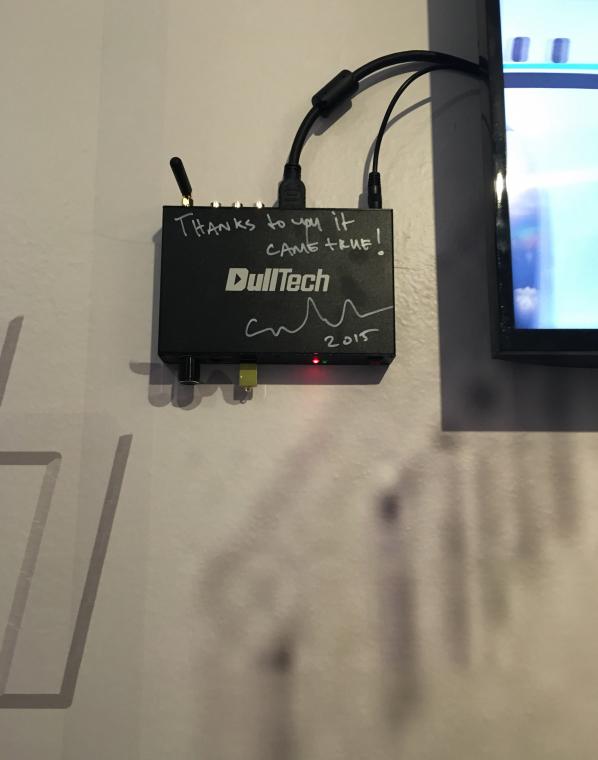 Femke Herregraven makes the mystifying lifespan of high frequency trading material, which feels a lot like spinning straw into gold (or perhaps the other way around). Her works rehearse this slippery, ambivalent relationship between value and objects, indexes and standards. In this way Herregraven's works ground the exhibition in a similar way as does Constant Dullaart's Most likely involved in sales of intrusive privacy breaching software and hardware solutions to oppressive governments during so called Arab Spring: by memorliaizing in cold, clunky materiality the "immaterial" processes that are active under the banner of neoliberalism everyday. Three of the four artists on display have incorporated—Jennifer Lyn Morone™ Inc, Untitled SAS (that's Émilie Brought & Maxime Marion), and DullTech™ (Constant Dullaart). Between these companies the process of how to become a company is cracked open, revealing how sophomorically simple and complicated the process is, how much paper detritus and nondescript stuff is secreted as byproduct. Constant Dullaart here adds a lesson on the aesthetics of startups with an entire room dedicated to the oddly-familiar B-roll shots of airplanes cut with inspirational platitudes. Jennifer Lyn Morone adopts the the aesthetics of a kind of good life marketing that is gender-targeted, and operates by corroding away what's already there (mental health, well-being) to make its own market gap.
But I tell you this: the best part of the exhibition isn't on display. Ask the front desk about buying shares of either Untitled SAS or Jennifer Lyn Morone™ Inc. This is the heart of the exhibition, and it's either lamentably sidelined or a brilliantly premeditated that just inquiring about the purchase can reveal so many gaps and uncertainties.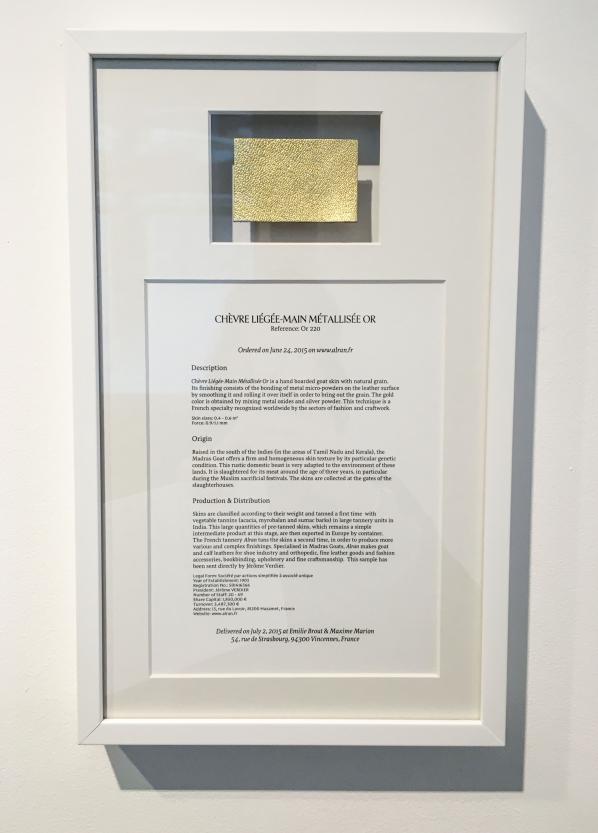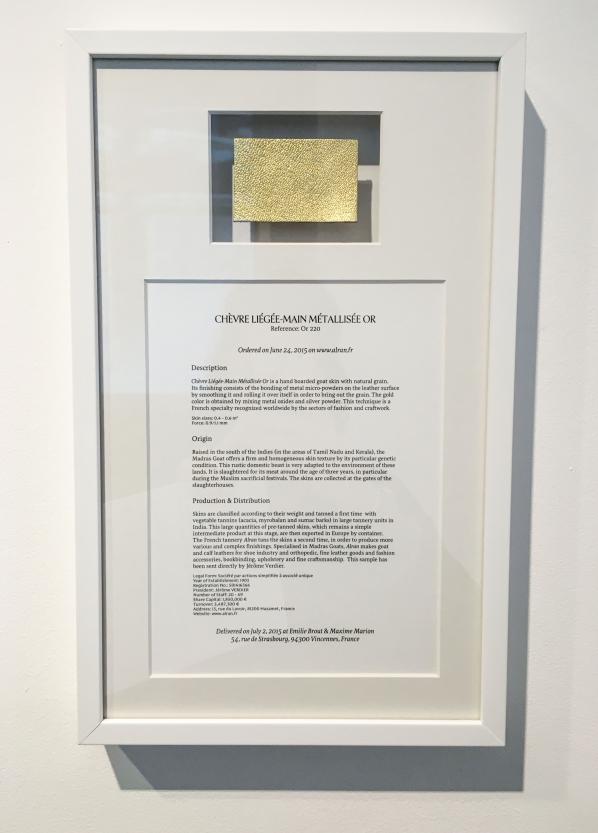 When I visited the exhibition, gallery attendants very kindly filled me in on the bold point details of buying shares, to the best of their ability. They explained that Unititled SAS shares sold for €30.00, with a €25.00 admin fee that went straight to Émilie and Maxime. It is not split with the gallery, as often the the sales of an art object are. Was the gallery entitled to any part of the sale of shares of Untitled SAS? Sort of: fifty-percent went to the French government, twenty-five percent went to Émilie and Maxime, and half of the remaining twenty-five percent went to the gallery. Did a new contract have to be drawn up to negotiate the profit negotiations between the gallery and artists who had incorporated some capacity? No, the normal consignment contracts were used (they did not share what the terms of these contracts are; I did not inquire).
What about shares of Jennifer Lyn Morone™ Inc.— how much did they cost? This was a decidedly trickier question, with nationality and class-based restrictions and allowances. The general gist was that since Jennifer Lyn Morone™ Inc. is registered in the U.S.A., that American citizens are subject to tax; English citizens are not. For English citizens there are also different price points and clauses for lower-income prospective investors. This does not apply to U.S. citizens, who are required to prove salary requirements before purchase can be approved.
Had anyone bought any shares yet, for either company? No.
Eventually, the attendants printed me a Jennifer Lyn Morone™ Inc. Instructions for Prospective Investors document: four-pages single-sided, unceremoniously stapled together. For those unfamiliar with this kind of legalese, it's a bizarre artifact from another planet. Everyone should ask for a copy.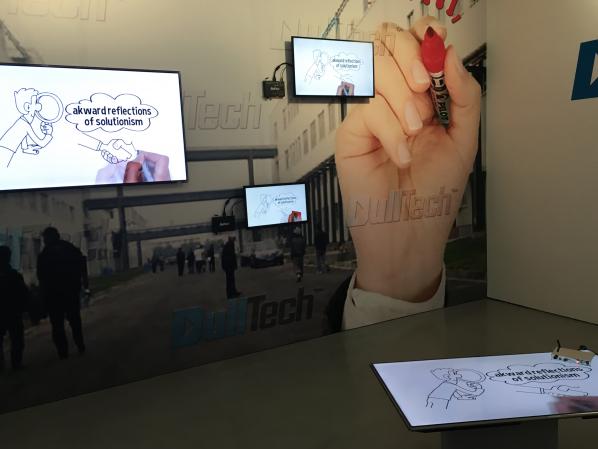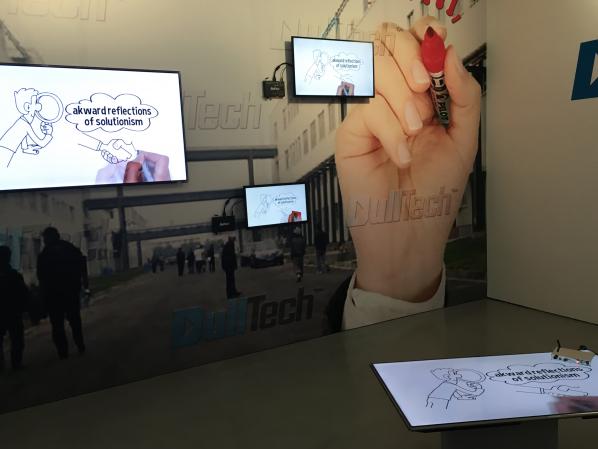 The title Neoliberal Lulz might tip its hat to the tradition of online trolls and their persistent, agnostic vitriol, but the exhibition itself feels like it sets out some very real stakes. This is a good thing, because an exhibition interrogating the asymmetrical relations of production and profit taking place at a prominent art gallery in Fitrovia (a borough in itself that is paradigmatic of these inequities) could have really been smug, smarmy, shit. The hypocrisy of an exhibition that singularly railed against the unmitigated growth of big business while standing amongst its spoils would be too much. But Neoliberal Lulz is not this: it is far more nuanced in its message, far more unclear on its value judgments. As an art exhibition Neoliberal Lulz did well to espouse the artist-as-researcher model. It helps make sure that the exhibition has legs outside of the exhibition space. The fact that most of these artworks have a life outside of the domain of art, circulating within the very thing they're critiquing, legitimates their output. The other thing that Neoliberal Lulz does well is not to dwell on the narrative of the disenfranchised. I don't say this because it's not important but rather because it just simply wouldn't read.
Neoliberal Lulz feels like a prompt that comes at a timely moment, slotting in to conversations like this, this, and this. It criticizes at the same time as it offers options, which seems like a rare combination these days. "What is to become of the future for young artists?"–the people wail, lamenting that much of the young, creative elite inevitably ends up siphoned off into the tech startup culture. Neoliberal Lulz seems to say this doesn't have to be a bad thing, and I'm inclined to agree. All's not lost when artists adopt an if you can't beat 'em, join 'em ethos, particularly when they do so with a critical bent. Deeply sardonic and ruthlessly interrogative, Neoliberal Lulz is a successful venture into addressing the malleability of contemporary political economies to more progressive ends.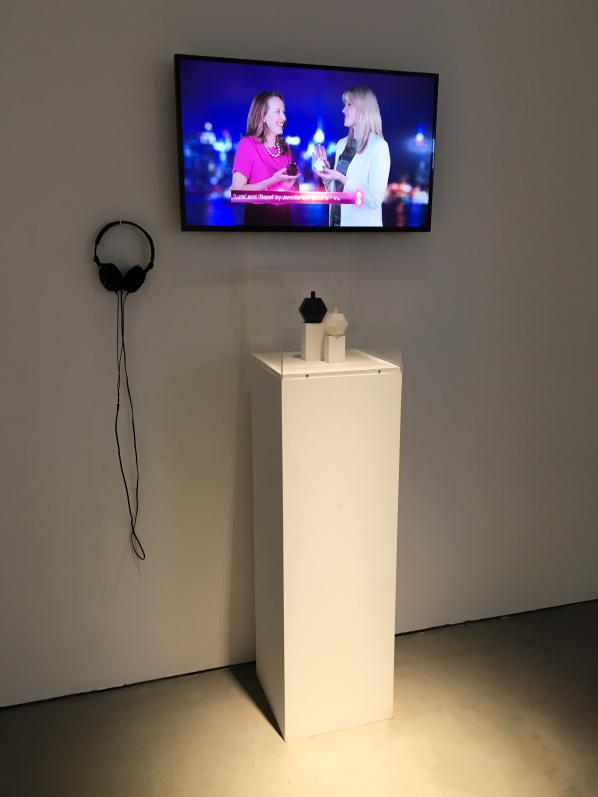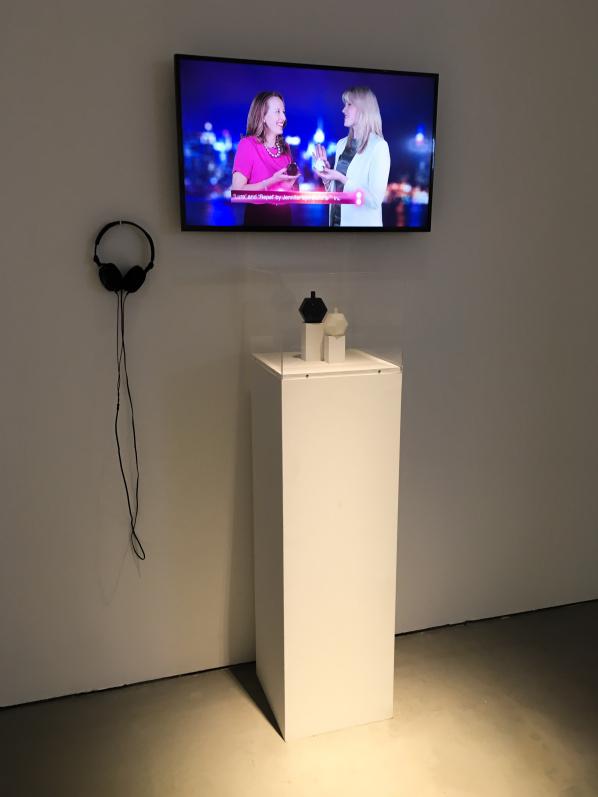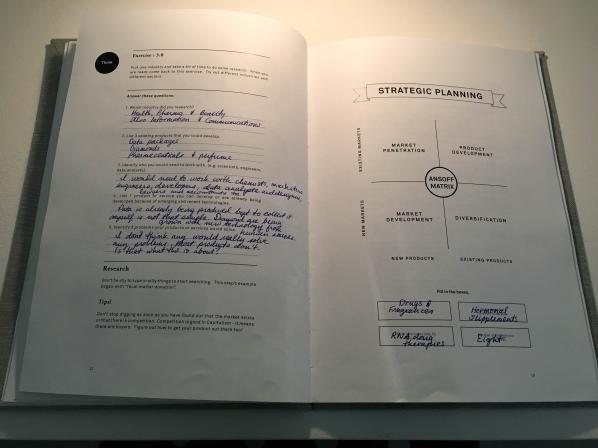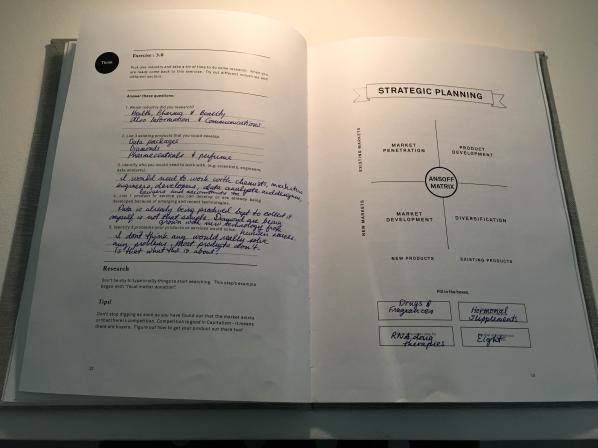 Carroll/Fletcher Gallery
56-57 Eastcastle St.
London W1W 8EQ