Featured image: An interview with Chris Dooks, a 'Polymath' exploring various creative avenues, making his art using different media.
One of the many interesting and rewarding elements of being deeply involved in what, I'll loosely term as 'media arts' practice, is the breadth of imaginative people you meet along the way. We first met Chris Dooks in 2005-6, when he worked with us on a project by Furtherfield called 5+5=5. We commissioned 5 short movies about 5 UK-based networked art projects exploring critical approaches to social engagement. These pieces offered alternative interfaces to the artworks and the every-day artistic practices of their producers. Including the motivations and social contexts of artists and artists' groups working with DIY approaches to digital technology and its culture, where medium and distribution channels merge. Chris produced a film-work for the project called Polyfaith. A Psycho-Geographical Web Project introducing the beliefs and philosophies of his (invented) friend Erica Tetralix.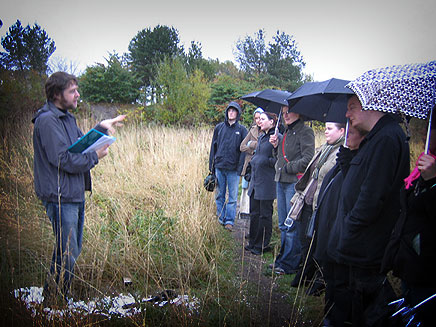 "My friend Erica Tetralix died. She gave me the task of fulfilling her dream which was that people would enjoy the parts of Edinburgh that were so dear to her in her life. She also loved tourists and sympathised with people on a budget, so she devised, with my posthumous help, this free way to enjoy the city. It's a beautiful gift for both transients and residents. It's popular with backpackers, parents and children, cultural groups and well, basically anyone."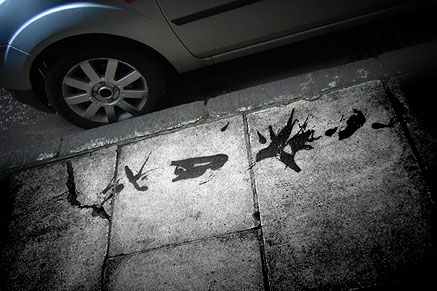 Later on we discovered that the name Erica Tetralix, is actually a name of a plant. Often called a cross-leaved heath, a species of heather found in Atlantic areas of Europe, from southern Portugal to central Norway, as well as a number of boggy regions further from the coast in Central Europe.
To view Polyfaith visit link below:
http://furtherfield.org/5+5=5/polyfaith.mov
The value of an interview is that it can serve as a useful documentation, a process allowing a kind of unfolding of time, All layed out in front of you. The reader can experience not necessarily a retrospective, but a dynamic and creative life and a personal history openly shared, on their own terms.
This interview reveals various levels and approaches by Chris Dooks. An inquistive and playful mind is at work here, engaged in exploring across different forms of personal agency, as well as redefining his practice in relation to the world he exists in, and the people he comes across in connection to various projects. His art is not a singular activity. Meaning, he does not rest in one particular art genre or movement. Instead, we are asked to acknowledge a personal enquiry formed from different engagements and choice of mediums, which happen to meet his creative intentions and questions at the time. We are all relational beings and Chris Dooks is a clear example of how this can work in an artistic context.
The Interview:
Marc Garrett: Many out there will already know you as a professional film maker, directing arts-based TV documentaries such as The South Bank Show in your twenties. Since then, you have developed other skills involving design, composing and making music, audio visual installations, explorative psychogeographical projects, as well as continuing making films, and you've even got a record deal. You have as far as I can gather four different music projects curently on the go, your electronica group BovineLife, an architecture music project known as As Ruby's Comet, Feible for laptronica and also the Audiostreet project featured at The Leith Festival.
Chris Dooks: It's amazing how many people still know me from Bovine Life which was a moniker I used for an internet audio project way before broadband in 1999. It's the tenth anniversary of my bip-hop album SOCIAL ELECTRICS and I would like to make all my albums available for free for furtherfield readers. Don't let itunes rob me of any money! The transition to musician was down in part to the South Bank Show when working with Scanner. I was really frustrated at making work about musicians. And the technology was making it easier for folks like me without a classical training. Here are three for you for free – check links below for free tunes at the bottom of the interview.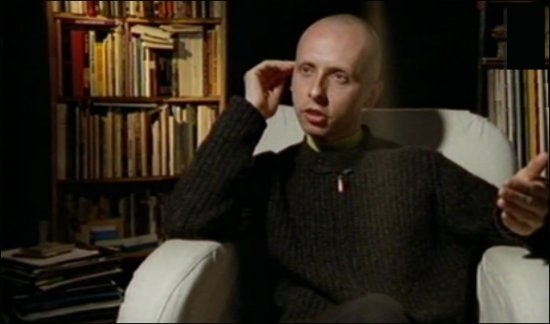 South Bank Show UK television documentary directed by Chris Dooks, featuring Robin Rimbaud speaking about his practice and ideas. 1997. Click here to watch video.
MG: In The Glasgow Herald, in Scotland a journalist called you a Polymath. Even though you were delighted to receive such a compliment in the local press, you decided to re-edit the term, reclaim it so to make it less seemingly mathmatical. Prefering Polymash because it sounds "friendlier, resourceful and potentially charming." Sticking with this notion of you being a Polymath or rather a Polymash. Your diverse approach in creating art works in a non-singular approach, is a core element of your practice. I was wondering whether this is a deliberate decision or a natural and overall state of being?
CD: It's weird though, I learned more in my background as a wedding videographer aged 14-19 (35 weddings at weekends!!!) than on any other course. Doing weddings gives you various skills as a digital artist. Fuck a film degree! As a wedding videographer, you need to be able to mike the vows in difficult audio environments (i.e. reverby spaces), film it about fifty feet away, liaise with highly emotional temperaments, be like a war photographer – it's only gonna happen once, miss it at your peril – and stay sober. Not to mention edit it at a time when non-linear editing was non-existent, (I remember the heady days of "crash editing" between two panasonic VHS machines) white balancing everything on manual heavy equipment and creating all the graphic design and labelling of tapes. I was like a teenage record label!
So in 2009 when I made www.studio1824.com – making a record (netlabel) for an icehouse in Sutherland (remote Scottish Highlands) I got a kind of deja vu experience. Only with an education and life experience in the mix now.
When I was 8 years old, I had two epiphanies. One was that death is really gonna happen, and two, that cinema is wonderful, emotional and that it offers us a naive form of immortality. Cinema was the only artform that even at that age, I felt could make me feel…spiritual, for want of a better term. I became quite religious.
I was obsessed with super 8 cameras and video. And now I am trying to get all my pre-teen works tracked down! But even at this stage there was always a healthy distraction in other areas. I wouldn't get involved with narrative and this has never been my strong point, even though I was reasonably good with words. My uncle played a lot of classical music and my dad took me all over the UK in his lorry, and at this time I won a scholarship to play the cello at school with the posh kids, being the other three. (It was a working class music "initiative") But alas, I didn't realise how lucky this was for me. So I went back to making videos, this "poly" approach was probably set quite early. I remember doing a kind of pre-Blair Witch thing when I was 14 and I would get sidetracked into filming the shapes of the leaves and the sound of the wind. Then I realised that the material didn't make sense in the conventional sense. So I became an aesthete of kinds at an early age. And in every way, from Granny's trifles and an early lust for Kate Bush, I was concerned with the sensual world. But until 22 I was monogamous to film projects and would work as a corporate director in the art school holidays to fund my college life, with the odd wedding video thrown in. By the time I did my film degree at Edinburgh College of Art, I was much more interested in people like video artists Bill Viola, Gary Hill and Daniel Reeves – (I met all three) via the "team-building" world of film shoots. Bill Viola's THE PASSING changed my life.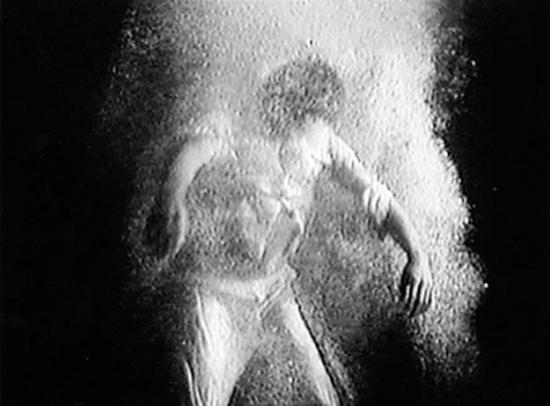 The Passing, 1991. In memory of Wynne Lee Viola. Videotape, black-and-white, mono sound; 54 minutes.
Pre-degree, in those days (1989-91) you had to REALLY know your kit and be a good all rounder. I trained on huge Umatic machines and did a BTEC before a degree. I was from a part of a culture where there was no film degree, and I was a couple of years behind my peers. But by the time I hit ECA, I could mix radio programmes, edit timecode, black and white balance studio cameras and location kit and I spent most of the time buggering off to the hills to film Scottish waterfalls. I might have been techinically proficient and this was behind the poly approach to an extent, but I had bugger all conceptual skills. These have only really solidified in my thirties…
MG: Lets talk about the Surreal Steyning psychogeographic audio tour, part of the The Steyning Festival in 2009. On the web page for the project is written "This tour is simply a different way to skin the proverbial cat. In this case, the cat is Steyning. In fact, if you think of Steyning as a cat, you are already a psychogeographer. Well done. You've engaged your psyche with geography. You've mapped the town conceptually. The High Street becomes the cat's spine with the head chasing Mouse Lane. Now you are in the same company as such artist groups as the Situationists, the Dadaist Movement and other high fallutin ripples in art tourism, and even The Ramblers." Did those who took part manage to understand and appreciate where you were coming from? Also, how did it work?
CD: There was a tiny degree of spin with the site's headline Traditional English Town Embraces Conceptual Art Walk but by and large folk did embrace it and it would have been patronising not to drop a little sand in the vaseline, not to deliberately challenge, because the Steyning Festival, was, I felt, in danger of being a little like a tasteful village fete. A good fete I might point out, so this year, there was something brave about them putting a conceptual artist at the heart of a residency in the village. English villages like Steyning were not and are not, all tasteful. Whenever I encounter these tasteful expectations in the arts, I think of that Stereolab song, Motoroller Scalatron with it's chorus "What's society built on? It's built on blood. (some say the lyric is "bluff" not blood but either way it works)" So I saw my role not as a socialist historian, because I wouldn't have a clue, but as someone who encourages an enquiry per se into unusual histories, paganism, aesthetics and philosophies of very local travel. I mean, I don't think there's anything angry or unloving in the tours. In fact, I try to make them about folk being nicer to each other. These activities have a small socialist agenda but as a performer, I am not exactly Stelarc, slashing my wrists in the street. I'm not about shock! However, this tour had a couple of "jaw droppers" (See The Steyning Star on the tour). The main outrages came from people who wanted a straight history tour and were not given one, depsite my first words on the tour saying "this is NOT a history tour!"
Example taken from section 4 of the The Steyning Star on the tour: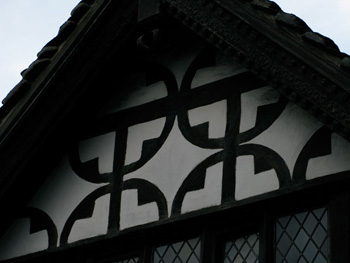 "This is Brotherhood Hall, built in the fifteenth century and now part of Steyning Grammar School. Look closely at the symbols which adorn the gables. They may look like simple decoration to us, but these markings are rather unusual. They have been the subject of no fewer than three PhDs, and for a century the world's leading symbologists have engaged in hot debate over how to read the meaning of them. One of the most important questions is what shape we are dealing with. While some people see predominantly circles, others see squares and diamonds, rather like those tiles that everyone had in their bathrooms in the 1970s."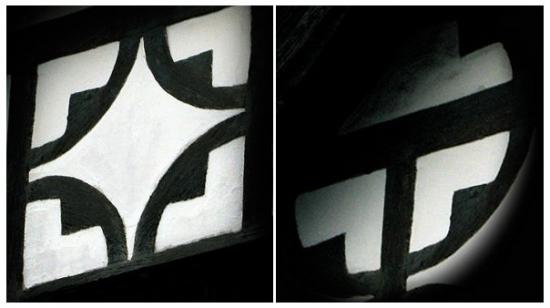 "Was this a pop premonition? For some time it seemed so, and this remains a strong theory. But in the mid 90s the school took part in a German exchange programme, and visiting German students proposed yet another alternative. When they looked at the patterns on the gables they saw a cross drawn within the circles, or a gammadia, to be more precise. A gammadia is a cross voided through, or a cross formed with four of the Greek letter Gamma. It looks a bit like an 'L' to us. The swastika is the most famous example of a gammadion. The German students believed that this was not a pop premonition at all, but a foretelling of the success of German heavy metal band Gamma Ray. This theory also gained popularity among members of the school's very active astronomy club."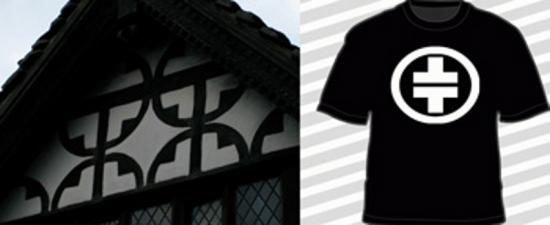 The festival had hired a PR person to market aspects of the festival and commission an artist, and so I was brought there with a little Arts Council of England fund, so felt obliged to make work with the tools I've been developing – or my "brand."
Nothing was watered down simply because it was a village (it's actually a town but it feels like a village) because it would have meant compromising the ideals or enquiry, of looking deeply and into the areas of my interests of paradolia (faces in chaos) and simulacra formations (things that appear to be other things).
Most of them got it! I mean, it was nearly two hours long and they stayed till the end, although it did split the audience, but not badly. 2-3 out of 20, left. We had to do it again the next day due to popular demand! The ones who stayed had smiles on their faces by and large, which made me very happy. The weird thing was, not once had it been stated that it was a "straight history tour", and it should have been obvious within the first thirty seconds that I make some of the stories and hypotheses so outrageous that surely this is tongue in cheek? However, I had written some slightly anti daily mail sentiment in it and two or three people angrily walked out of the tour. I got that wrong. It's a Tory (conservative) heartland, and I don't think you can be an artist and right-wing, you are just too aware of the world, but I should have considered this aspect more.. My landlady was one of the people present in the audience and she walked out, that upset me a wee bit.
But there's something about my personality that makes people trust me in my tours, folk are quite sweet and gentle perhaps. The message behind the tours is one of re-imagining everything you hold to be true. The motivation behind these tours is to see travel as something that can be done anywhere. People go to the other side of the world to enrich their lives, many don't even journey over to the other side of the street, or drive through a different part of town! I find that hilarious. So for me, psychogeography is about the chicken crossing the road..
If we can't even do that, what hope is there for atheists like me (who find Buddhist philosophy and its practice the only religion without the conceit of the other big hitters) who are forced to approach the world from multiple angles, because we can't accept the idea of monotheism and monotheistic thinking. This single mindedness of approach, when challenged (not just in religious people, but people stuck in their ways) is bound to create a bit of friction even on a playful level like in Steyning.
I became invloved in Surreal Steyning based on another project, in Brighton, where I made several songs about a building on Brighton sea front. This was a song cycle, based on a very specific bit of geography.
There is this idea that psychogeography is only urban – but I prefer to bring this intense work to the home counties! After all, the whole point of being an artist is to see through the privets, the darkness of the forests. So while I was in Steyning I was reading about Alistair Crowley and witchcraft and when Steyning used to be a port – it's now land, ten miles inland! In the middle ages everything was different. I think a lot about how many contemporary English folk in these wee villages don't realise their own foundations. I found Steyning a really charged place and not just a twee place to get (admittedly excellent) cream teas and real ale (a bit flat for my northern British palette).
This was, without a doubt though, the most successful public psychogeography tour I had done, even more than Polyfaith. There have only really been three tours – Polyfaith, Select Avocados and Surreal Steyning. And Surreal Steyning learned from the other two – so I had my schtick by then. I think it's the best executed one so far. Let me be clear, I care about the audience. I adapted to their demographic, their language and their refinery in this tour, but I really care about people, but what I hate is bigotry and there was a little bit of friction about some of the left-wing ideas in the work and some of my own goals. But they needen't be upset by a Middle East reading of a thatched cottage, the similarities of Tudor graphics and the 1990s version of the Take That logo, and the roof of some flats that might look like an arrow.
MG: This critical approach of consciously making room within yourself to understand or at least appreciate the sensibilities of others, surely it must be a difficult task to accomplish? What I find fascinating about your engagement with the public is the measure of respect for them, mixed with a healthy level of detournement.
Thanks! I actually think it's a big complement to have the public stay on a tour for up to two hours, or buy one of my records. So I've really tried to attack attention-deficit tendencies whenever possible. It's also my grammar. I don't really do critical theory, although to apply for money you need to know where your bit of culture fits in with others. I really dig a good bit of popular culture. I think the best stories in our culture in the UK can all be seen on Jimmy McGovan's The Street. He is a master of audience respect. Also, I feel confused by a lot of art, so I like to call a spade a spade, unless I am in a surreal mood and I'll call it a Sad Ape (Sad Ape is an anagram of A Spade).
I had a slightly uncomfortable childhood and adolescence That "public" thing comes from Teesside. I also particularly like North of England humour – and actually I really like it when "clever shits" (to quote my Granny RIP) get usurped by that kind of spit-and-sawdust philosophy. There's something survival-like and super-clever about grass roots humour because it comes out of neccessity. So I think my own personality is a bit of art school but with angry chips on both shoulders. It's why working in Scotland is great, because the Scots hate bullshitters – especially the Nathan Barley set. I always found that very attractive. I remember seeing and being heavily inspired by Vic Reeves and Bob Mortimer's first series and thinking, this is a dangerous combination! Northern swagger and charm! Dada! but with more academic kudos than might appear at first glance. And it was bloody funny! It was both alienating and accessible at the same time.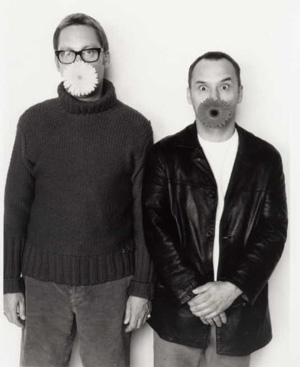 I grew up in Teesside and North Yorkshire and school never encouraged me really. I never had a bohemian upbringing, but I believed in the soul and went to Sunday School (my own choice – I was very religious for a kid). But I probably owe my interest in orchestral and "difficult" music to my uncle, and this was partly my first exposure to other worlds – I was particularly inspired by Bach's Toccata and Fugue in D Minor. And I liked that piece because it had something I could relate to (the church organ), it felt something otherworldly – both the sustained drones and mechanical math-like, transcendental nature about it. And no words. I remember talking to my music teacher about it. She got all excited and presumed I could play it so she got me the sheet music to learn it. But I could never do it, I had no discipline. Anyway, that piece was amazing, spiritual to me. When you thought it couldn't end, it changed scale and key and ascended to even more articulate heights, clever and gorgeously aesthetic at the same time.
I failed art. I grew up around lorry drivers, grandma's trifle and Christmas at working men's clubs. A lot of nice memories but I've always been looking for ways to sweeten the sour ones. And then, a huge affliction came. Around twelve, I started to have these really strong life changing shocks, like my psyche being ripped to shreds – just by thinking, enquiring, looking deeper. I would call them "dark epiphanies" later. They are still with me. Adulthood has not softened them. I'm always on the lookout for liberation! Like Russel Crowe in A Beautiful Mind he learns to live with his Demons and accept they are there! I'll never get over these mortal messengers, but it's what underpins all the puns and humour in the work. Tears of a Clown maybe? At the time, (aged 12-15) there were pennies dropping about mortality – real hopelessness of mortality. I'm still dealing with it. The problem is, because these visceral thoughts will never go away, I have started trying to make them my teachers. And all I want to do across all of my works is reduce anxiety – mainly my own – and look at multiple universes – and I think we forget that your street is part of the universe. That's where the work begins, in your block, your local Lidl – these places should teach you as much about our ridiculous situation as anywhere else. It's like that idea that "the environment" is outside somewhere, when really it's in the most mundane places. The mundane is "supramundane" at the same time. It's no wonder I became a Buddhist in my early thirties. I need to get back into it. I'm getting somewhere maybe.
MG: Perhaps, it is not just about re-inventing a selection of different mythologies, histories in relation to localities, whilst exploiting contemporary mediums; which includes elements of satire, a certain level of hyper-reality.
CD: I think it's about a hatred of authority, not because we don't need order, I think we do, but authority takes all the colour out of our history and culture. I watch X-factor, like Peter Kay (underrated surrealist like most comedians – despite the professional Northerner get up). I never liked punk and thought anarchy was really stupid! Civil disobedience maybe. I hate it when I see musos on the telly talking about punk, getting all nostalgic. Maybe the Clash. Maybe it's the patronage of culture by high fallutin' types I don't like. Because patronage kills proper culture doesn't it? And because of that, I never got passionate about history at school. It was a bit grey. So what do I do without the arsenal of the passionate historian? I make bits up and flirt with it. These projects mean I have to know bits of history now. And this bit is really telling – the bizarre thing about the hyper-reality aspects of my tours and other works – is that the bits I make up and flirt with – those bits are often scarily close to the truth. Also you say I'm really respectful to the public, but I like to push it a lot. In Edinburgh, on the Polyfaith tour, folk were swallowing my wildest tales about the city when they'd lived there all their lives! I came in under the radar I suppose. I like usurping the pompous stuff with a passion though, I really do, I feel it's my duty!
MG: There seems to be a kind of niggling question in this work. I get a sense that this question does not only relate to asking those who take part, but also yourself. It touches upon something quite raw, authentic and complicated, and untouchable at the same time. I am not referring to the sublime here, it relates to all of our collective histories, on this earth. A Genealogical form of re-assembling, re-knowing and perhaps not knowing. Are you trying to make contact, or reconnect some how to a type of authenticity; if so, what does this look like in respect of your intentions?
CD: I want to find spiritual relief. That's a terrible word – maybe the sublime is better. Fuck it, I want it back from the New-Agers. Even though I am a total Dawkins fan, and am partly liberated by looking deeply, I just want a bit of peace really. And the tours train me to think outside the box, that's it. I suppose it's like doing my own philosophy degree "in the field." But there's a bigger box I am being prepared for (see what I did there!). There's not much relief. I am a highly charged person – some would say high maintenence! I've just seen the Andromeda galaxy from the back garden. I want more of that. This is a really hard life. I want to be less fat. I'm sick of having M.E. My wife is pregnant. Christ, I am going to be a father. Maybe that will help my afterlife woes. Men aren't supposed to moan. I'm being genuine here though. I forgot to mention Derren Brown. I'd love to do a project with him. I am sorry these answers are not very articulate. It's in the tours! Do them!? Seriously, do the tours.
MG: What qualities and values do you think or feel this form, process and working offers yourself, the world, art and culture on the whole?
CD: I look at my place in the digital arts as a priest being sent to a remote parish – so hopefully we'll clean up here in Ayr, our new home! ha ha! A lack of funding might make that difficult but it hasn't stopped me before. My current thoughts are… Paradolia and Simulacratic Forms as narrative agents for psychogeographical tours. The benefits of the sustained drone in music. "Dayglow" hues and man made fibres in landscape photography. High hills. The idea, place and value of the troubador in the present age and the potential of "singing the news" as a deterrent for media-saturation. My next project may be about folk-music and psychogeography, using local folk clubs to make popular songs based on themes by bloggers. Some of the things I think of, I sometimes see being made around the time. A bit of Zeitgeist, collective unconsciousness awareness maybe! I am also still digging around popular atheism and the atheistic roots of Buddhism. Folk-Art and the search for genuine Scottish culture as opposed to the much-touted facsimile. These are my daily concerns. A project that I should mention is Ayrtime. A series of eclectic cultural events presented in the heart of Ayr, Scotland. Gigs, Theatre, Literature, Astronomy & more – on this site you can find archives of the events with beautifully crafted podcasts!
My work offers me the stuff I was told at school really. No different to building or plumbing on one level. Just a sense of achievement and pride I suppose. Quite traditional aims. I remember a conversation with my dad in the last few years (we row a lot) in The Ship Inn in Marske. I asked him why he never wants to know about all these fantastic projects I'd done! And he said "Well that's your work isn't it? If you were a plumber we wouldn't be sat here discussing U-bends" and at first, I felt slighted, I'm not a plumber I'm an ARTIST goddammit!! It made me think of The Cohen's Barton Fink, human and pretentious character "The life of the mind, there's no roadmap for that territory" but on reflection it's quite good to be making this mad work in working class areas, to take my artist ego down a peg or two. Lord knows I need it sometimes because I have two fights generally – the first is the fight to get work funded and made and promoted and so on and it be stimulating work. The second is the fight with M.E. which I feel like I am totally on my own with a lot of the time. I get really unpleasant symptoms, often with no break for weeks on end. Sometimes I can only do 30 minutes of work in a day. Sometimes, even that is a pipe dream. I've had twelve years of this shit. I was directing arts documentaries for telly when I was well. The upside of the M.E. is that it is humbling. I'd probably be that Nathan Barley wanker by now, and I wouldn't have touched the Buddhism, the philosophy, proper art and gotten arts council funding without the lessons I have learned.
Free Downloads of Chris Dooks Music:
Social Electrics 10 year Anniversay edition 1999 – bip-hop.
You Know, You Love Something Little – Lost Vessel 2002.
The Aesthetic Animals Album 2008 – benbecula records.
Chris also makes websites for extra pocket money:
www.eleanorthom.com
www.karencampbell.co.uk
www.alanbissett.com
http://www.louisewelsh.com