Ambient Information Systems
English, some texts in German. Translator: Nicholas Grindell
400 pages, 6-colour hardbound, 17.5 x 23 cm
edition of 1,500 unique & numbered.
now available at ambient.publishing.
ISBN-13: 978-0-9556245-0-6
Ambient Information Systems by Manu Luksch and Mukul Patel is a hardback book that presents writing, images and art by and about ambient.tv (Luksch and her collaborators) from during the last decade. Its purple and yellow cover tempered by a tracing paper slip-cover, contains almost four hundred pages of sans-serif text cleanly laid out among images and sidebars. As intermedia artists with a strong emphasis on research and dissemination. Recent works have addressed surveillance, corporate data harvesting, and the regulation of public space.
The material presented in the book ranges from written essays and project proposals through preparatory sketches, computer server log files and video screen grabs to modification of the printed book iteslf by unique rubber stamps and scribbling over sections of text. This diverse and detailed presentation of ambient.tv's work provides an insight into the inspiration, planning and production of some conceptually and aesthetically rich new media art.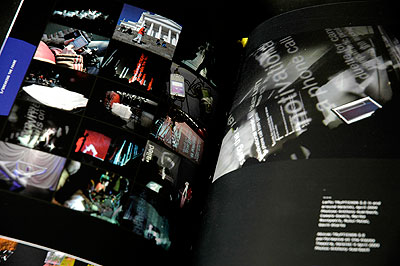 There's a report from Kuwait during Ramadan 2002, a description of using cutting-edge wearable PCs, a discussion of the role of television, information about the harp in mythology, cyborg markets, the UK Data Protection Act, climate change, anti-gentrification, art and systems theory, UAVs, the Pacific plastic dead zone, and much, much more. There are projects that create free networks, dangerous musical instruments, taped-out surveillance camera boundaries, video installations, photographic images, movies of CCTV footage gained through freedom of information requests, manifestos, snowglobes, and cocktails.
(It's a fascinating pleasure to read but it's overwhelming to try and review.)
The portrait of Ambient.tv that emerges from all this is of intensive cultural critique pursued through a playful low-fi digital aesthetic. This isn't a contradiction, the latter is in the service of the former. Ambient.tv's projects and proposals tackle serious social and political issues. They do so through skilled use of the aesthetics and attitude of low-fi new media art and technological activism.
The wealth of ideas contained in the essays and other writing in the book show how historical, political and philosophical knowledge grounds the resulting art and indicates how it embodies a critique of contemporary culture.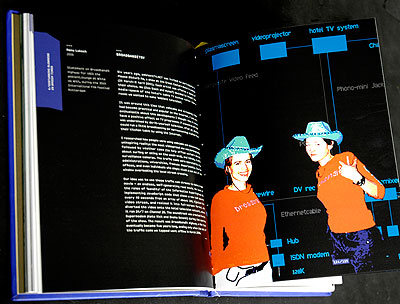 Contemporary culture as seen by Ambient.tv is surveillance culture, the database state with its DNA databases and laws that protect freedom by removing freedom. Ambient.tv is a realistic project, depicting the hidden forms of contemporary society that intrude into our lives. This is heavy stuff, and to air it critically without alienating the audience it requires precisely the playful touch that ambient.tv often bring to their art.
To take the example of FACELESS, 2007, (the first project I personally saw Luksch present), there is an exquisite balance between the disturbing idea of pervasive surveillance, the practical limitations of Freedom Of Information requests, and the visual and science-fictional narrative aesthetic that emerged from this. On their web site it states that it was produced "…under the rules of the Manifesto for CCTV Filmmakers. The manifesto states, amongst other things, that additional cameras are not permitted at filming locations, as the omnipresent existing video surveillance (CCTV) is already in operation." The result is something more interesting and disturbing to watch than a simple collage of CCTV footage would be. The fact that the work can be made like this, that it can look like this, means something.
This strategy can be seen in "Mapping CCTV around Whitehall", 2008, as well, which I also reviewed for Furtherfield here, and in many other pieces by Ambient TV.
Reading the proposals and essays shows the depth I suspected to this work, when I first saw it projected in a darkened room is there in its conception and execution.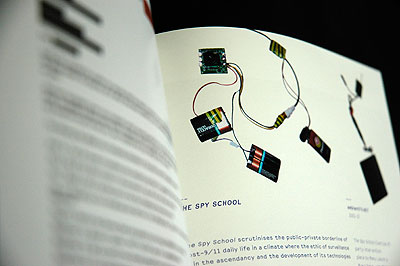 It's an intense and inspiring experience to be faced with the textual equivalent of a decade-long open studio. The first essay in the book, a theory-laden piece by Fahim Amir, is almost overwhelming in a different way. It's pure Theory, which will hopefully sell Ambient.tv to the artworld sectors that thrive on that sort of thing, but it isn't the best introduction for newcomers to the project's very accessible art.
But what a rare pleasure to be given such a wealth of insight into art that so acutely depicts our times. "Ambient Information Systems" is an important resource for contemporary artists and critics, an insight into the ideas and development of a very successful new media art practice. The grungey, playful, important realism of Ambient.tv's work deserves presentation in a context that shows just what has gone into the art and just what people can get out of it. This is it.
The text of this review is licenced under the Creative Commons BY-SA 3.0 Licence.